One of my favourite parts of a wedding to photograph is the confetti throw. It's an iconic wedding moment, and yet, they're always so different! It's the perfect way to kick off the celebrations after your ceremony!
This post covers the different types of confetti you can have, the different ways to dish out and throw it, and lots of happy pictures too.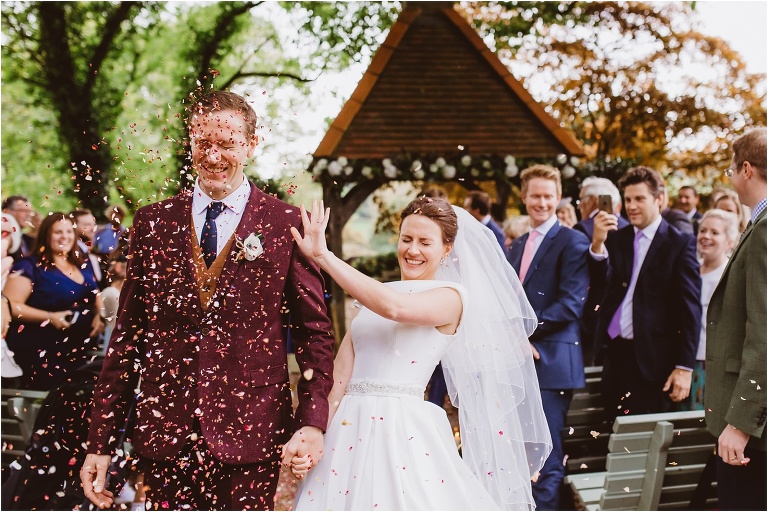 I recommend that you do supply your own confetti as guests don't often bring it. Even if they do, it won't be enough, they'll be in uncoordinated colours, and might not even be the type allowed at your venue.
Whatever you choose, you don't need to worry about organizing the throw, I will do that!
All I need you to do is enjoy the moment and walk just a bit slower than you normally would, which might be hard as it's such an exciting moment, but it will give you more time to enjoy it, and more time for me to capture it.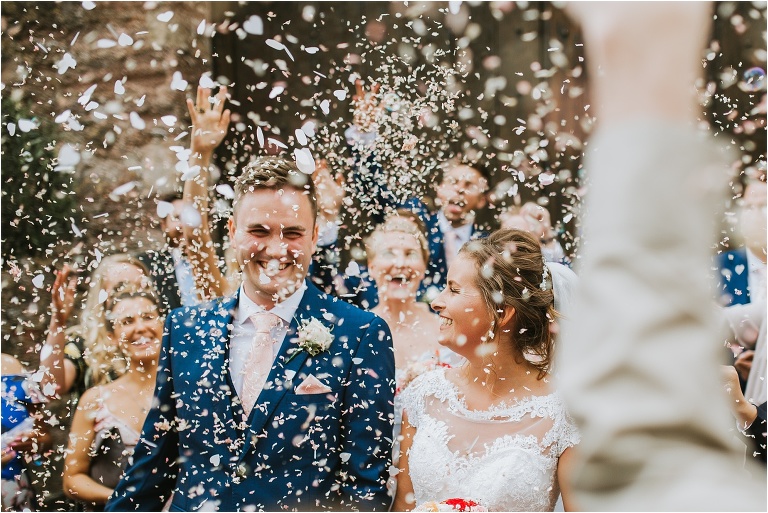 The most important thing about confetti is quantity! No matter what you choose, if you don't have enough, it's not going to be as effective. Here's a handy little calculator that will tell you how much you need for how many guests. Get whatever that tells you, plus a bit more just to be sure!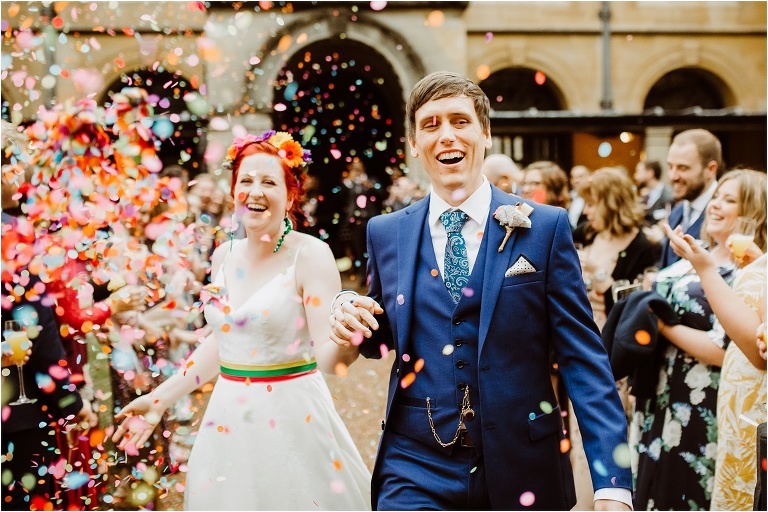 While packets of confetti look great, I often find they aren't enough and can be a little fiddly to get the confetti out without losing some too. If you want things to hand out to guests, I recommend cones. They are bigger than packets and are an effective way of throwing the confetti too (just don't let go of the cone)!
The simplest and my favourite way to give out confetti is to have it in a big basket or container. That way people can grab nice big handfuls and if there's any left over, it's easy for people to take more.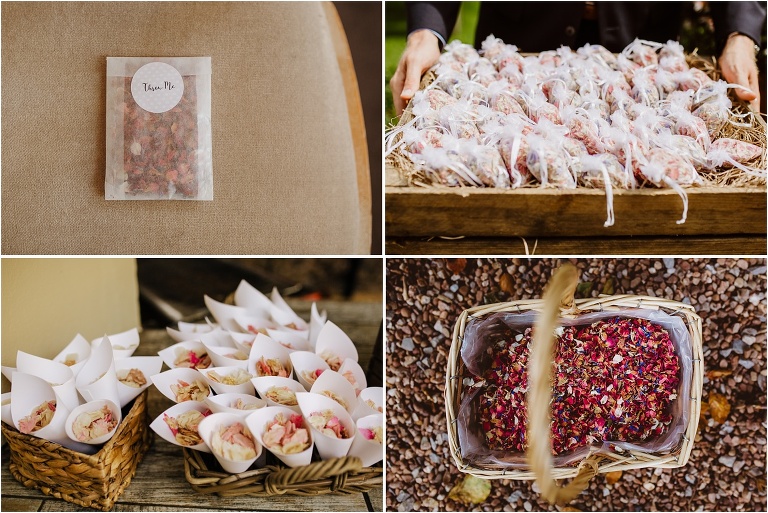 Always check with your venue if you're allowed to use confetti, most will allow biodegradable! Also check if there's a designated area for it. Churches will often ask you to do it away from the door.
Petals
Petals are beautiful! Size is something to consider as while the smaller petals take longer to flutter down, they can be quite difficult to get out of your hair if you've got an intricate do. Larger petals can give you more colour, but will fall to the ground quicker. If you have the option, go for medium sized petals, or a mixture of sizes to get the best of all worlds if you're not worried about it getting in your hair!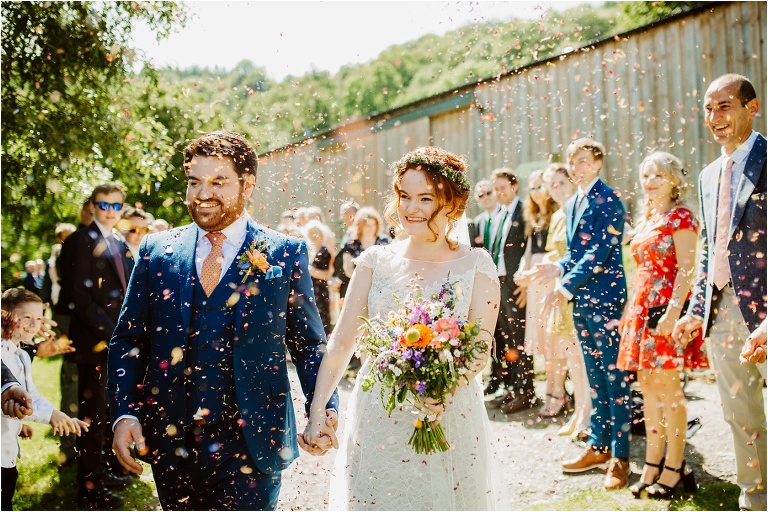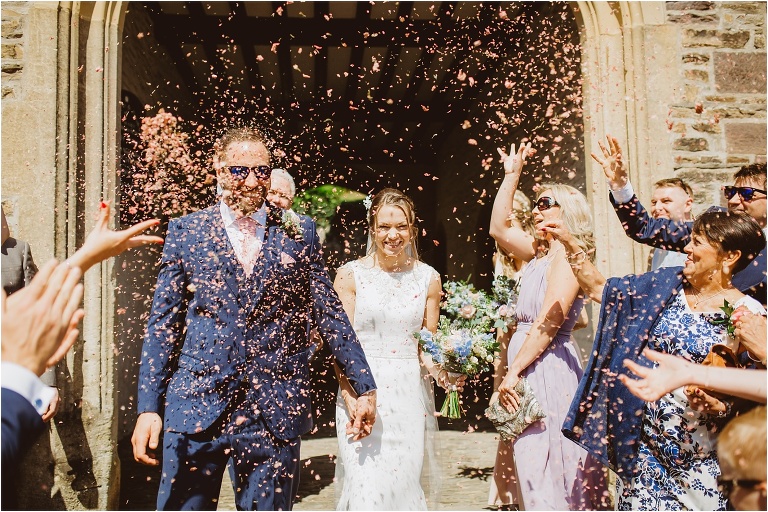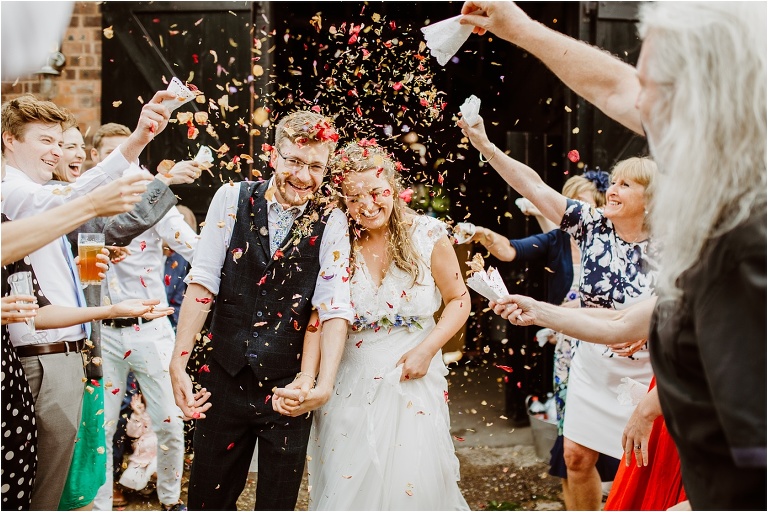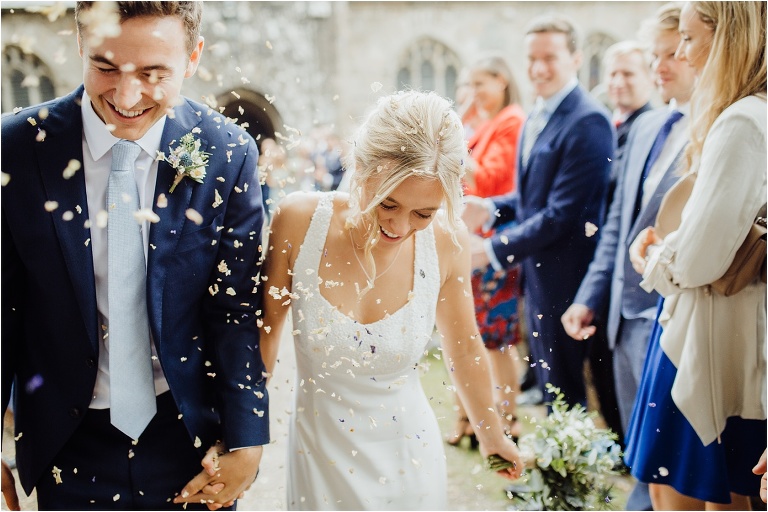 Tissue Paper
Tissue paper is probably my favourite! There are lots of colours and shapes to choose from so you can really get something that goes with your wedding. The best thing about it is it's so light it will stay in the air for ages, giving you maximum coverage and enjoyment!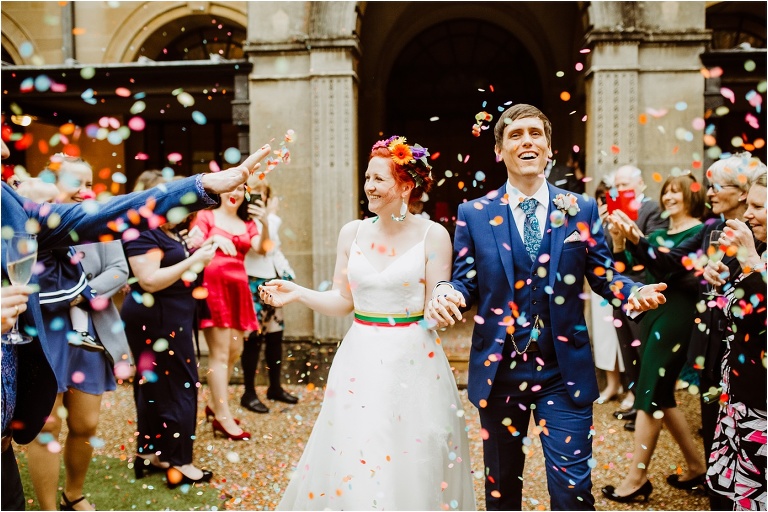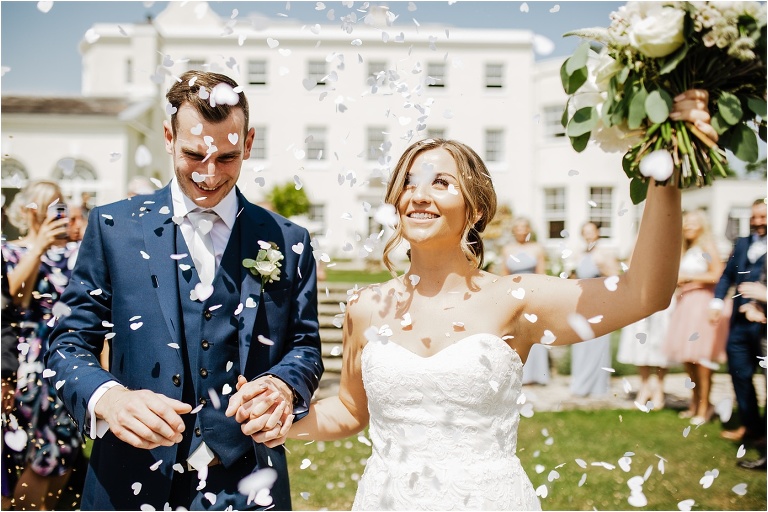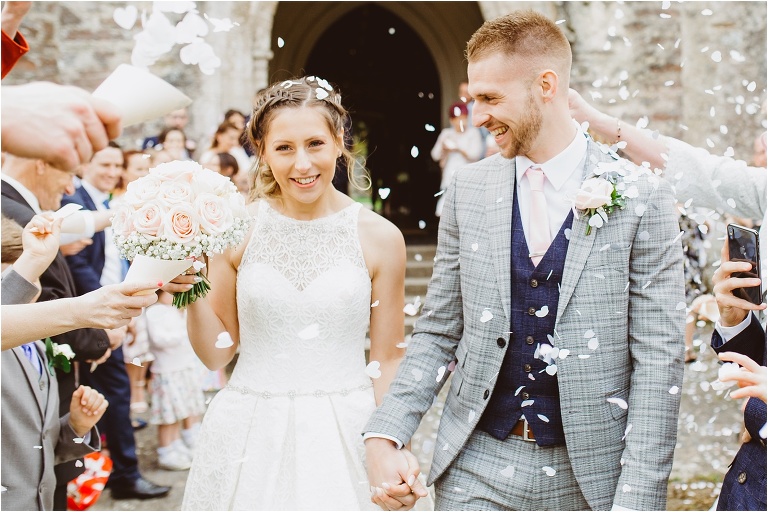 Bubble
Bubbles great for when your venue doesn't allow confetti. As with other types of confetti, quantity is important, so a bubble machine is a good idea! It will also stop your guests getting light headed from too much blowing. You could also have bubbles with your regular confetti for extra pizzazz!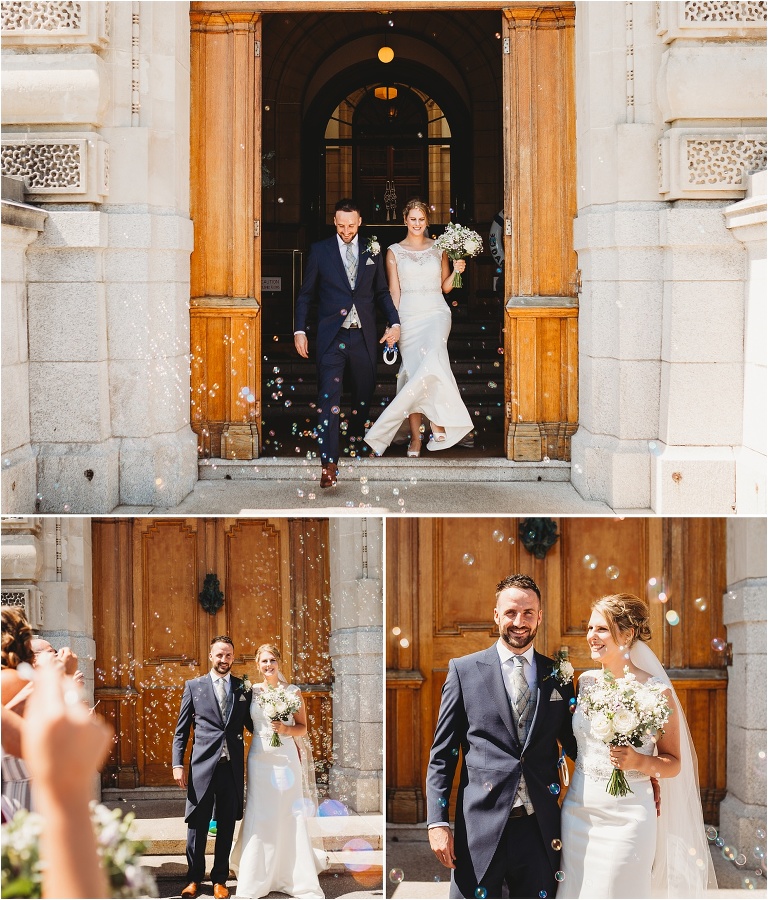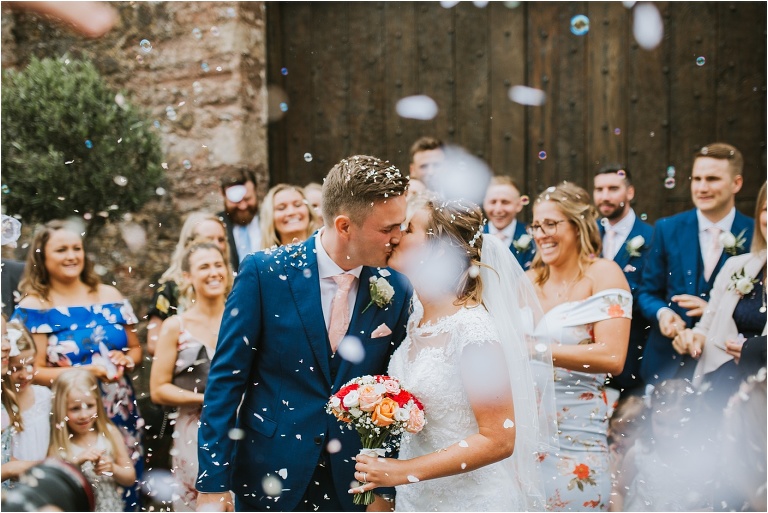 Ribbon
This was a new one for me, but I absolutely love how it turned out! As with the bubbles, this is a great idea if you can't have regular confetti. All of the fun, none of the mess!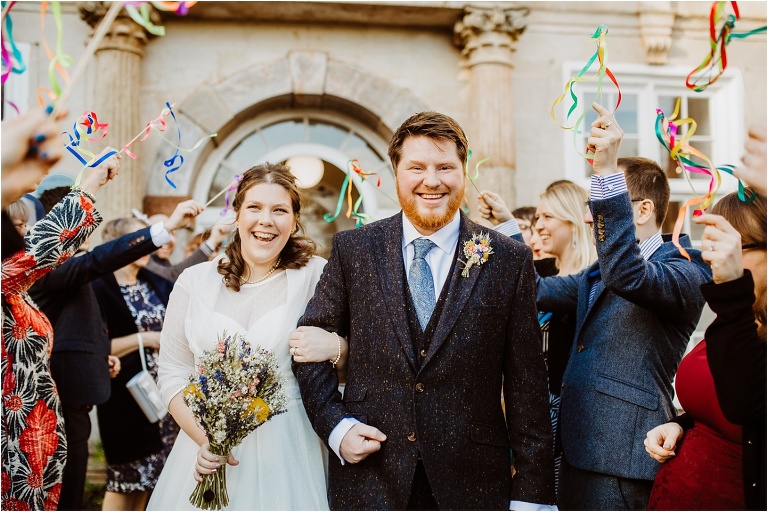 In summary, whatever you choose, there can never be too much of it! Enjoy the moment and get some epic photos to have forever!

I'm taking bookings for 2020 and 2021, so if you are looking for a wedding photographer in Devon or Cornwall, then please check out my portfolio or get in touch! As always, please feel free to share or leave a comment below.
Holly xx