All Leah and Tom really cared about was that their day was fun and full of laughter from beginning to end. With neither of them being overly romantic or fussed by wedding traditions, it was about throwing a massive party for the people that they love! Squeezing as much joy into every moment as possible. They pulled out all the stops with the music, food and party atmosphere.
The other thing that was important to them was that their family and heritages were part of the day. Tom is half Irish, and Leah is half Nigerian and Jewish. There was a lot to fit in!
Leah and Tom had a very quick engagement so didn't have a lot of time to plan. They had a lot of friends caught up in Covid planning drama and didn't want to draw the process any longer than they needed to. They were also keen on a more wintery wedding vibe. Deciding to do it in March meant there was better availability.
Because they only had four months to plan, they had to be flexible on the location, searching the whole of the UK. They wanted to make a weekend of it, choosing somewhere that could sleep their close family and friends (around 30 people) on site. Somewhere that felt luxurious without being stuffy. A venue that guests would remember.
Leah had never been to Devon, but it was clear that ANRAN was the one. They saw the accommodation before the wedding venue and it was the nicest home she'd ever been in. The owners have such beautiful taste. It was extremely luxurious and comfortable inside. It also had a massive dining table so that they could have all their weekend guests for a Jewish Friday night dinner before the wedding.
The rest of ANRAN was breathtaking! They chose the polytunnel for the ceremony which was full of tropical plants and had a fish pond running down the middle. The wedding meal was in the amazing glass house and the disco took place in one of the huts.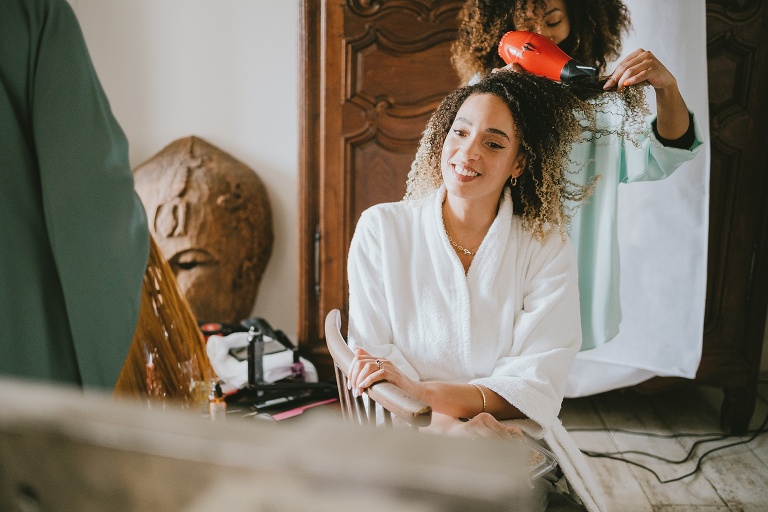 CLHair specialises in curls and came down from London to do Leah's beautiful hair!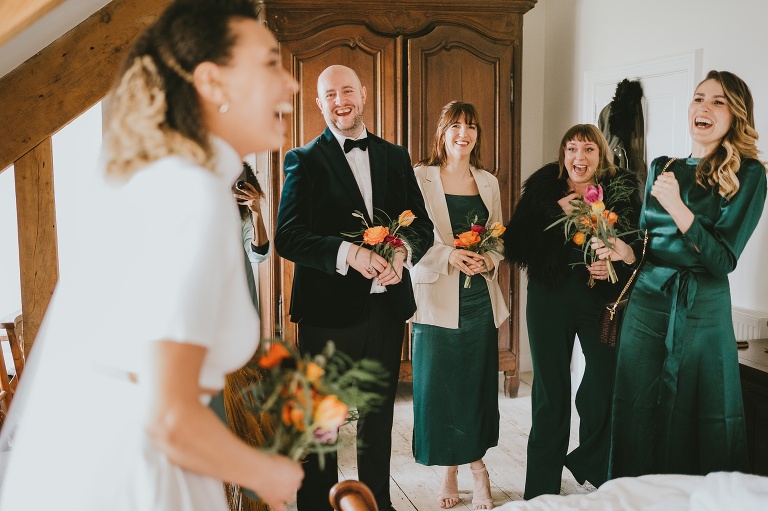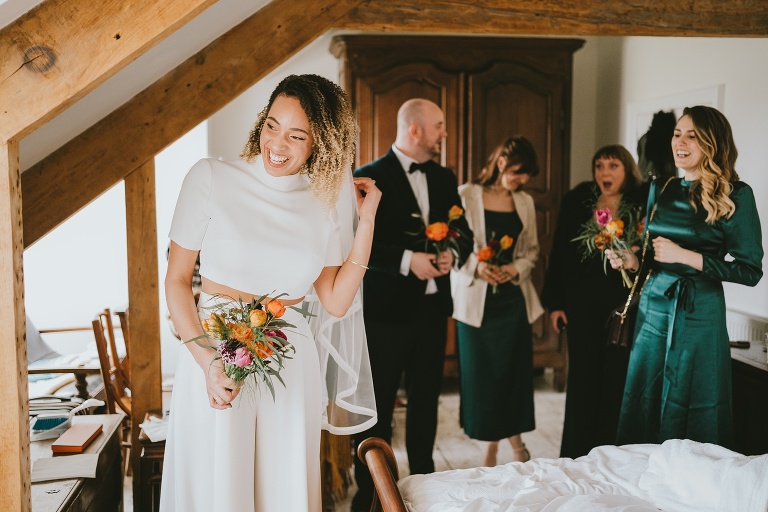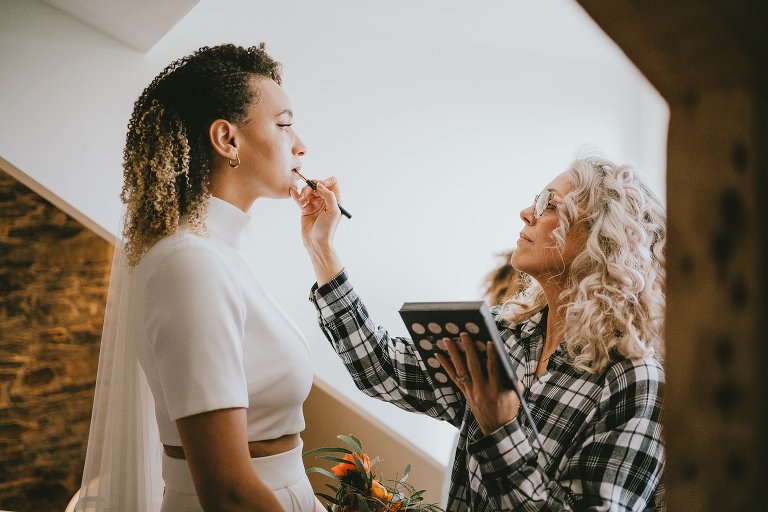 Devon Makeup Girl expertly did Leah's makeup!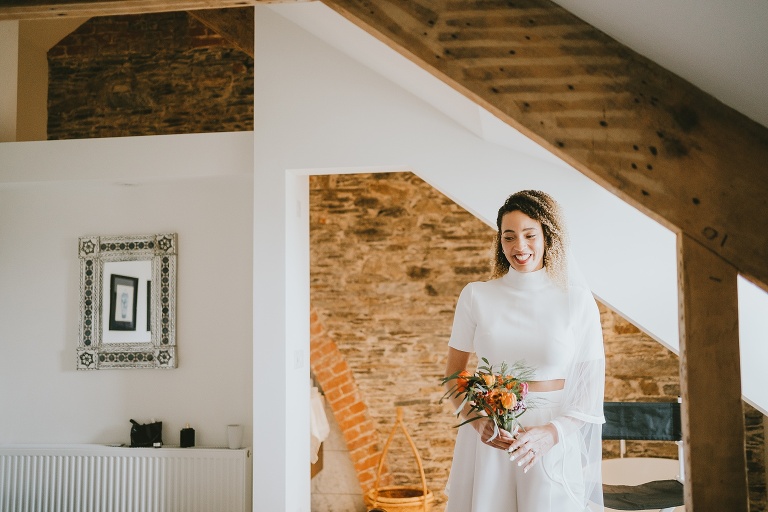 Leah had an image of a wedding outfit she wanted; high waisted trousers and a crop top. She tried on endless traditional dresses because she thought that's what she 'should' have. In the end she got a custom Jesus Peiro outfit. It was just as she had pictured. She added a veil which made it feel more special. Leah loved the outfit and it was so comfortable all day. The trousers even had pockets!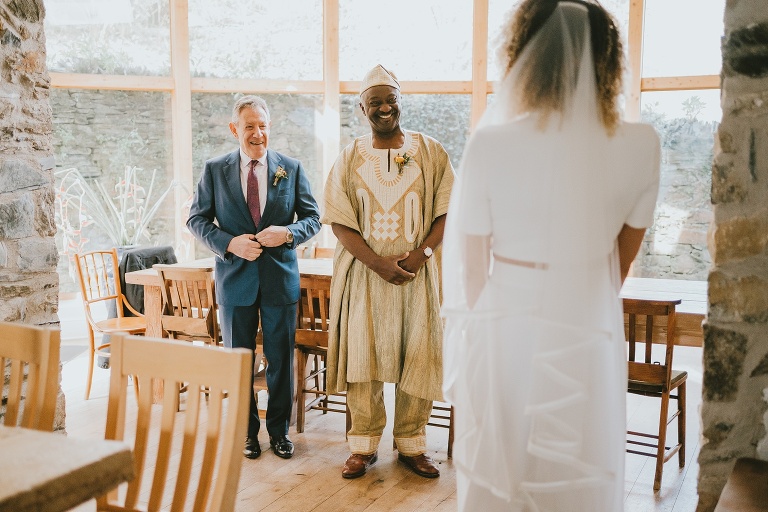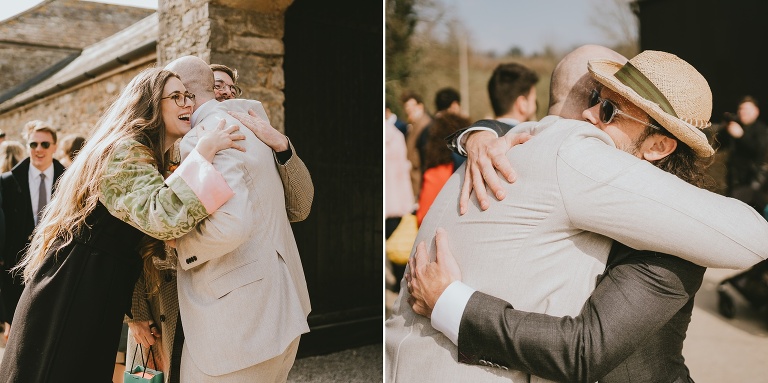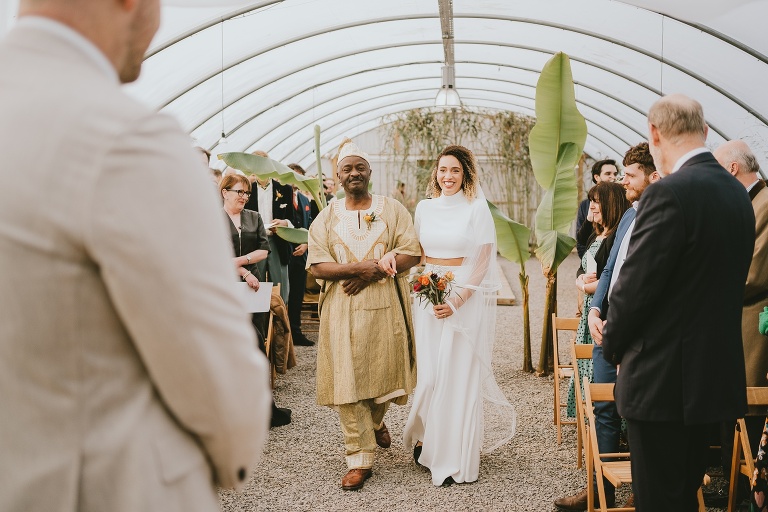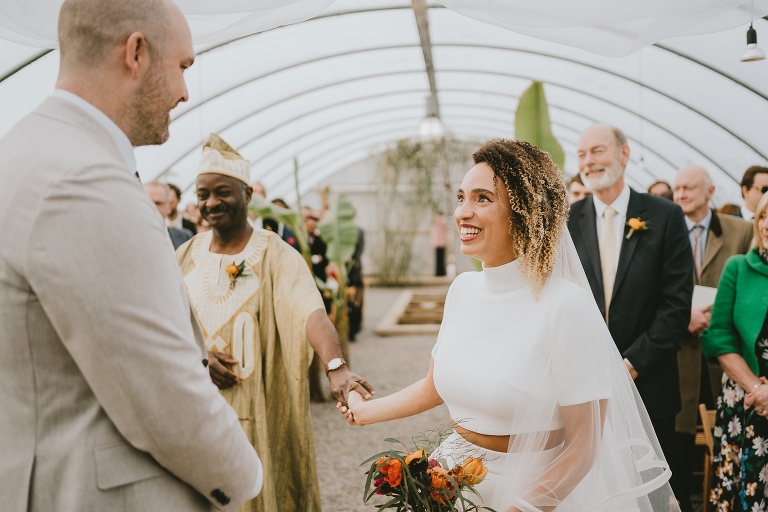 Leah's dad wore a traditional Nigerian outfit while he walked her down the aisle which accidentally went with the colour scheme! The ceremony was very personal – Tom's brother was their celebrant. They had friends singing the bridal party down the aisle. Tom's sister and Leah's aunty did readings. Leah's stepdad led the traditional Jewish blessing followed by the stamping on the glass – which nearly sliced Tom's foot open!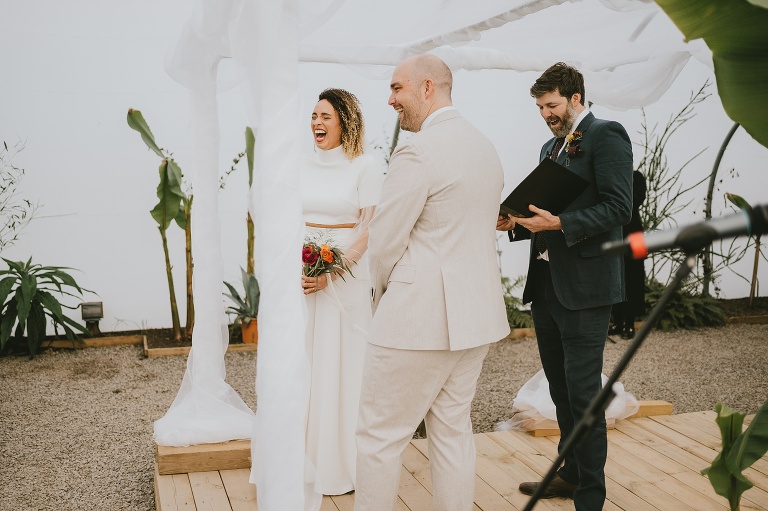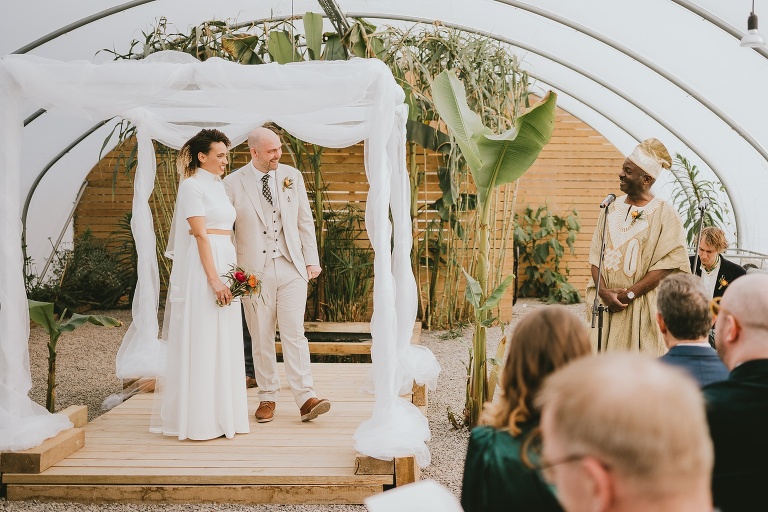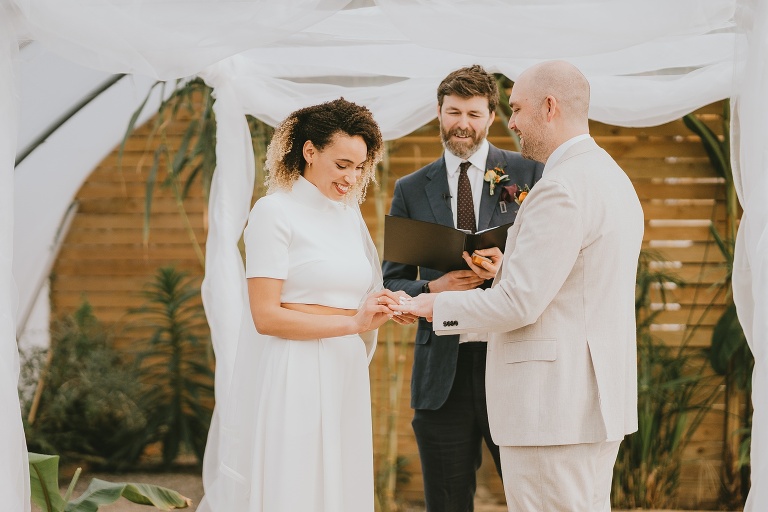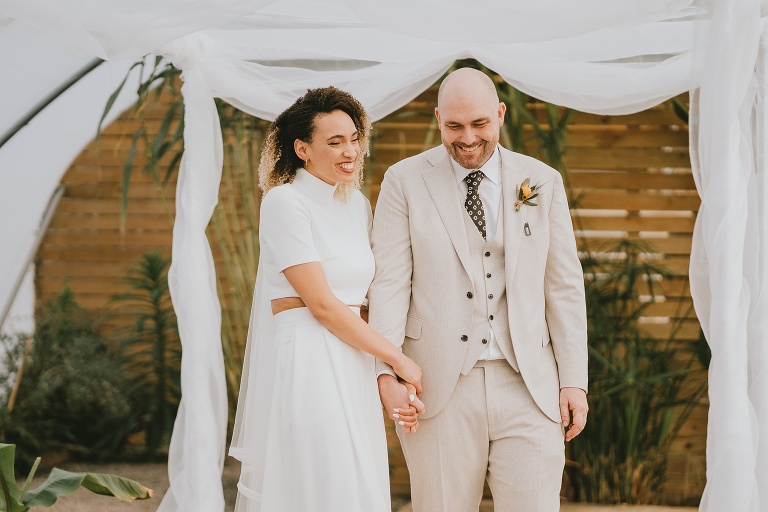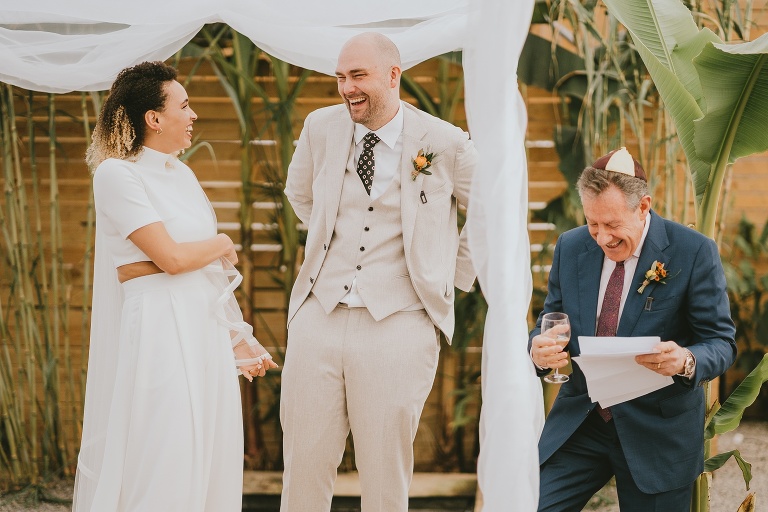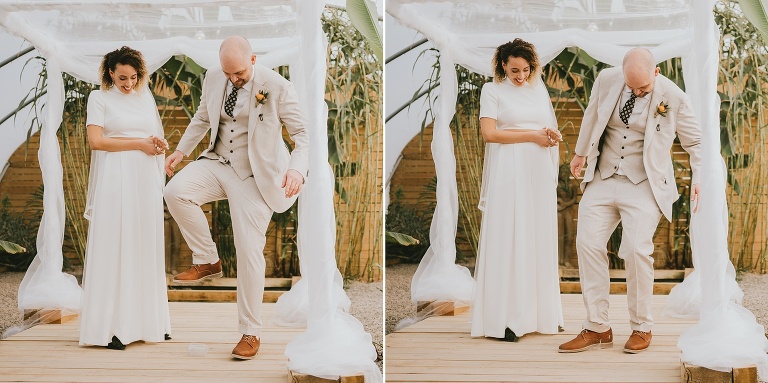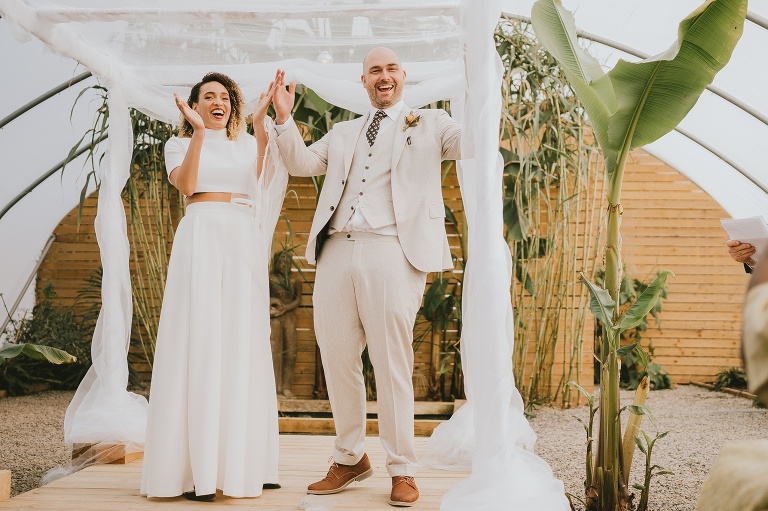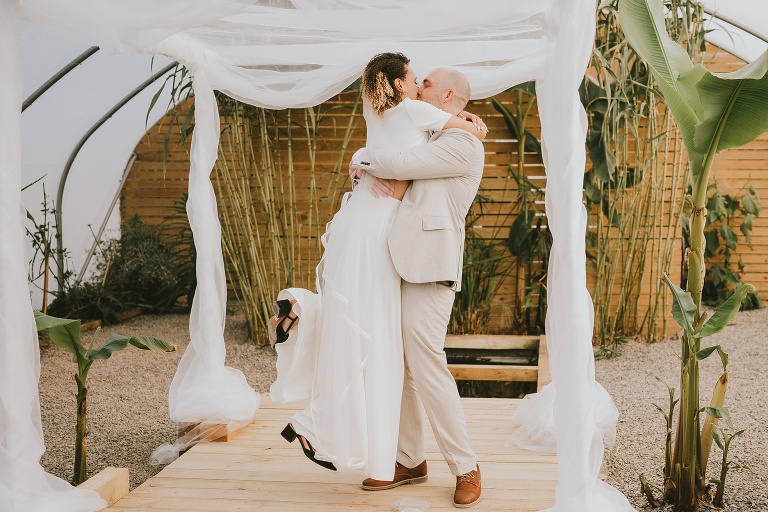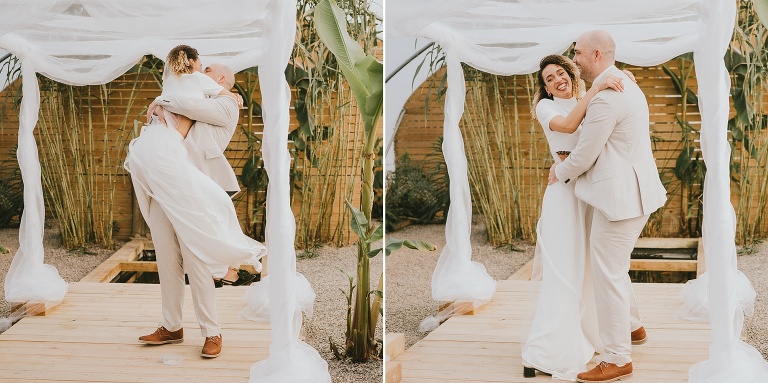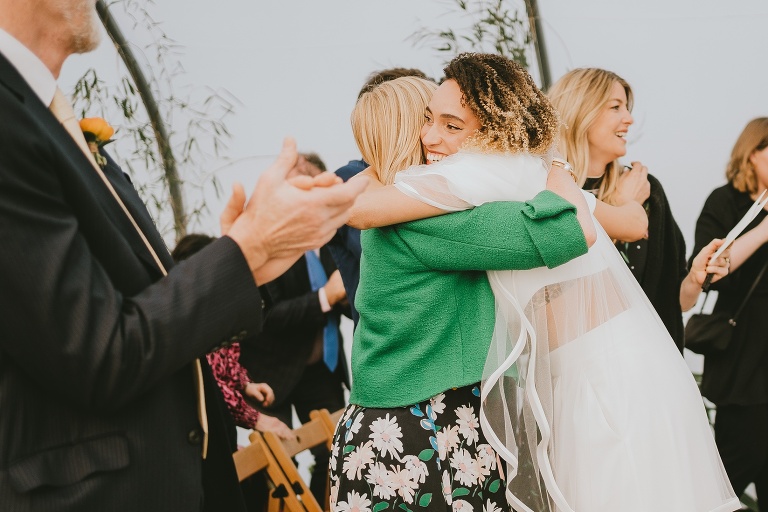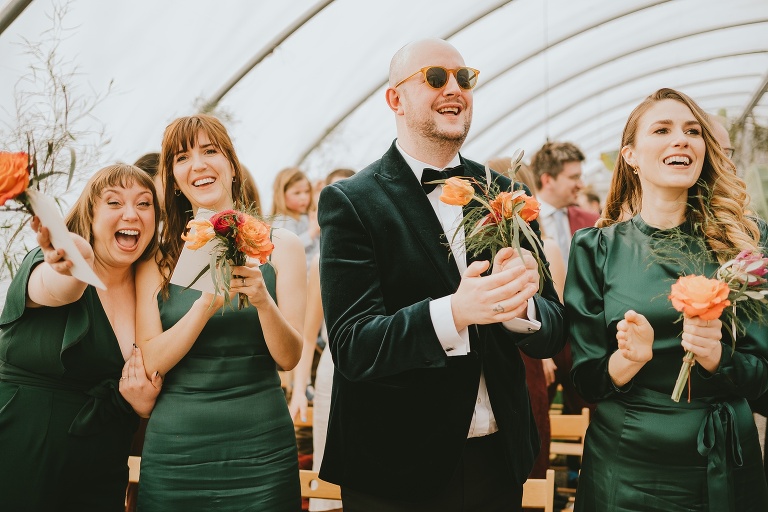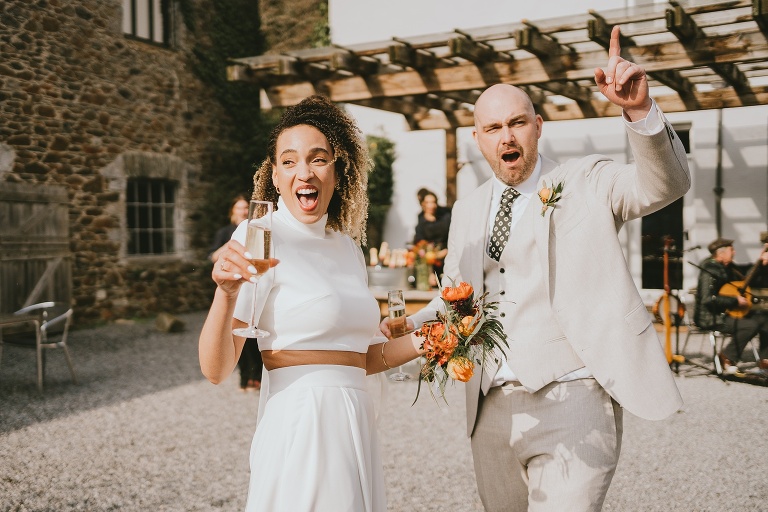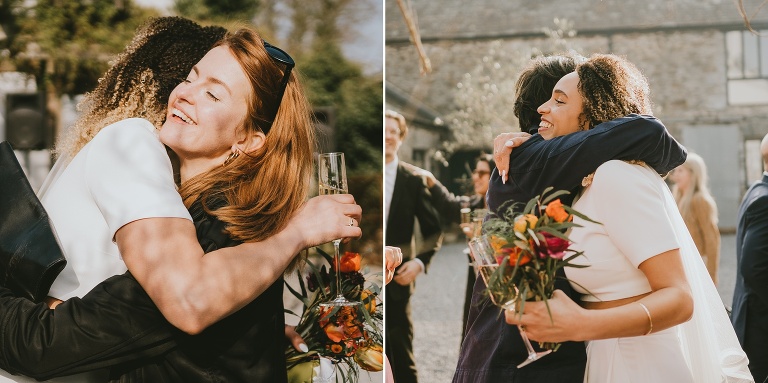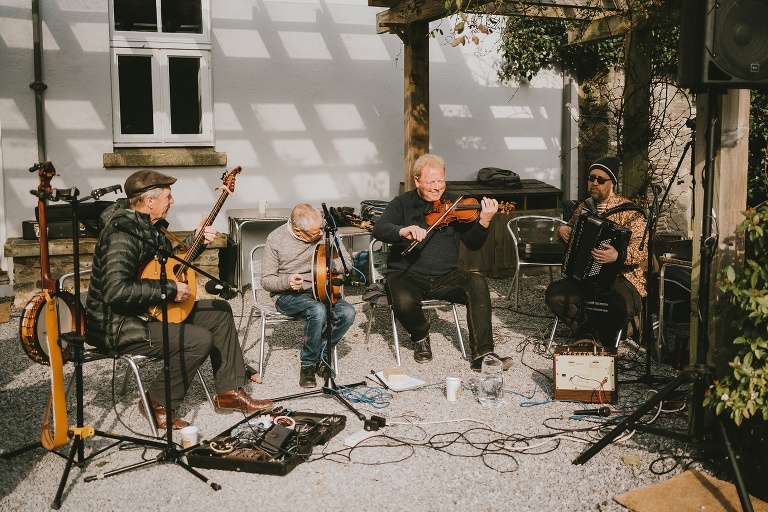 During the drinks after the ceremony they had an Irish trad band playing while the fire pits were roaring in the courtyard. It's both of their favourite moment.
Hayley from Cru Catering was amazing in planning their Jewish-themed canapes (smoked salmon bagels, salt beef on rye, aubergine and tahini toast). She was very patient with Tom's insistence on the right-shaped glasses for the Guinness they had at the reception, alongside the champagne.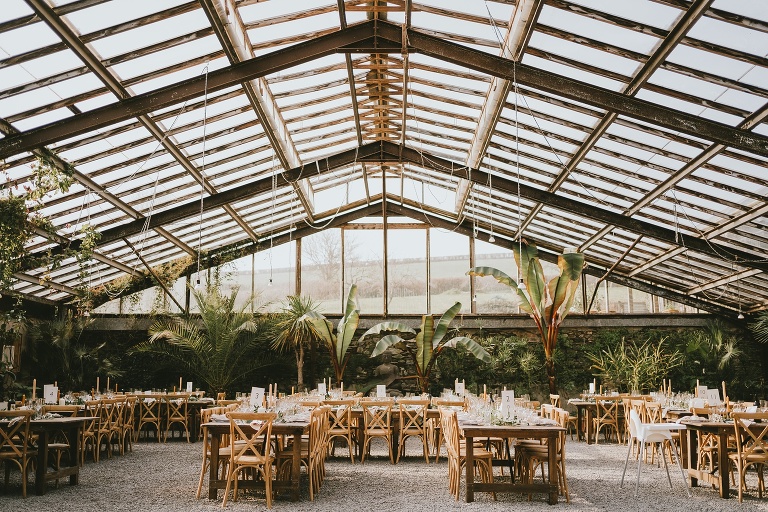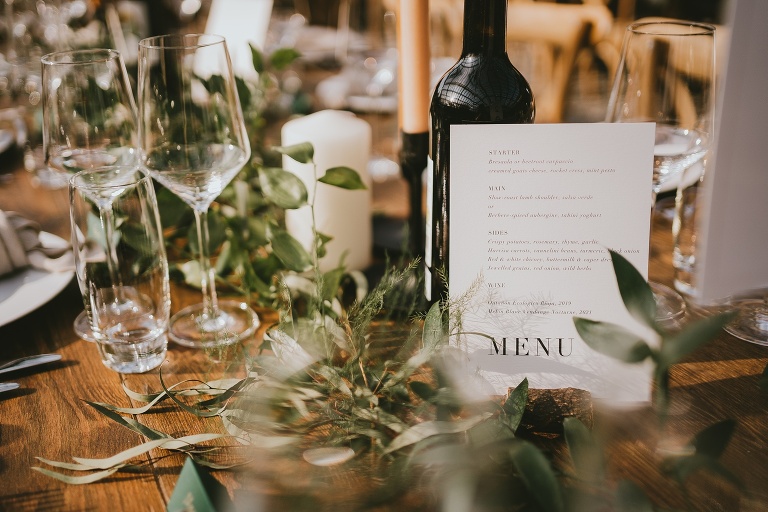 One of the best things about ANRAM is that each area is so stunning that it didn't need a lot of decoration. Aside from bridal bouquets they decided to go without flowers. They opted instead for green runners made from olive branches and asparagus fern on each table, with simple neutral candles.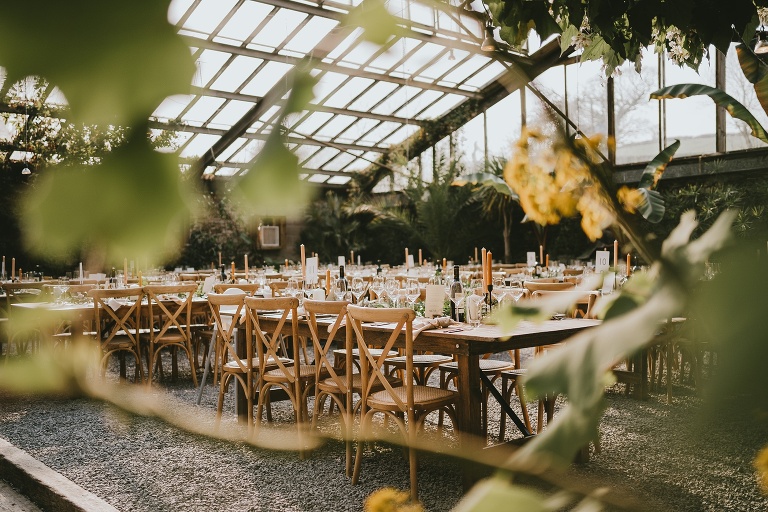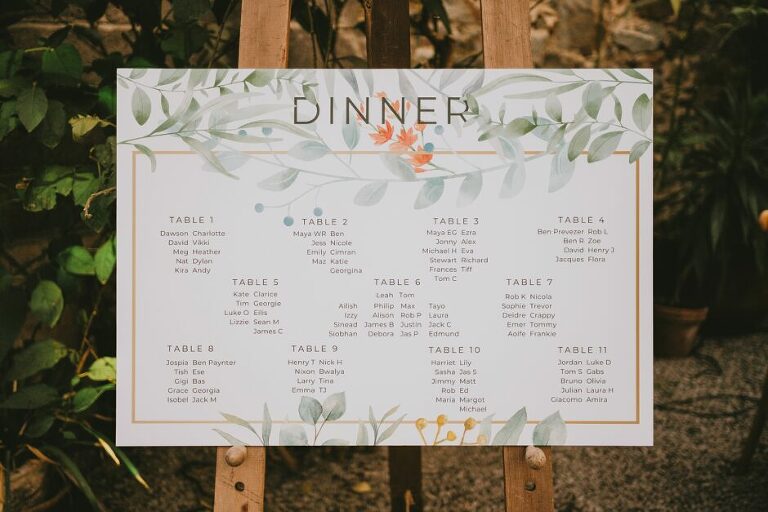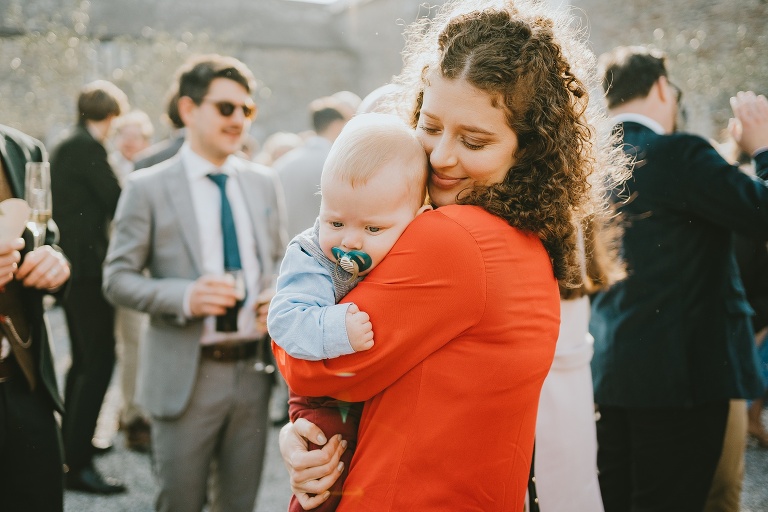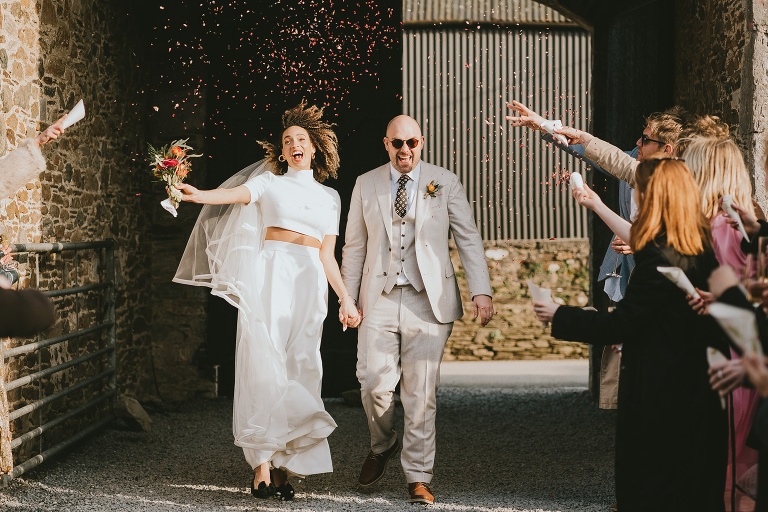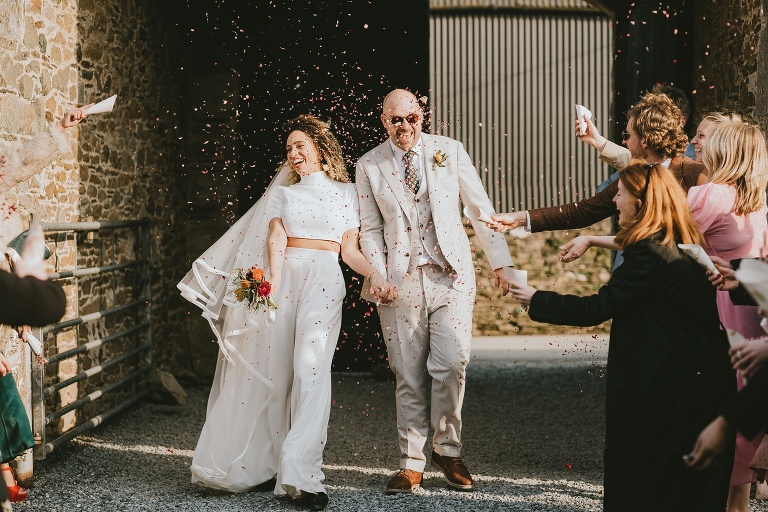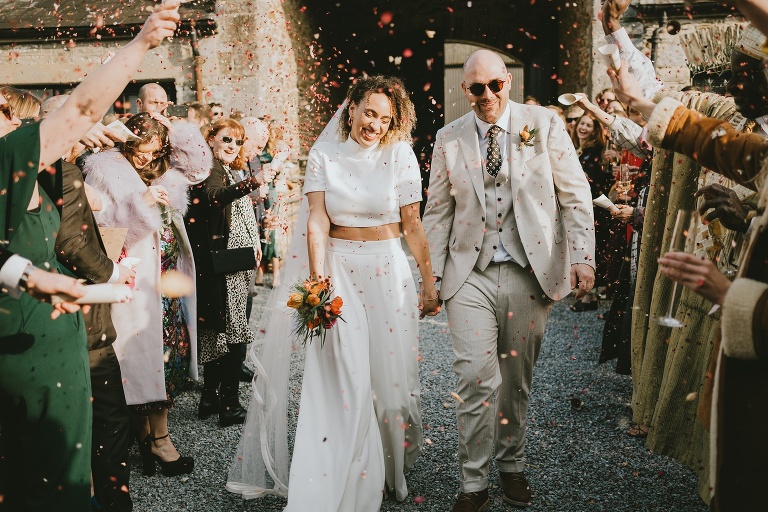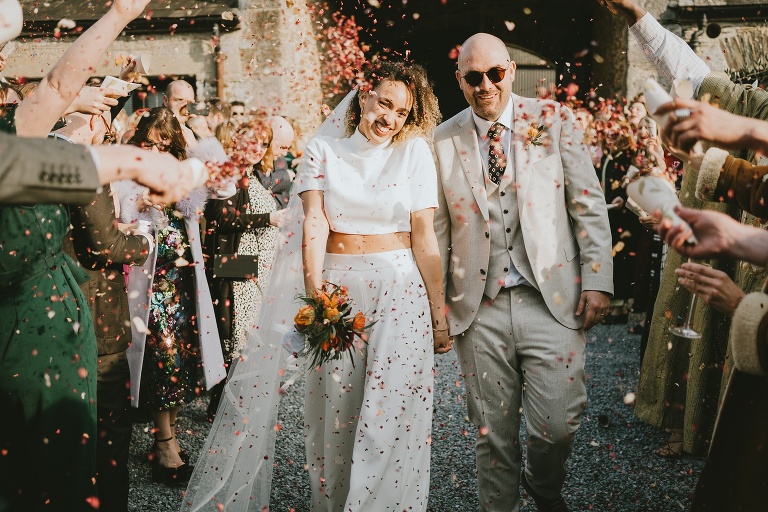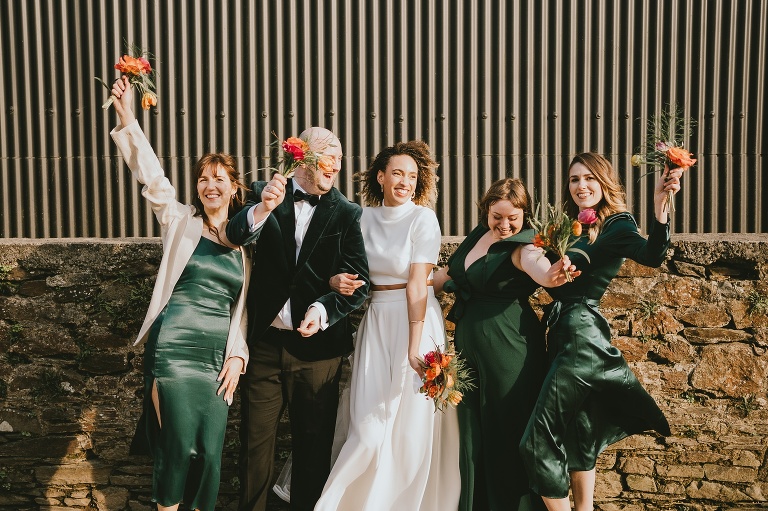 Leah wanted the bridesmaids (and man) to wear forest green but let them choose their own outfits so it was something they might wear again. There wasn't really a colour theme except warm and wintery! Dot and the Dandelion created their beautiful bouquets.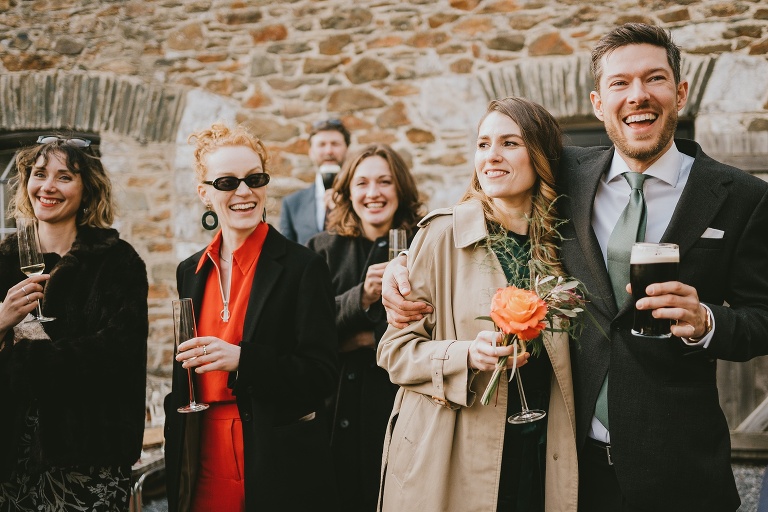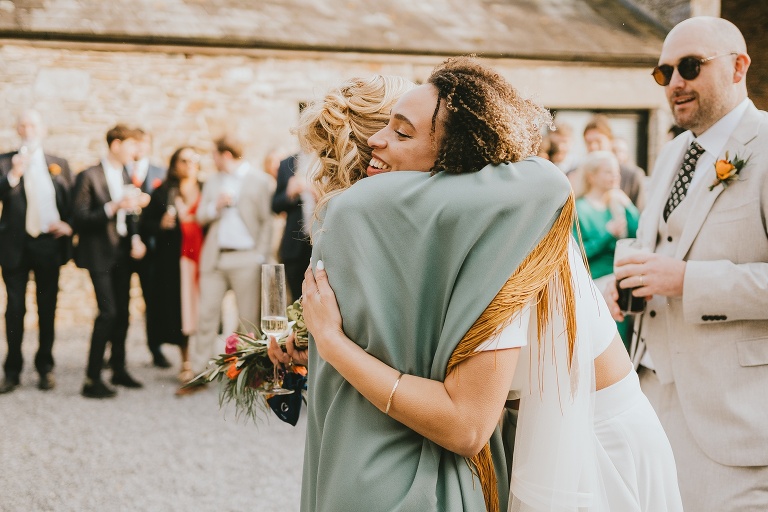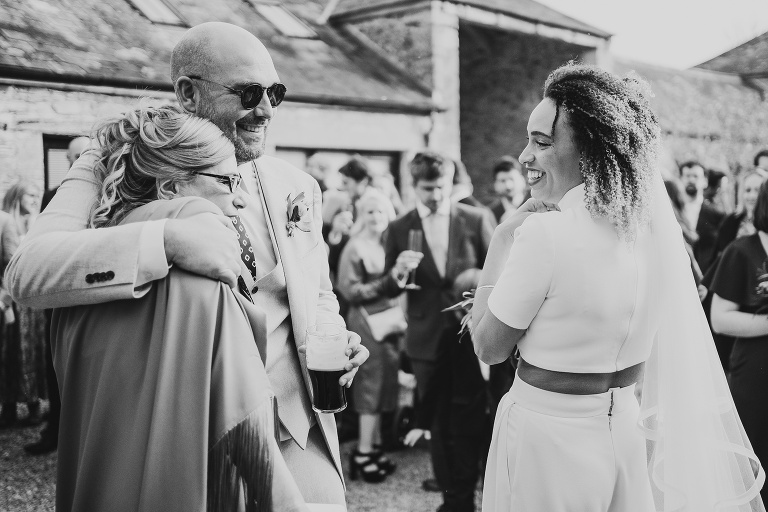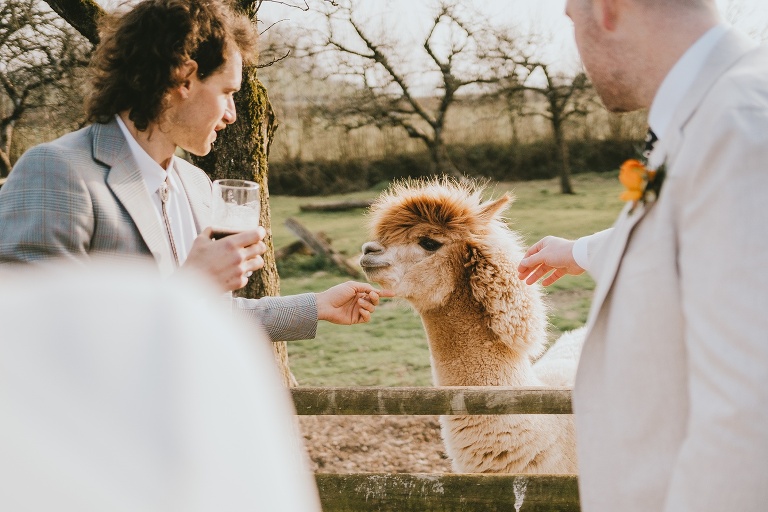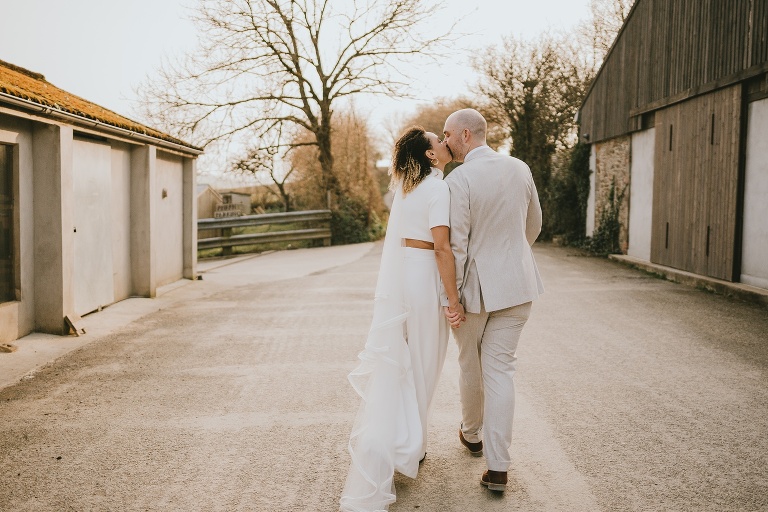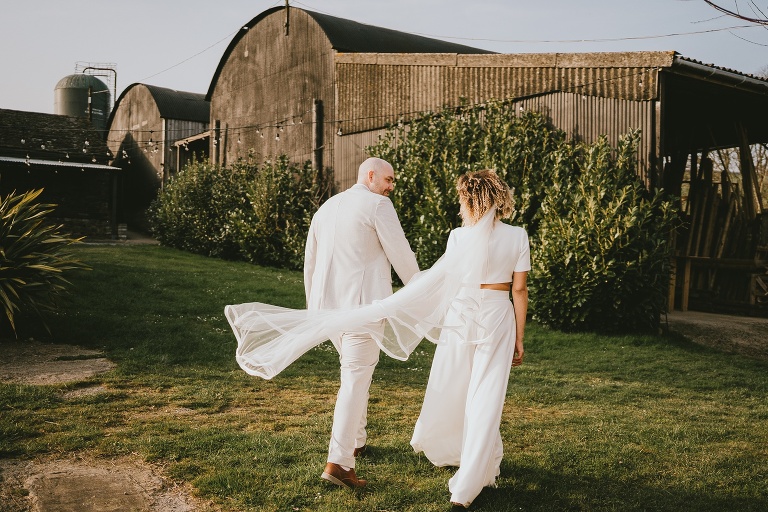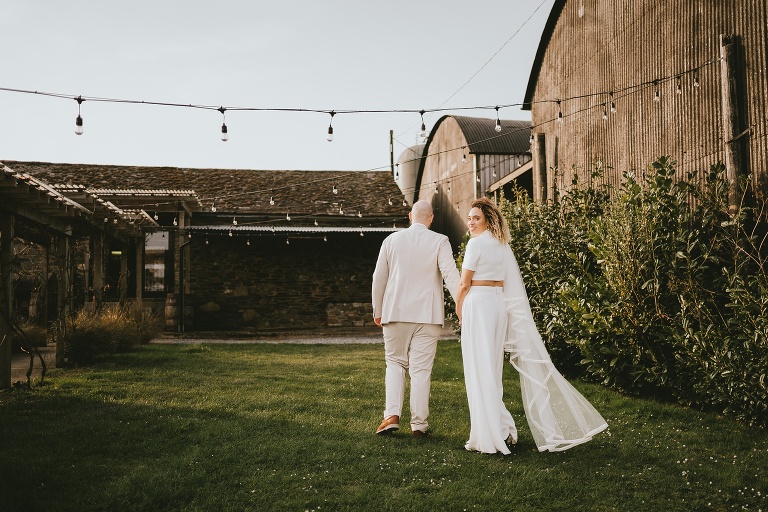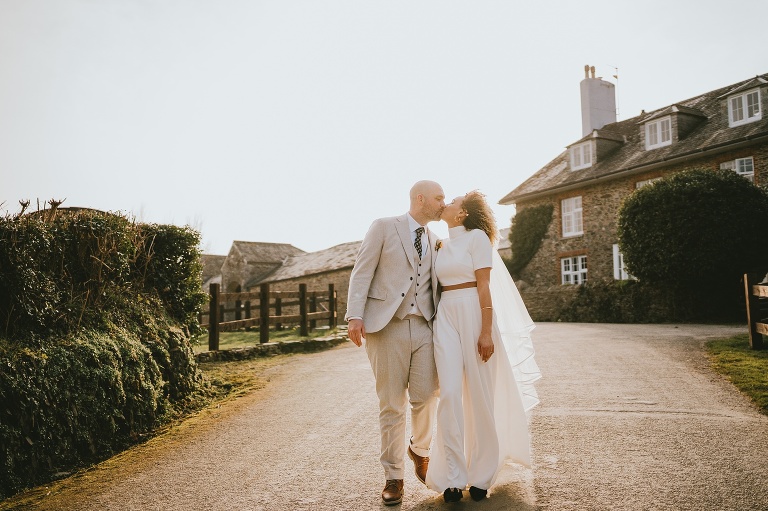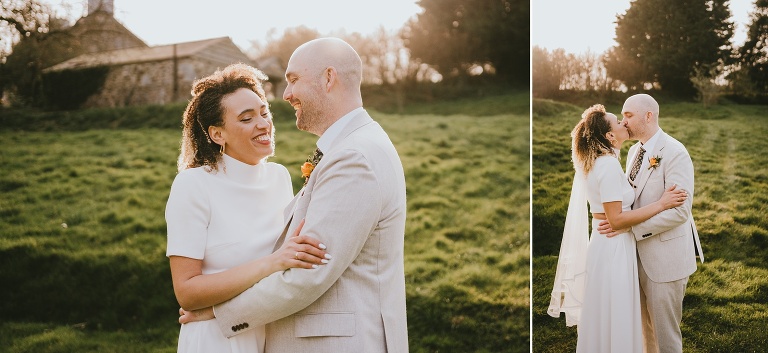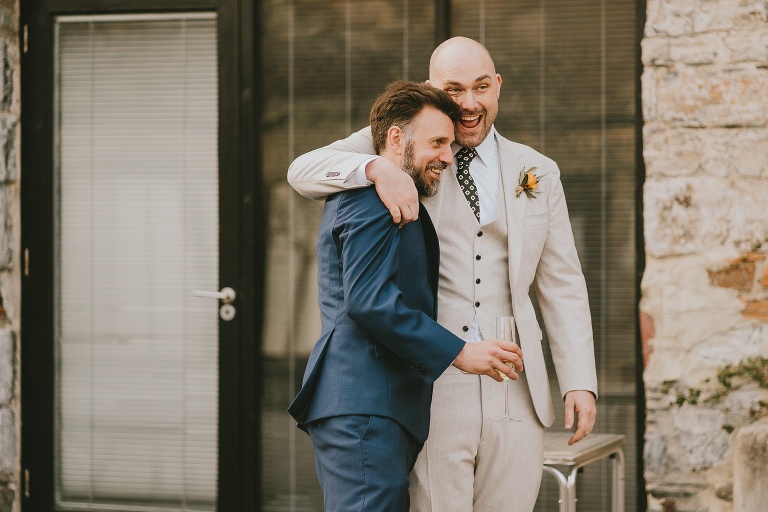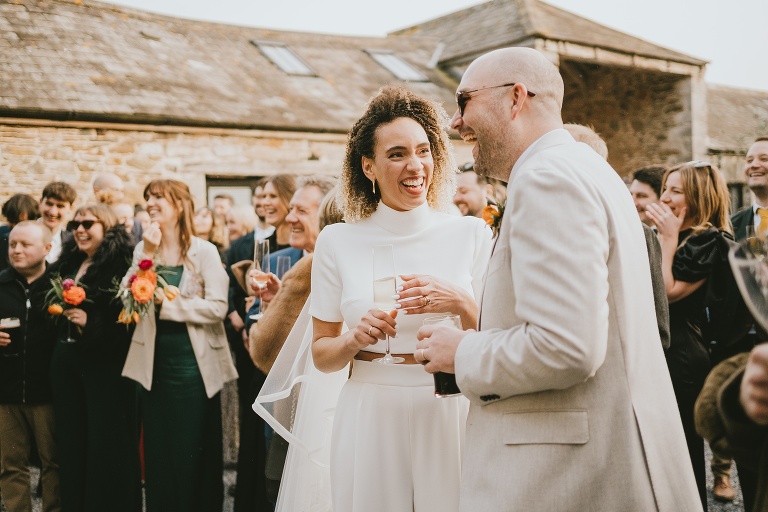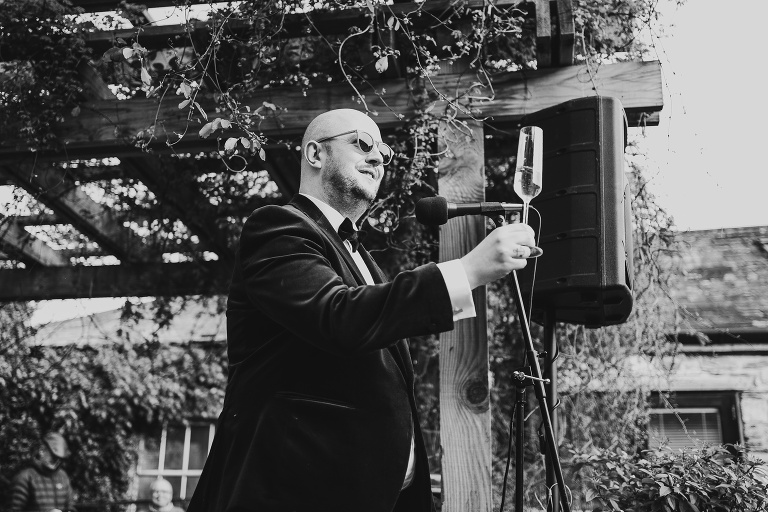 They had the speeches peppered through the day so it didn't feel too much like a performance. Leah's mum and friend jack did toasts in the courtyard. Tom and Leah spoke before dinner. The best men and maid of honour afterwards.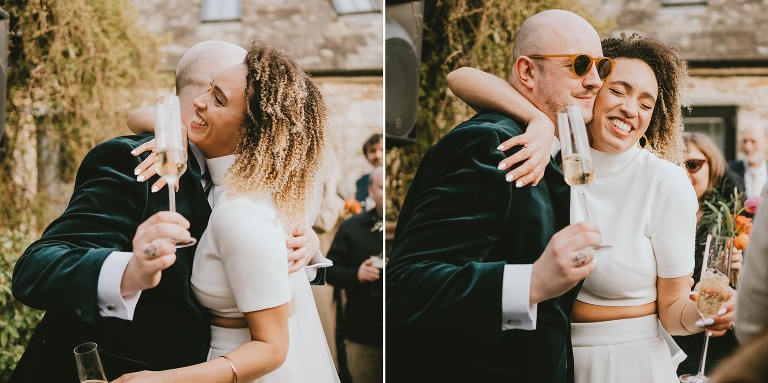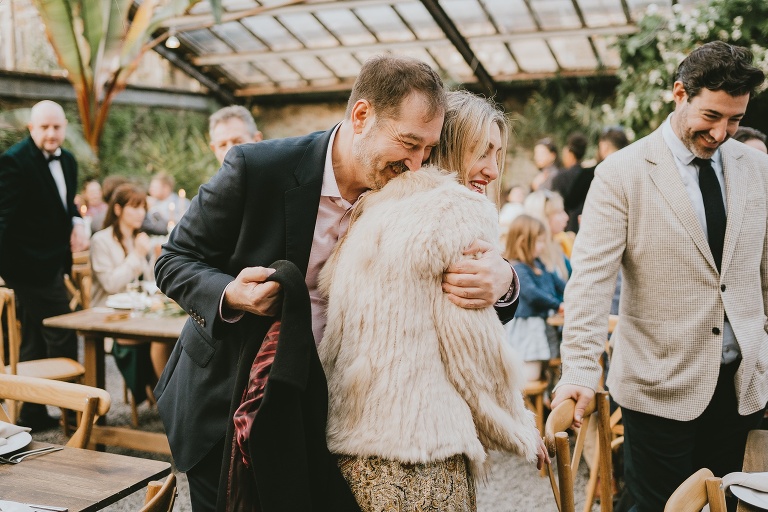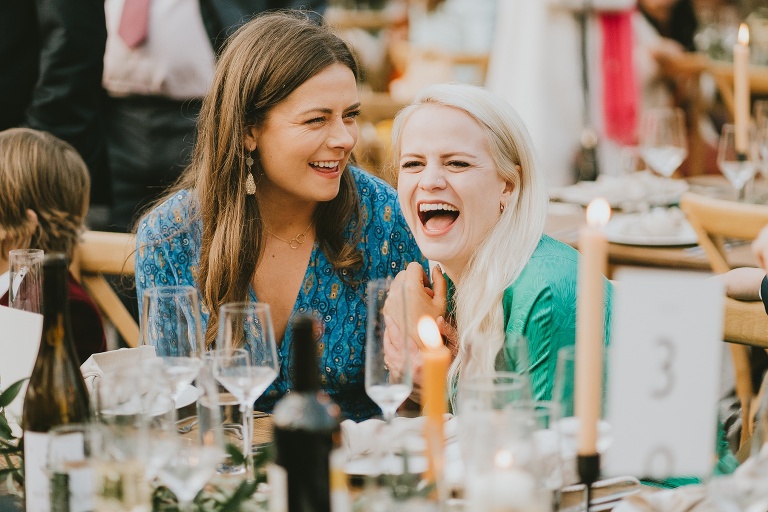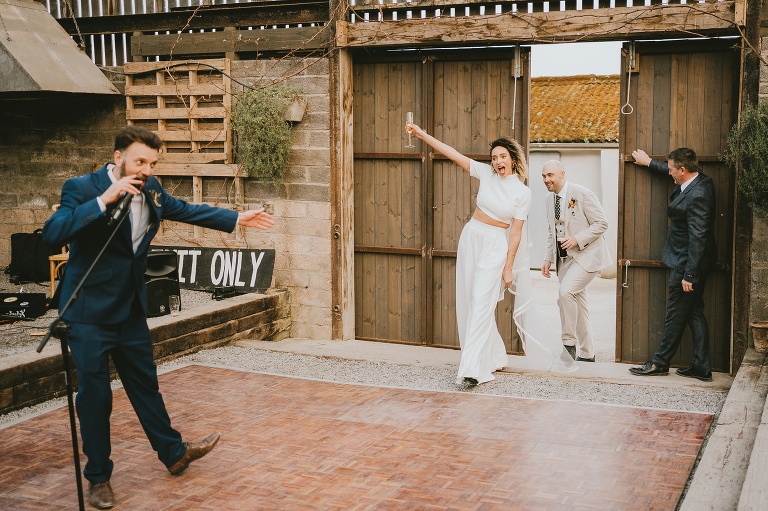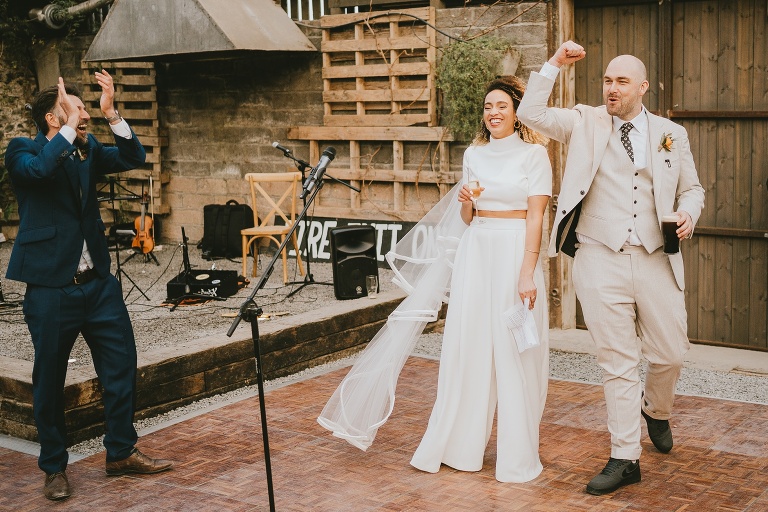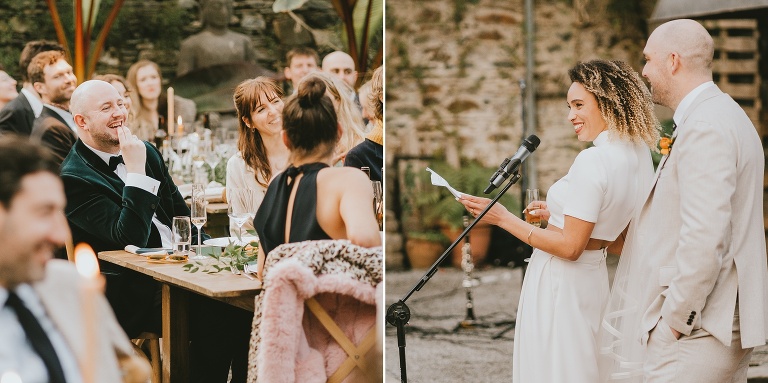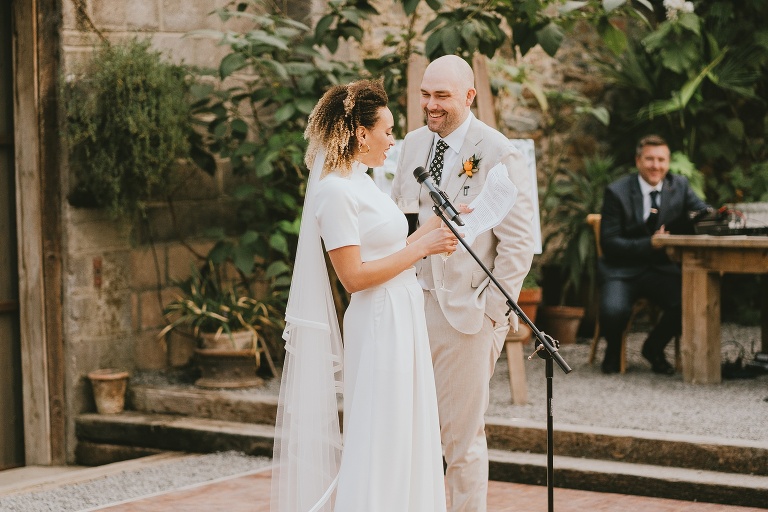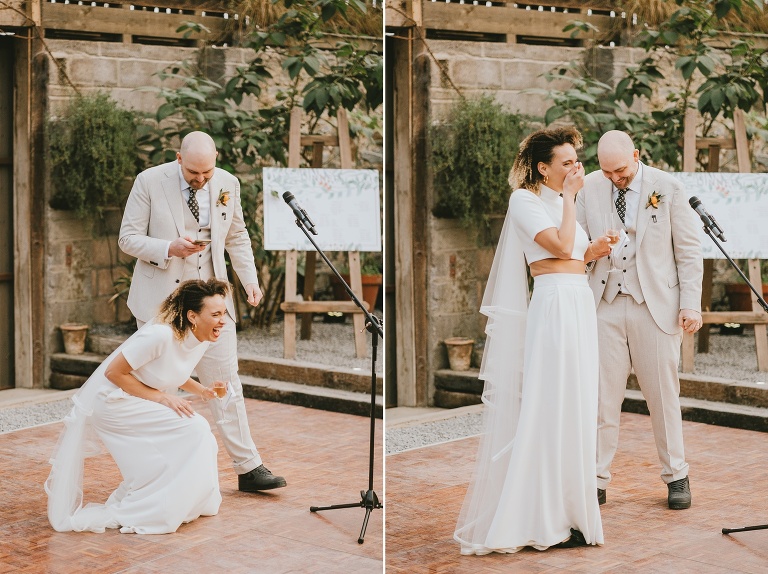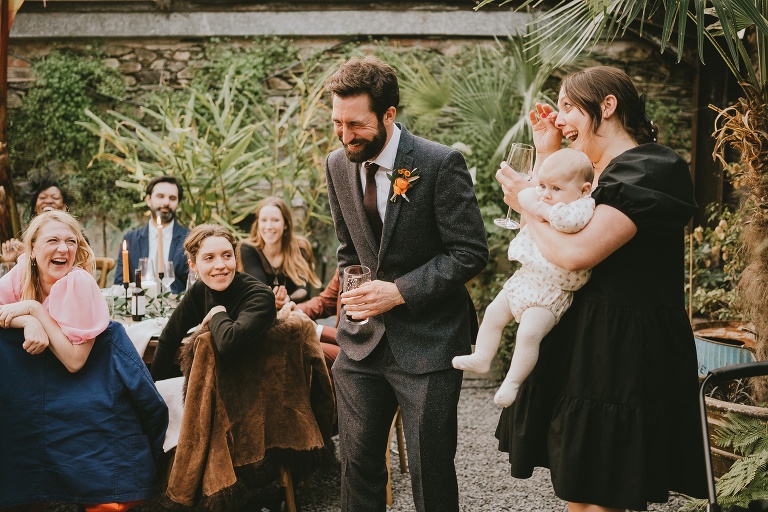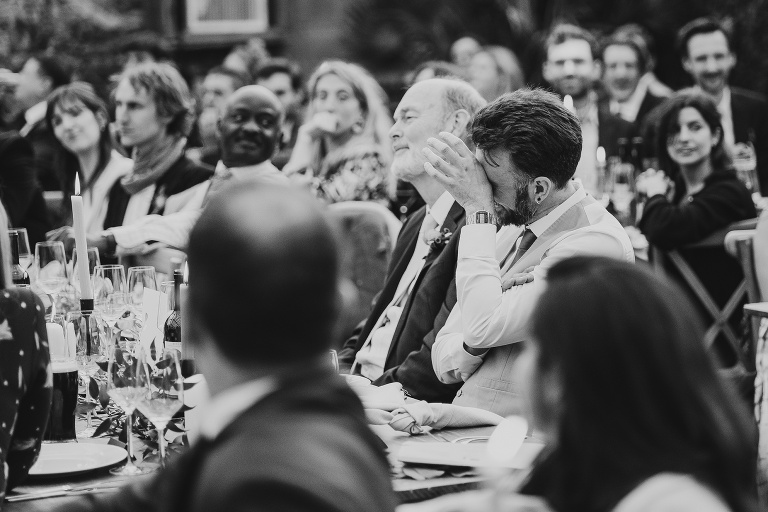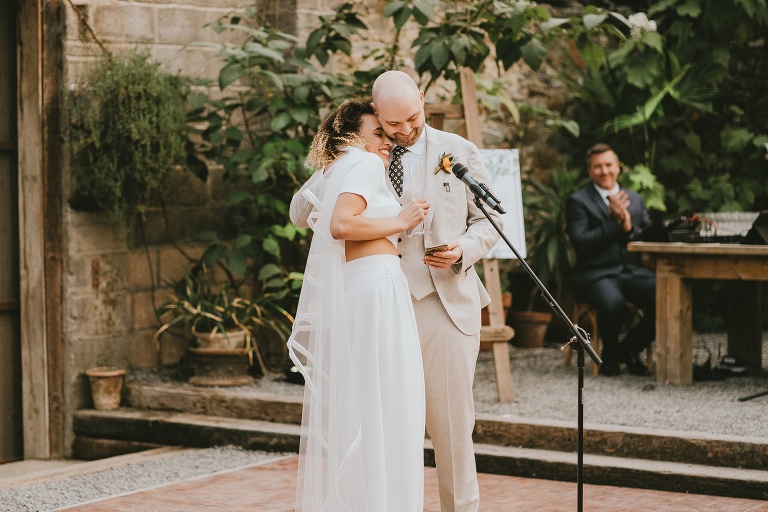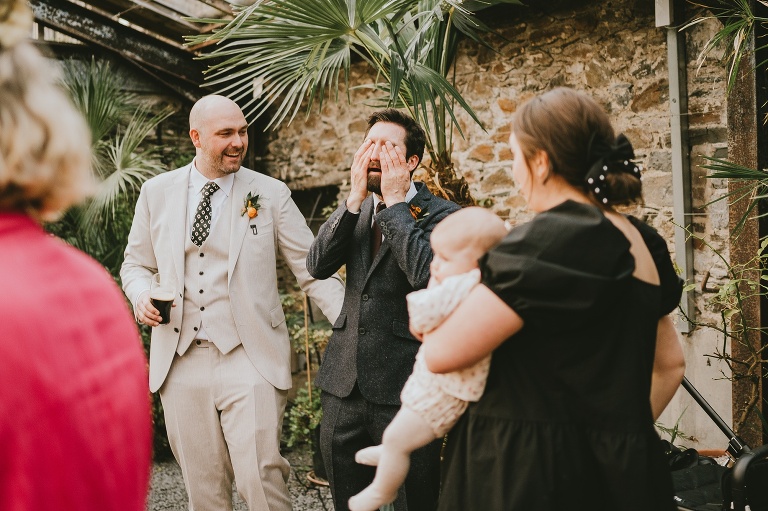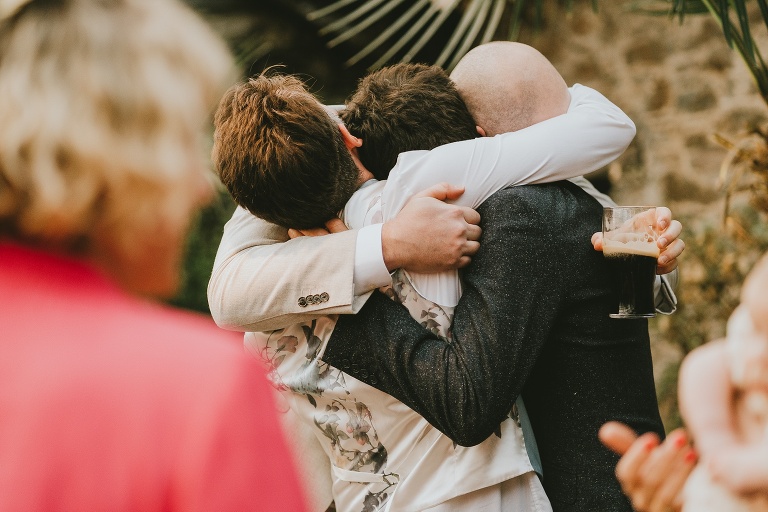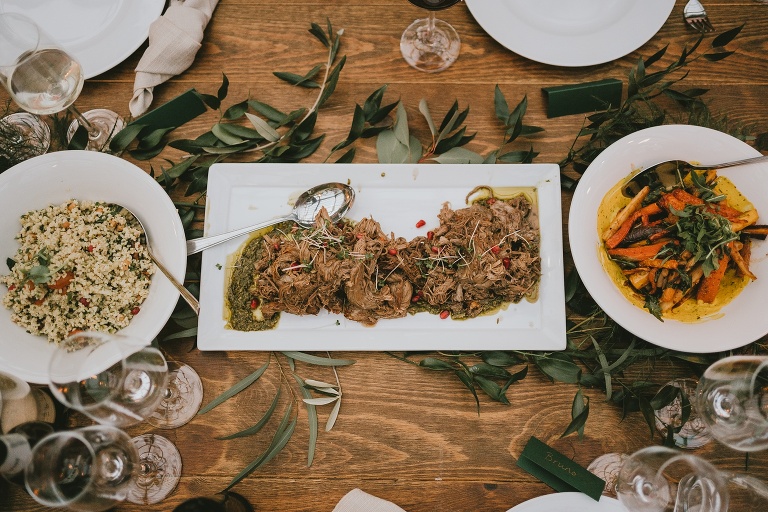 The food was delicious, a carpaccio to start and then middle eastern-style lamb and vegetables.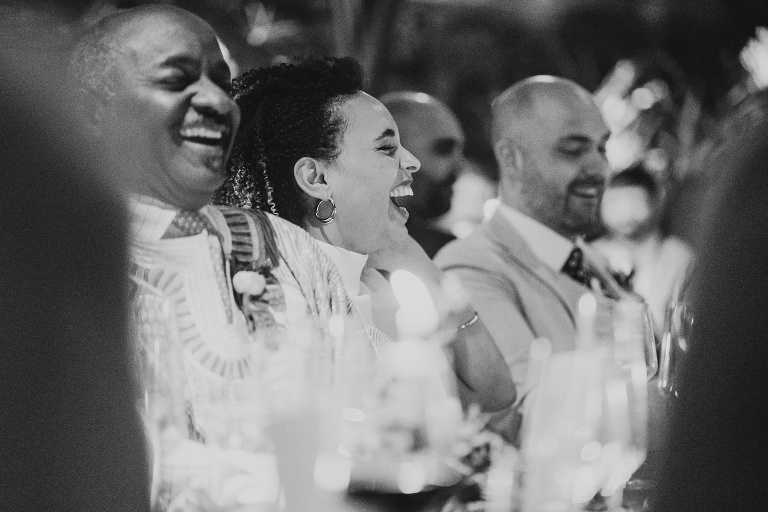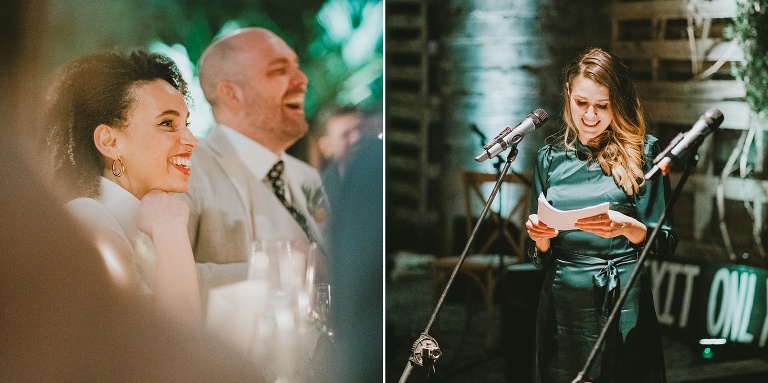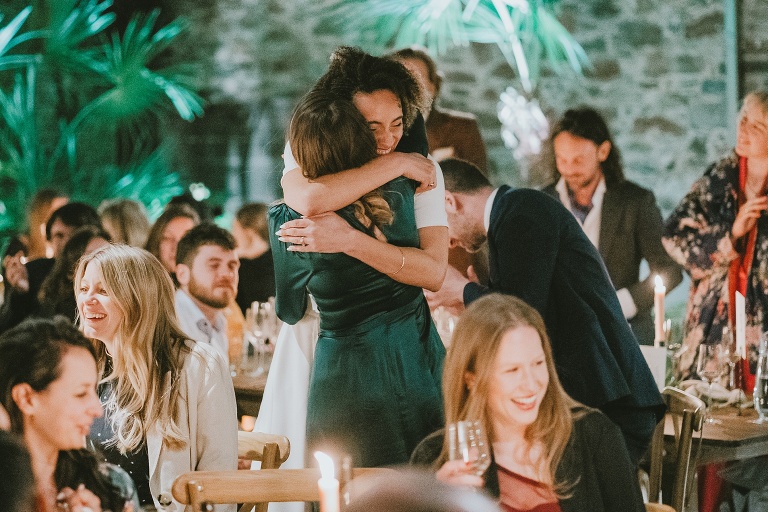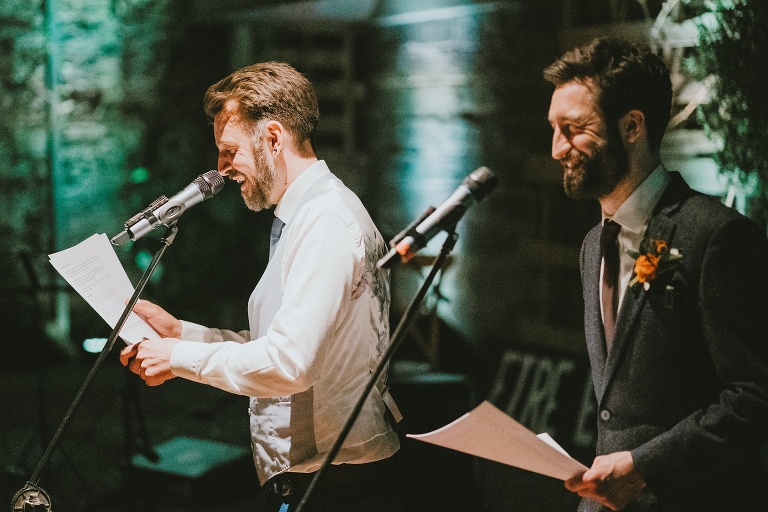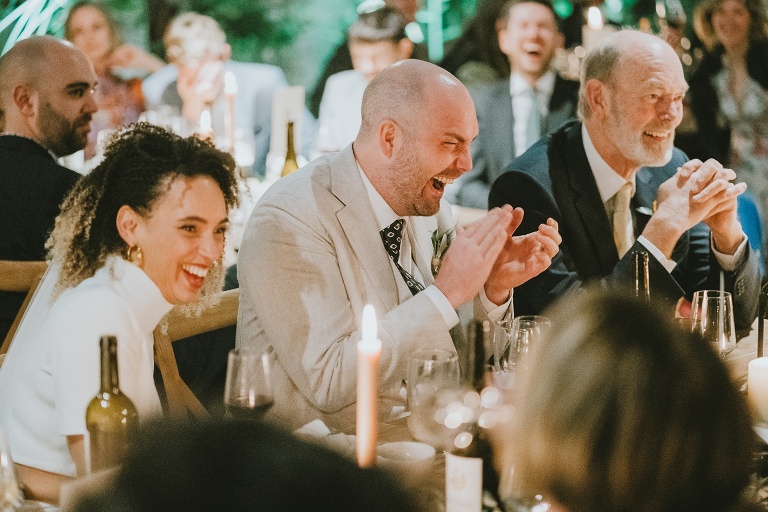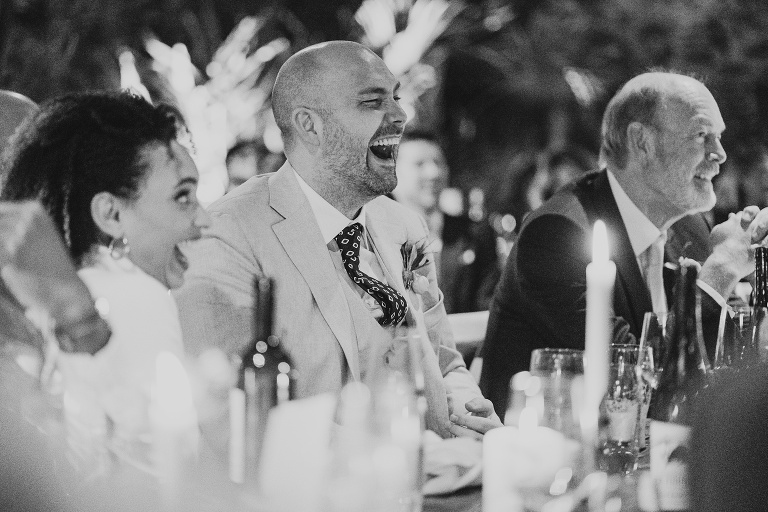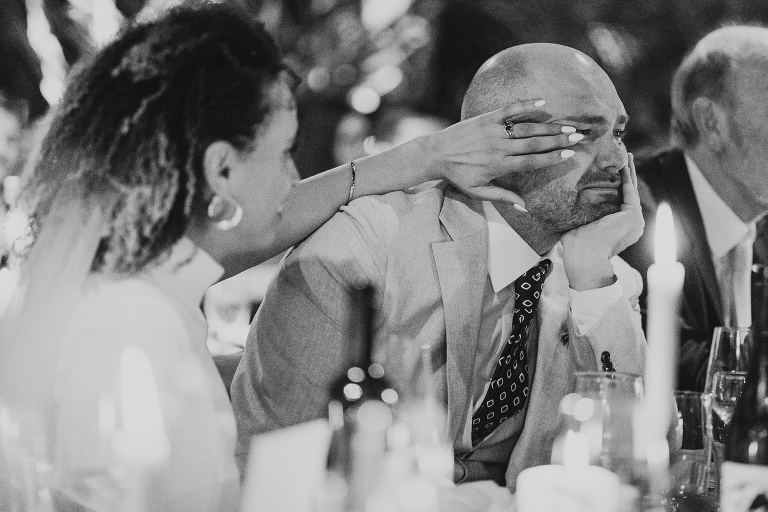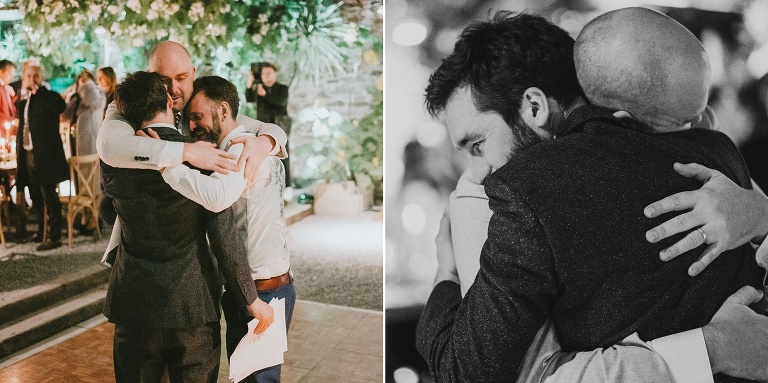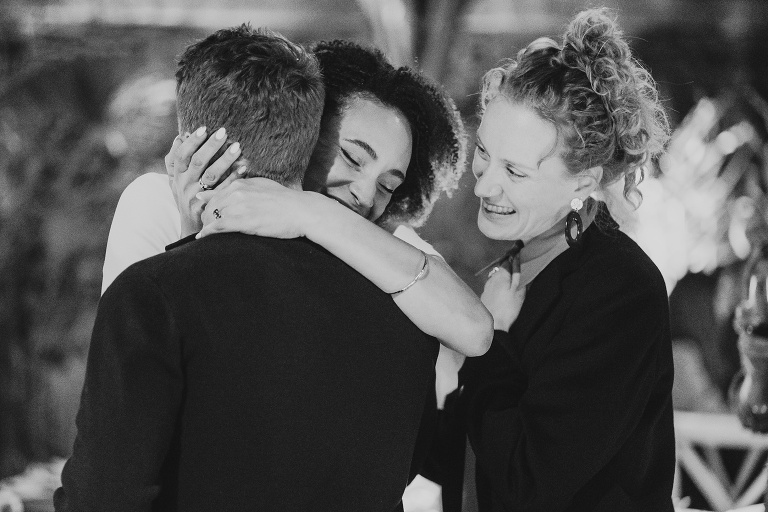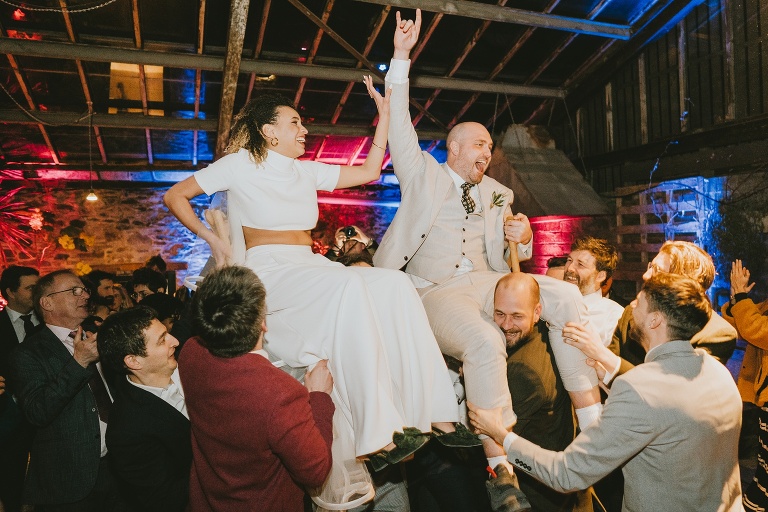 Leah and Tom had a klezmer band after dinner so they could do Jewish dancing and the traditional chair lifting. Everyone loved this bit and all got involved dancing in the middle – which was a real highlight.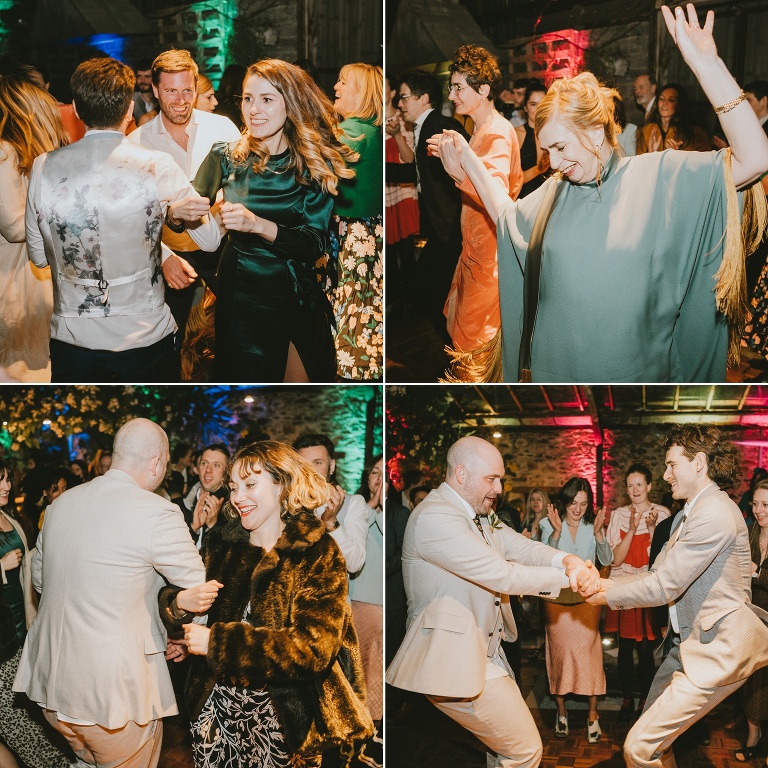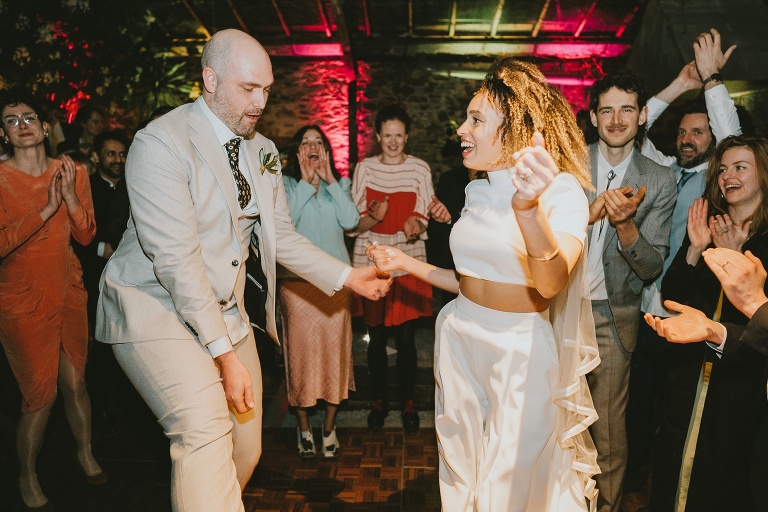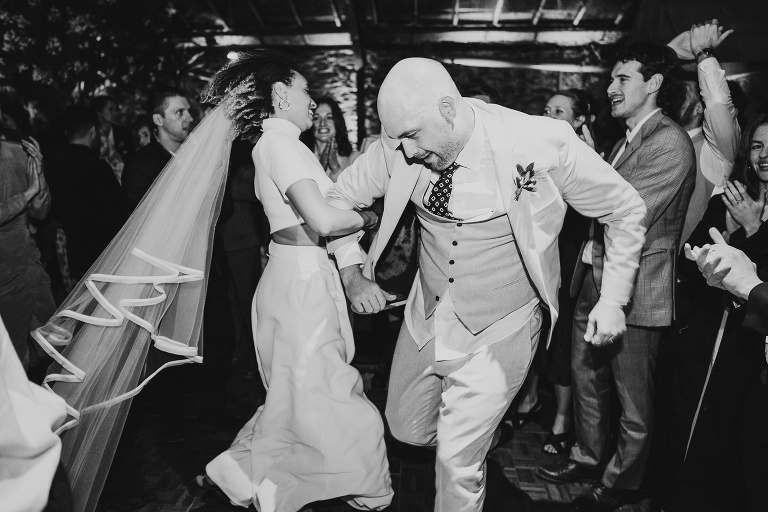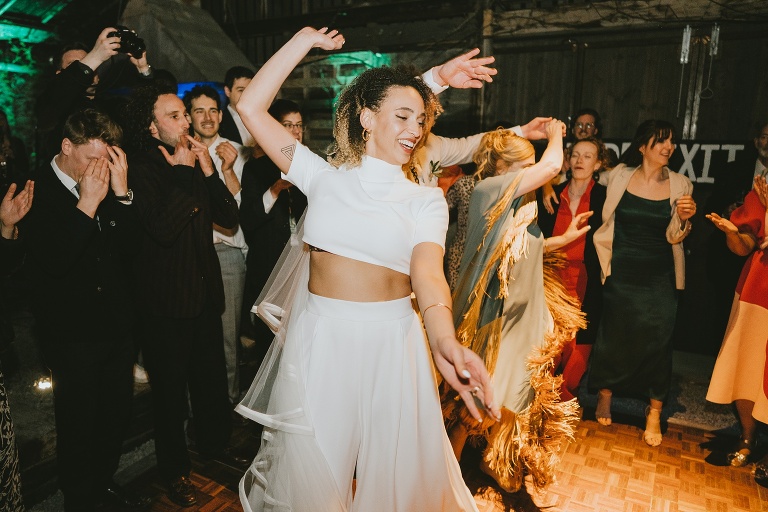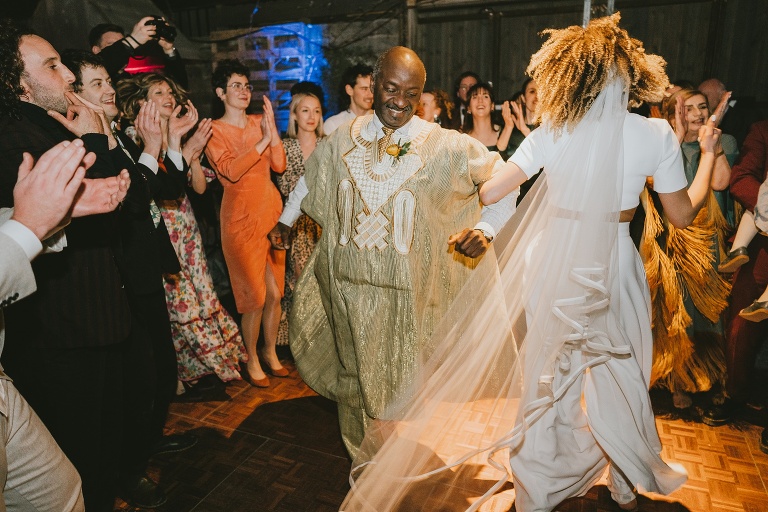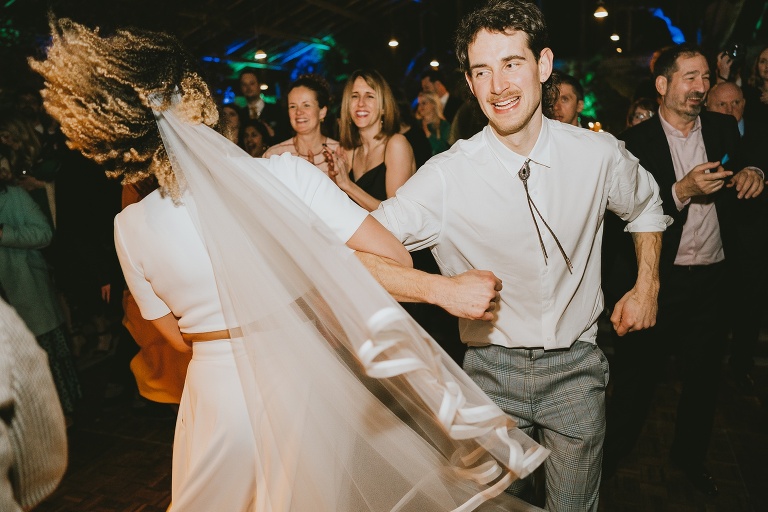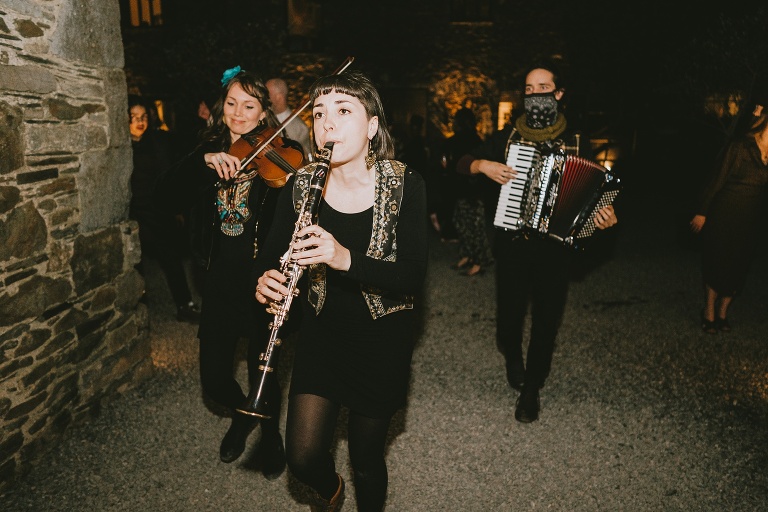 The band then led everyone to the hut for cocktails and to dance the night away!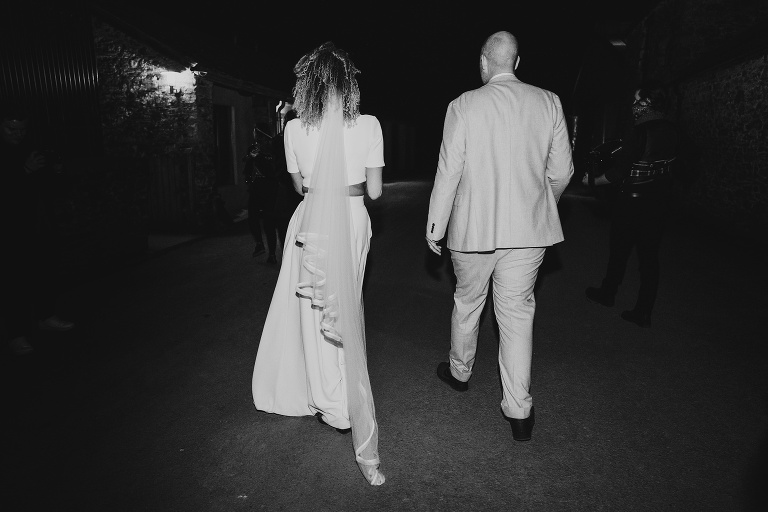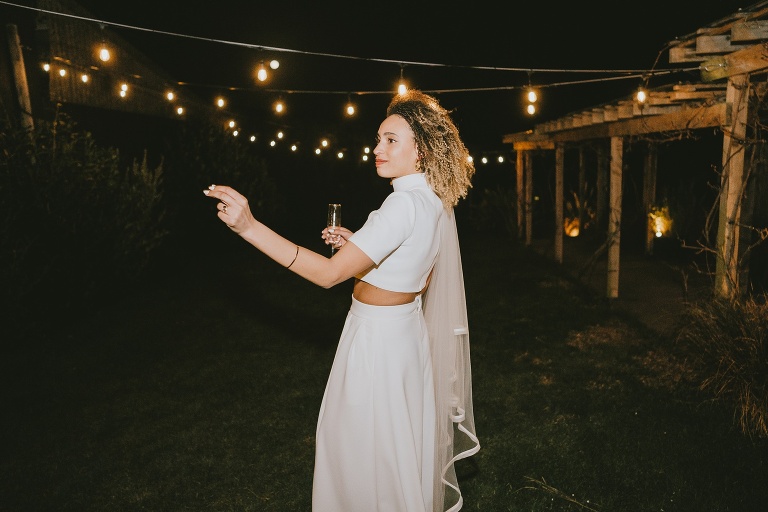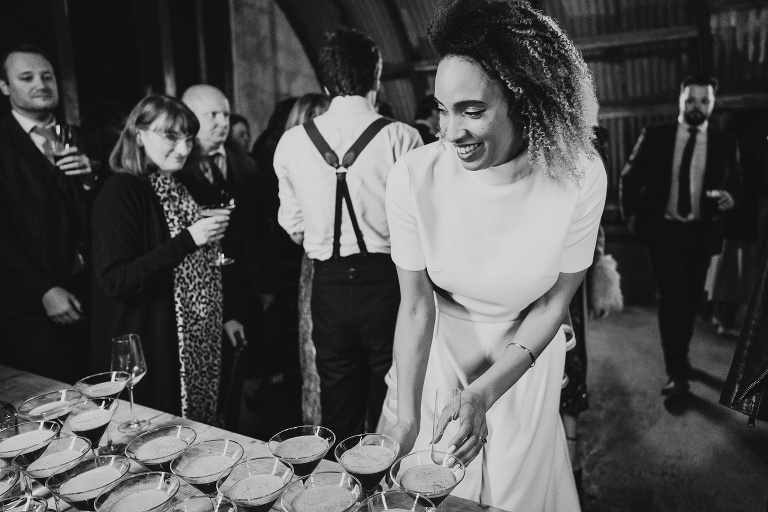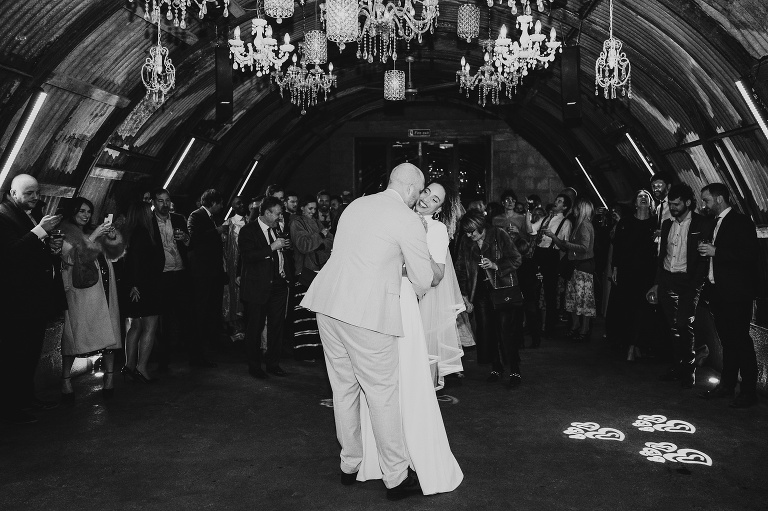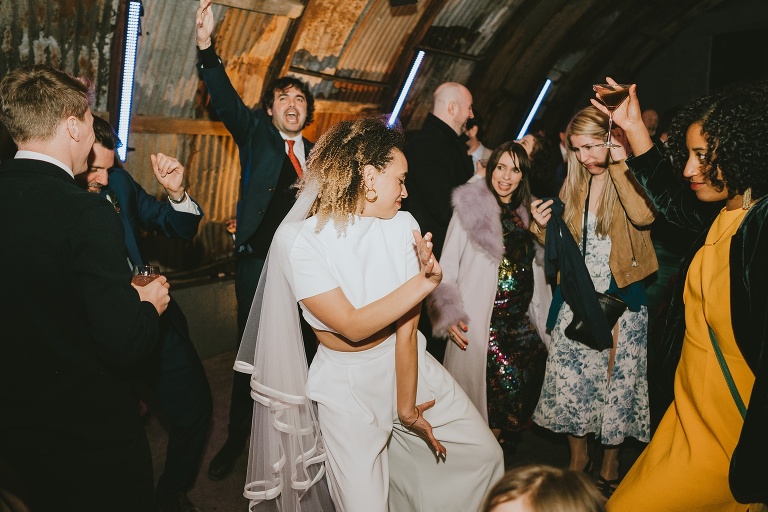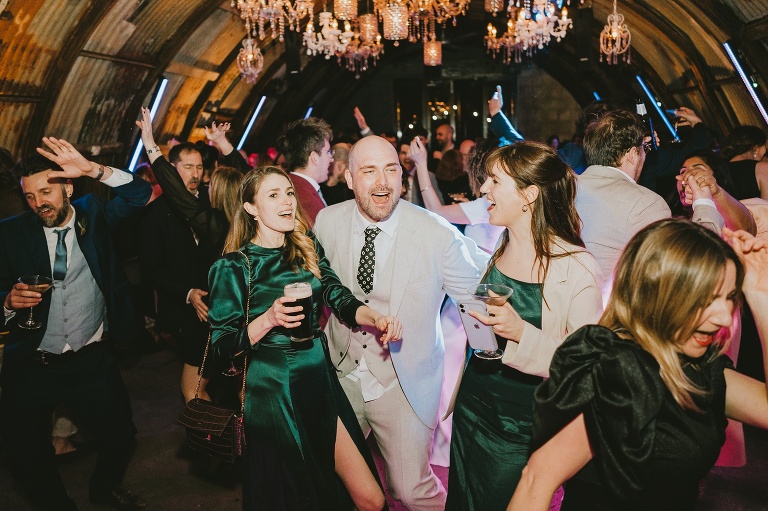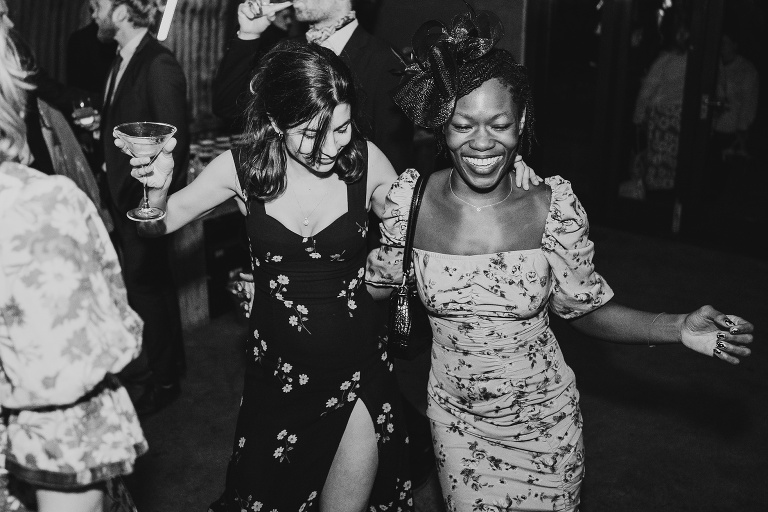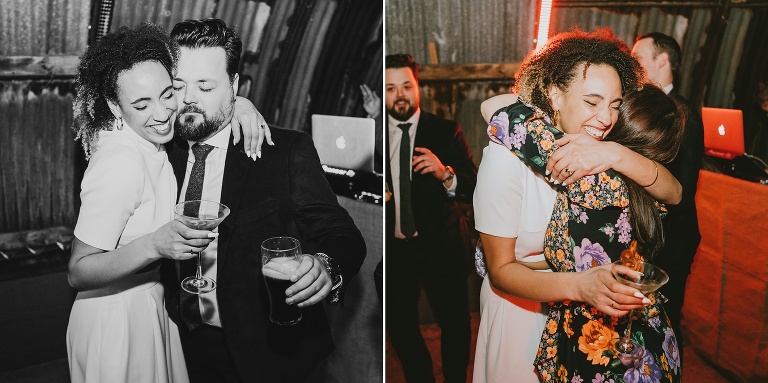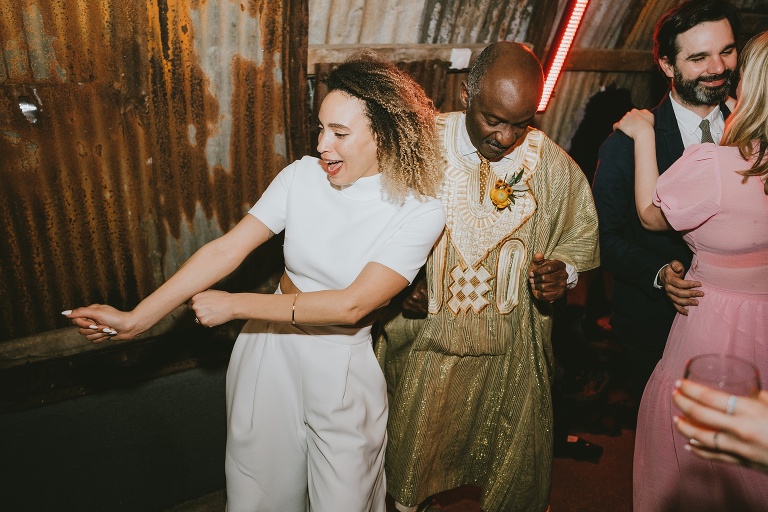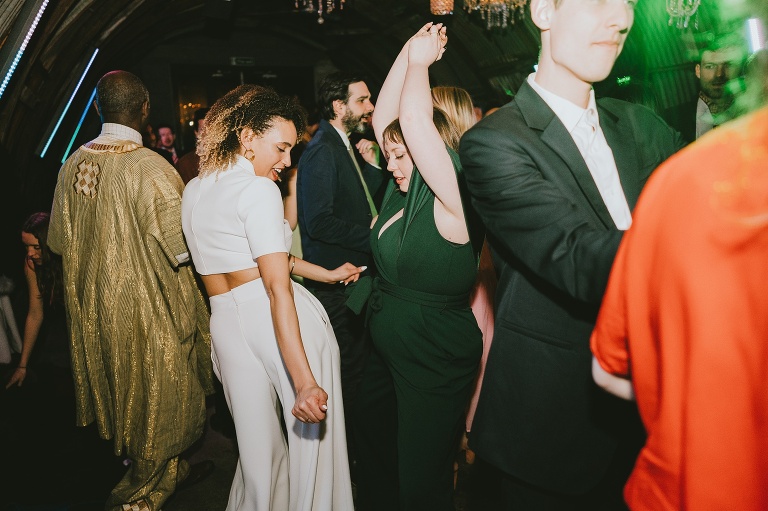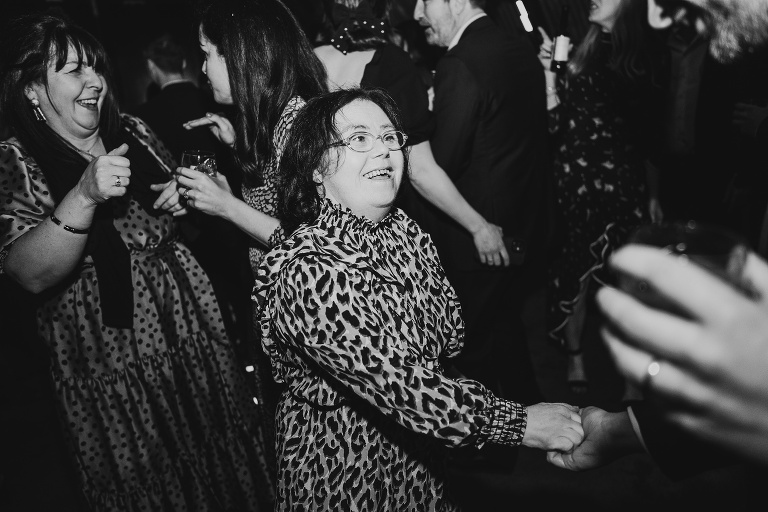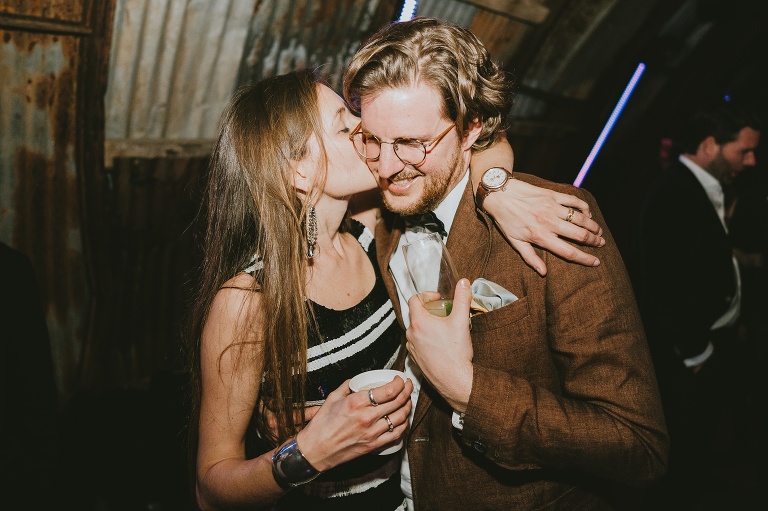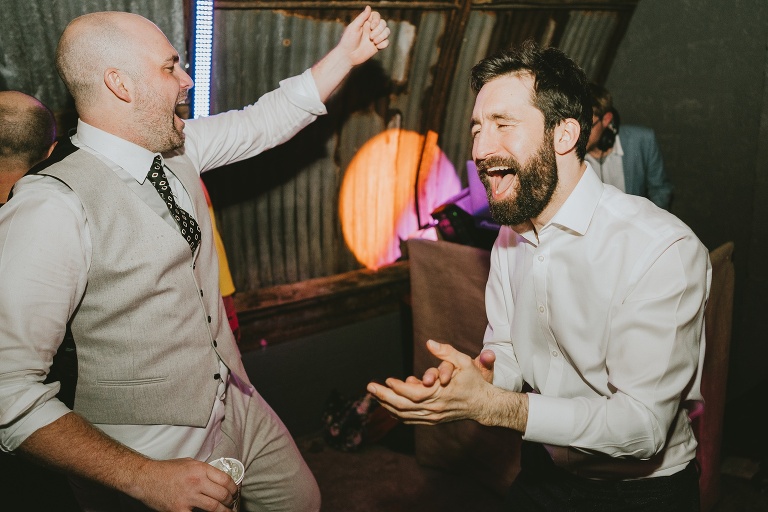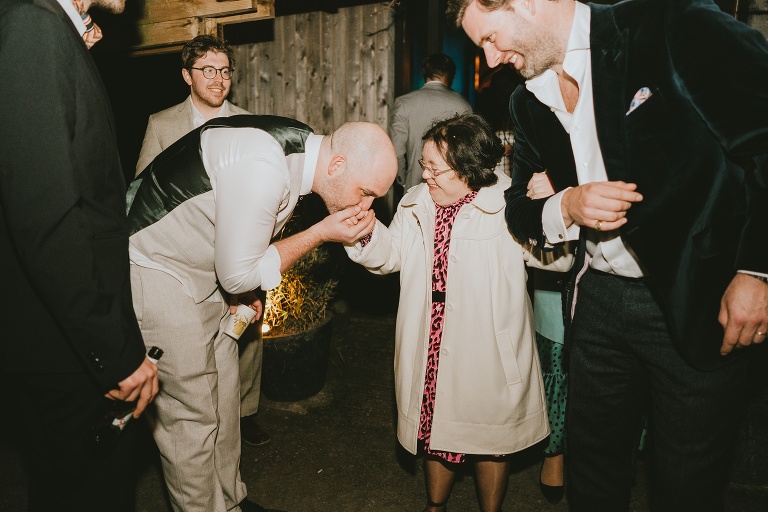 I'm taking bookings for 2023 (limited availability), 2024 and 2025. If you are looking for a wedding photographer for you ANRAN or Devon wedding, then please check out my portfolio or get in touch!
Holly xx