Author Archives:
This was my last full-day wedding of 2018. I had been eagerly looking forward to Abbie and Brock's wedding since I received their first email telling me about their plans! Most notably, they told me that there would be dodgems, and they also intended to do their first dance on the track. It sounded amazing and I couldn't wait to get photos of the dance and guests having fun in the cars!
The day was even better than I had hoped. The dodgems were indeed fantastic but there were so many personal touches to the day that made Abbie and Brock's wedding extra special. The decorations, table plan, lighting, flowers, cake and photo-booth were all painstakingly made and provided by Abbie, Brock, their family and their friends. This wedding was very true to them, with so many touches and decorations celebrating their mutual love of films, and it meant that the whole day felt very personal to this amazing couple.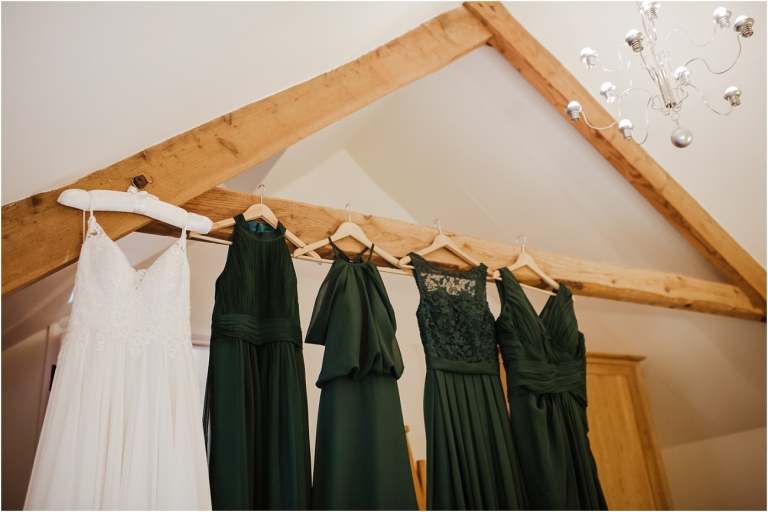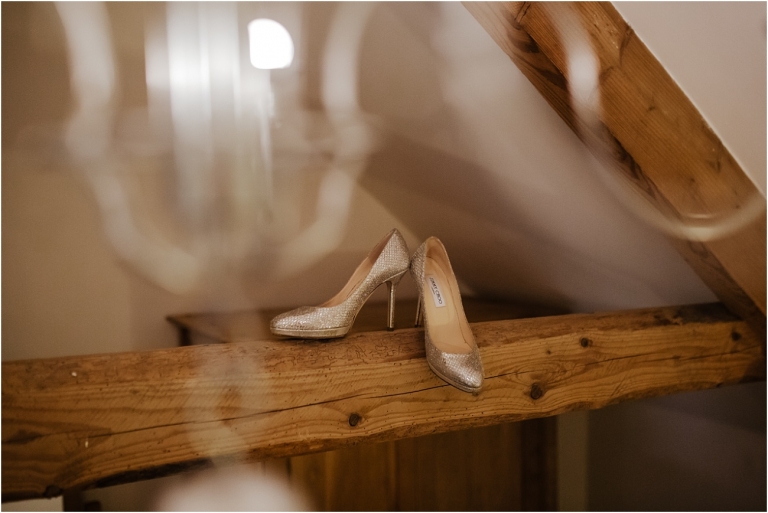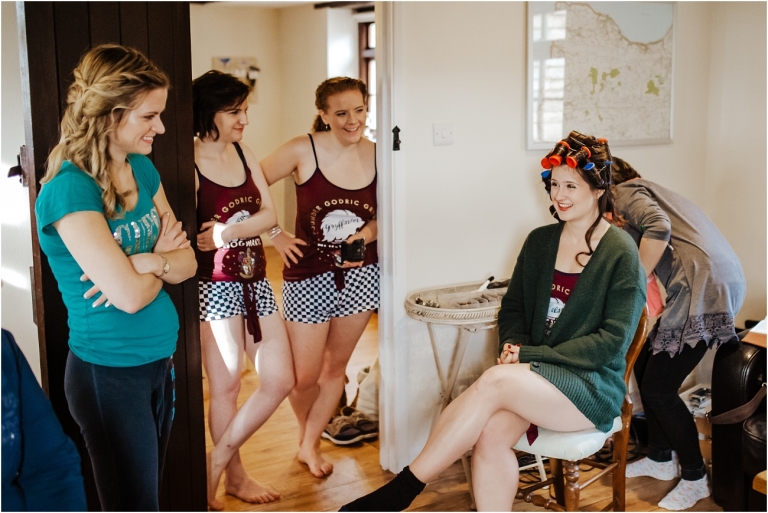 Abbie's hair was styled by Rebecca Wannell, who also did her makeup.

Abbie was the first person to buy her design of dress by Stella York , which meant that they named the dress "Abbie" after her! She bought it from Love Bridal in Crystal Palace.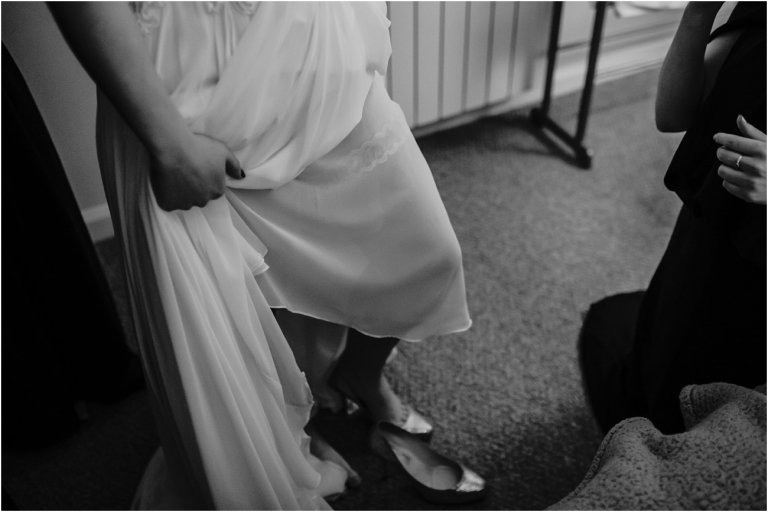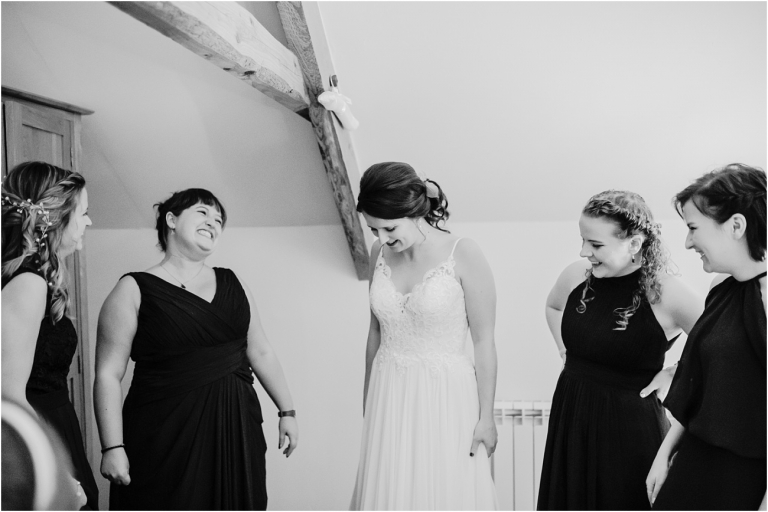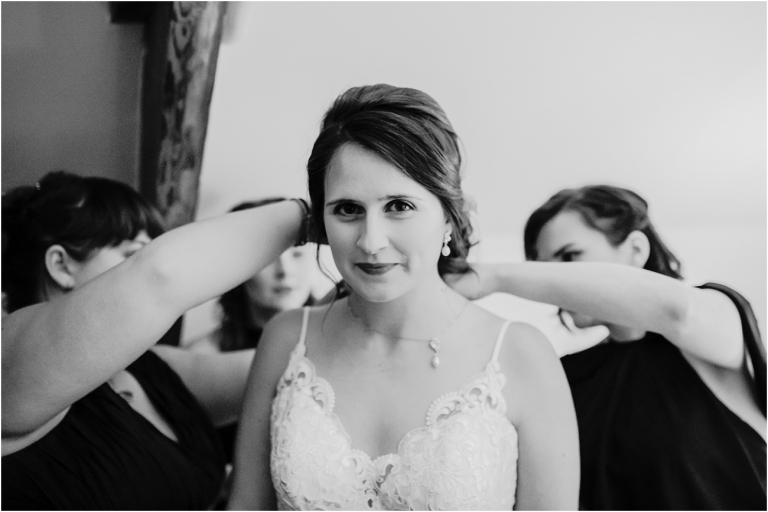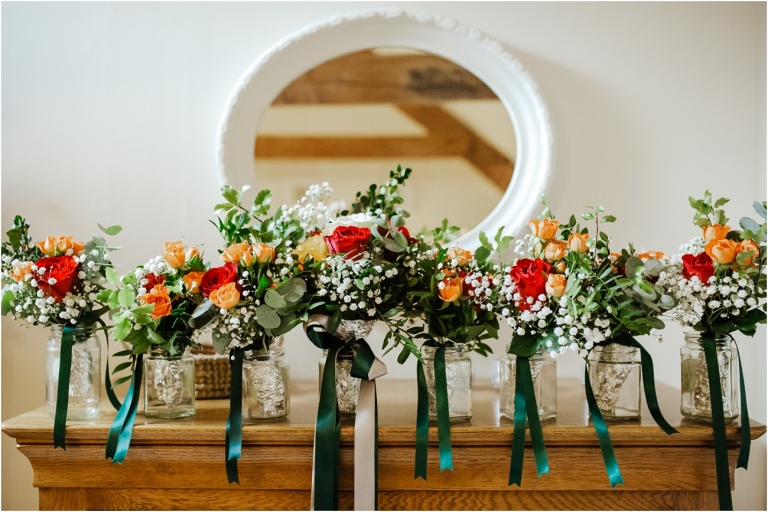 Brock's mum Amanda provided the flowers for their wedding. She picked them from her own garden but she also makes and provided her own felt flowers for the buttonholes! These were put together by Amanda, with the help of Abbie and her bridesmaids.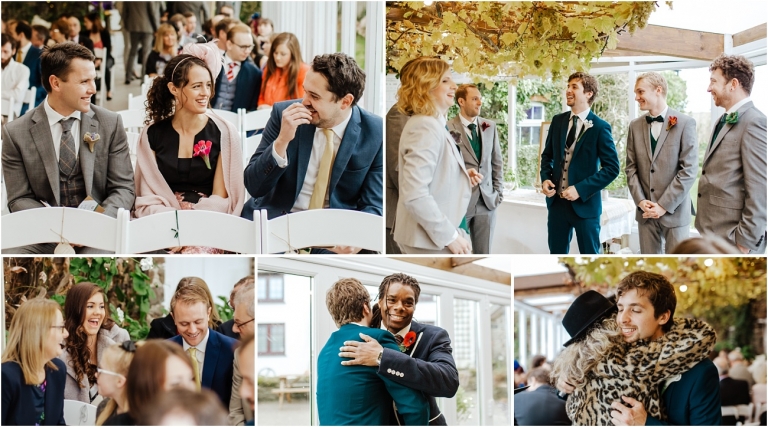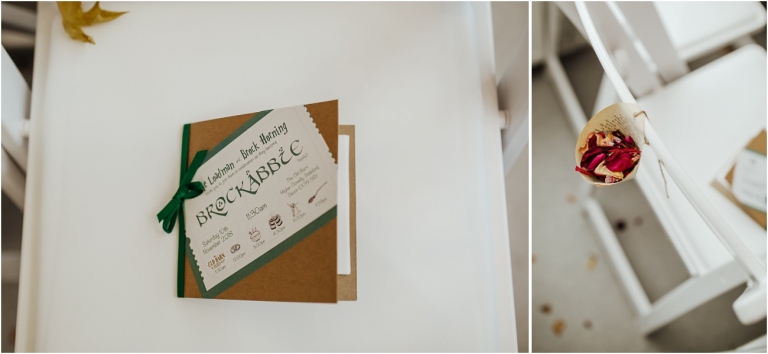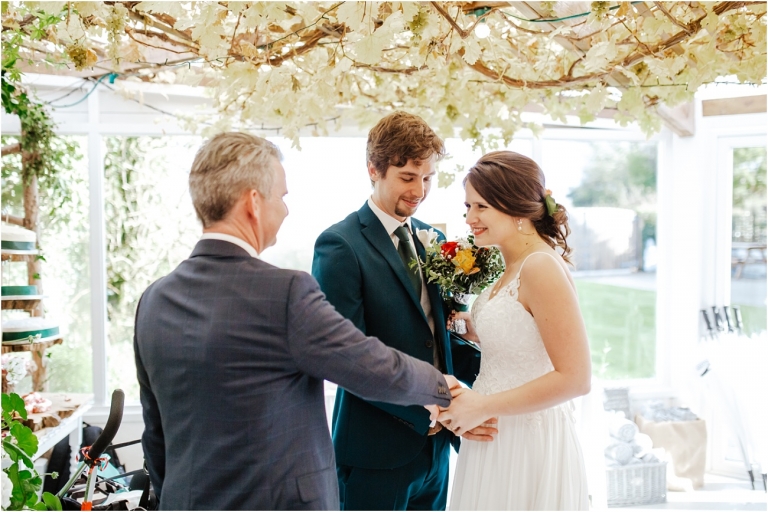 Abbie's dad gave her away at the bottom of the aisle so she and Brock could walk down together, to music from Lord of the Rings!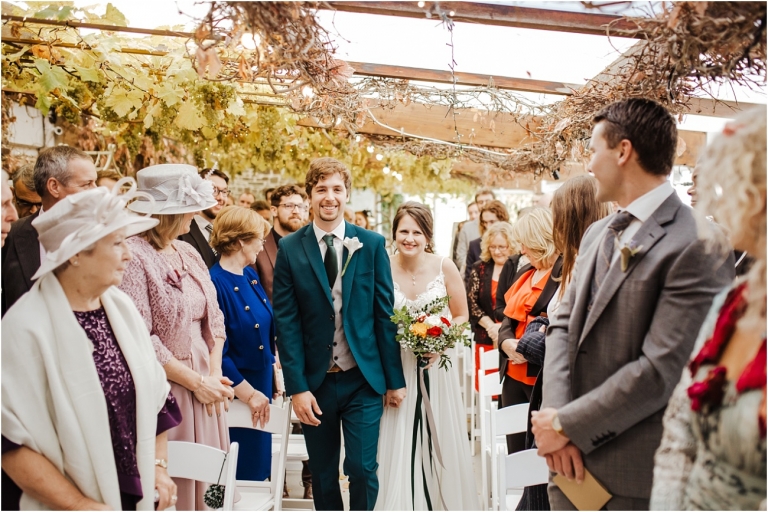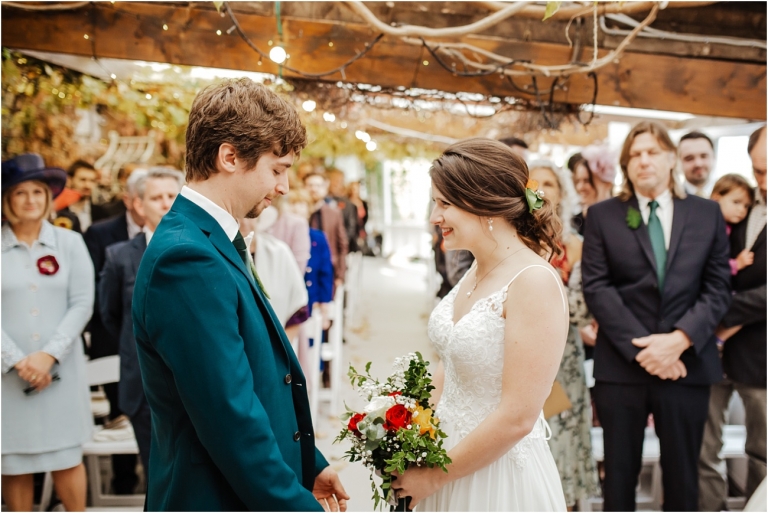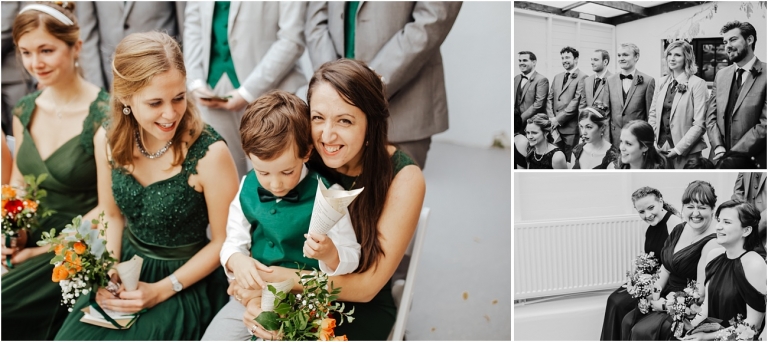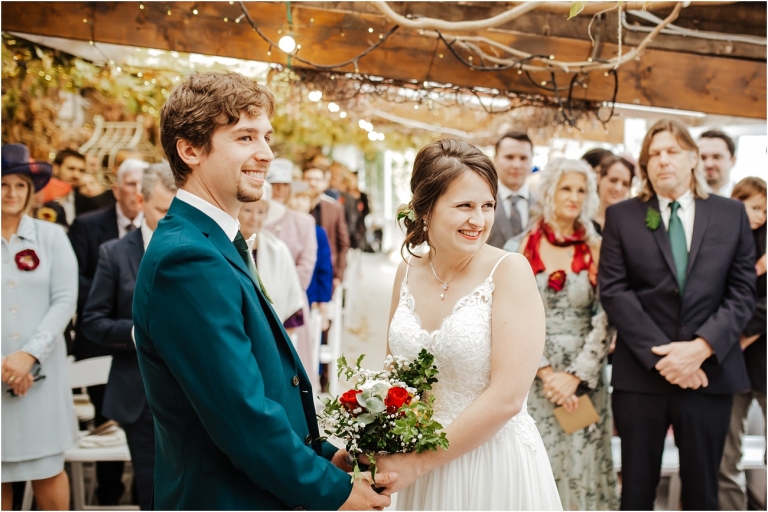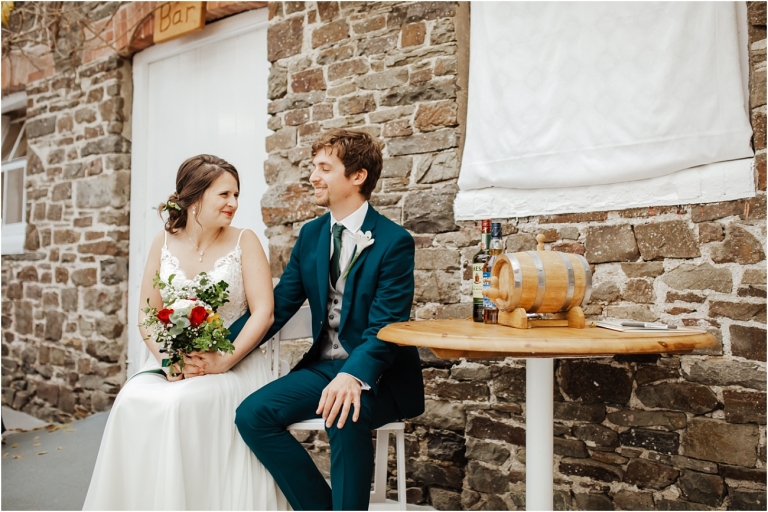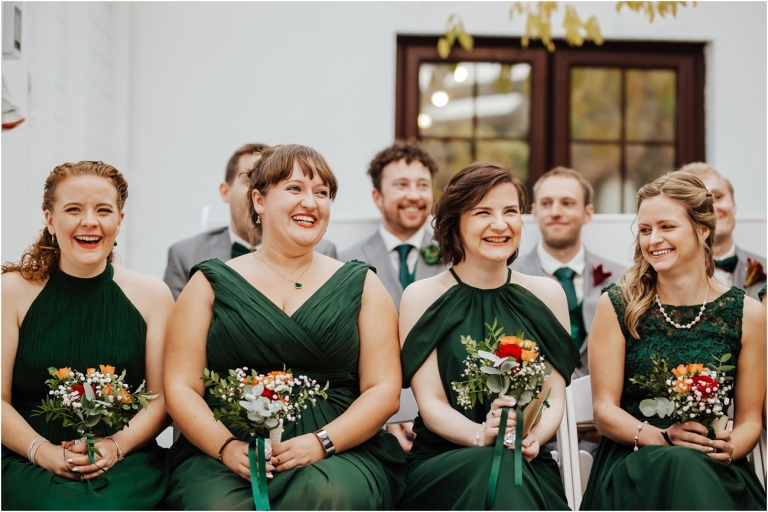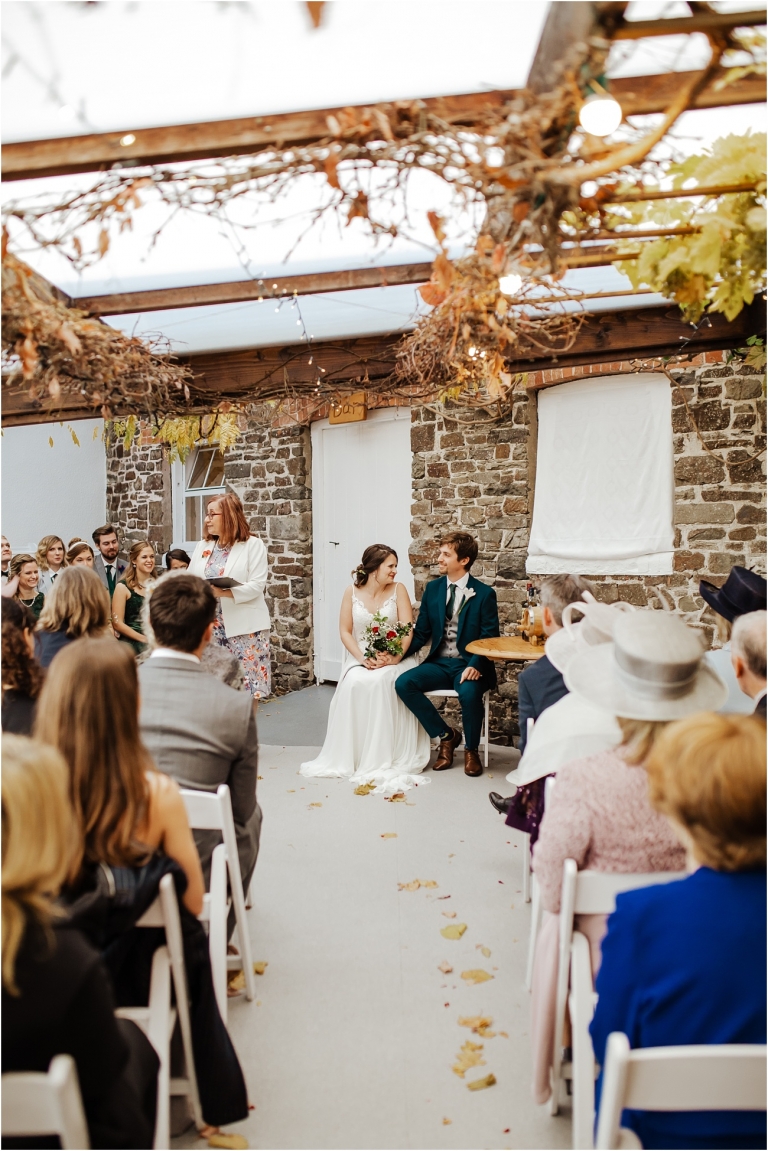 Abbie and Brock chose a humanist ceremony for their wedding and it was officiated by celebrant Angie of One Love Ceremonies. Angie helped to make the ceremony incredibly unique to them, full of humour, love and… drams of whiskey!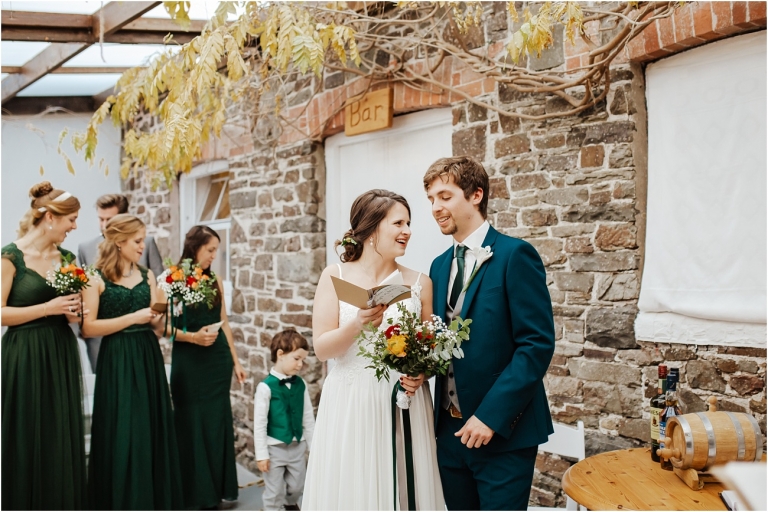 In non-church ceremonies, I always miss the singing! I was delighted that Abbie and Brock included singing in their ceremony by having everyone sing songs by The Monkees and The Beach Boys, accompanied by their friend on guitar. It was awesome!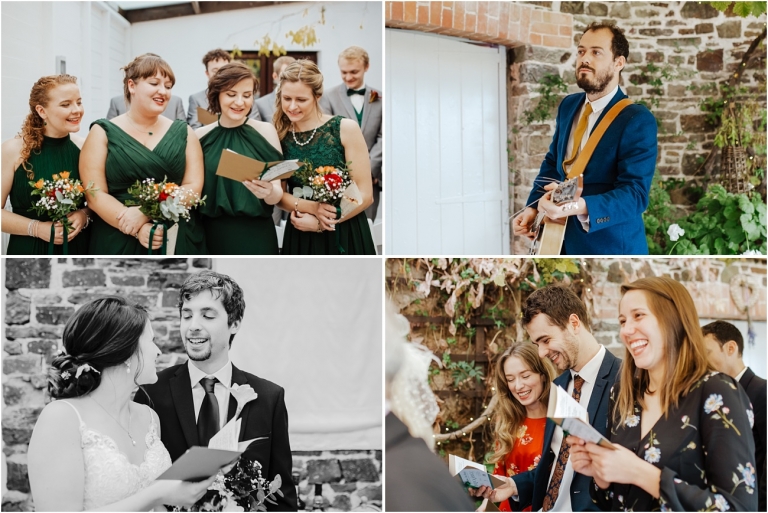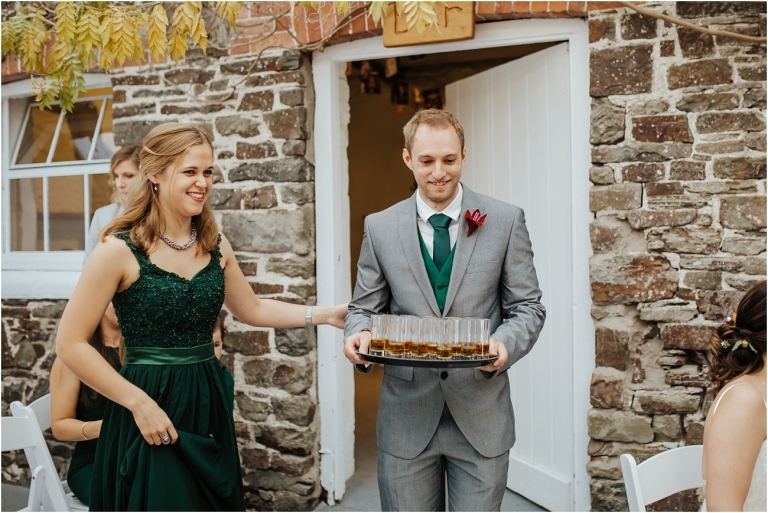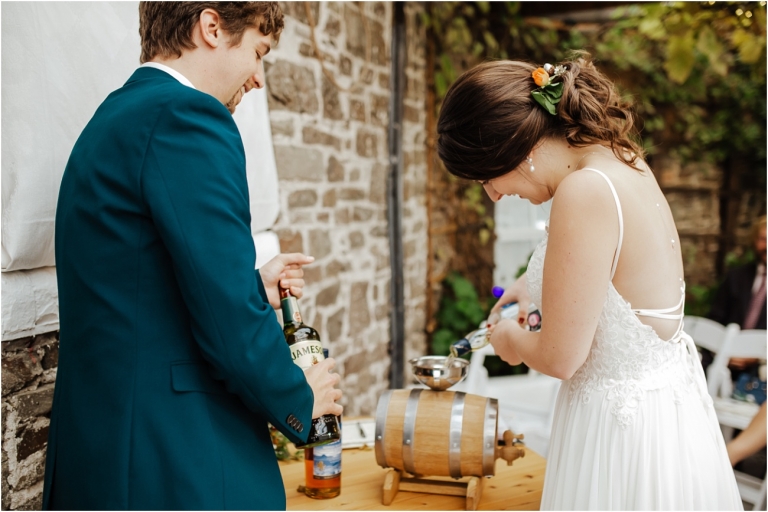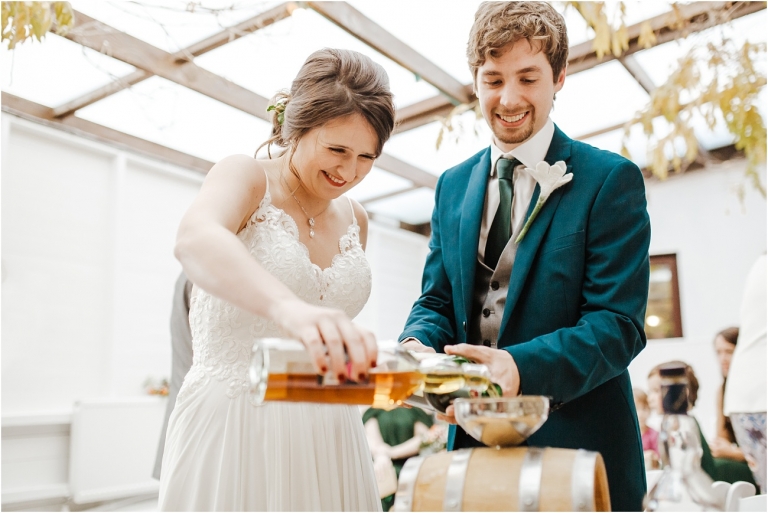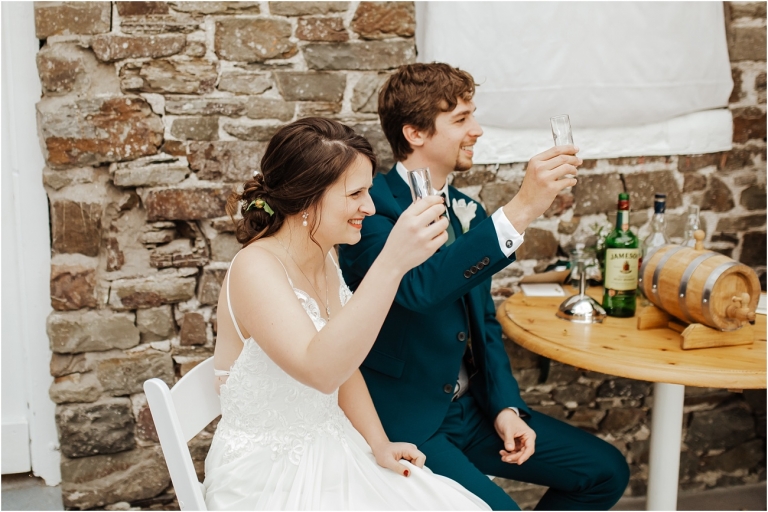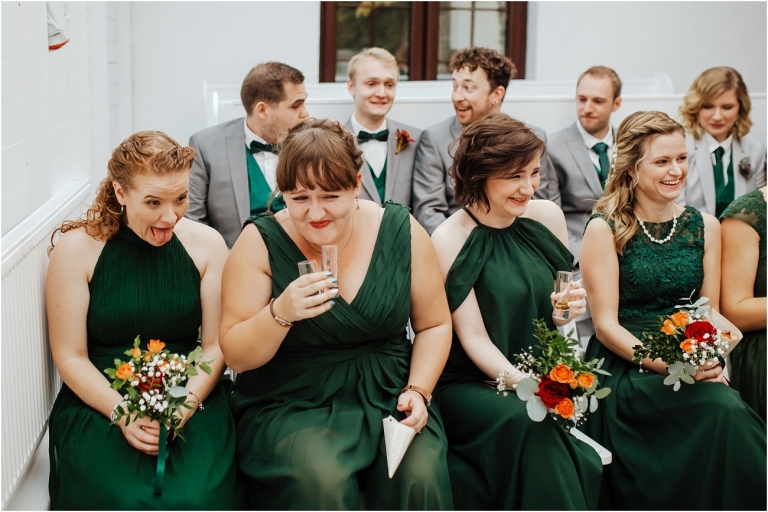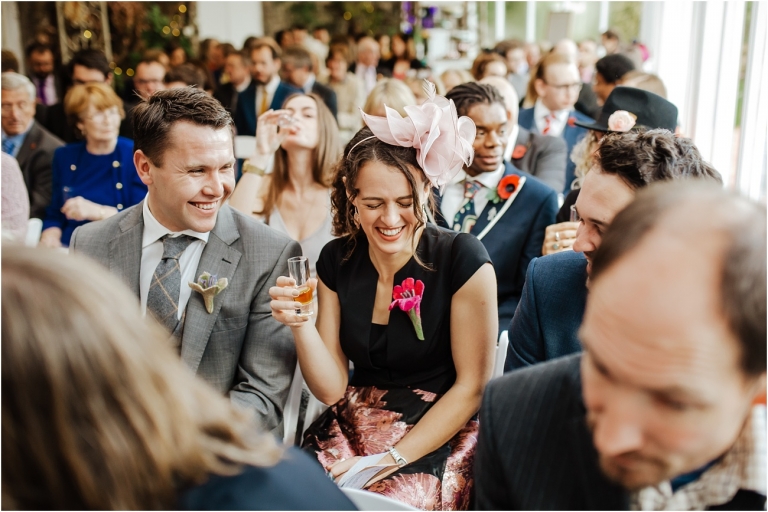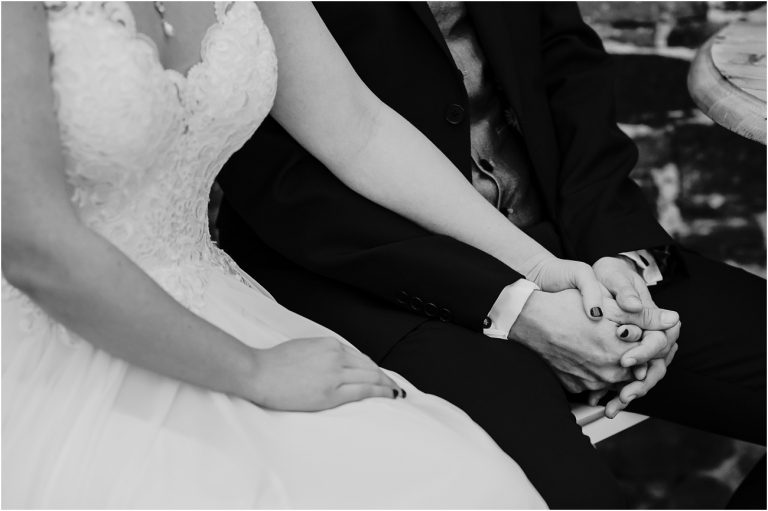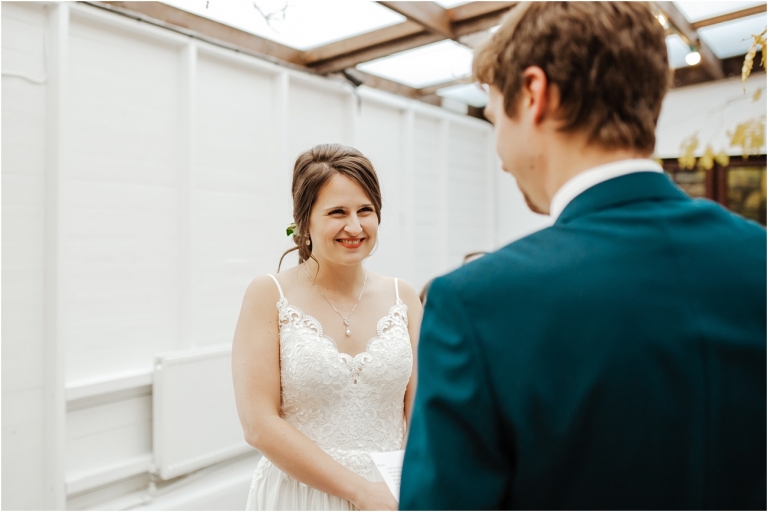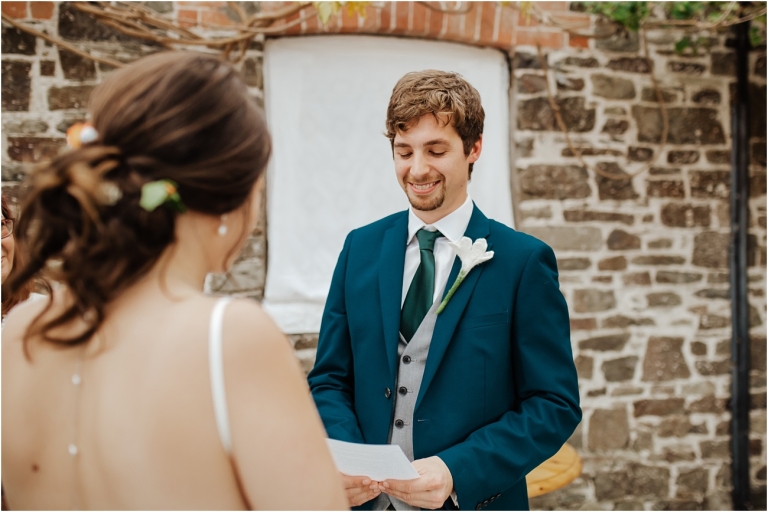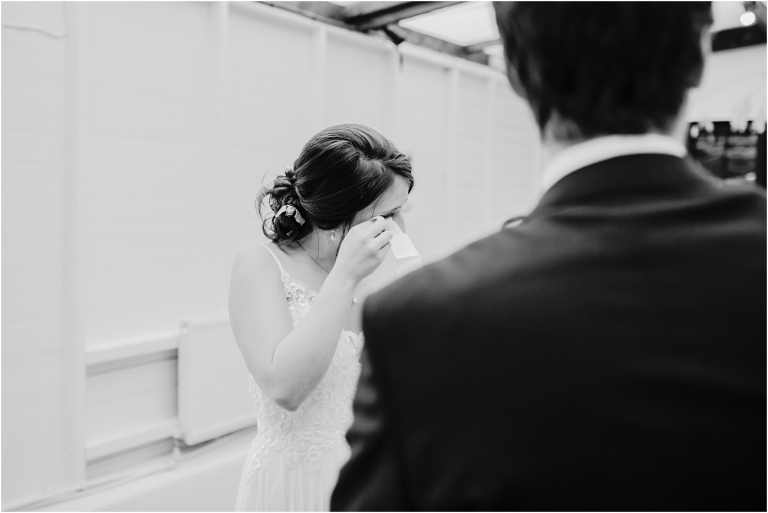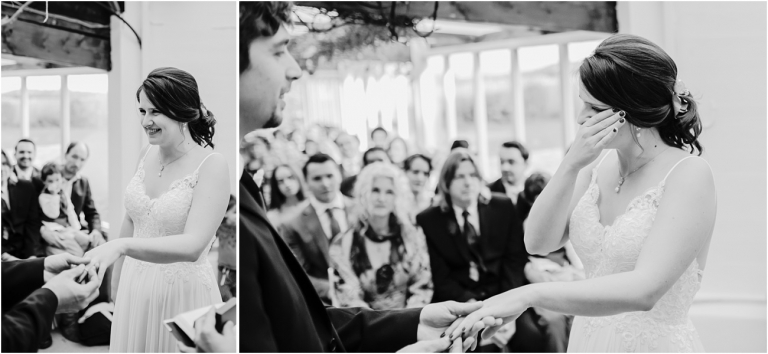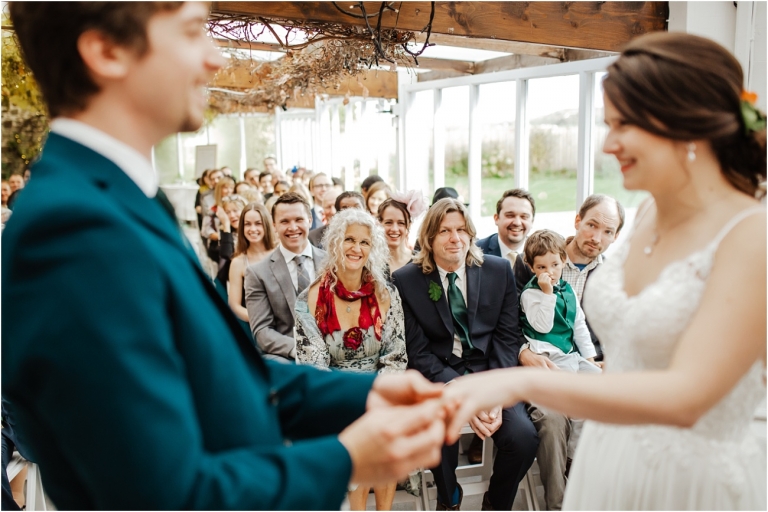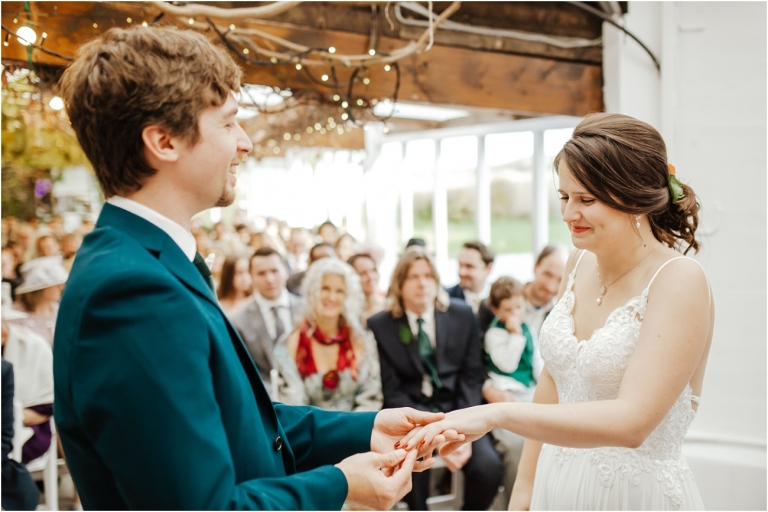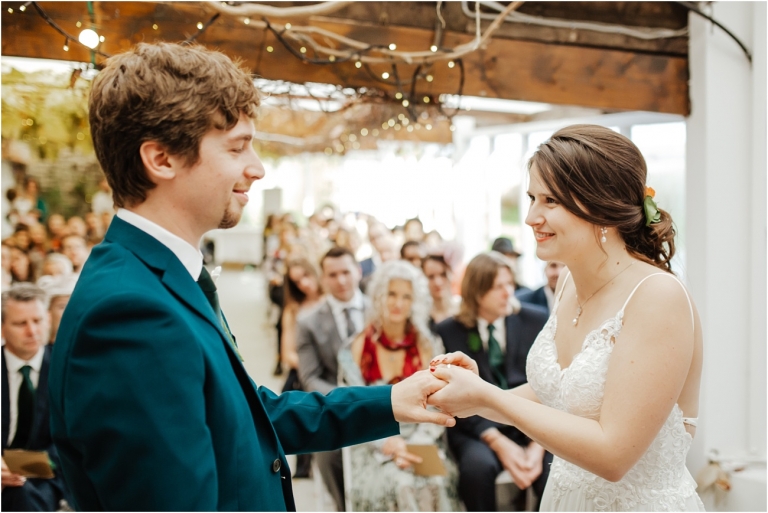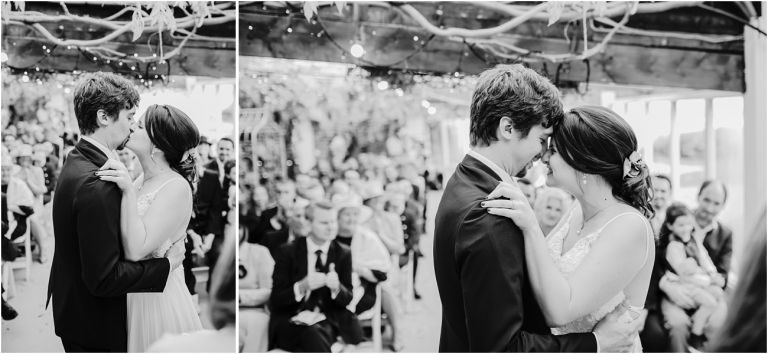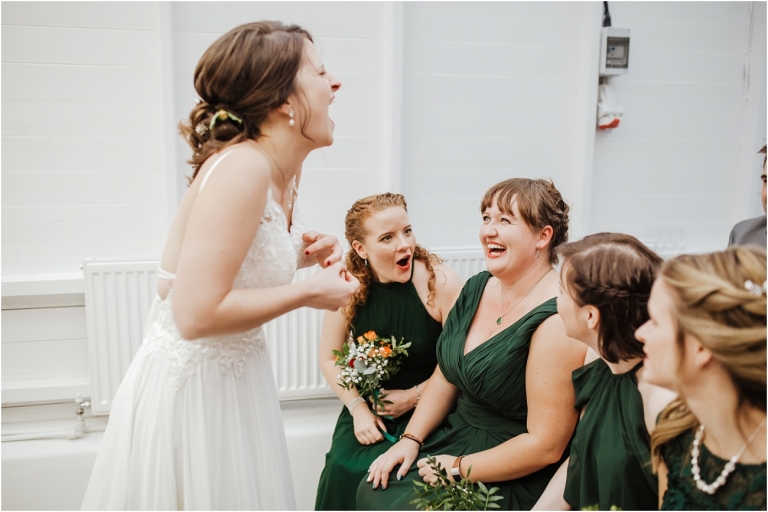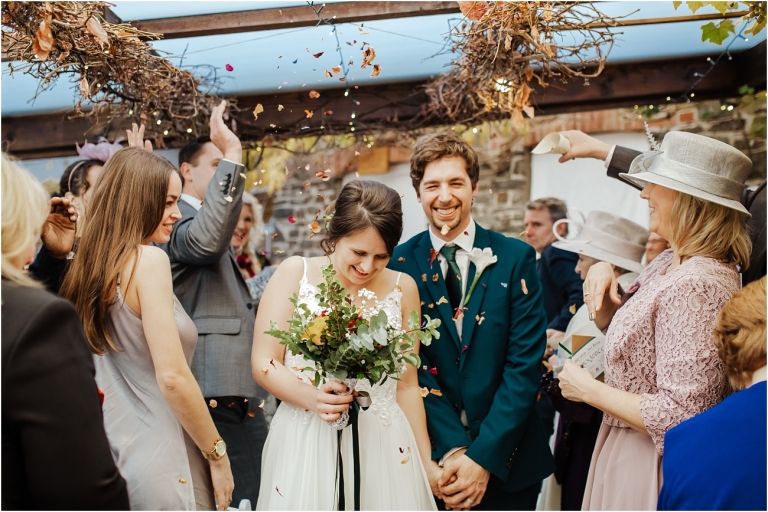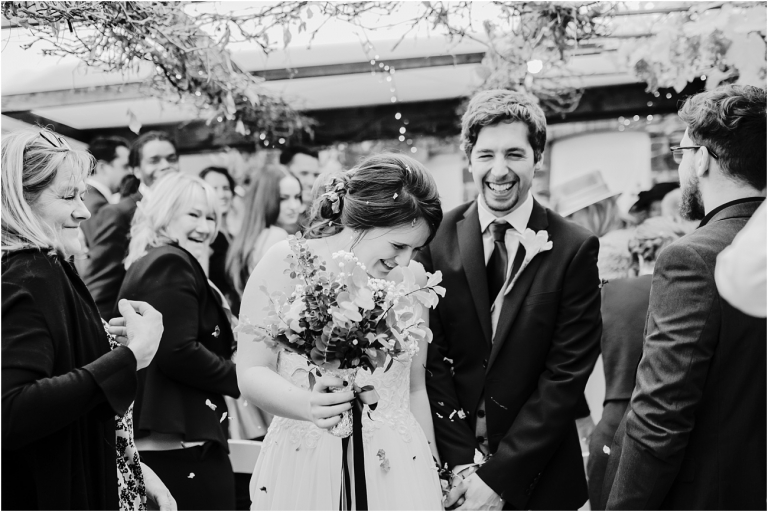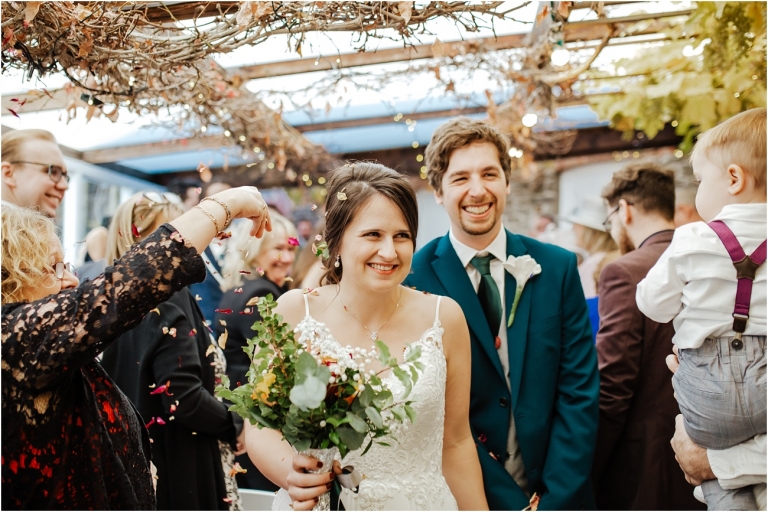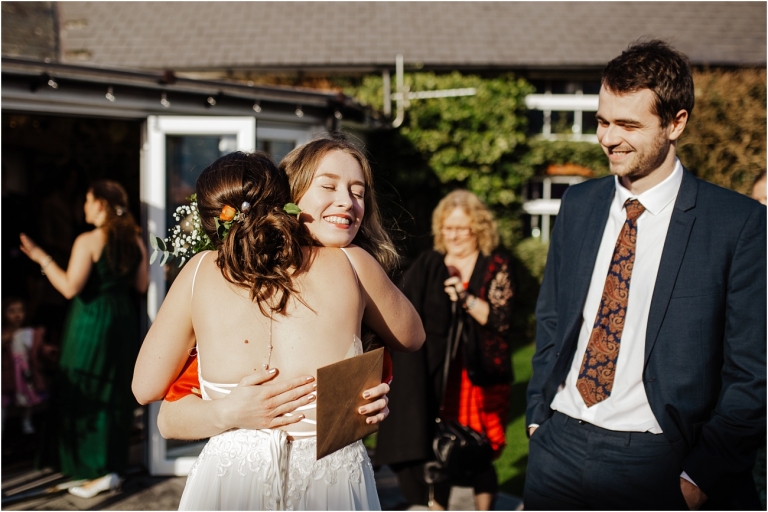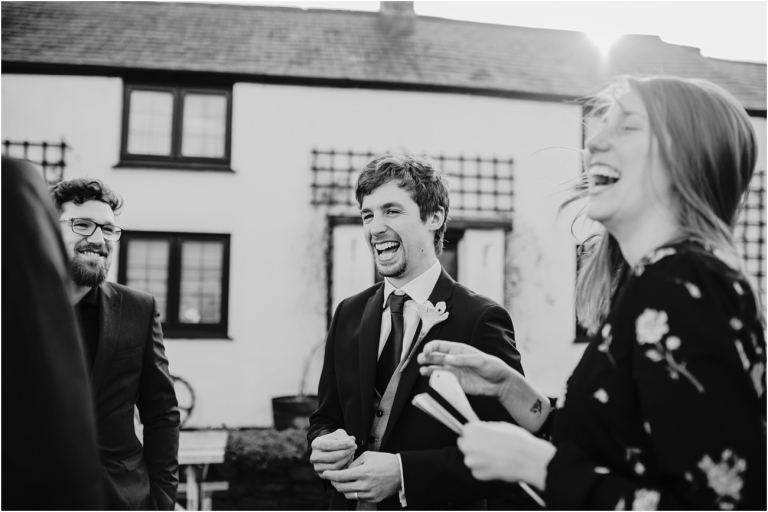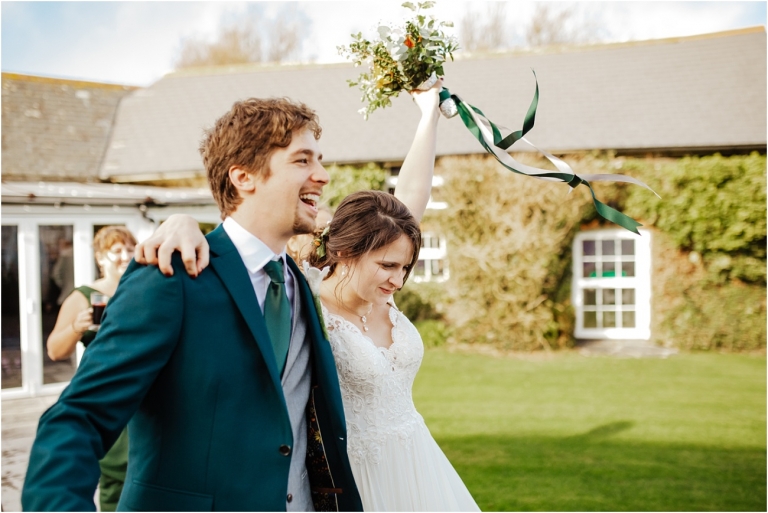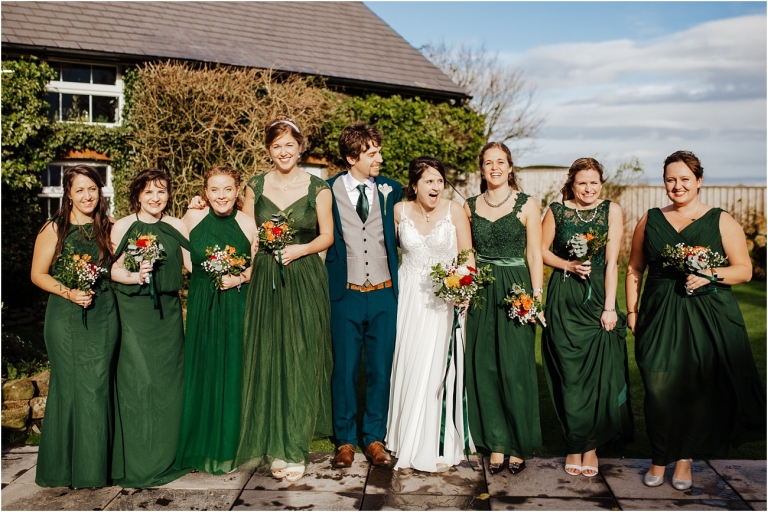 The bridesmaids' dresses were bought from Mix Bridal, which allowed for different sizes and designs to fit the wintry colour scheme.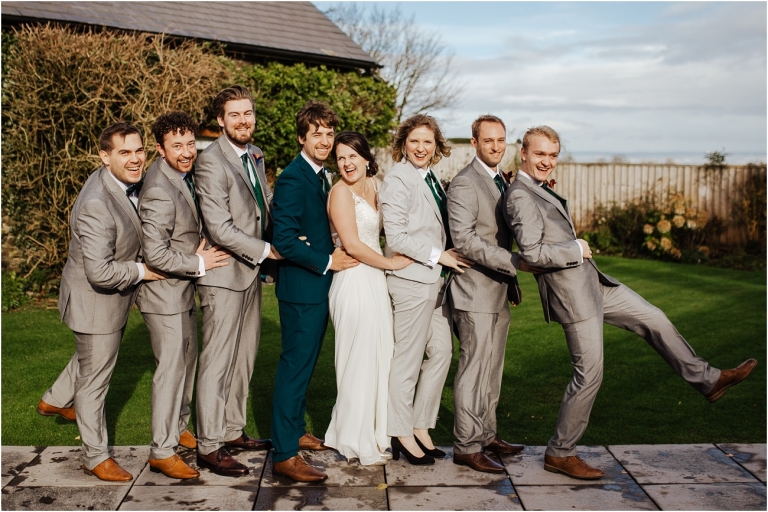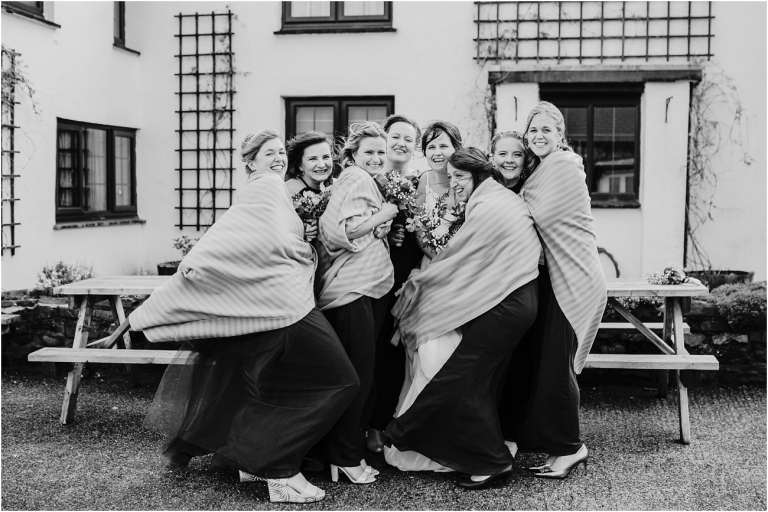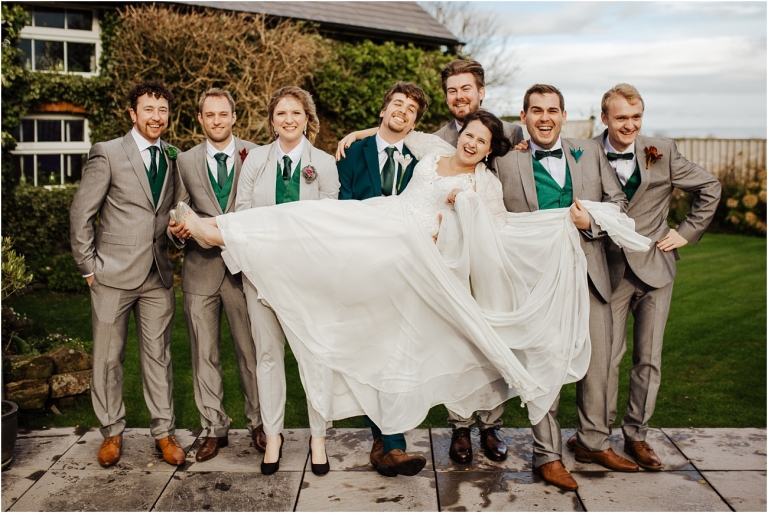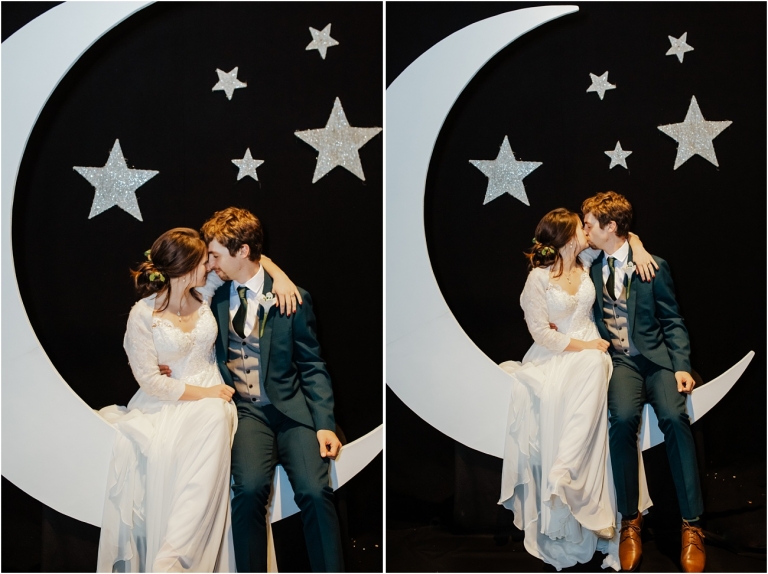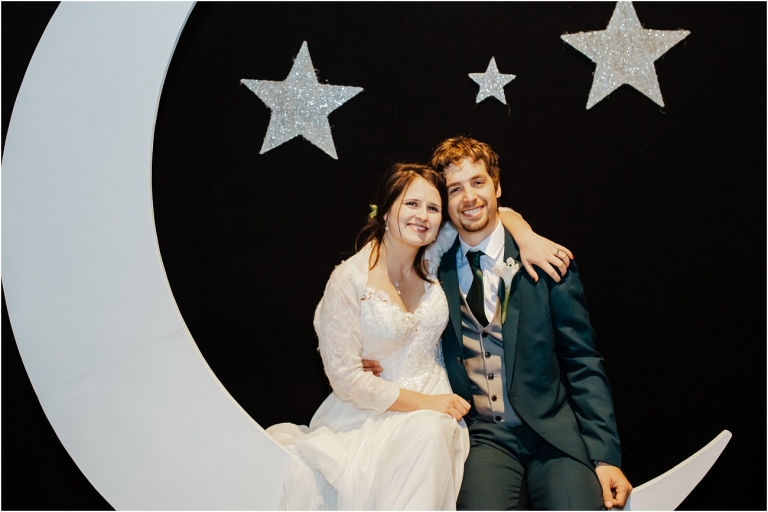 The Moon photobooth was designed and made by Brock, his Dad, and a groomsmen!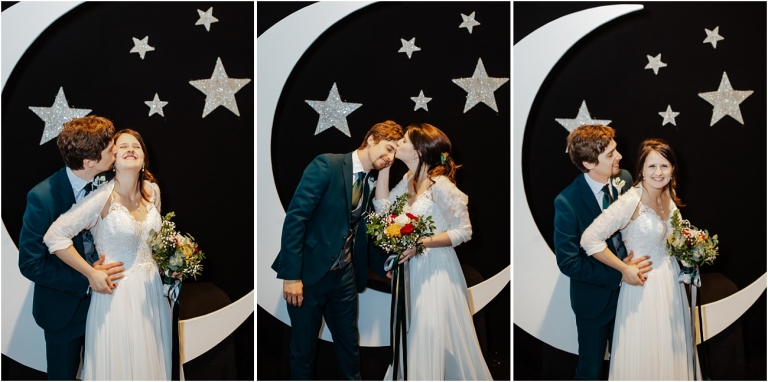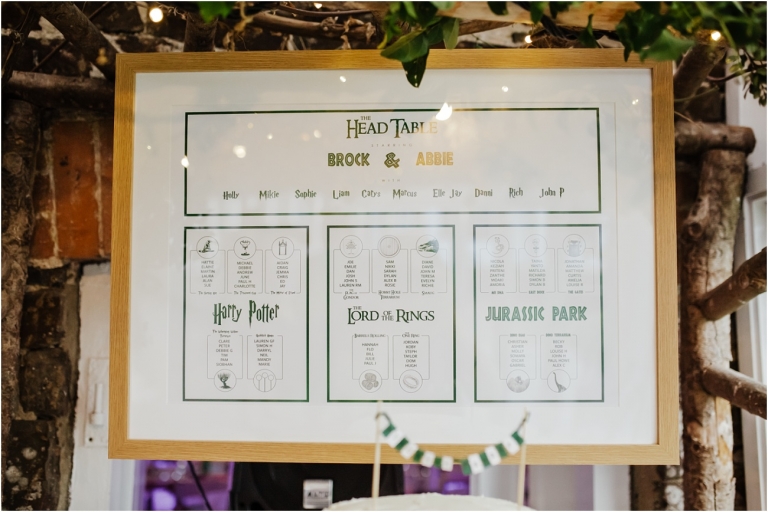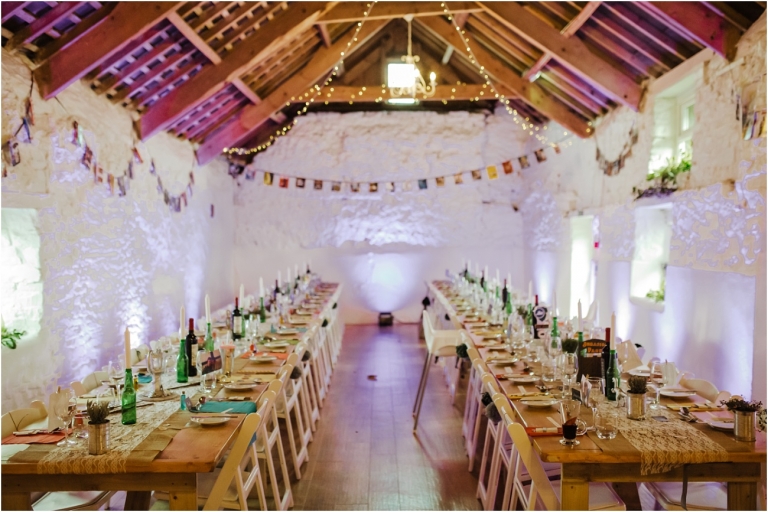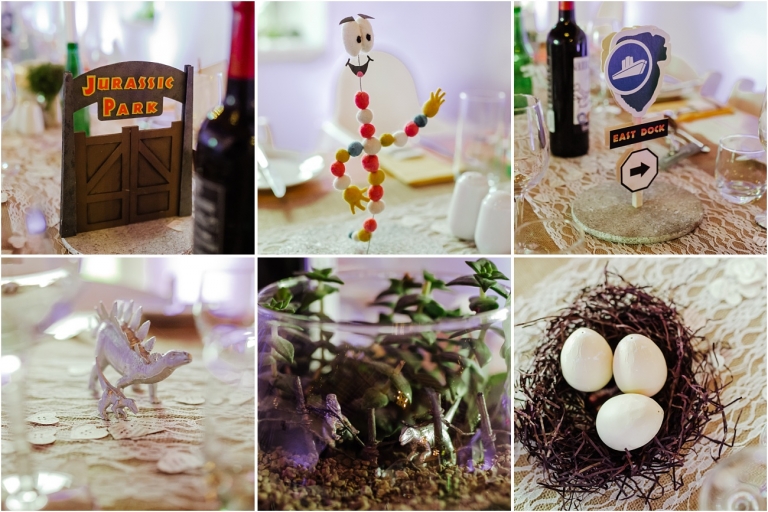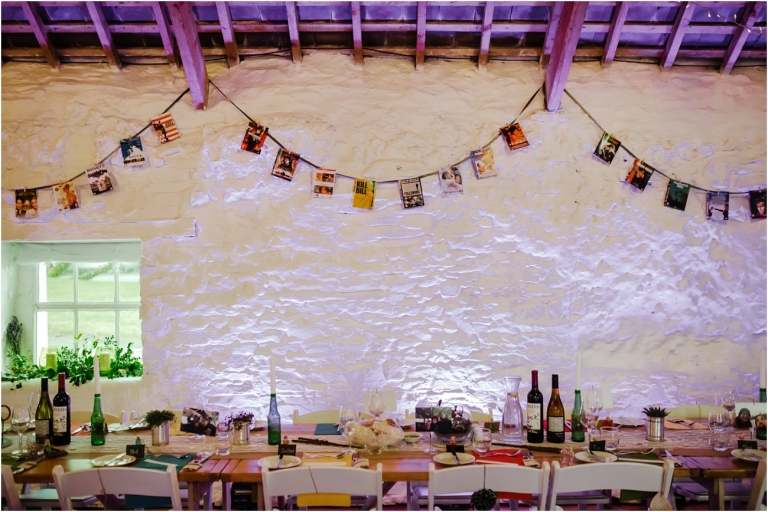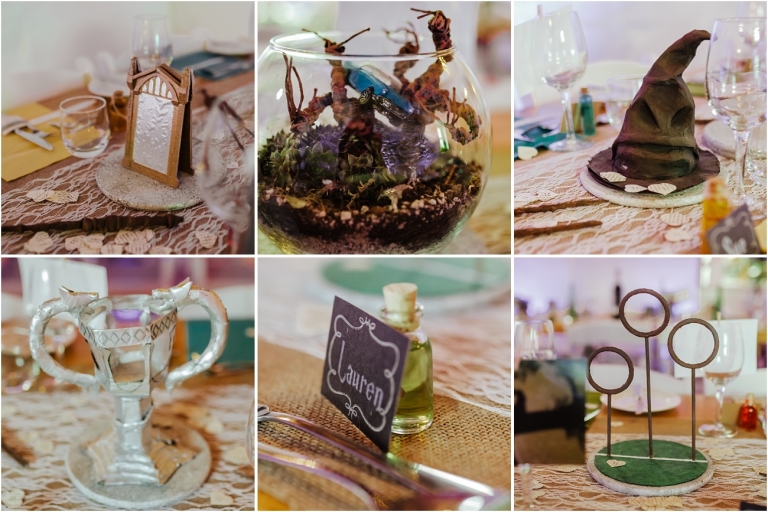 These decorations are just brilliant and they are a testament to the creativity behind this amazing wedding.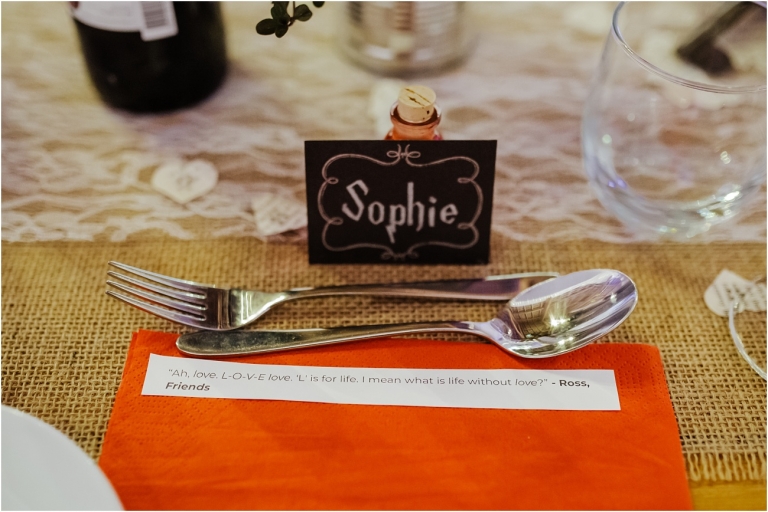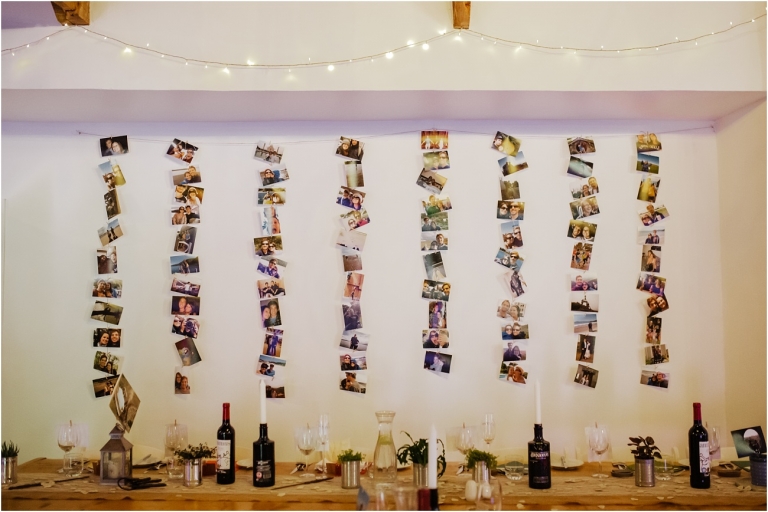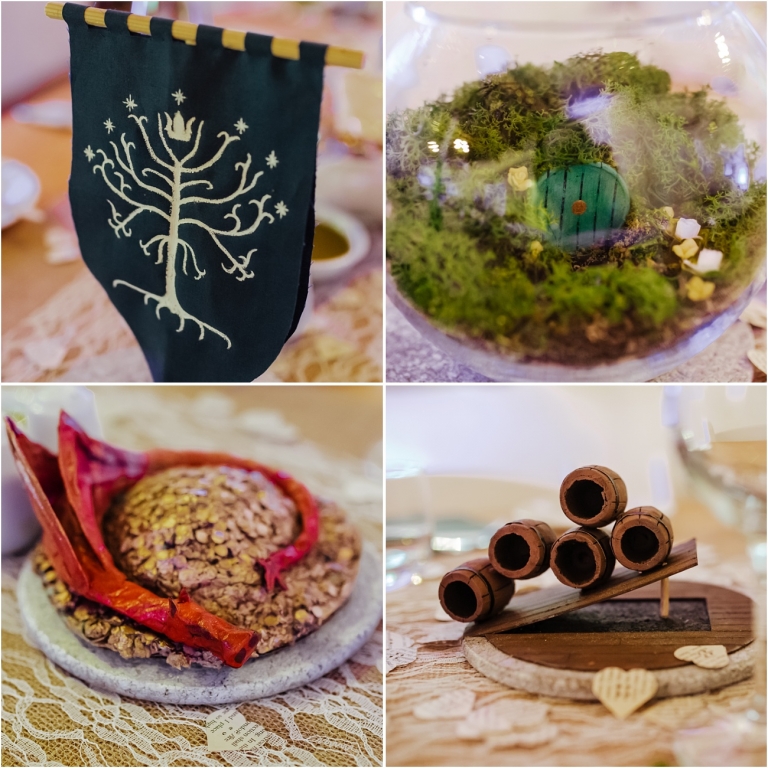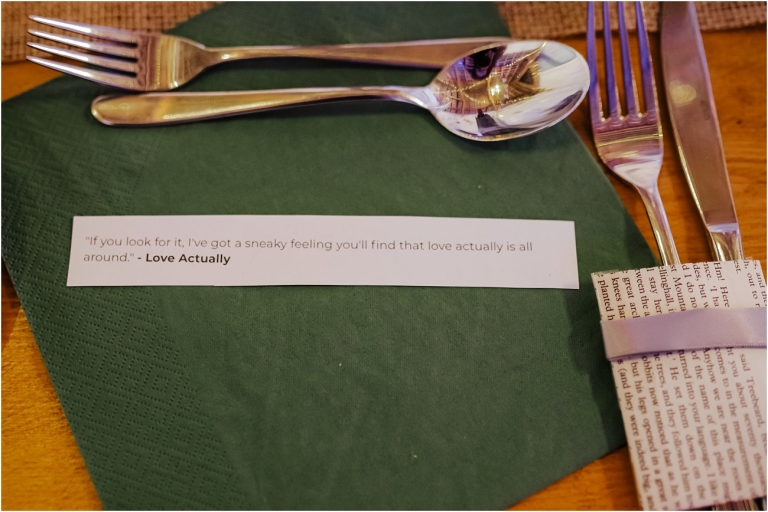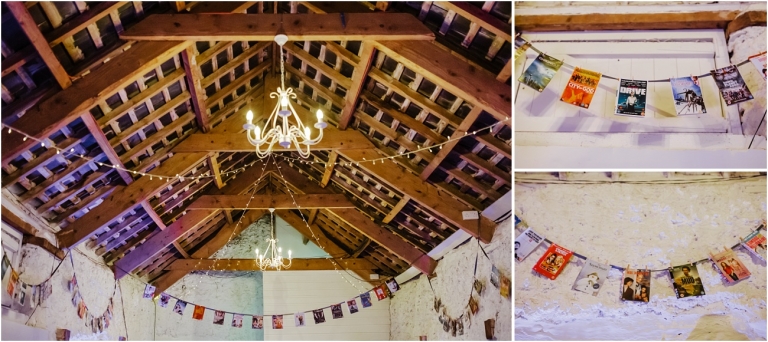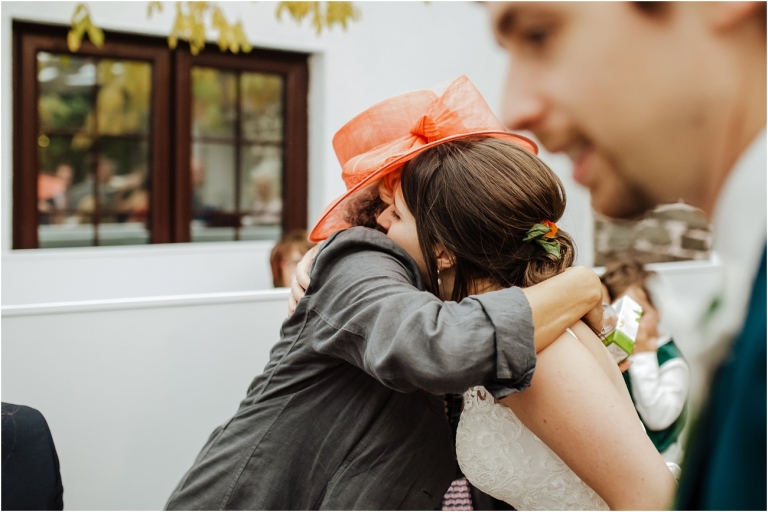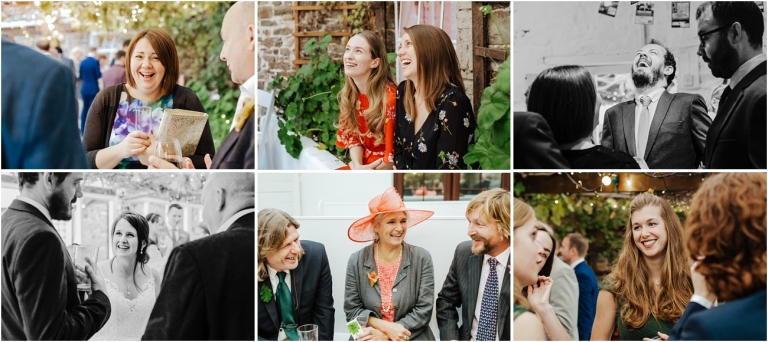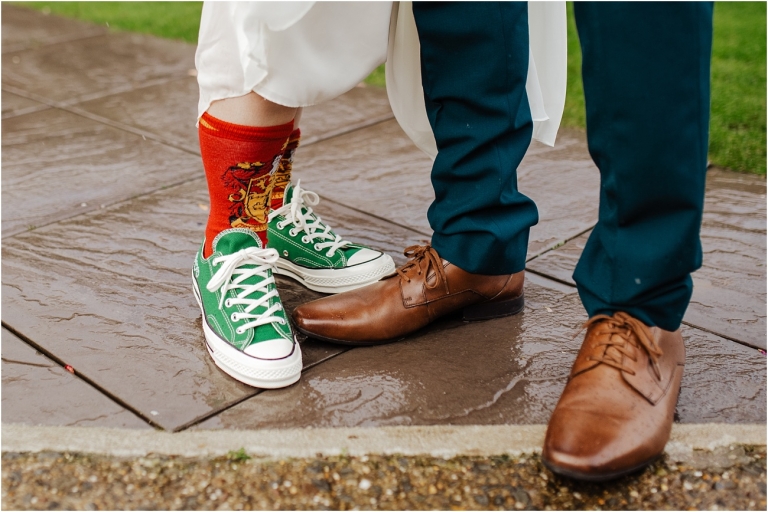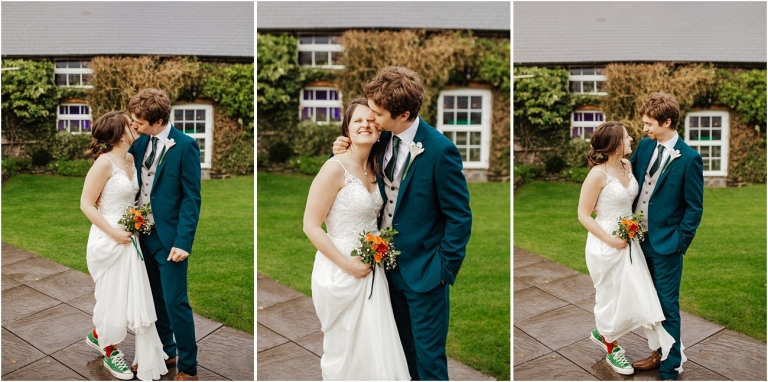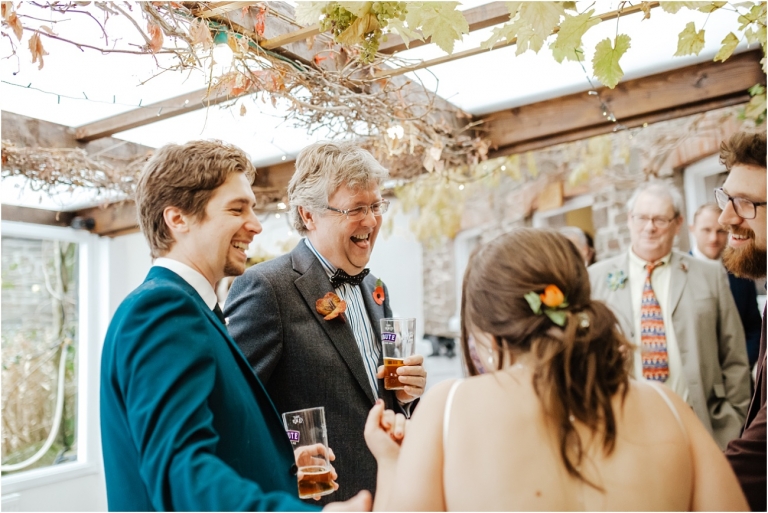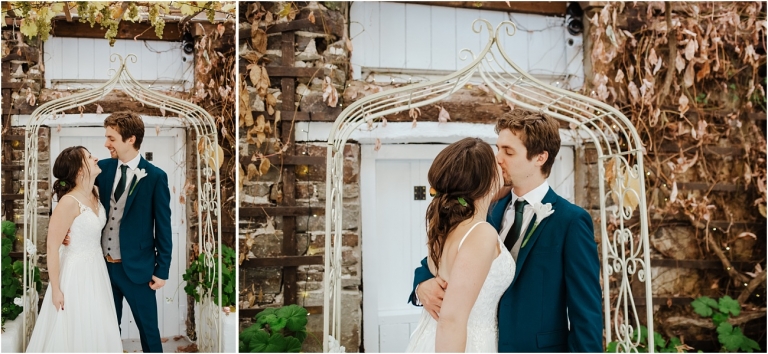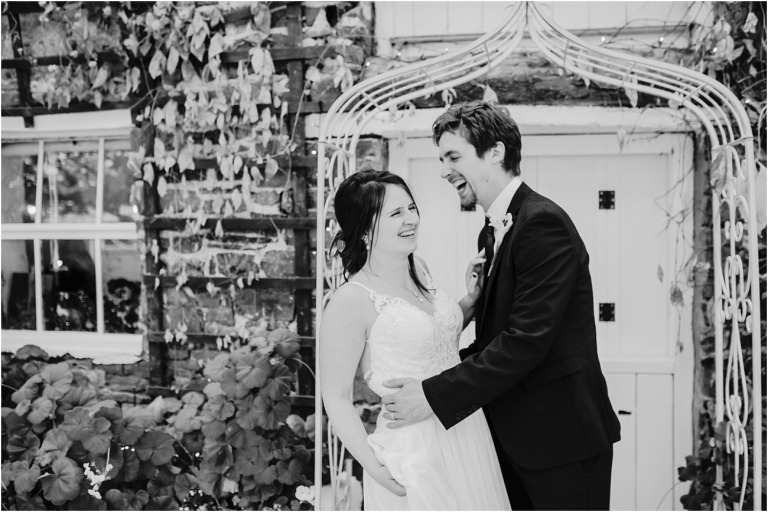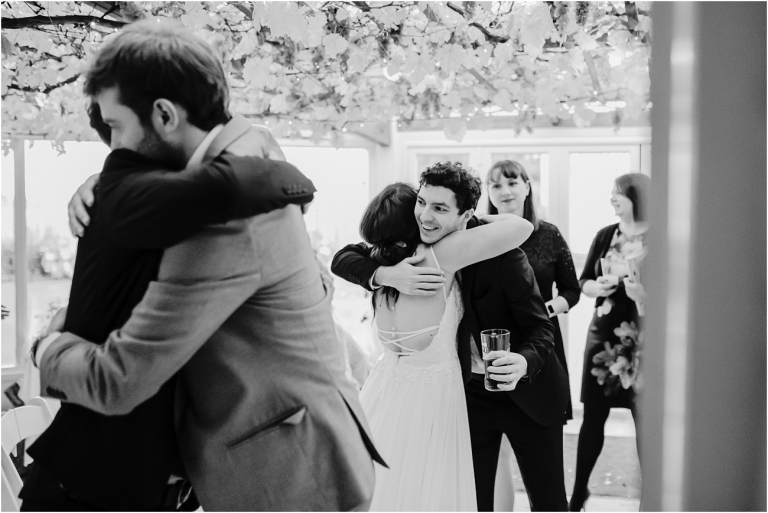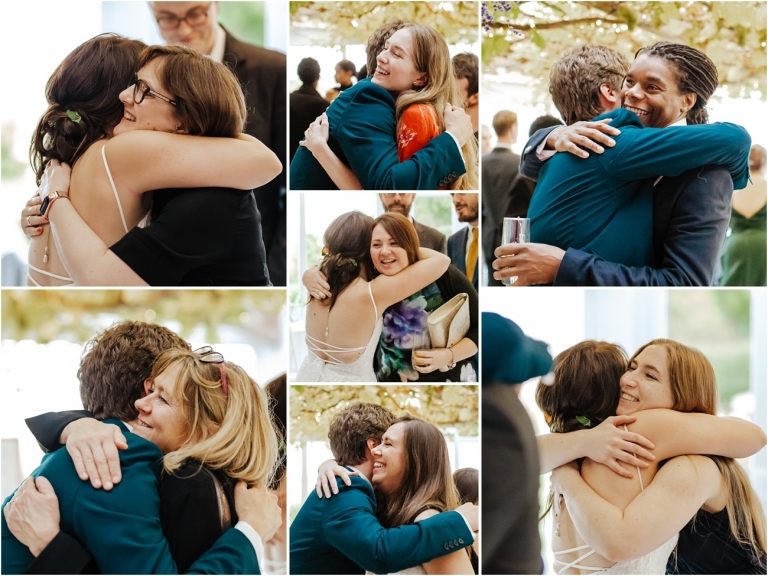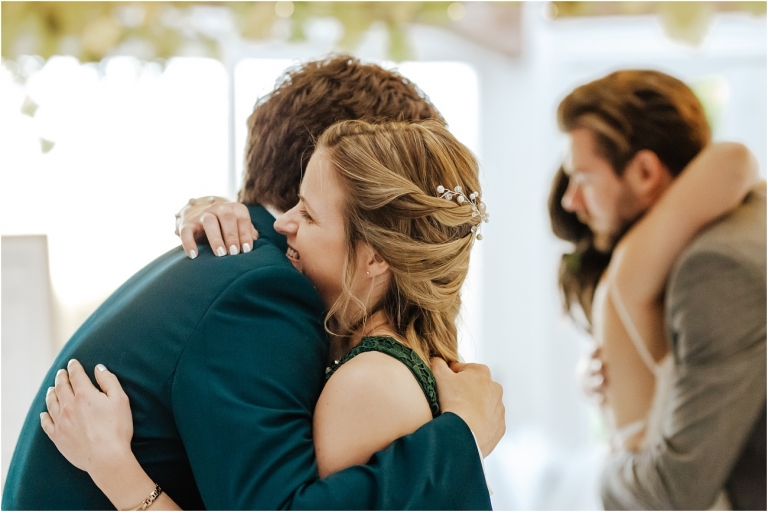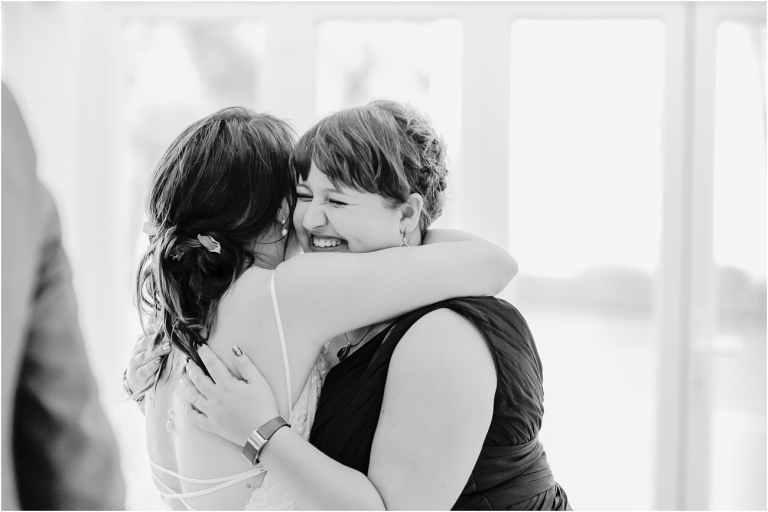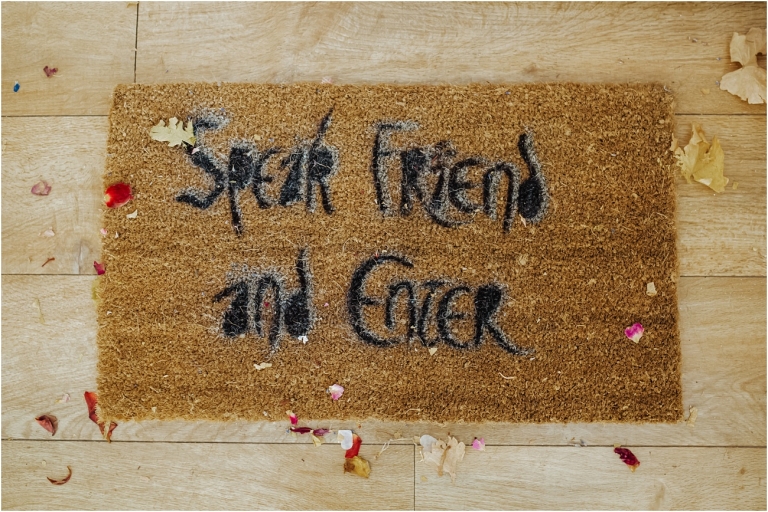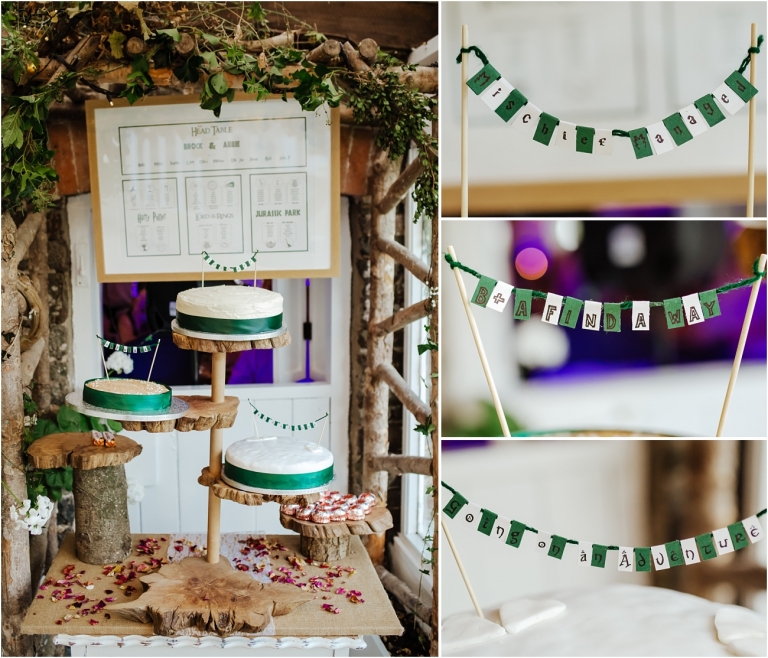 The cakes were a collaborative effort by friends and family. The fruit cake was made by Abbie's mum Julie, the gluten-free elderflower and lemon drizzle cake was made by Brock's mum and the carrot cake by their friend Hattie. They also had a 'cheese' cake from The Bath Soft Cheese Company!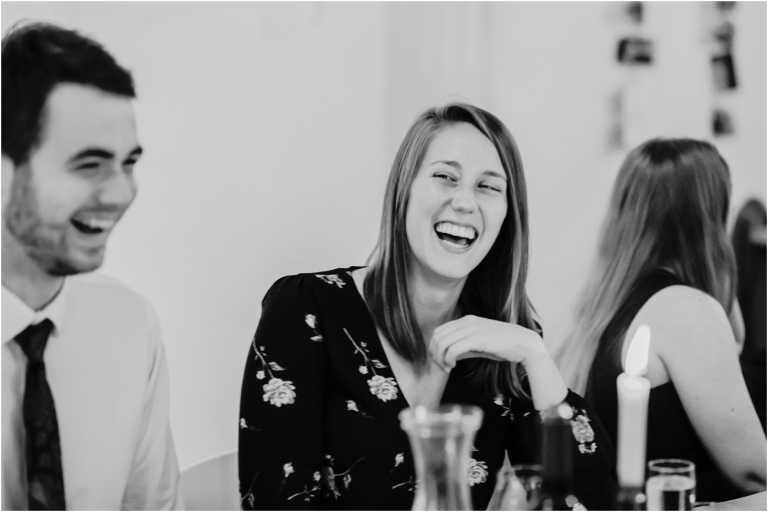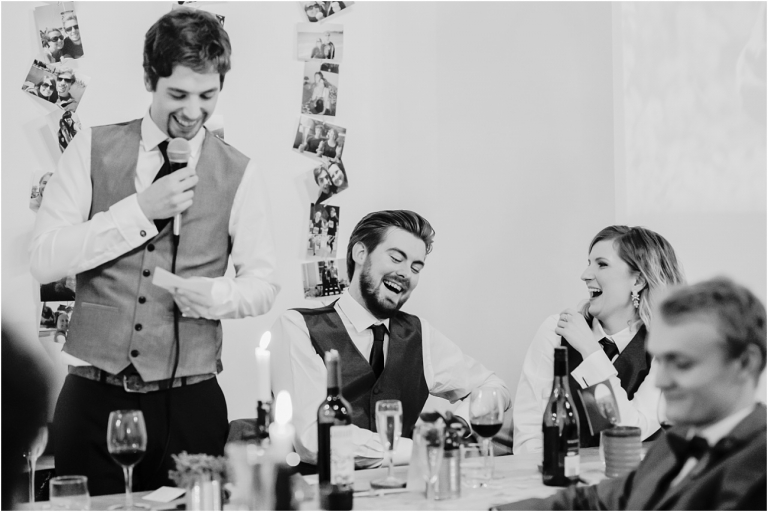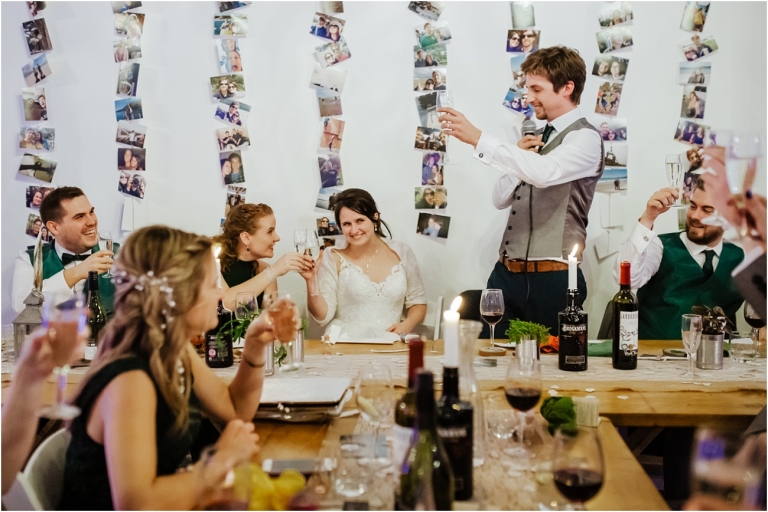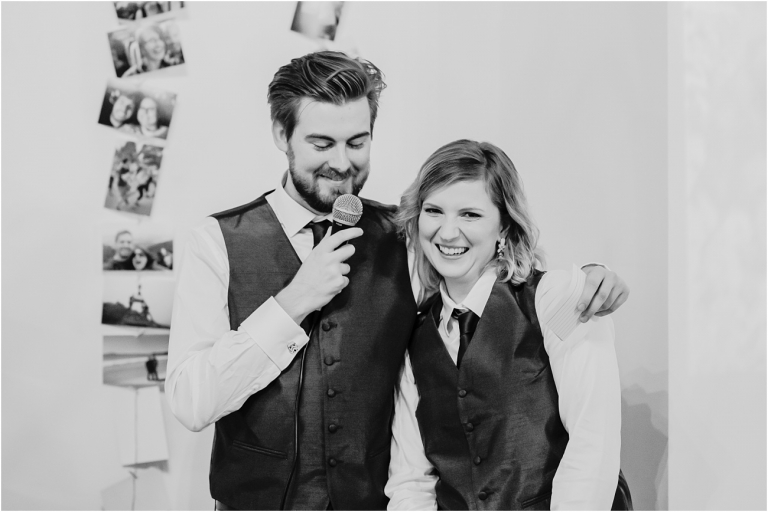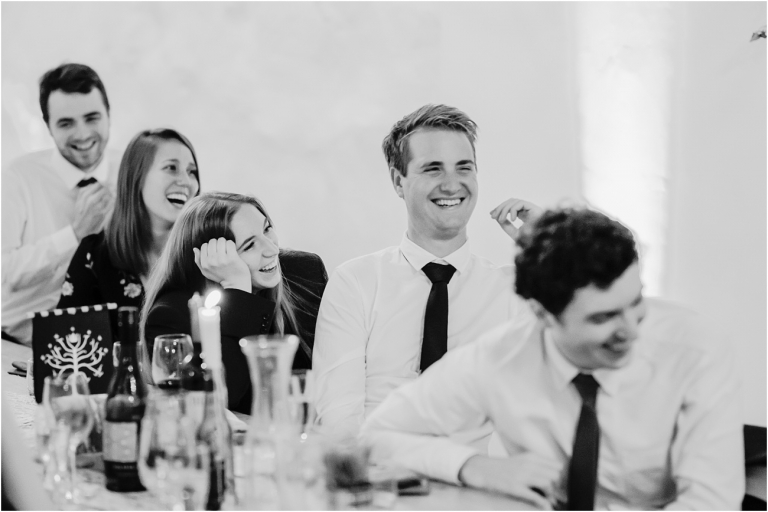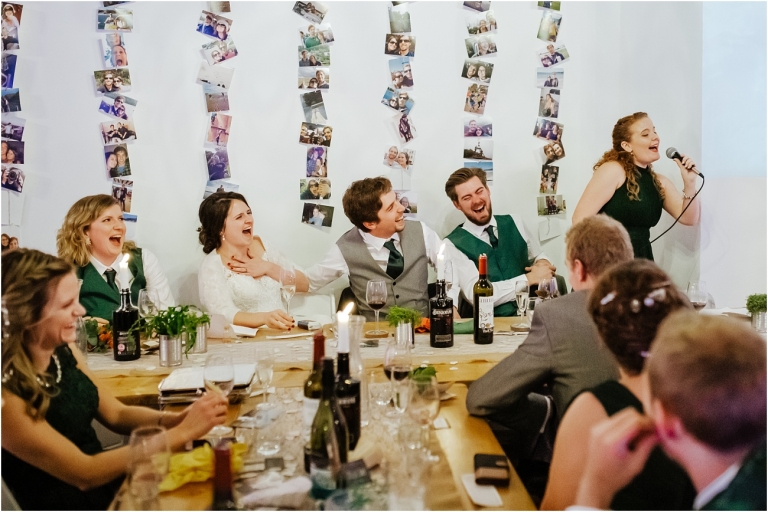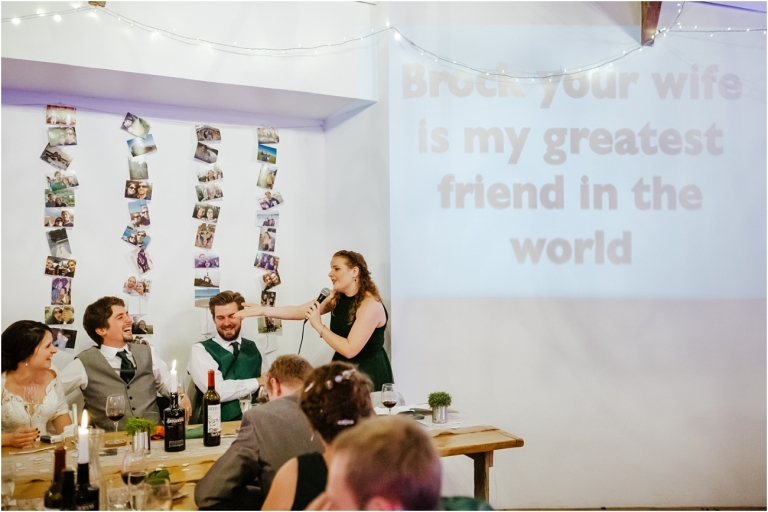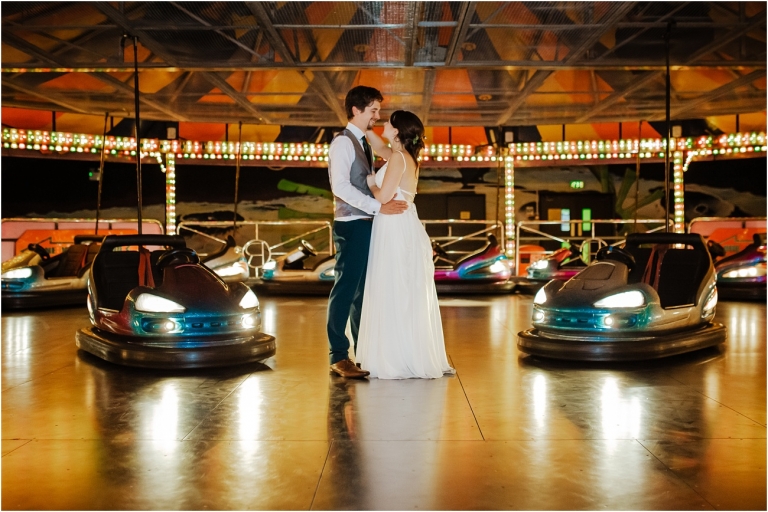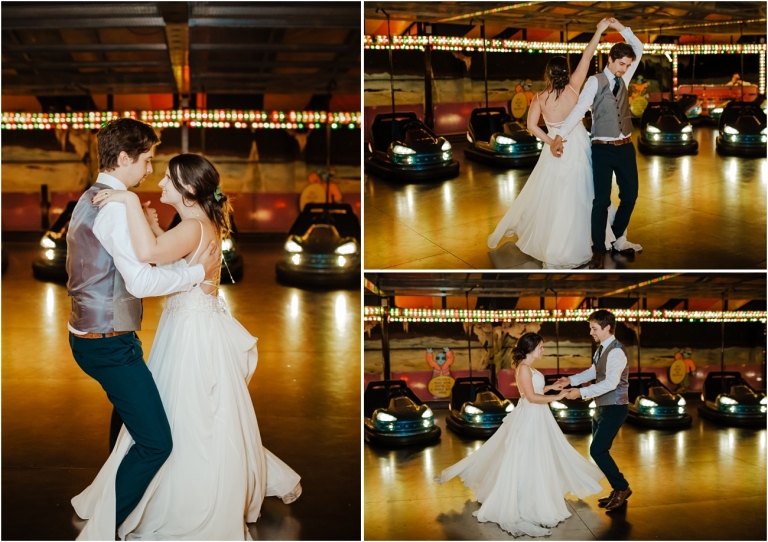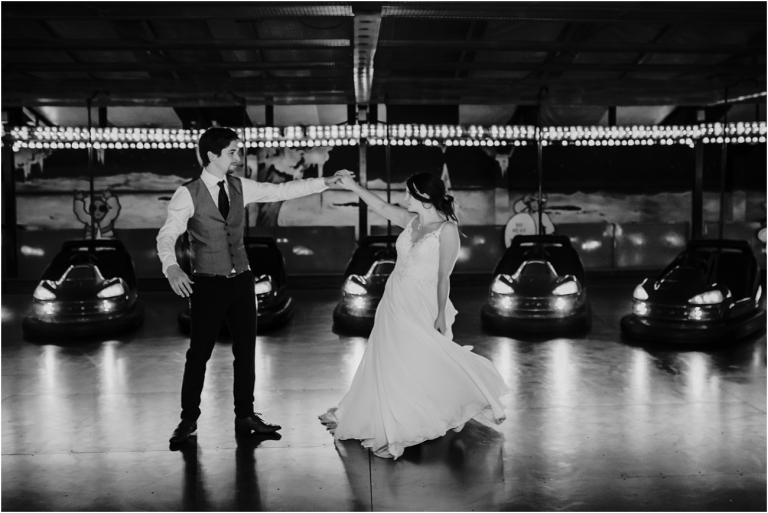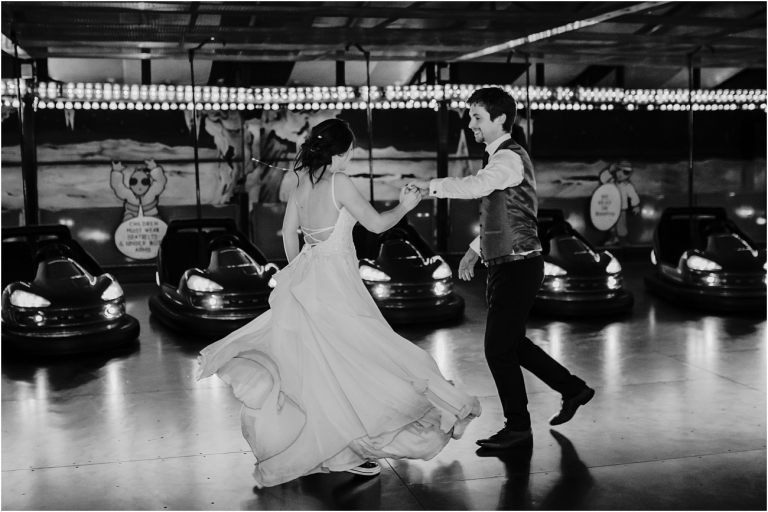 Brock's sister Amoria was responsible for the choreography for his and Abbie's first dance. She had to teach them to dance first though – and they started learning months beforehand! The song choice was very easy though and again spoke of their love of films; "You've got a Friend in Me" from Toy Story.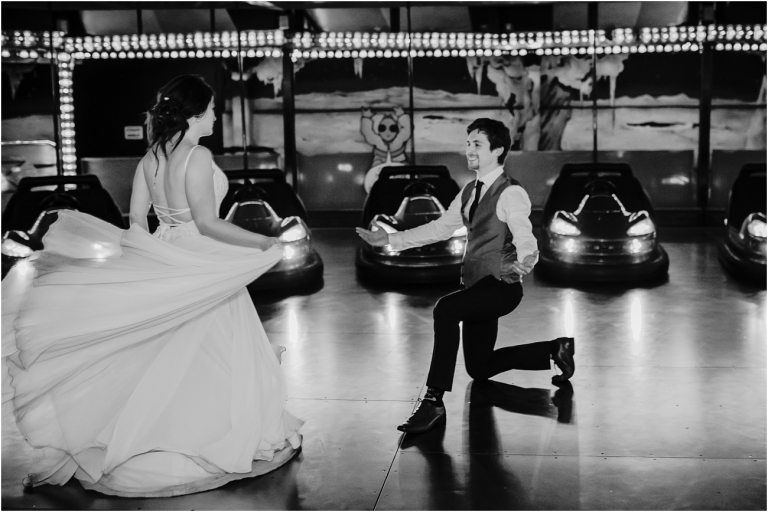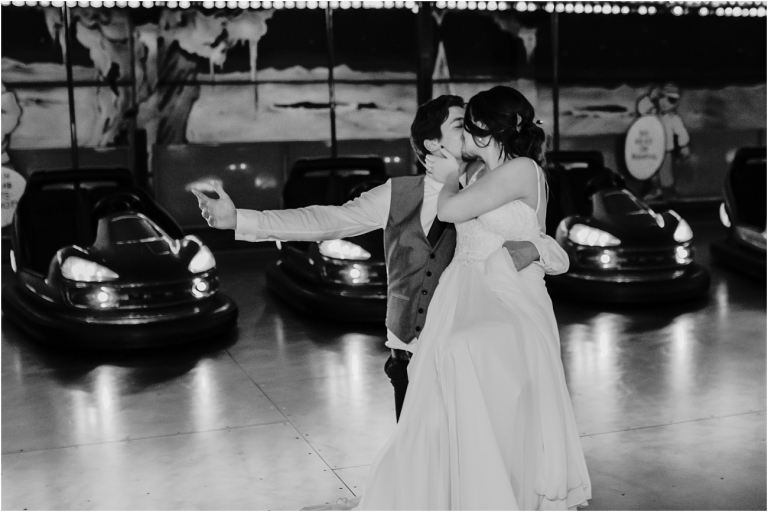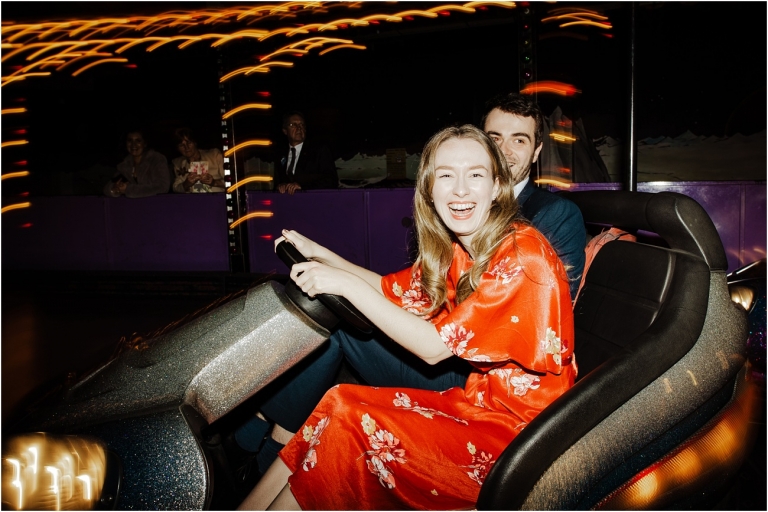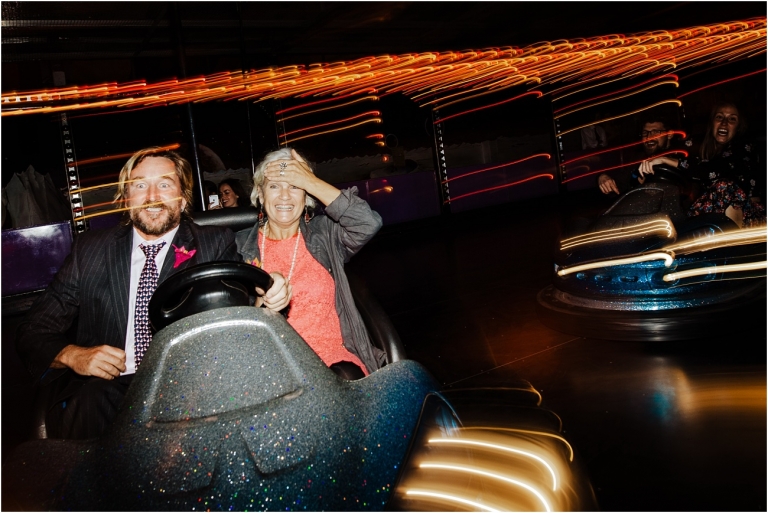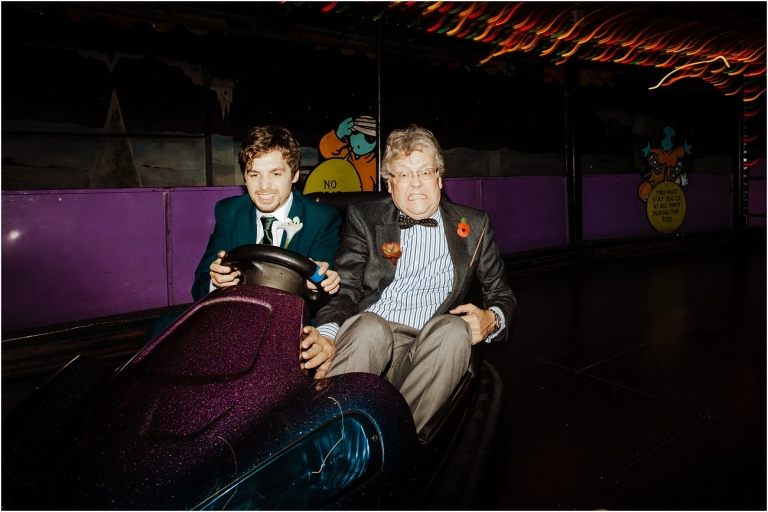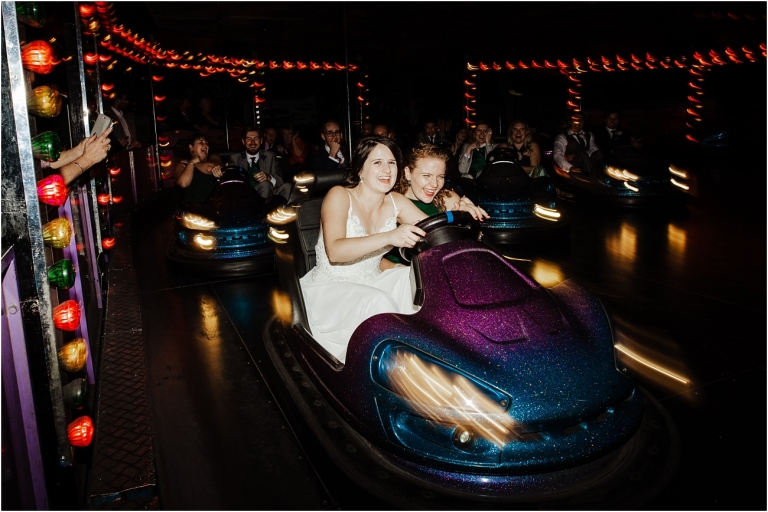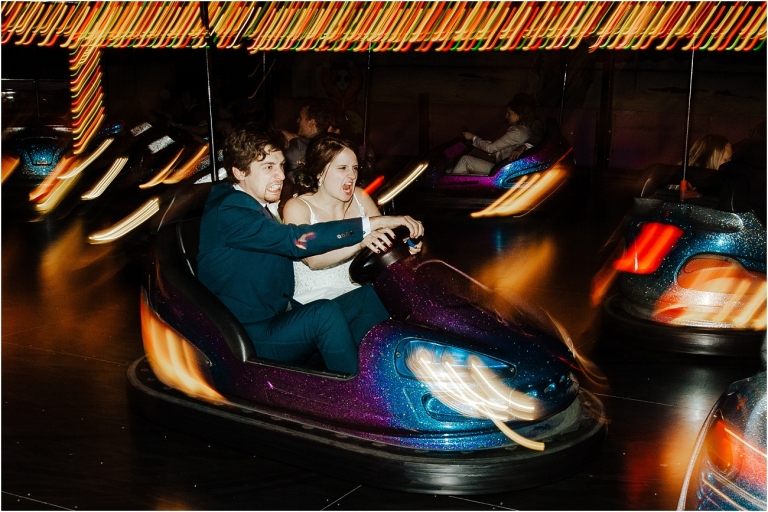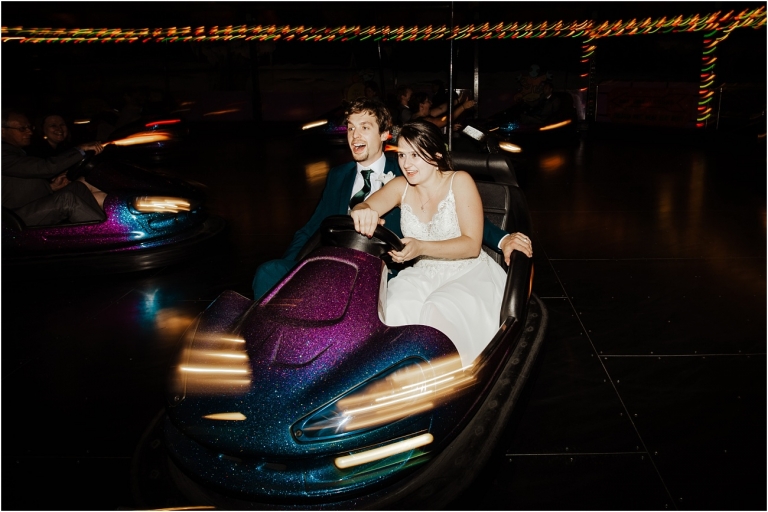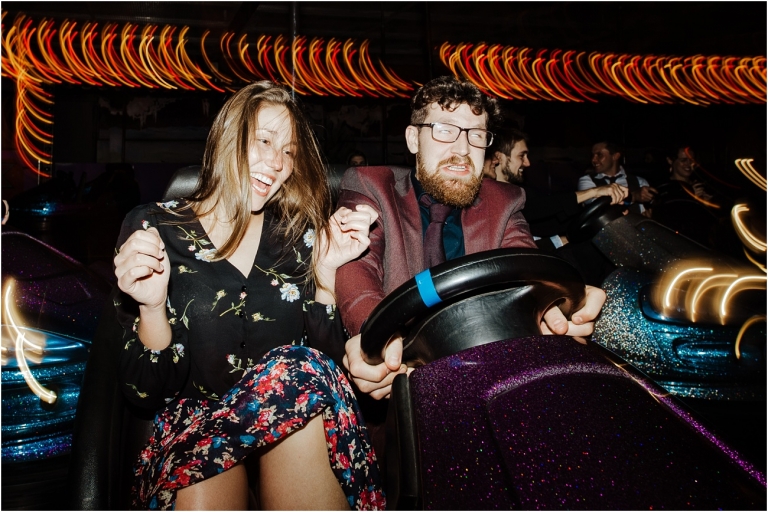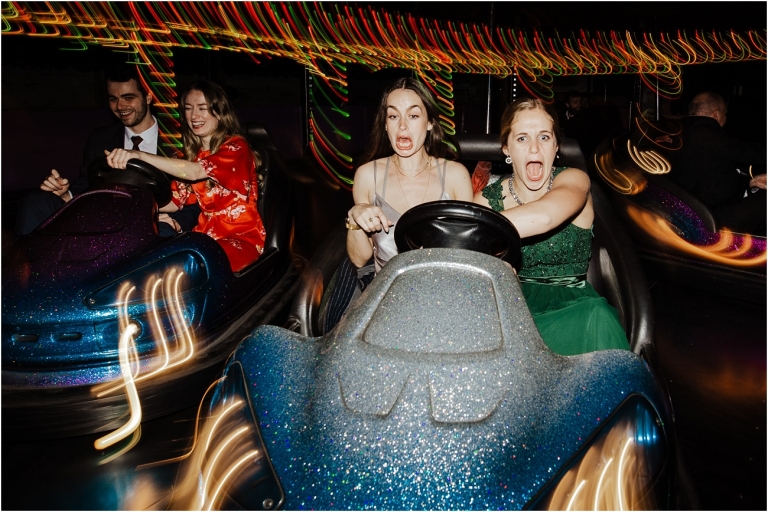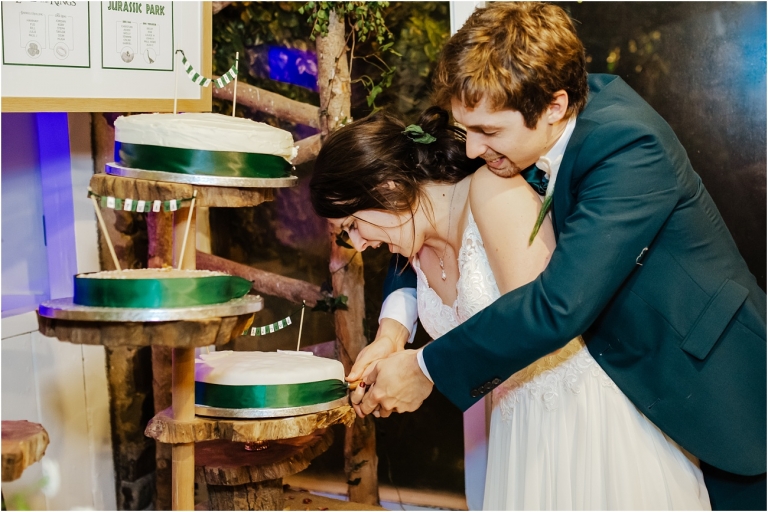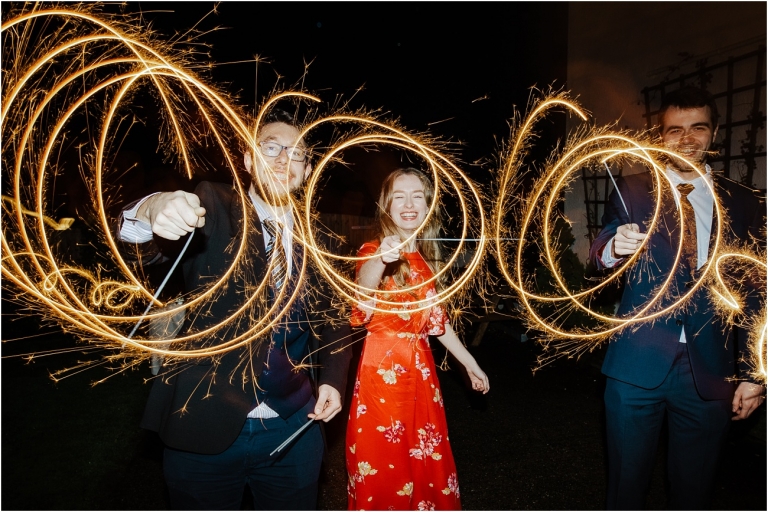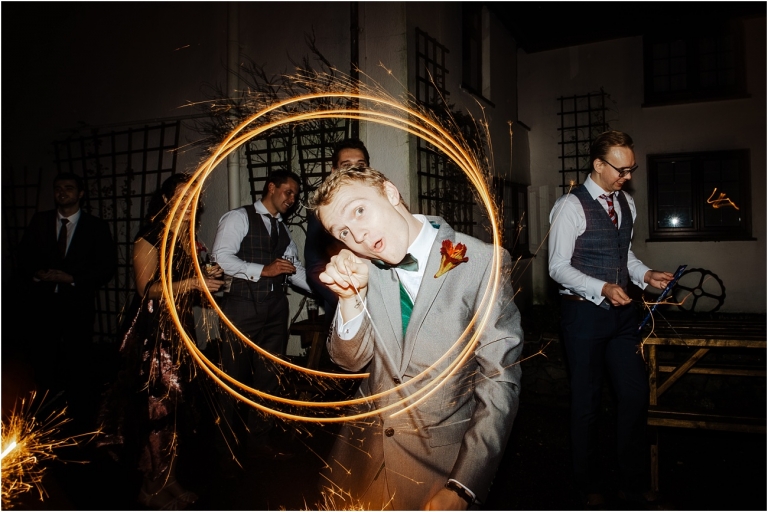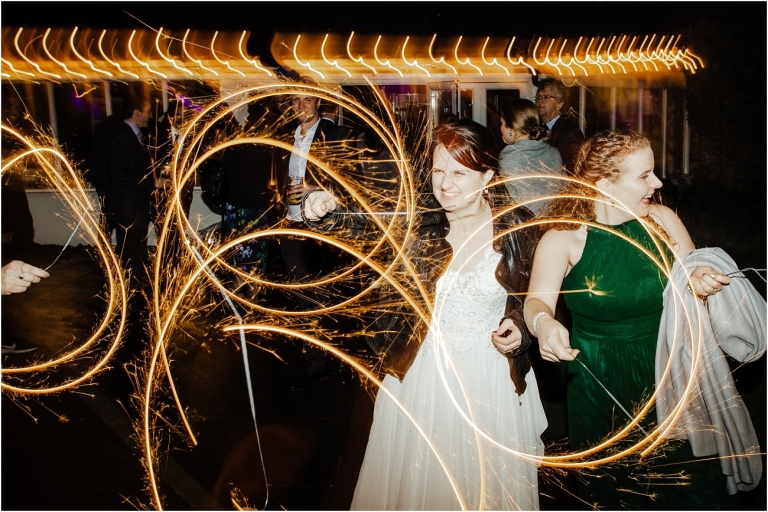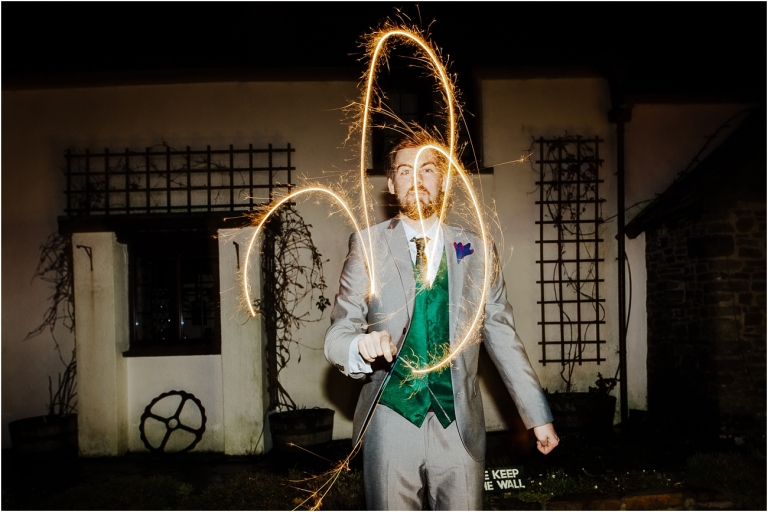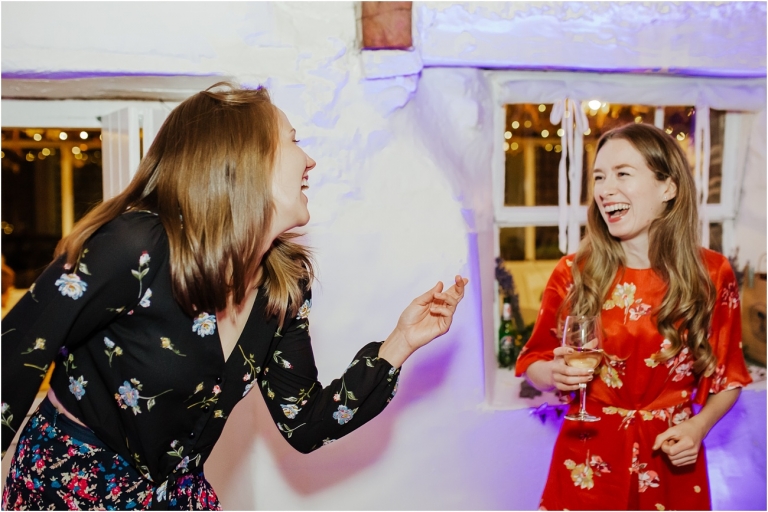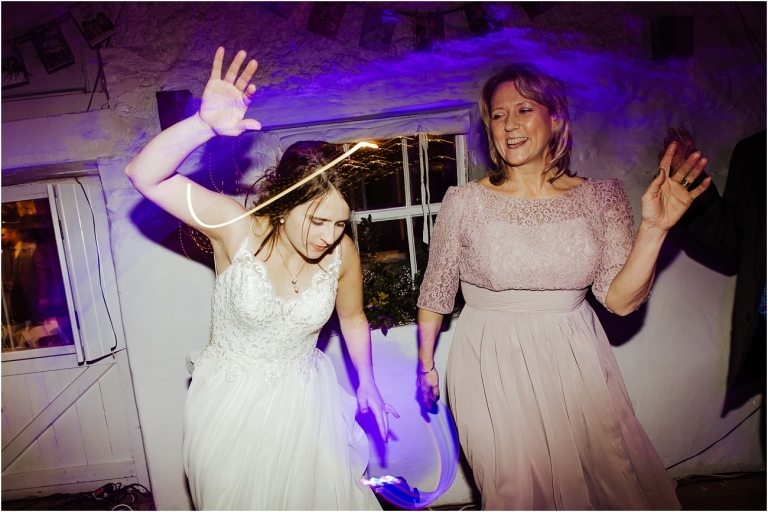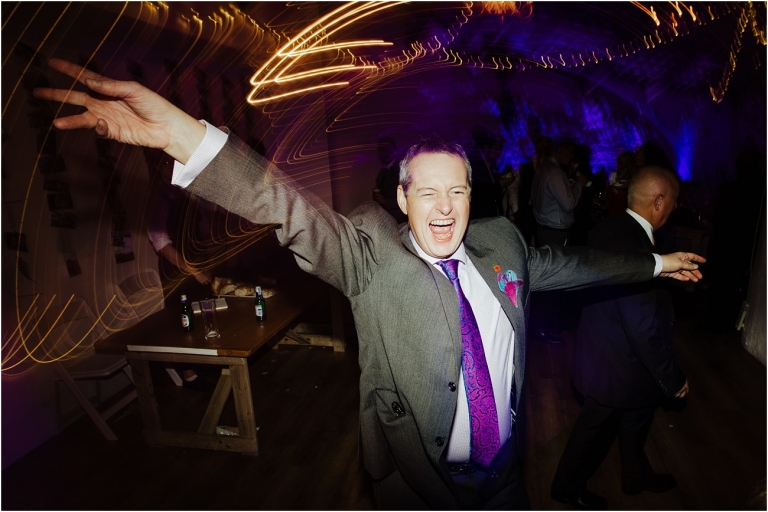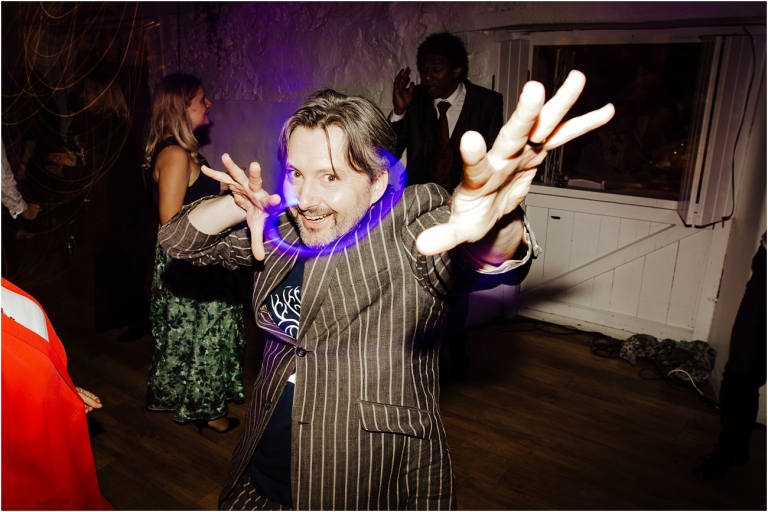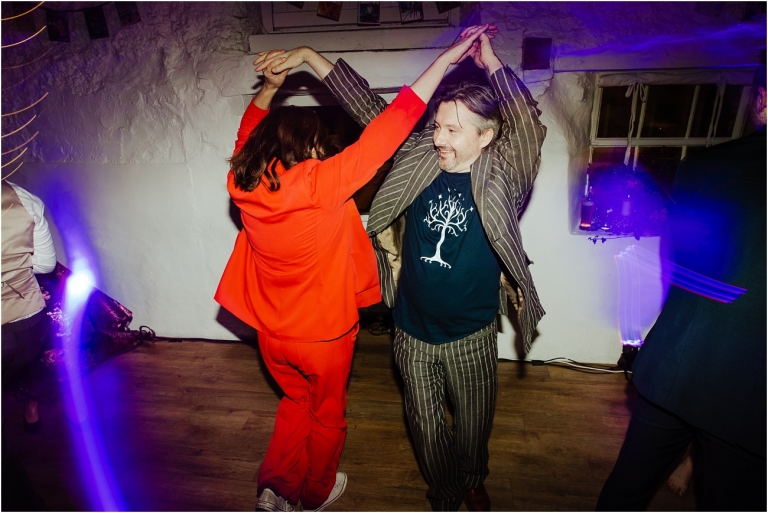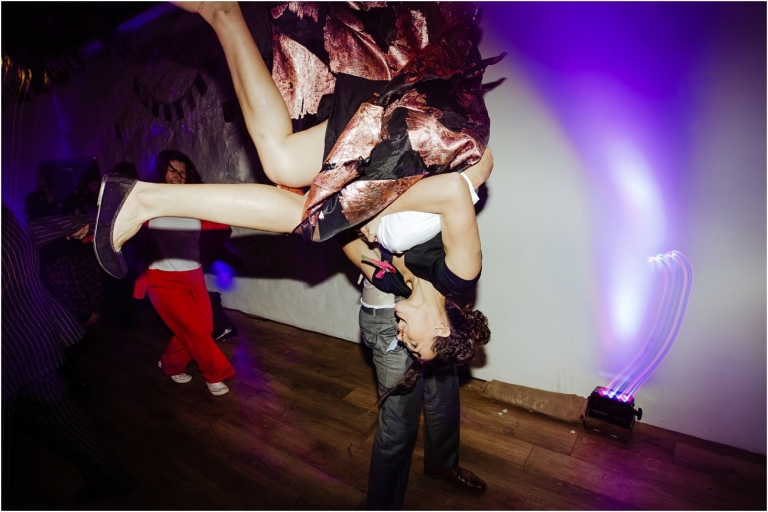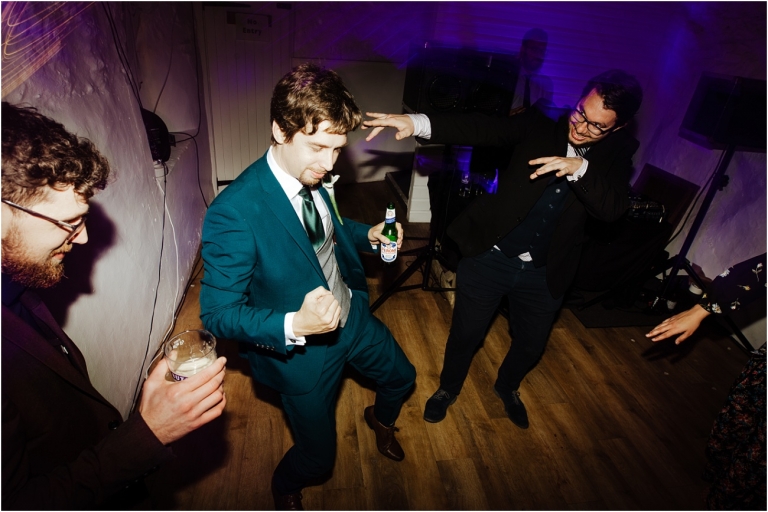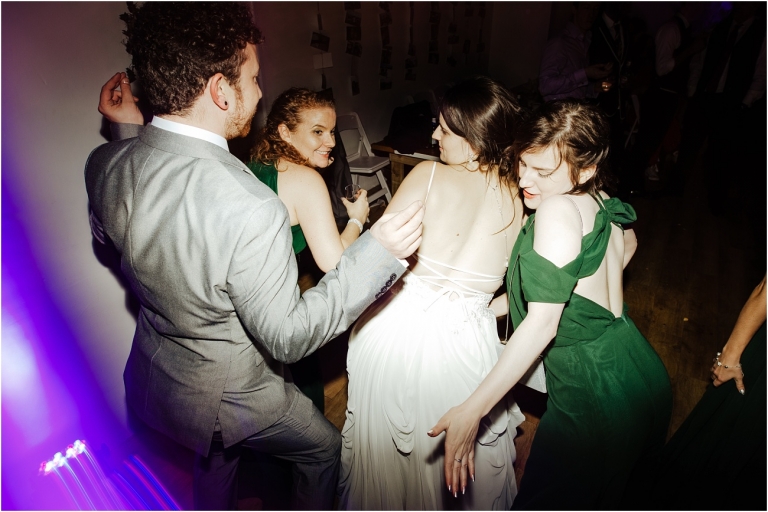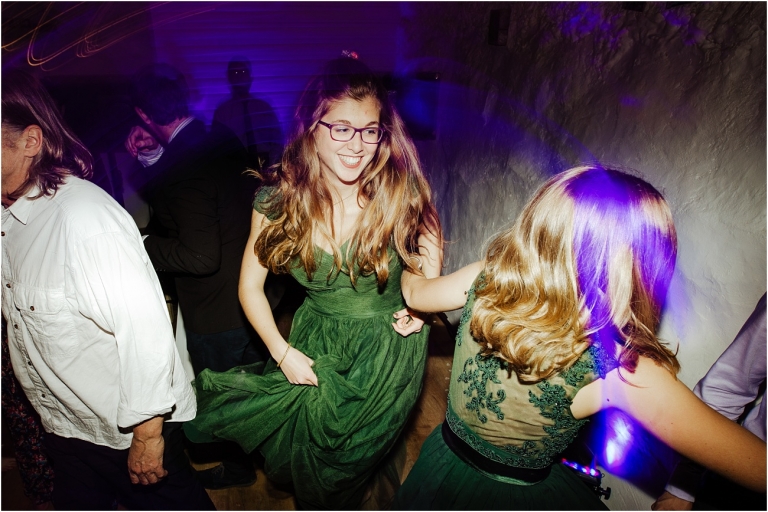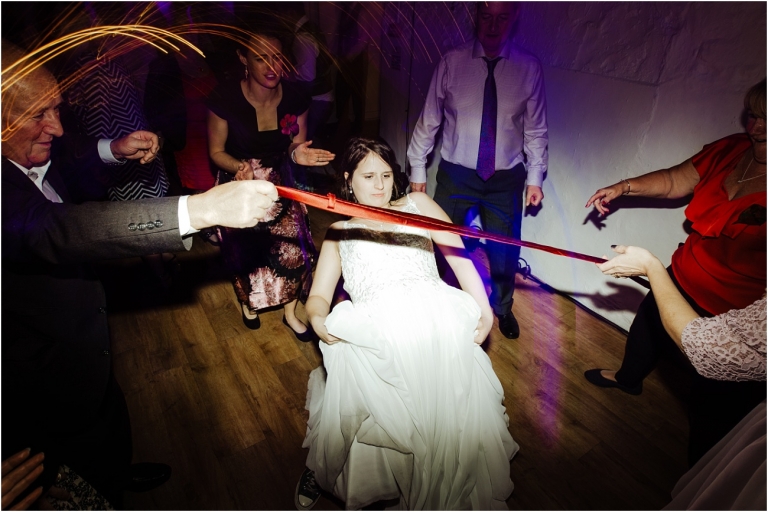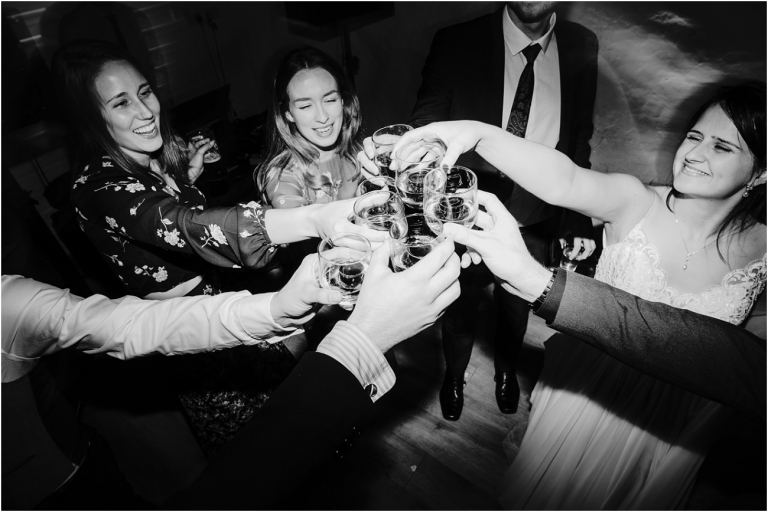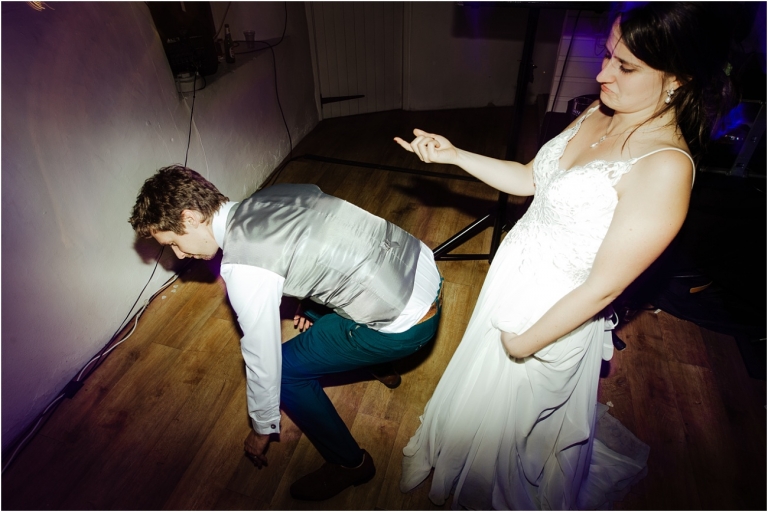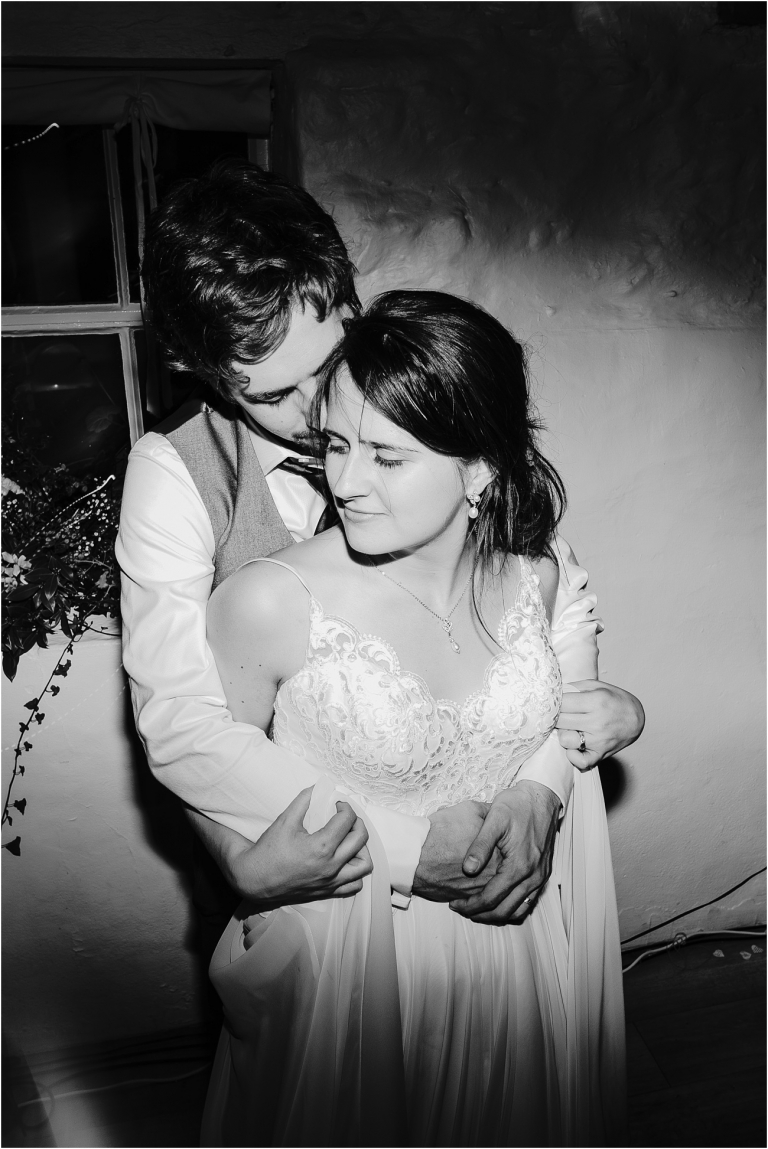 Thank you Abbie and Brock for choosing me as your photographer for your amazing wedding; it was incredible!
If you are looking for a wedding photographer in Devon or Cornwall, then please check out my portfolio or get in touch! As always, please feel free to share or leave a comment below.
Holly xx
Thank you to all the amazing couples who chose me to photograph their weddings this year! I wouldn't be here, and this happy, without you. It means the world to me that you embrace me into your special days, and trust me to keep your memories safe.
This year I've edited and delivered over 17,000 photos for all my couples! It's been damn near impossible to narrow it down to the hundred and something for this post.
I won't waffle on, as words aren't my forte and nothing I say ever feels enough to express the joy it brings me to be a wedding photographer. I hope the photos speak for themselves – here are my favourite moments of 2018! Thank you to everyone who's made this year so memorable. You are the best.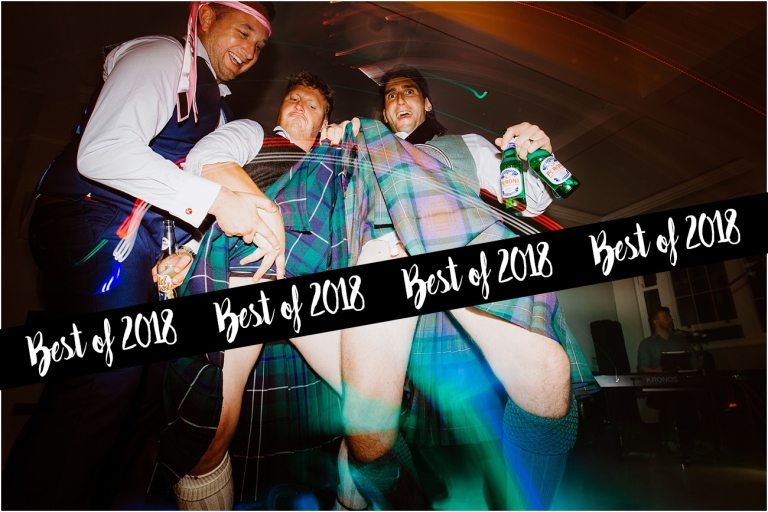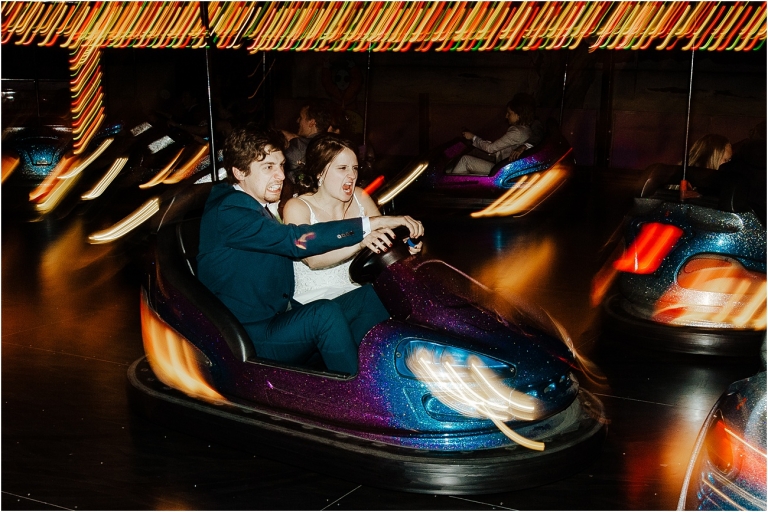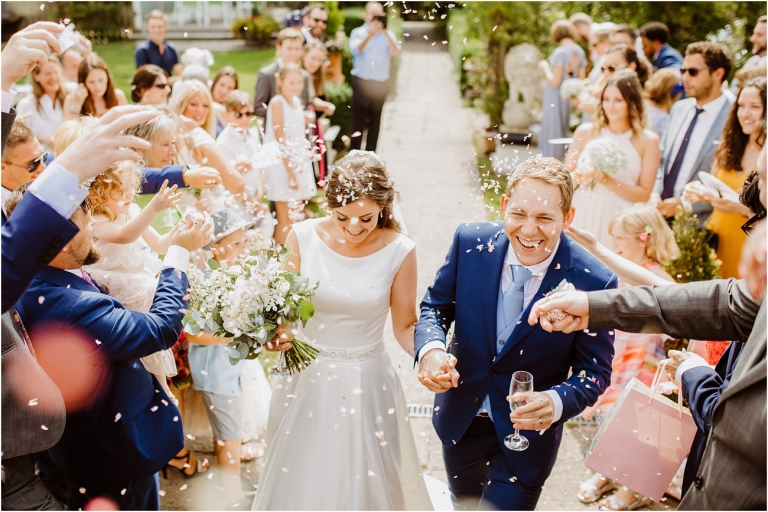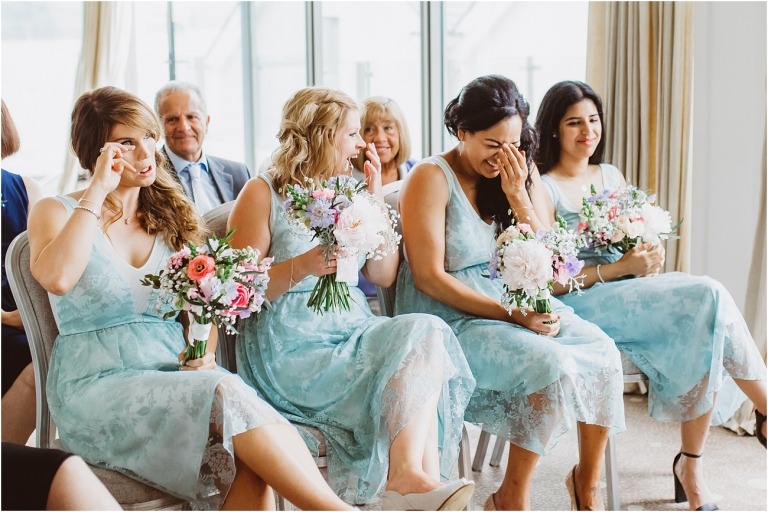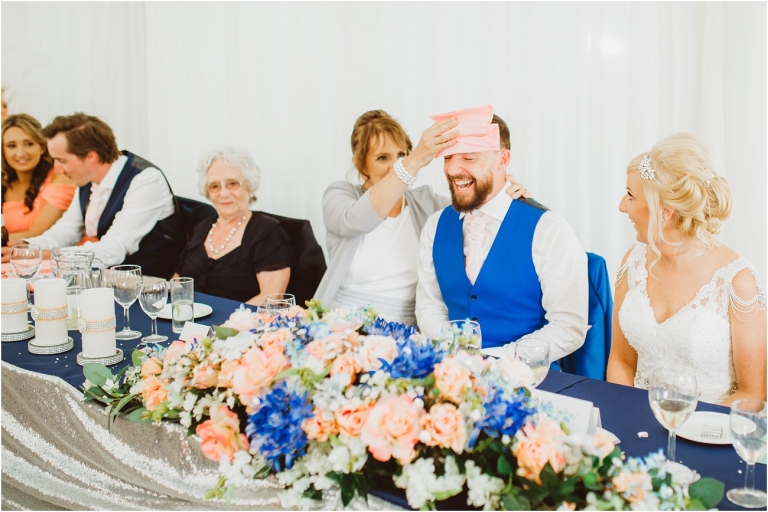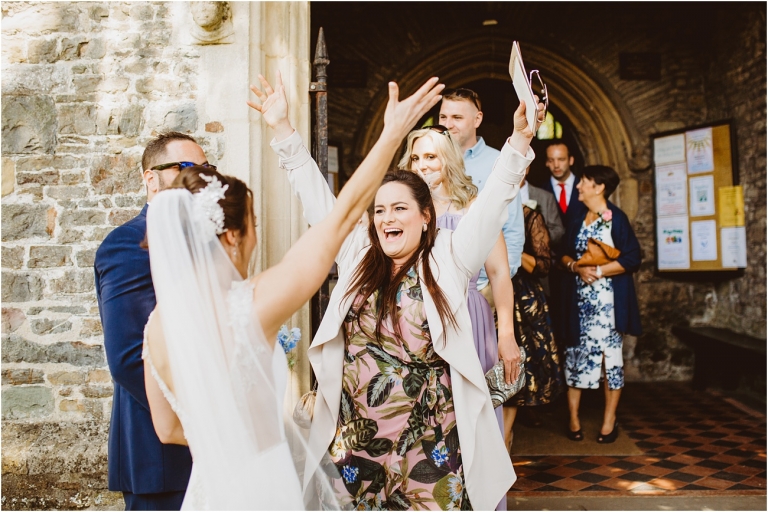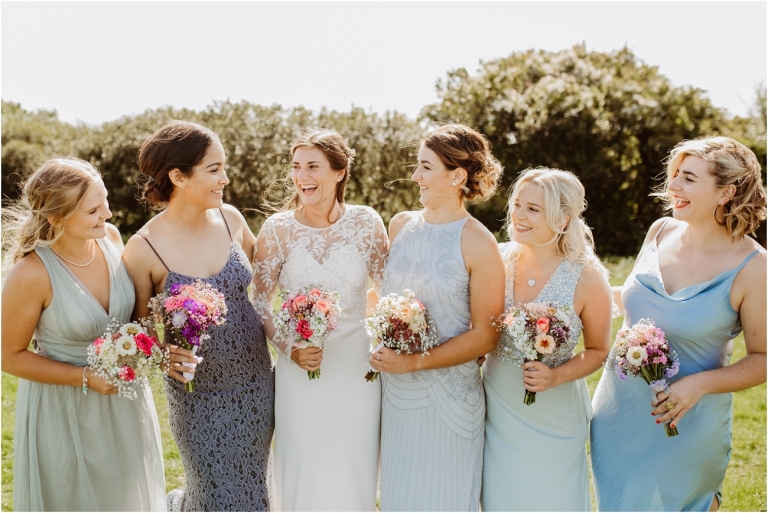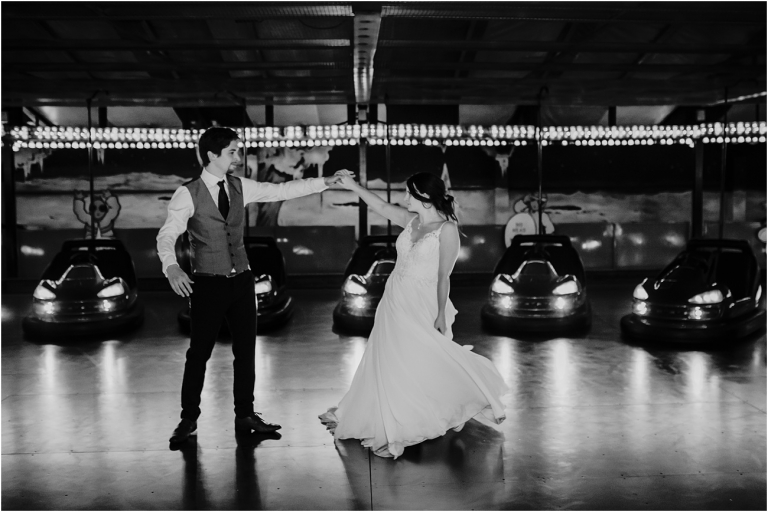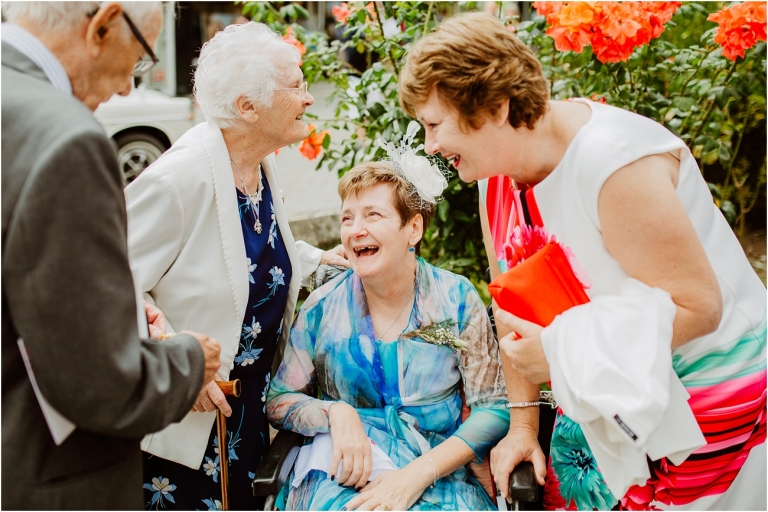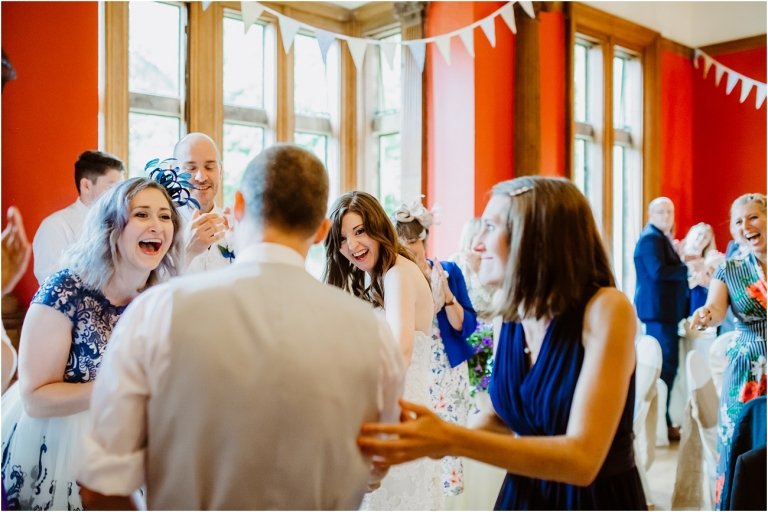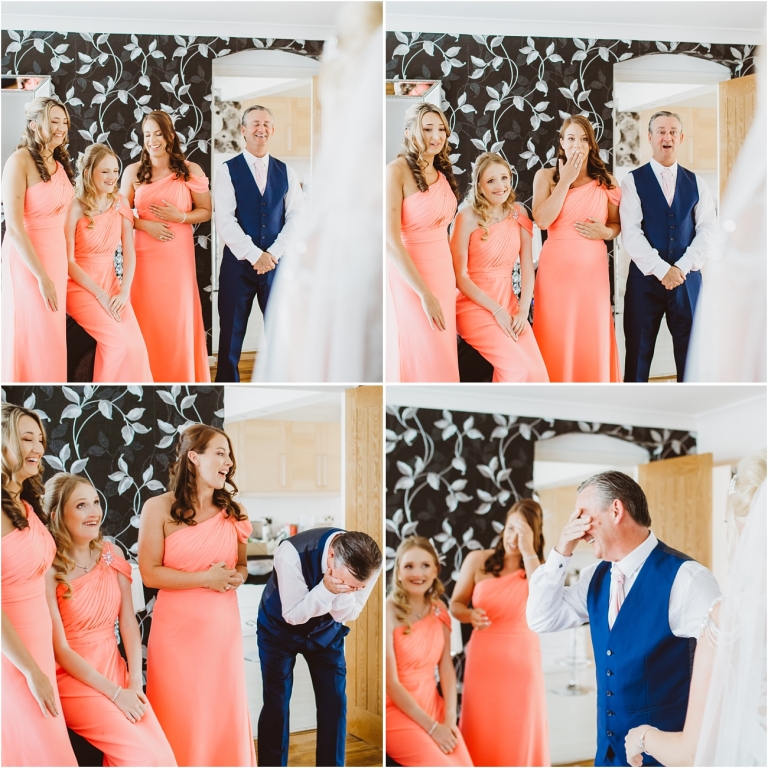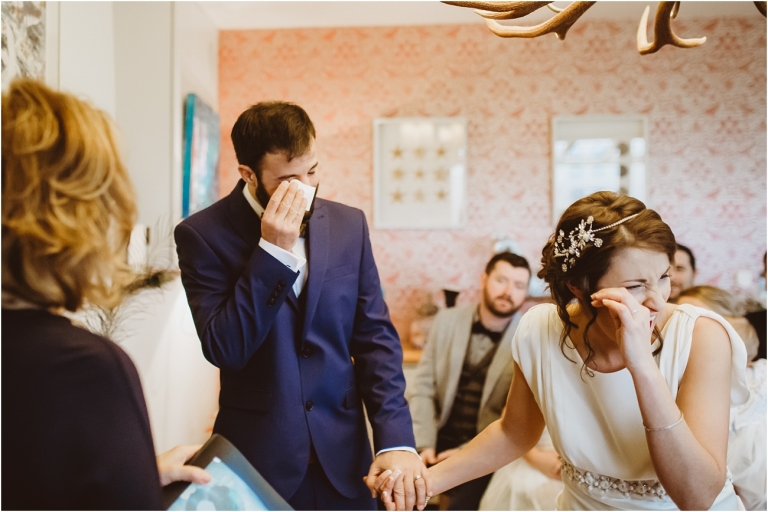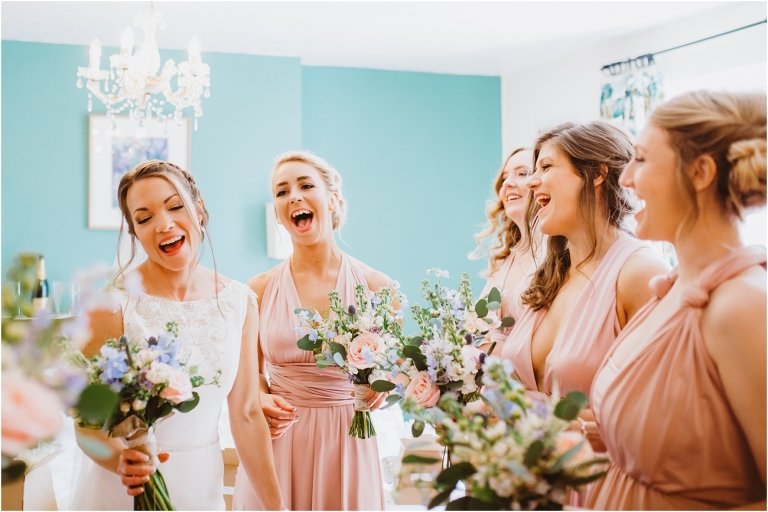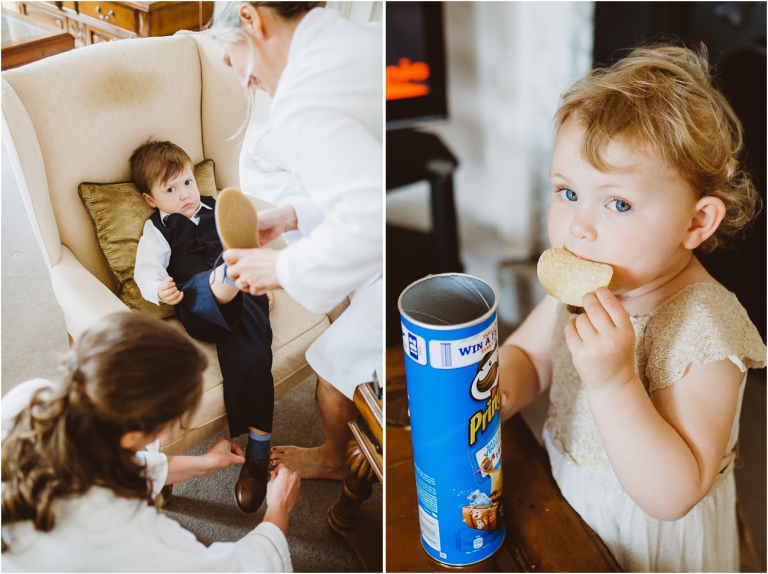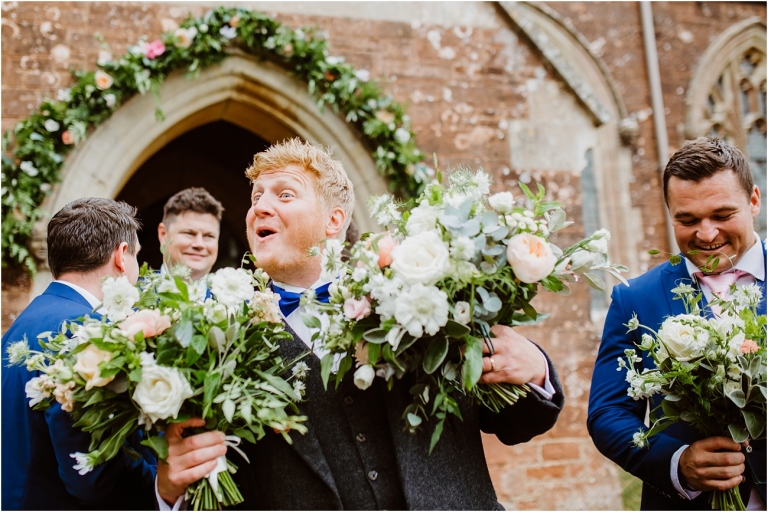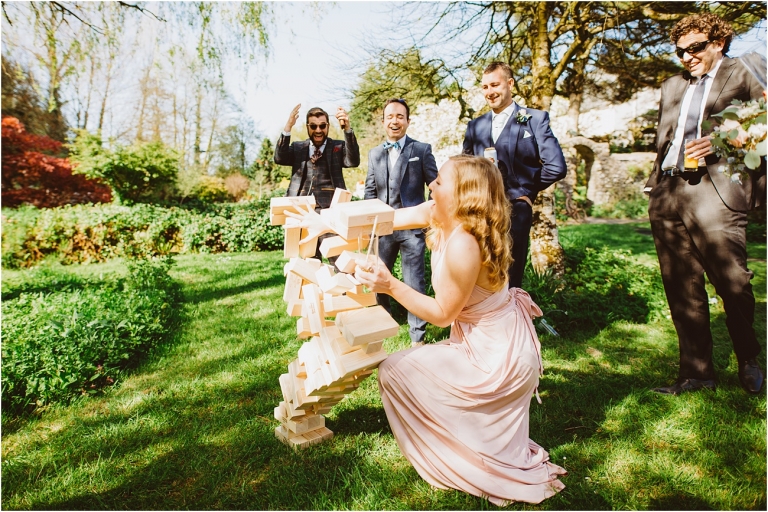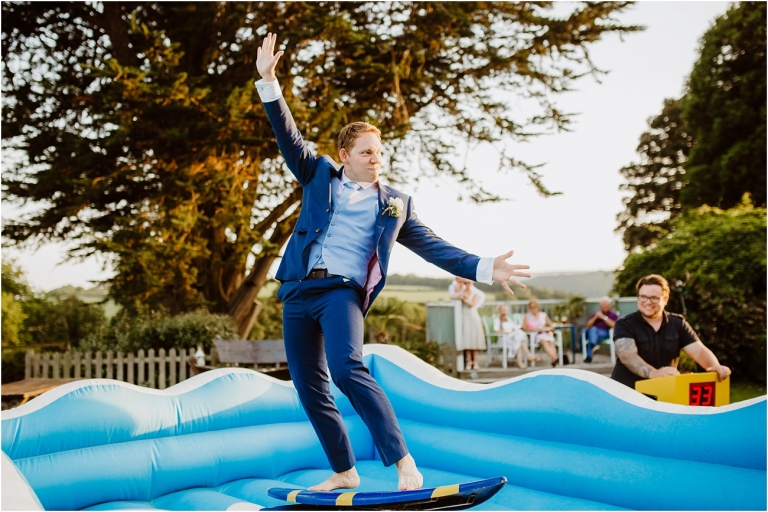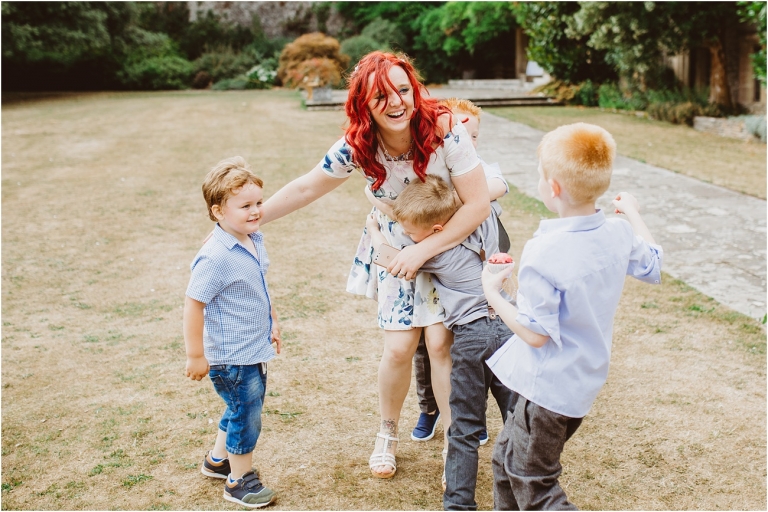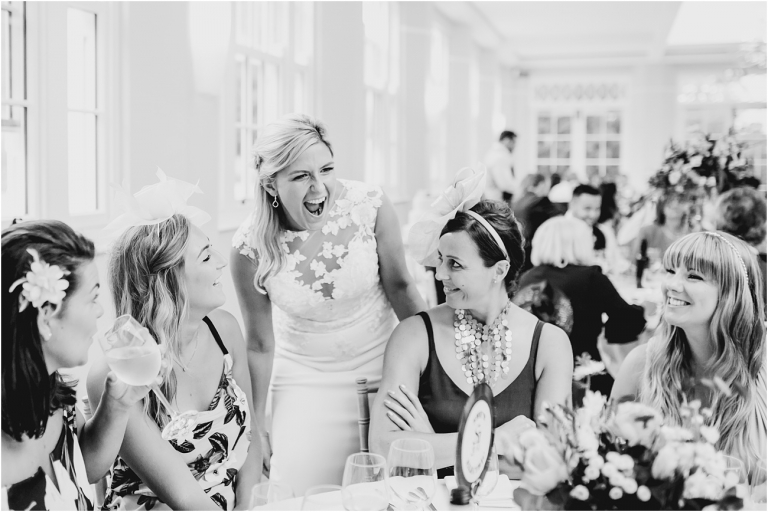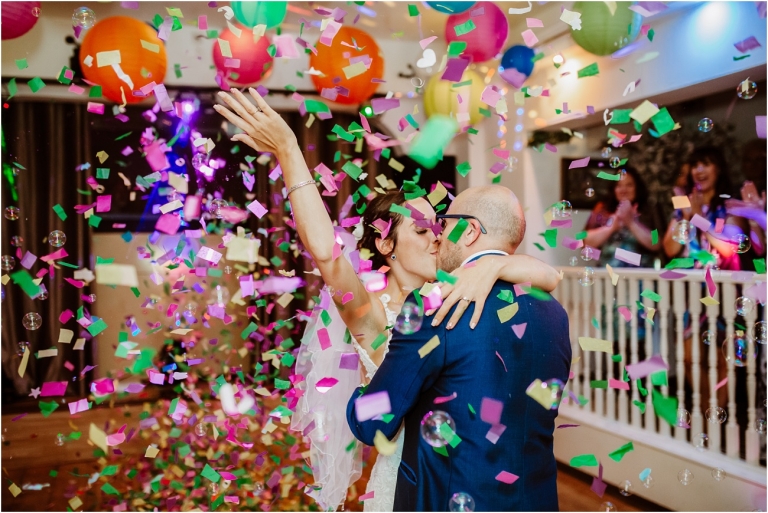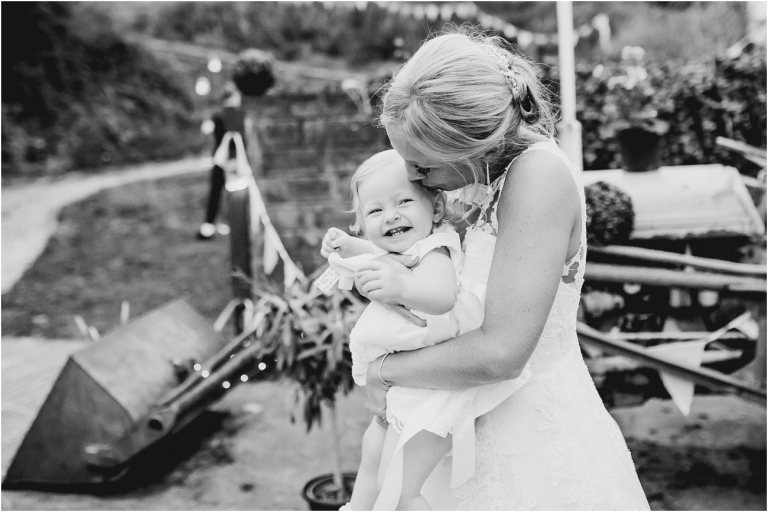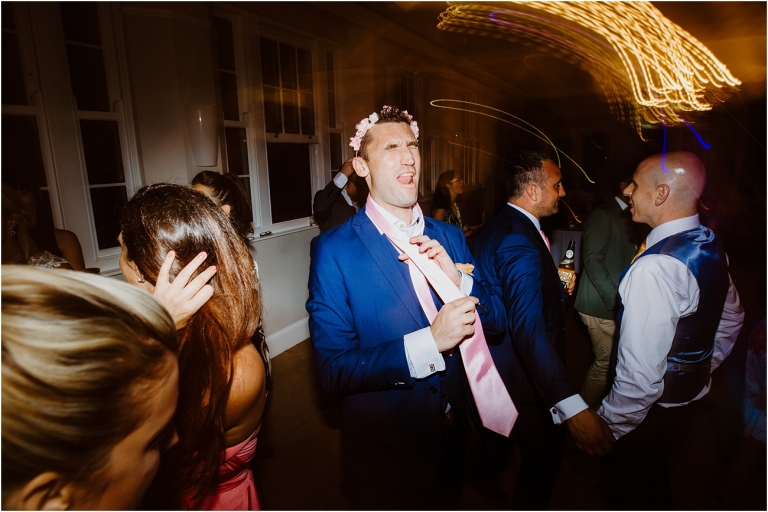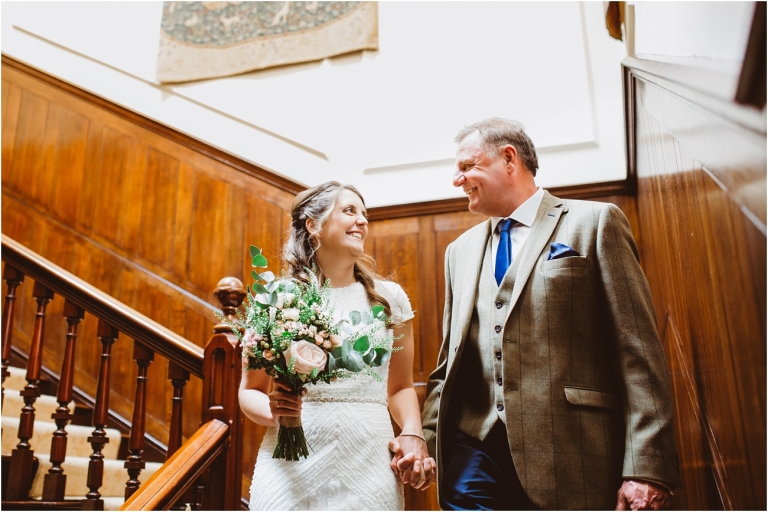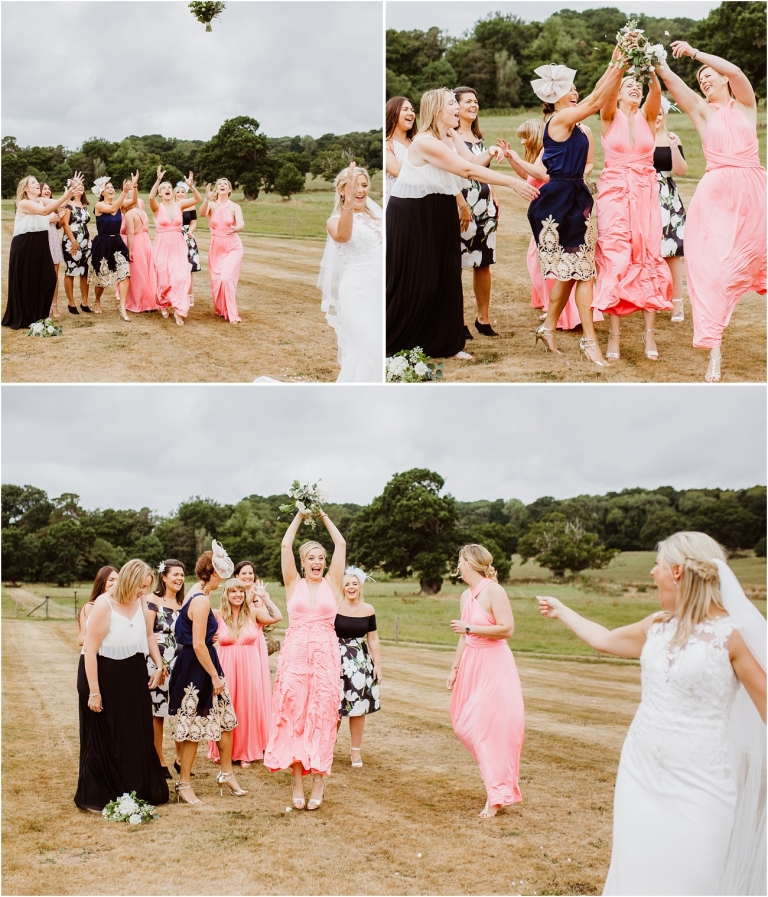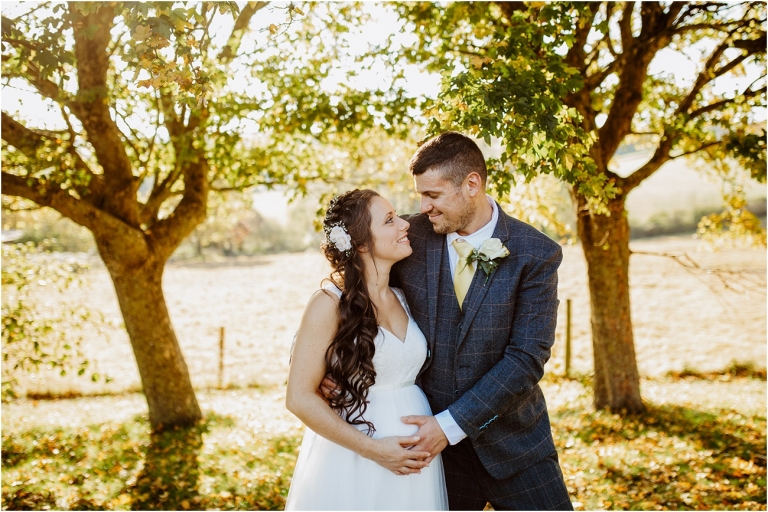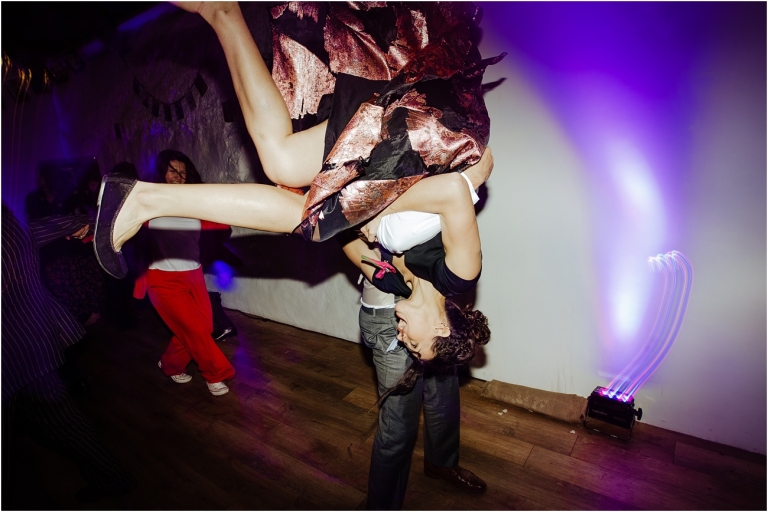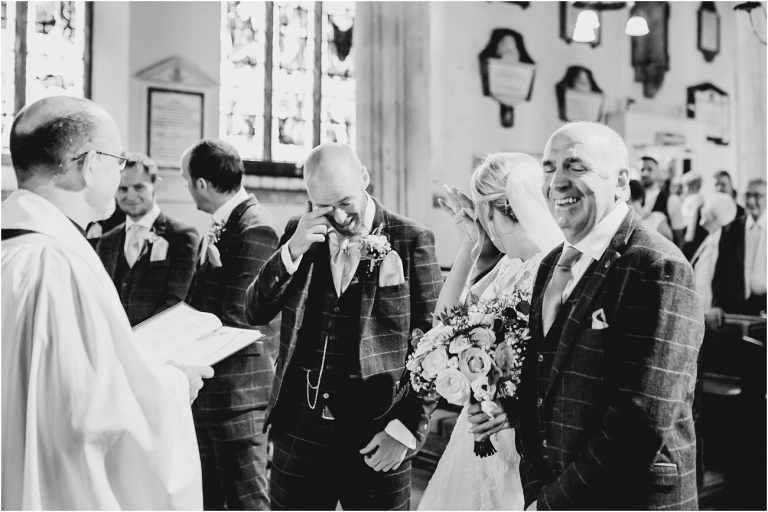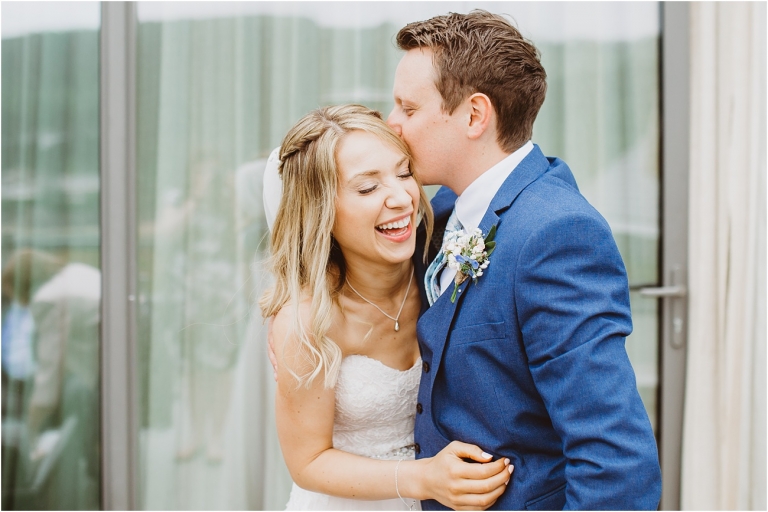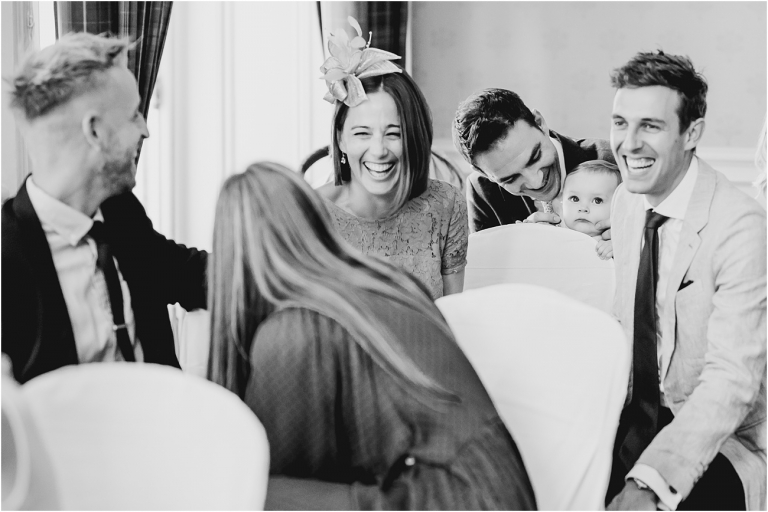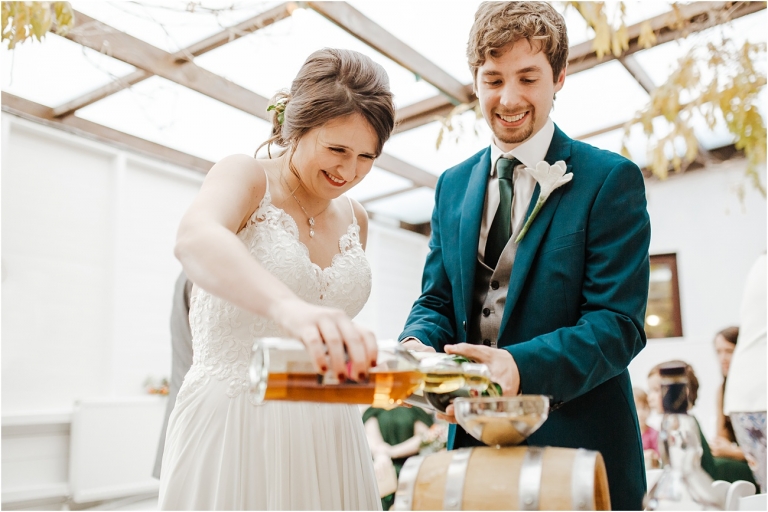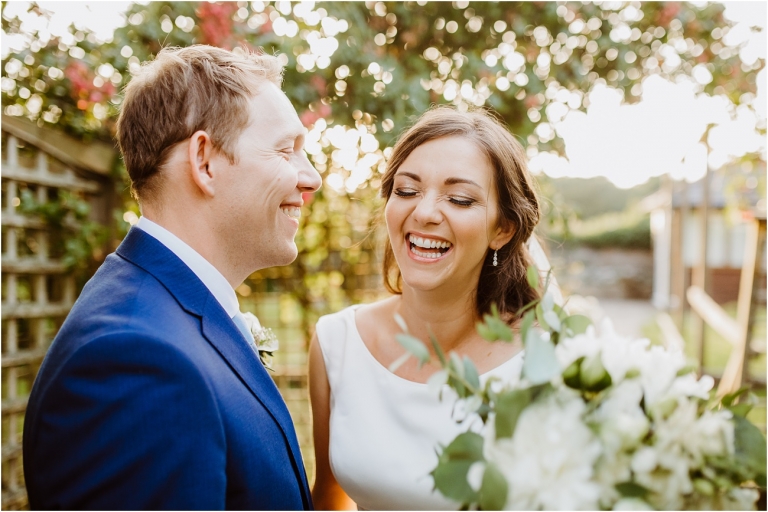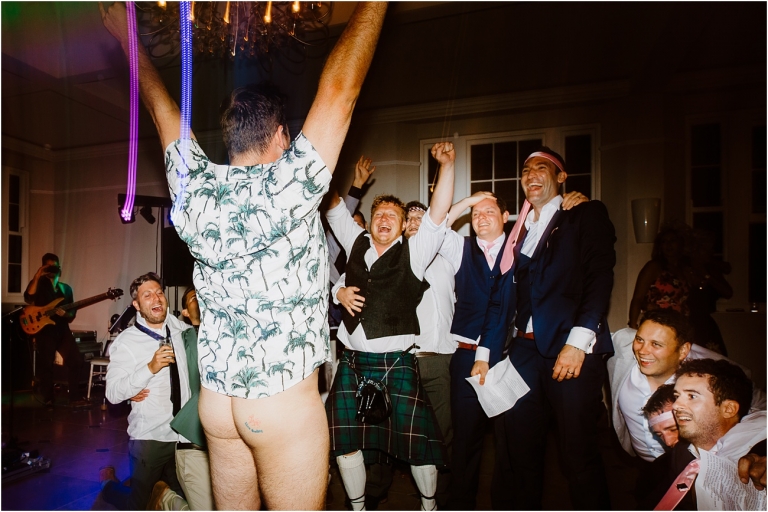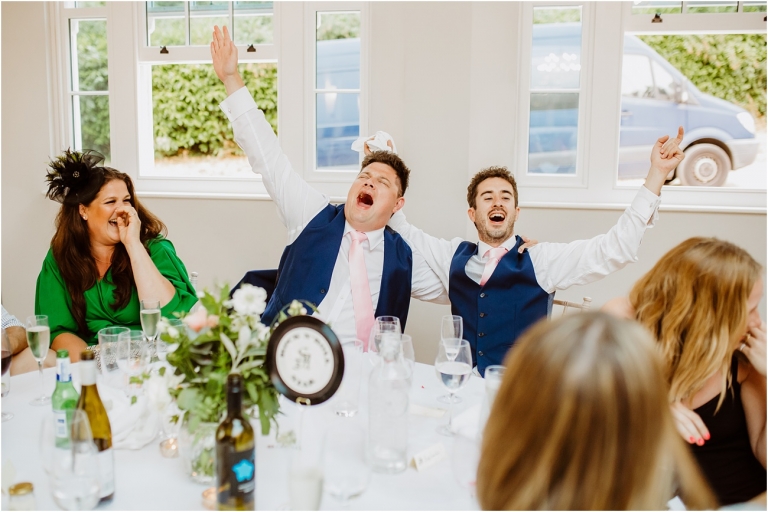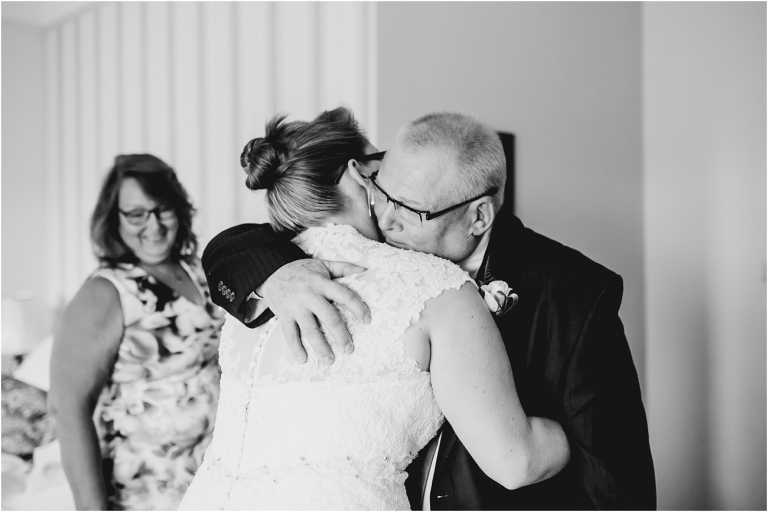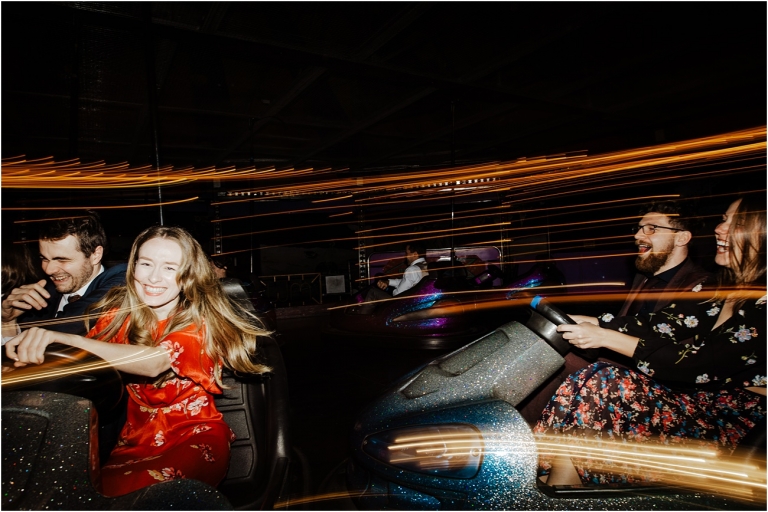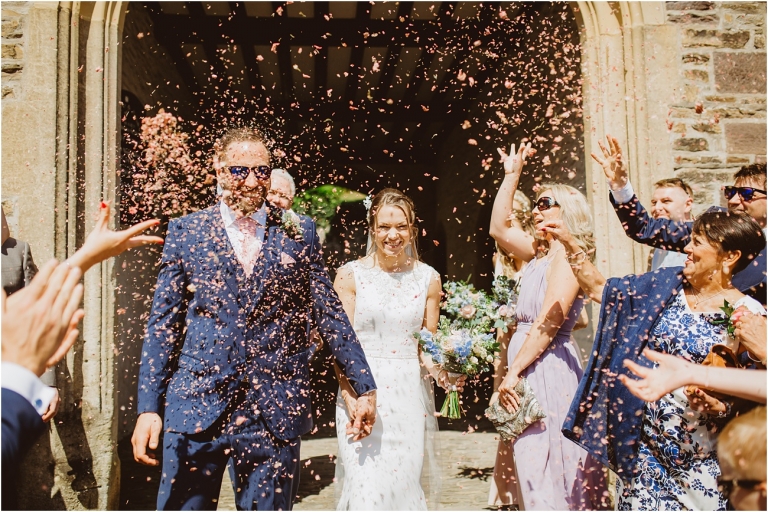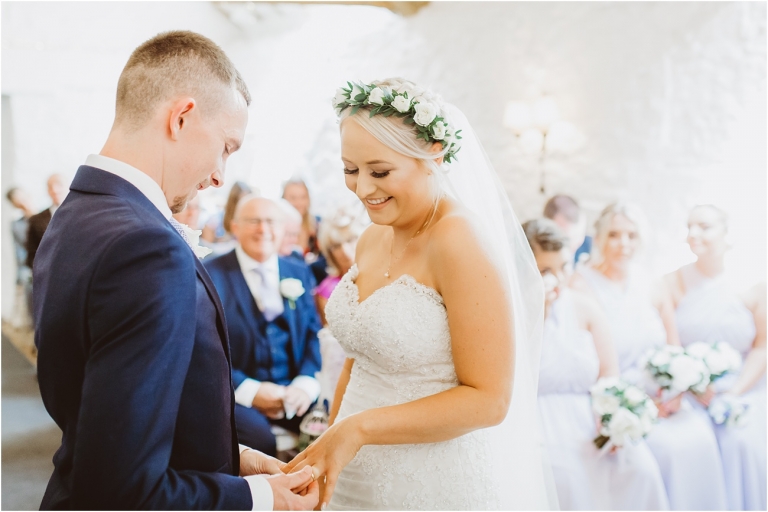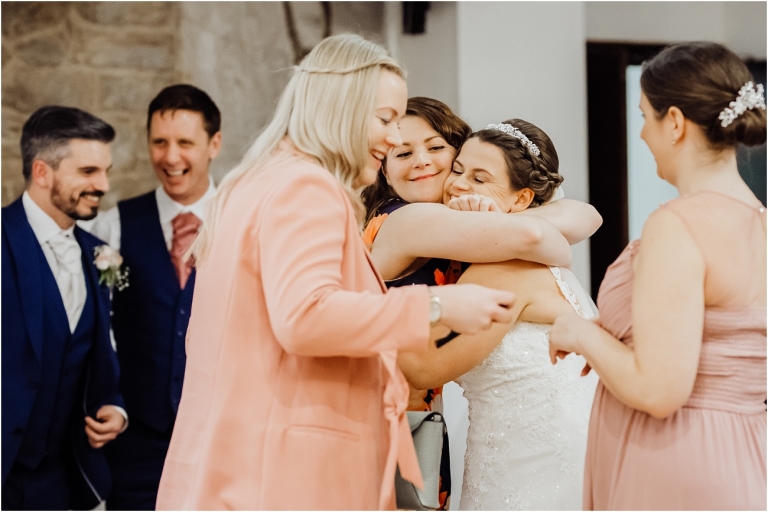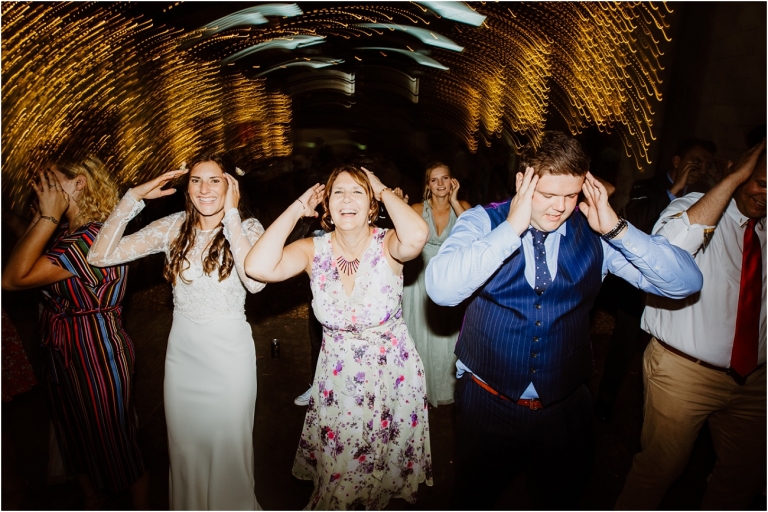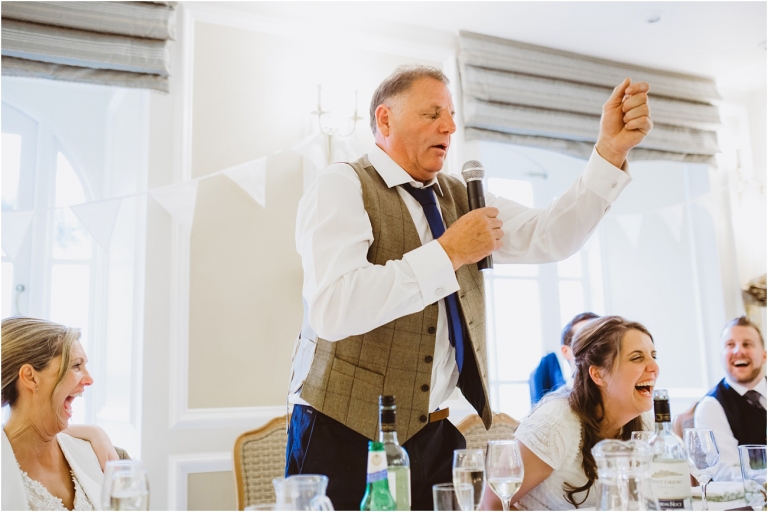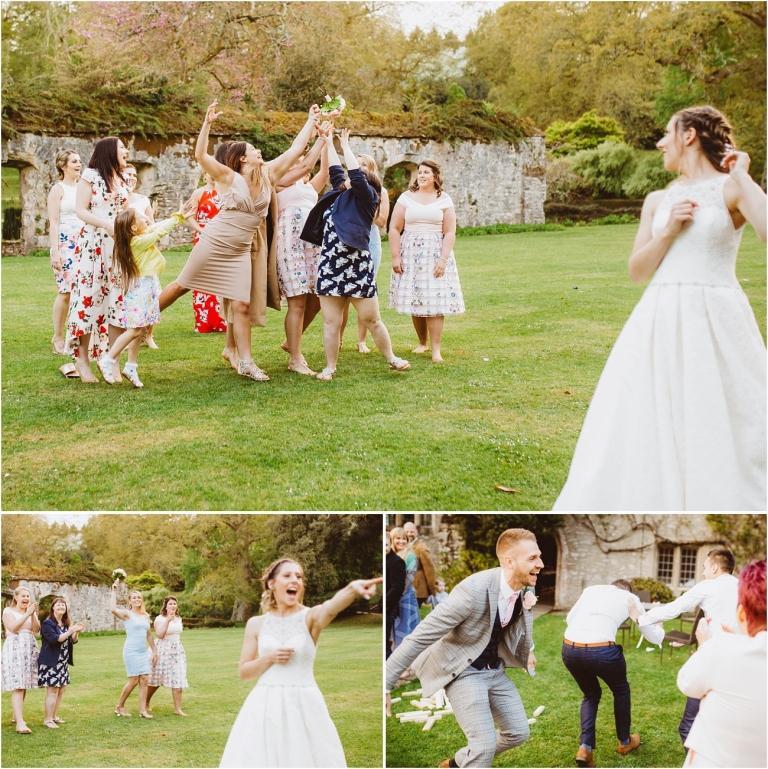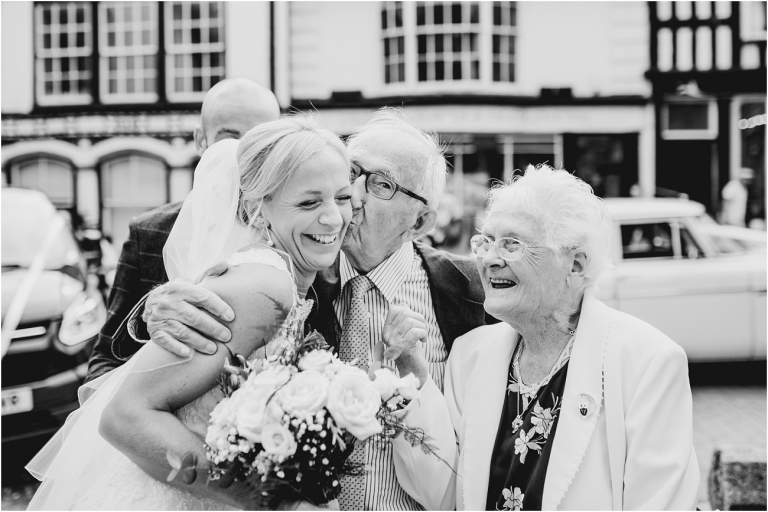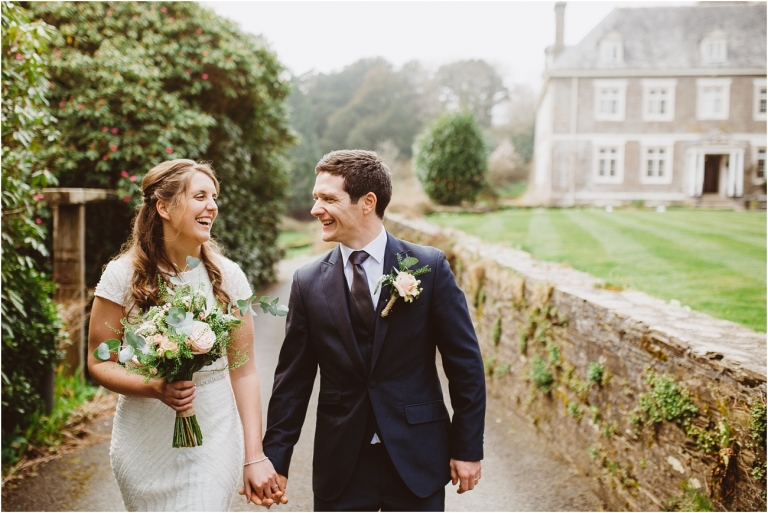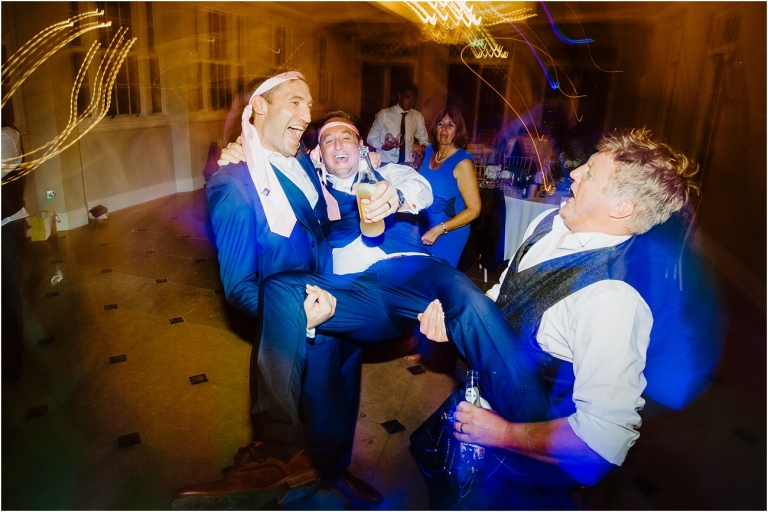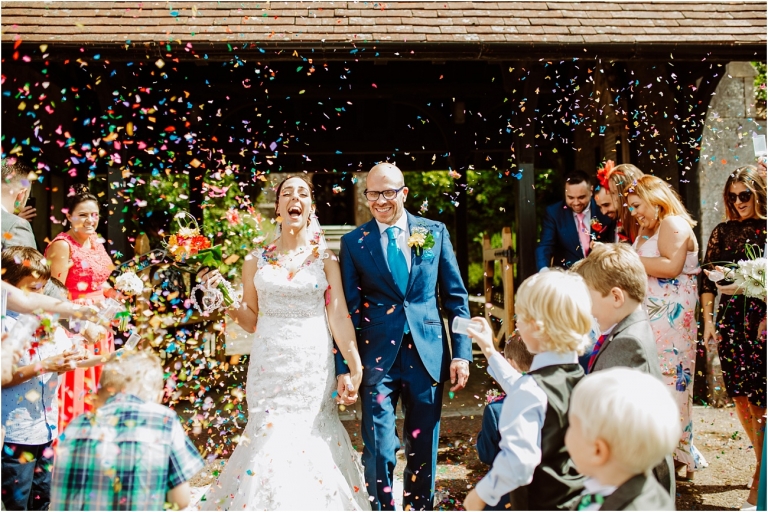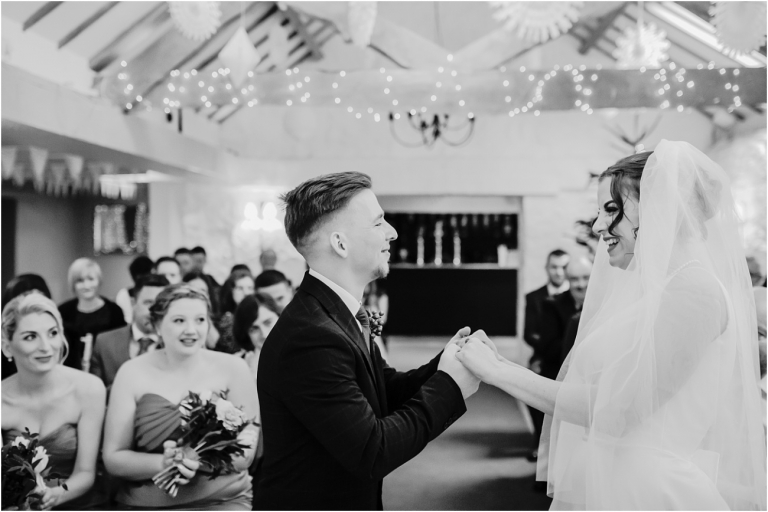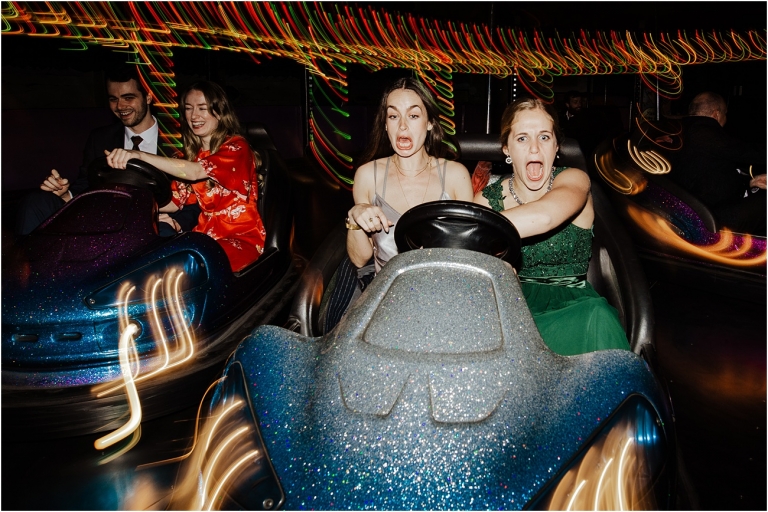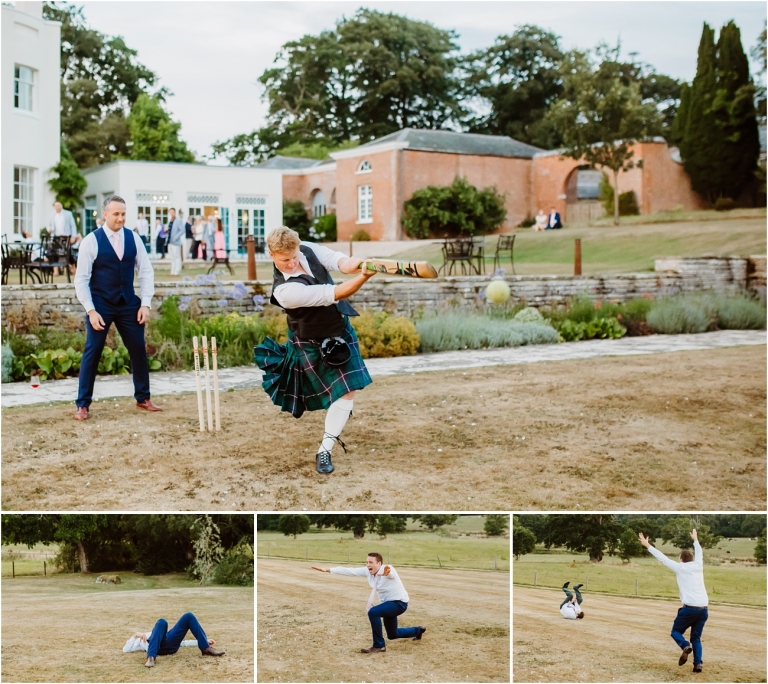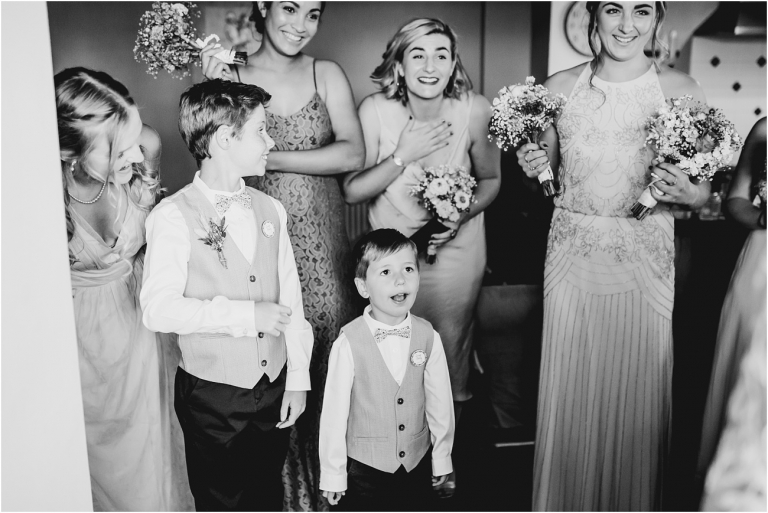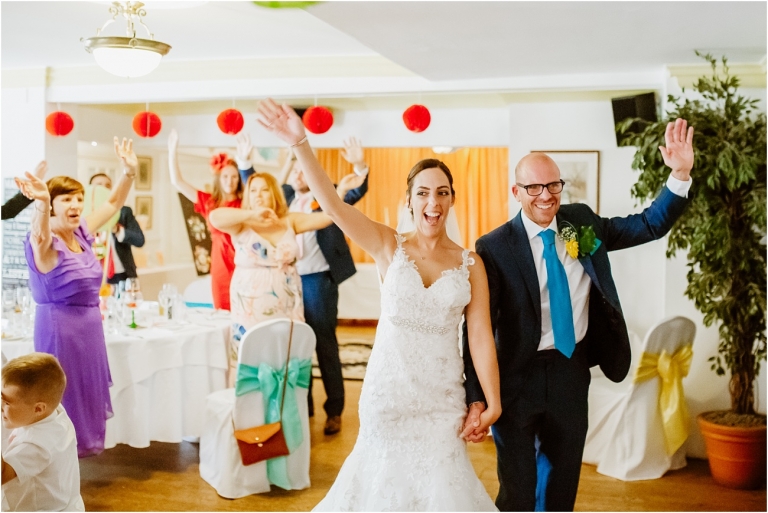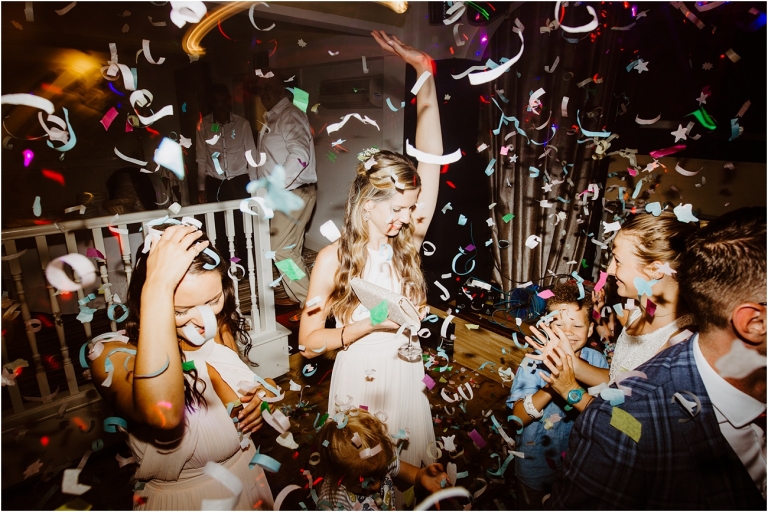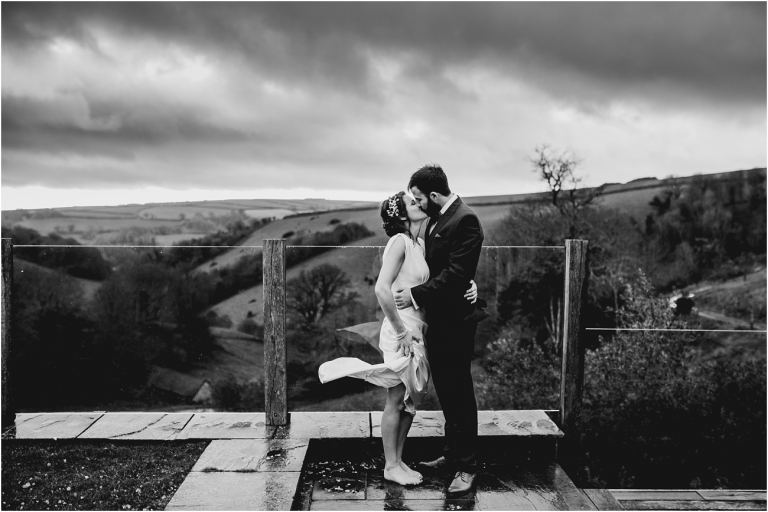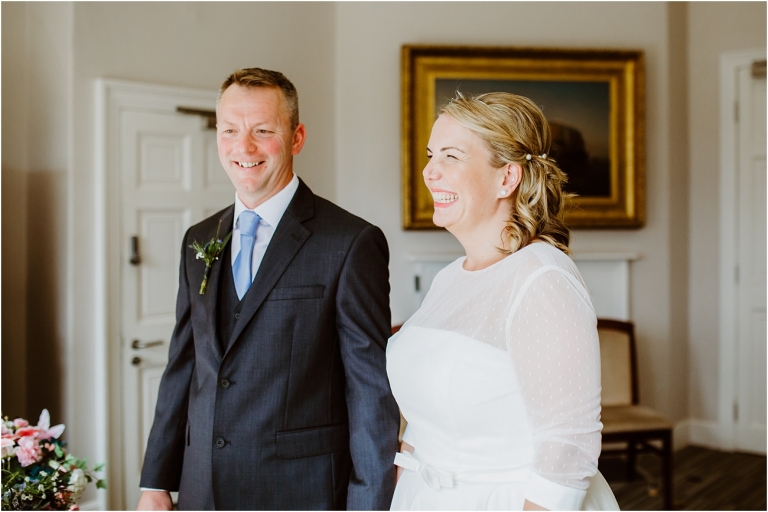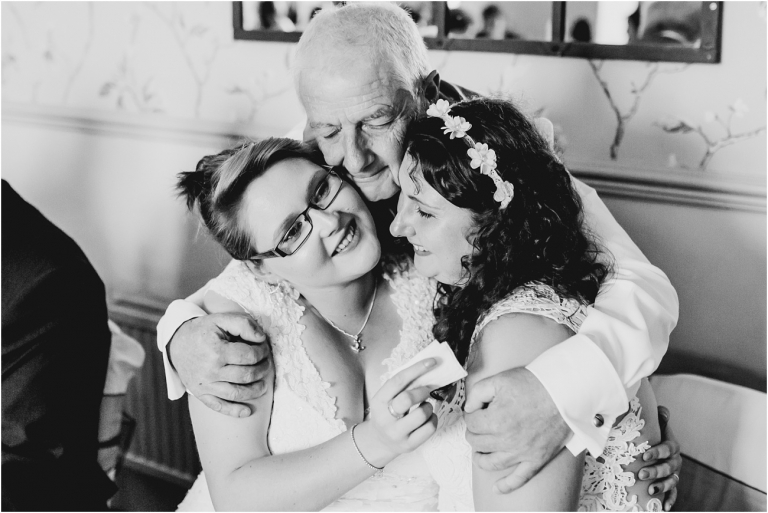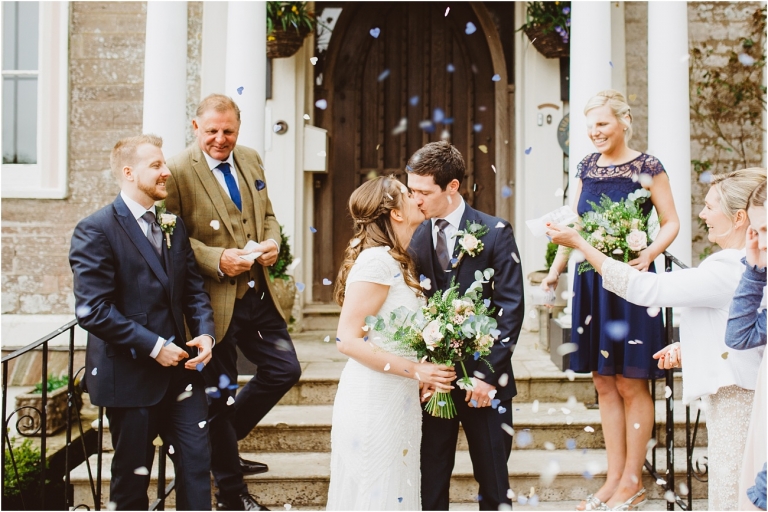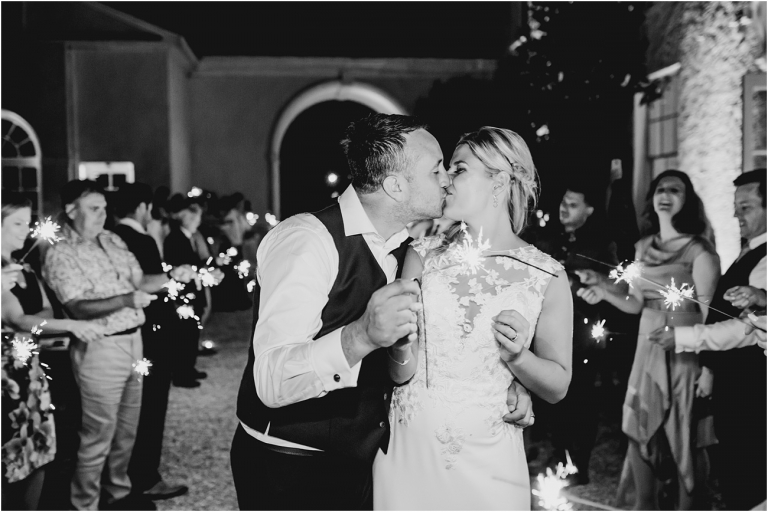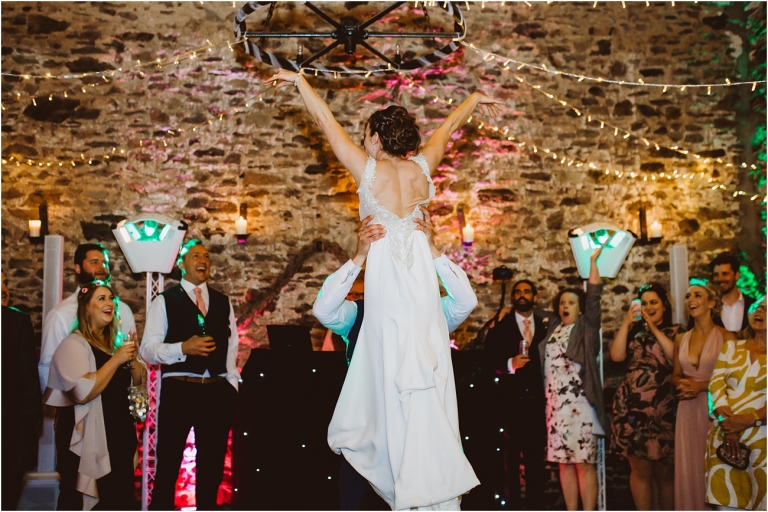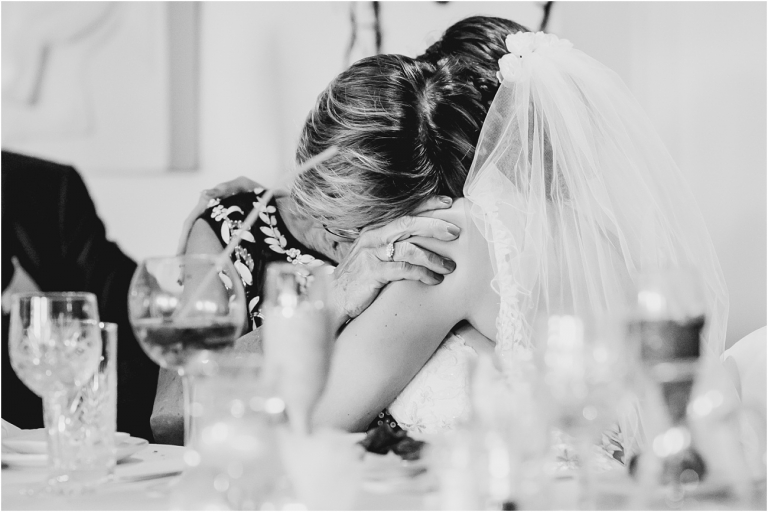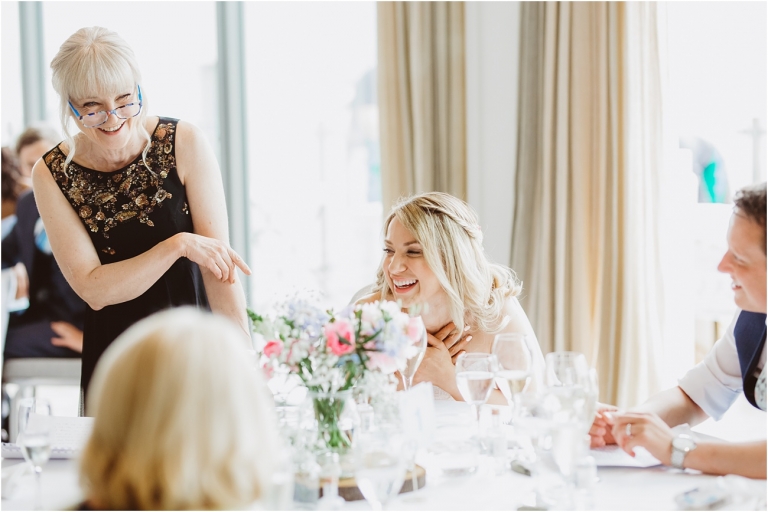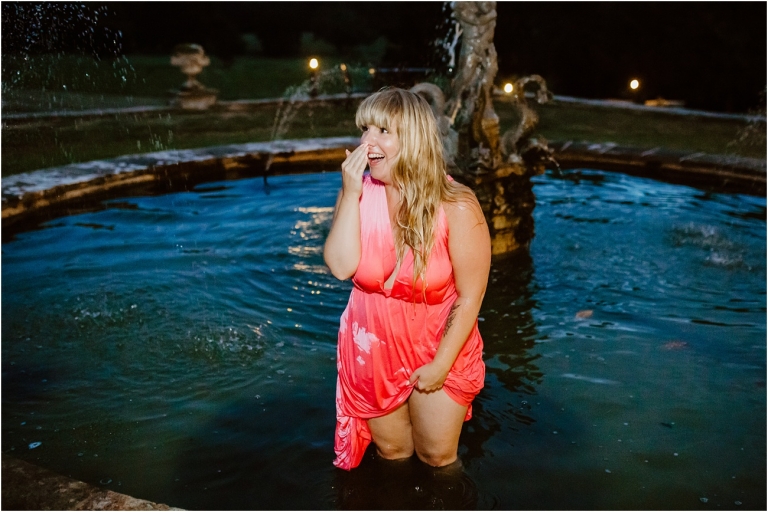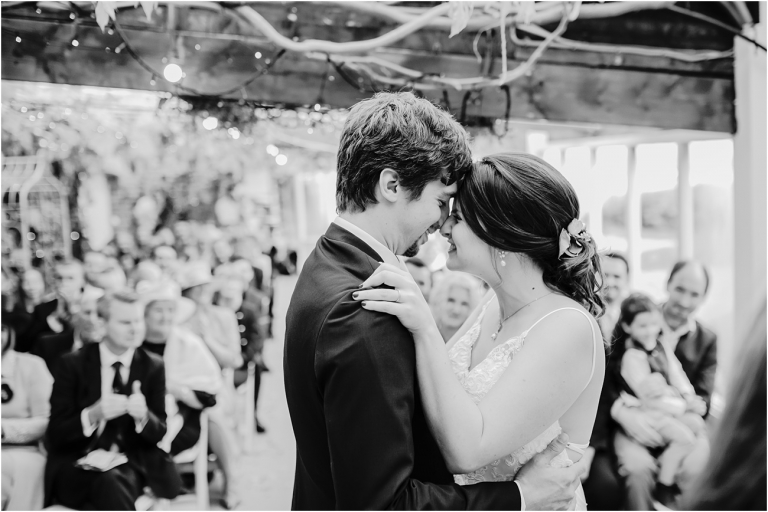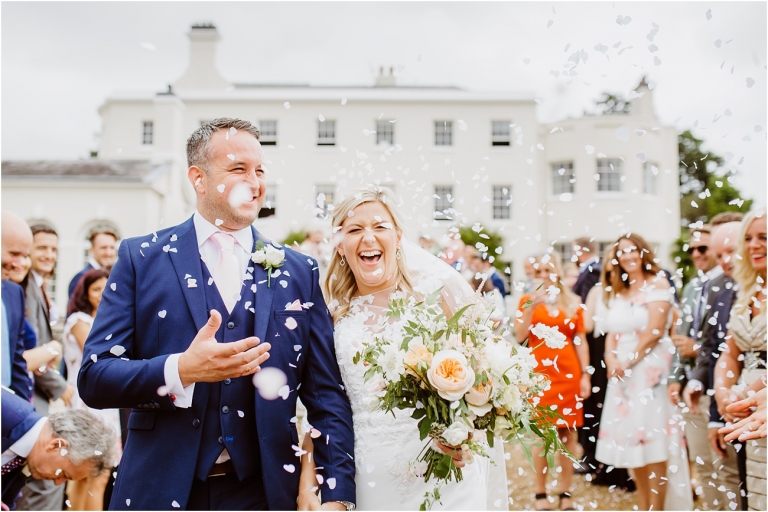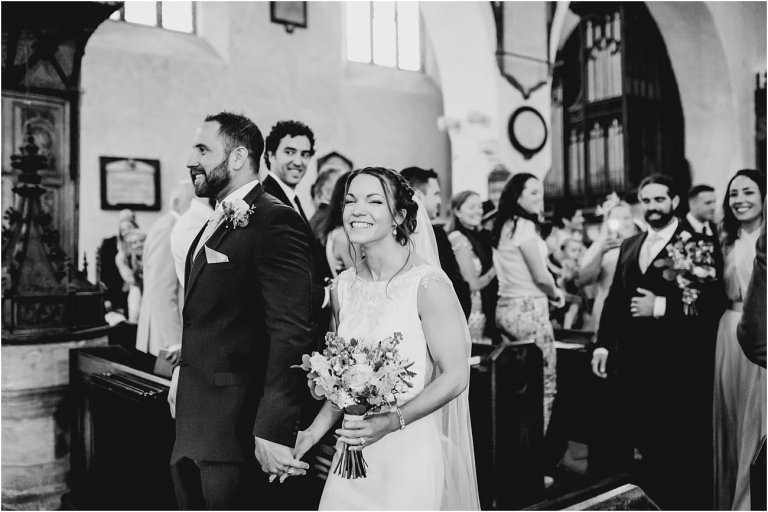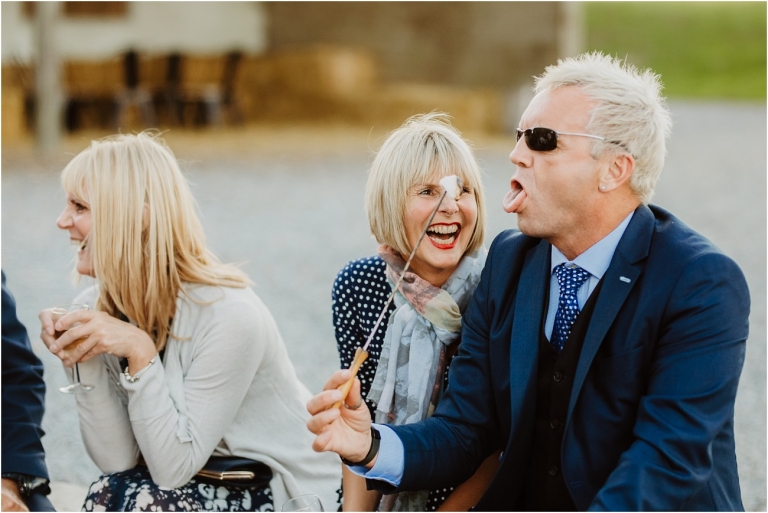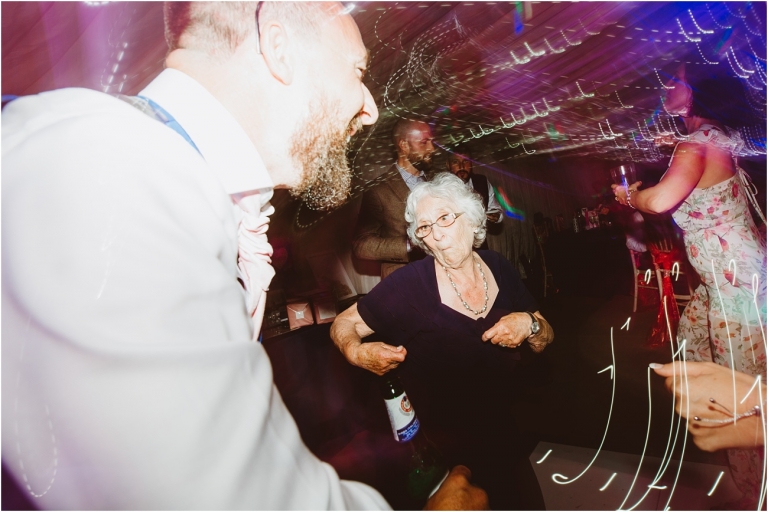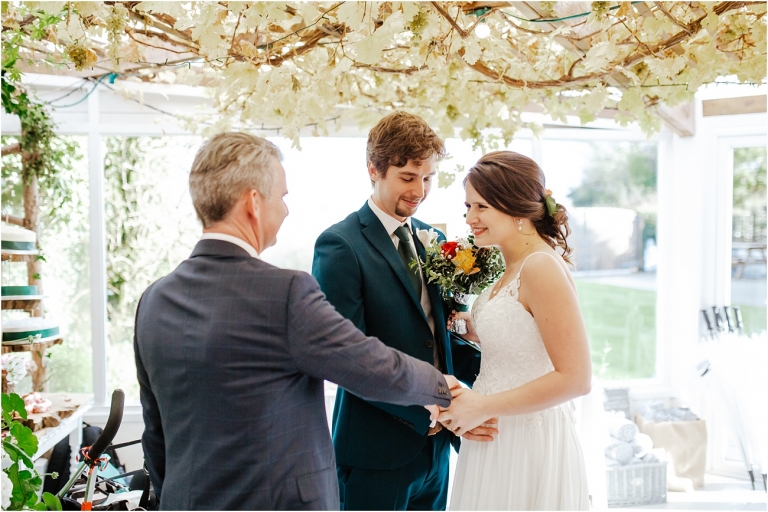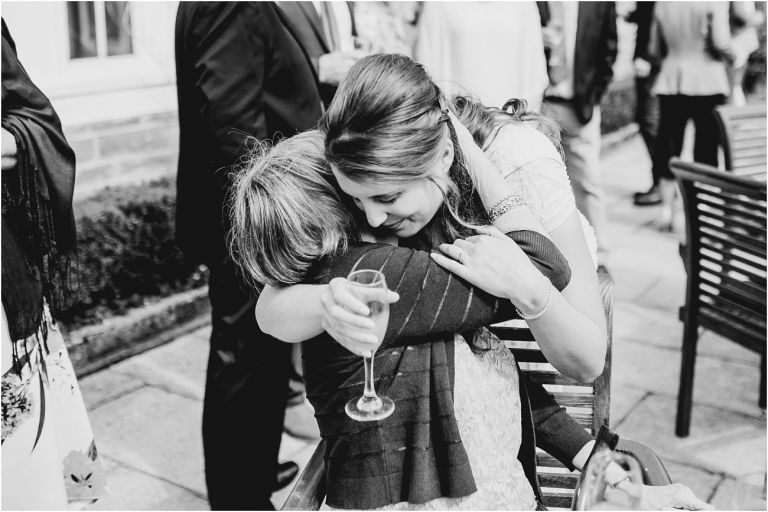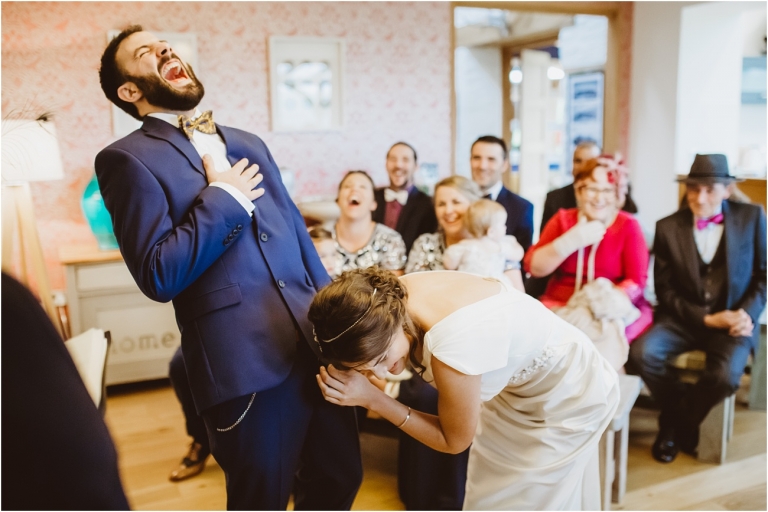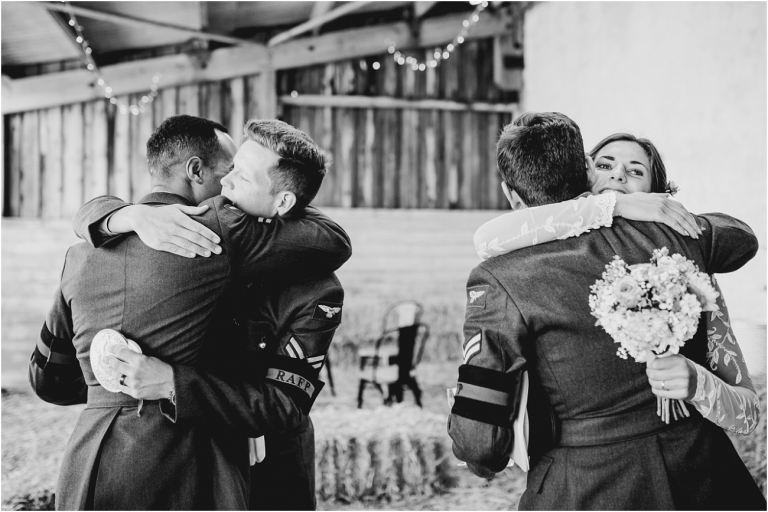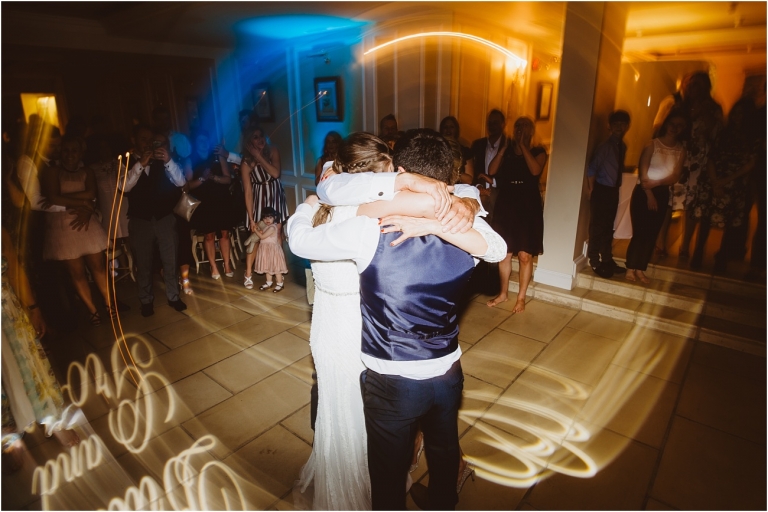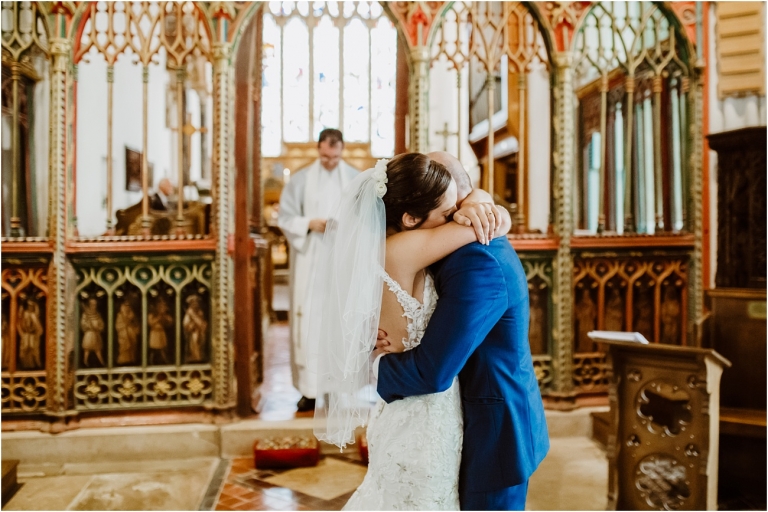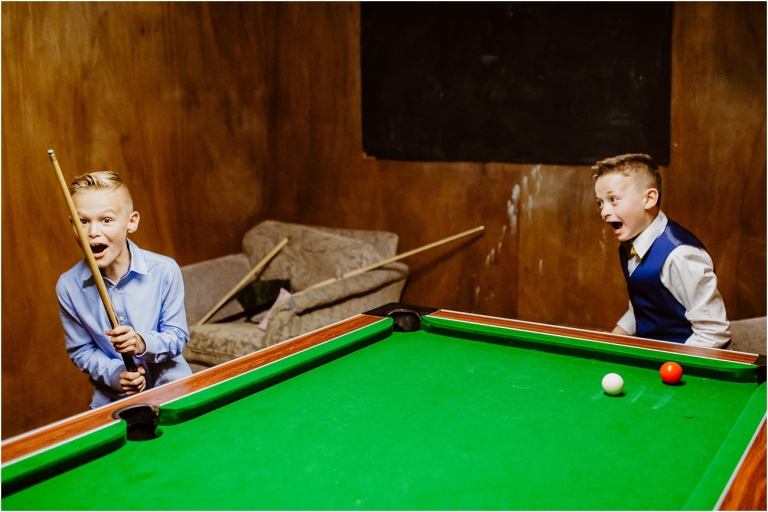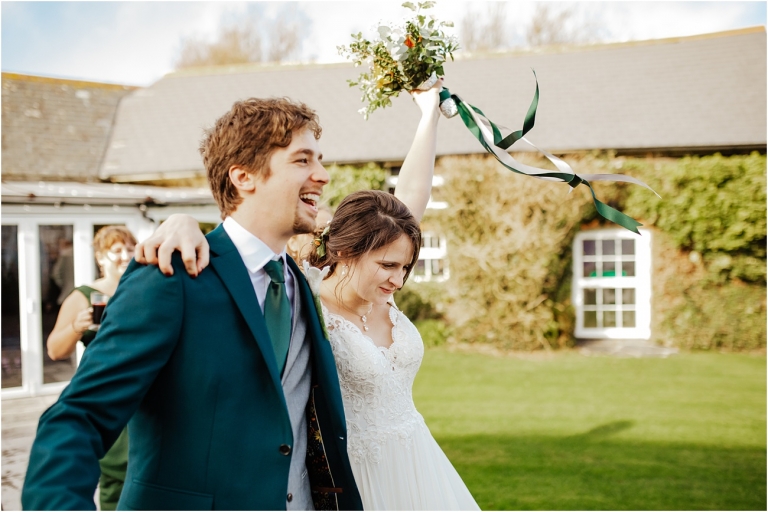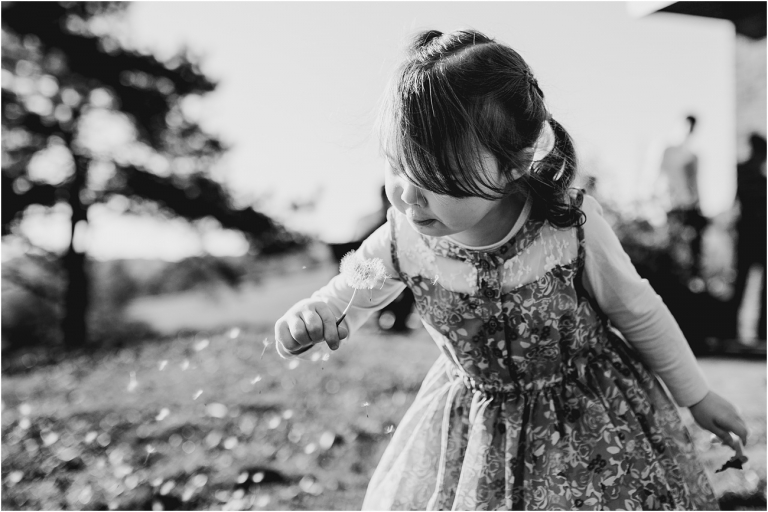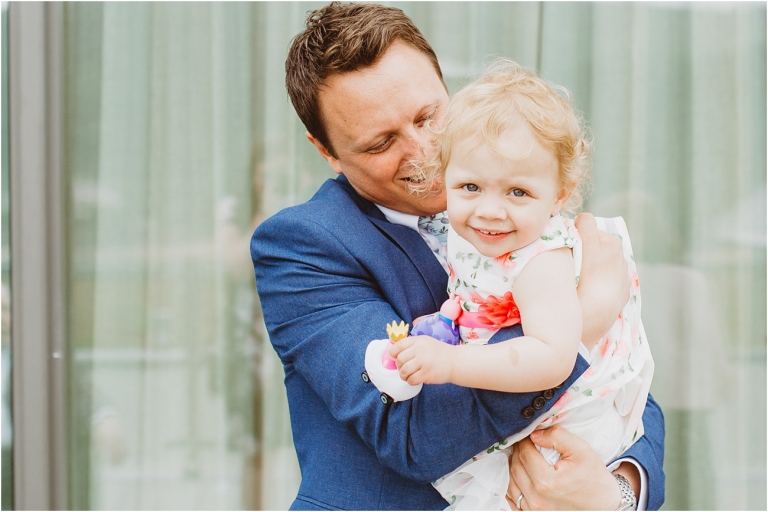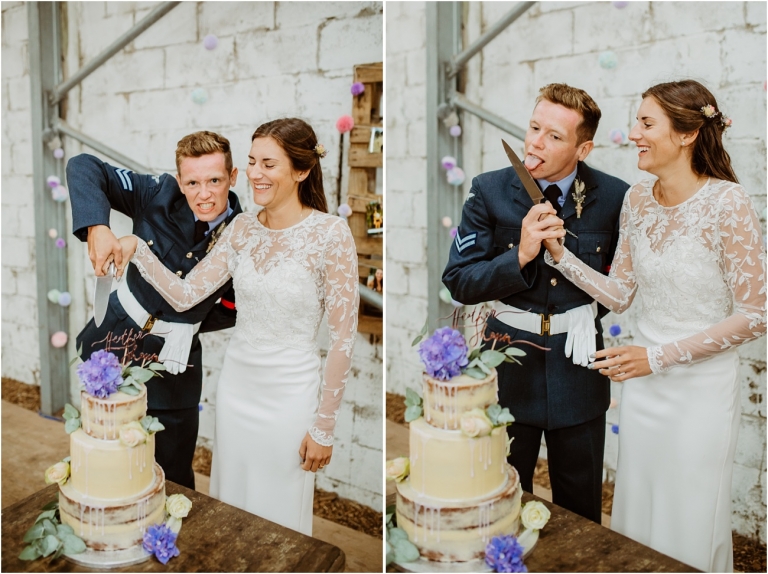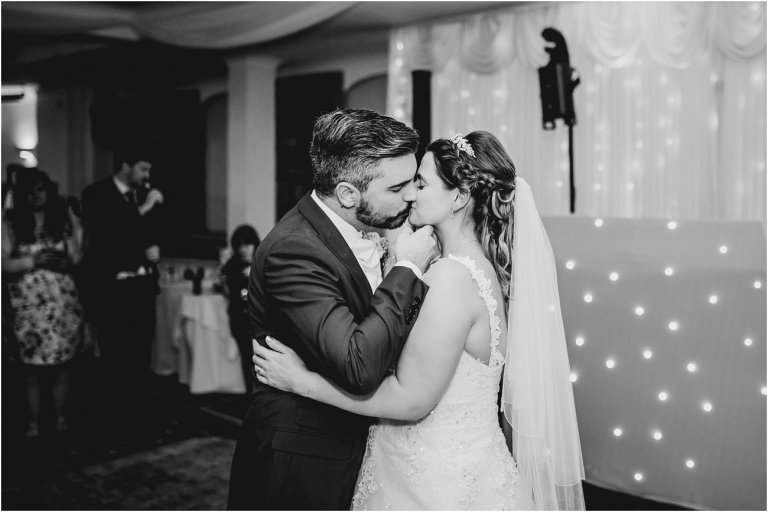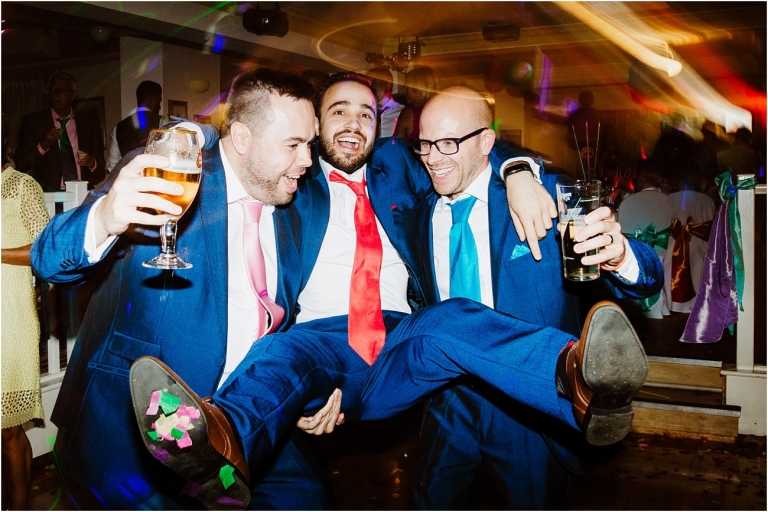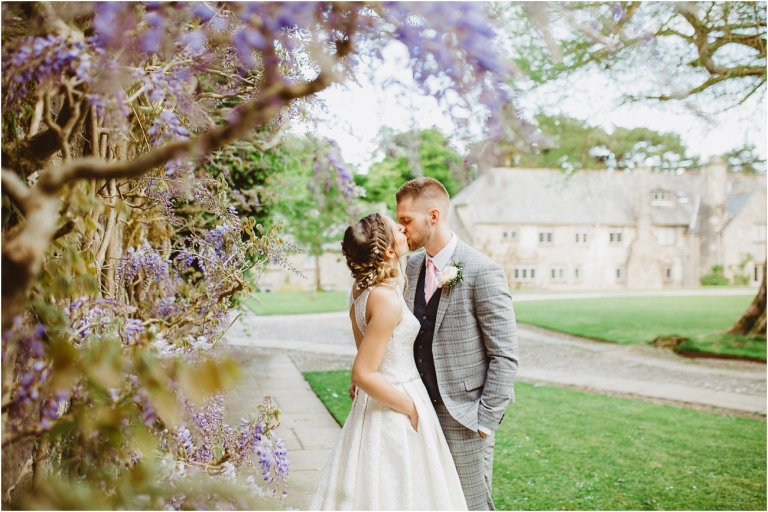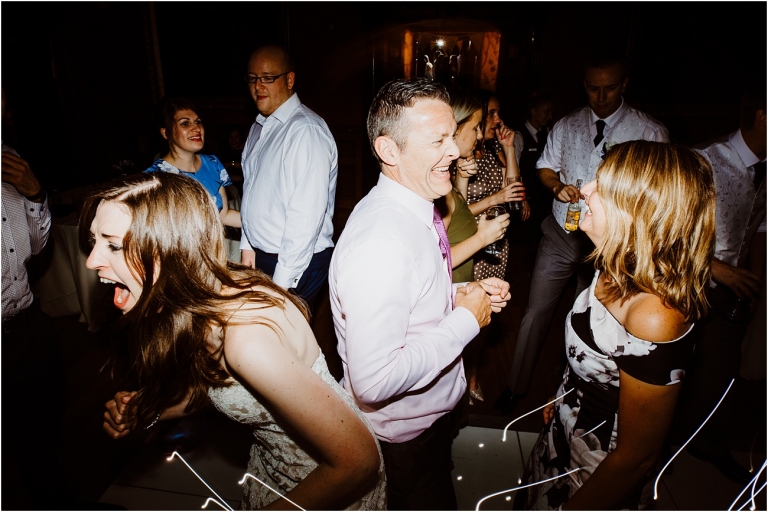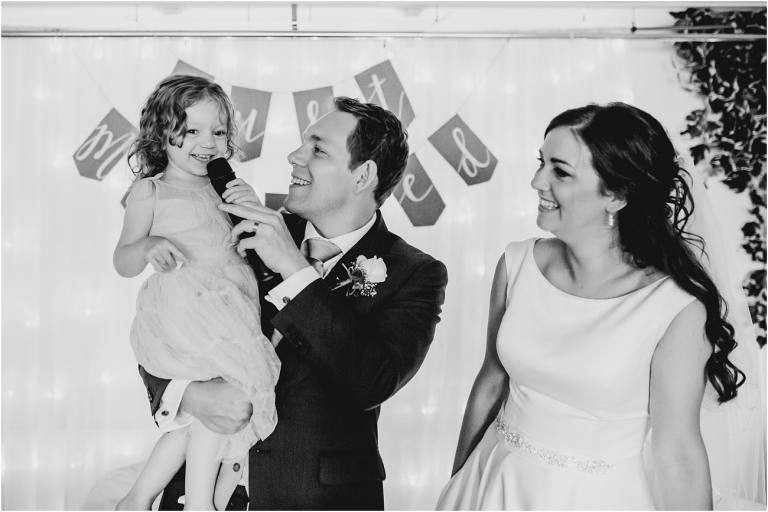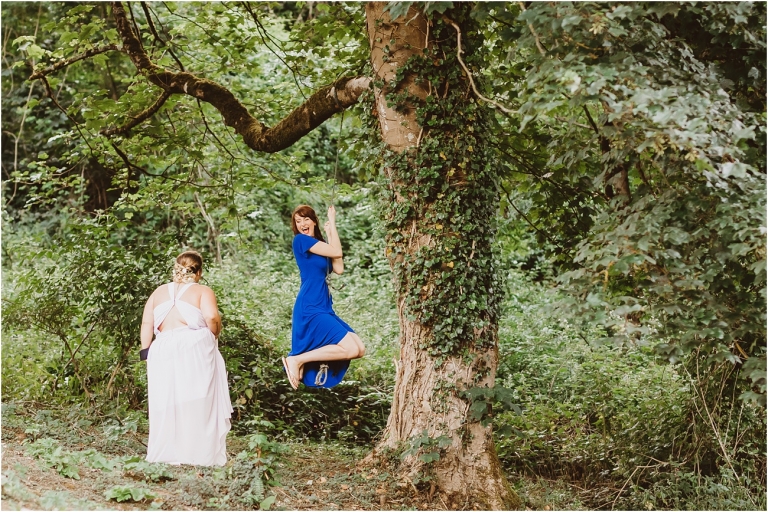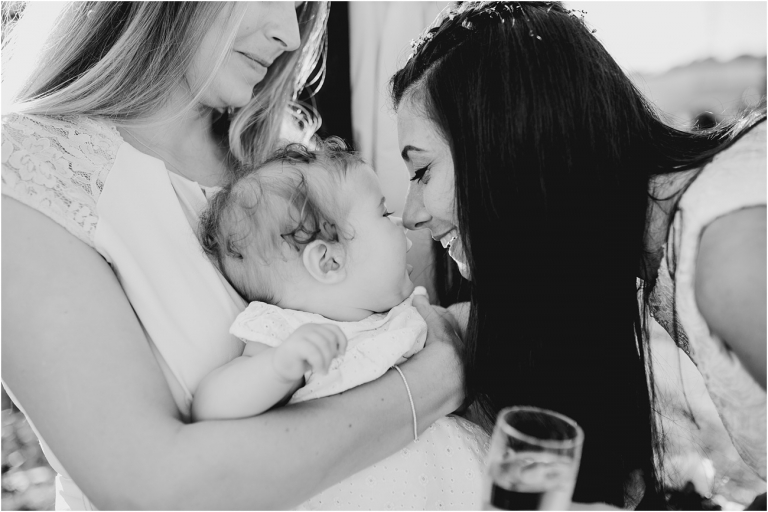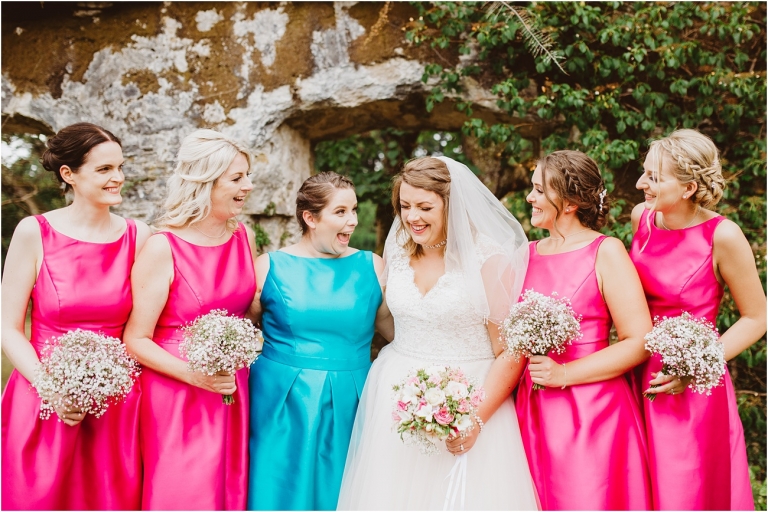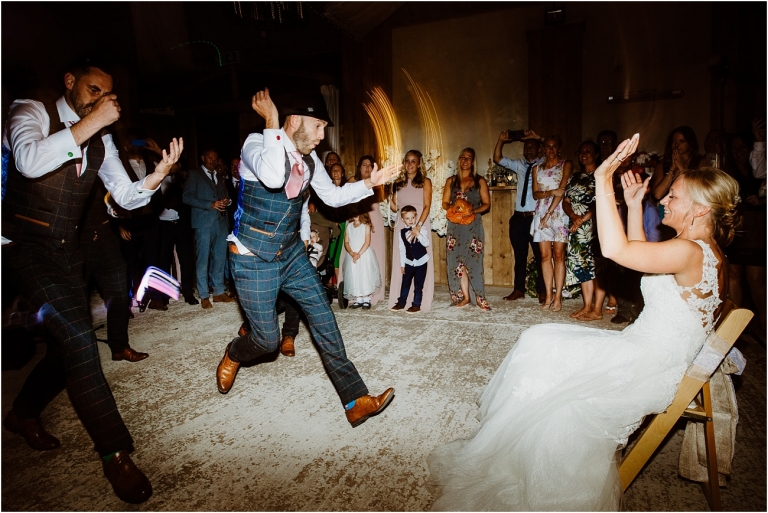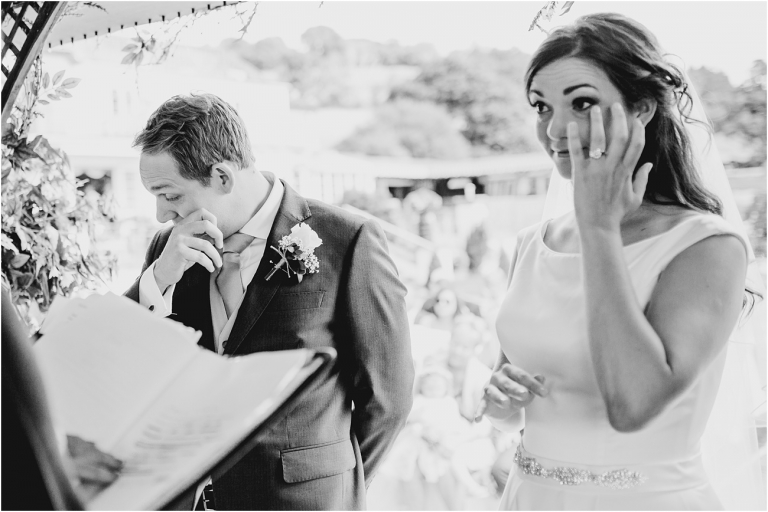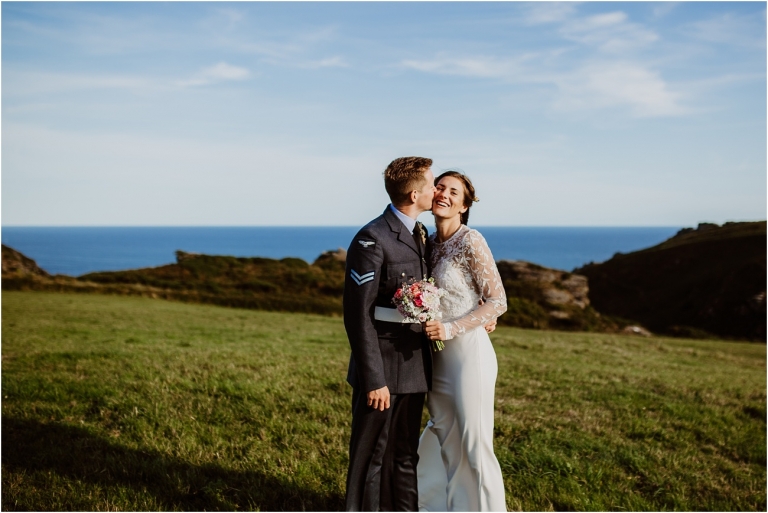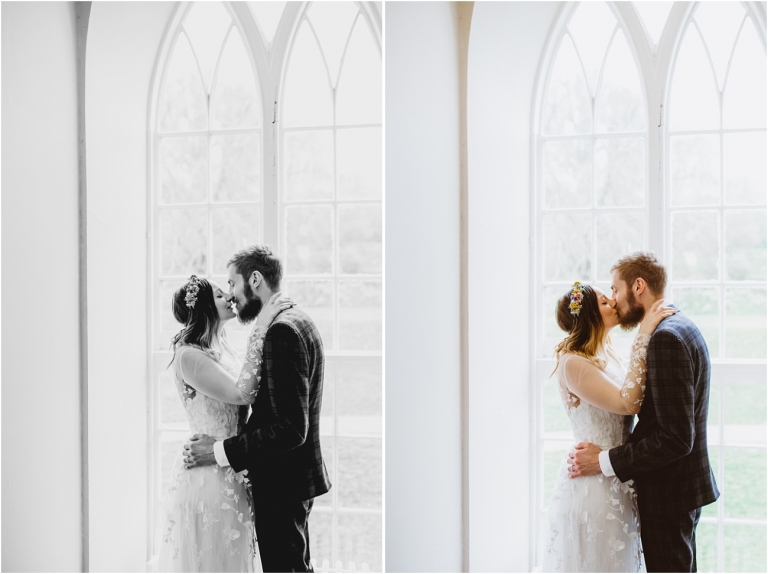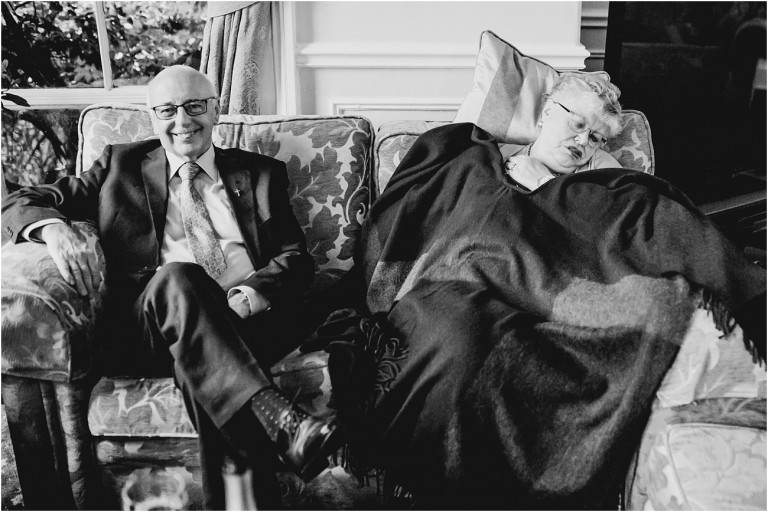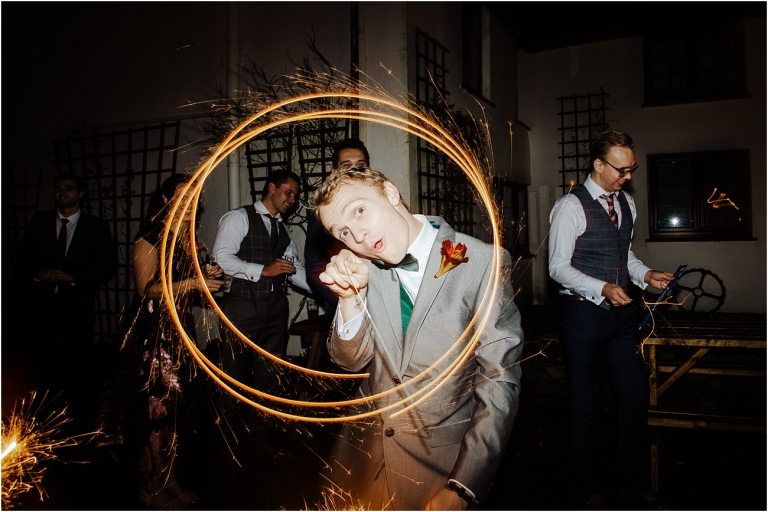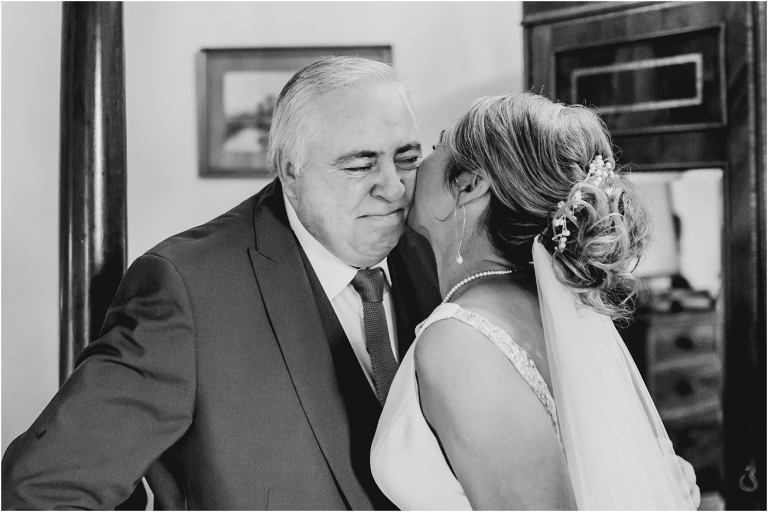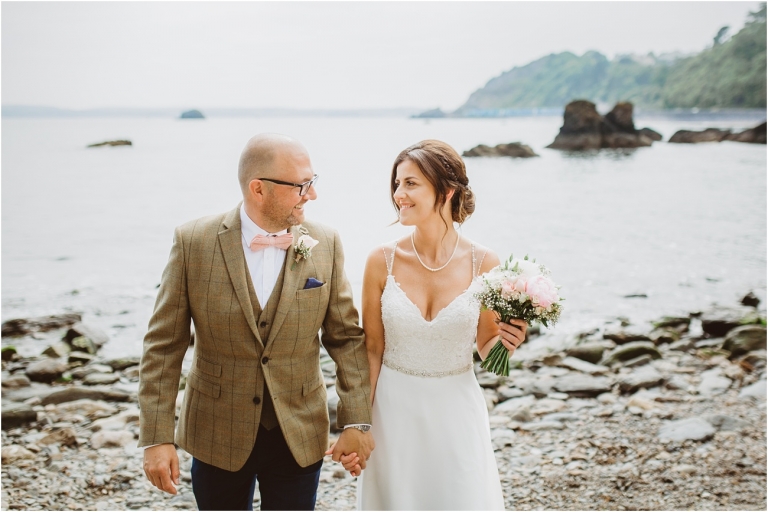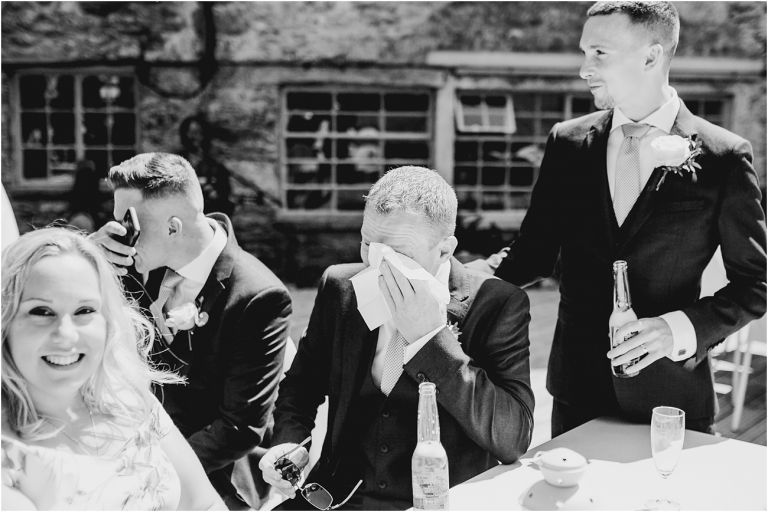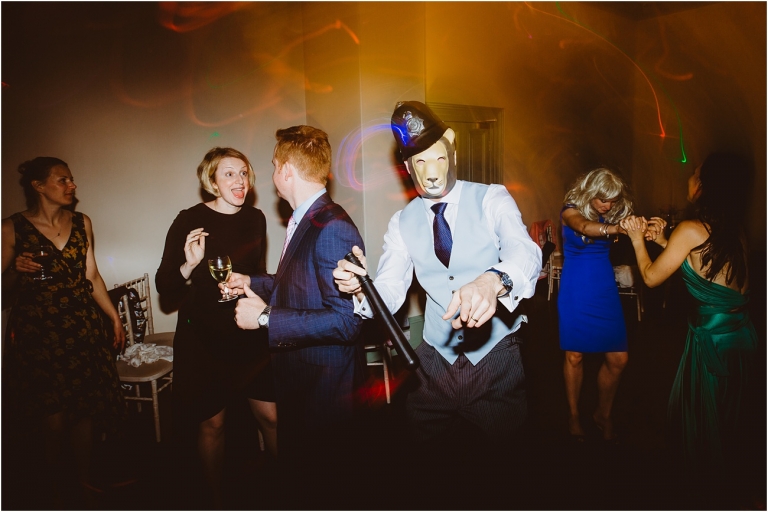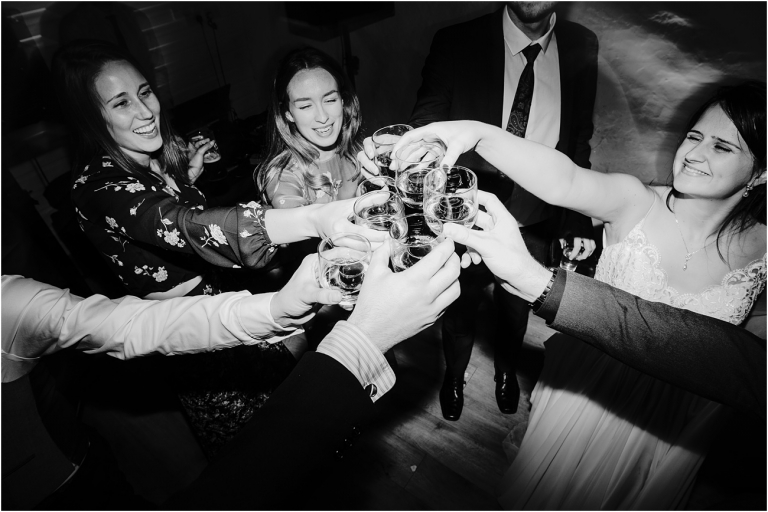 Thank you for viewing my year in photos, I hope you've enjoyed it as much as I have!
I can't wait to see what 2019 brings, it's shaping up to be an incredible year!
If you are looking for a wedding photographer in Devon, Cornwall and beyond, then please check out my portfolio or get in touch! As always, please feel free to share or leave a comment below.
Holly xx
Heather and Shaun were the first of their group of friends to get married. Heather says she felt a little under pressure to create an amazing day… but this was an absolutely incredible day for me to work at. It must have been even more amazing to attend as a guest!
They wanted their wedding to be a real experience for everyone, especially as lots of their guests were travelling from as far as Australia. Nearly everything was home-made, personal or both. Friends and family members contributed towards everything, from Heather's dress to the decorations, from the food to the wedding cake. Also, most of the guests stayed for the entire bank holiday weekend. This created a wonderfully relaxed atmosphere, where people who had never met got on like they had been friends for years. Everyone felt a part of it because so many helped set up the venue the day before and baked desserts for the day itself.
The whole day had a collaborative, feel-good factor that was a result of the effort and fantastic touches from so many people. Heather and Shaun were at the centre of it all, and they were such a wonderful, loving and fun couple to photograph. East Soar was the perfect rustic venue for this hand-made, DIY wedding. It looked beautiful decorated by everyone's individual efforts and provided the perfect setting for this amazing wedding bathed in the Devon summer sun.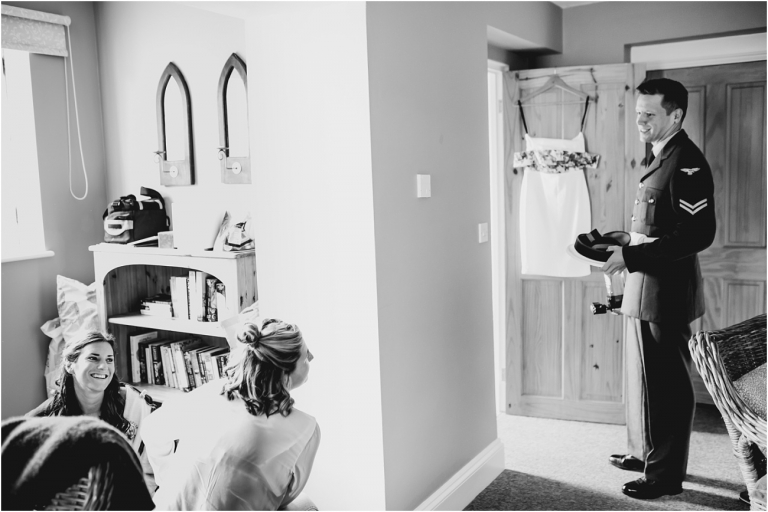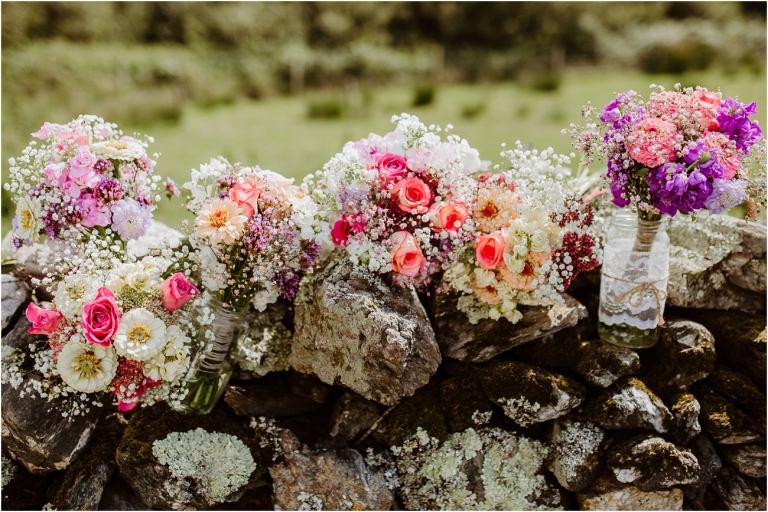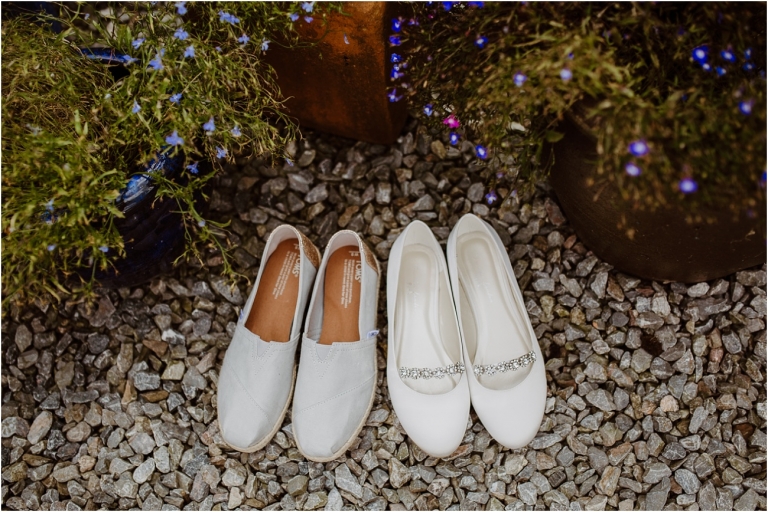 Heather had two pairs of wedding shoes. The first were a white satin pair from House of Fraser and her second comfy pair were from Toms.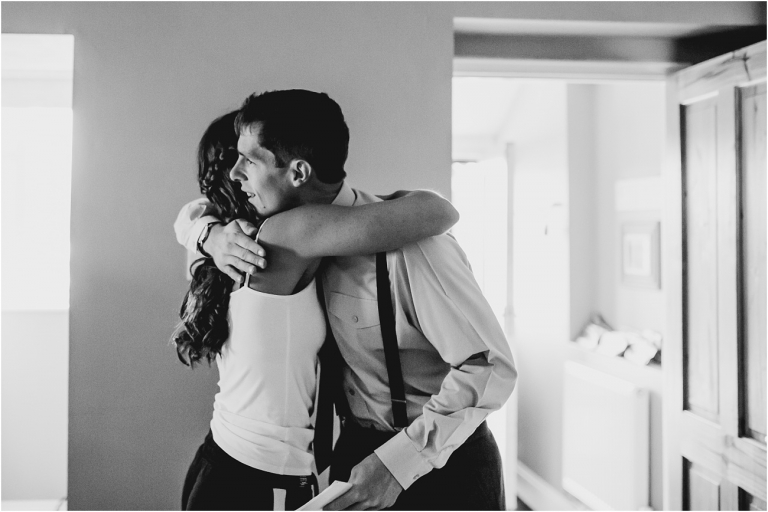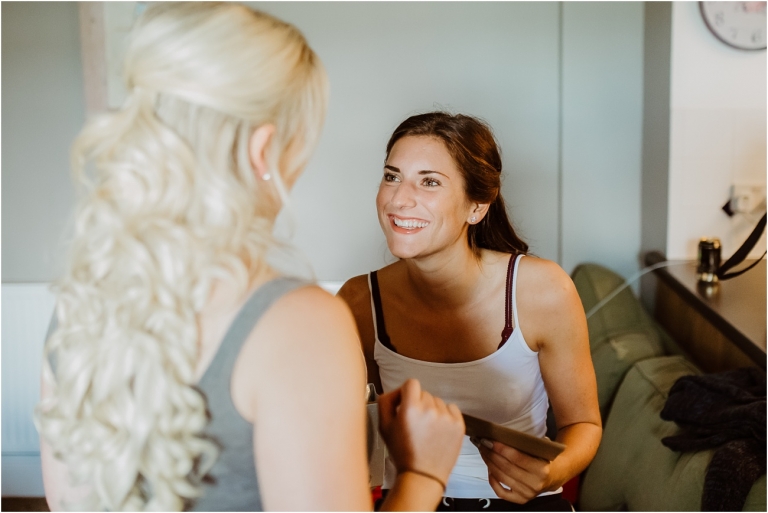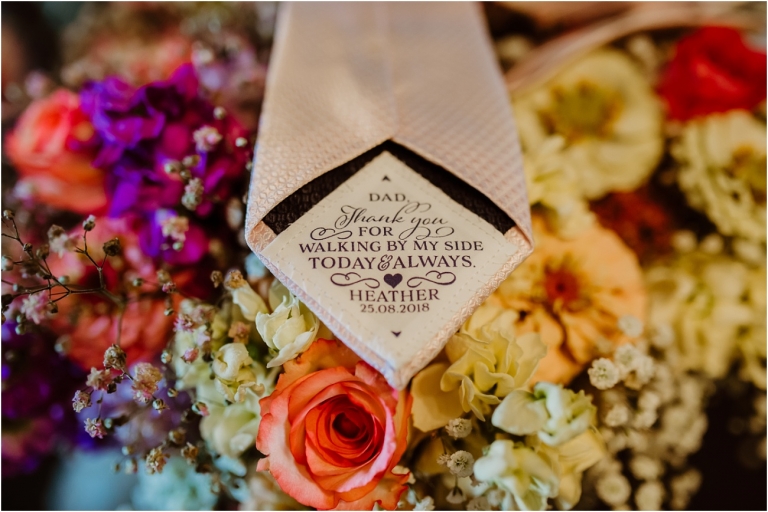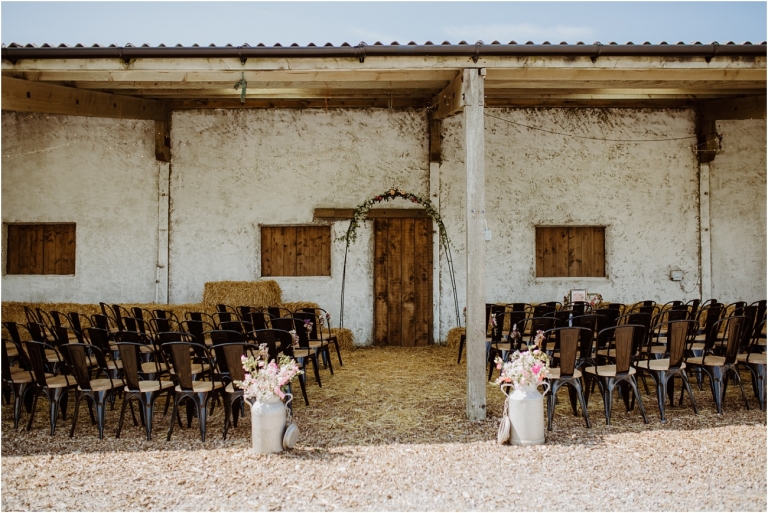 Heather and Shaun chose the fantastic East Soar Outdoor Experience as their venue. It was not only a beautiful secluded, rustic venue. It also allowed their guests to all stay on site in bell tents for the whole bank holiday weekend. East Soar use the money they make from weddings to fund local schools, school trips and educational days.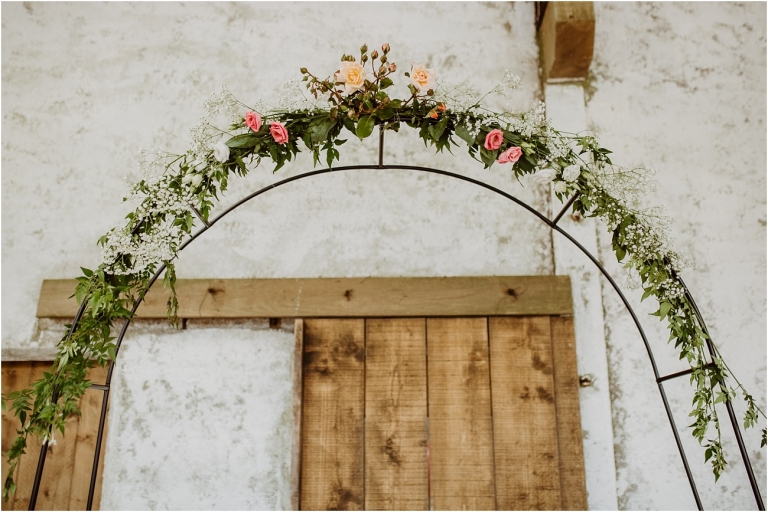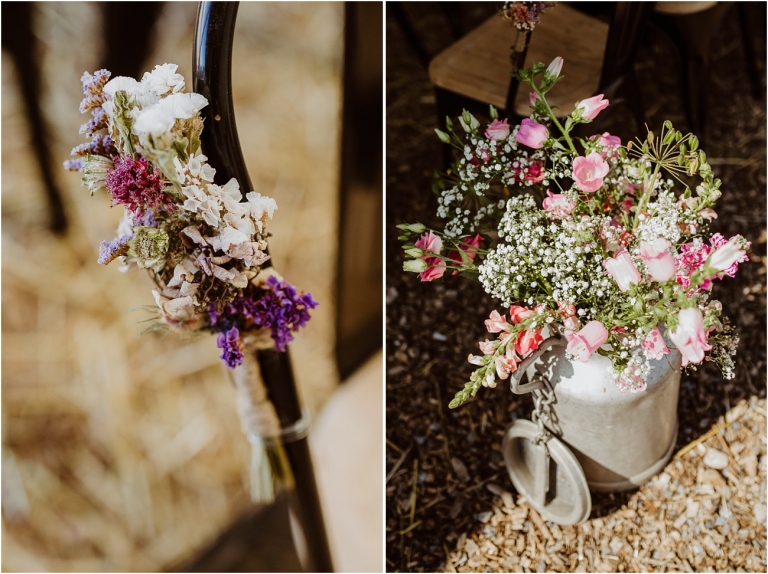 Heather's mum Mary made all the flowers, bouquets and decorations from her own homegrown ones. They then filled out some of the bouquets and arrangements with flowers from Wildflower Devon. Mary and Heather's Auntie Joyce had been drying flowers for the confetti ever since Heather and Shaun were engaged in July 2017, which was a lovely touch.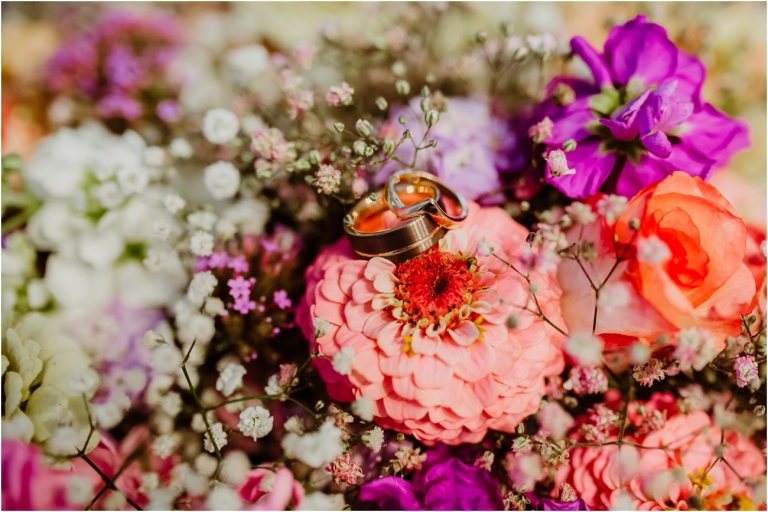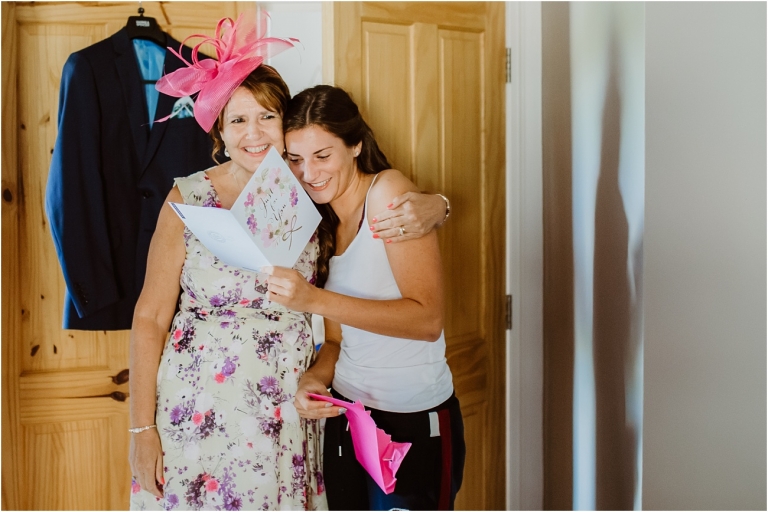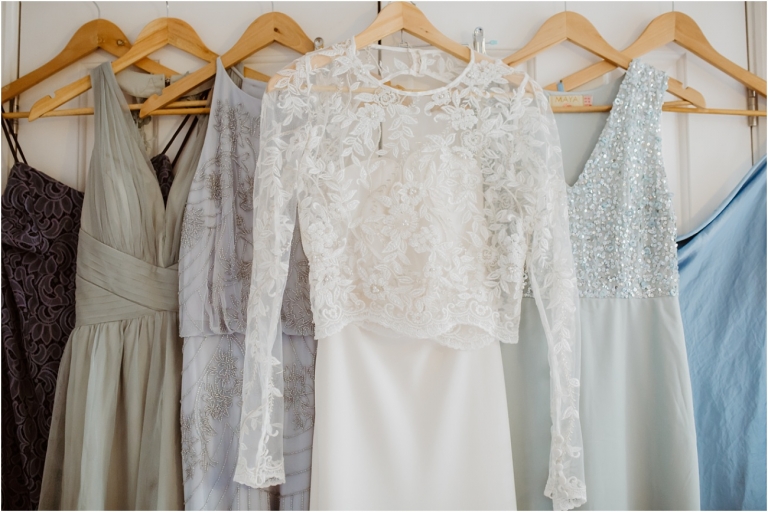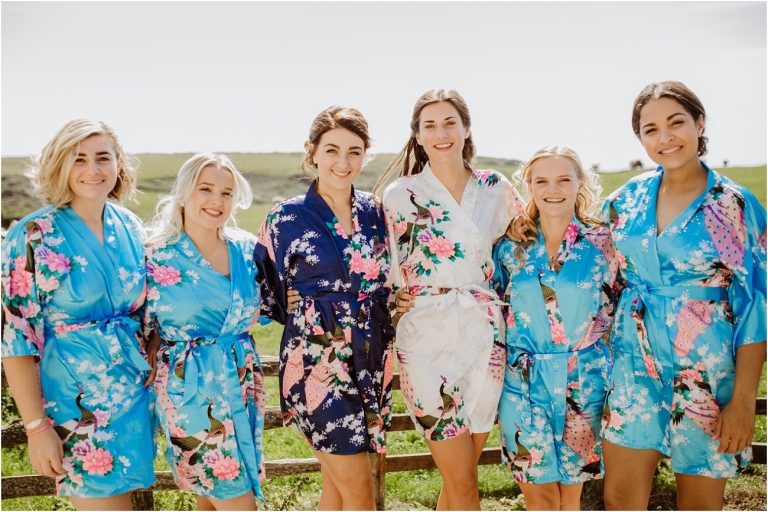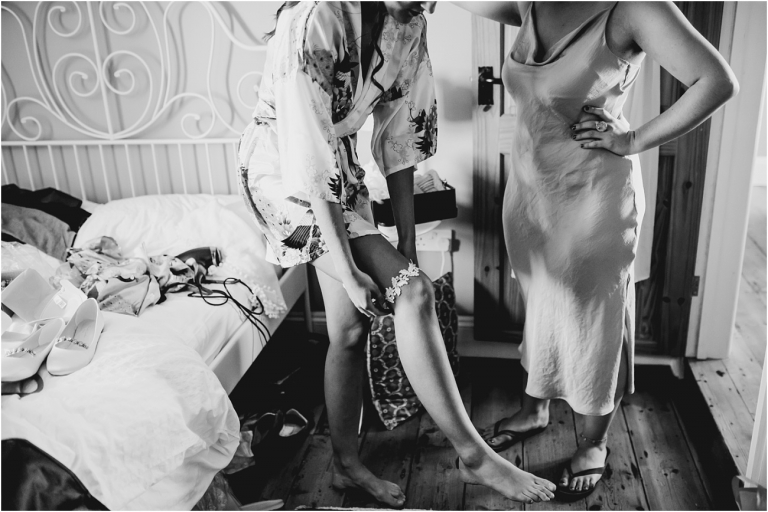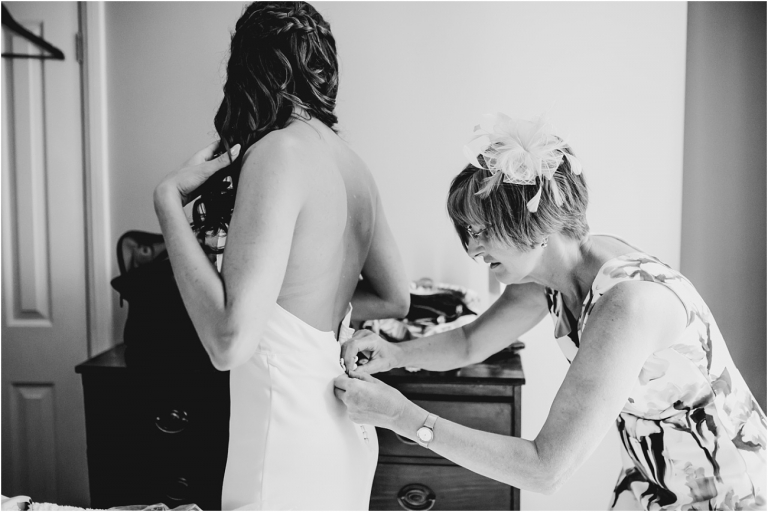 Heather's mum, Mary, made her stunning wedding dress. She got the lace from Bridal Fabrics and the crepe fabric from Butterfly Fabric Cardiff.  Heather says that she wanted a specific style of dress, so her mum had to work out her own dress pattern. She also hand-beaded the top and the end result was absolutely beautiful!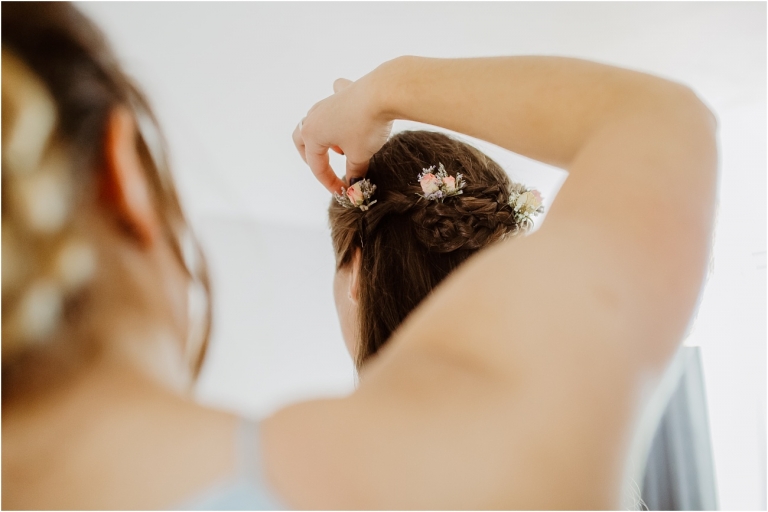 Floc Hair Salon in Kingsbridge styled Heather's hair. LotusFloralArt made her dried flower hair pins, as well as the men's buttonholes.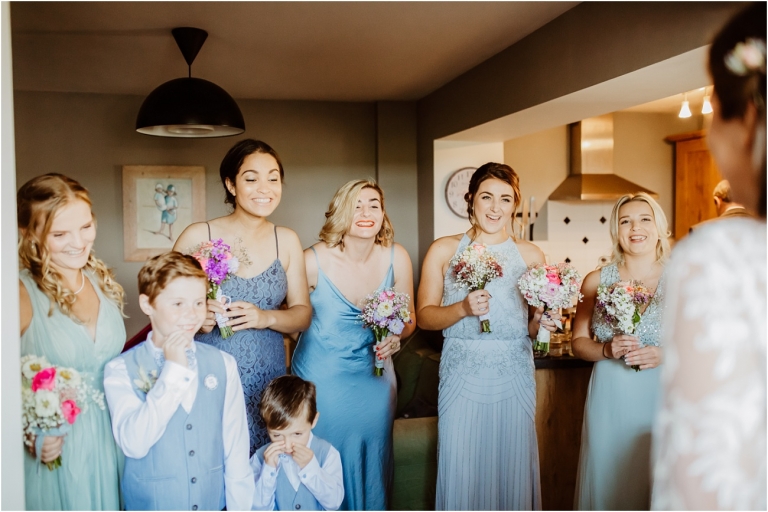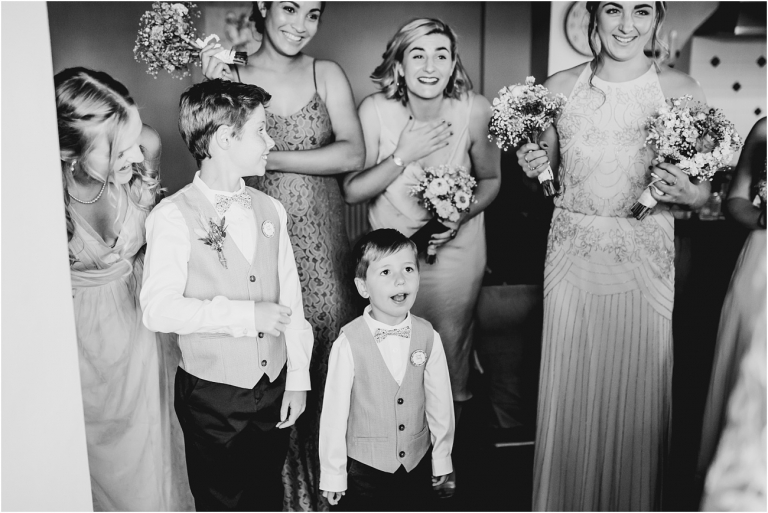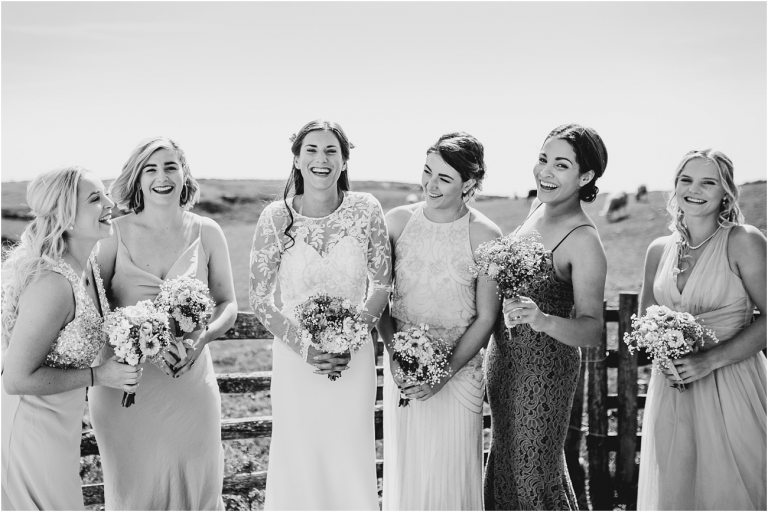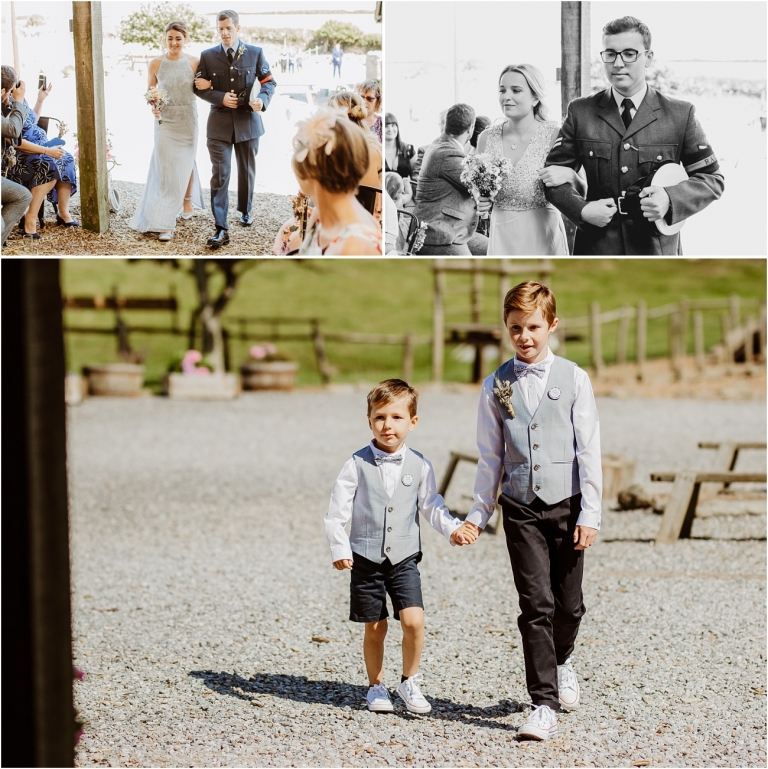 Heather had a clear vision of how she wanted their pageboys to look. She asked that they both wore shorts but the elder cousin didn't want to look "like a little kid" – and so wore trousers instead! There was a certain symmetry here though. Heather told me that when she was 5, she refused to wear a dress at her aunt's wedding and insisted on wearing a pageboy outfit to match her brother! InspiredByEvaStore made the handmade badges for the pageboys.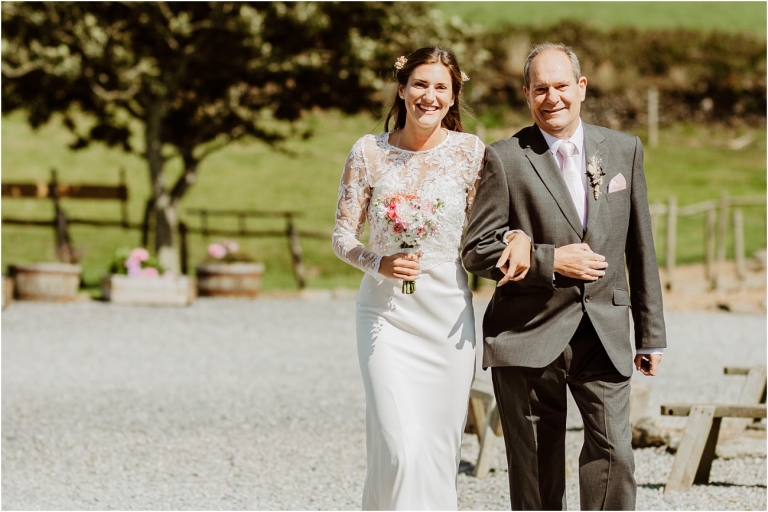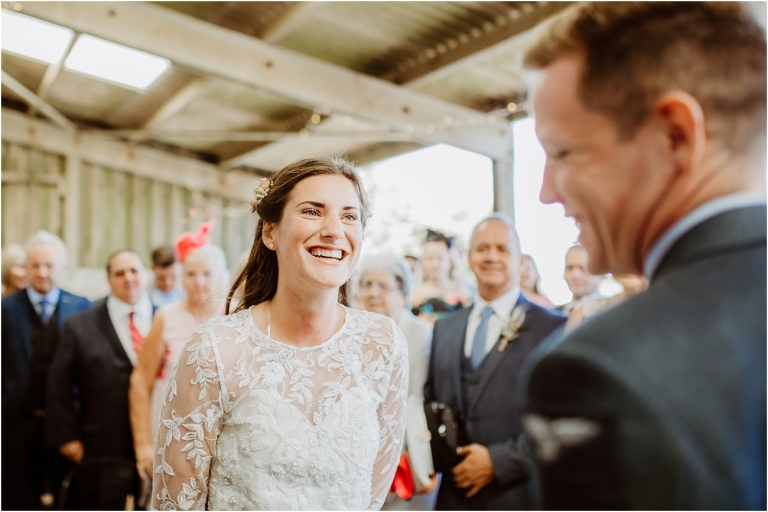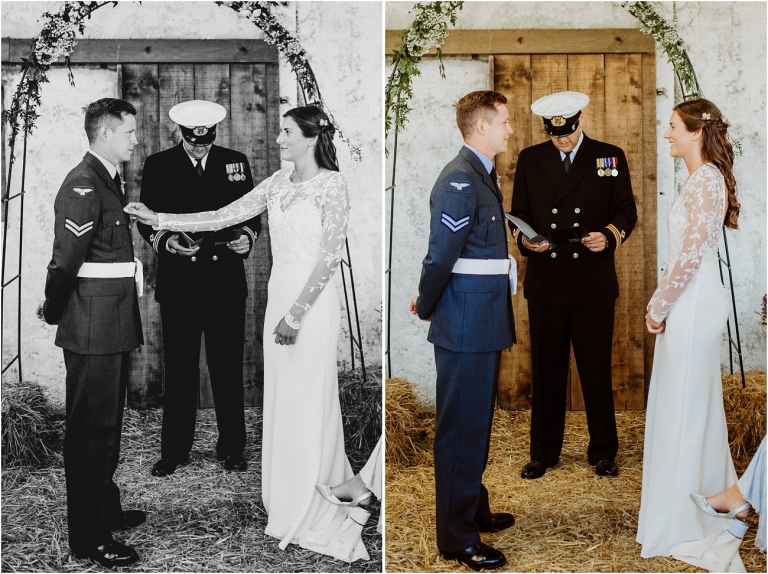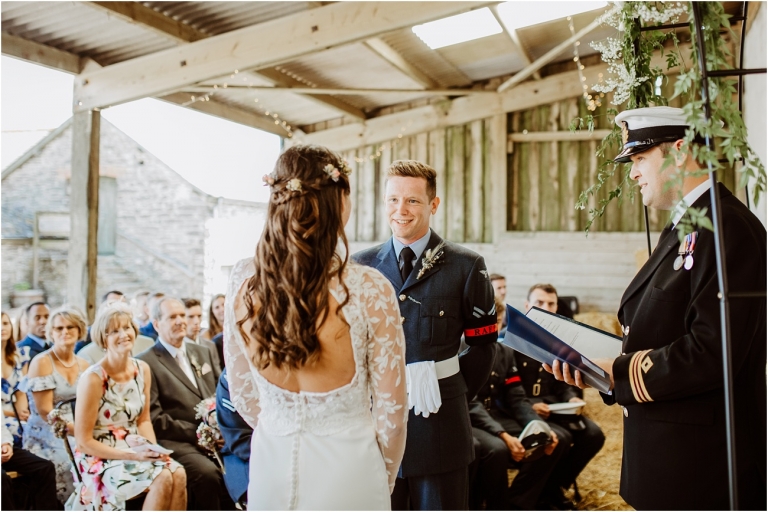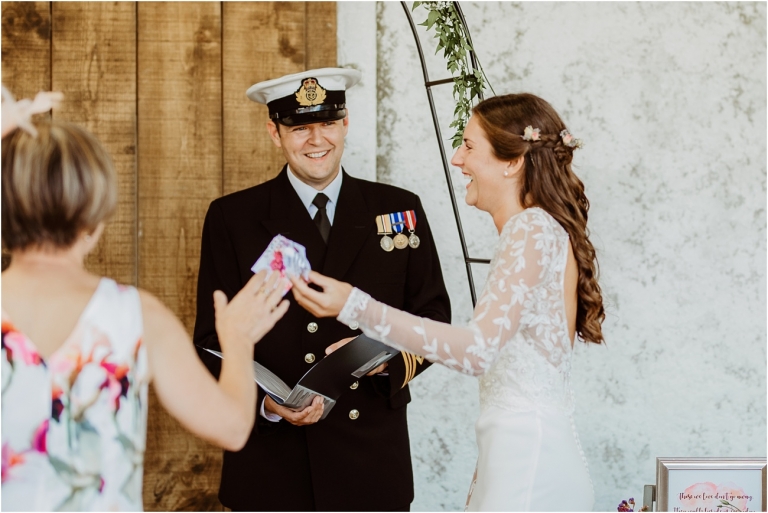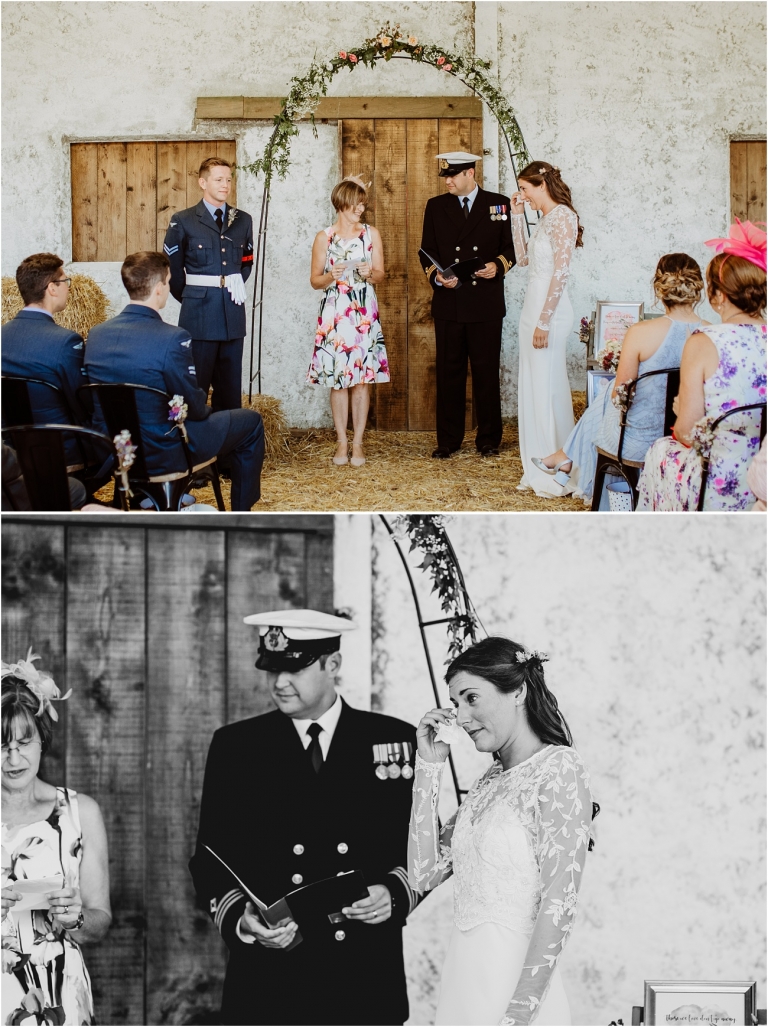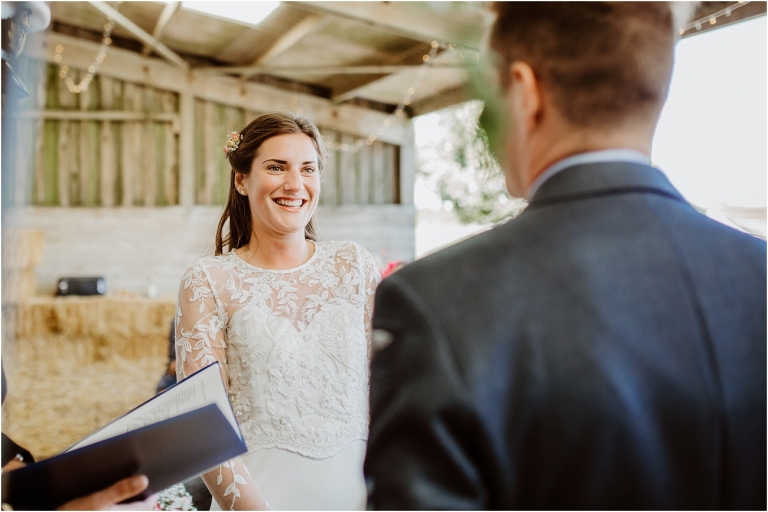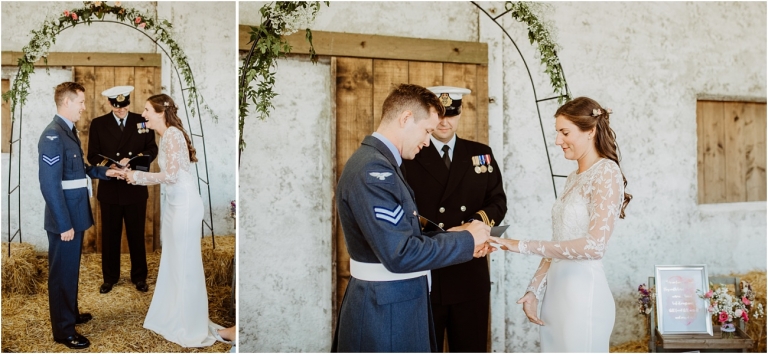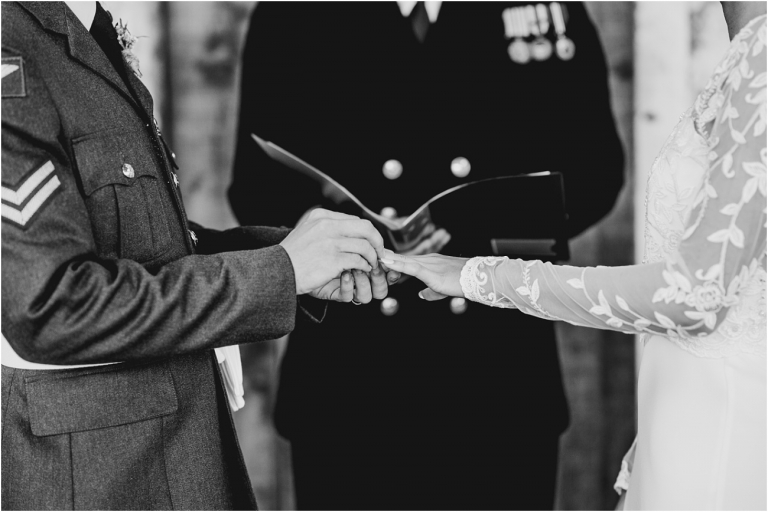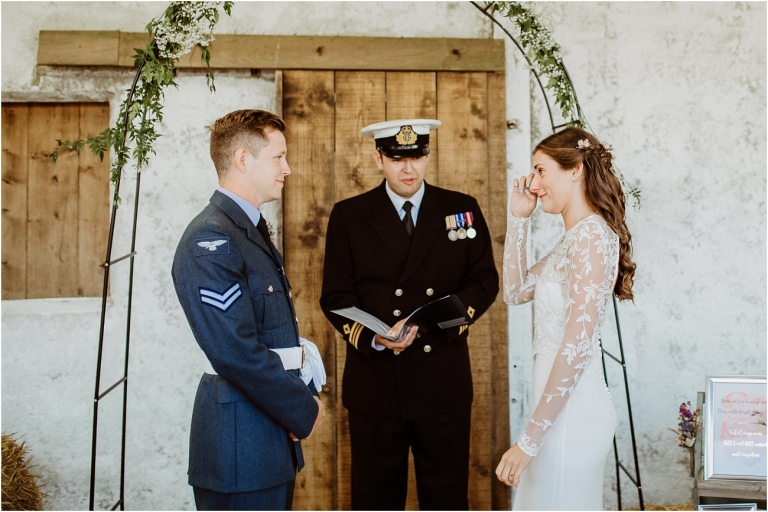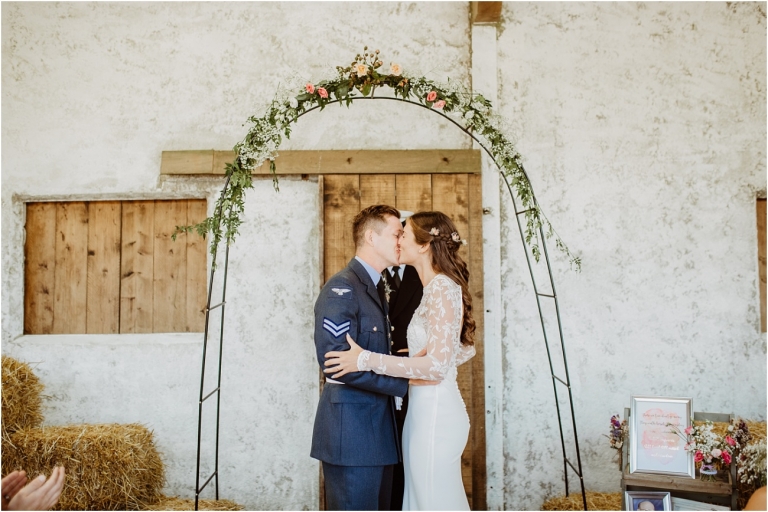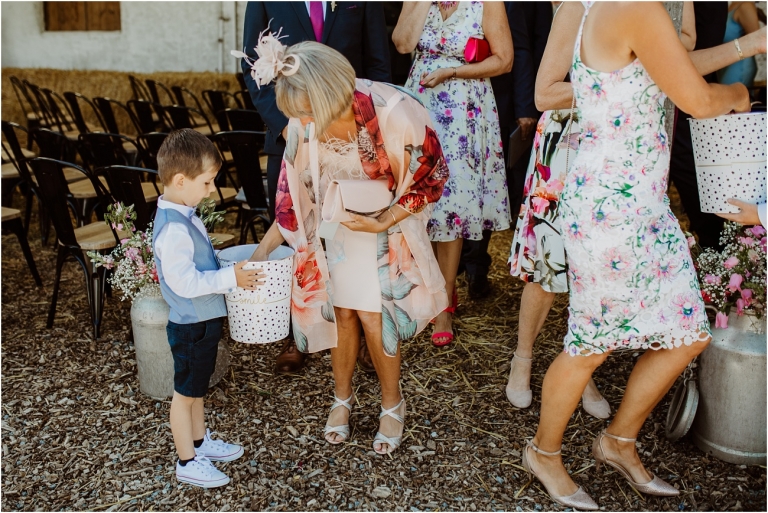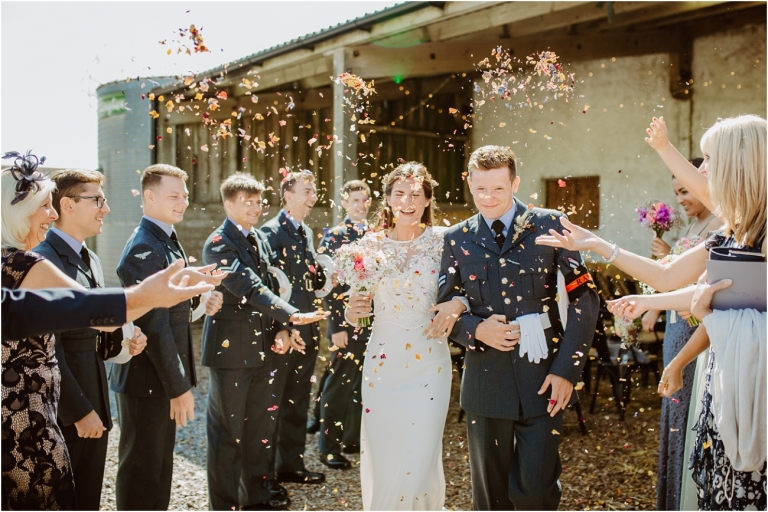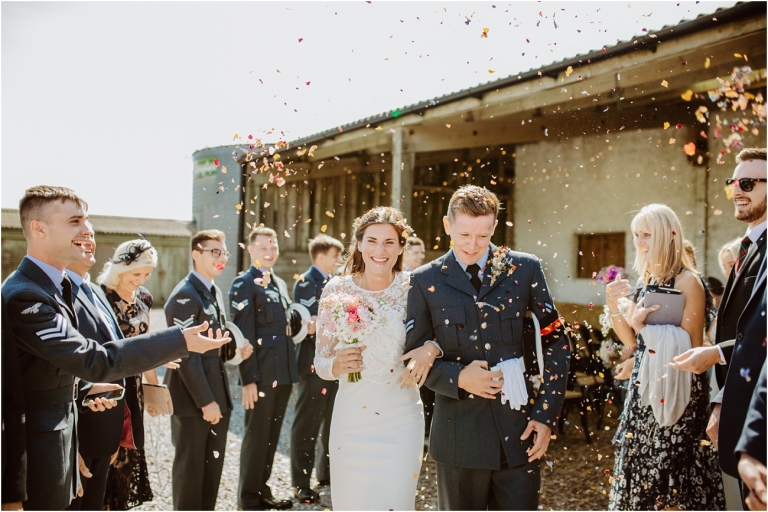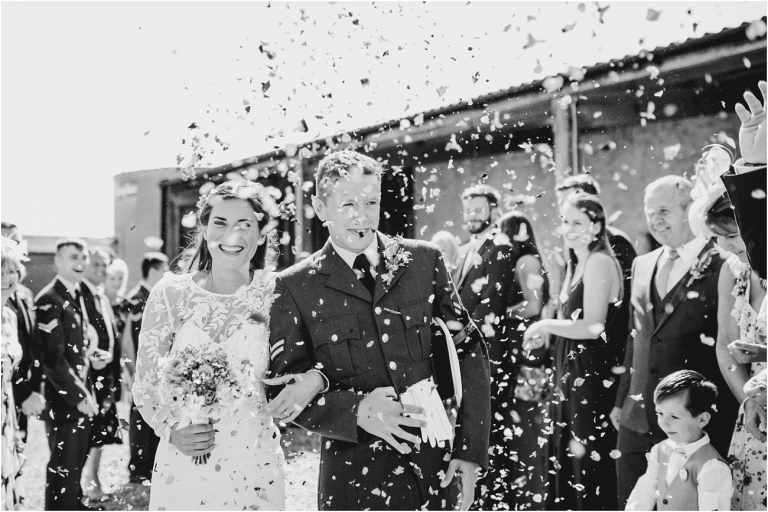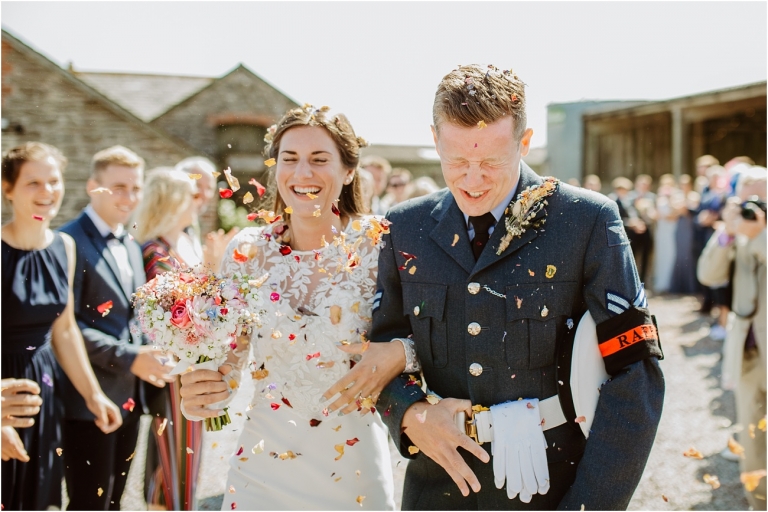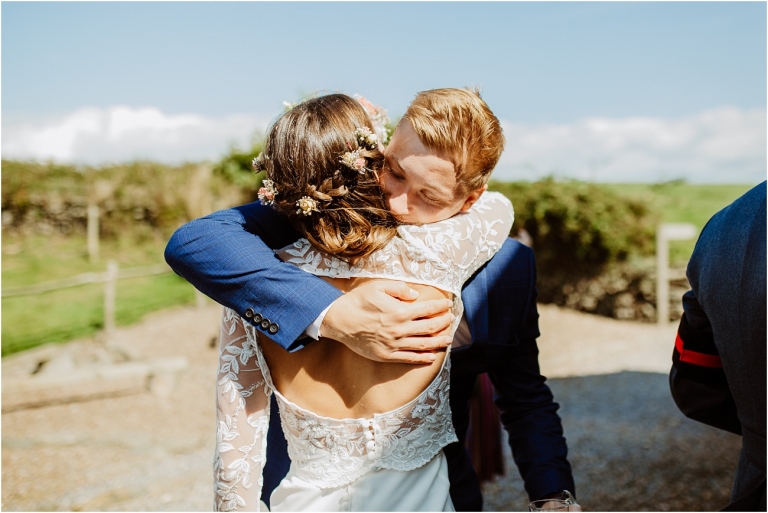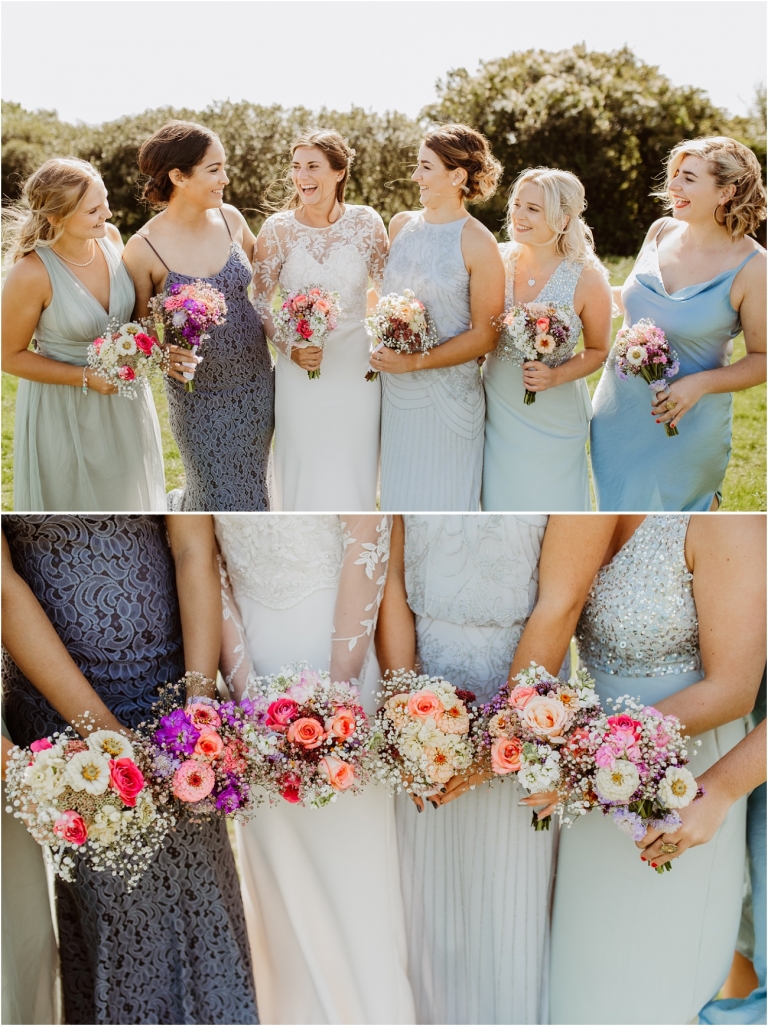 Heather gave her bridesmaids the colours that she wanted for their dresses, but the actual choices were all theirs! They used Monsoon, Asos, Topshop and the dark blue dress was even hand-made in South Africa! Heather says that she knew that one dress would not necessarily suit all of her bridesmaids. She was definitely rewarded for her bravery in allowing them to pick; they all looked fabulous!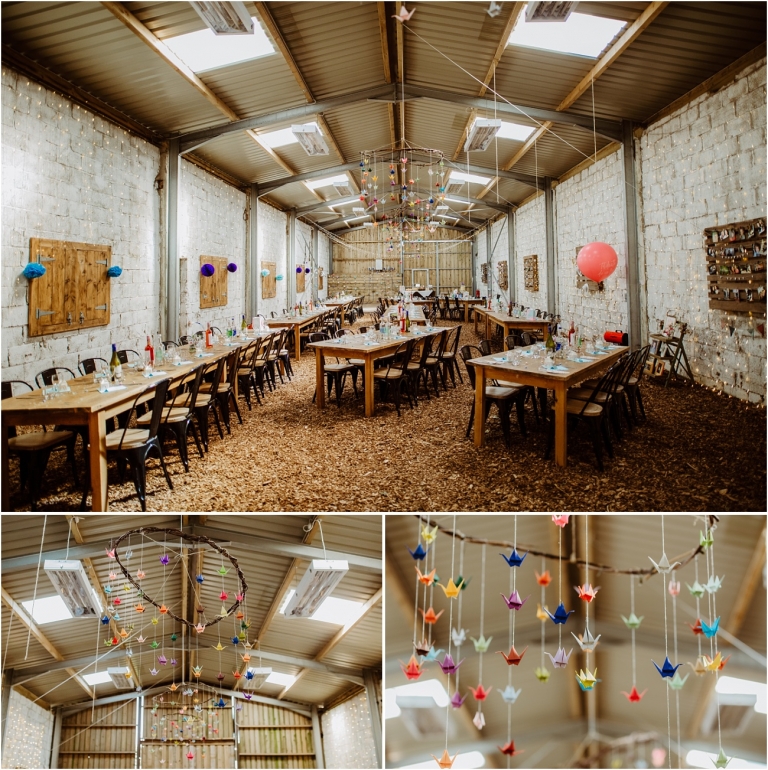 Heather made all of the origami stars on the tables, as well as the numerous cranes, in the lead up to the wedding. Such a creative family!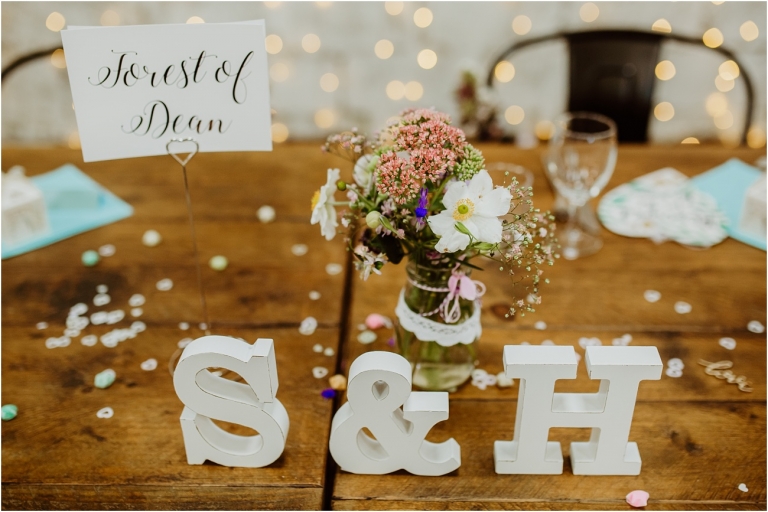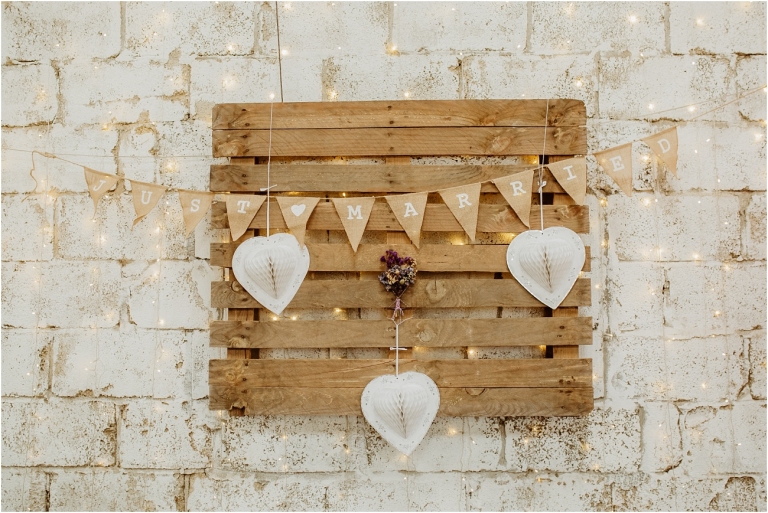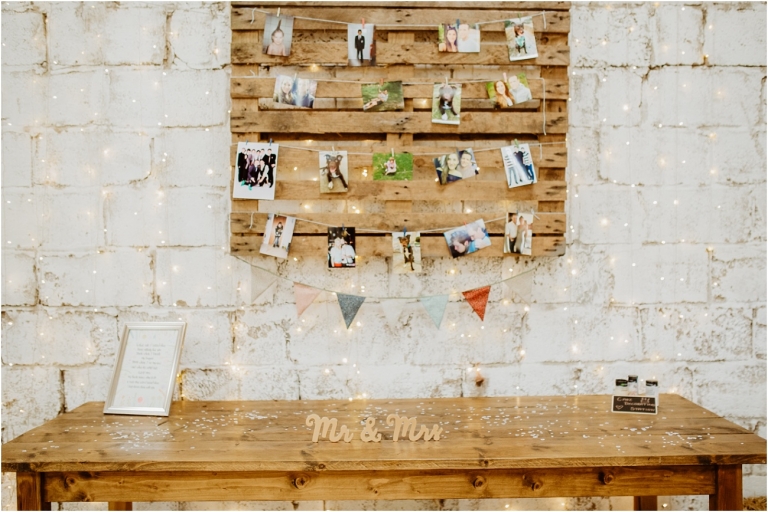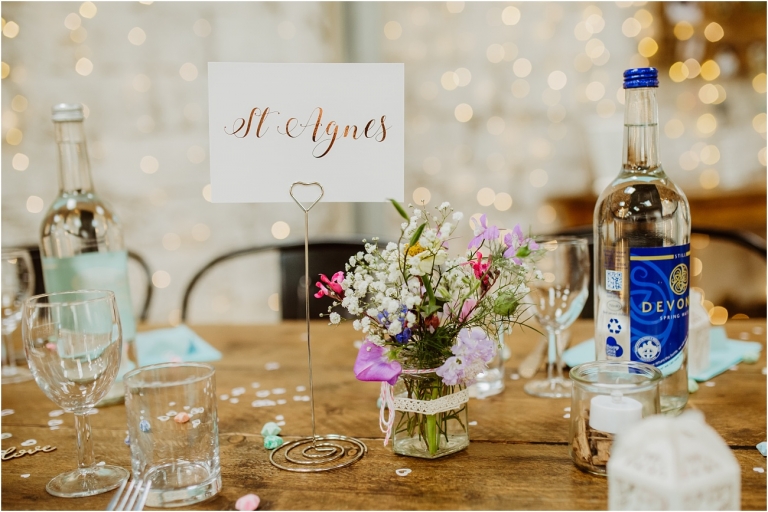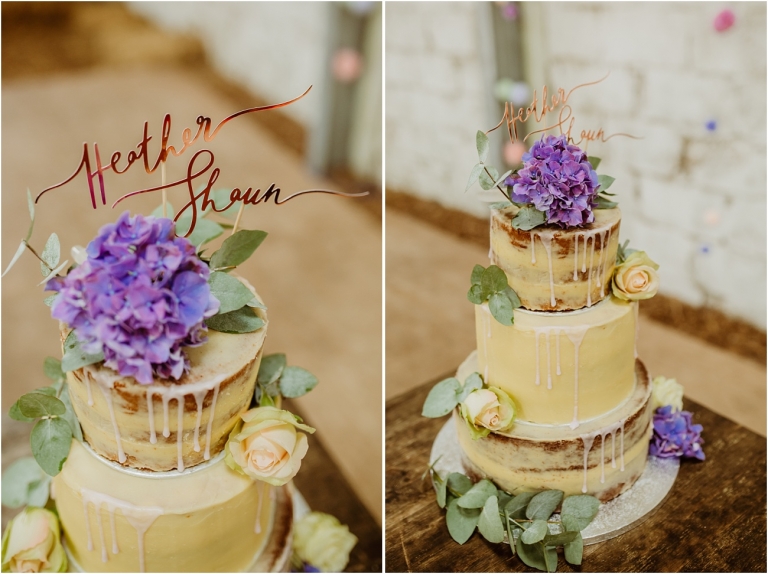 Heather and Shaun's friend Amy runs Slice of Yorkshire and transported their cake from Leeds. You wouldn't know that it was her first ever wedding cake!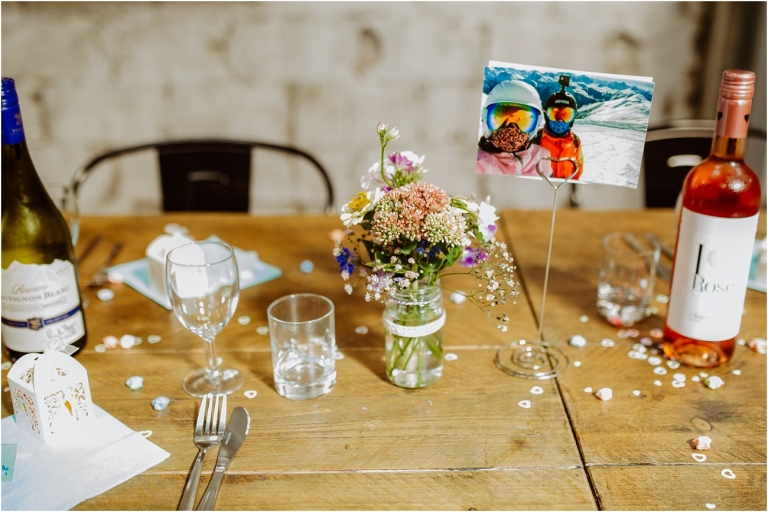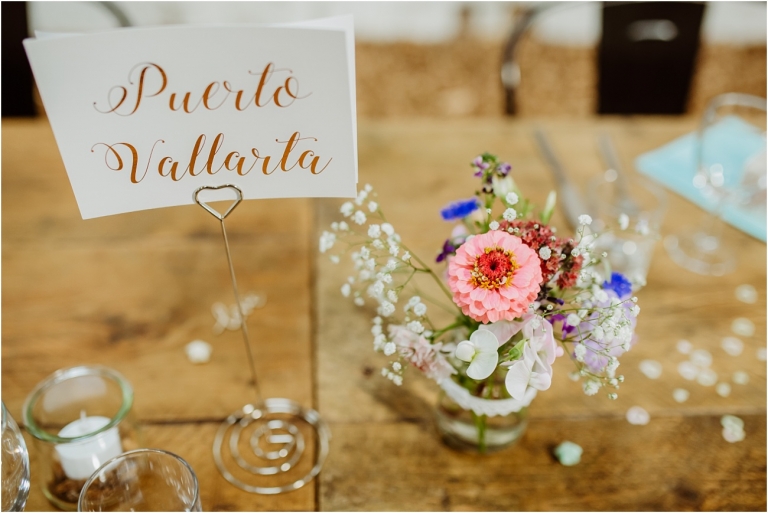 PeachyPrintsUK made the personalised table names. They were named after places Shaun and Heather had visited on their travels.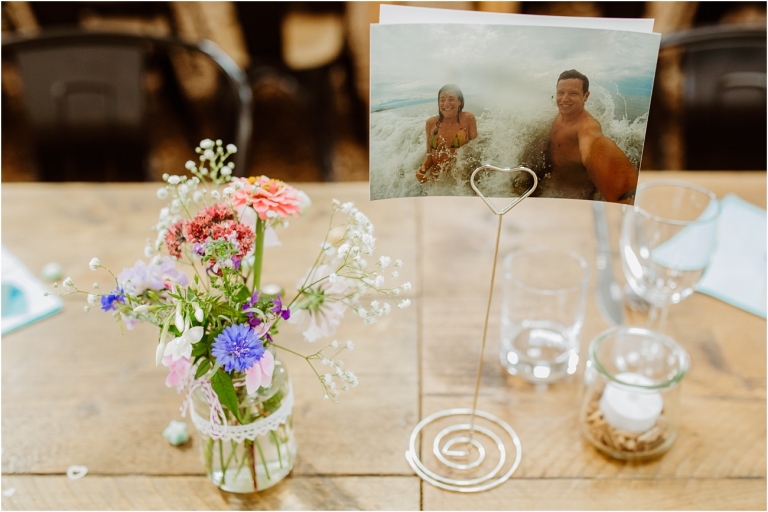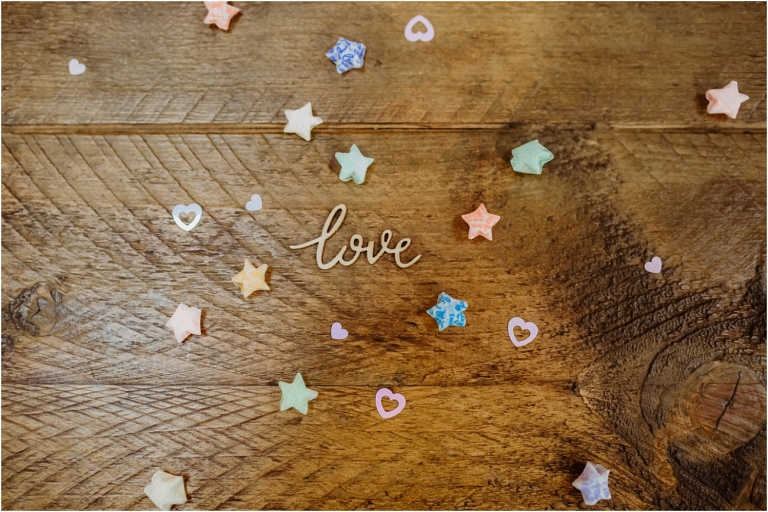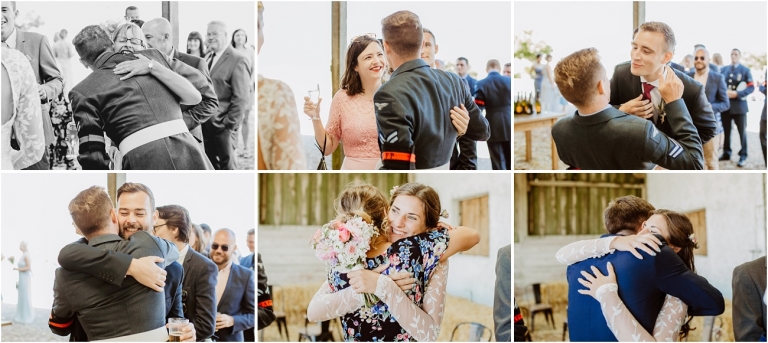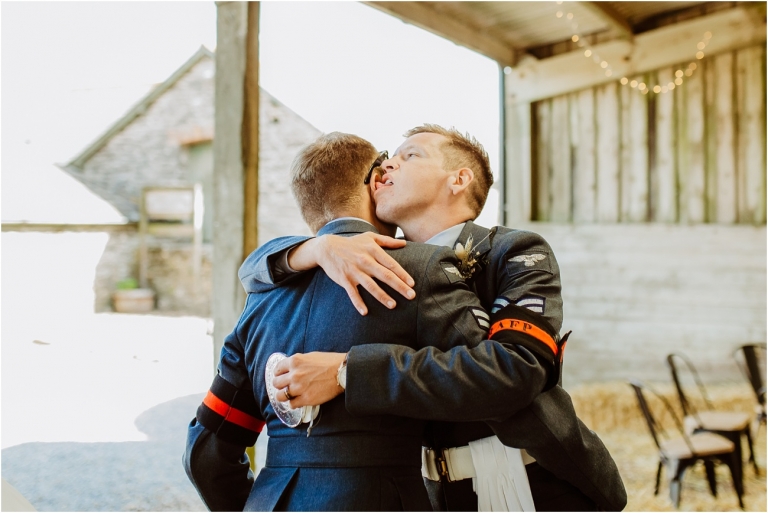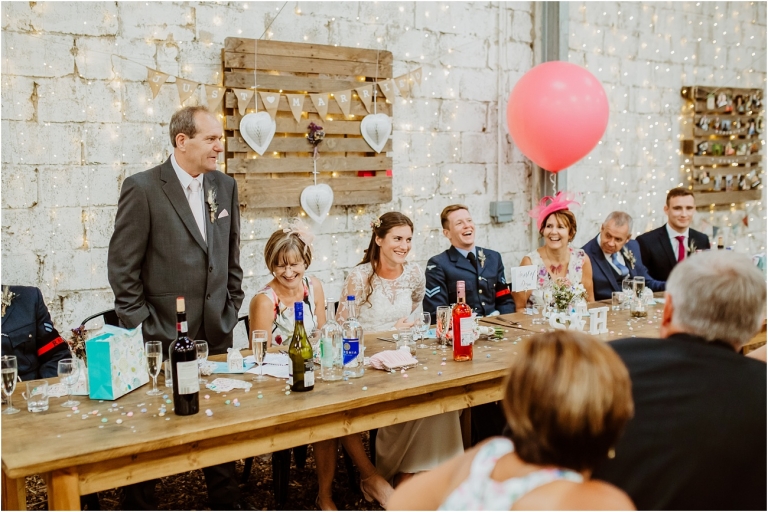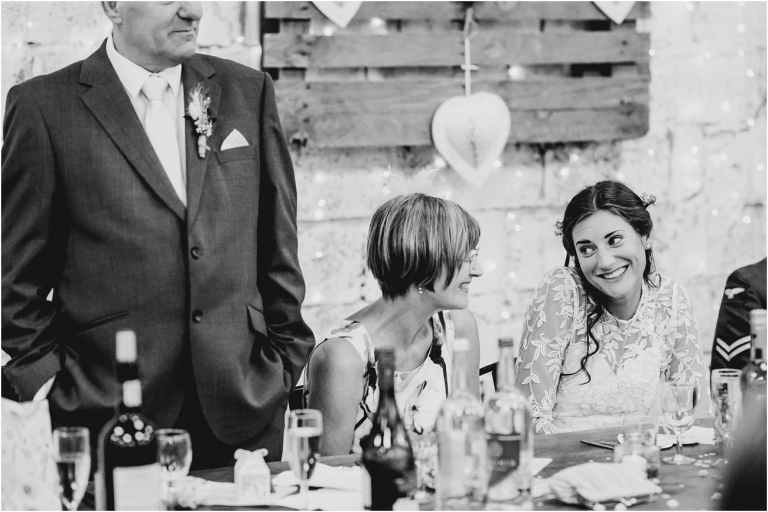 I couldn't write this blog post without pointing out how amazing Heather's mum is! Mary not only made Heather's wedding dress (!) She also made the floral decorations, bunting and prepared loads of the food. Yet the day as a whole was a collaborative effort, with huge contributions from Heather and Shaun's aunts and friends.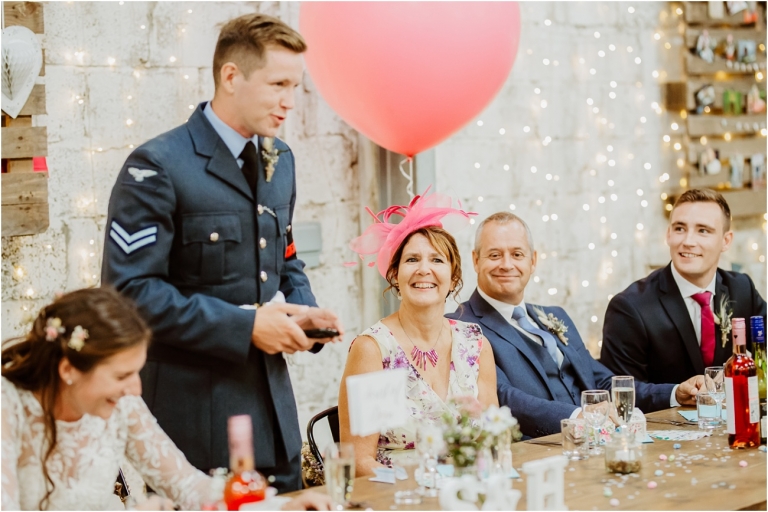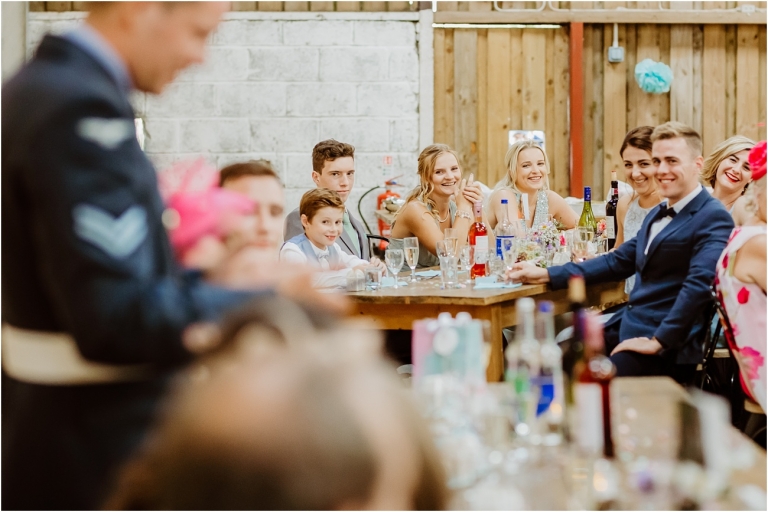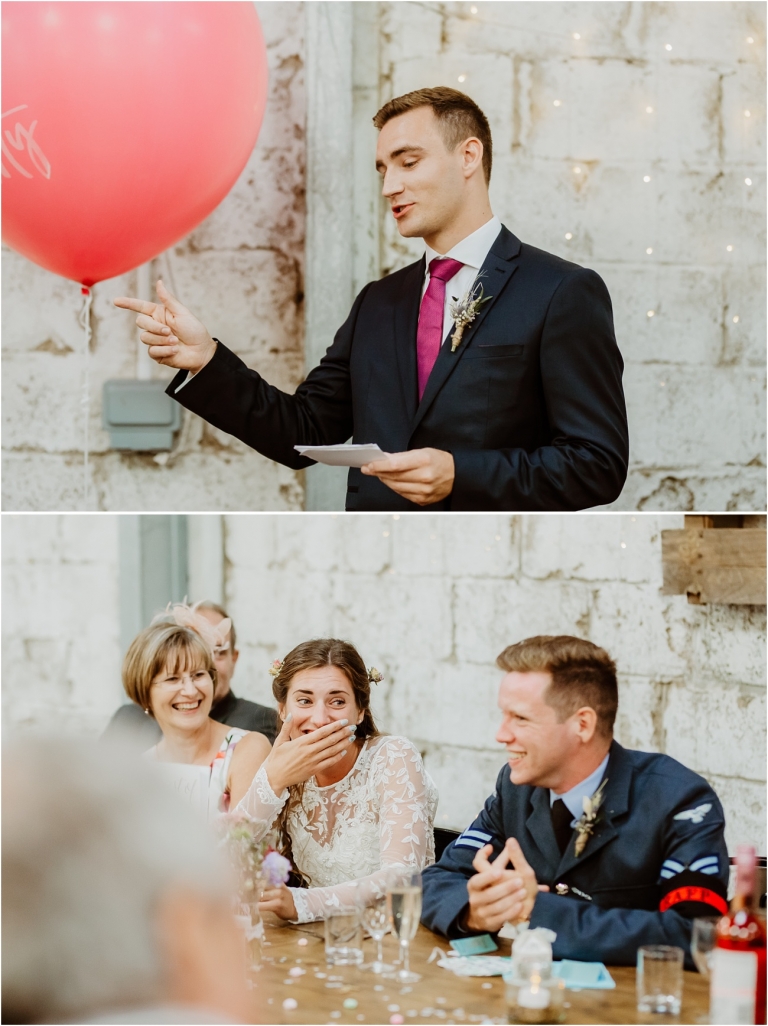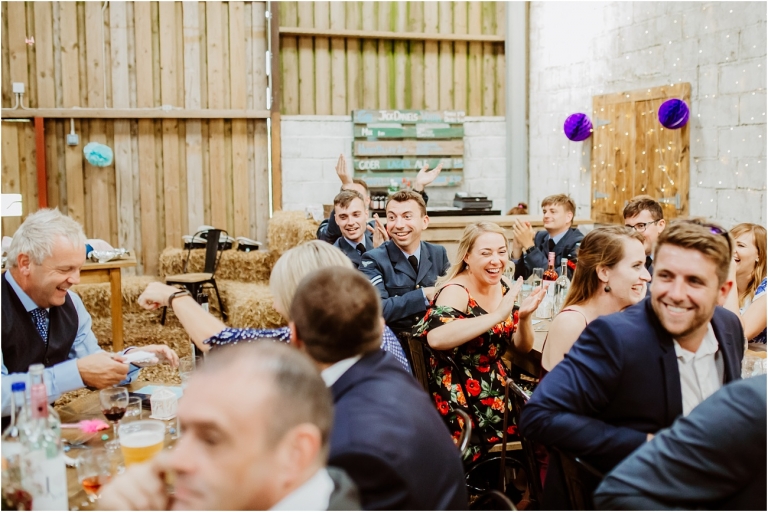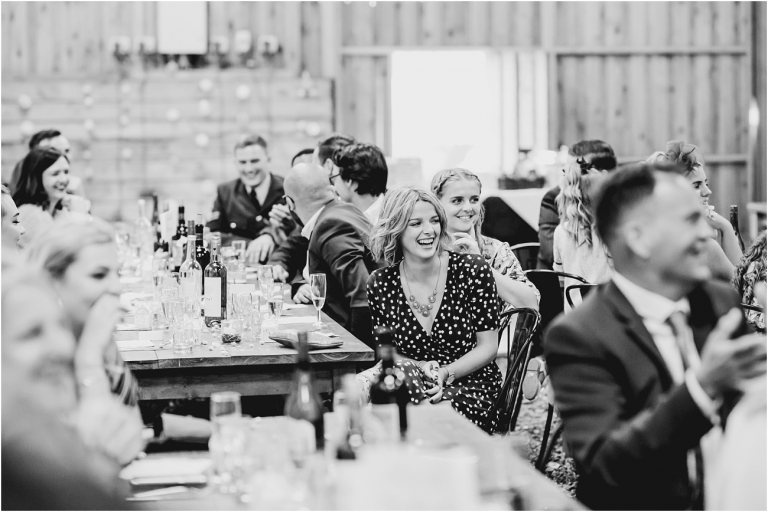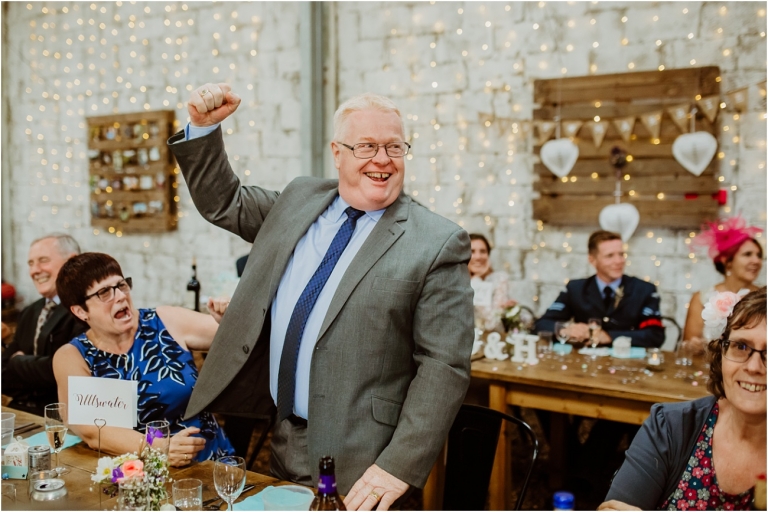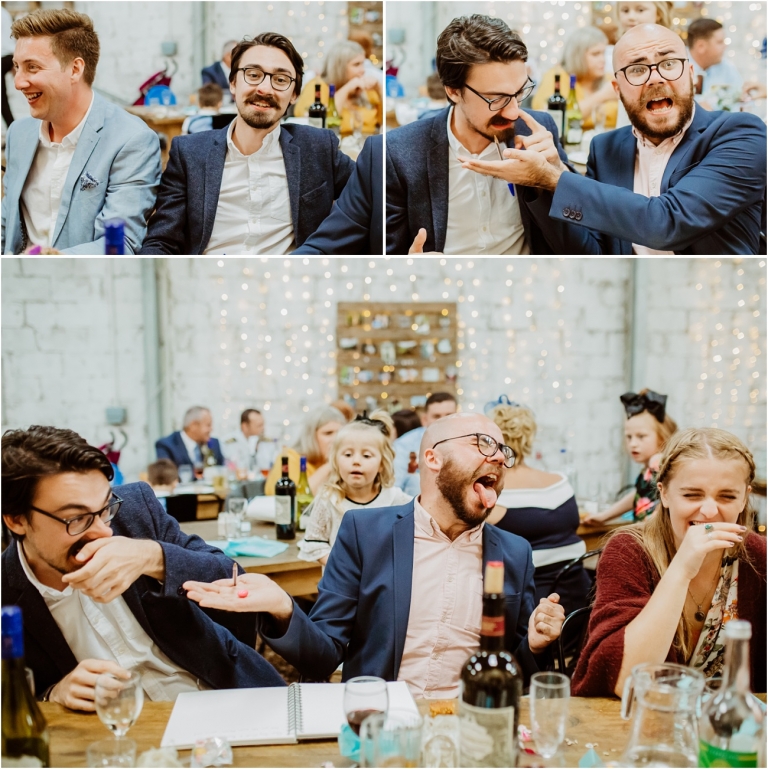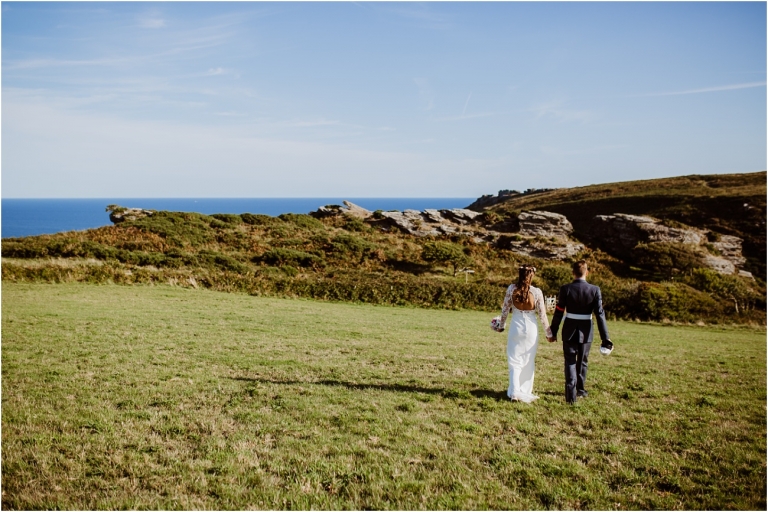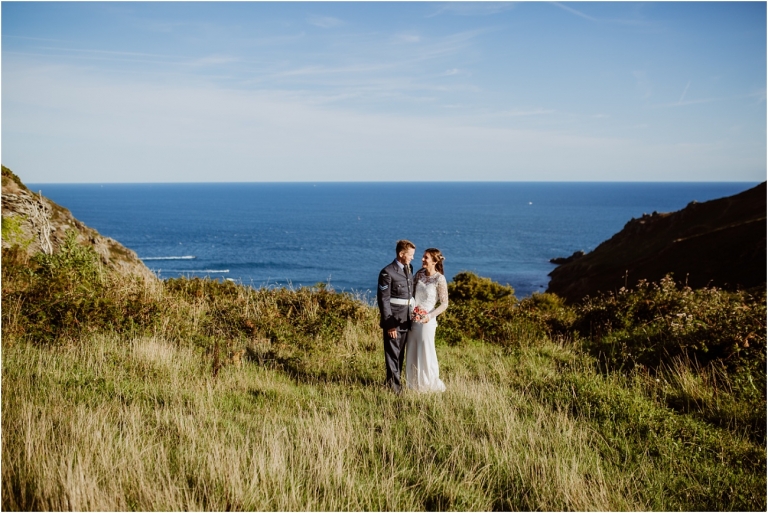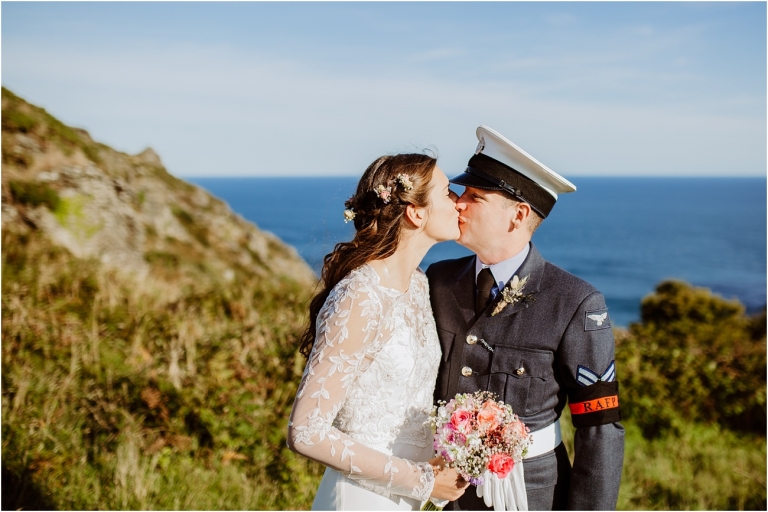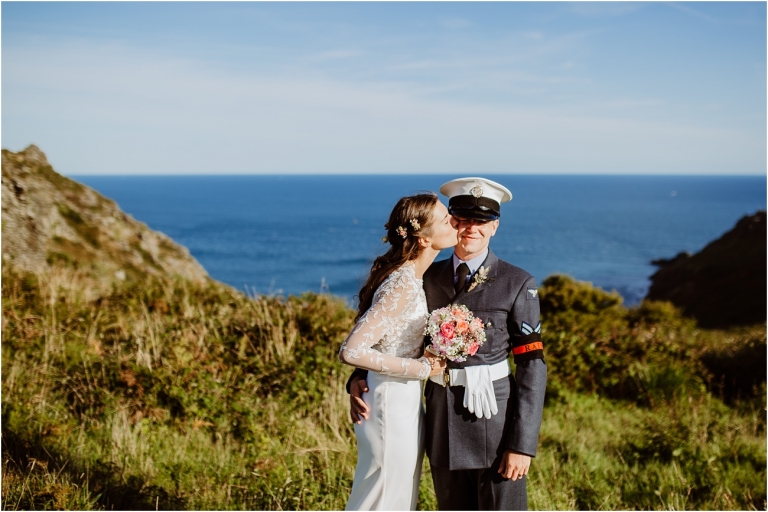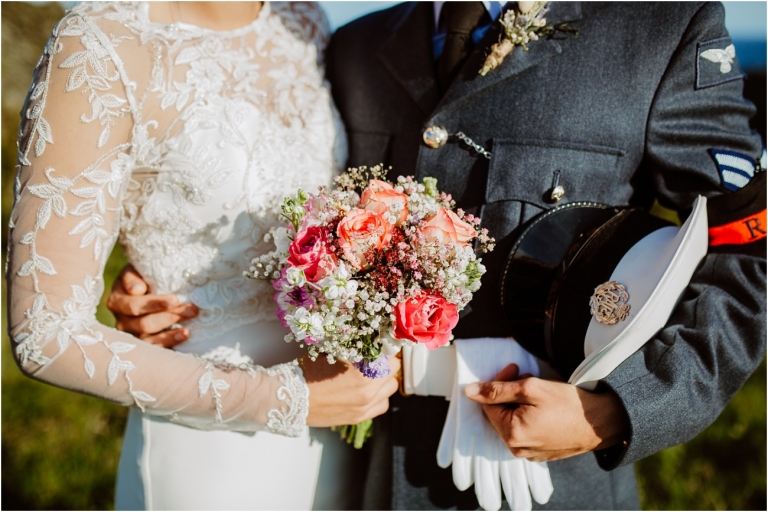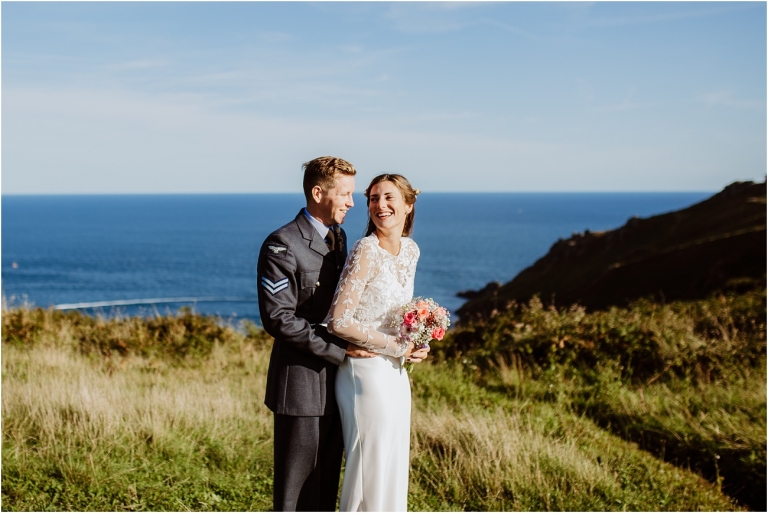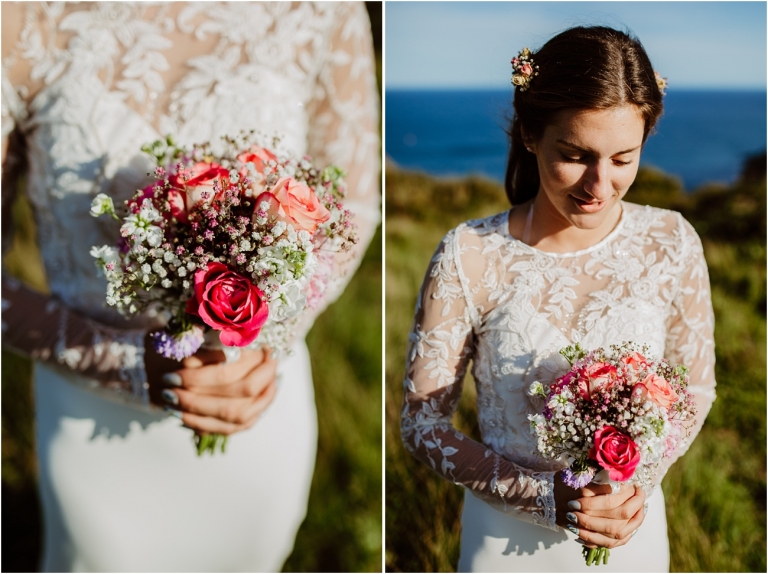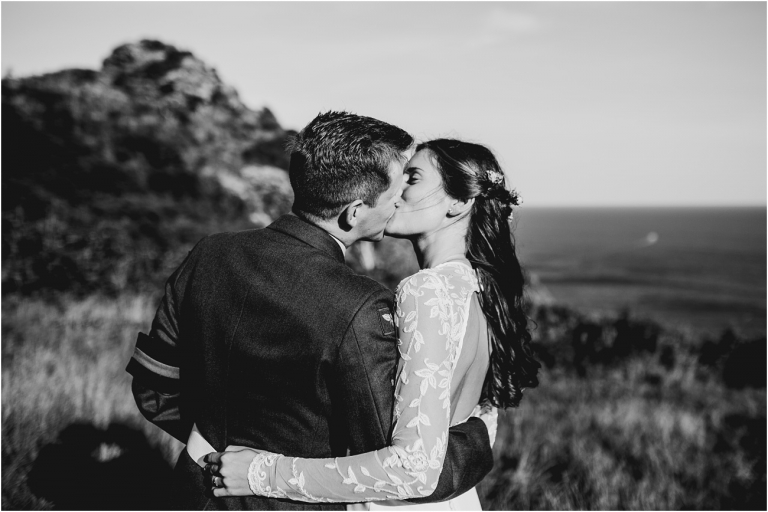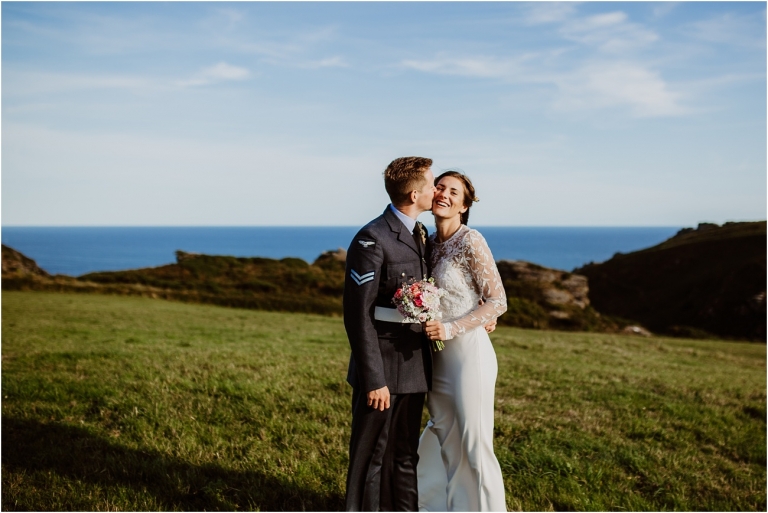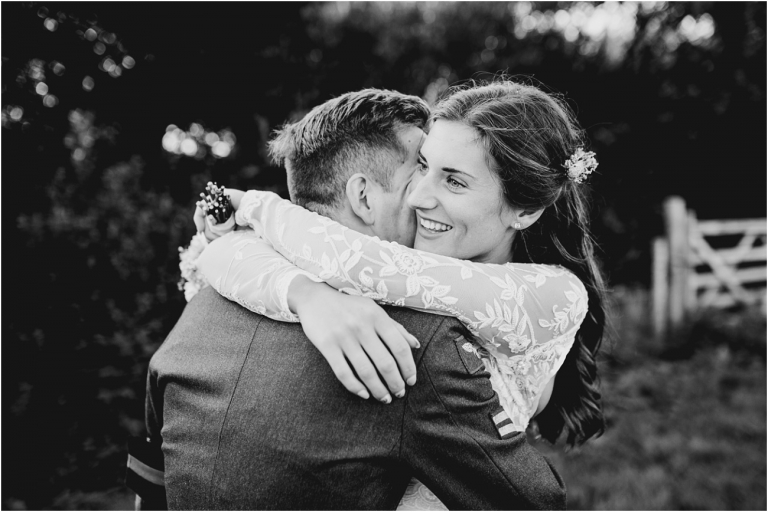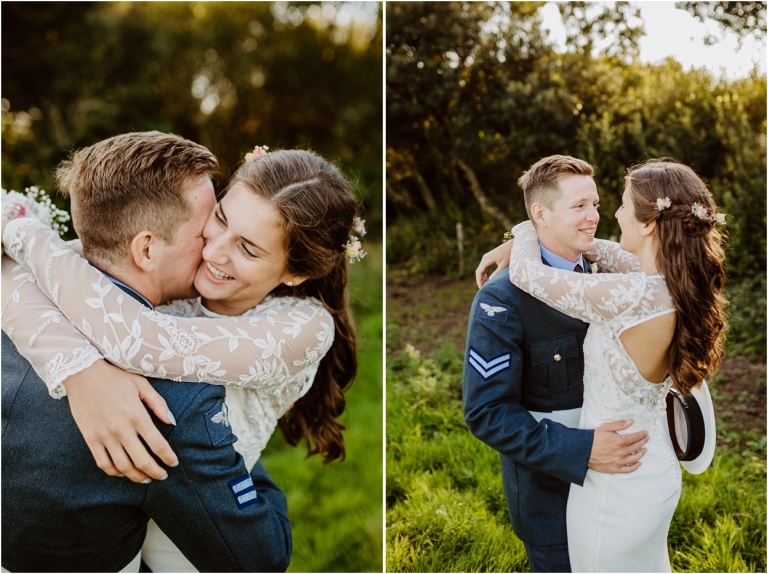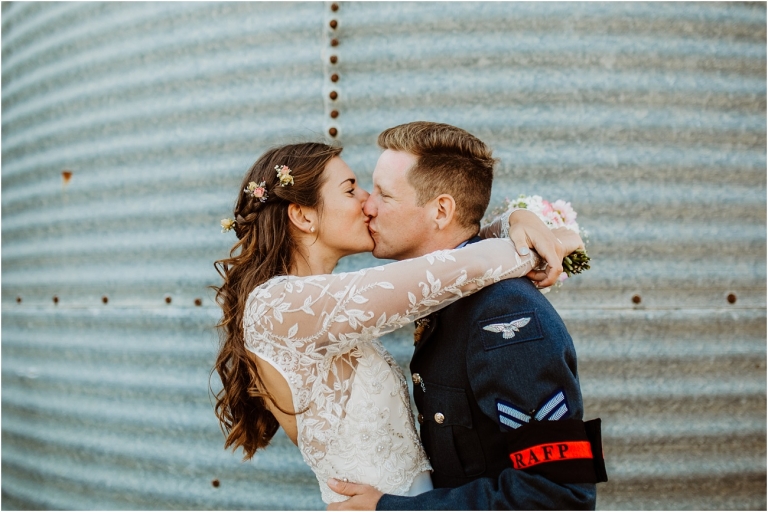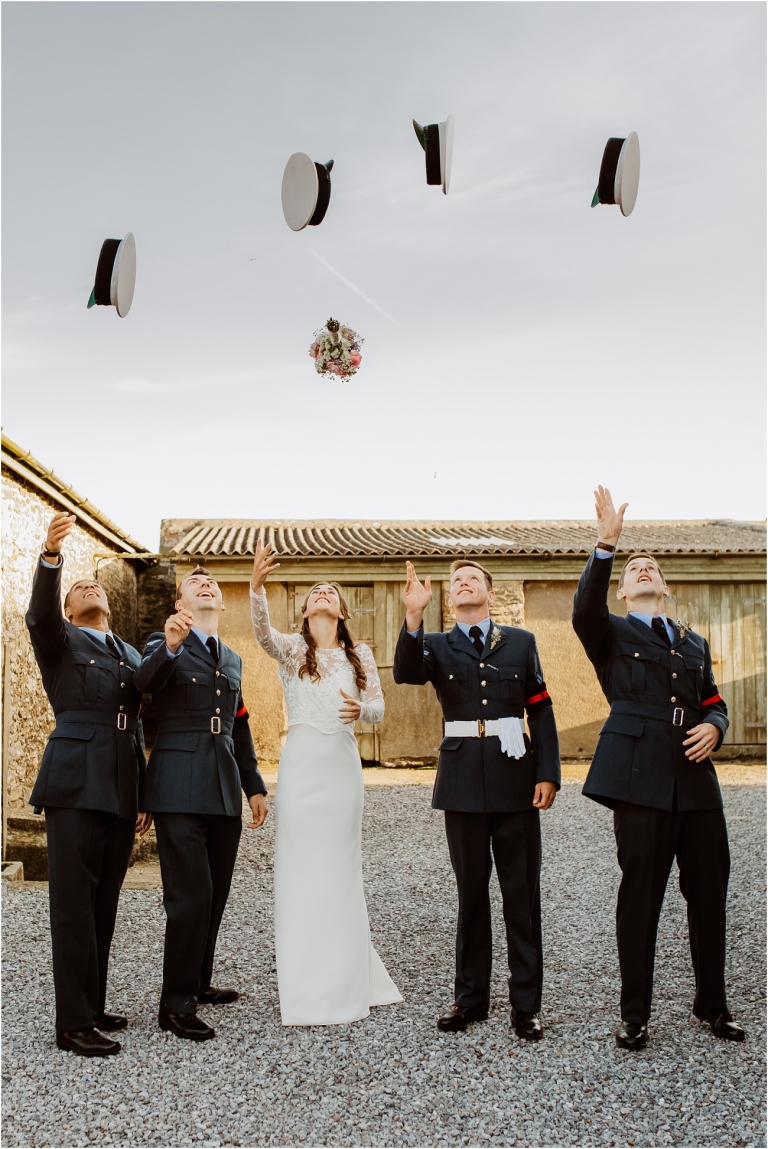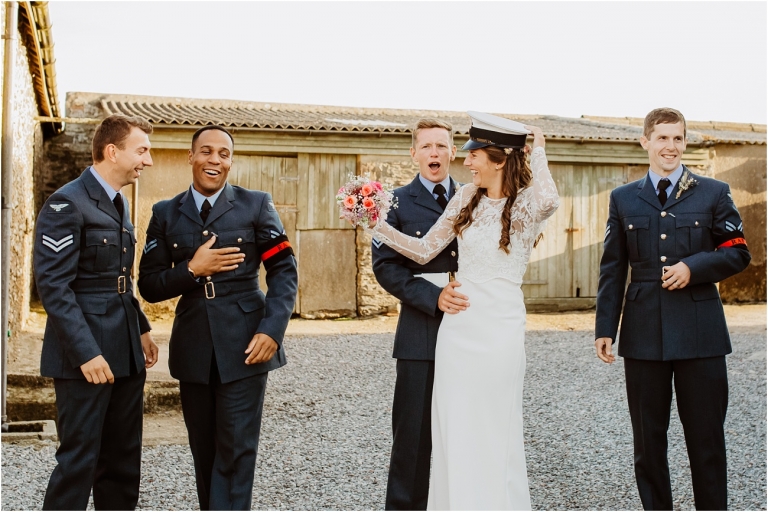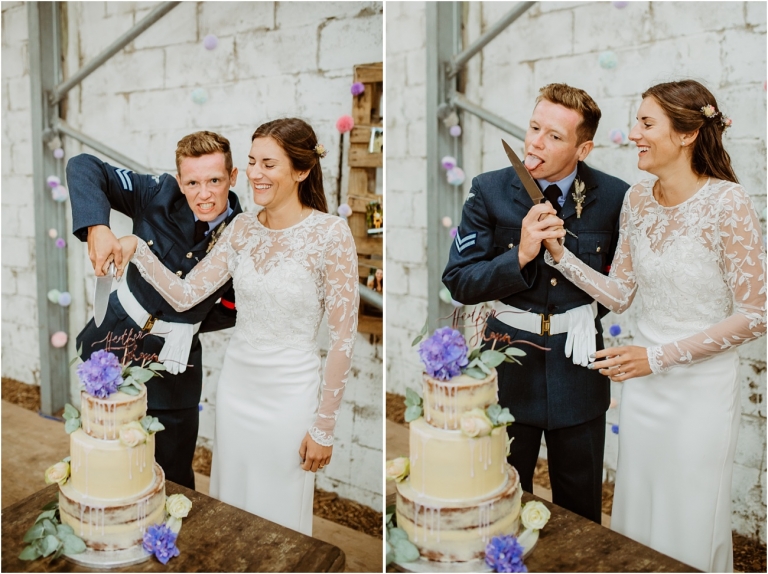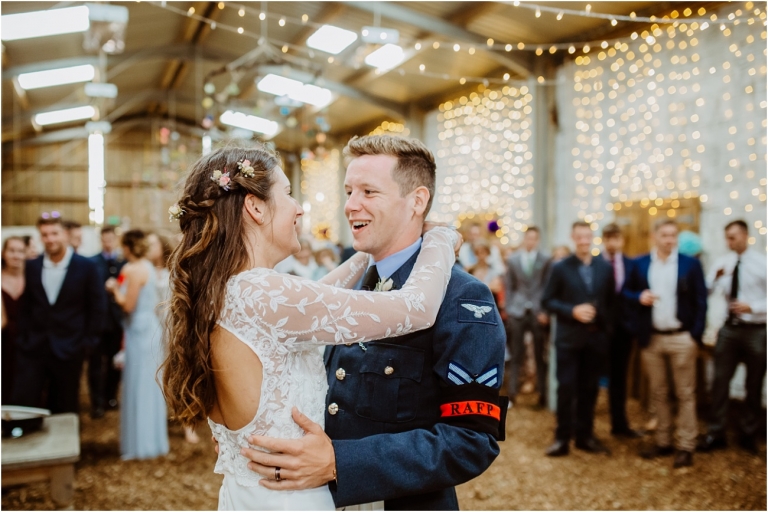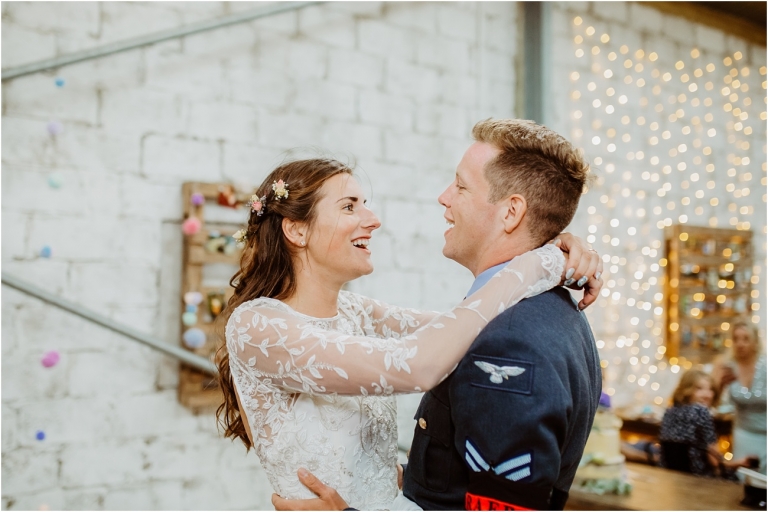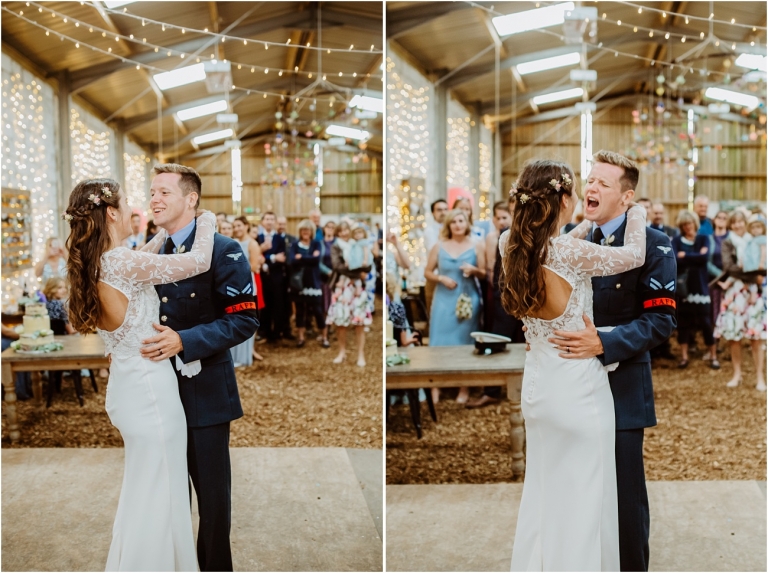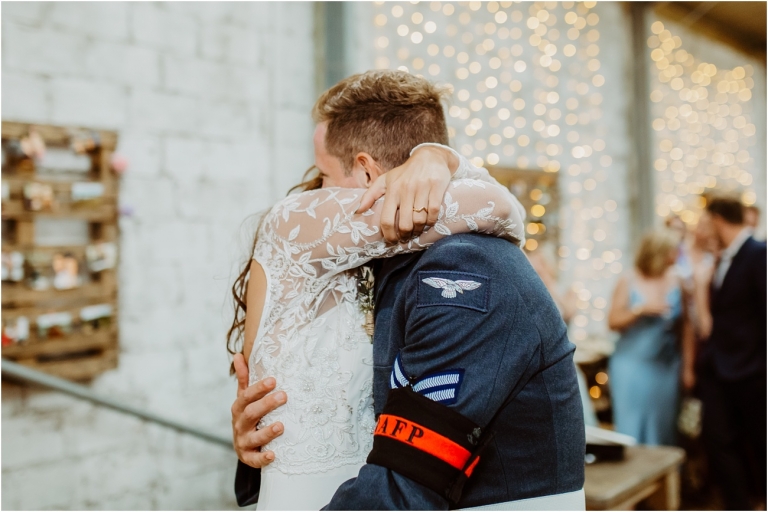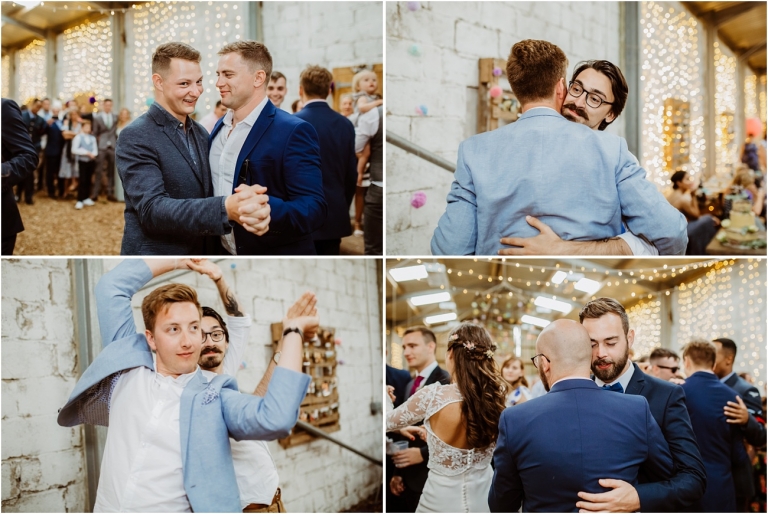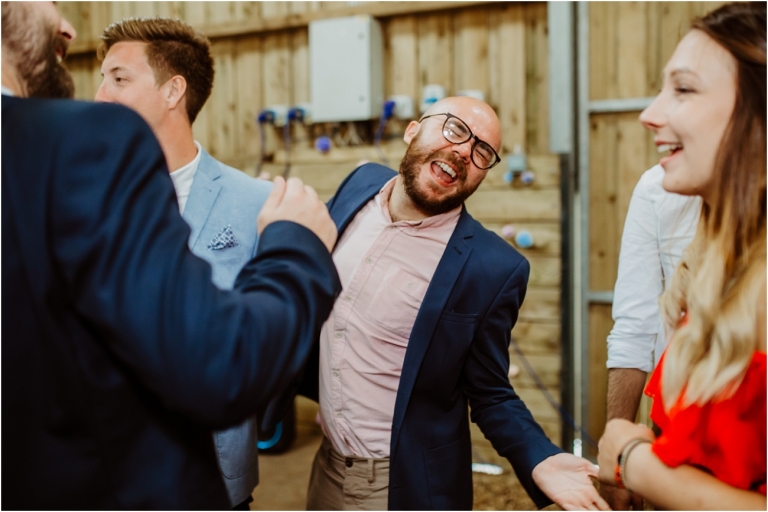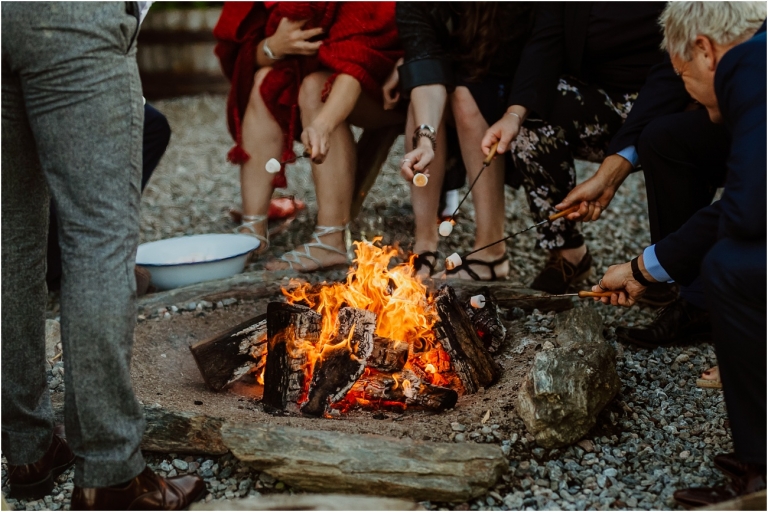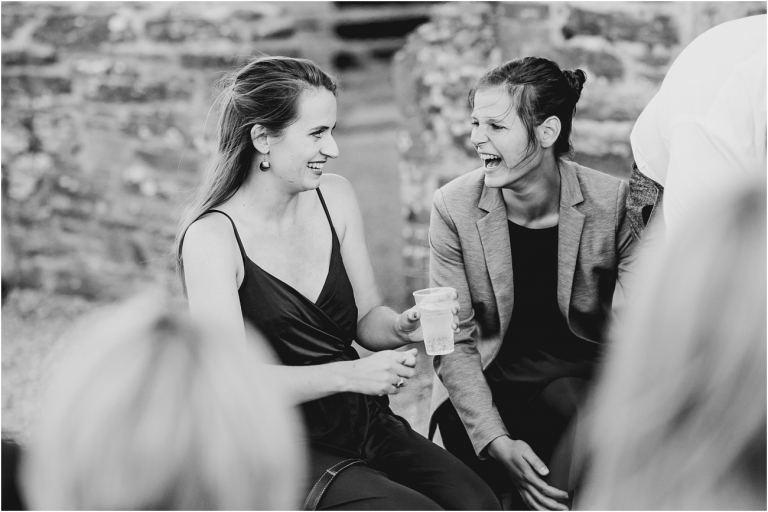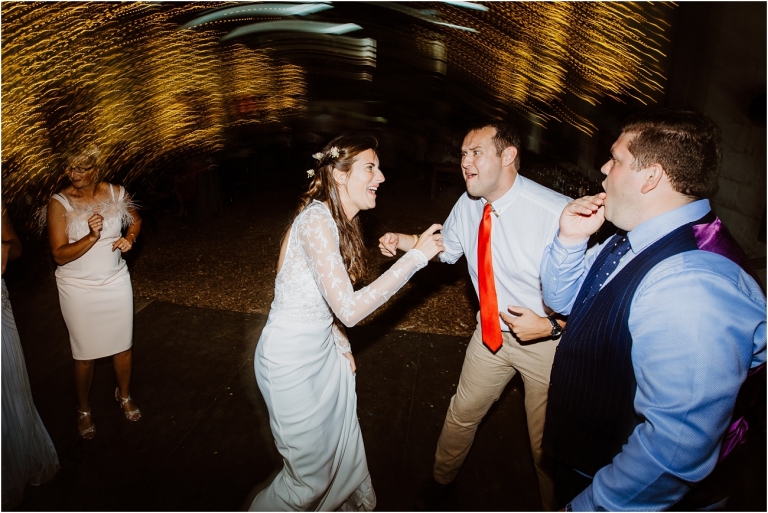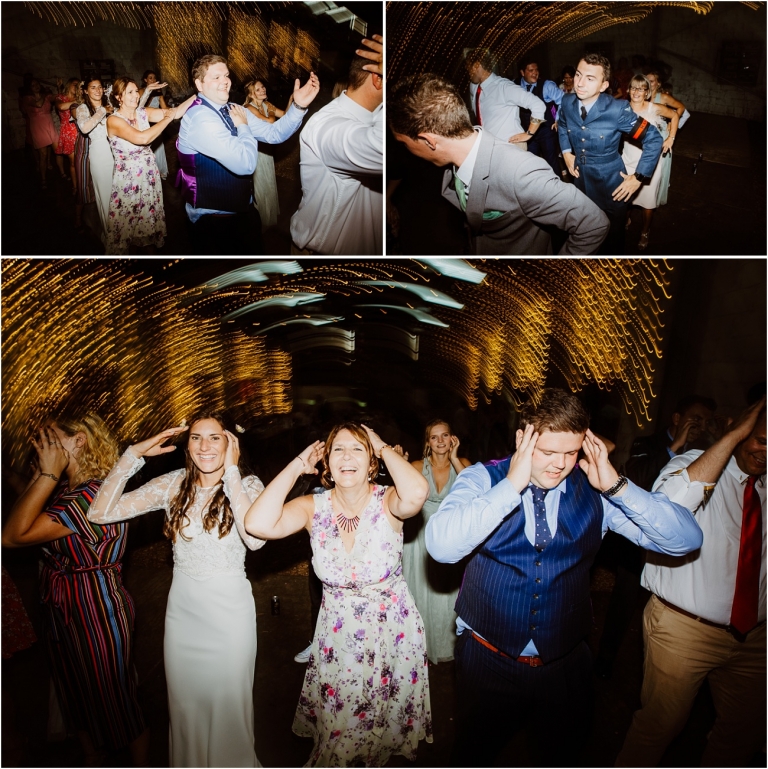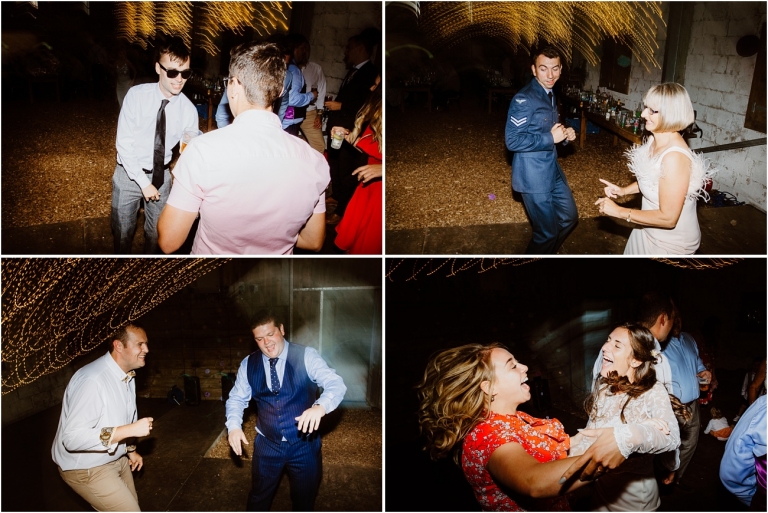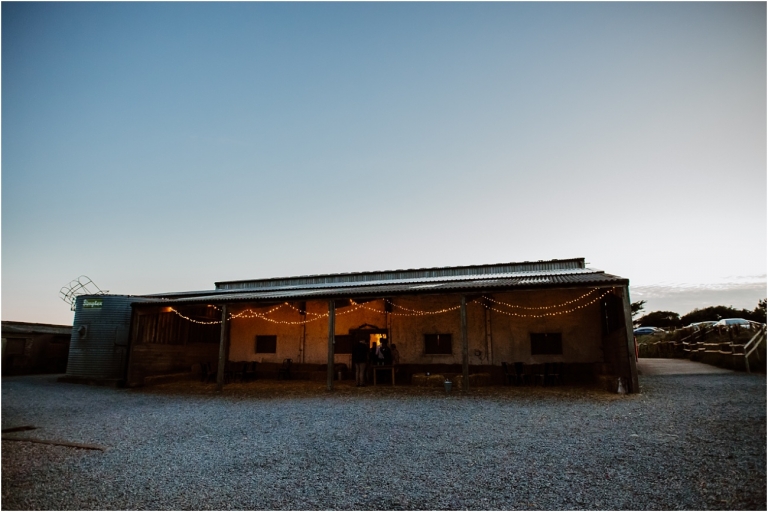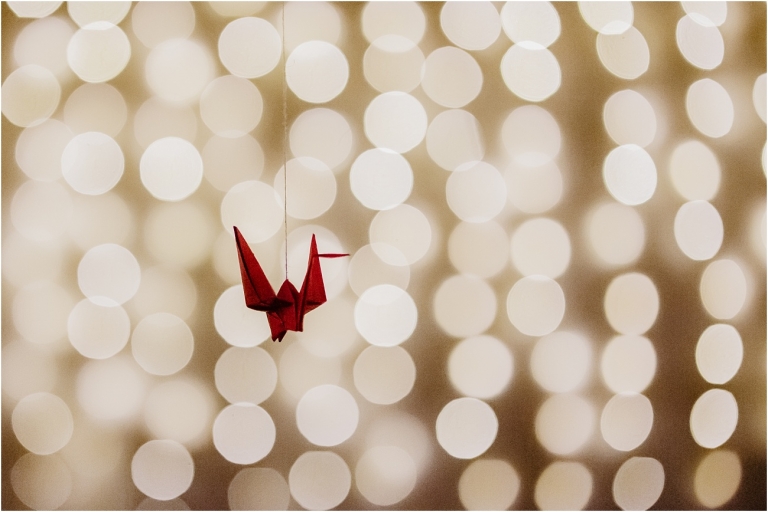 Thank you Heather and Shaun for having me as your photographer for your amazing wedding, I absolutely loved it!
If you are looking for a wedding photographer in Devon or Cornwall, then please check out my portfolio or get in touch! As always, please feel free to share or leave a comment below.
Holly xx
Ashleigh and Stephen said that they wanted their wedding to be informal and relaxed, and I certainly had a wonderfully enjoyable day photographing it. They travelled down to Devon for their wedding along with their family and friends. It was as though everyone was all the more grateful for their time away together and the atmosphere was absolutely amazing! All of the joy and hilarity took place in the wonderful setting of one of my favourite Devon wedding venues; Rockbeare Manor on the outskirts of Exeter.
Rockbeare Manor is amazing. The rooms are beautiful, the staff are always brilliant and its neutral interiors are perfect for couples to make it their own. Ashleigh and Stephen had a gold and coral colour scheme, giving it a bright and summery feel, which suited their relaxed and fun-loving personalities.
The sun sets just in front of the manor house and I was able to take lovely photos of the happy couple during golden hour. There was also a spot of cricket in the grounds in the evening; the perfect activity for a superb summer's day and a wonderfully relaxed and beautiful wedding.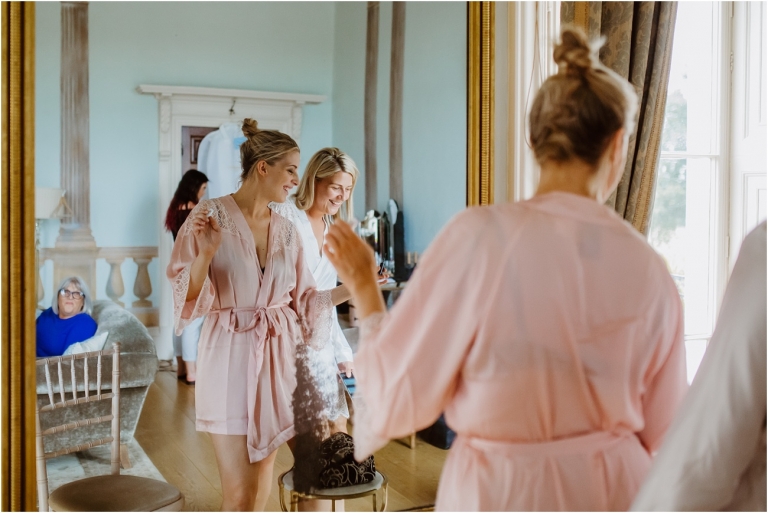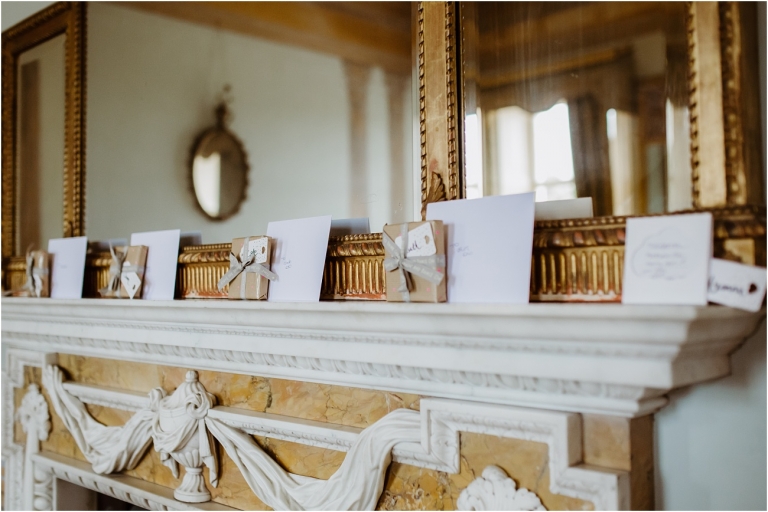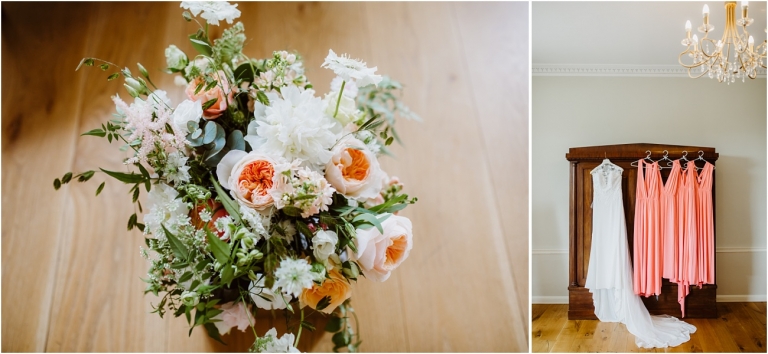 Ashleigh's stunning wedding dress was by Pronovias.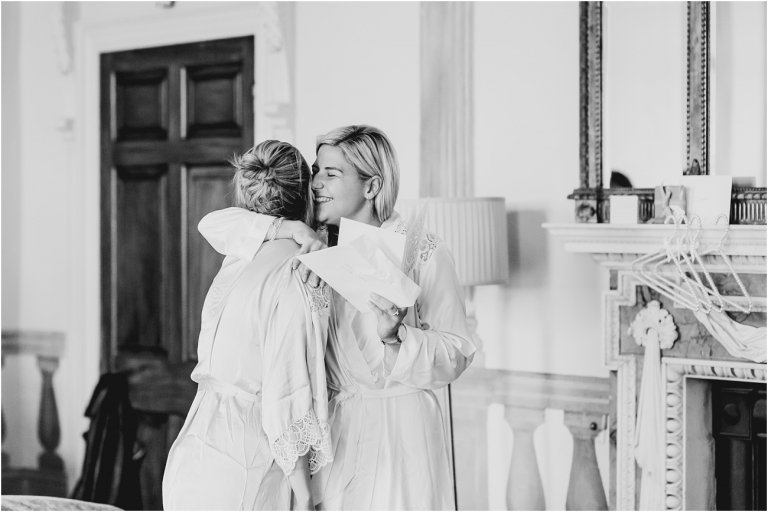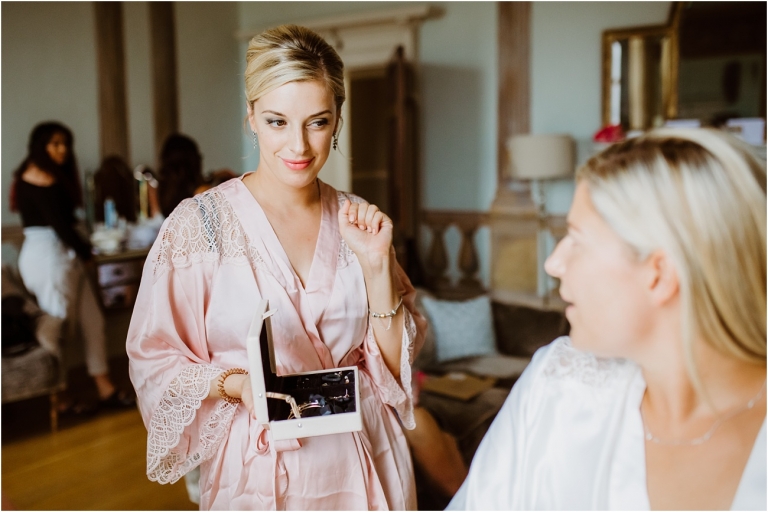 Ashleigh's natural make up was by Eve Ashby.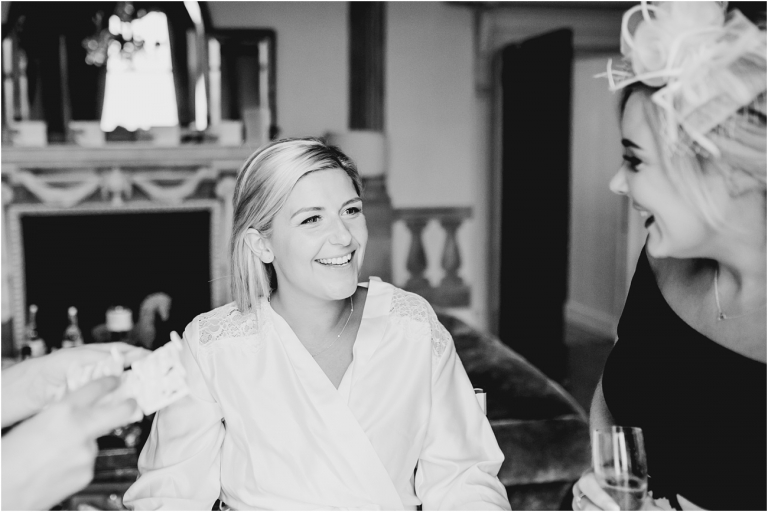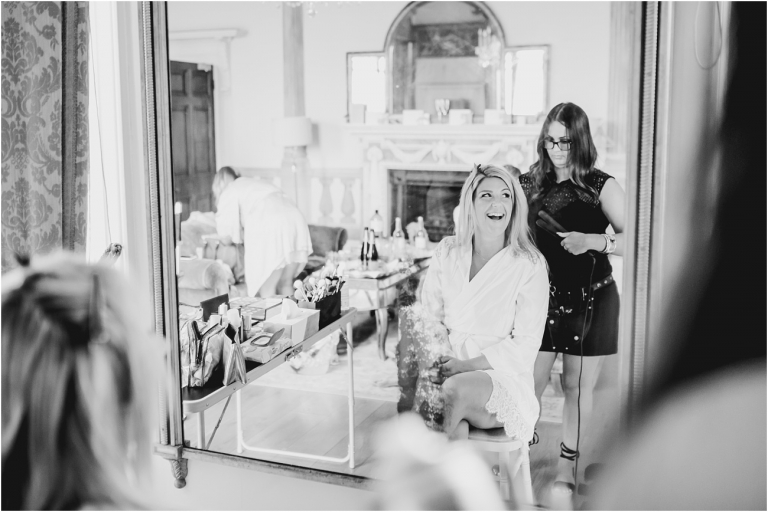 I loved Ashleigh's down do with a boho braid. It was perfectly styled by Lise Bridal Hair.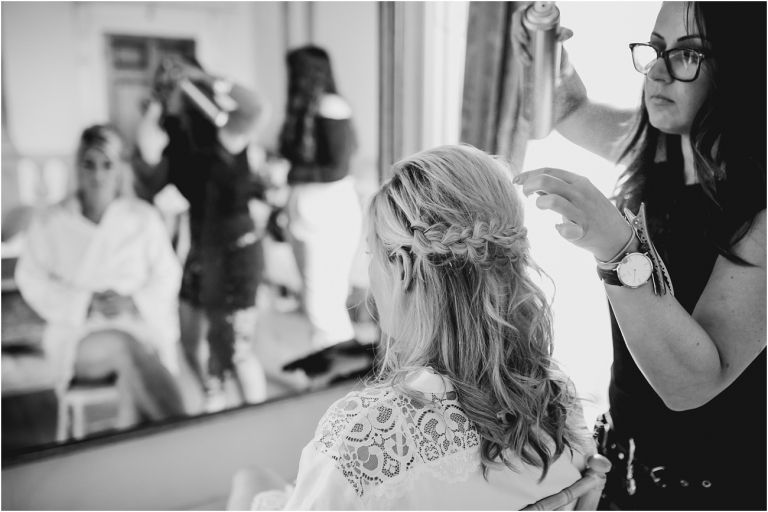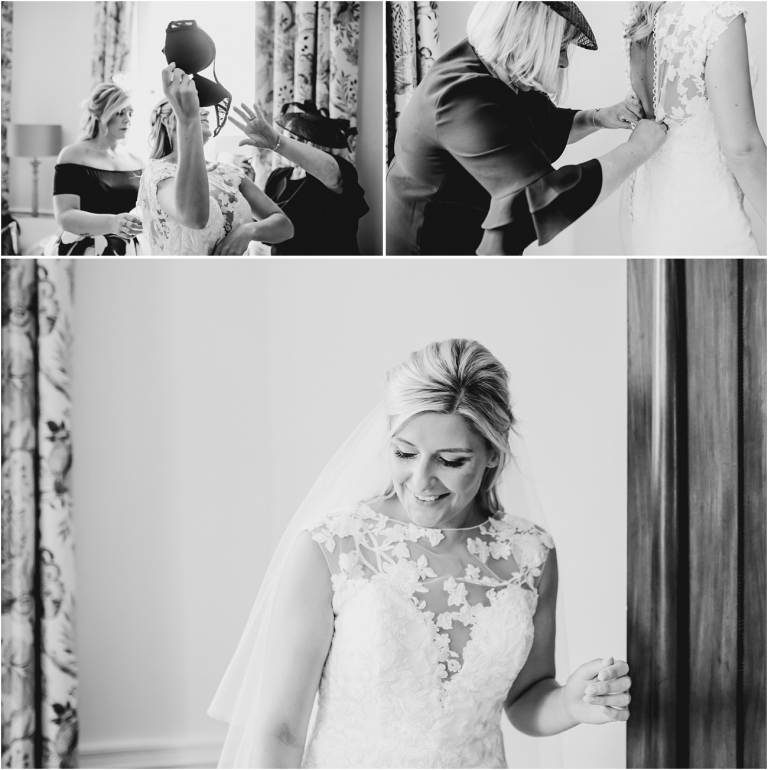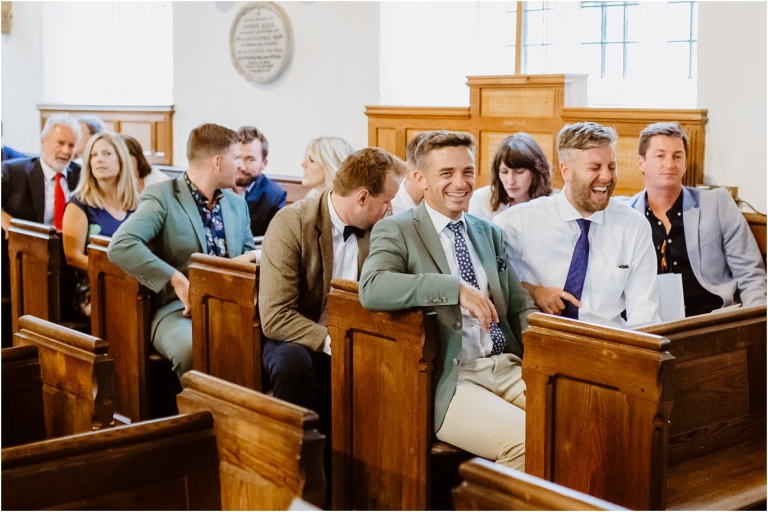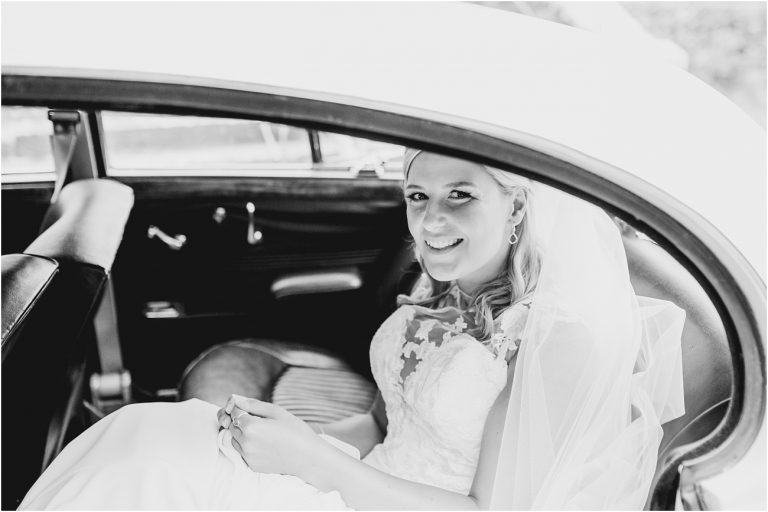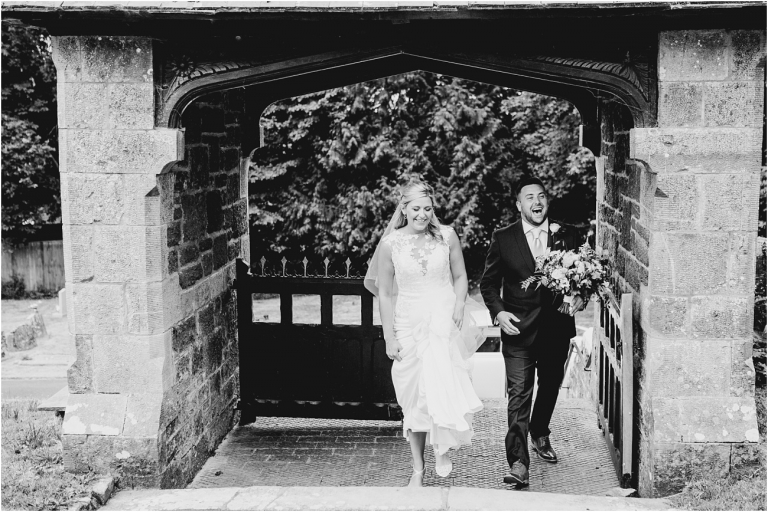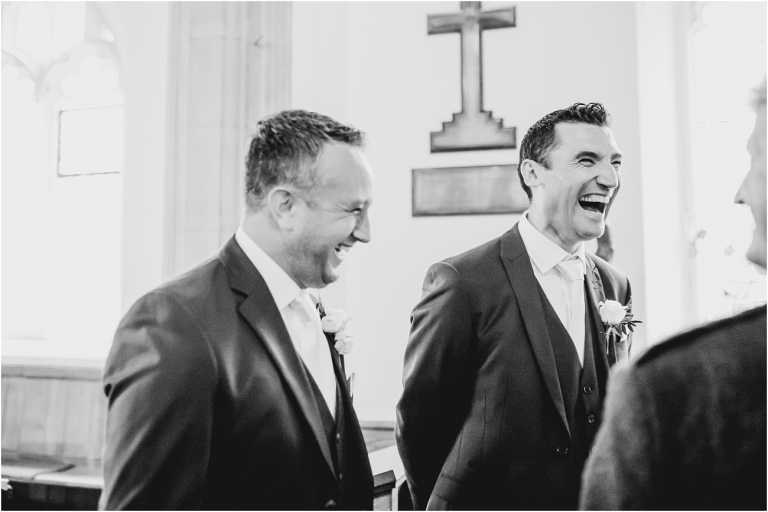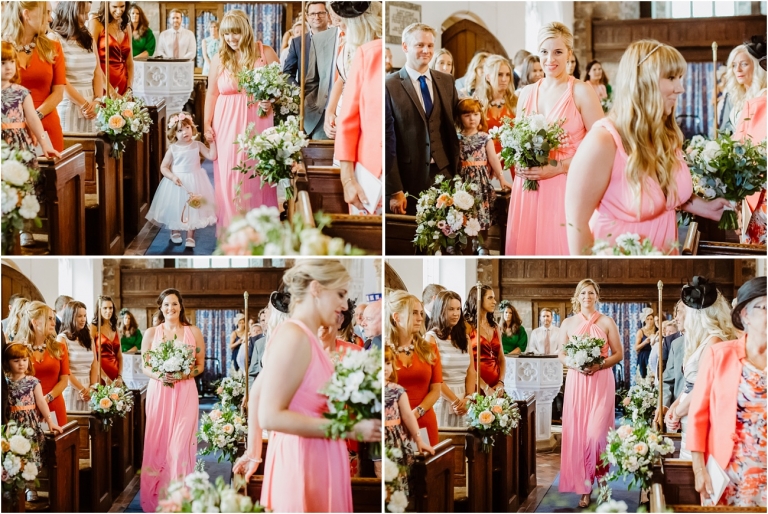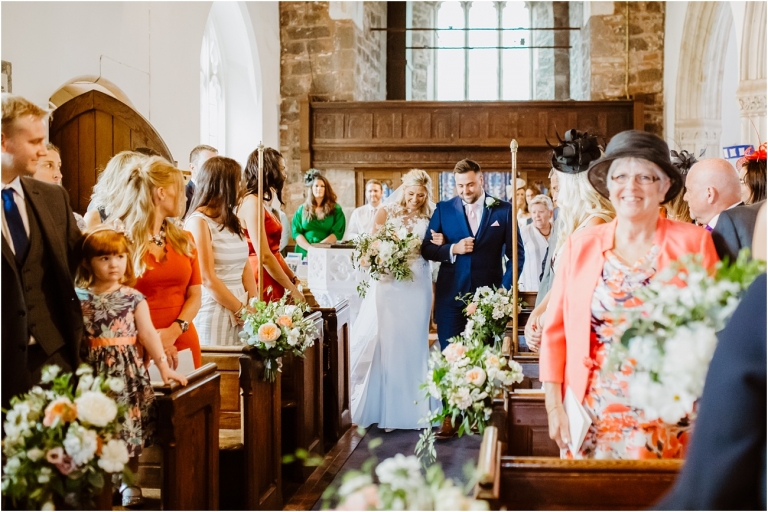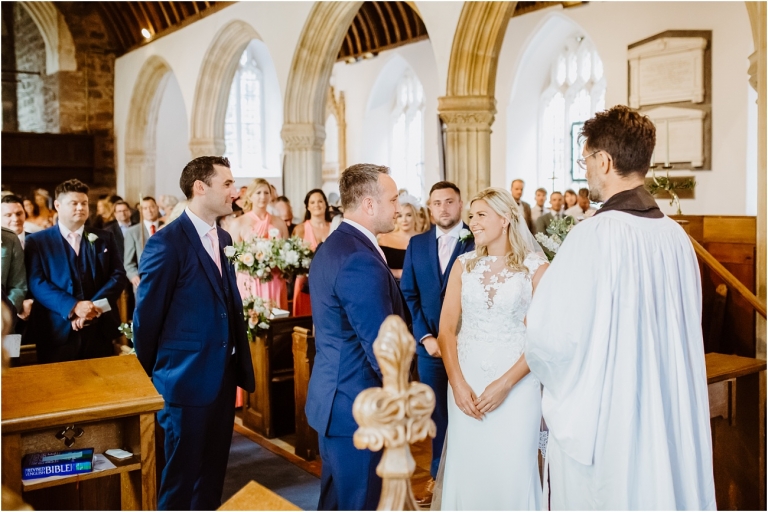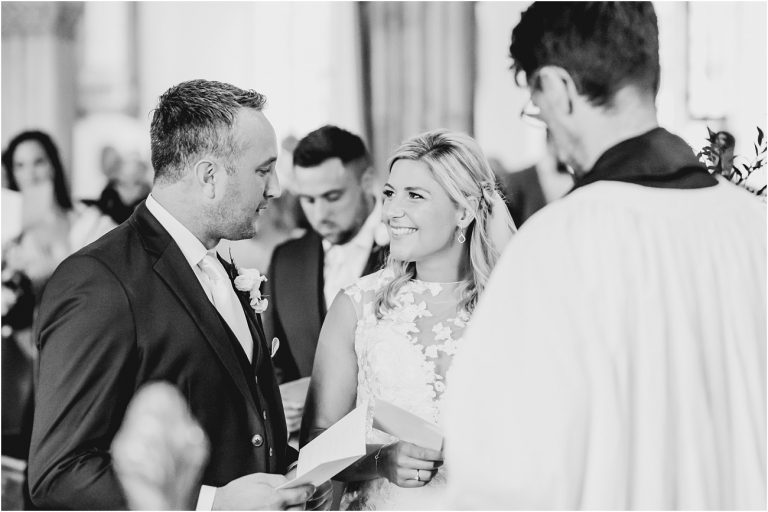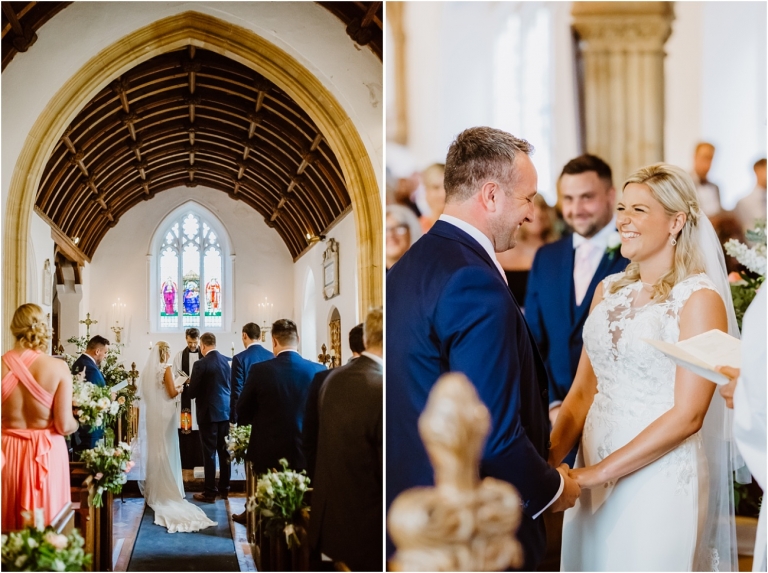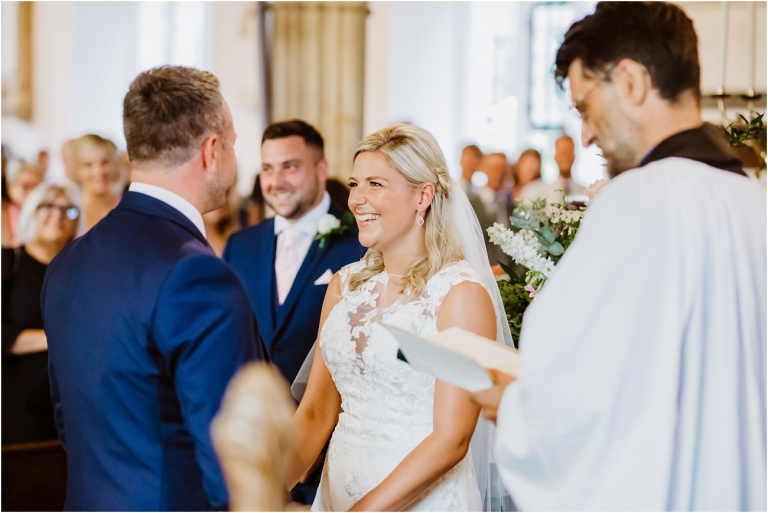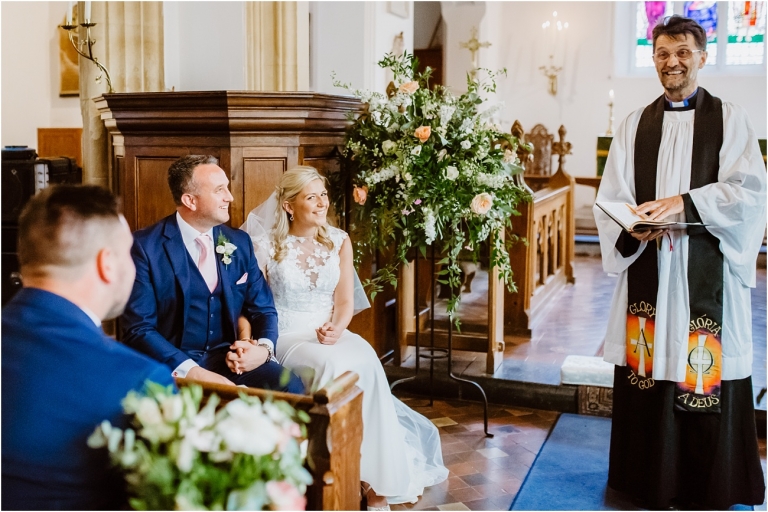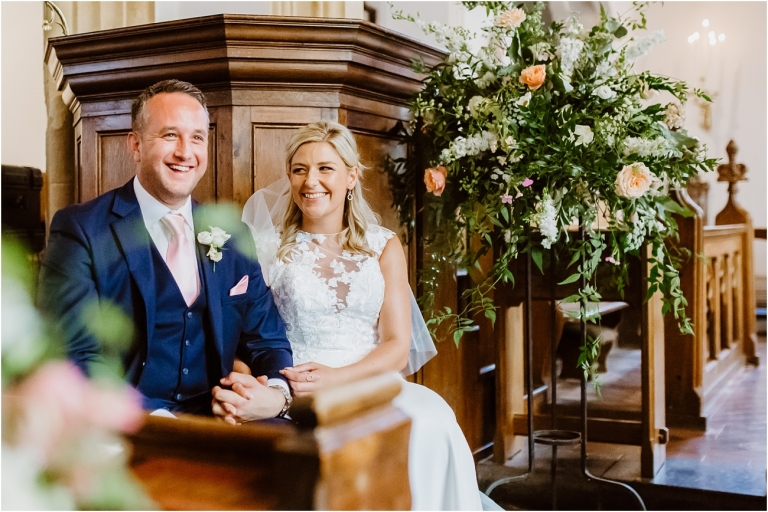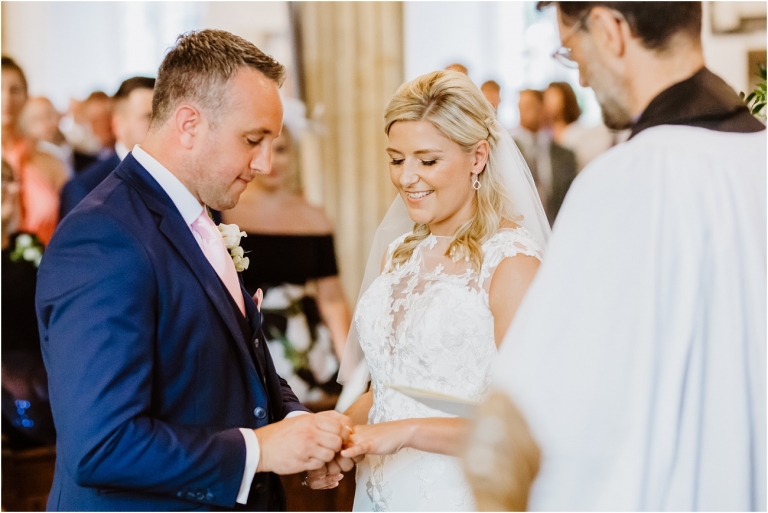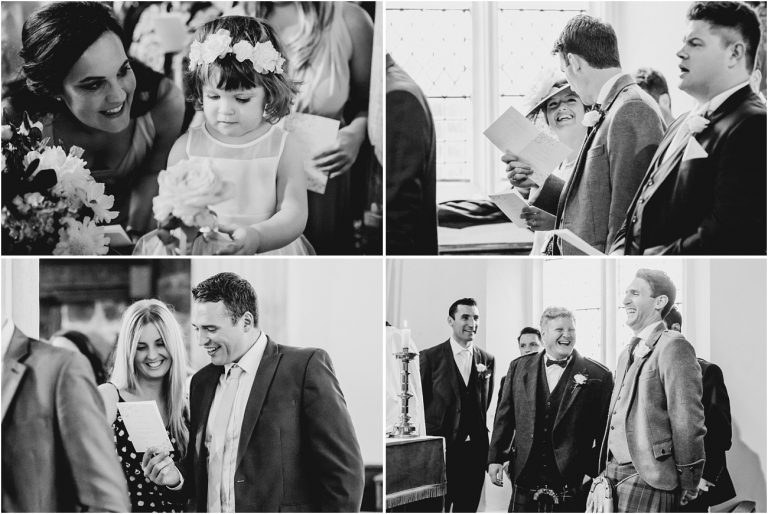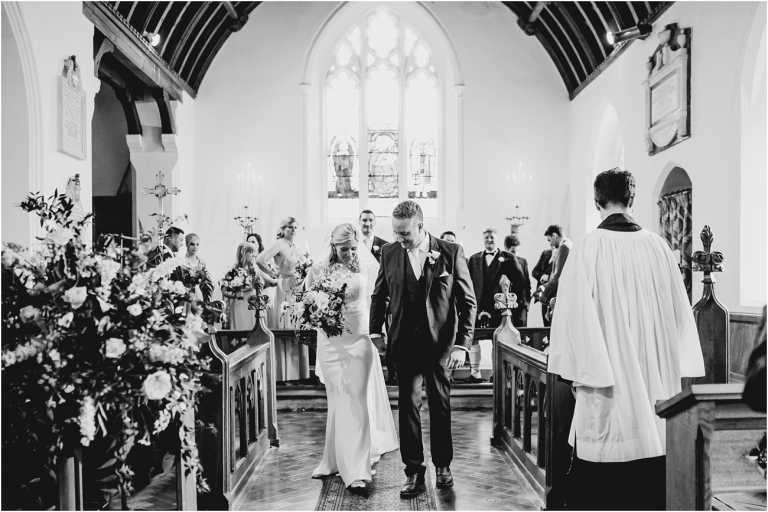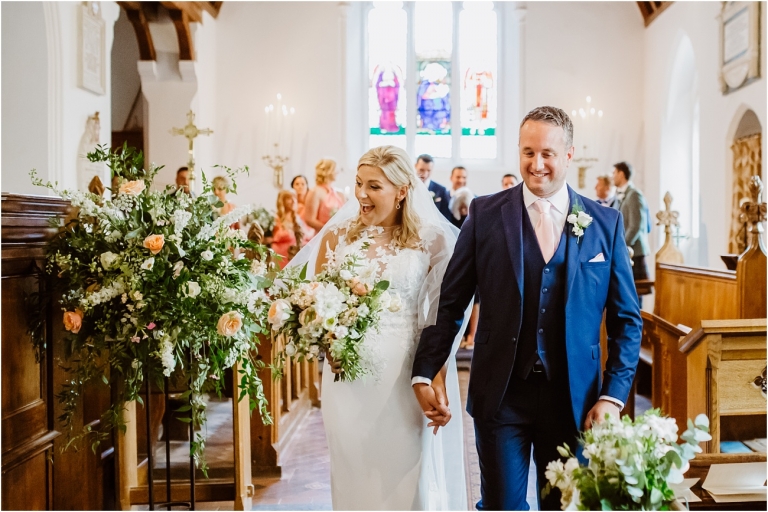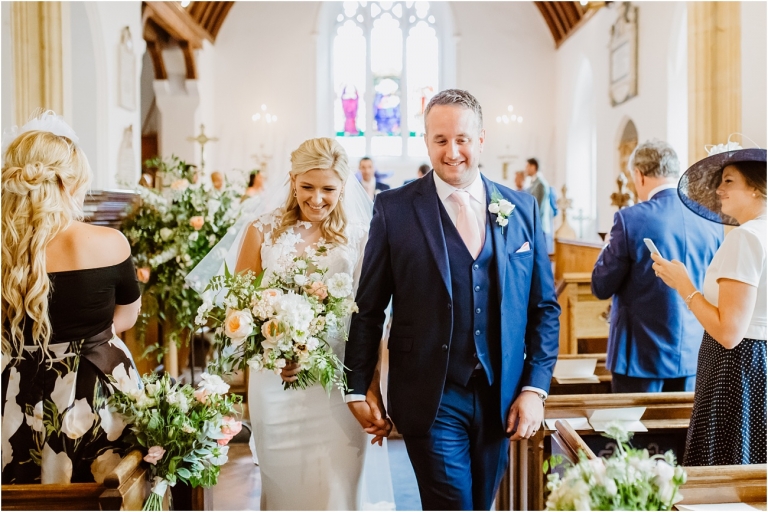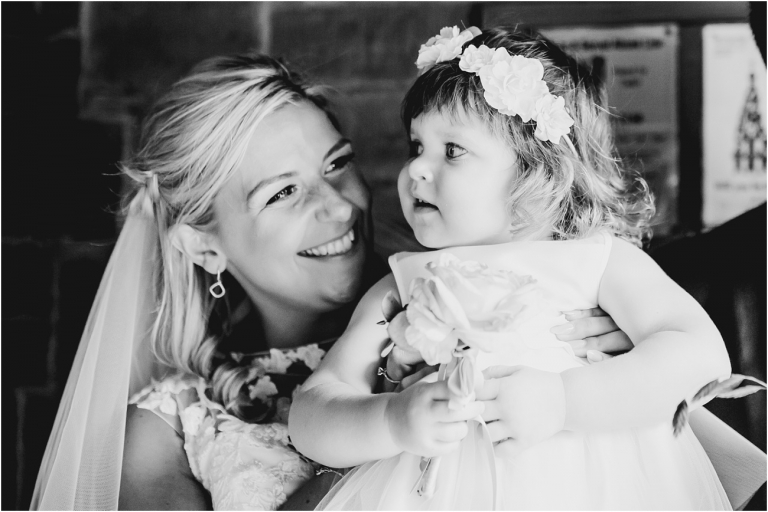 All of the flowers were provided by Debbie Morris at Dartmoor Flowers. The peach coloured flowers popped against the green foliage and provided a contemporary summer feel to this July wedding.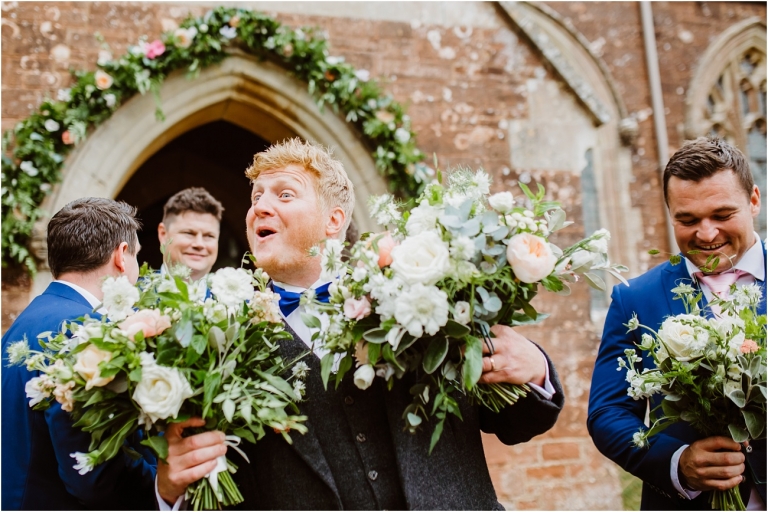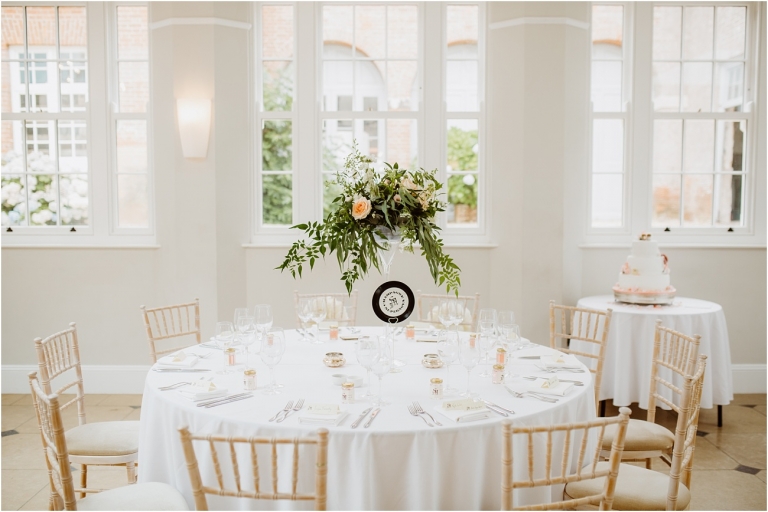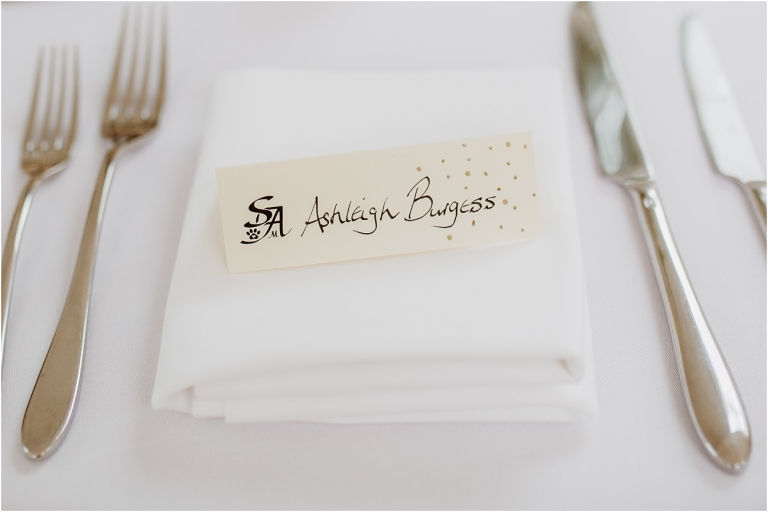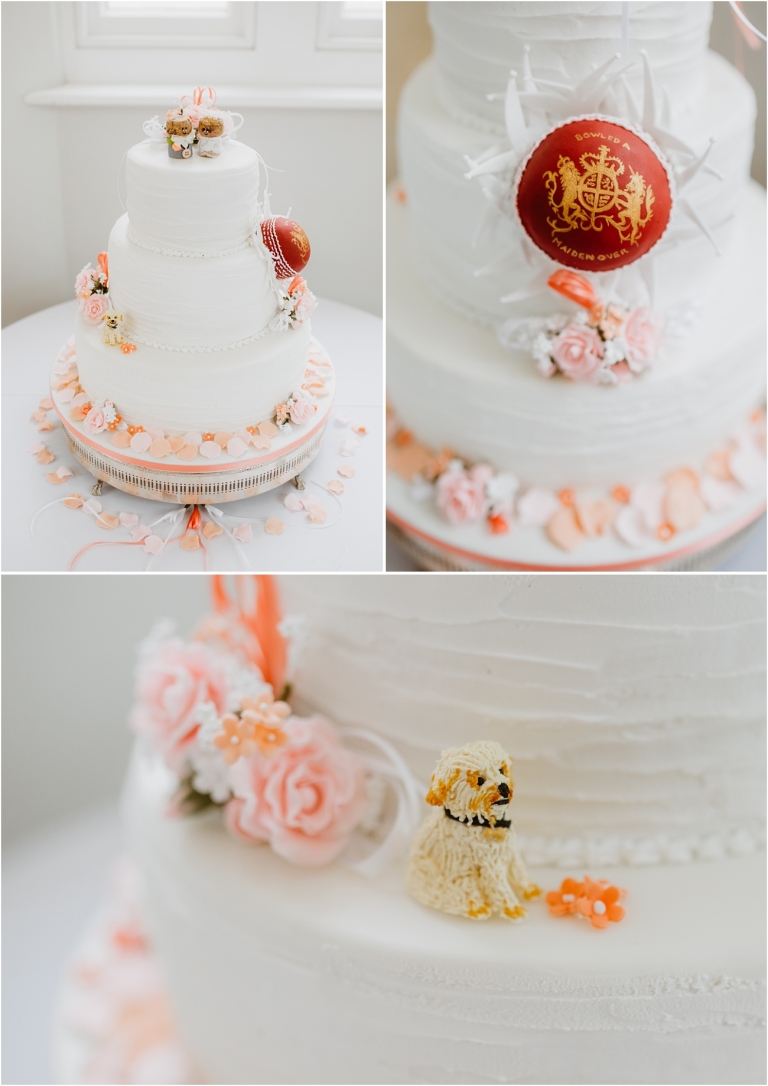 Ashleigh and Stephen's incredible cake was made by Ashleigh's friend Rosie. It featured a cute cork couple, a model of their beloved cockapoo Mango and a cricket ball lodged into the side! An awesome touch, especially when cricket was played later on in the day!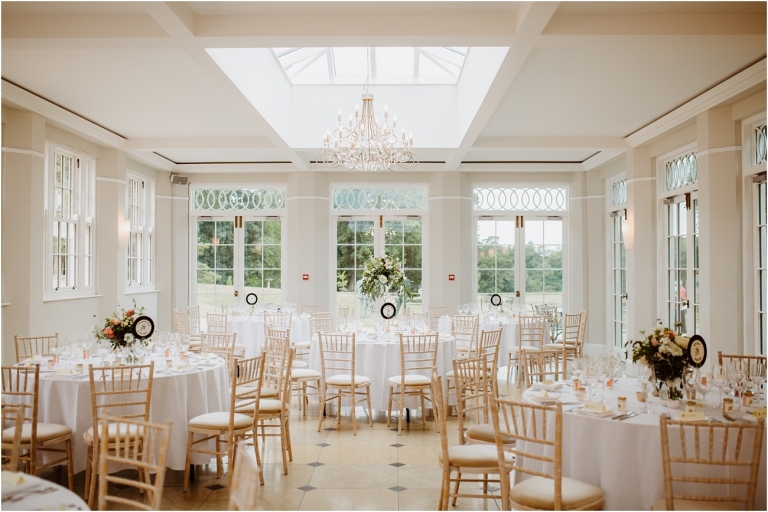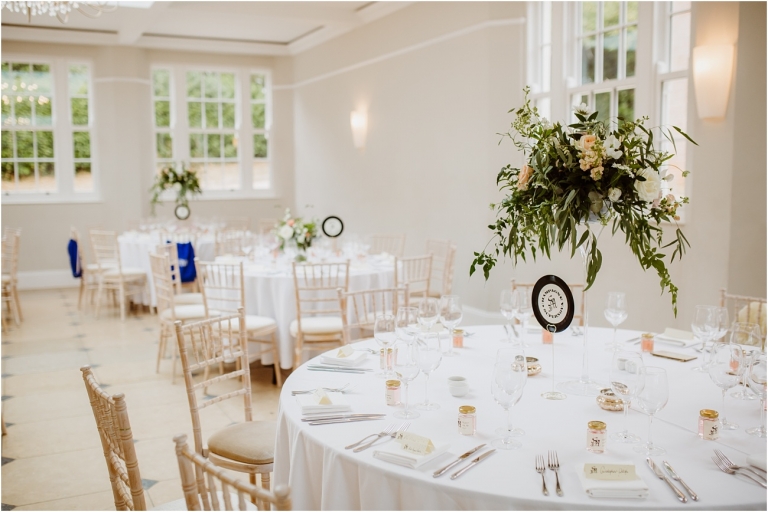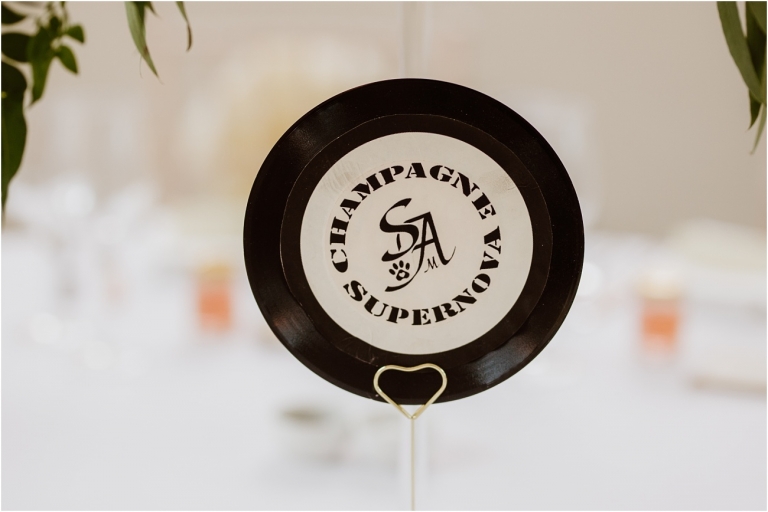 Stephen loves Oasis, so the table names were old vinyl records with Oasis songs upon them, each chosen to reflect the people sat at the table. The bridesmaids were on the "She's Electric" table, whilst university friends, recalling old times, sat at "Cigarettes and Alcohol". The top table was "Champagne Supernova".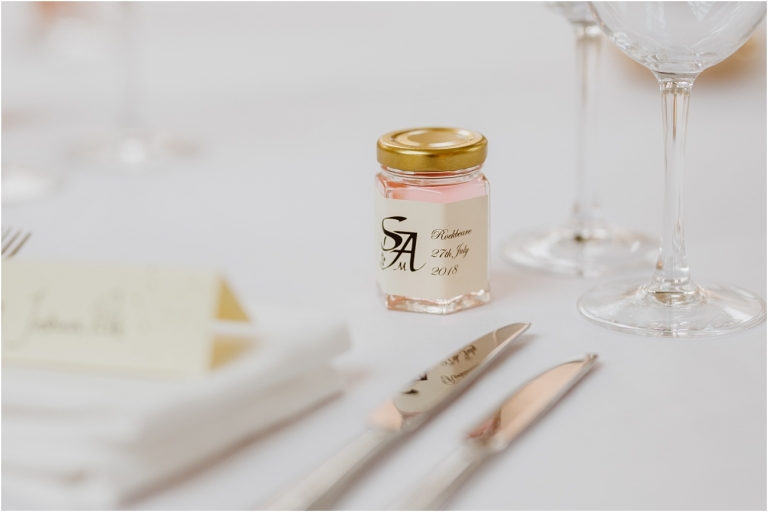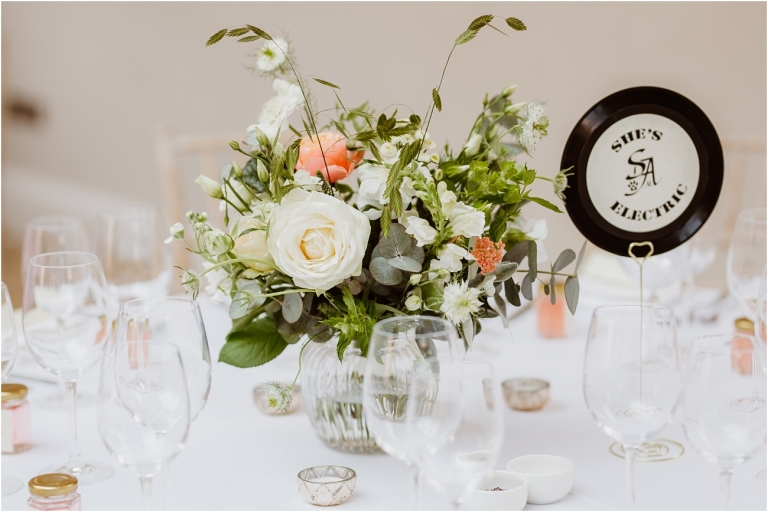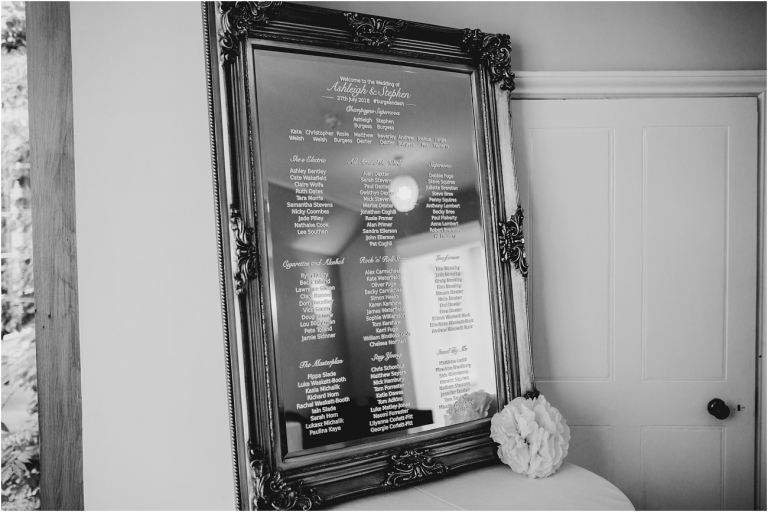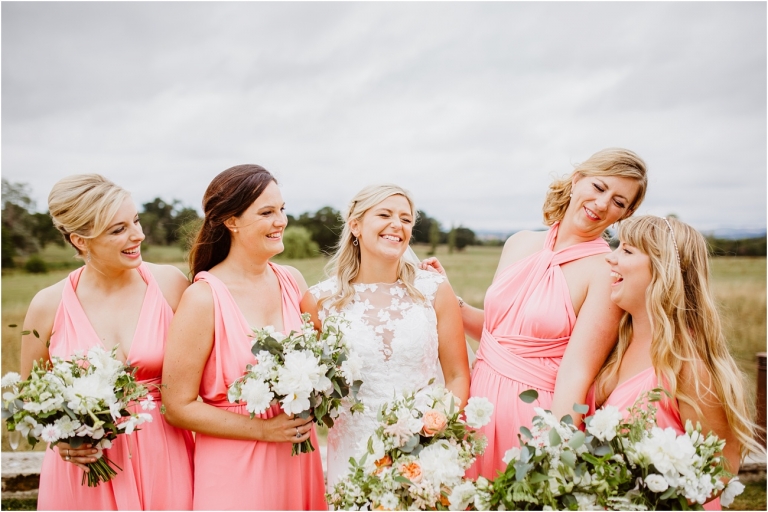 The bridesmaids' coral multi-way dresses were Debut at Debenhams.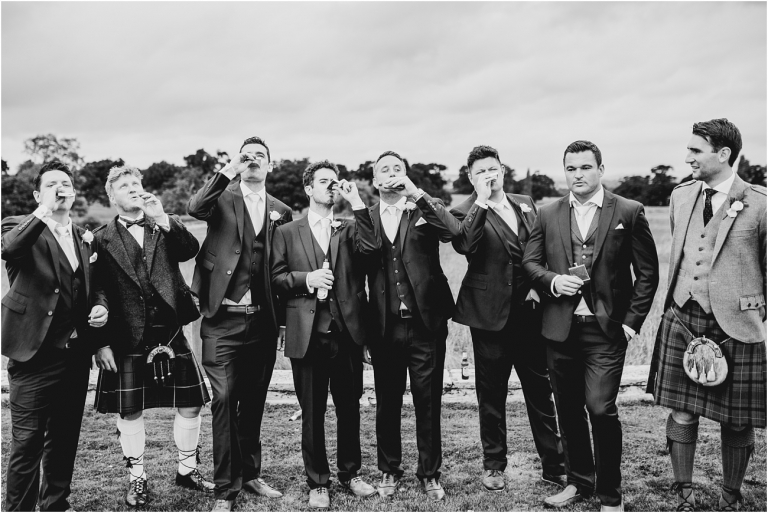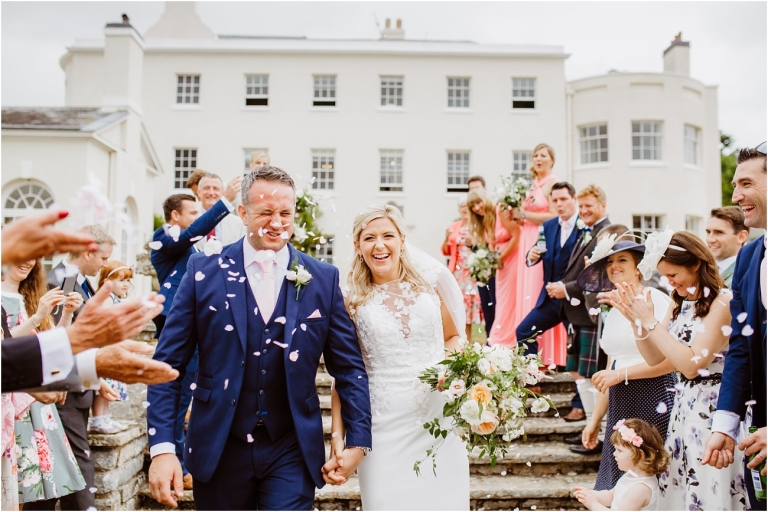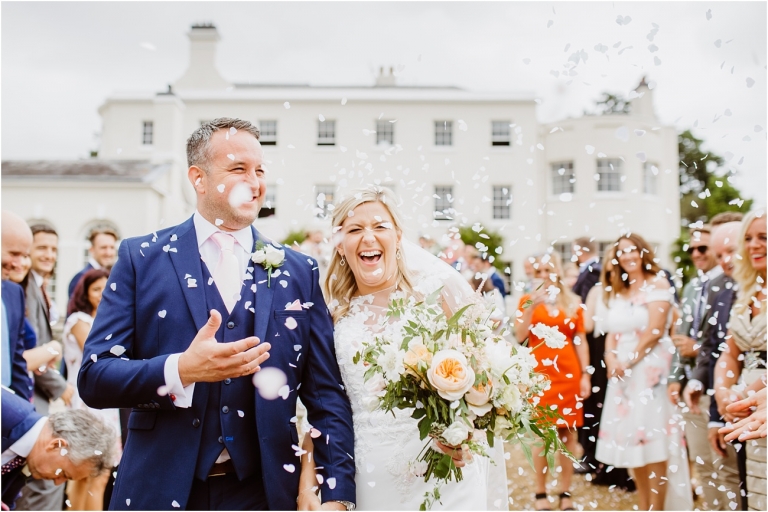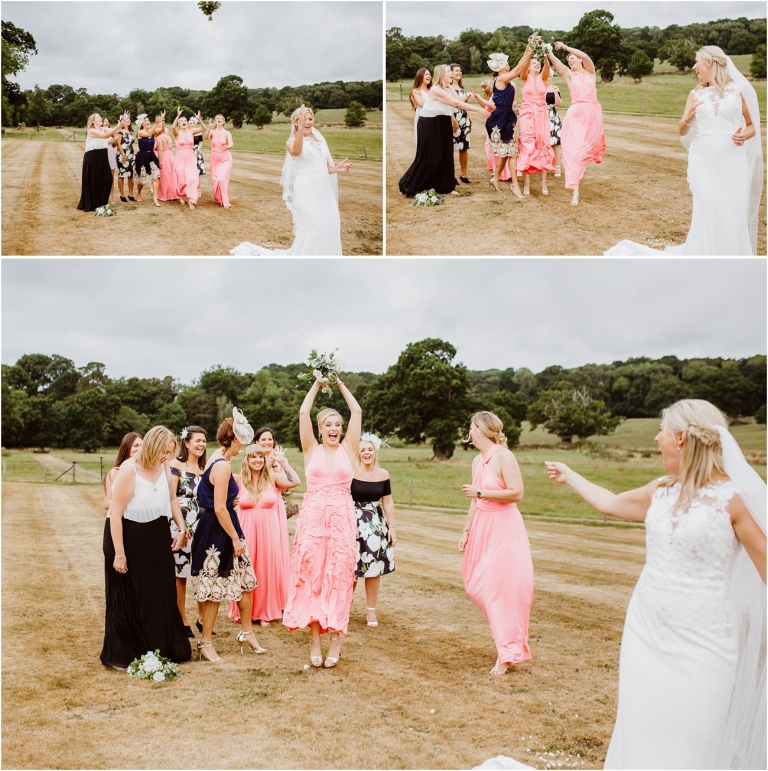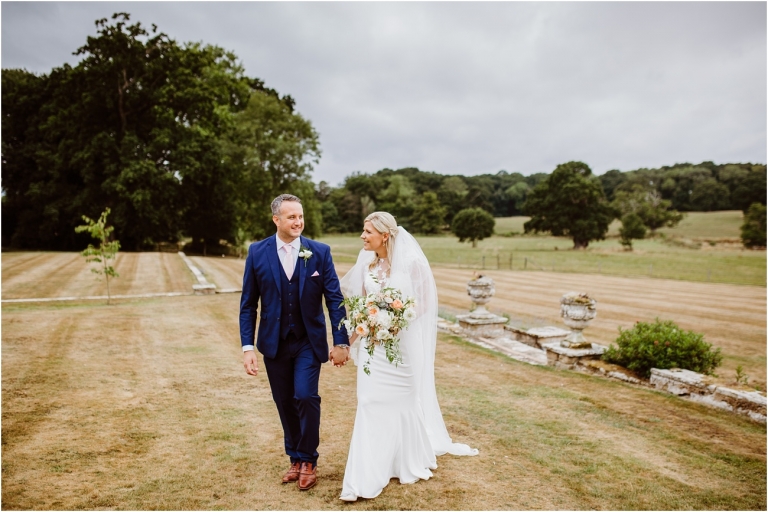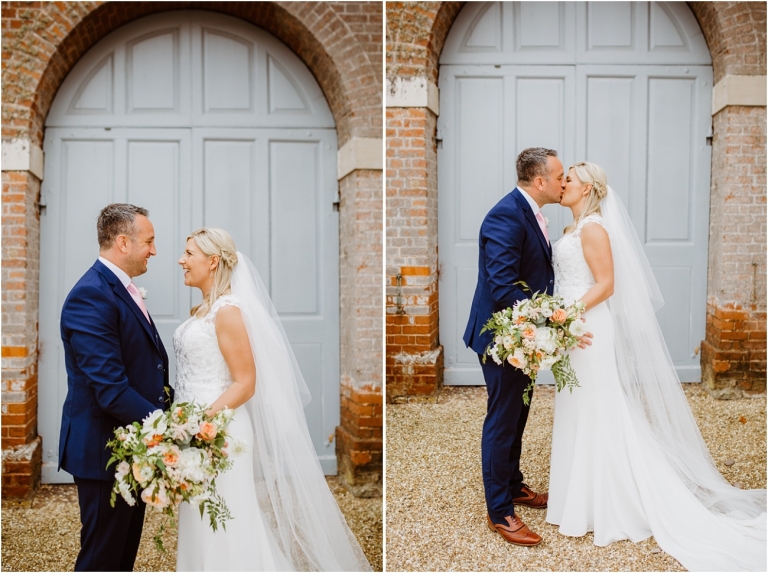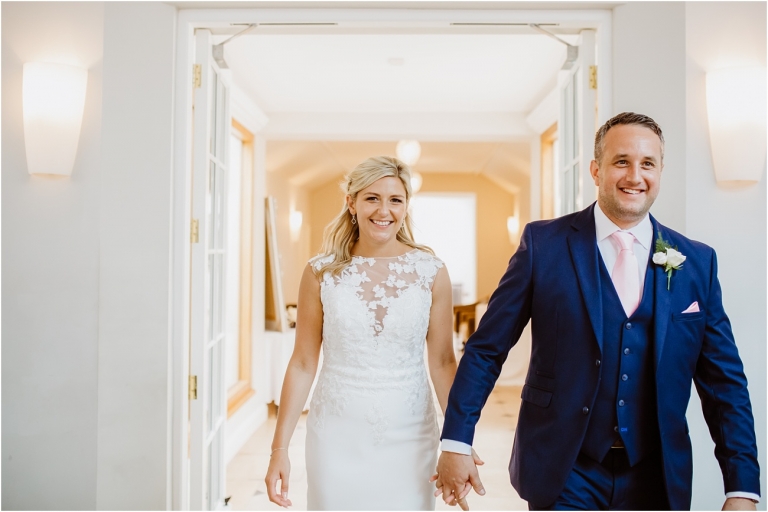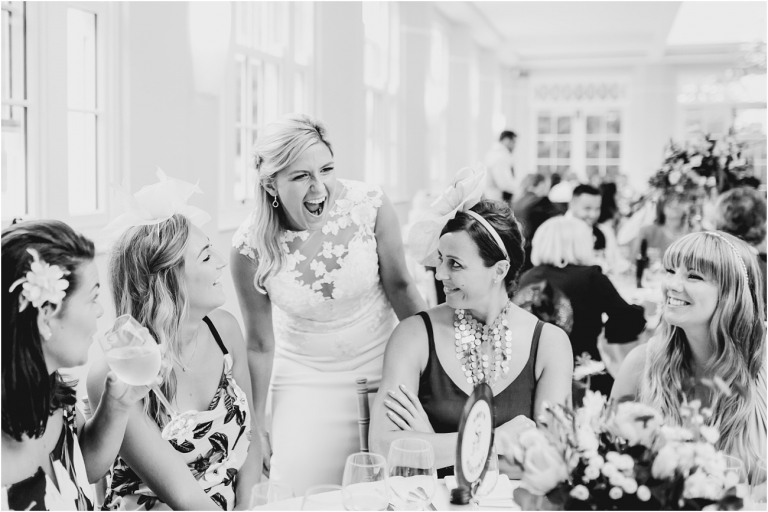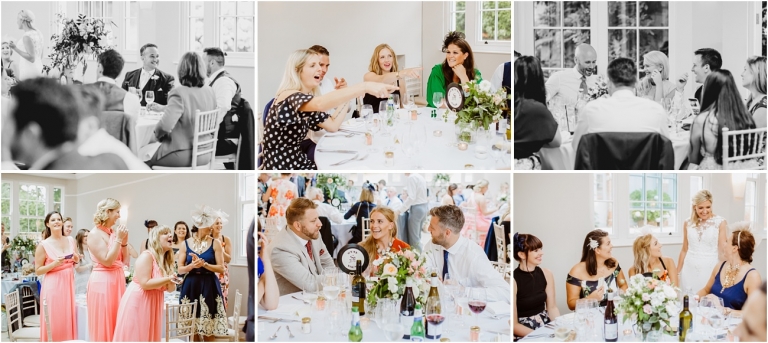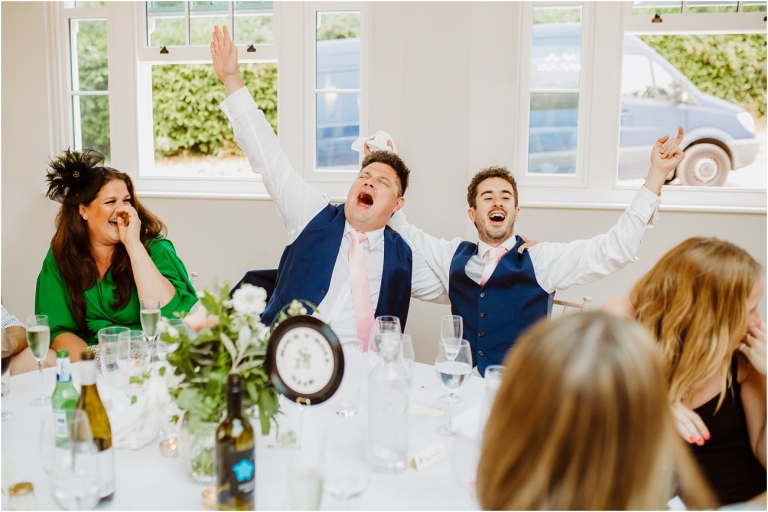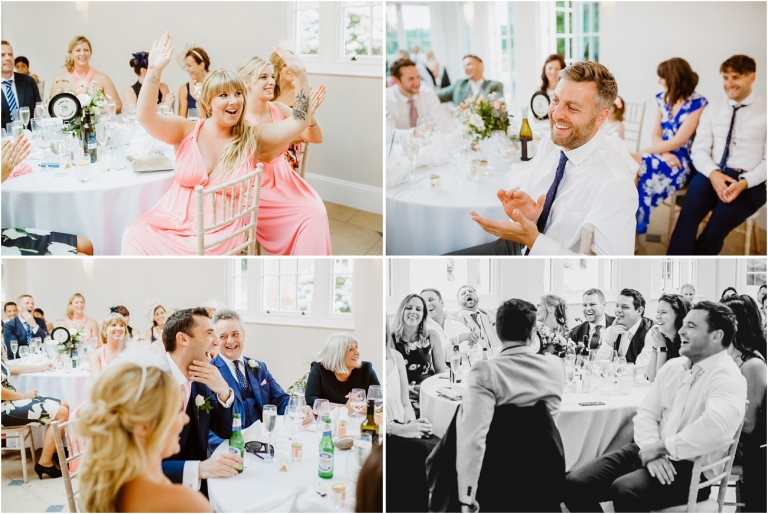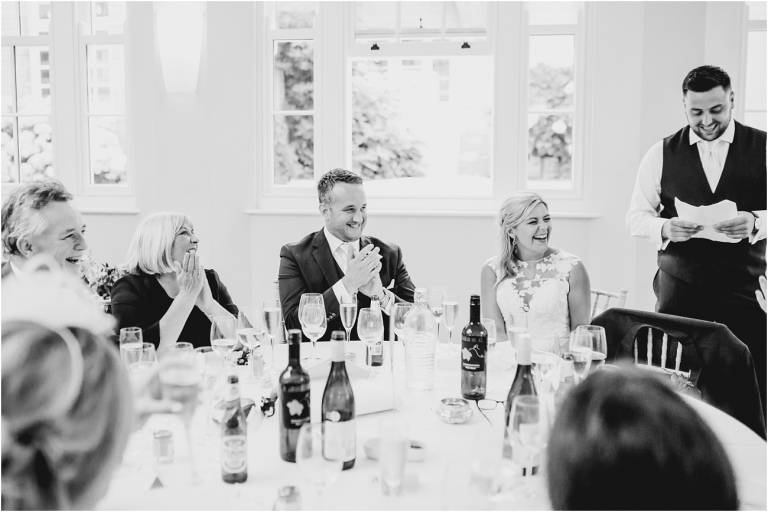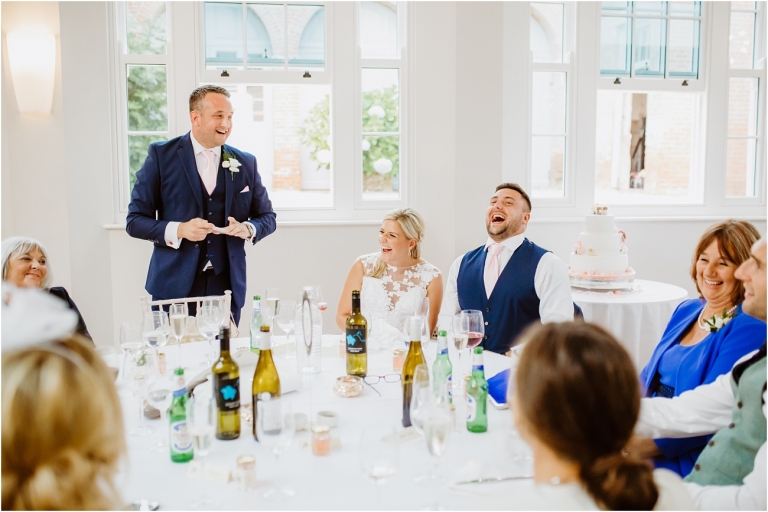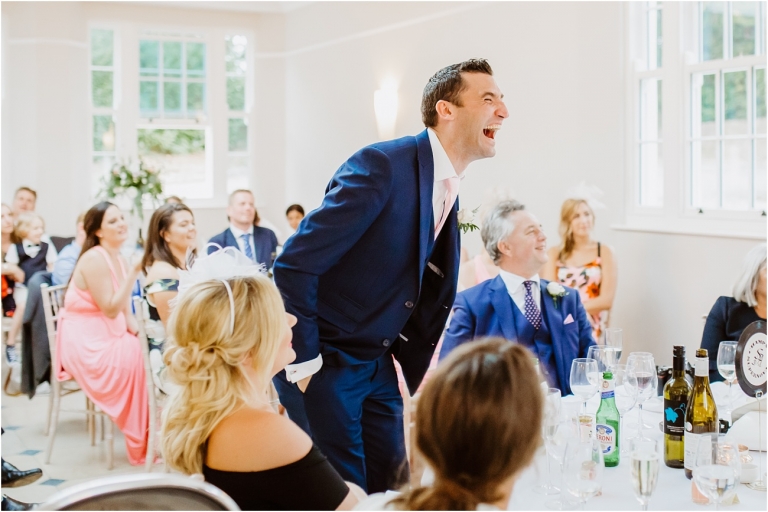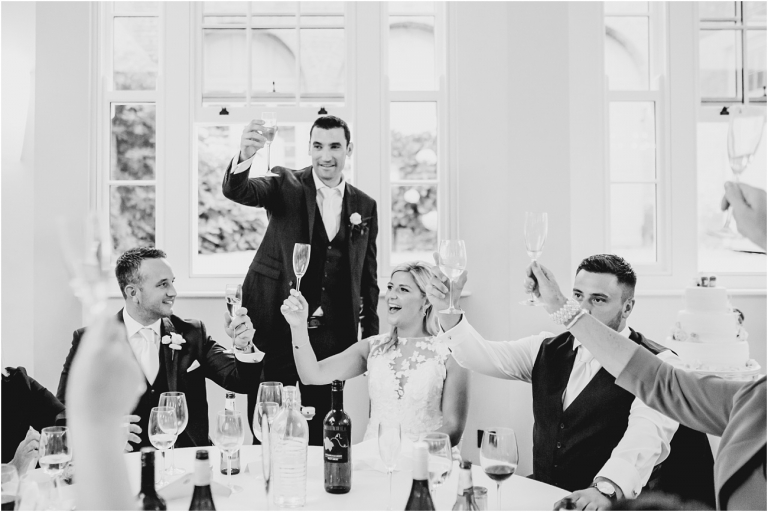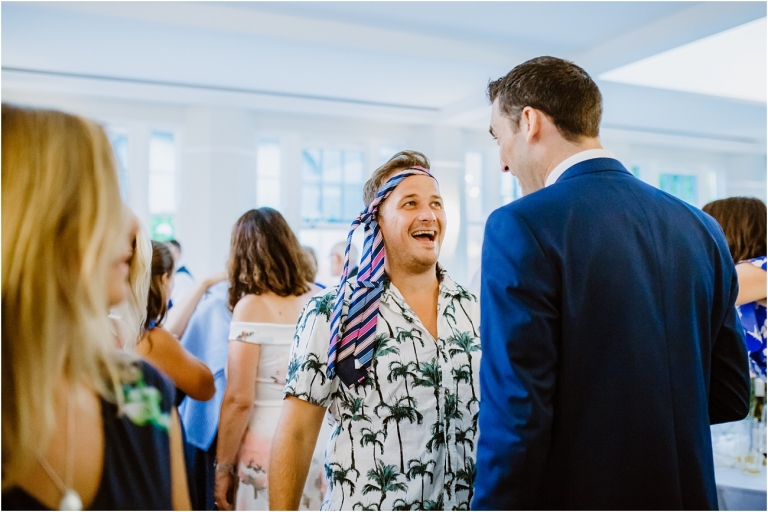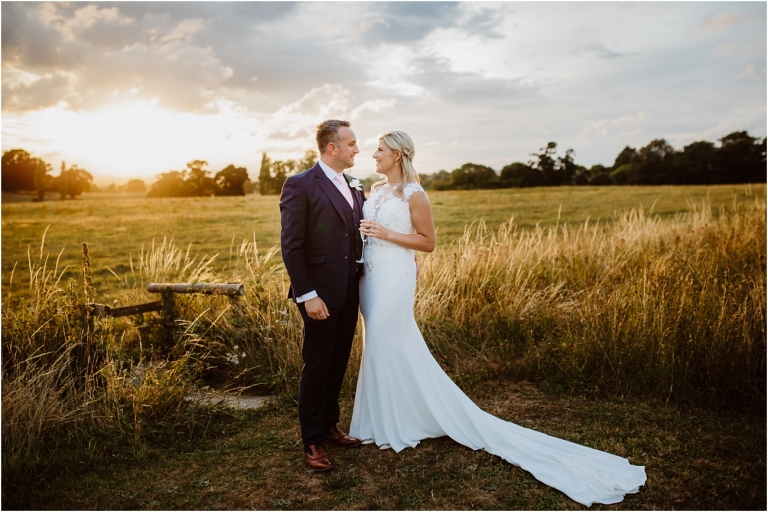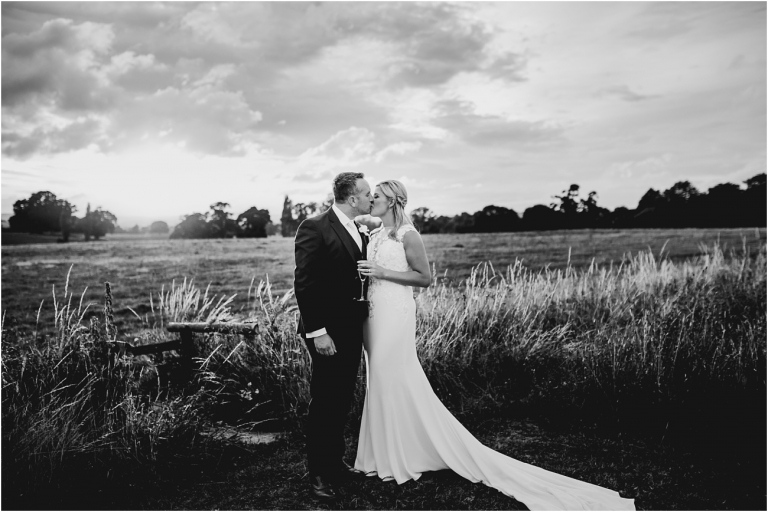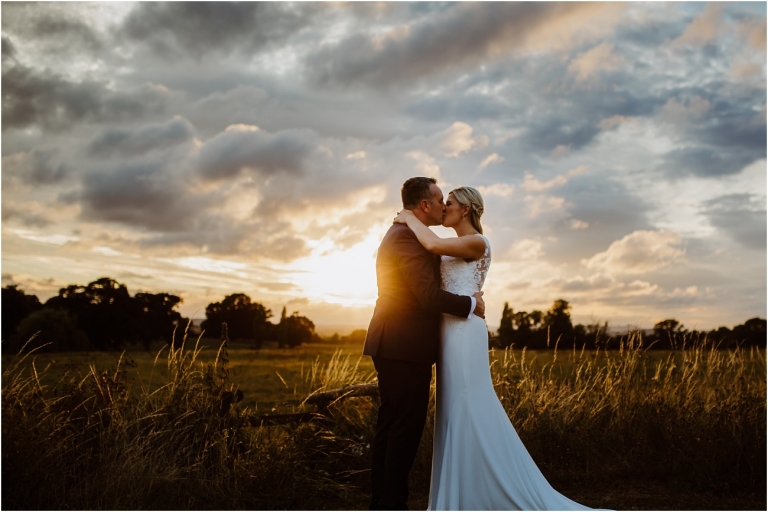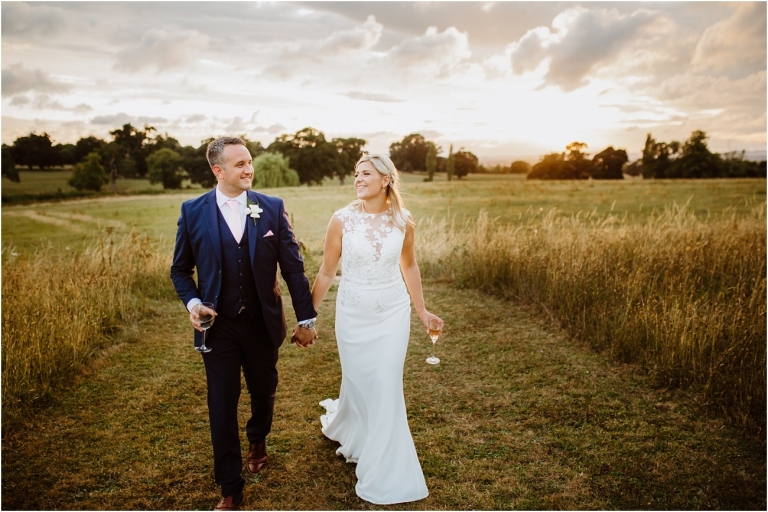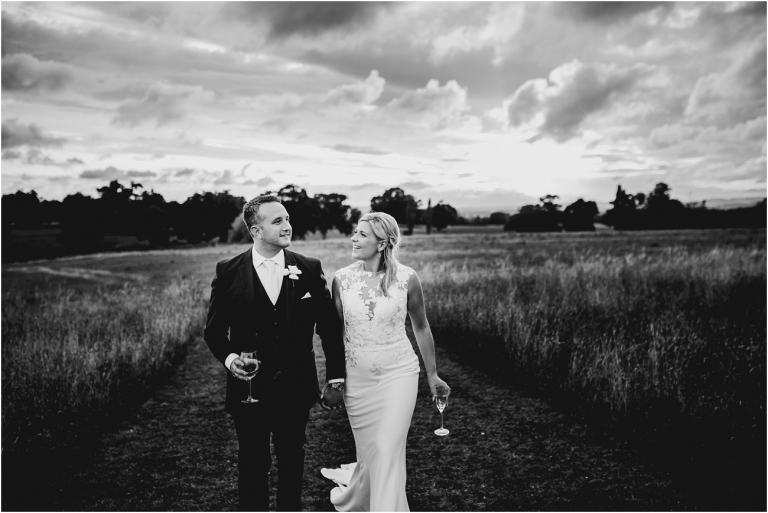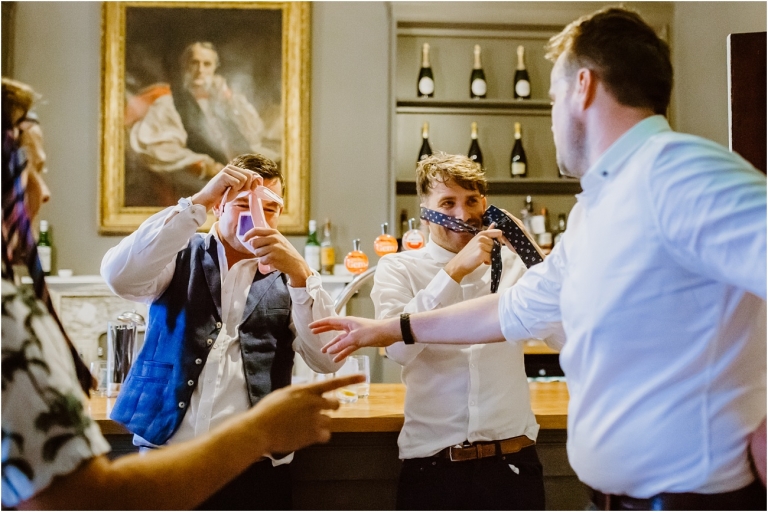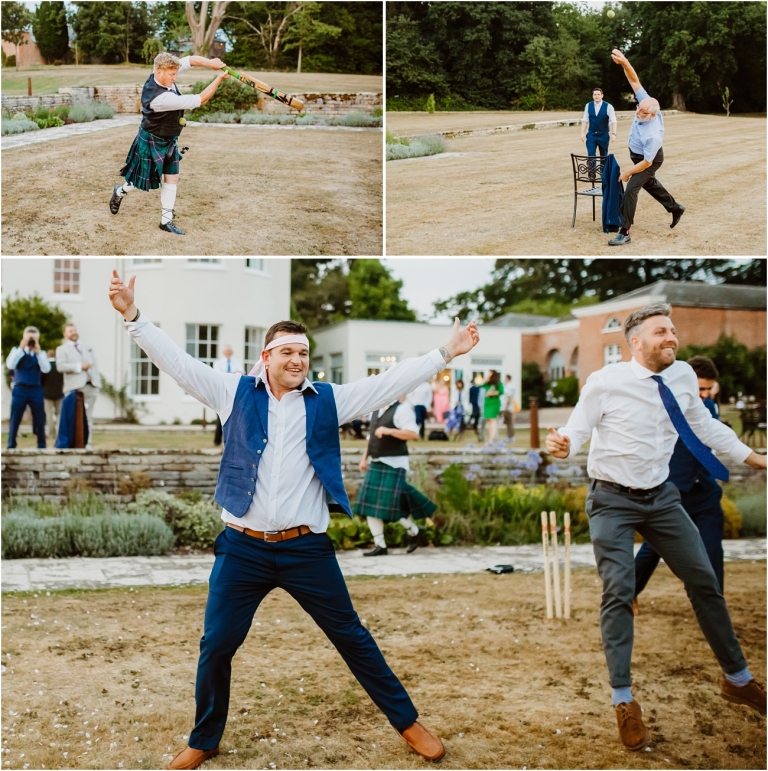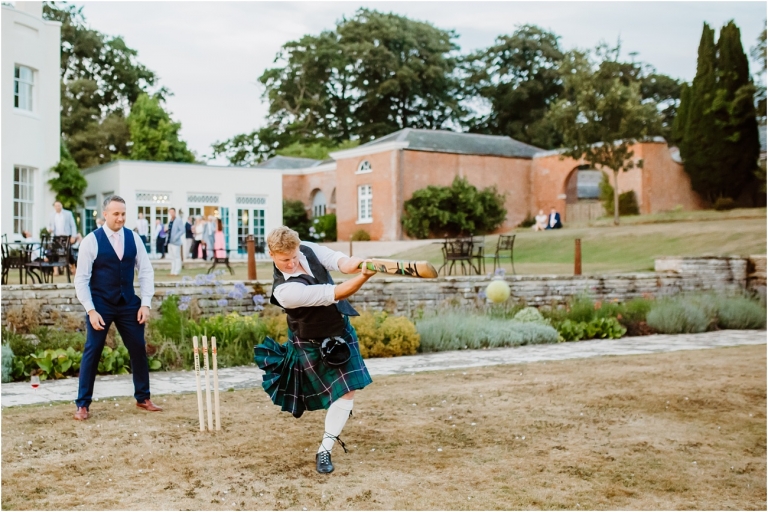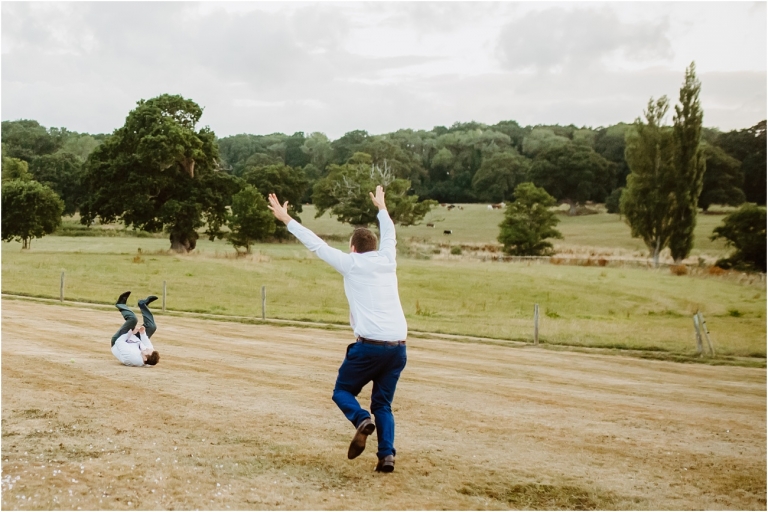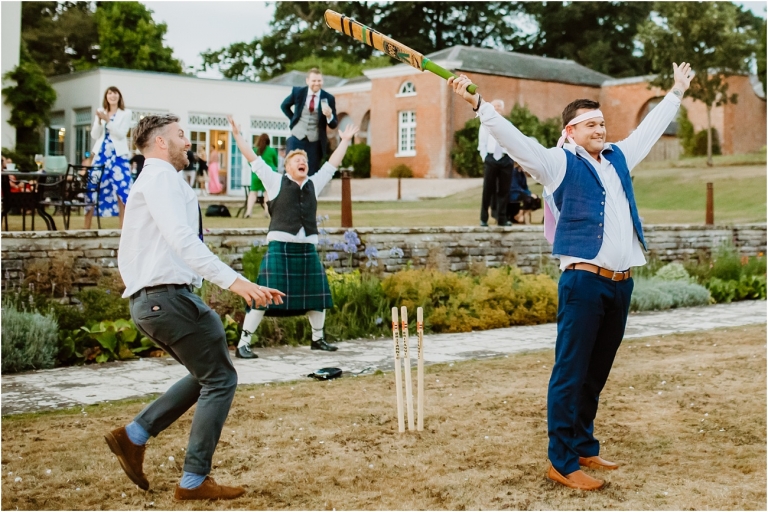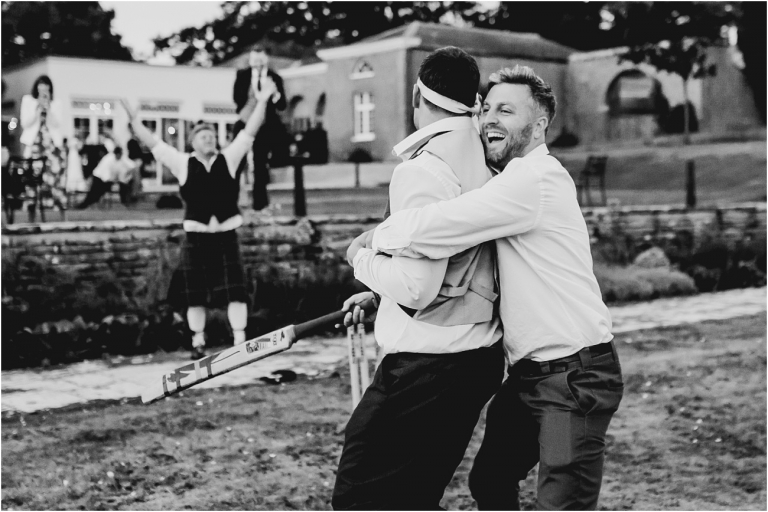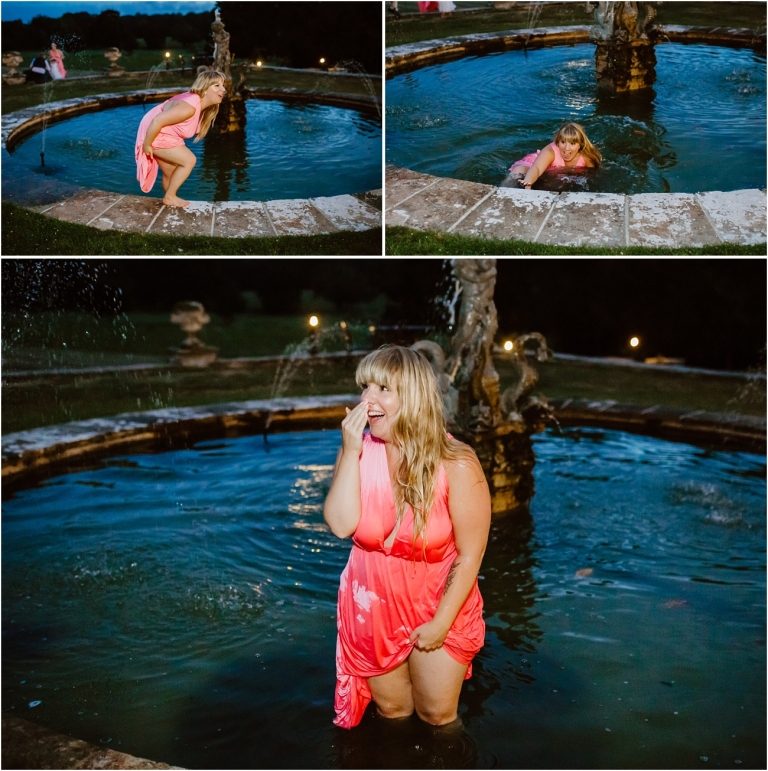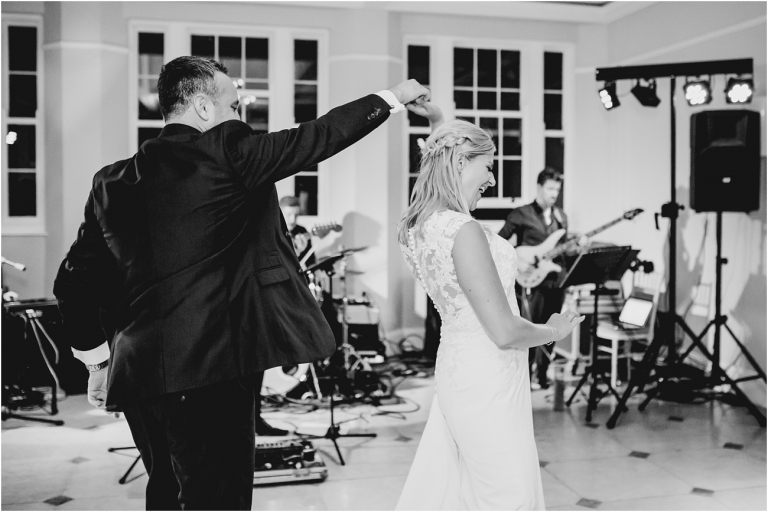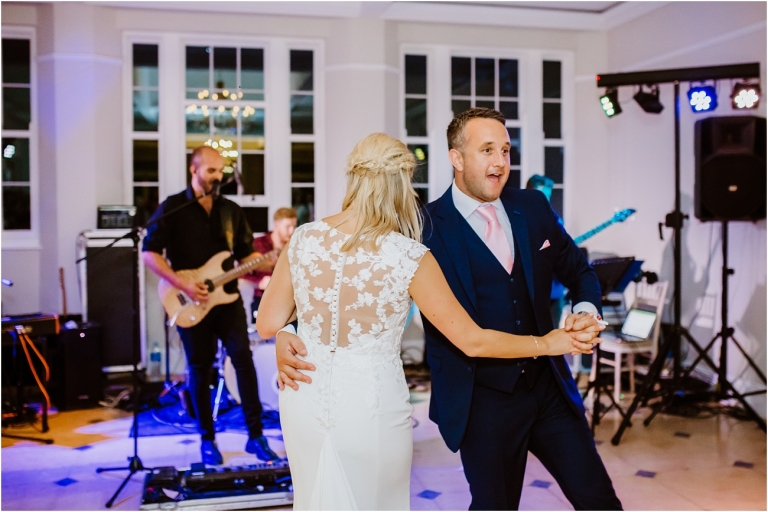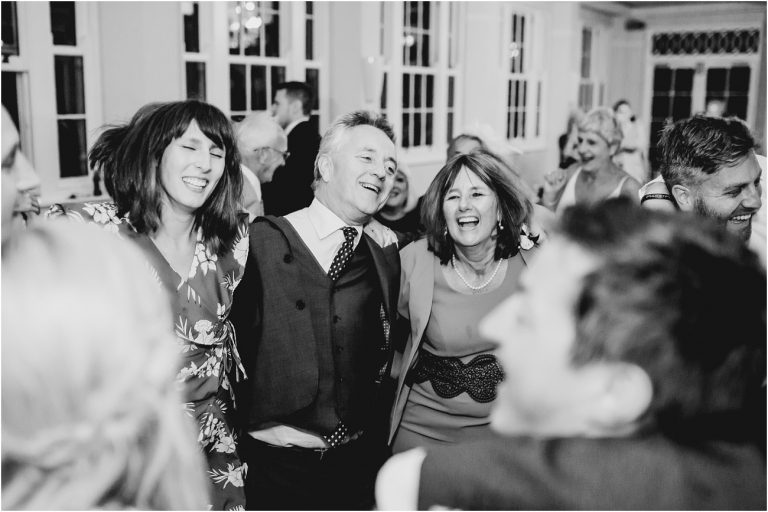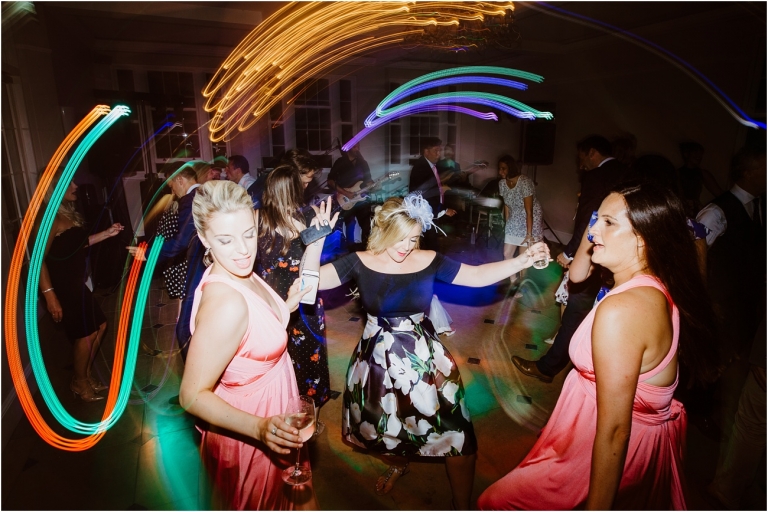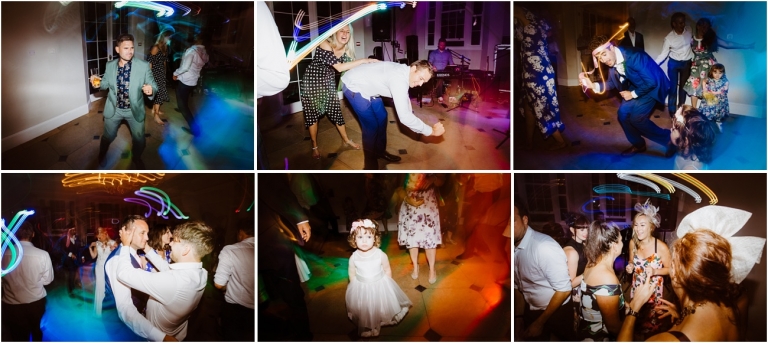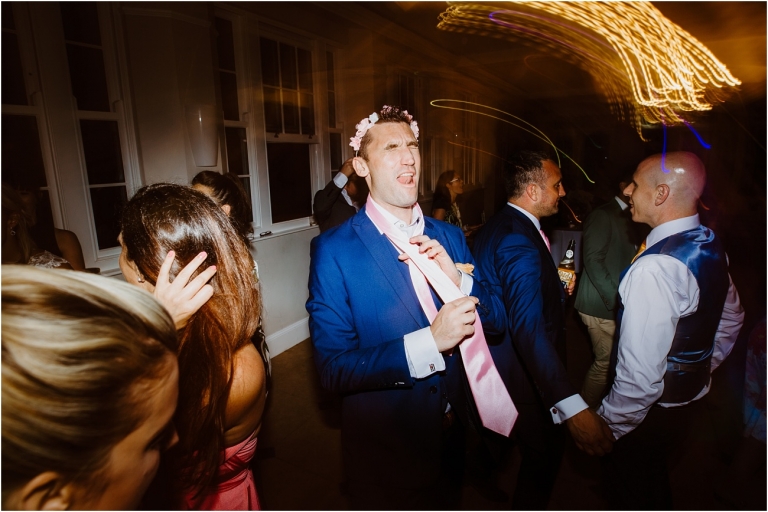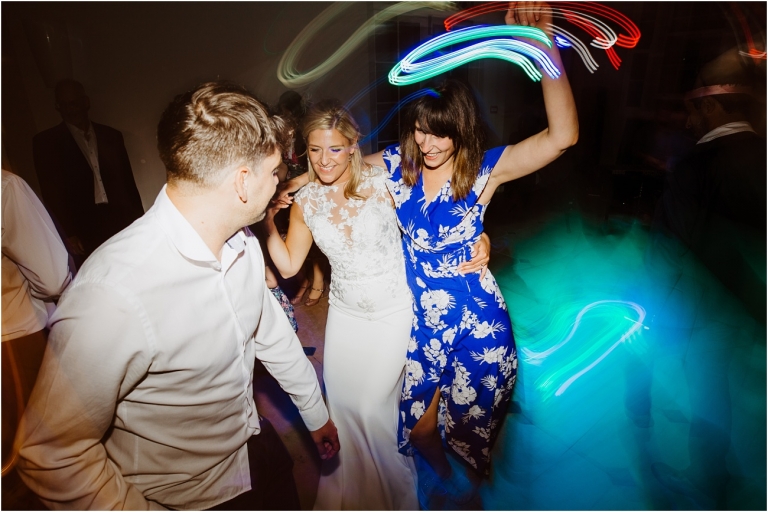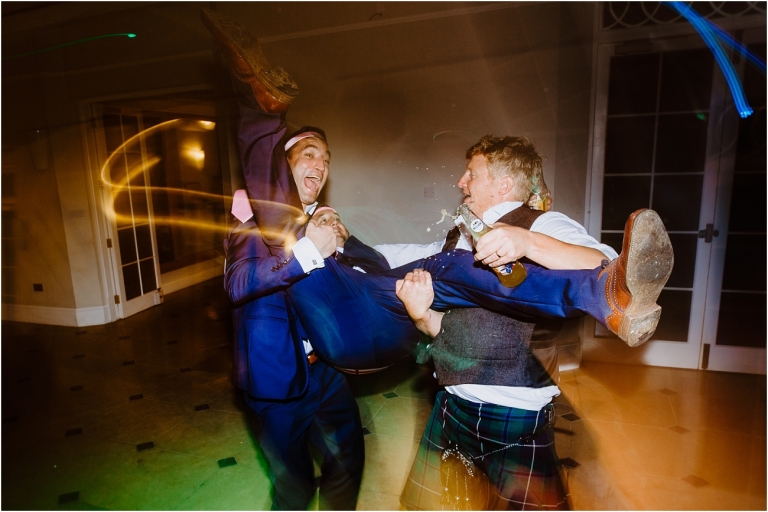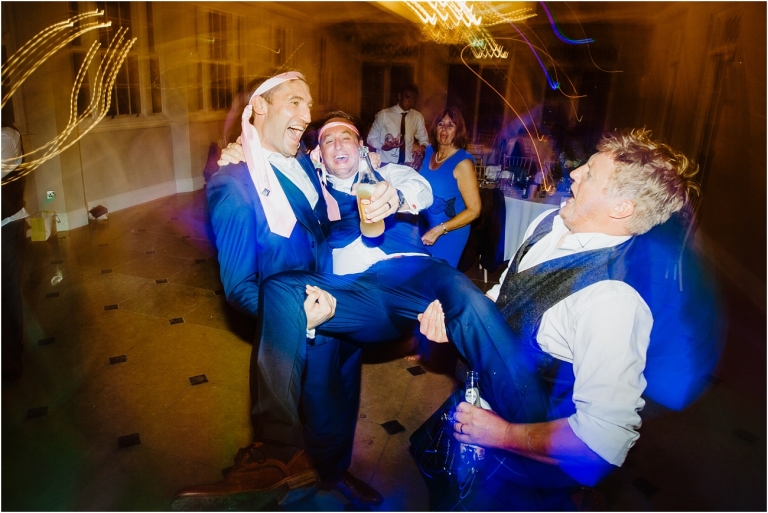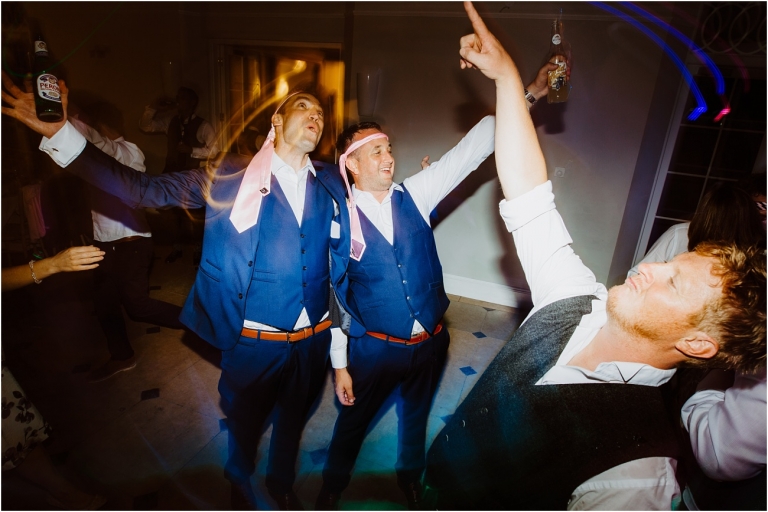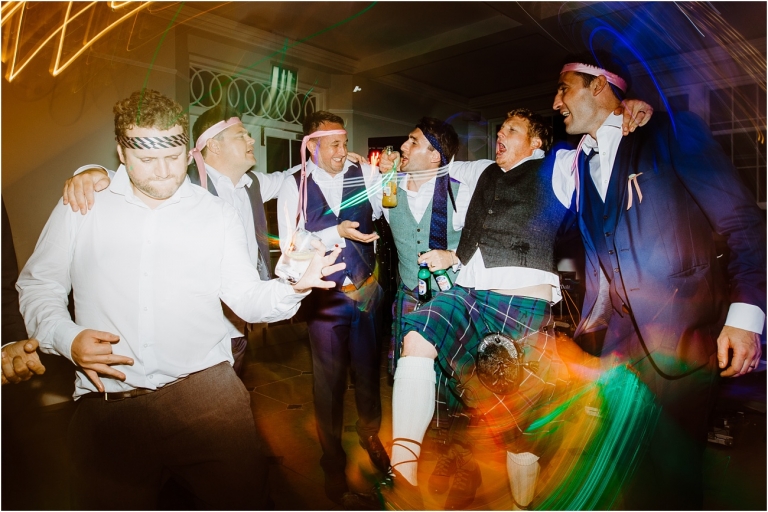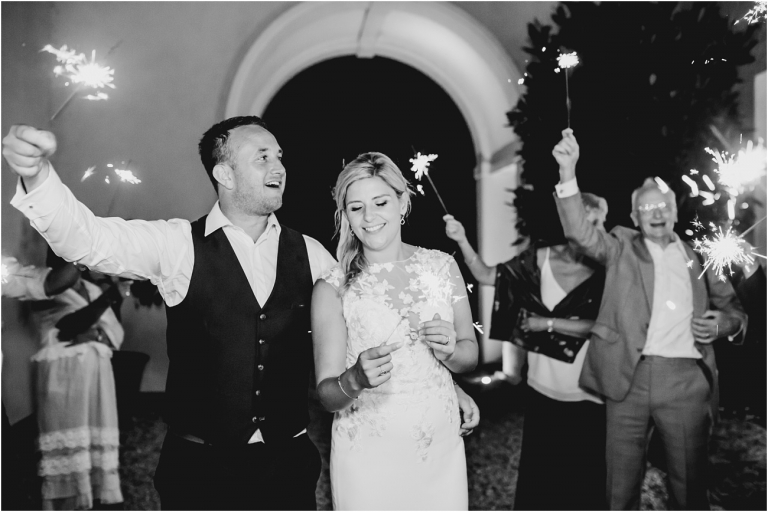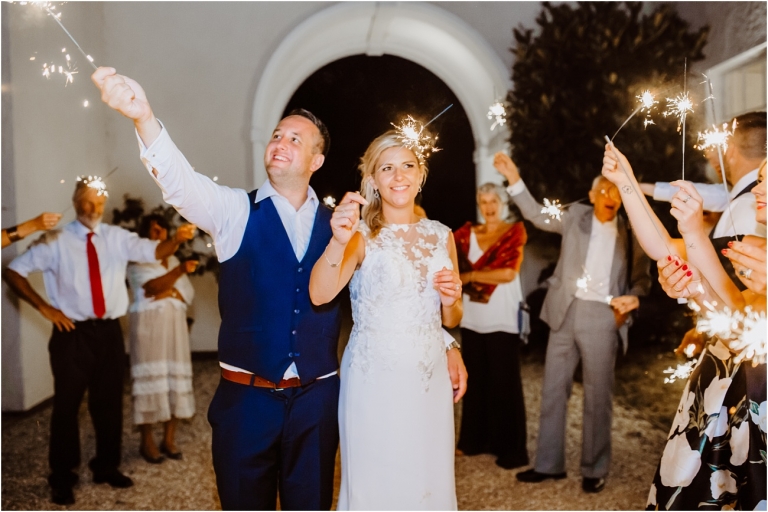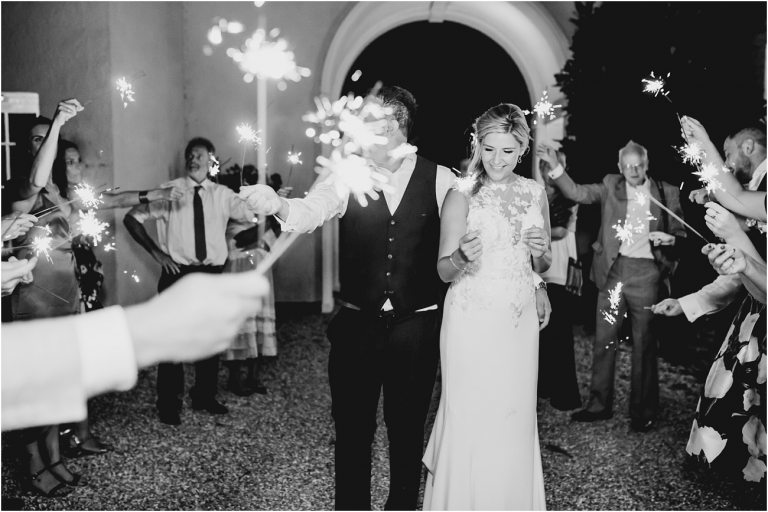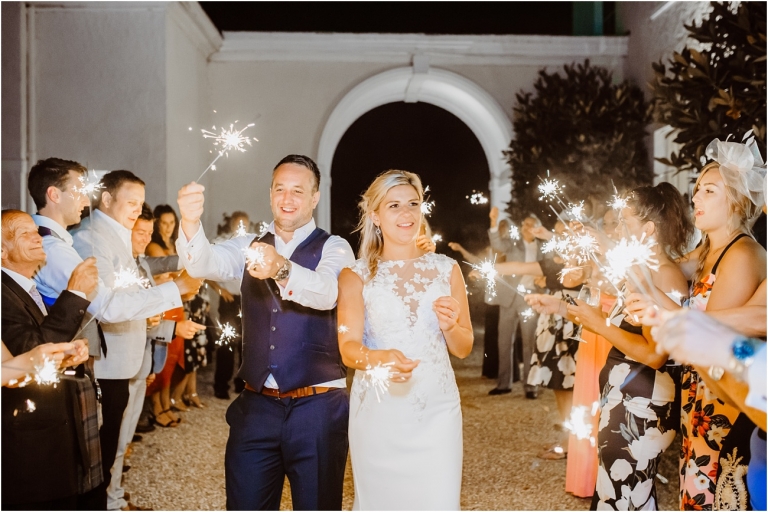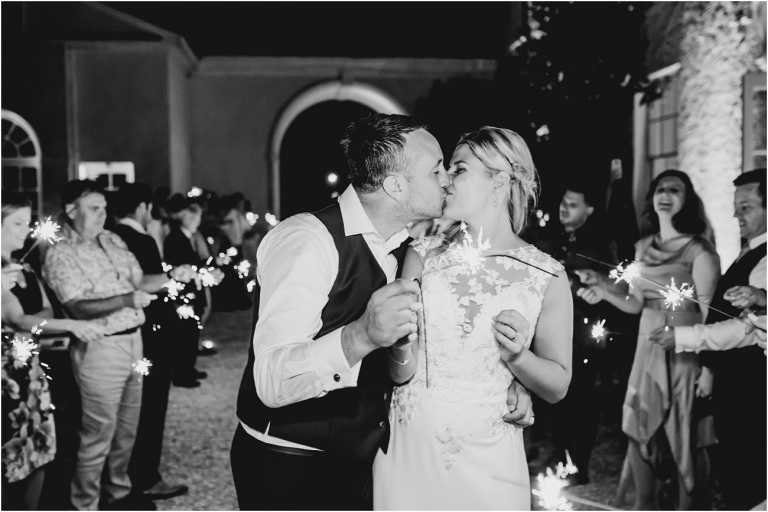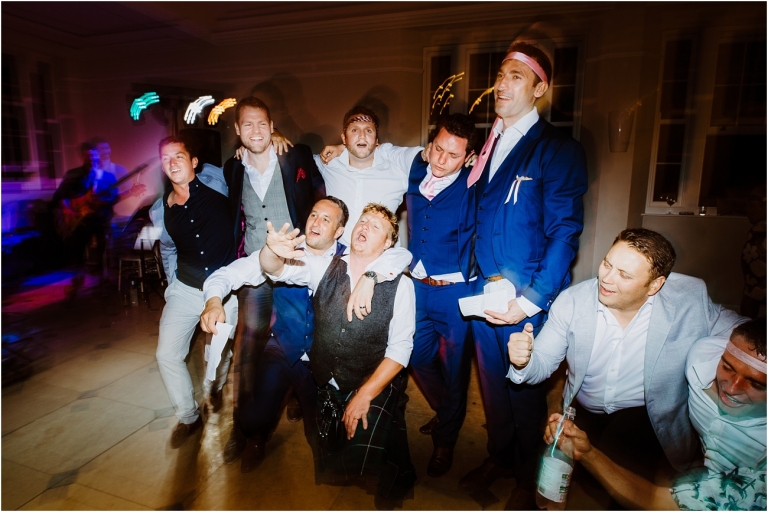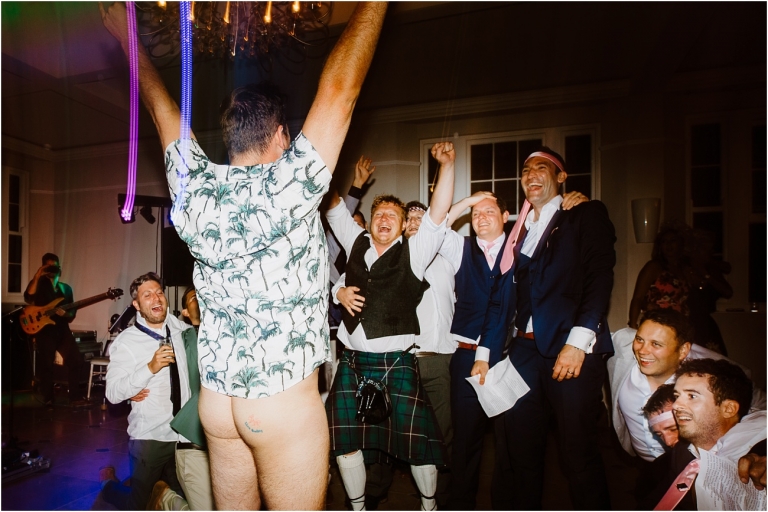 Hahaha! What an amazing day; thank you so much Ashleigh and Stephen for choosing me to photograph it!
If you are looking for a wedding photographer in Devon or Cornwall, then please check out my portfolio or get in touch! As always, please feel free to share or leave a comment below.
Holly xx
It doesn't matter how busy I am with weddings in June, I refuse to skip elderflower season! I have tried my hand at elderflower delight – but the best thing I have done with these cute little flowers is to make what is now a mandatory yearly tradition; elderflower champagne!
This brew is one of my favourites and is such a great summer drink. I have not seen it at a wedding yet but you can make large quantities of this and could be the ideal drink to keep guests happy! At the time of writing the flowers have long since vanished, to be replaced by another useful crop, the elderberry. However, if I can inspire some people to make this for 2019, then it will have been very worthwhile.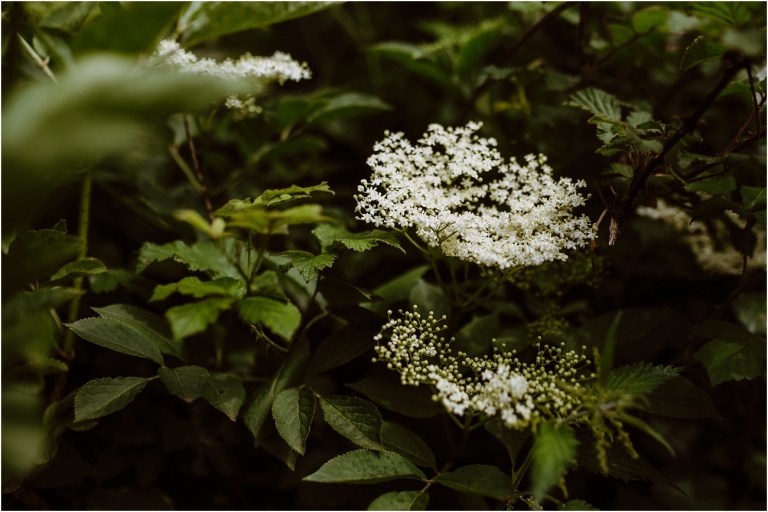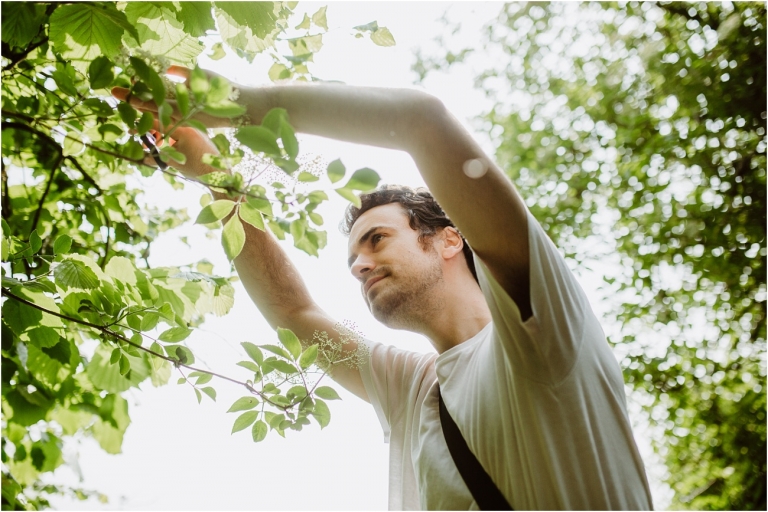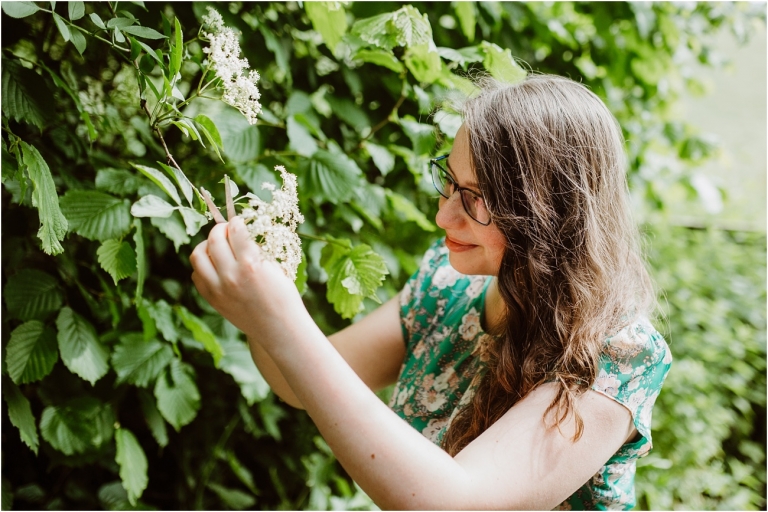 It all begins foraging fully bloomed elderflowers heads…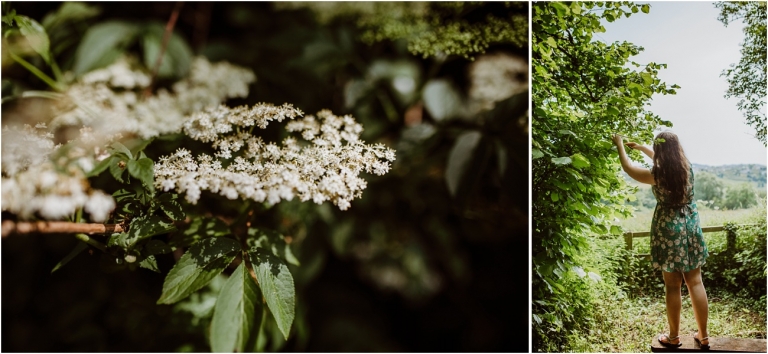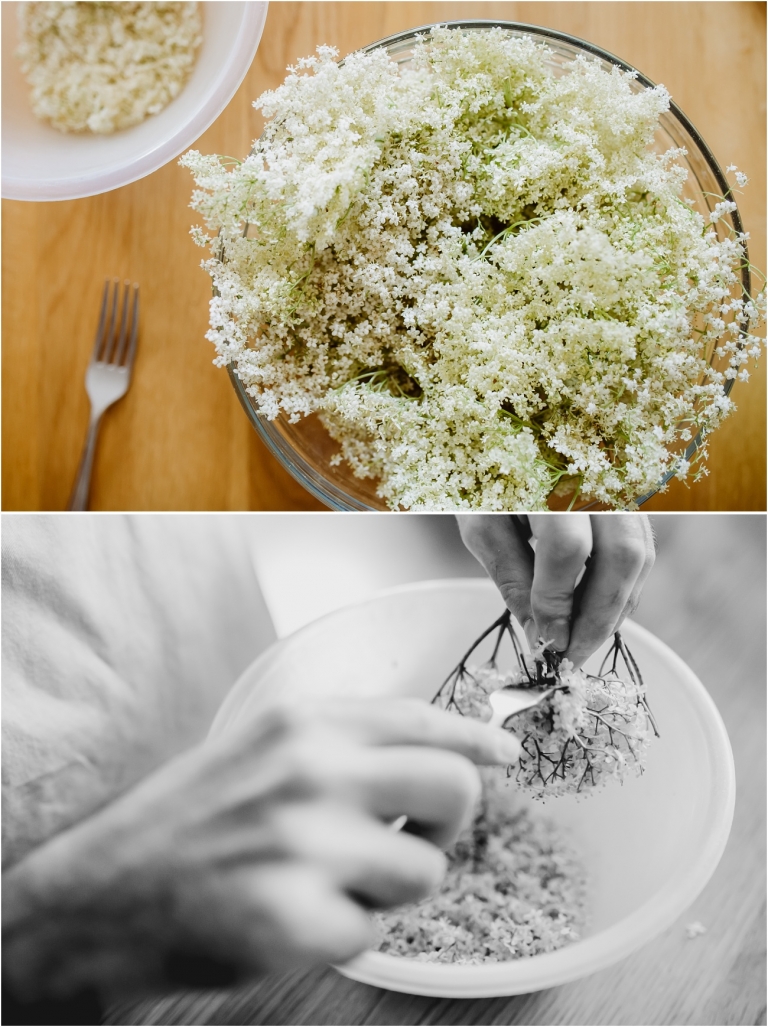 … then the elderflowers are removed with the tines of a fork…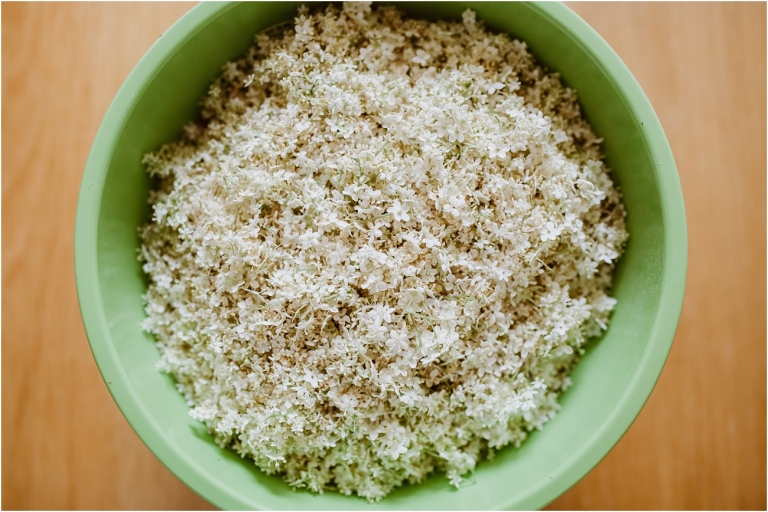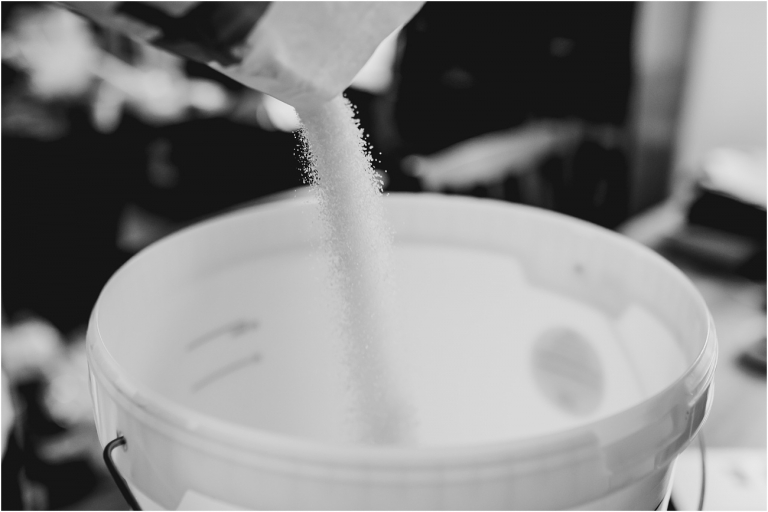 … and a lot of sugar is added! I was shocked when I started home-brewing at how much sugar goes into even a dry wine. This is mostly converted to alcohol by the yeast in the brewing process and the remainder gives the brew its sweetness.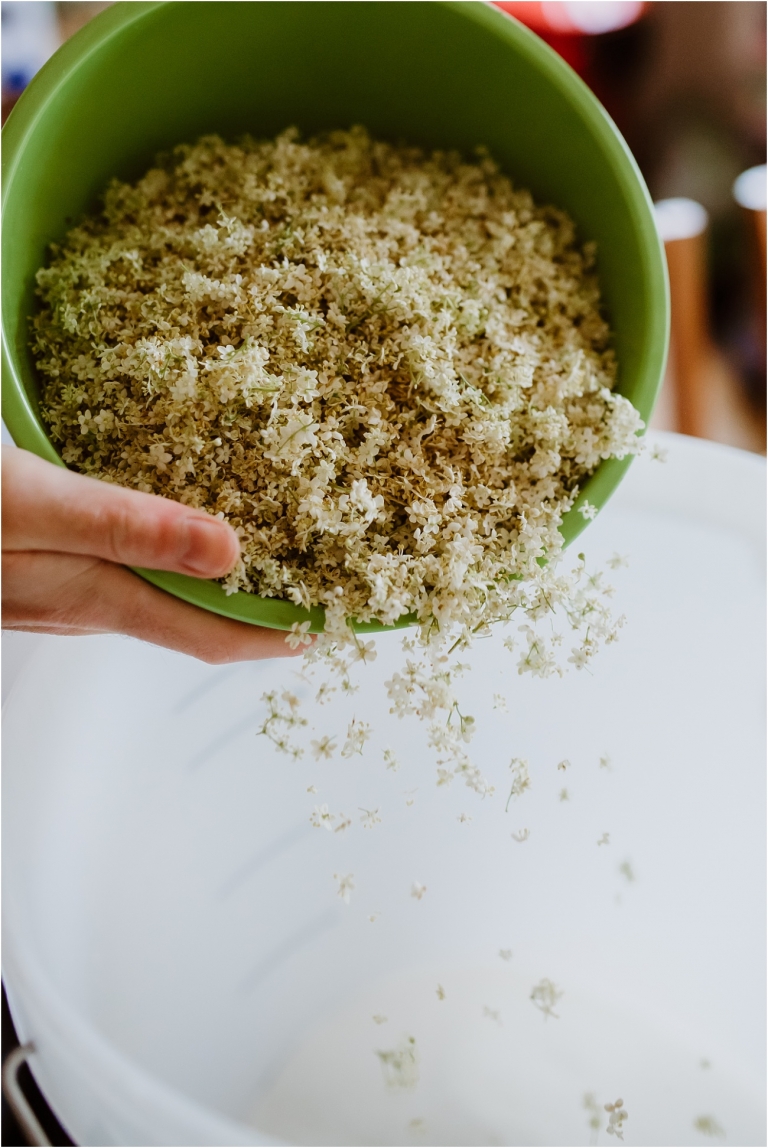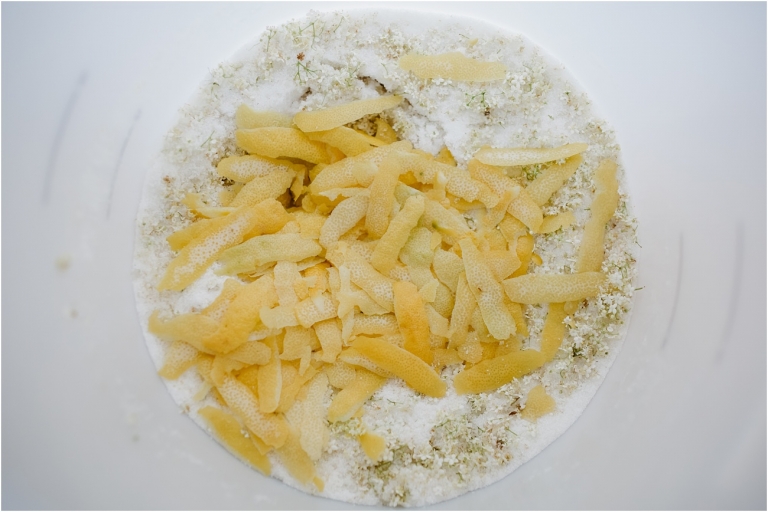 Lemon zest and juice adds flavour and acidity…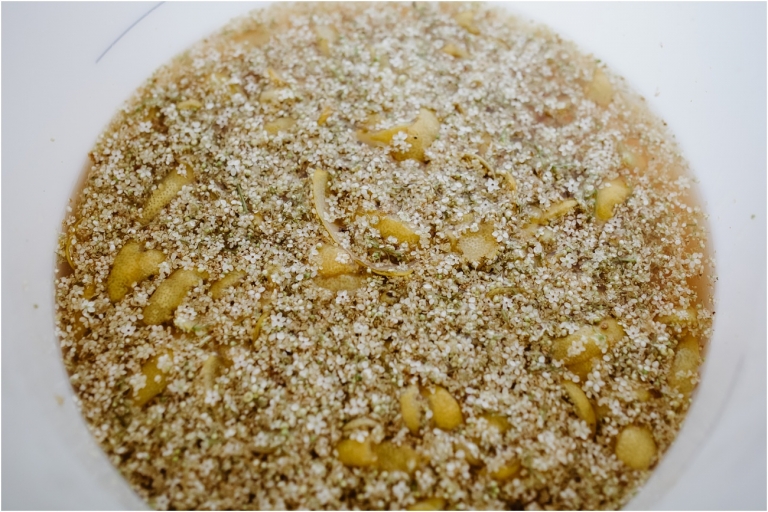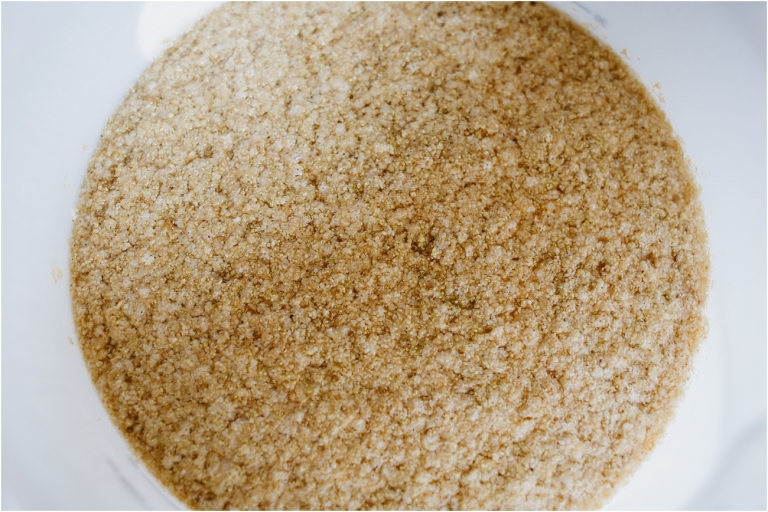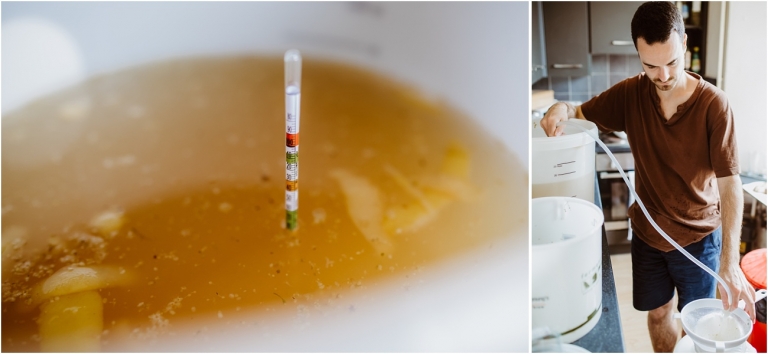 … and we use a hydrometer to make sure the amount of sugar is correct. Once it's fermenting away, we check to see when it is almost finished before we bottle it…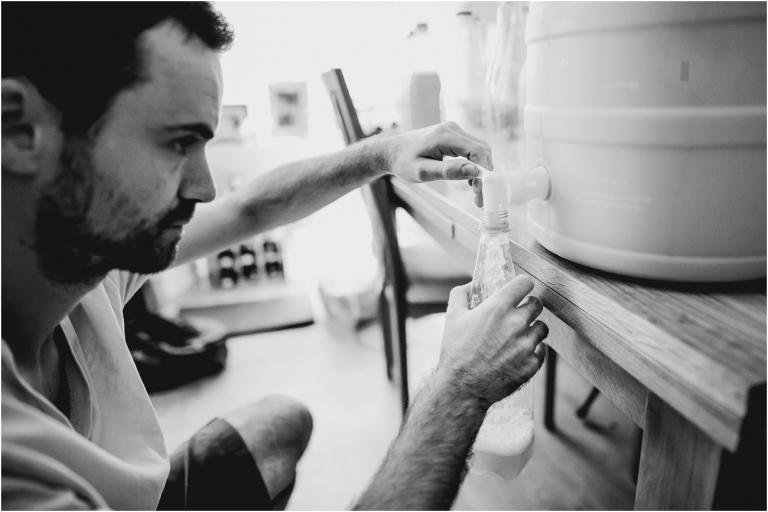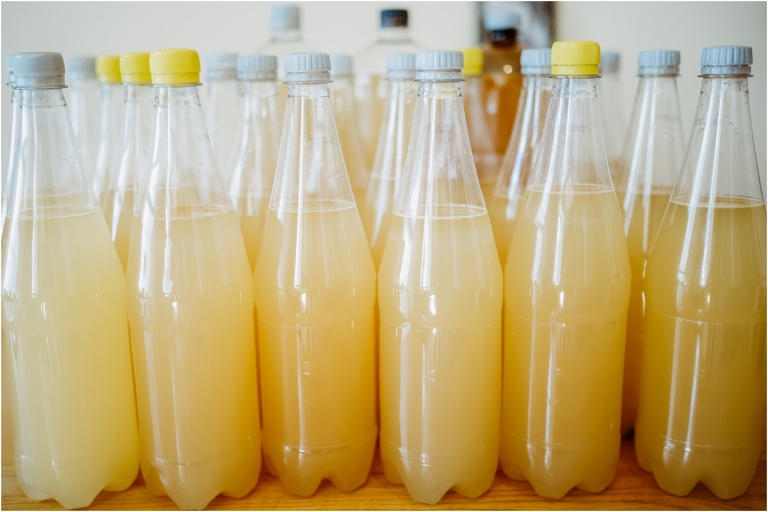 … and the fermentation continues in the bottle to give the champagne its necessary fizz!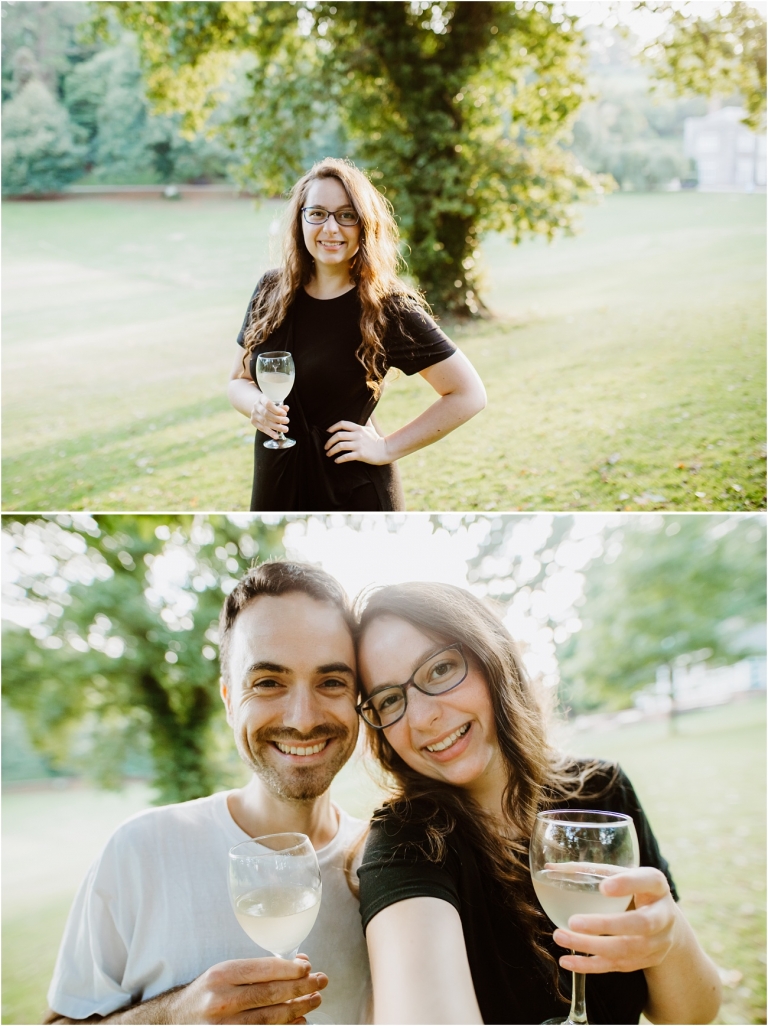 Here's to all my lovely couples who have got married this summer! Thank you for having me as your photographer and for making this year, and especially this summer, so amazing.
If you are looking for a wedding photographer in Devon or Cornwall, then please check out my portfolio or get in touch! As always, please feel free to share or leave a comment below.
Holly xx
This year I have been fortunate enough to photograph lots of weddings at venues I haven't worked at before, and I was very excited to be shooting Hannah and James's reception at Greenway in Devon. I am also a huge Agatha Christie fan, so Greenway was definitely on my "bucket list"! I had already met Hannah and James previously and knew that theirs would be an amazing wedding to photograph.
They thought it was important to be married at church, so the ceremony took place at the beautiful Our Lady Help of Christians and St. Denis Catholic Church in Torquay. Yet Hannah and James wanted to mix the traditional with something different. Their mutual love of the 1920s, combined with the Agatha Christie setting, produced an amazing art-deco effect for their reception. They gave it all a colourful, modern twist with the flowers and bridesmaid dresses, and everything worked so well together. Enjoy!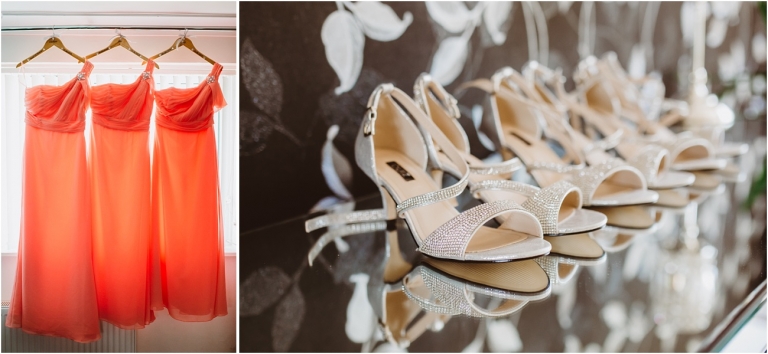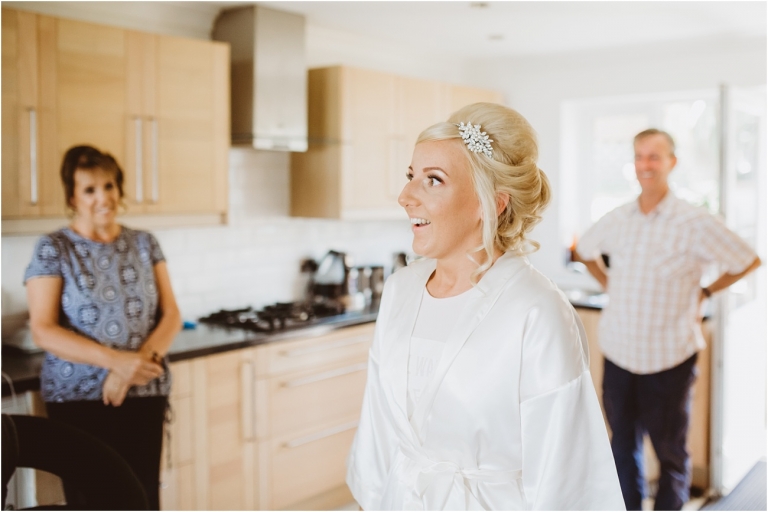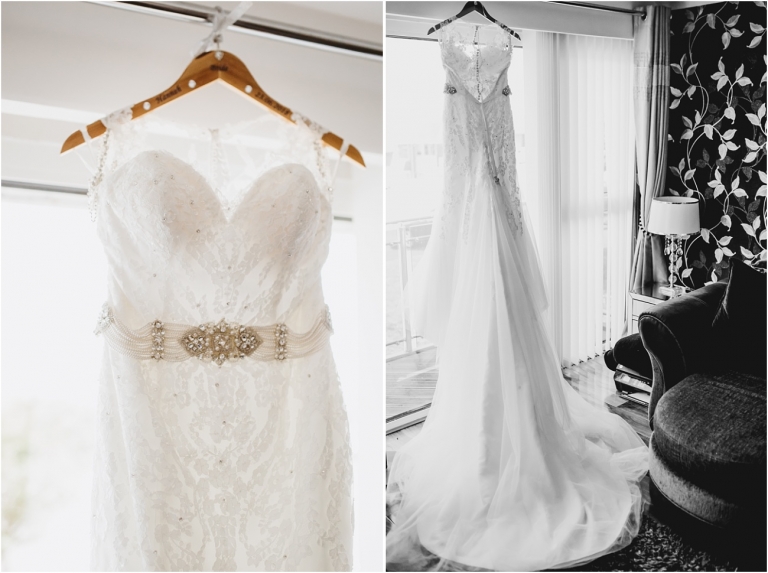 Hannah's dress, shoes, bridal headpiece and the bridesmaids' dresses were all from Pirouette in Exeter.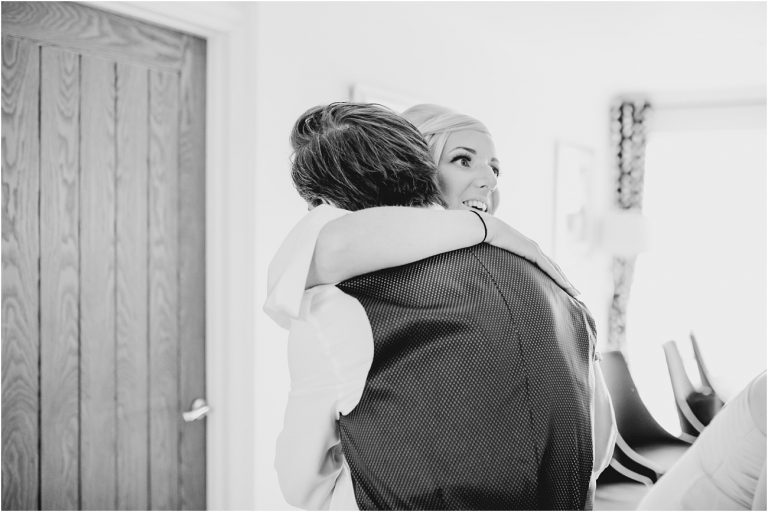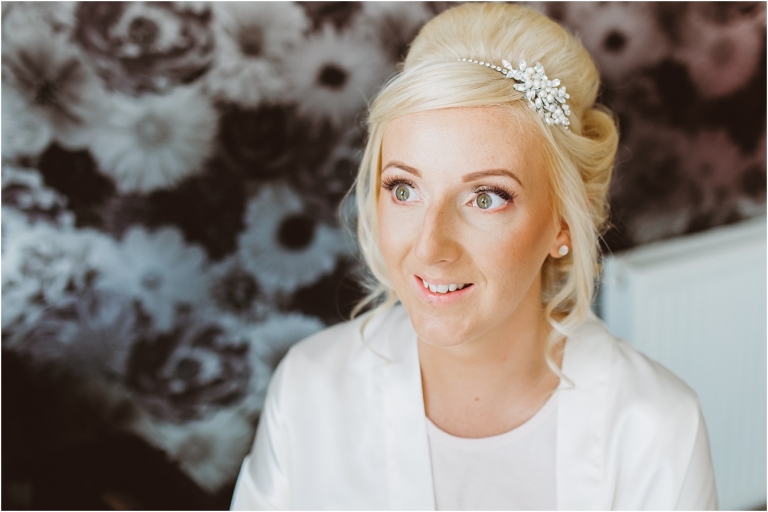 Hannah's makeup was by Browella in Torquay.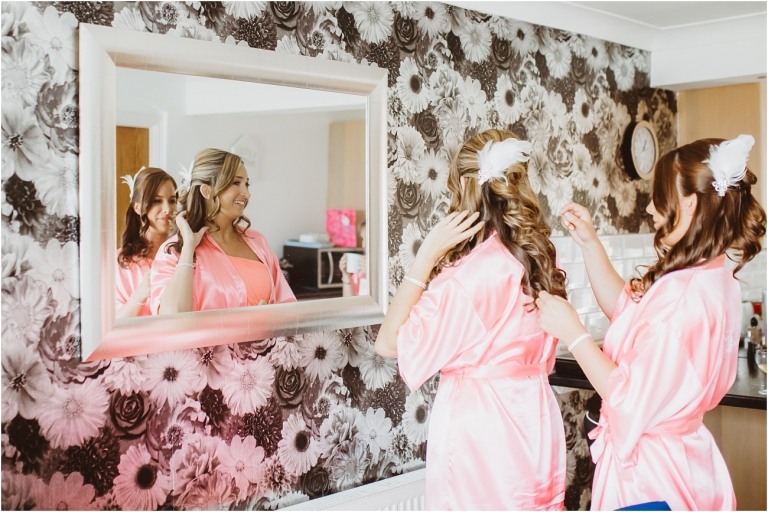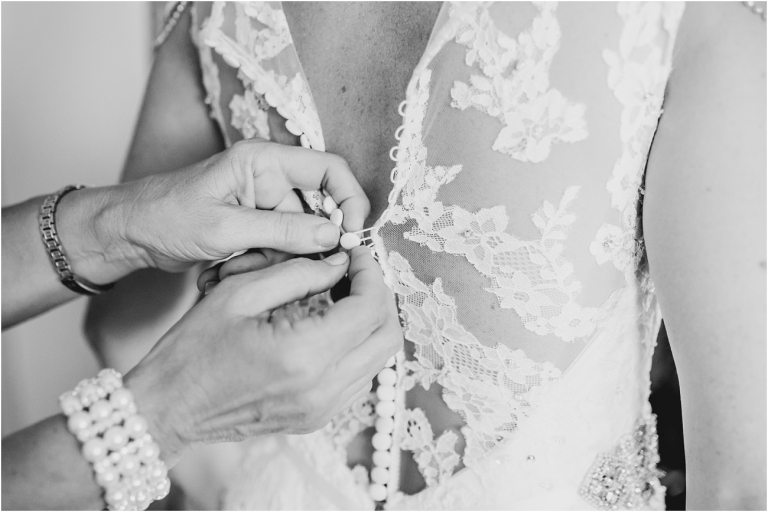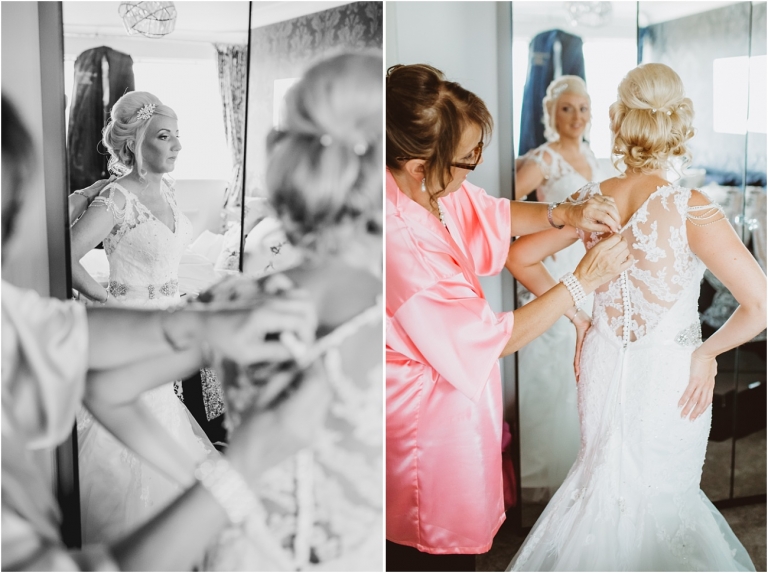 The sleeves on Hannah's bridal dress were designed bespoke by Sarah Goodies at Pirouette with a 1920s twist, and each sleeve was hand-beaded for the perfect art-deco look.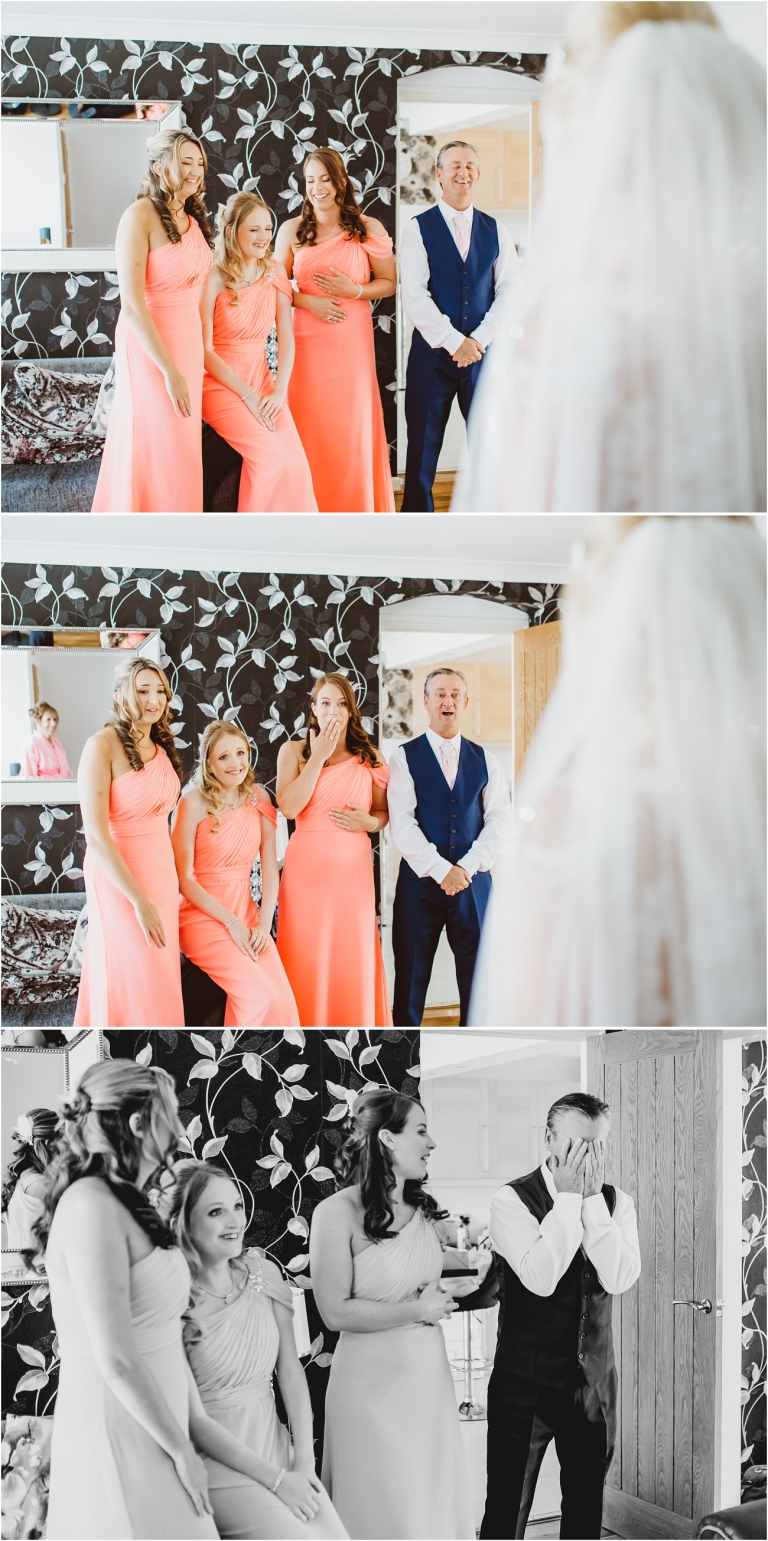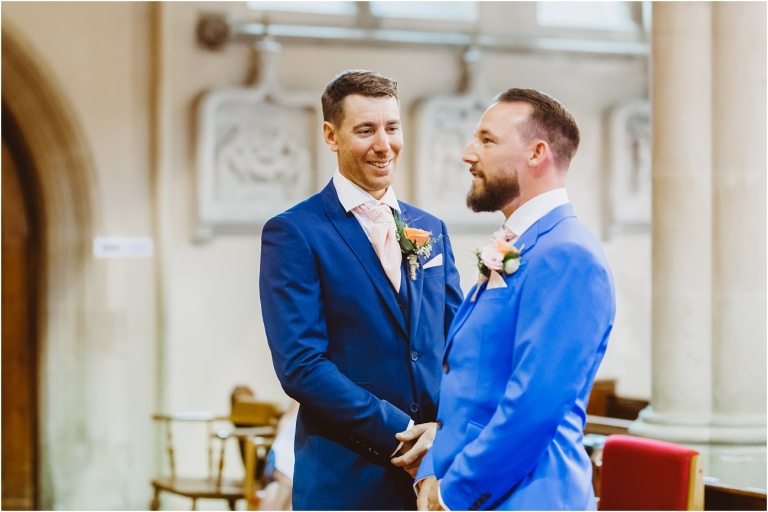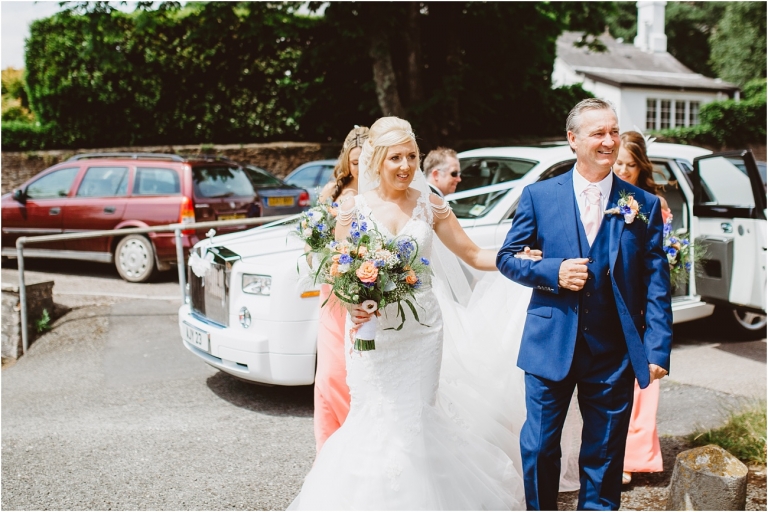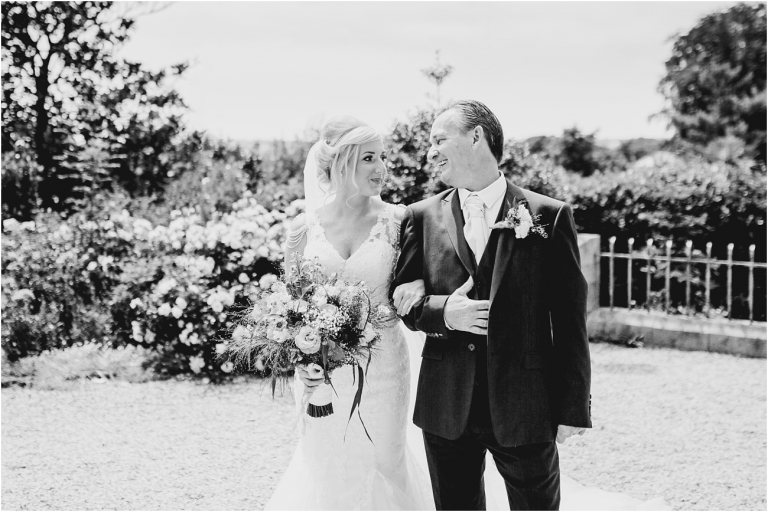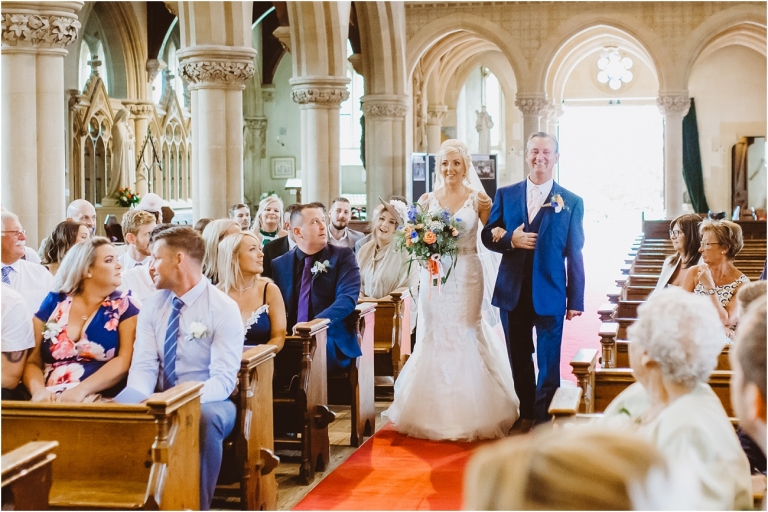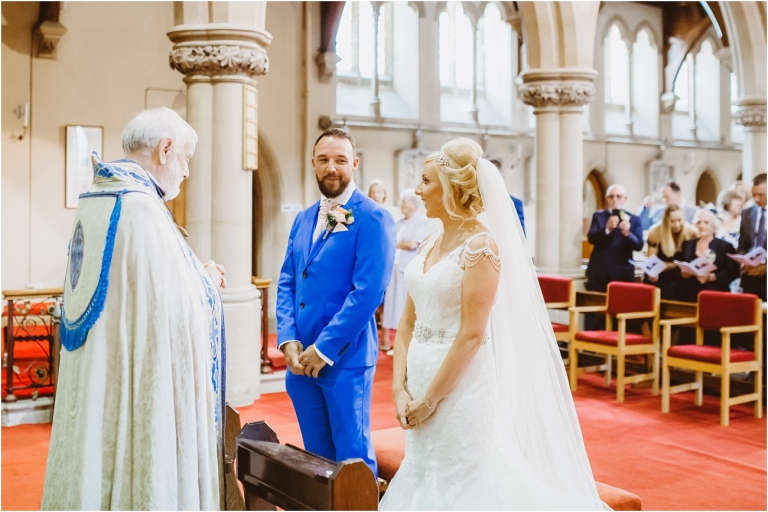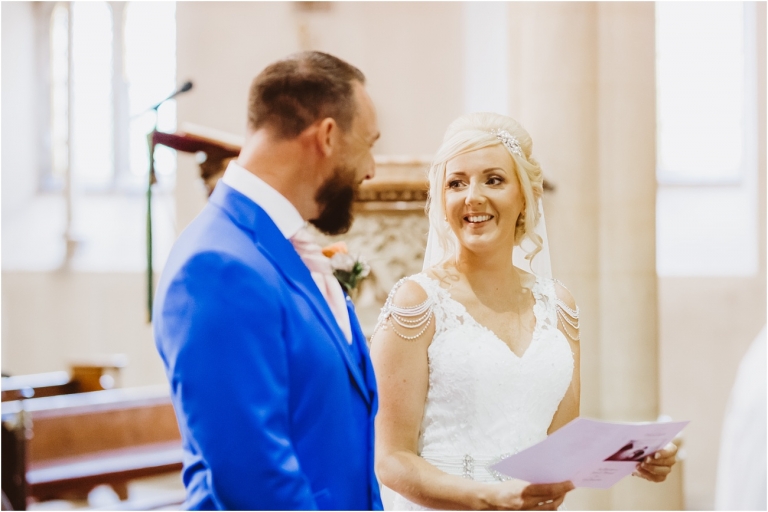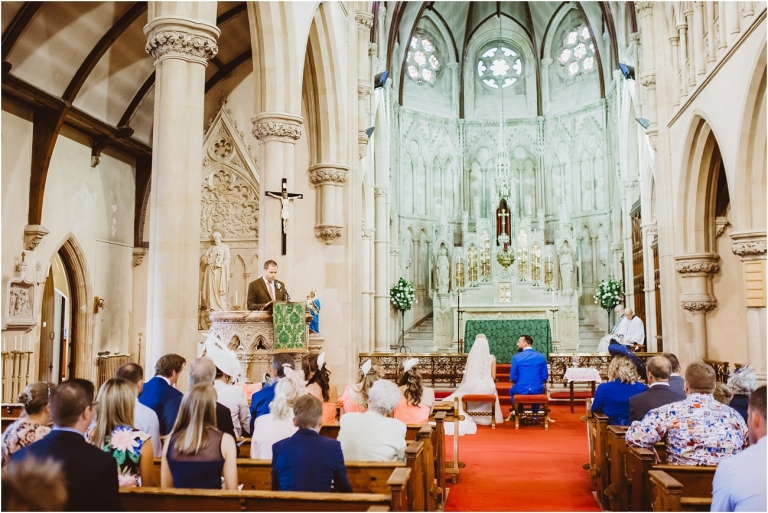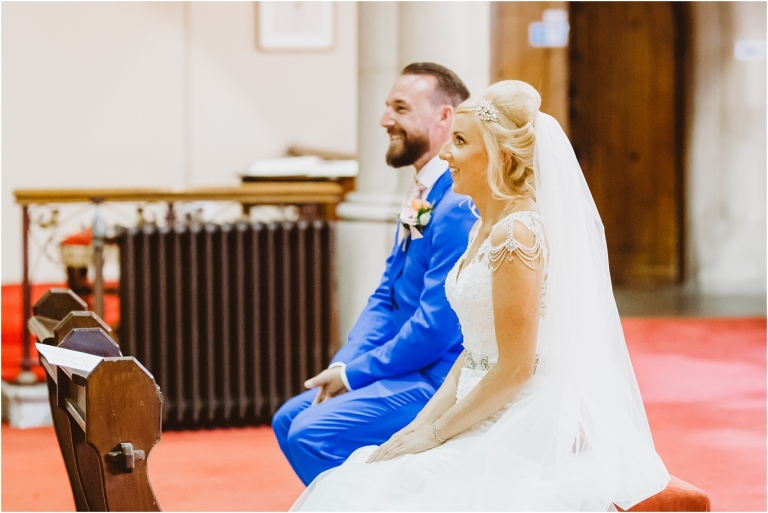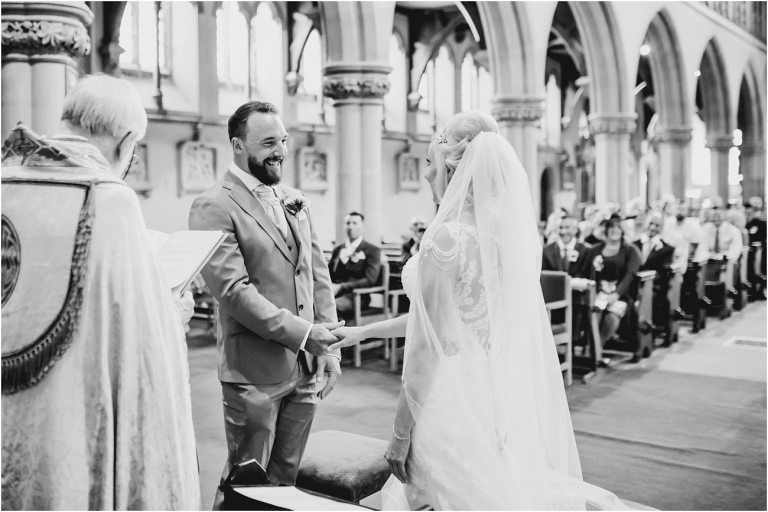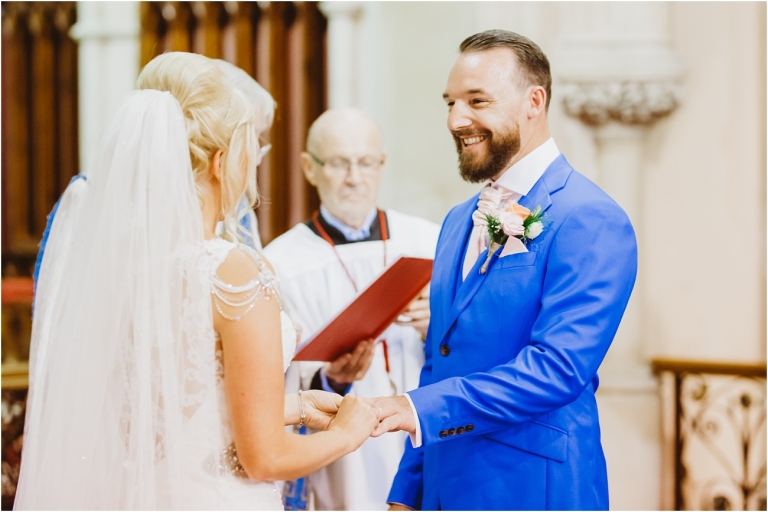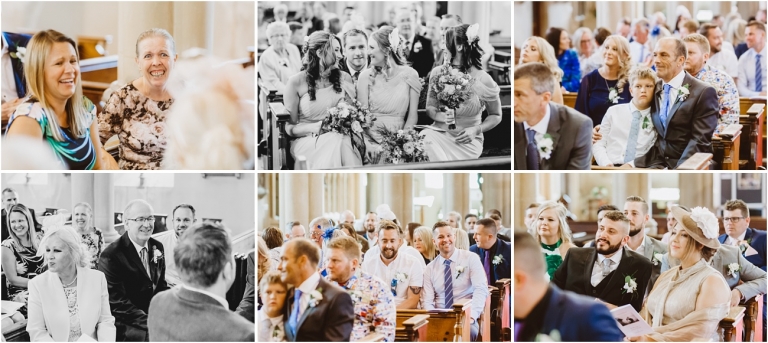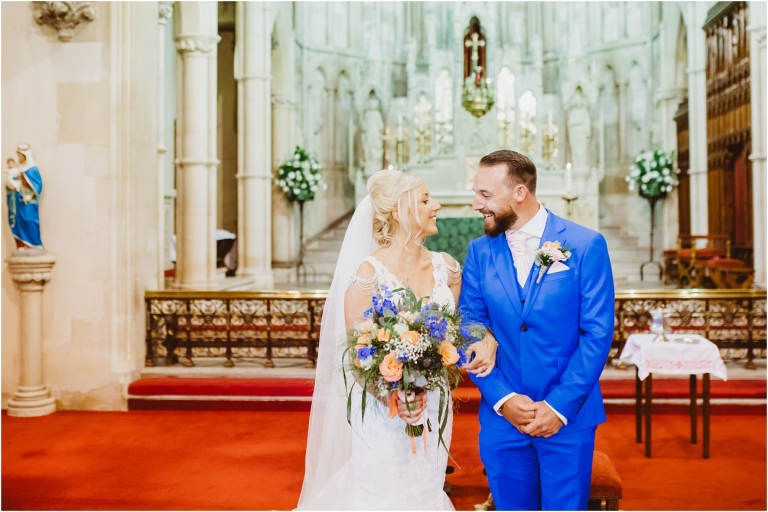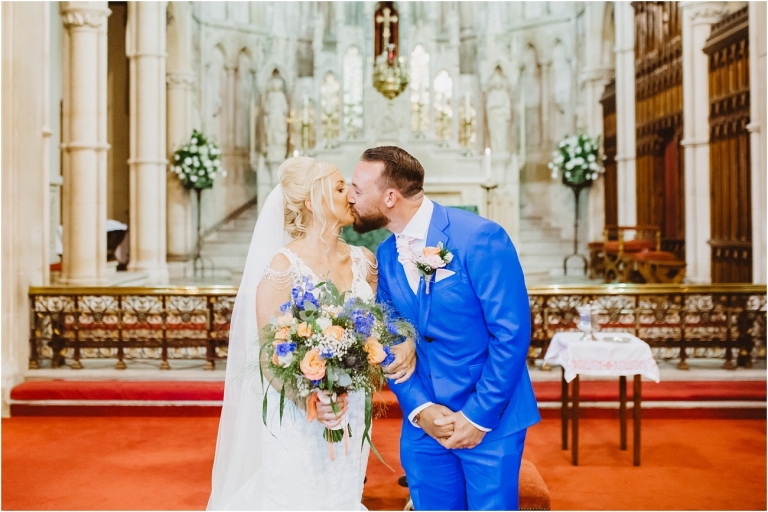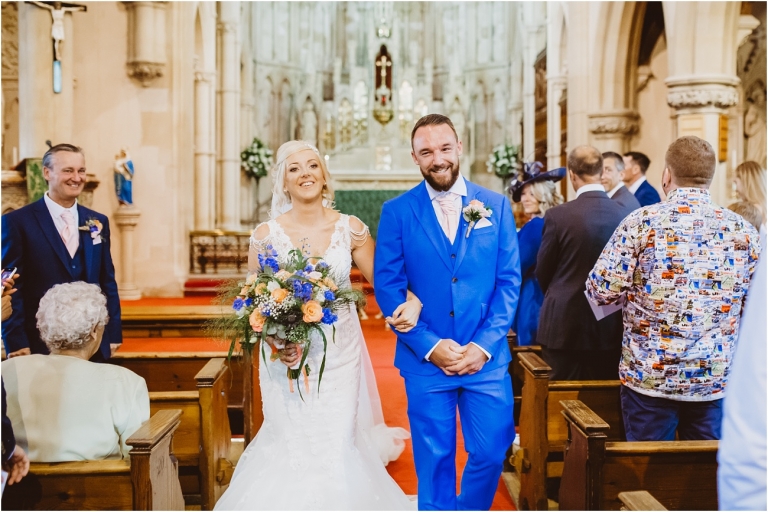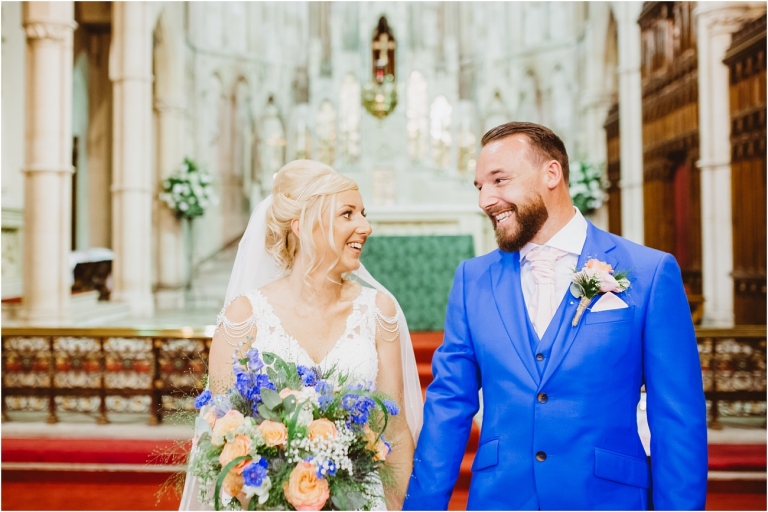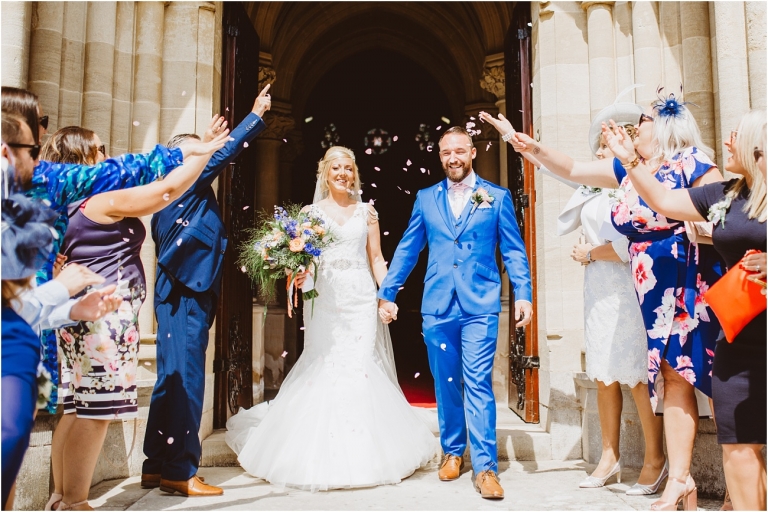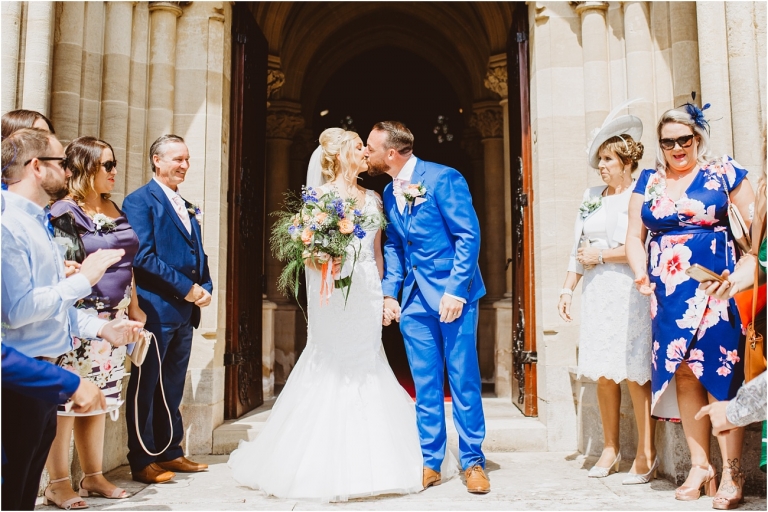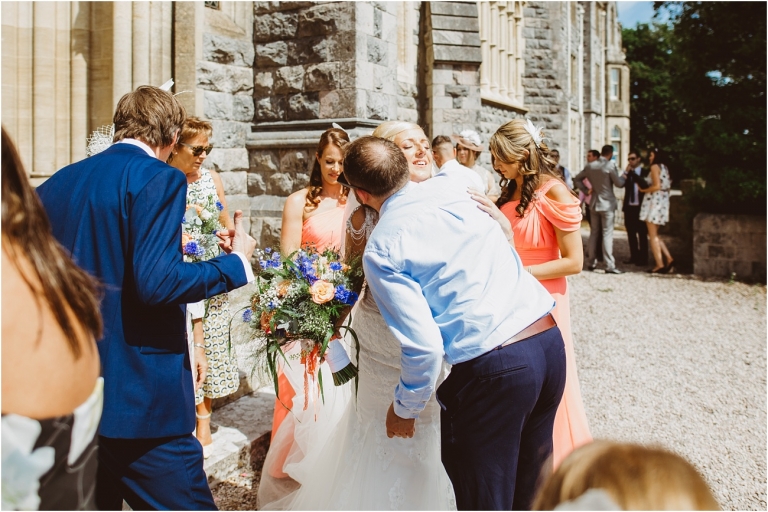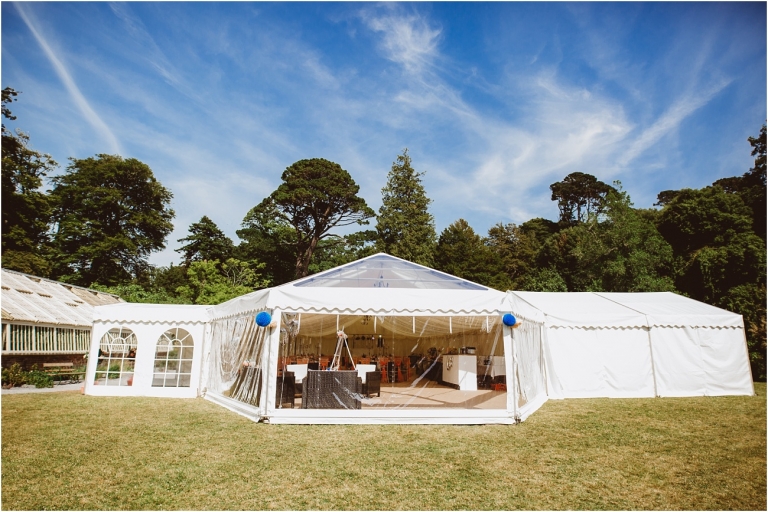 Hannah and James's reception was in the grounds of Greenway in Devon. The light and spacious marquee was provided by Marldon Marquees.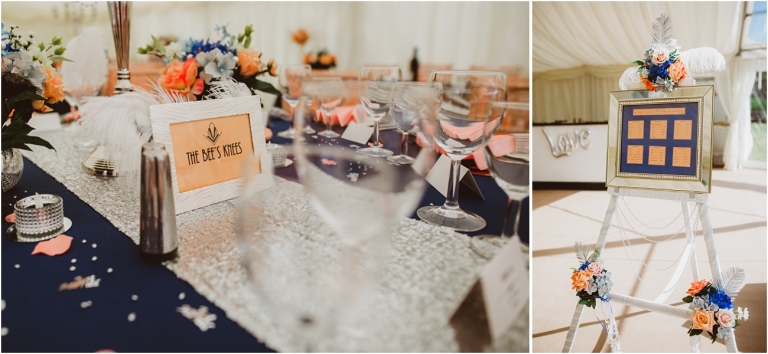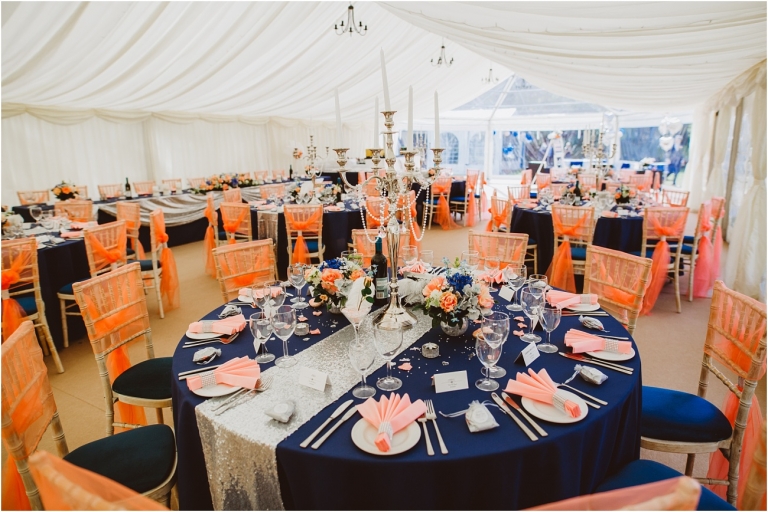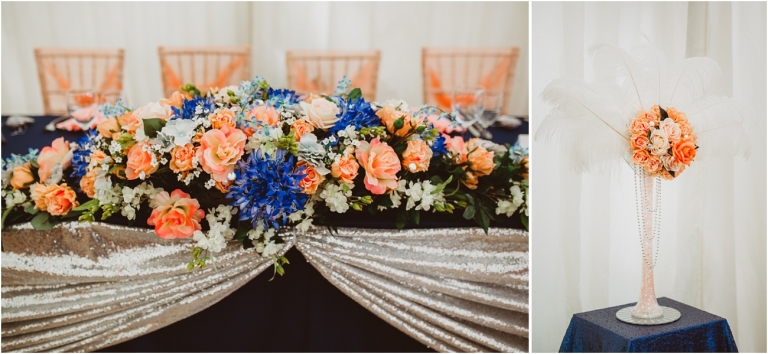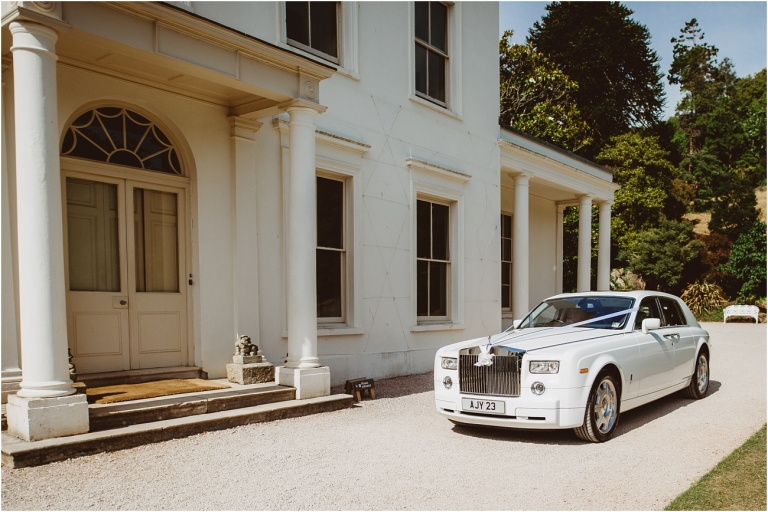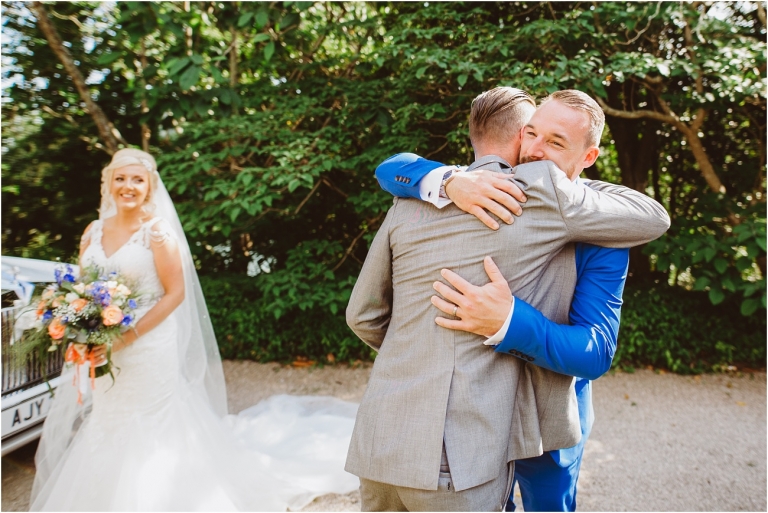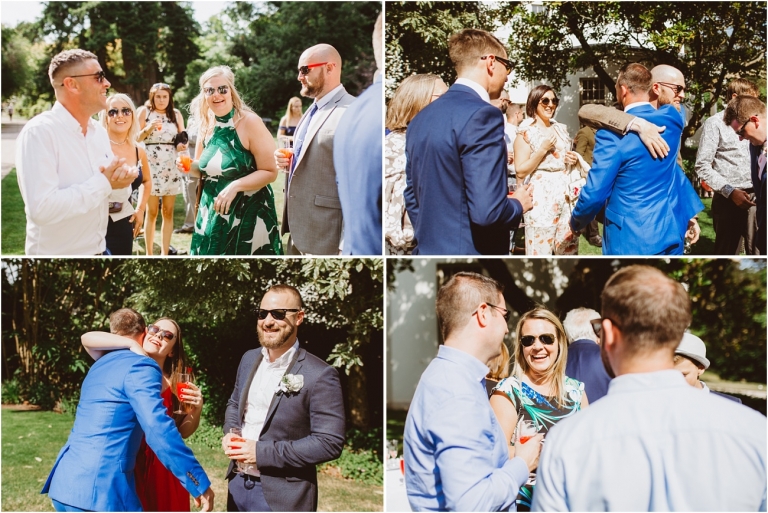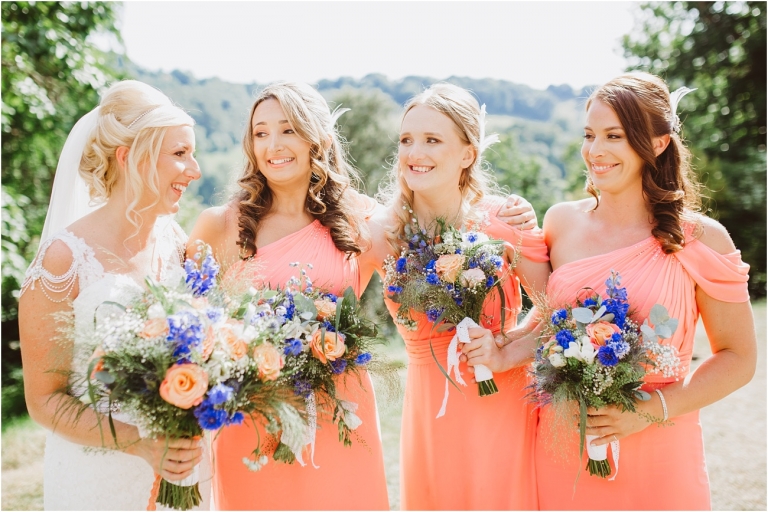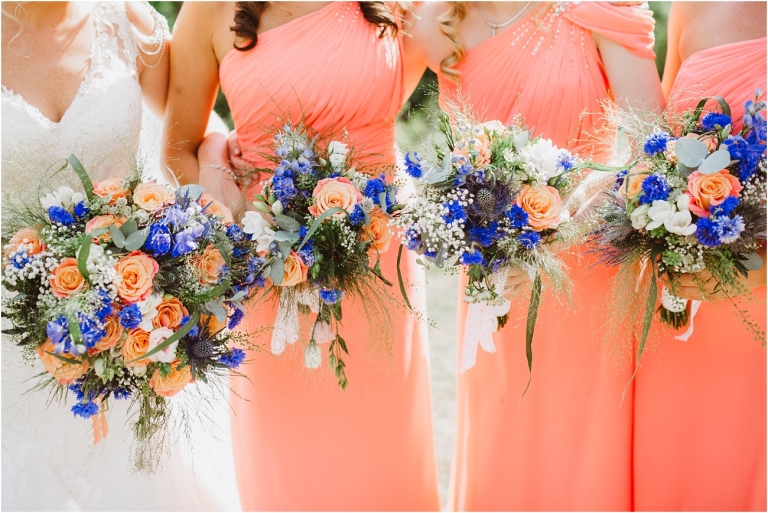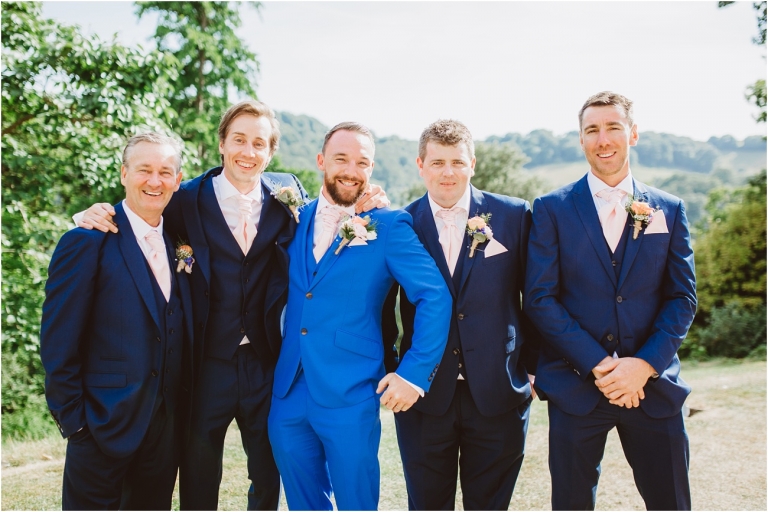 I absolutely loved James's fantastic wedding suit from Zebel Bespoke! The other mens' suits were provided by the excellent Sawyers of Torquay.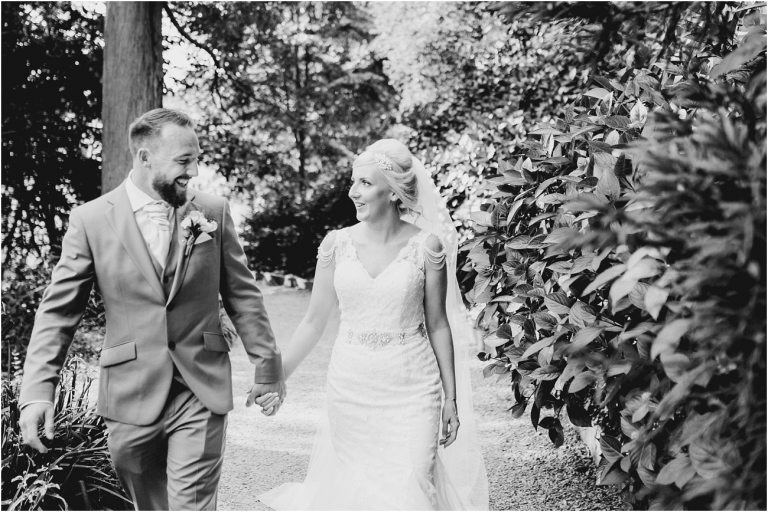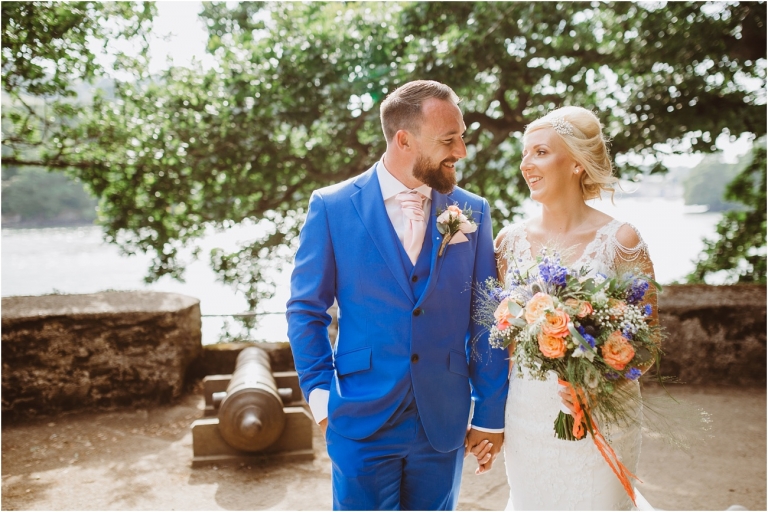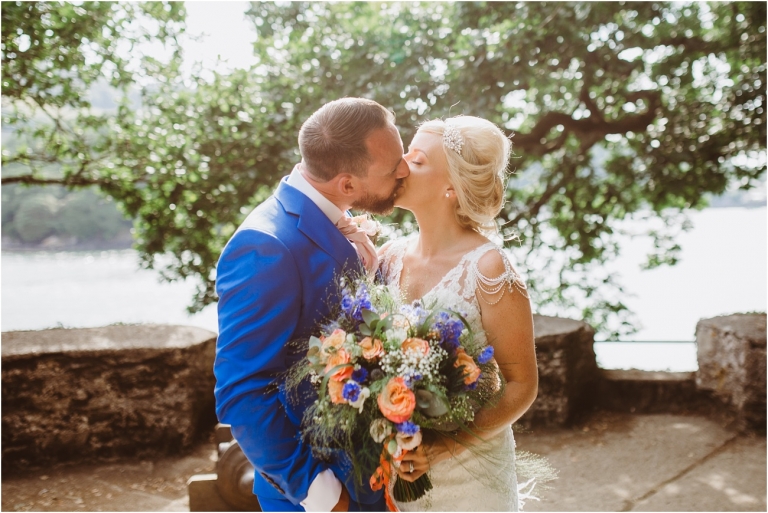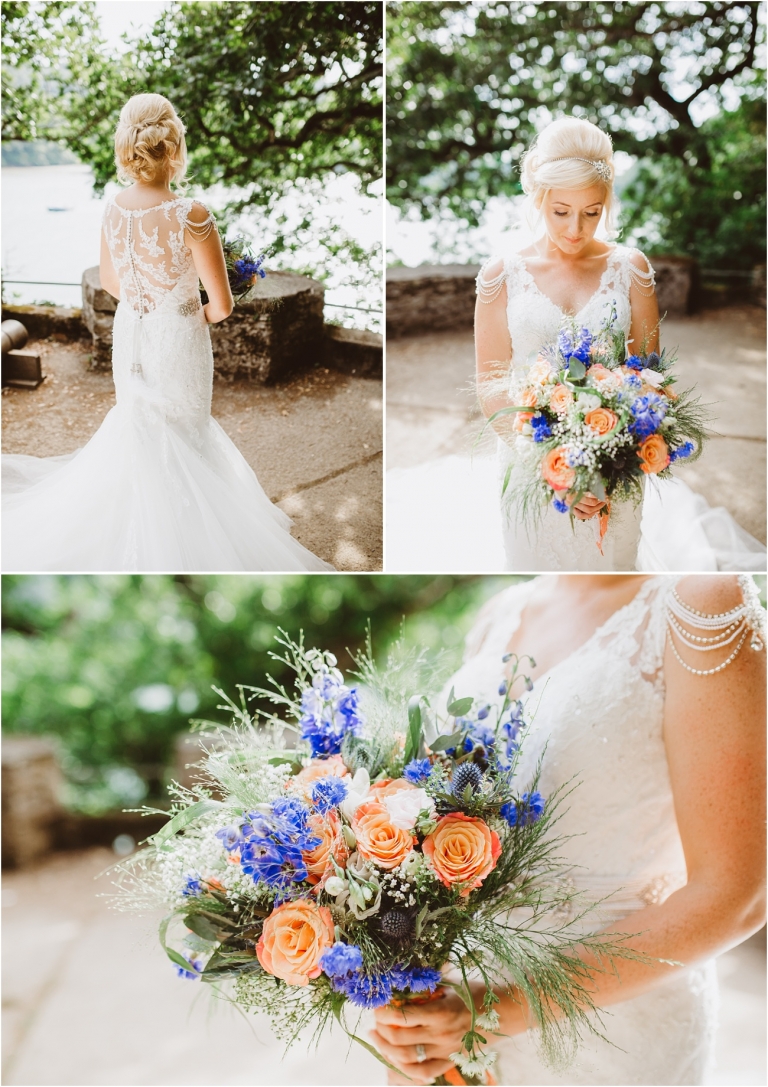 Everything at Hannah and James's wedding worked so well together and the flowers and the bouquets, provided by Fiesta Red, were absolutely stunning!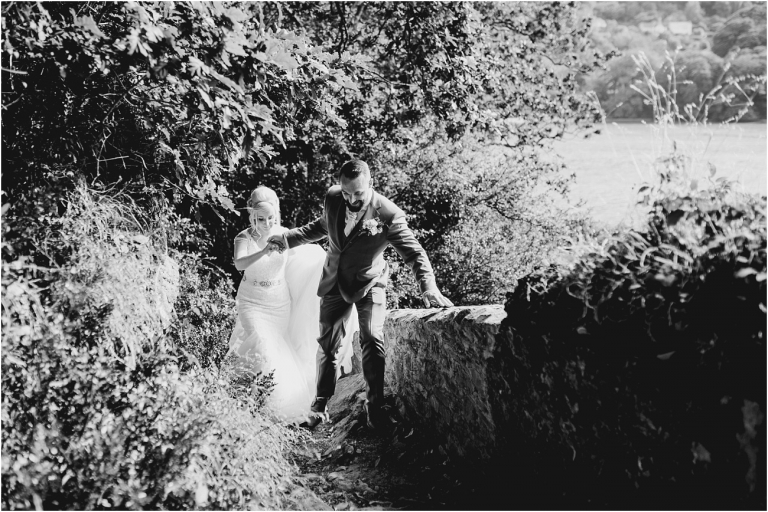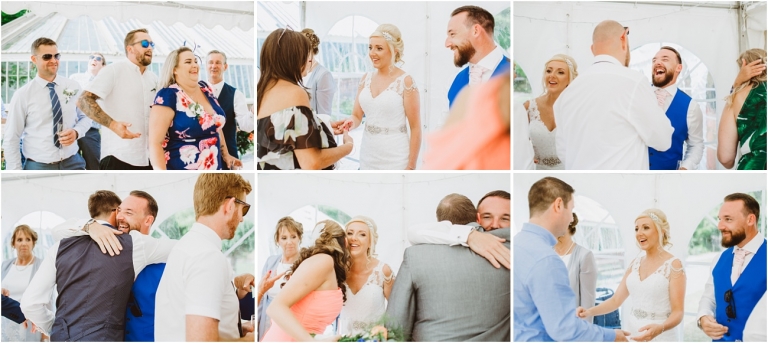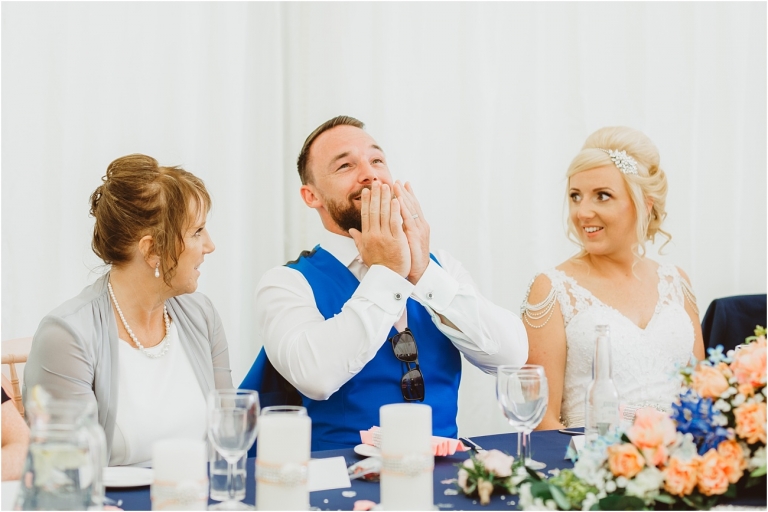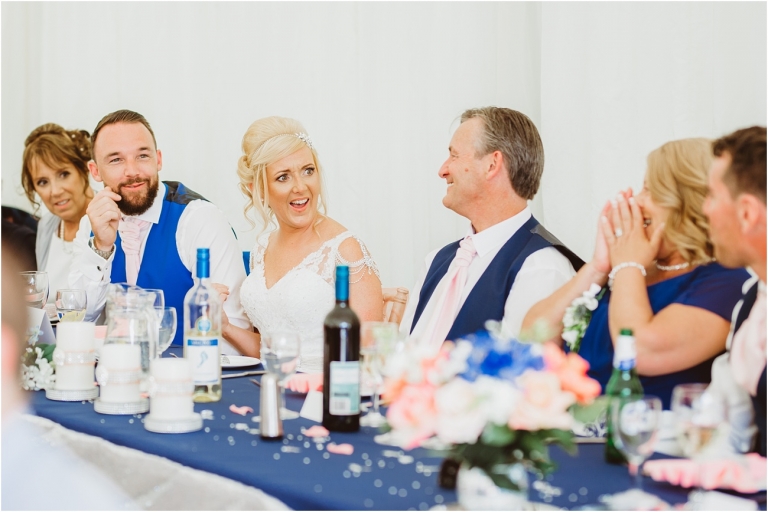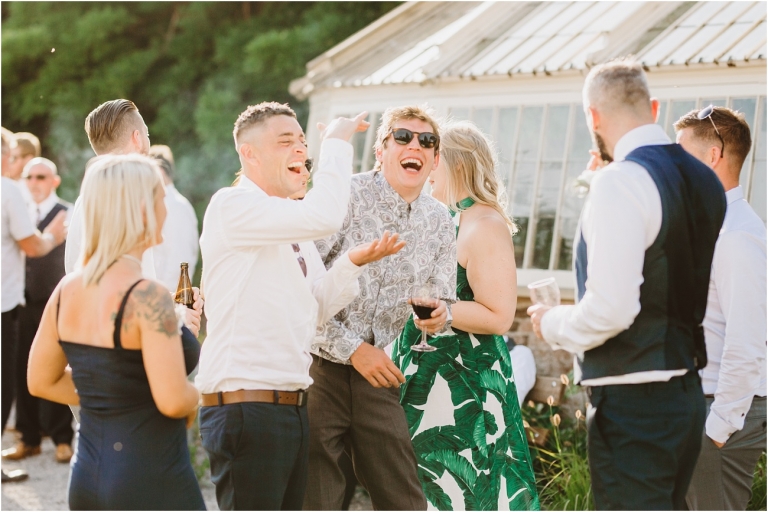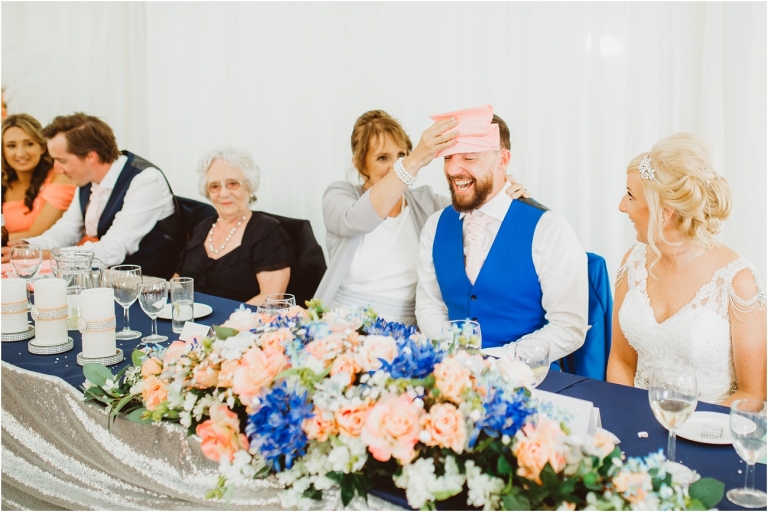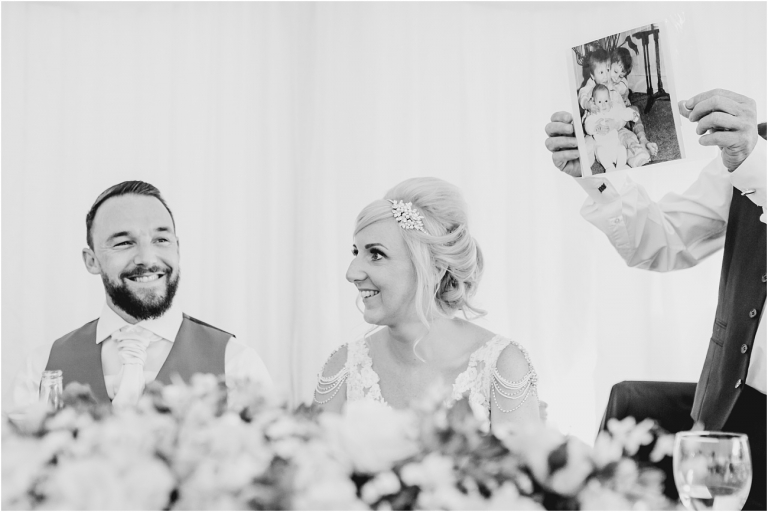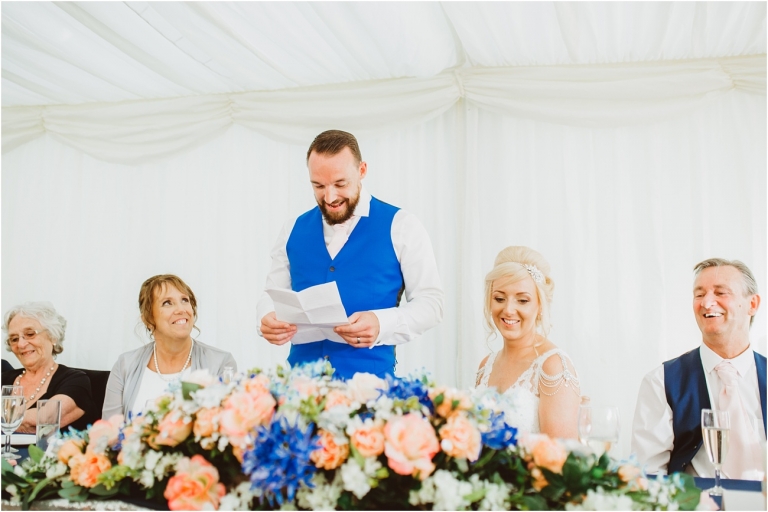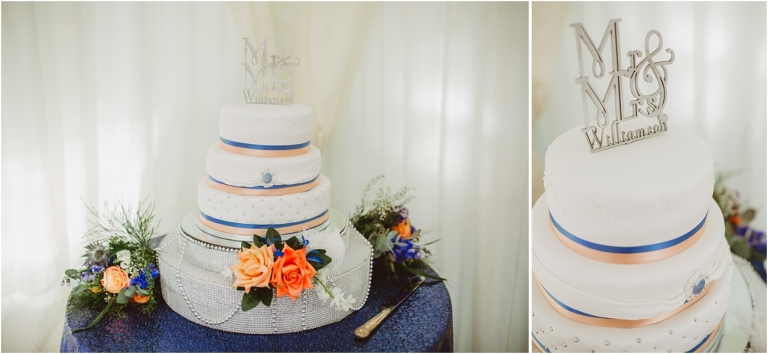 The cake was provided by Torquay bakery A Piece of Cake.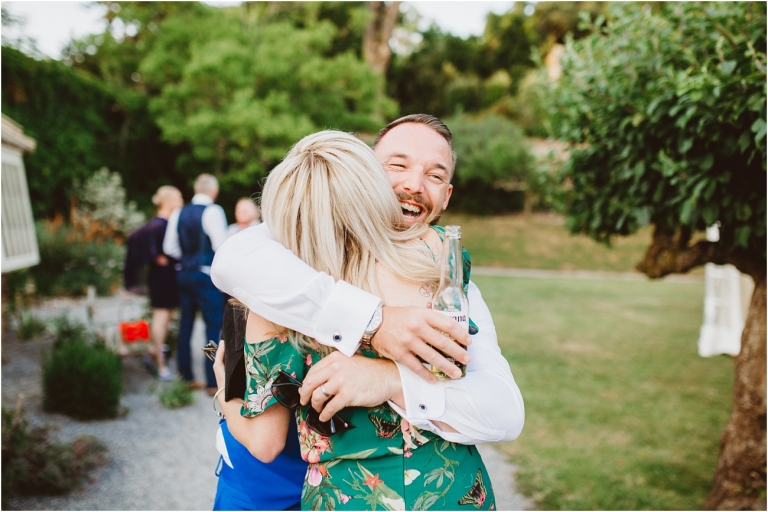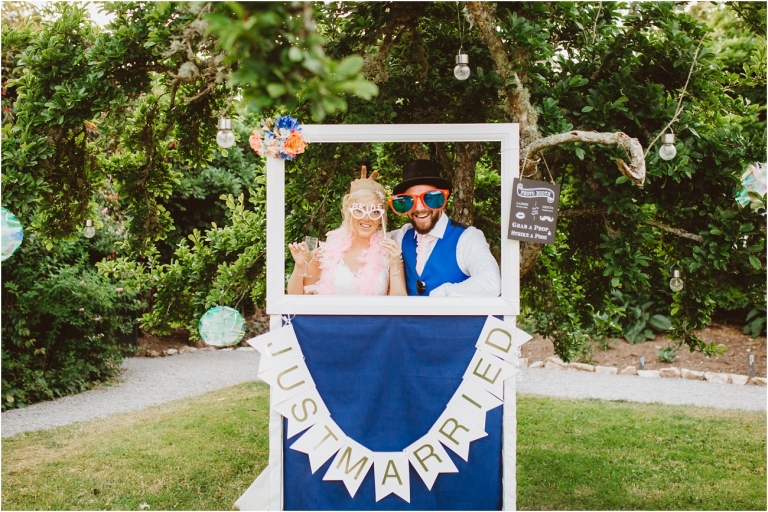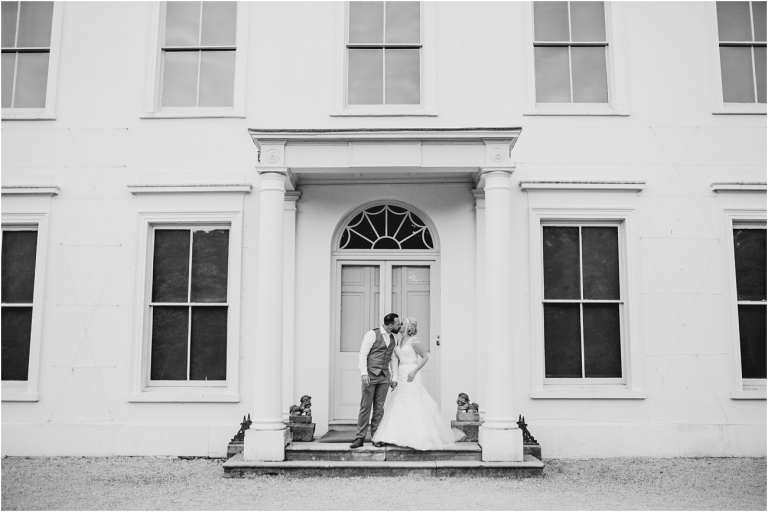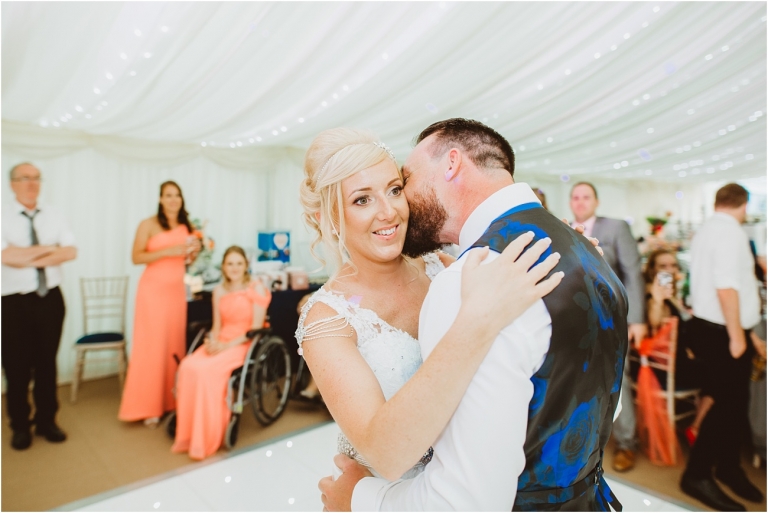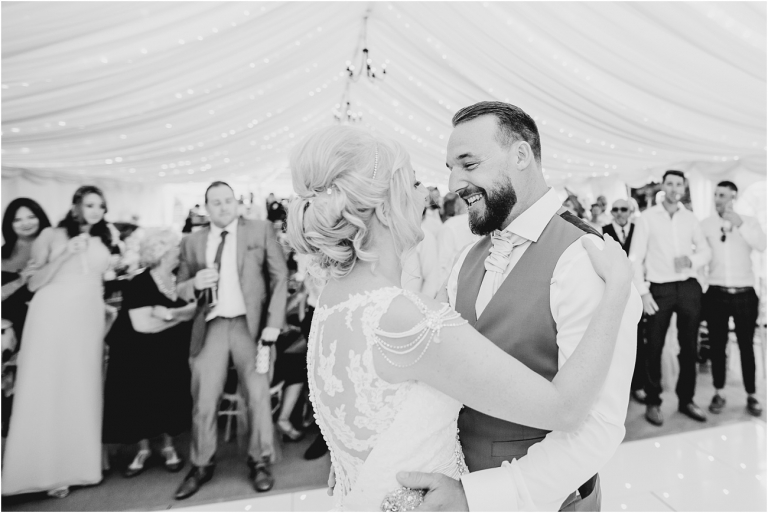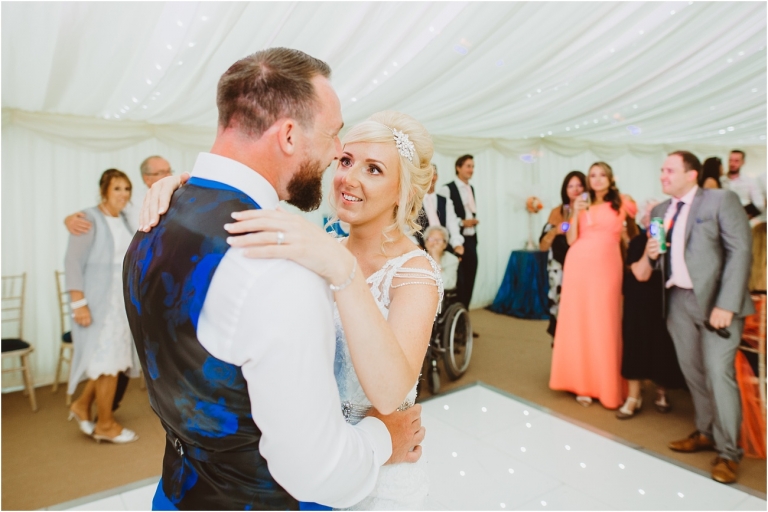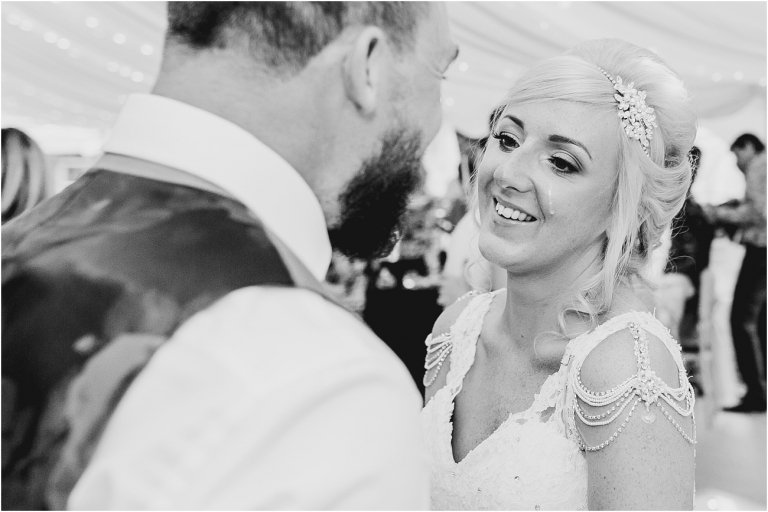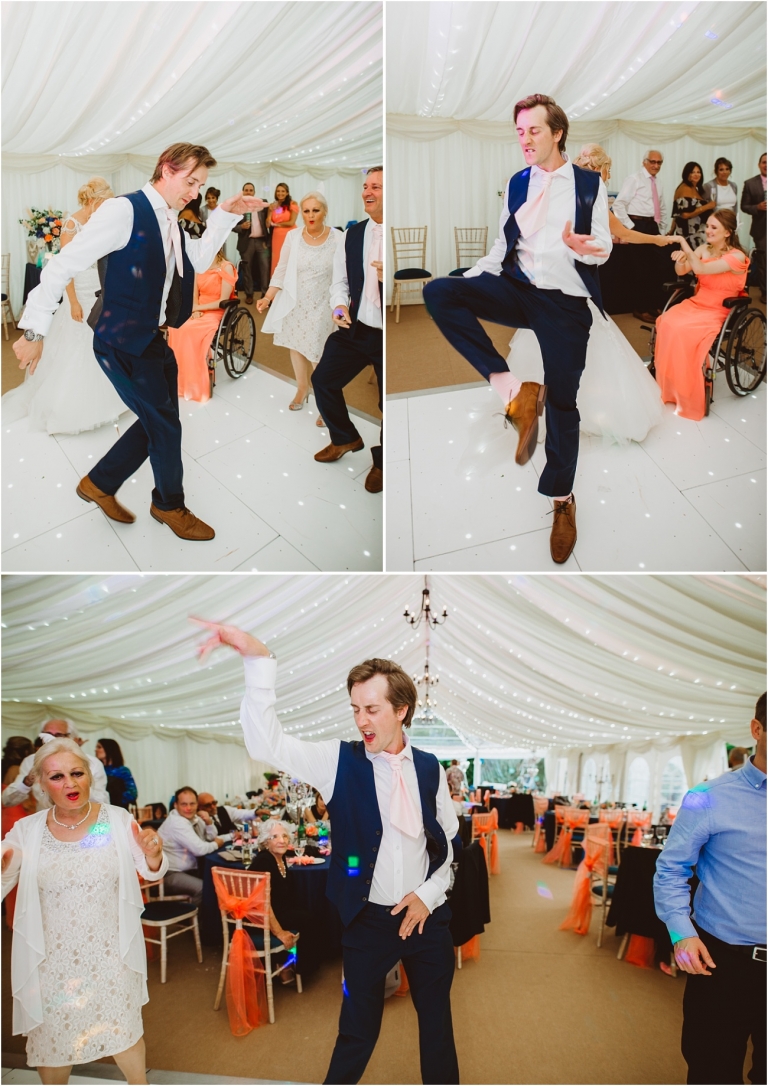 I hope my photos show off the fact that Hannah's brother could just dance!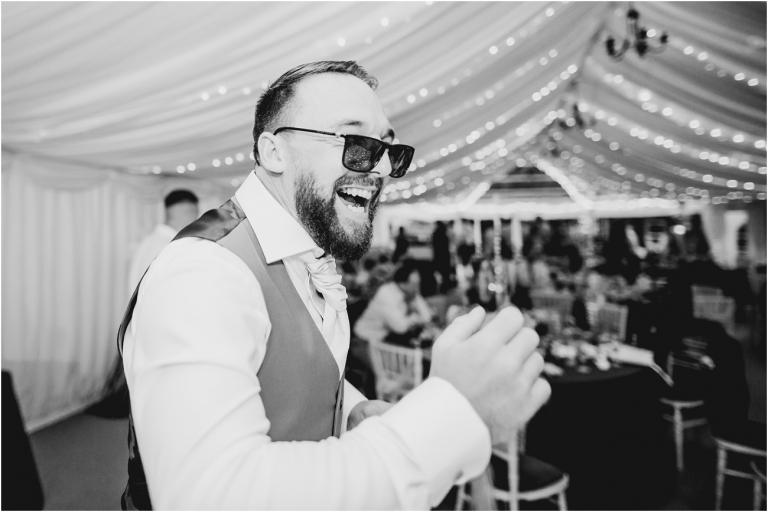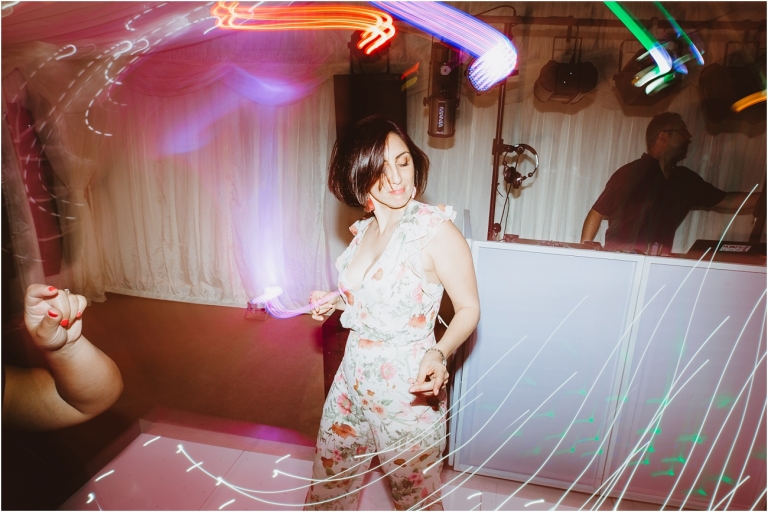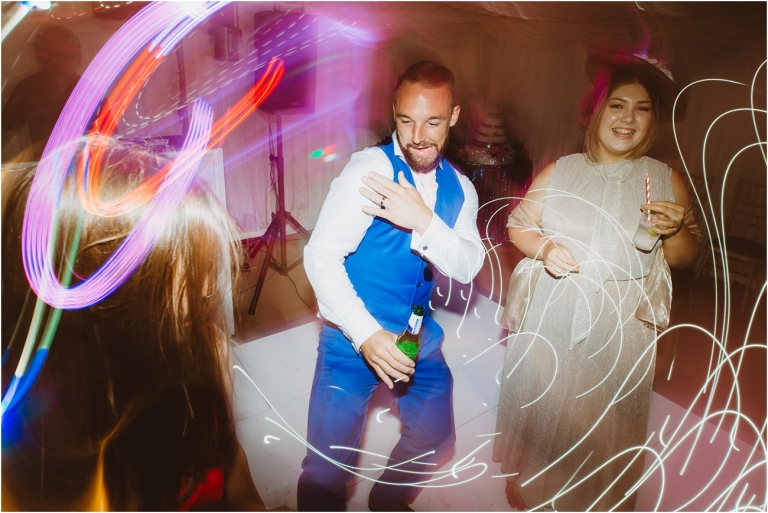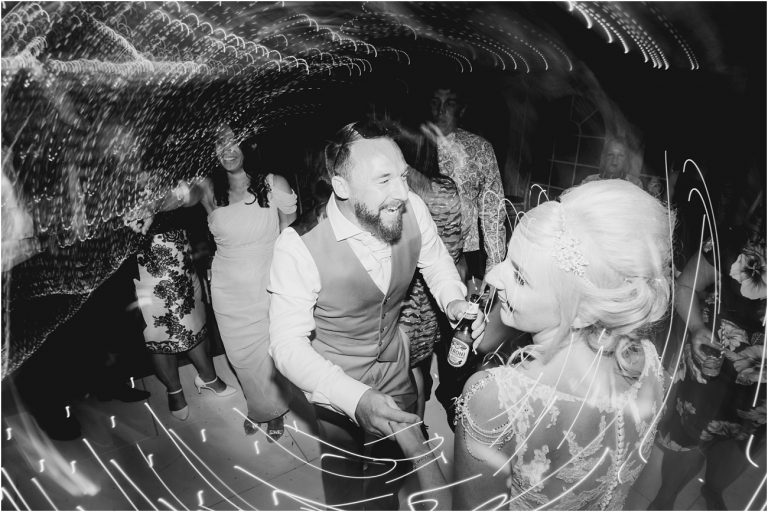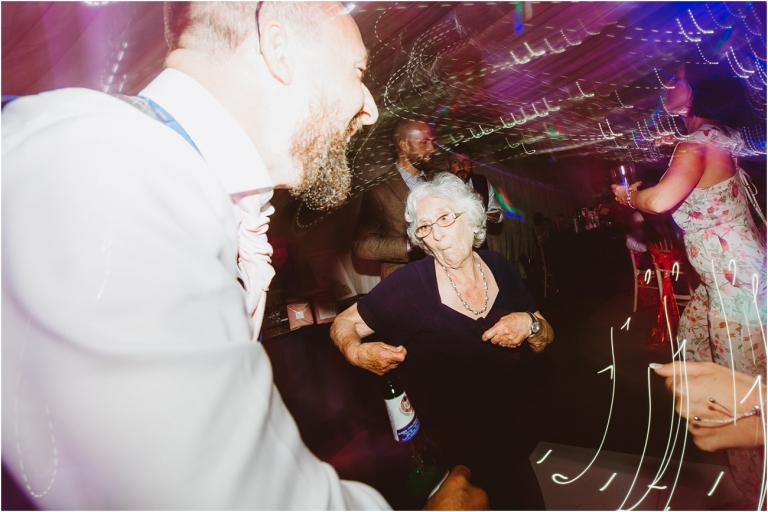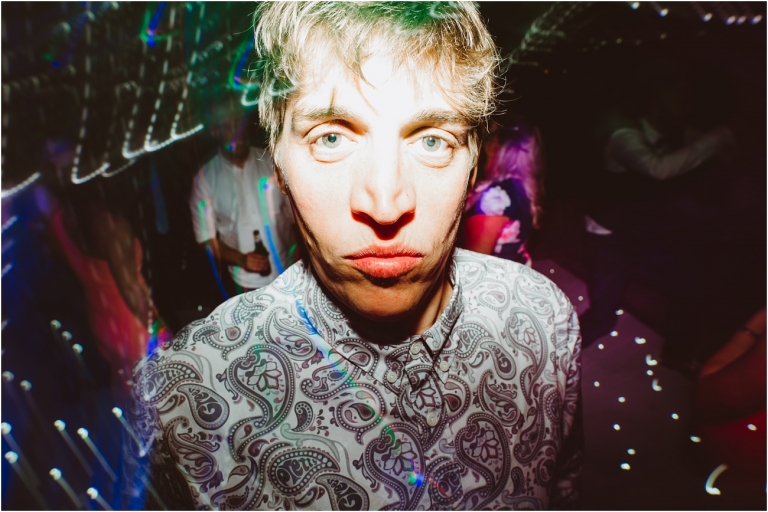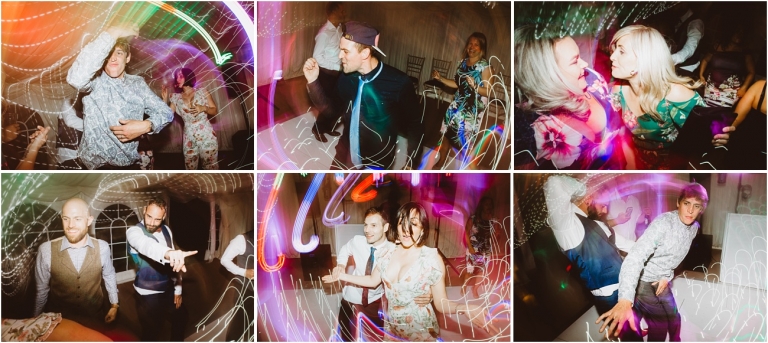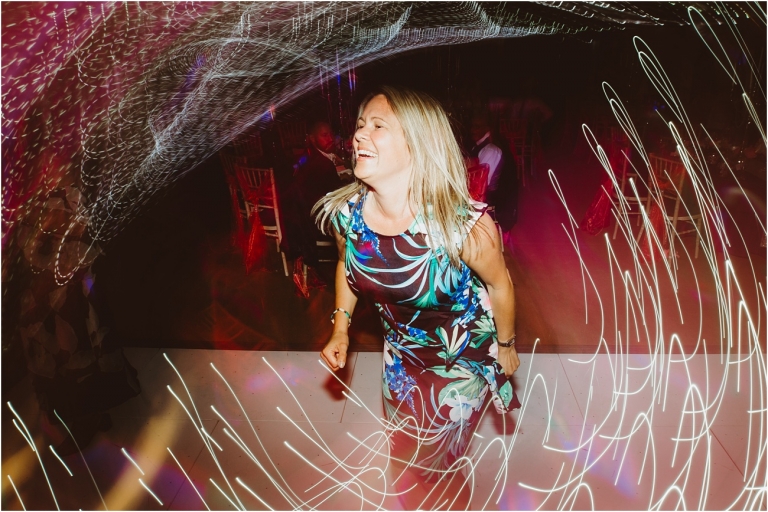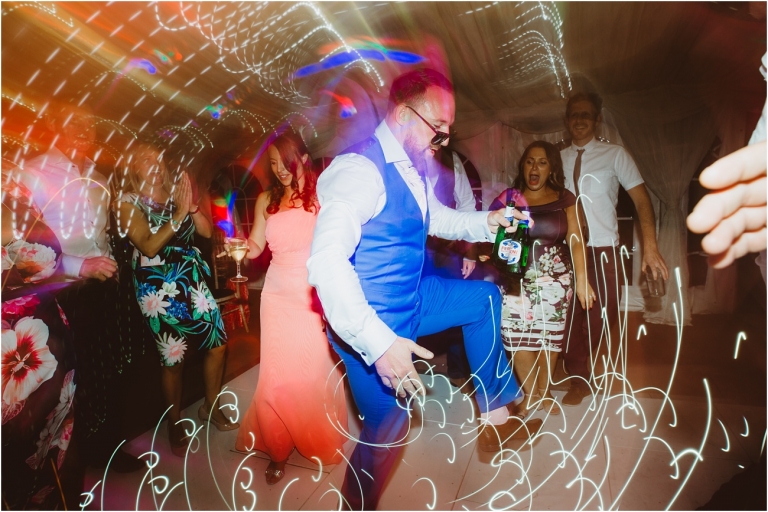 Thank you Hannah and James for letting me photograph your amazing day and the beginning of your married life together!
If you are looking for a wedding photographer in Devon or Cornwall, then please check out my portfolio or get in touch! As always, please feel free to share or leave a comment below.
Holly xx
This was my first wedding at Lupton House and it was an absolute joy; beautiful, elegant and featuring a wonderful couple in Rosa and Oliver. Rosa grew up in Brixham and misses the sea now that she lives in London, so it was amazing for her to get ready at Maypool Cottage, which couldn't be closer to the sea! Lupton House was perfect for these nature lovers, with its beautiful Italian gardens, and they styled it perfectly with flowers and ivy. In the latter half of the day, Rosa donned a stunning flower crown and the speeches took place outside on the lawn. It really was the perfect venue and couple for a glorious spring wedding!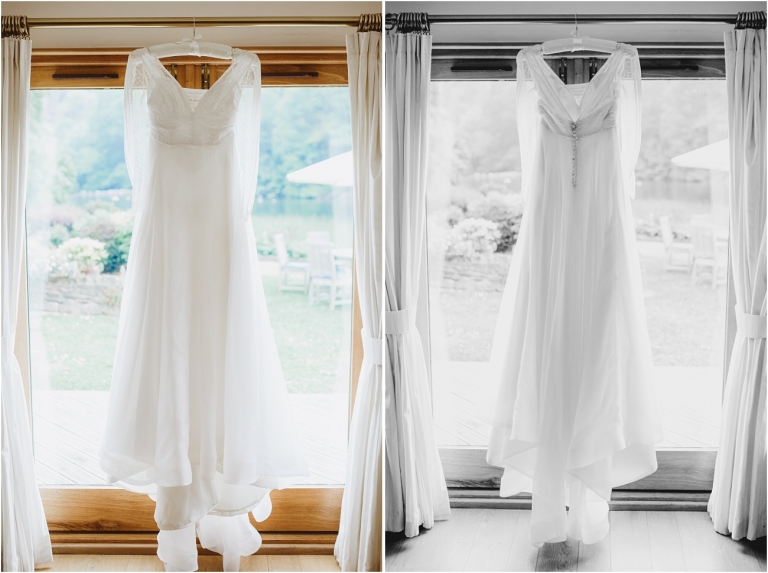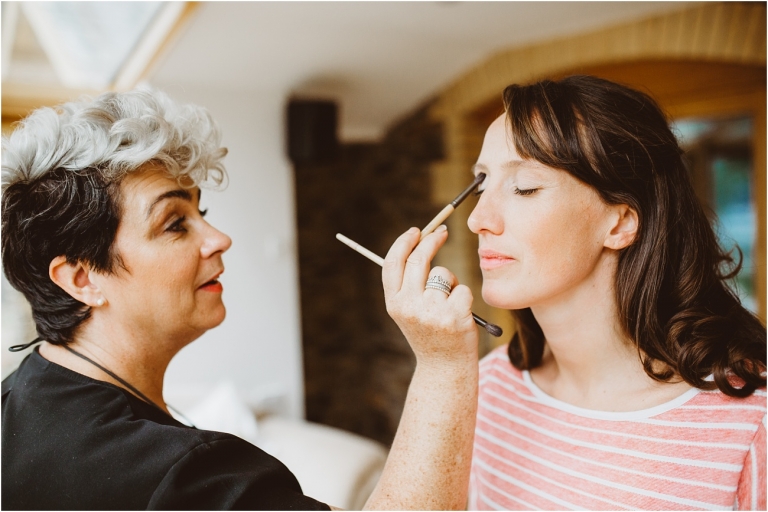 Rosa's makeup was by Millie at Bliss Hair and Beauty.

Rosa's elegant shoes were by Rainbow.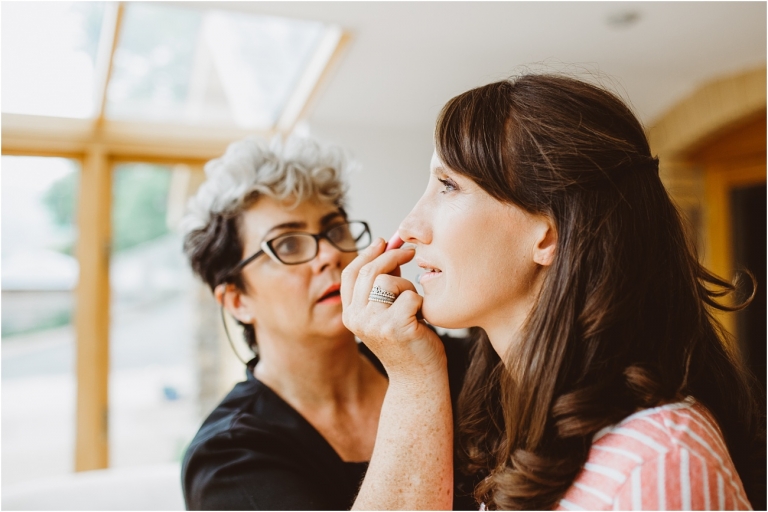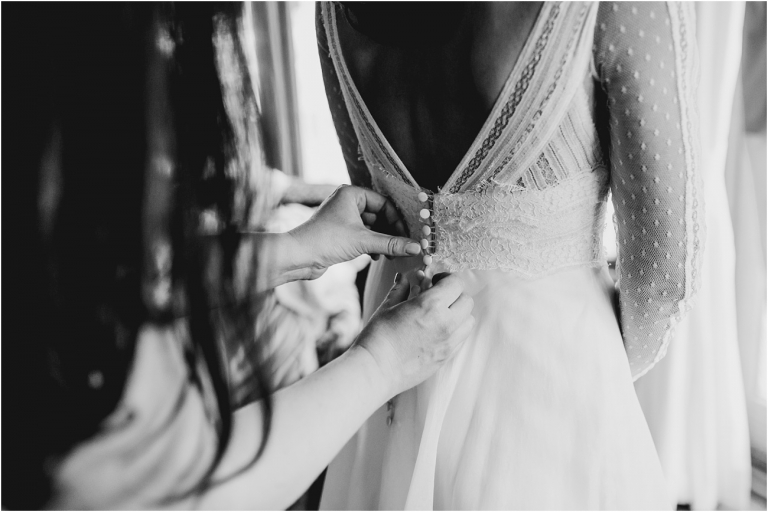 Rosa's exquisite dress was by Jesus Peiro. I absolutely love it!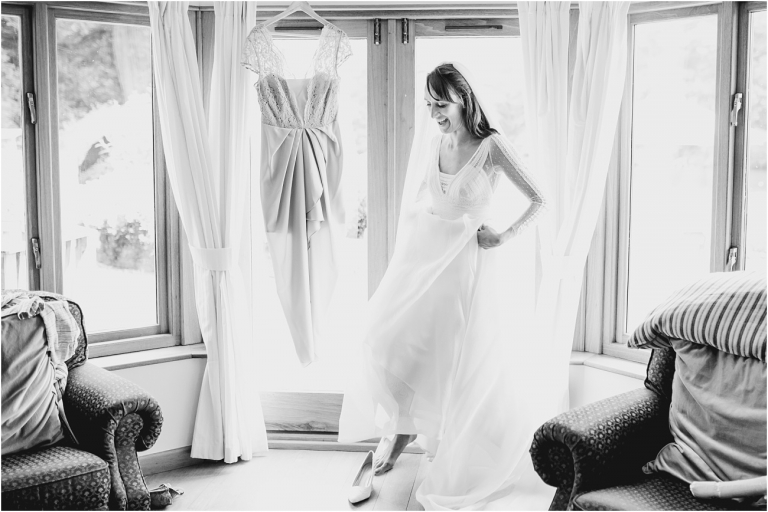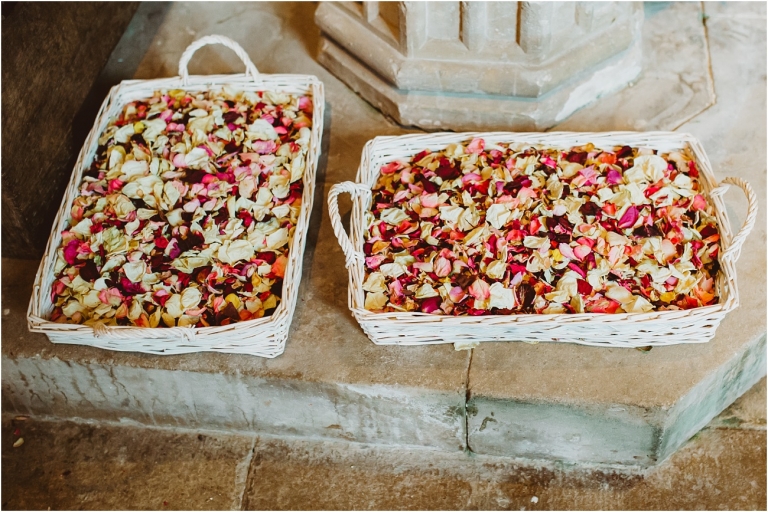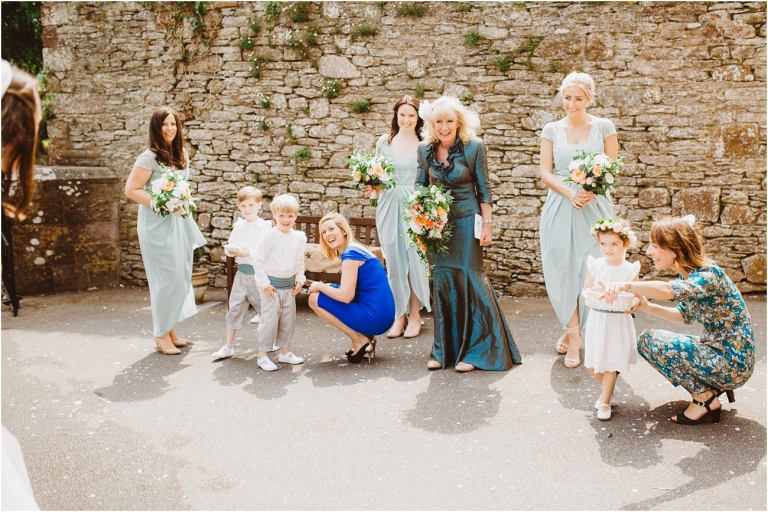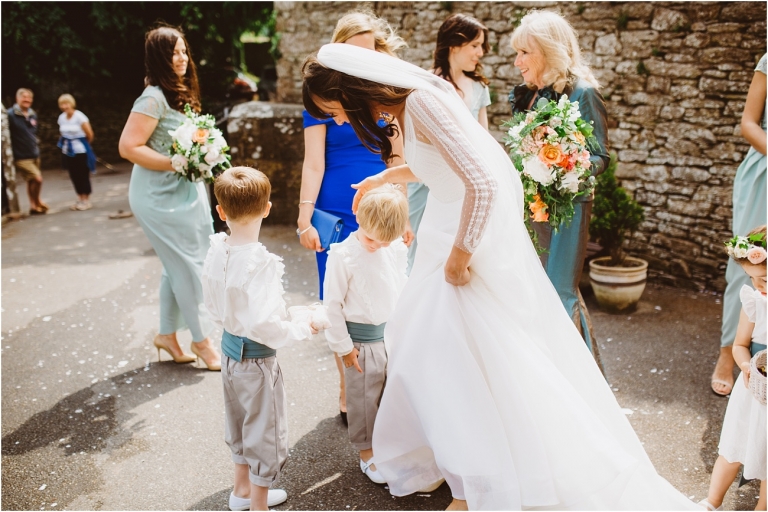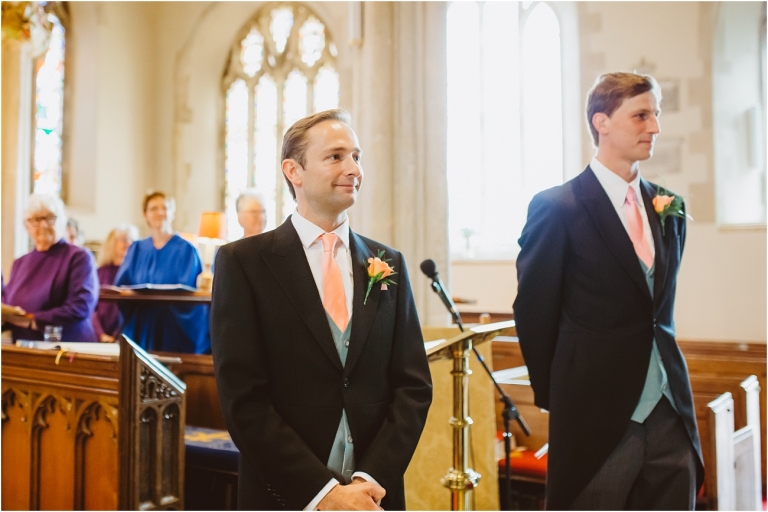 The gents' suits were by Oliver Brown of Chelsea.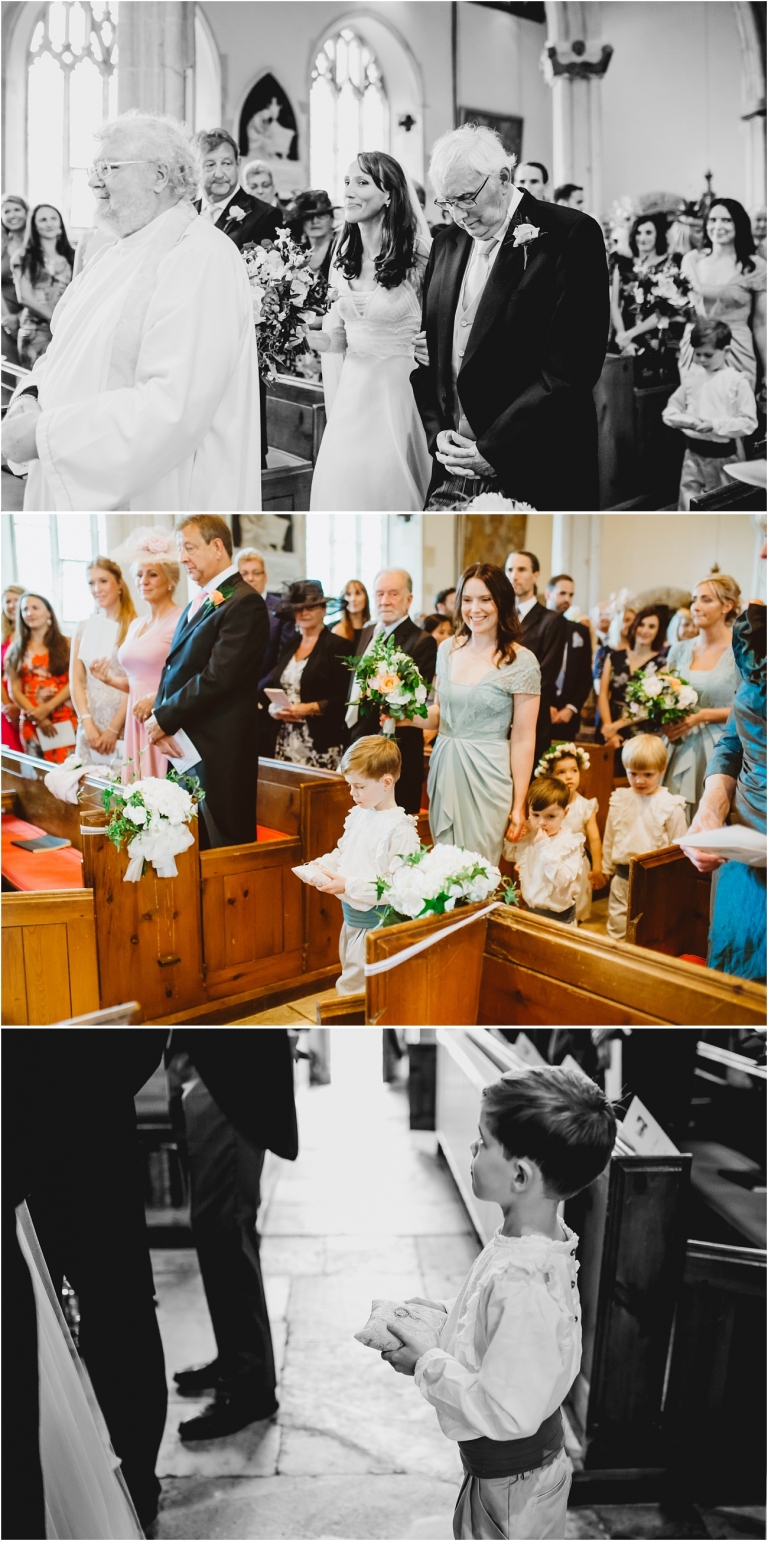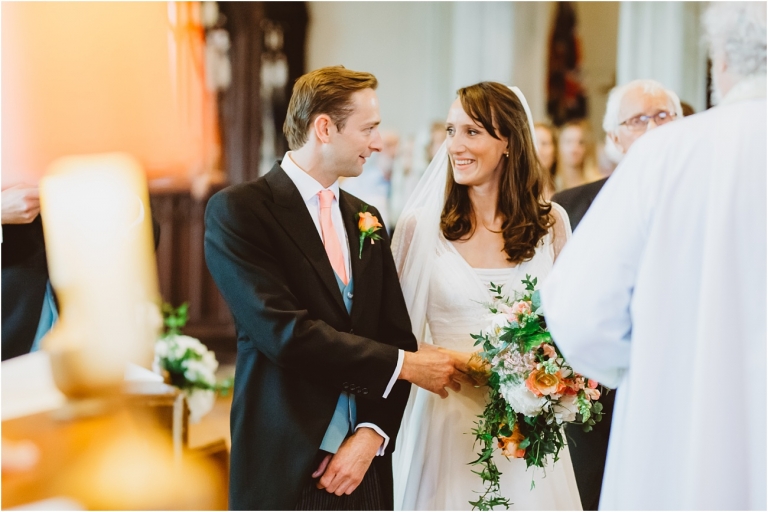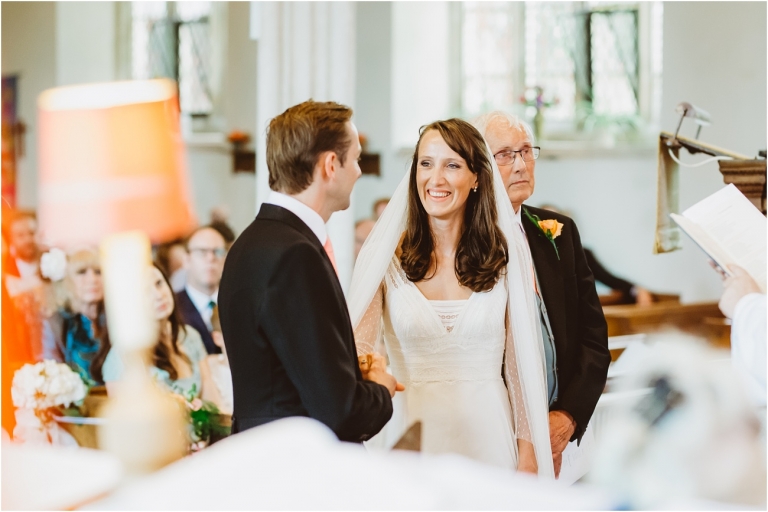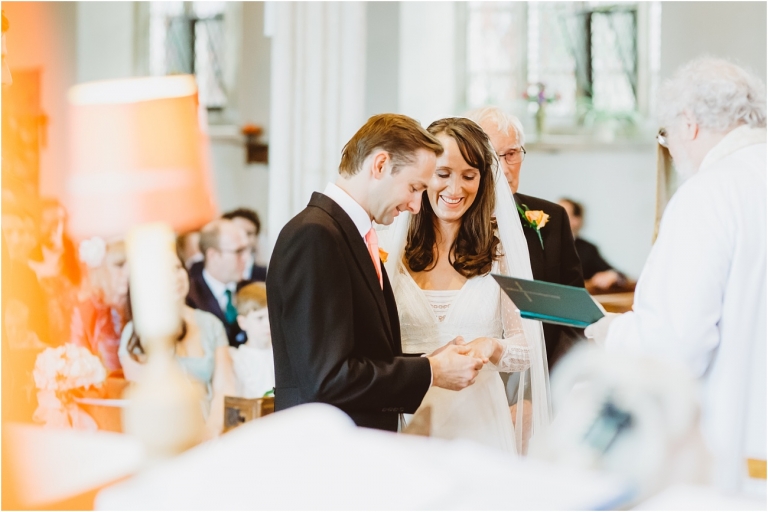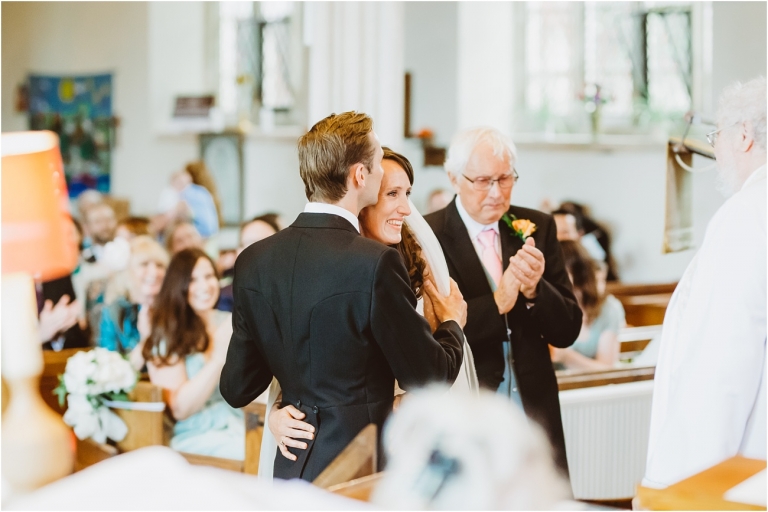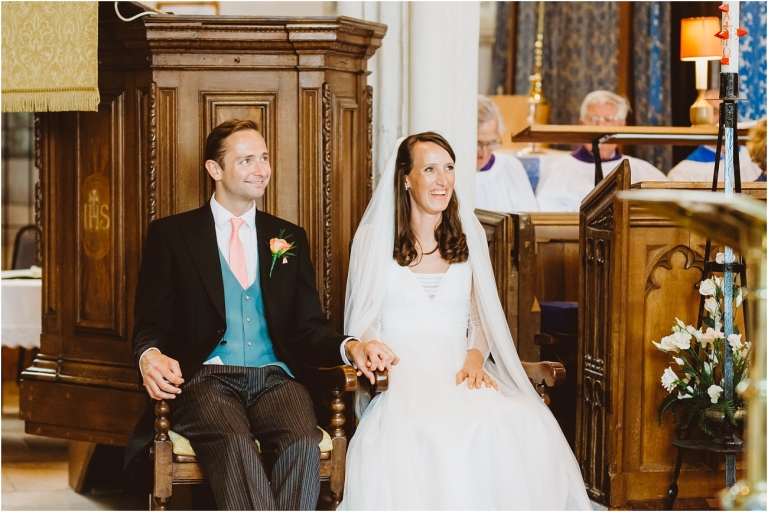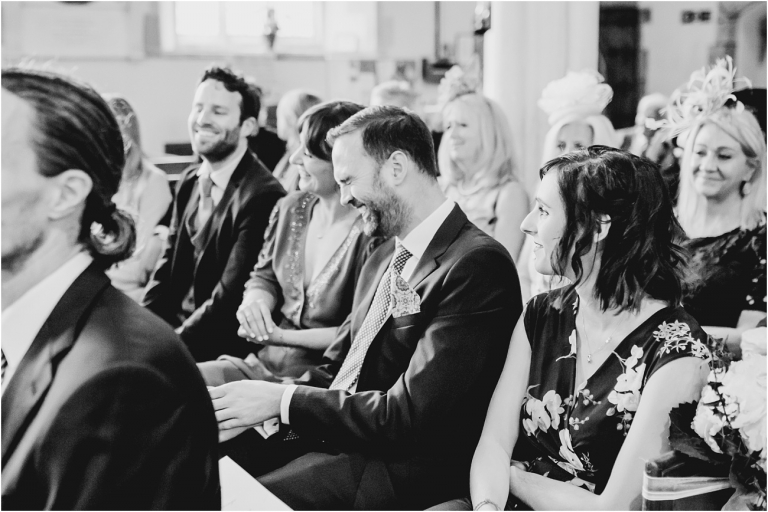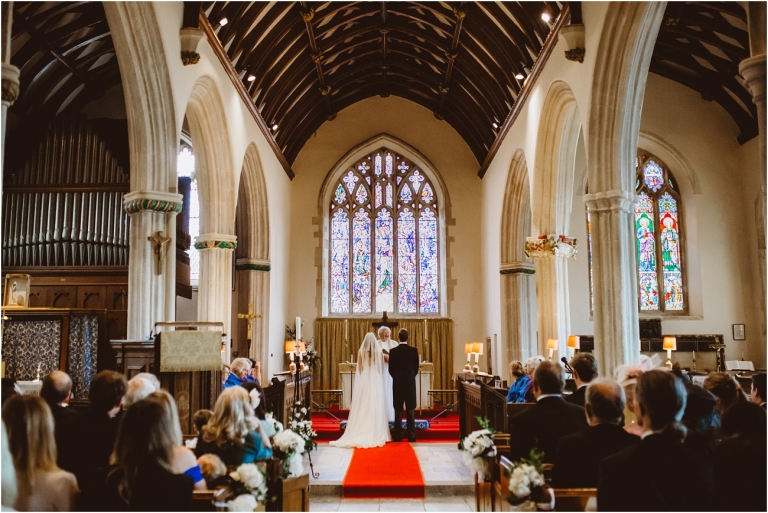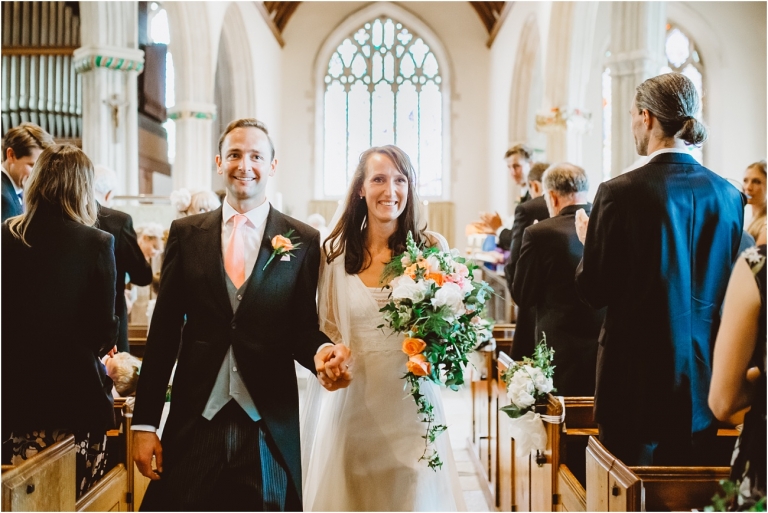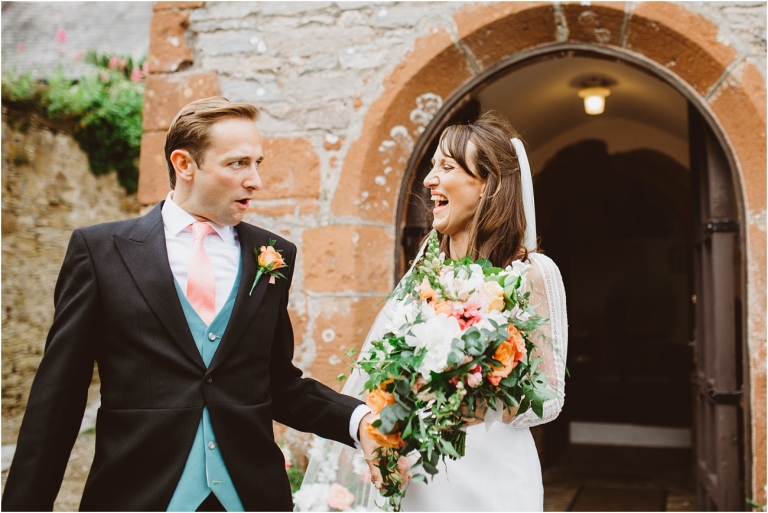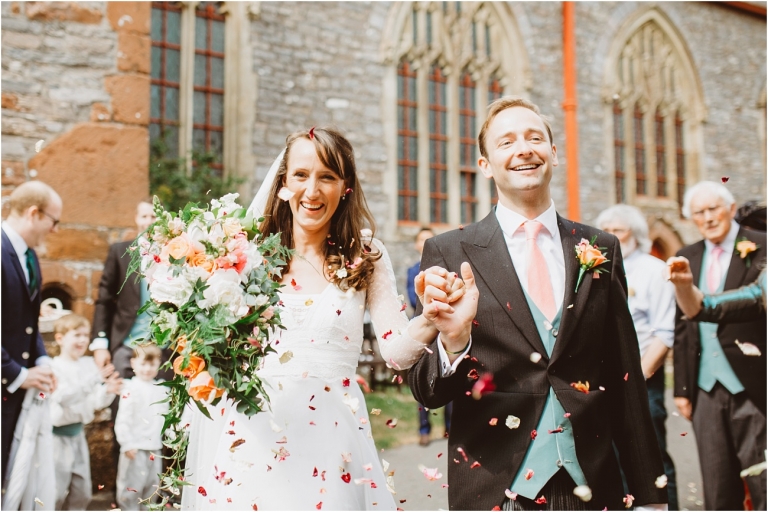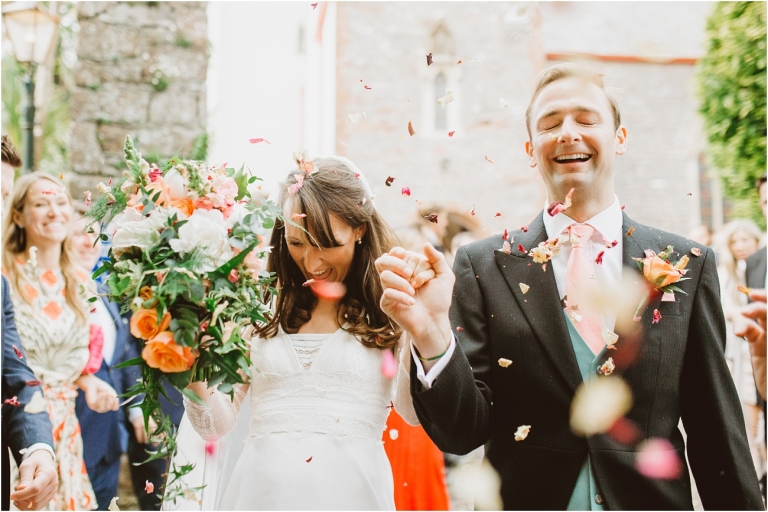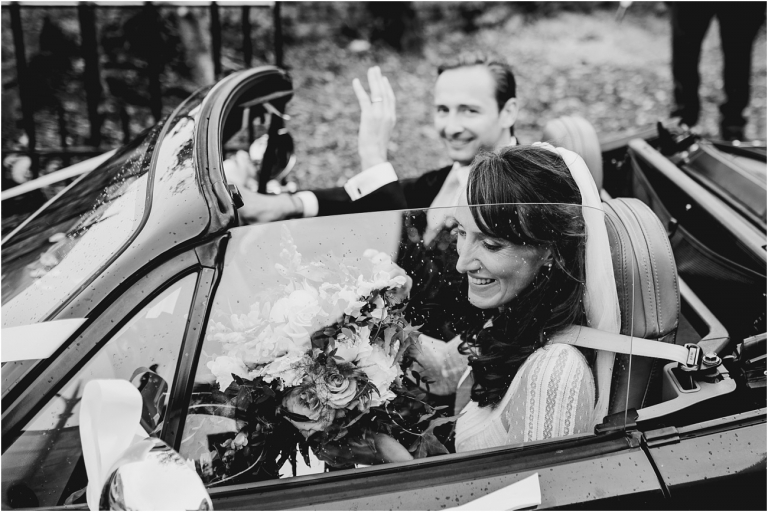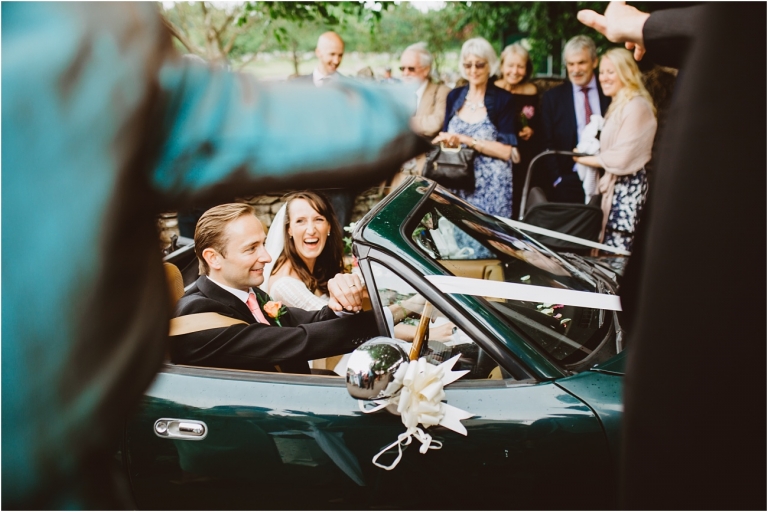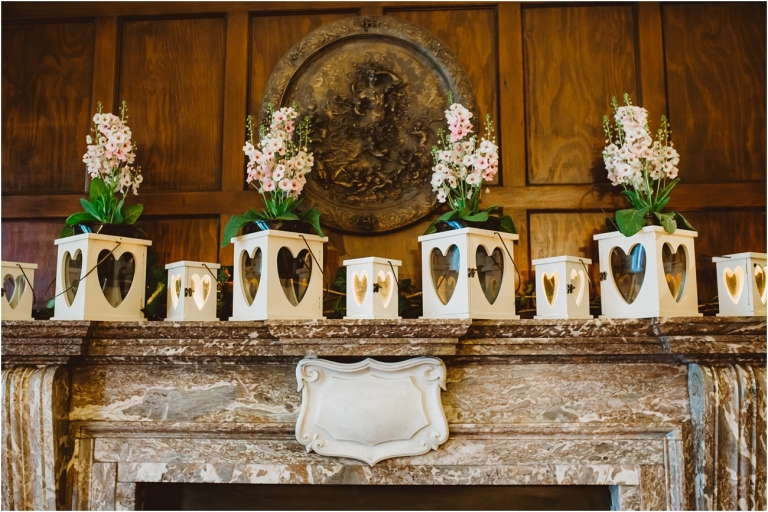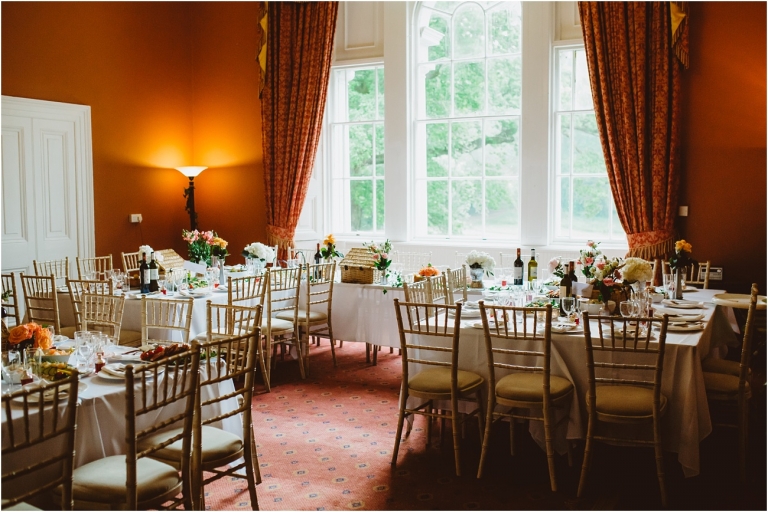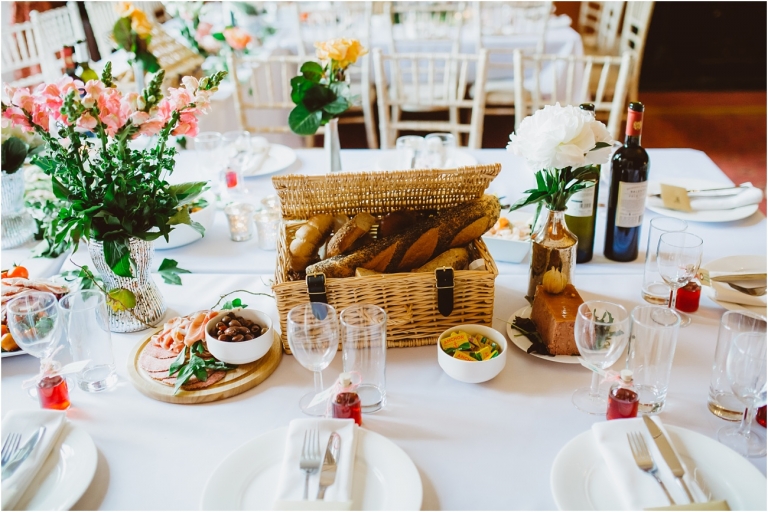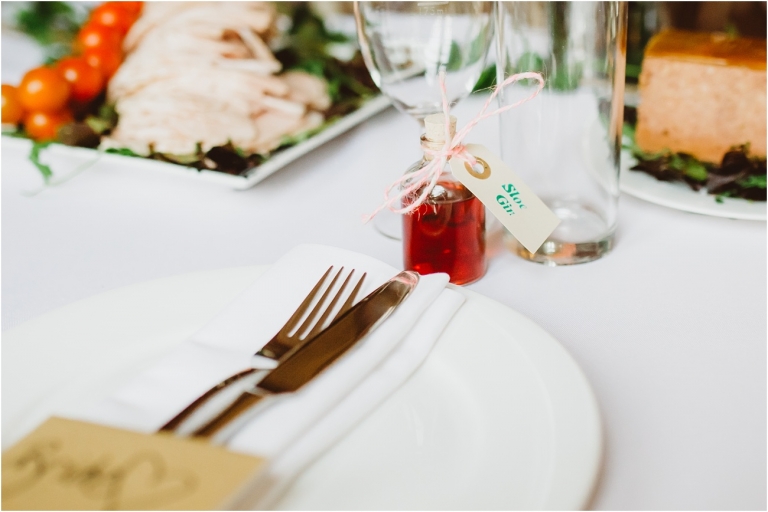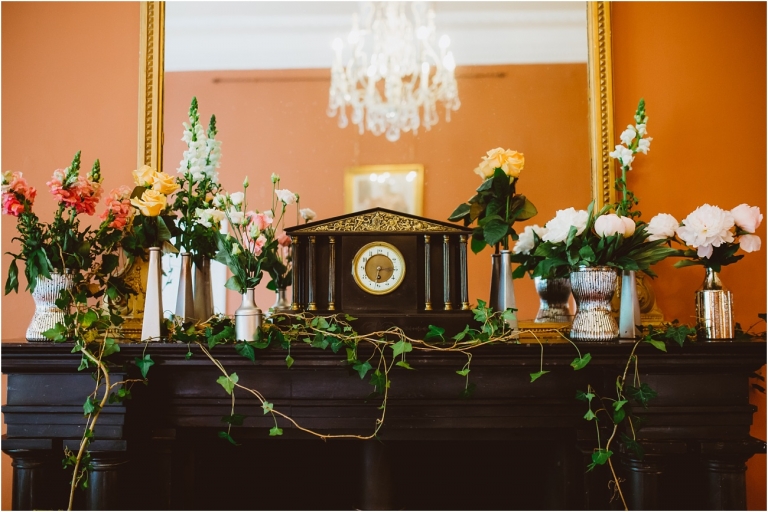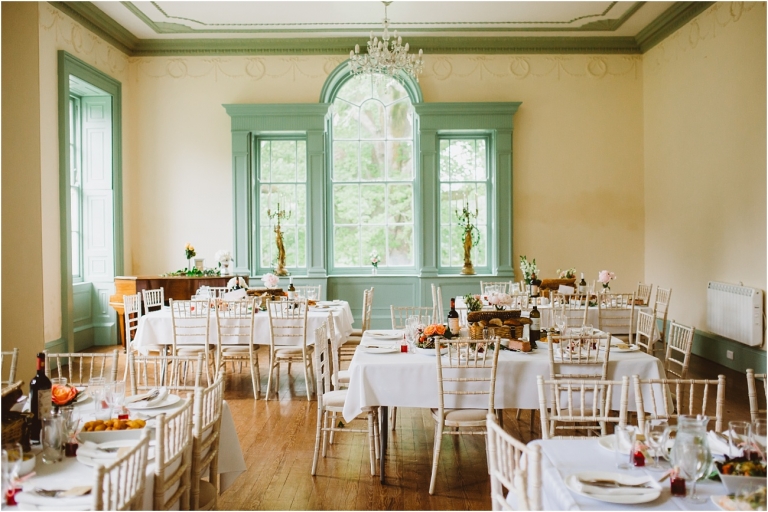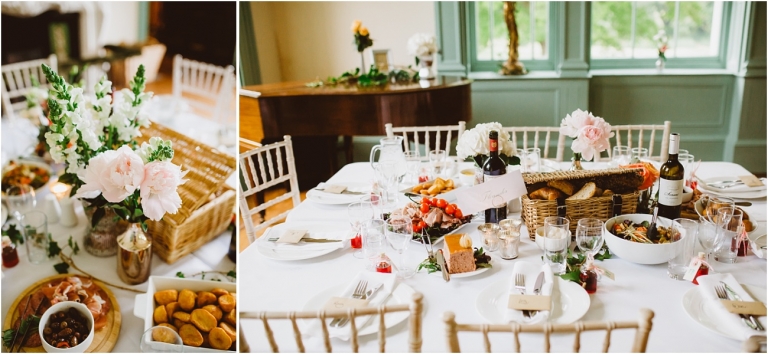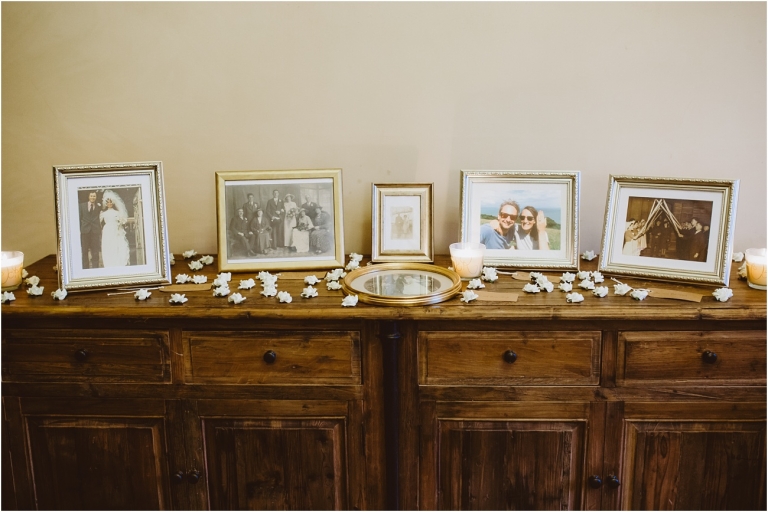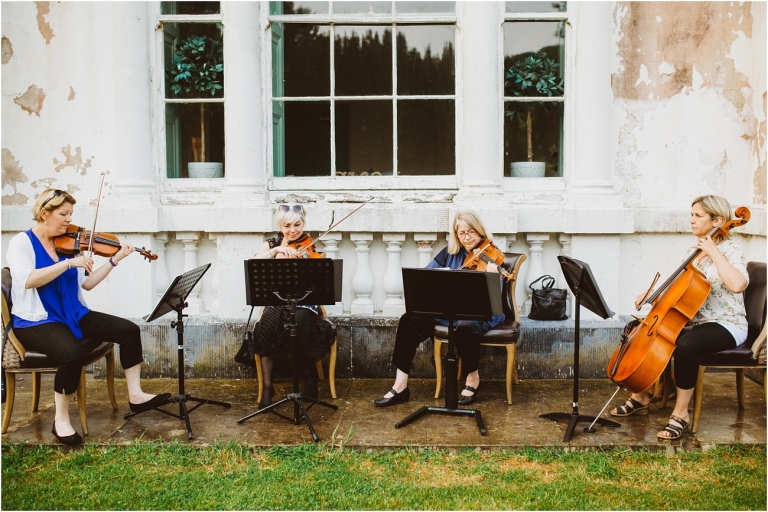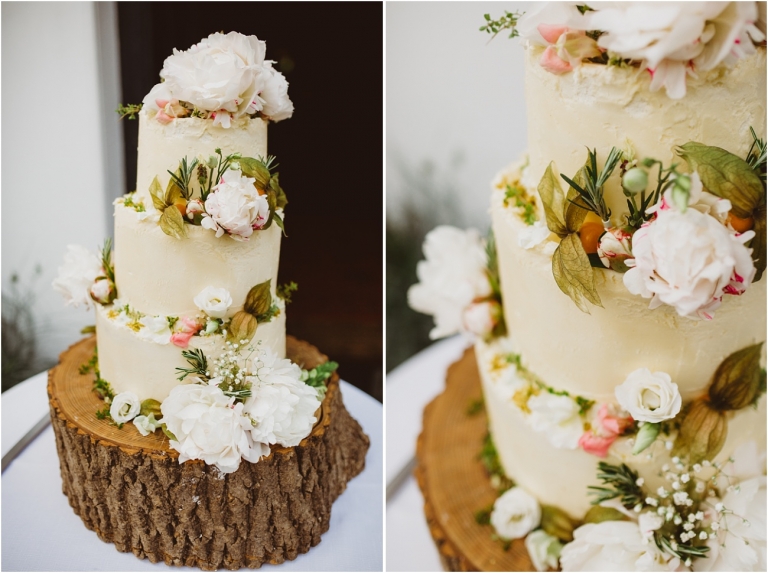 Everything at Rosa and Oliver's wedding worked so well together! This stunning cake was by Lisa Sallis of Boho Cakes.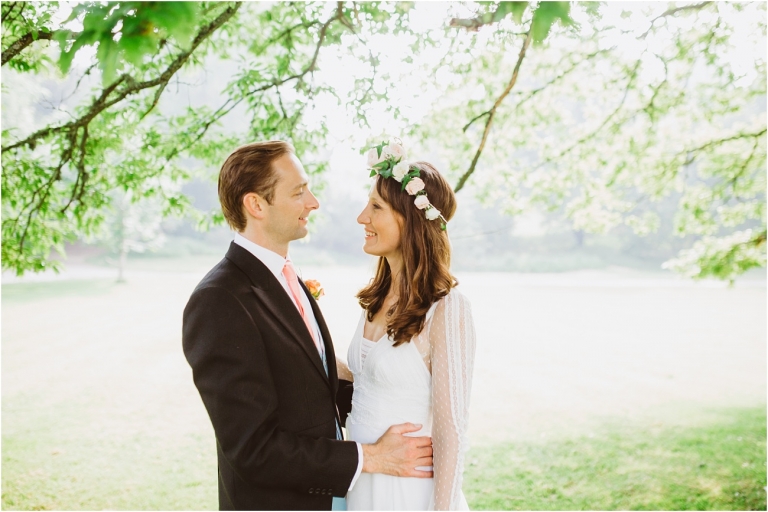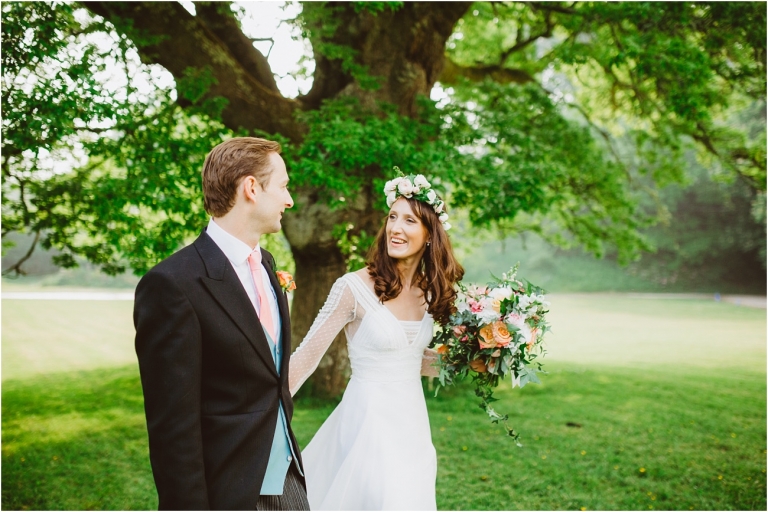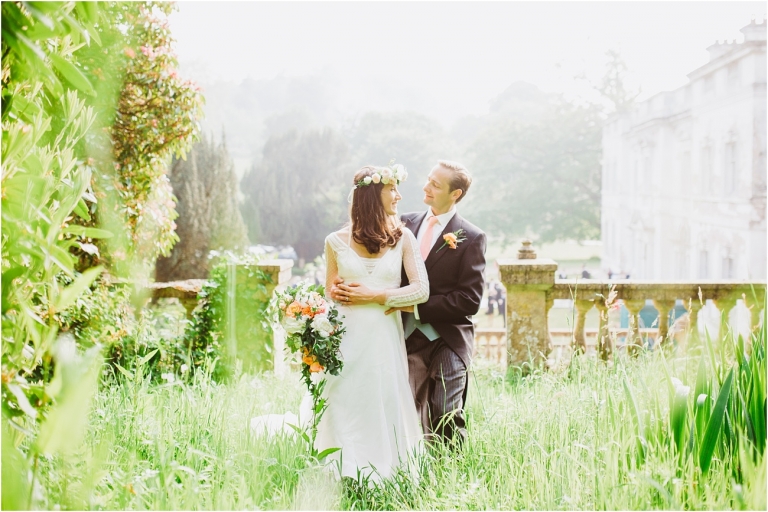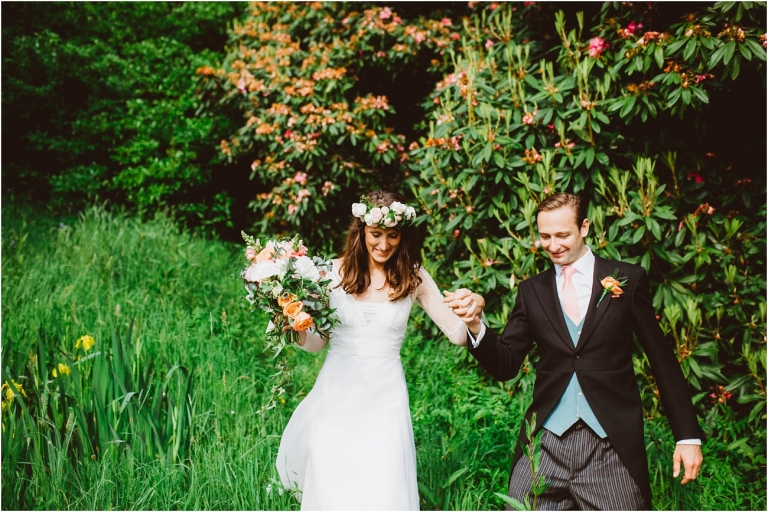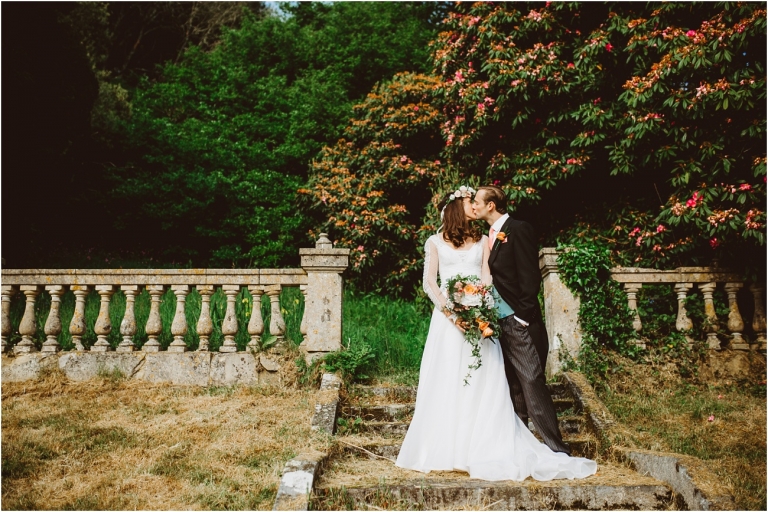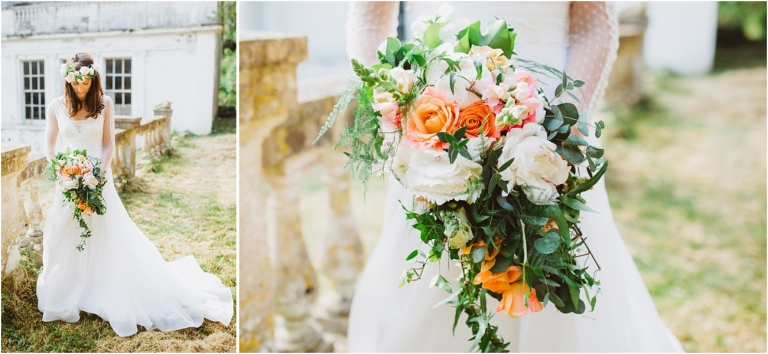 Rosa's bouquet by Les Fleurs was so beautiful. I thought that the hanging ivy looked so good with Lupton House as the setting!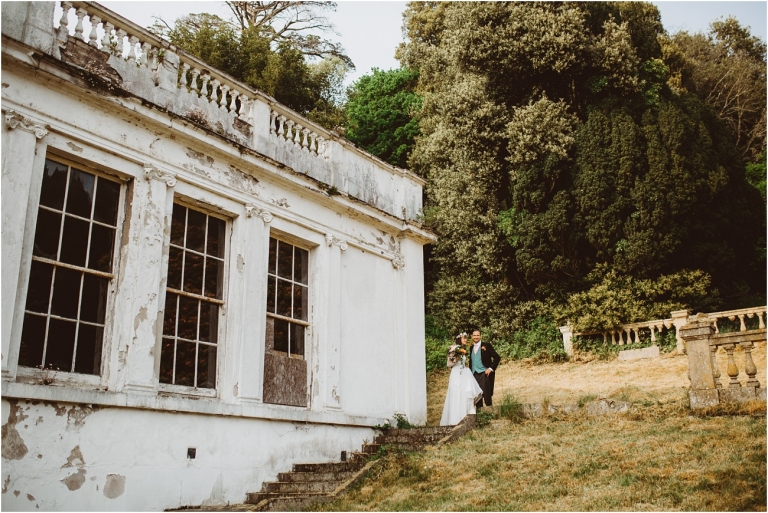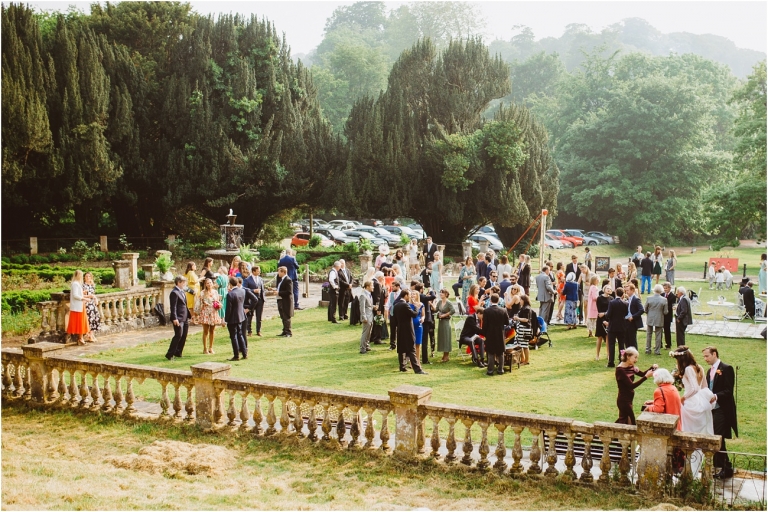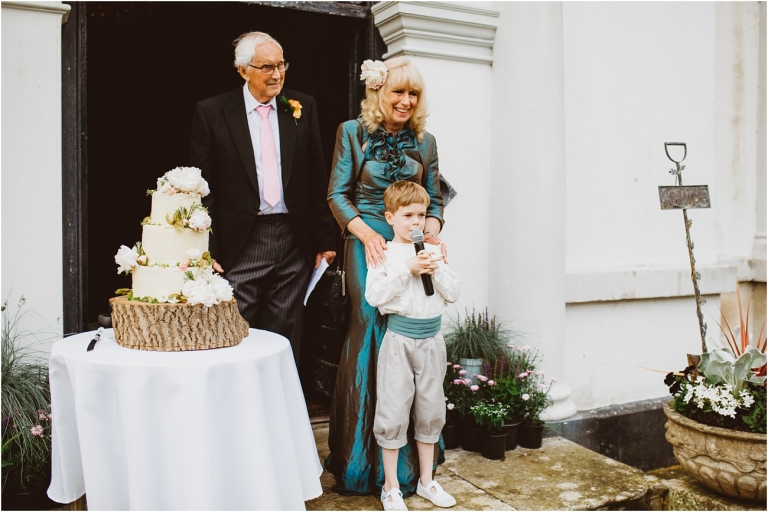 I think I might be too nervous to give a speech myself, so it was amazing that Rosa's nephew did! The speeches were excellent and it was great that they were outside on a lovely May evening.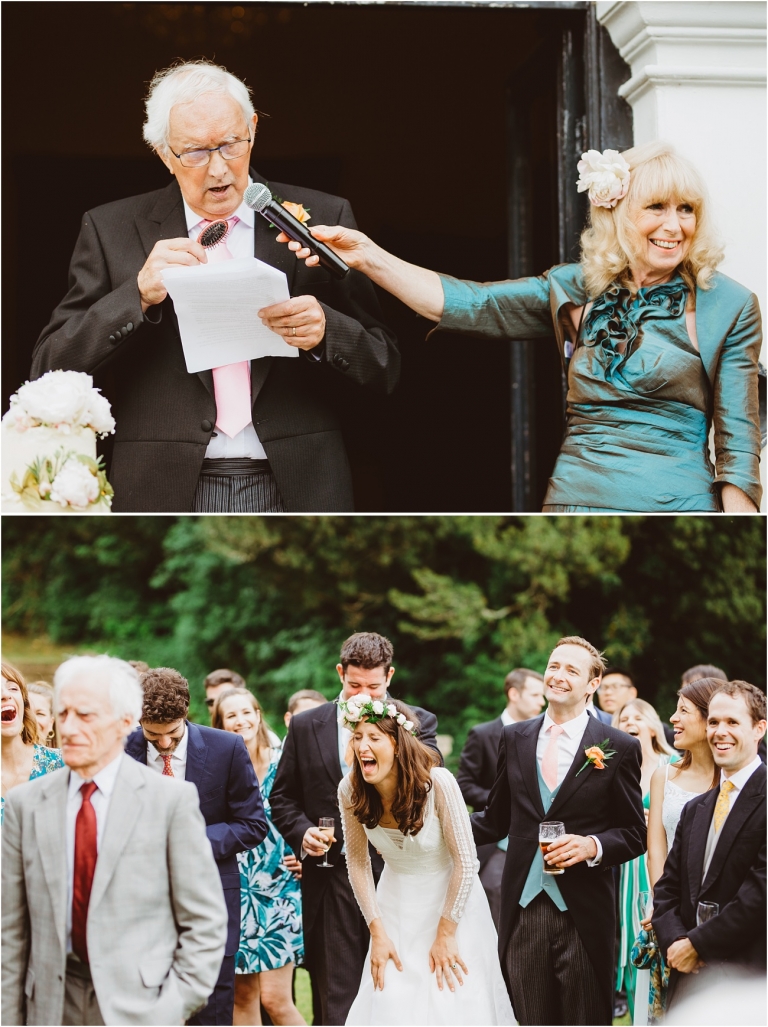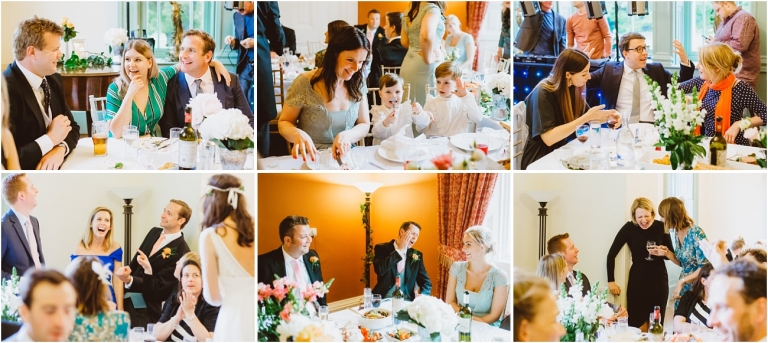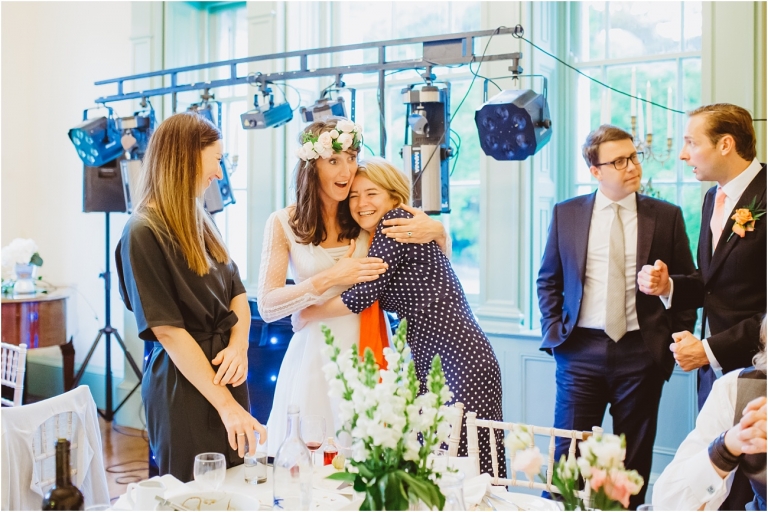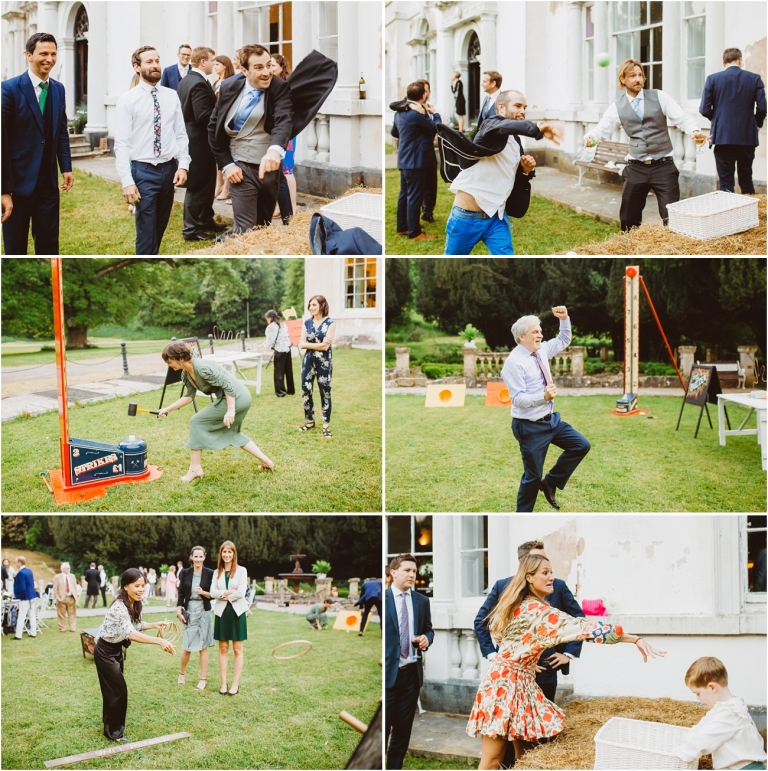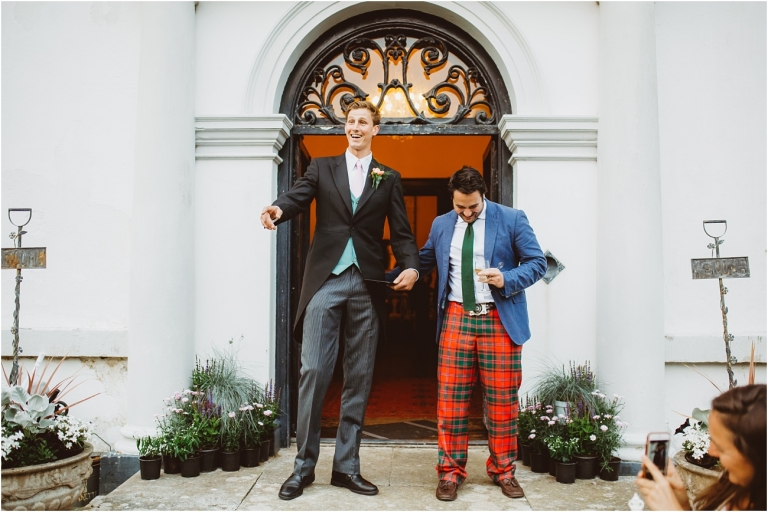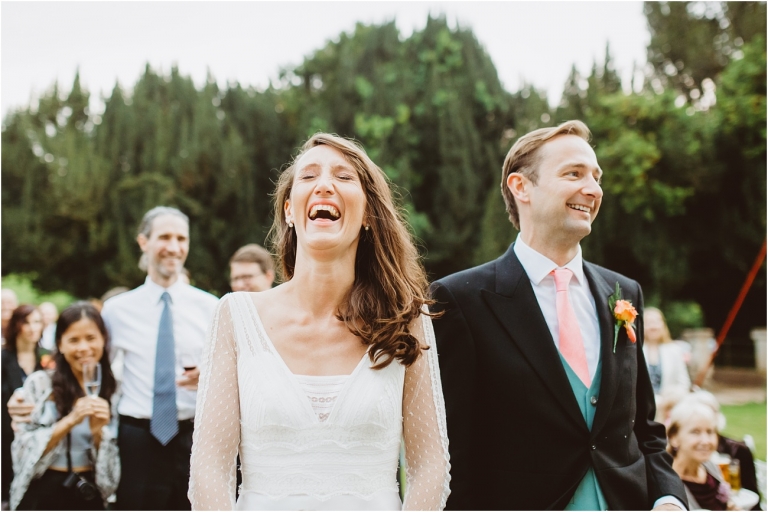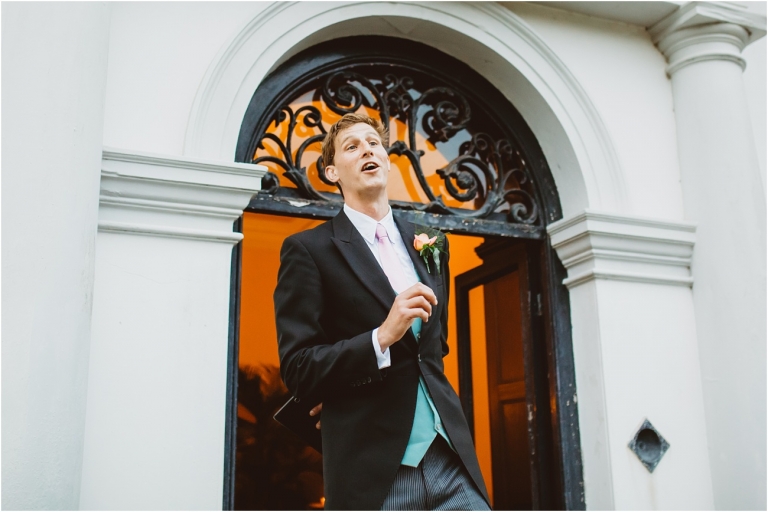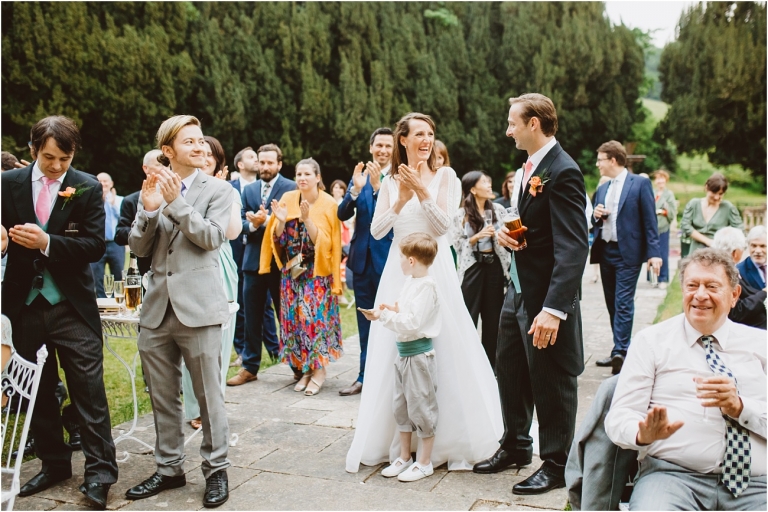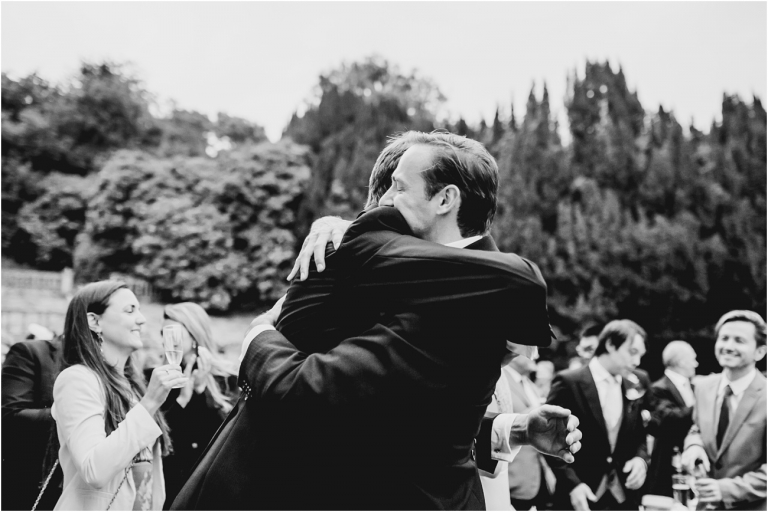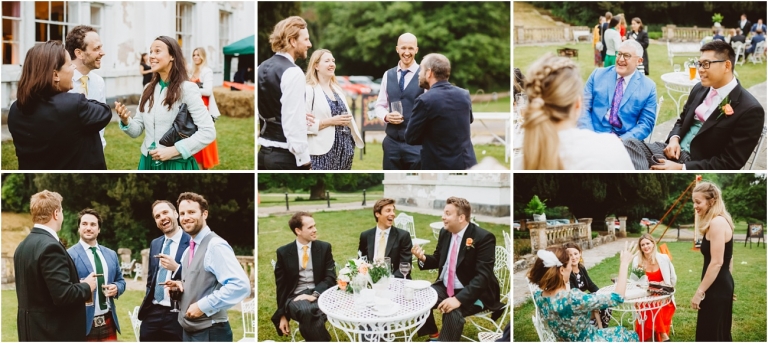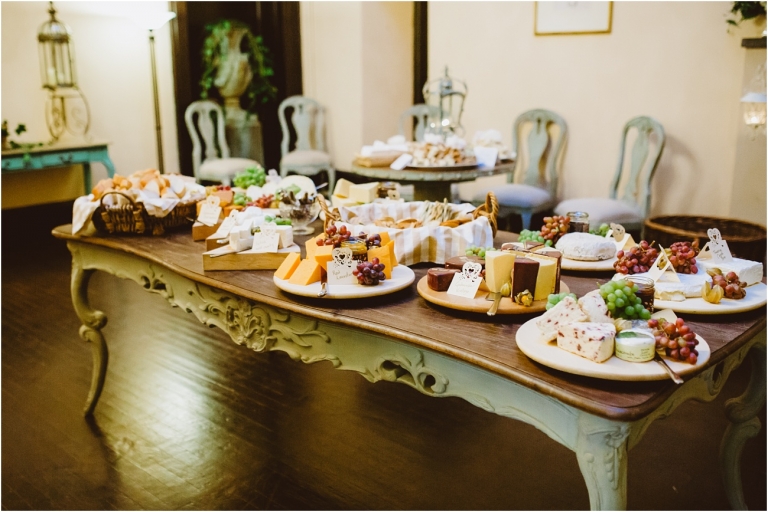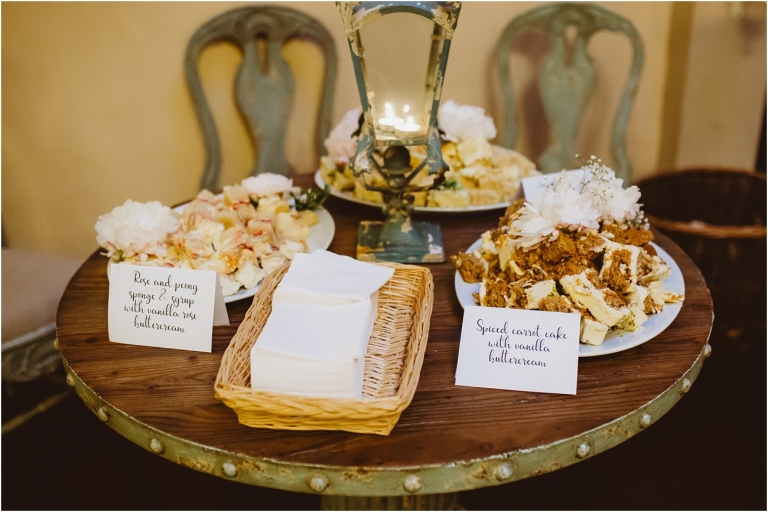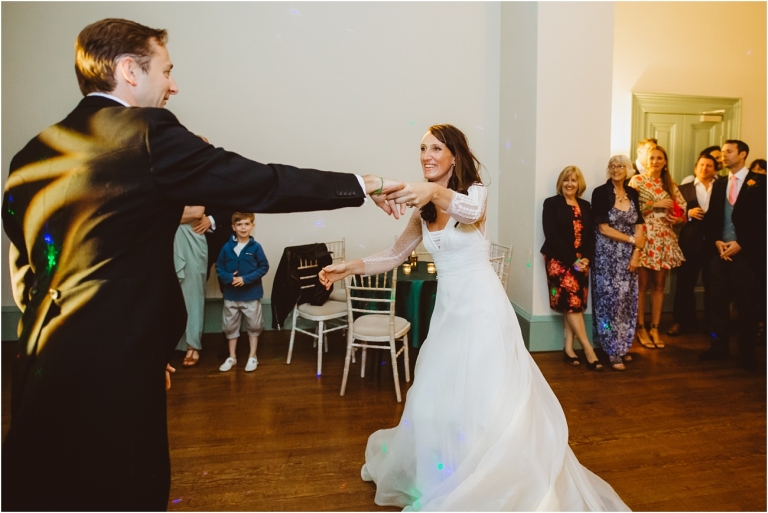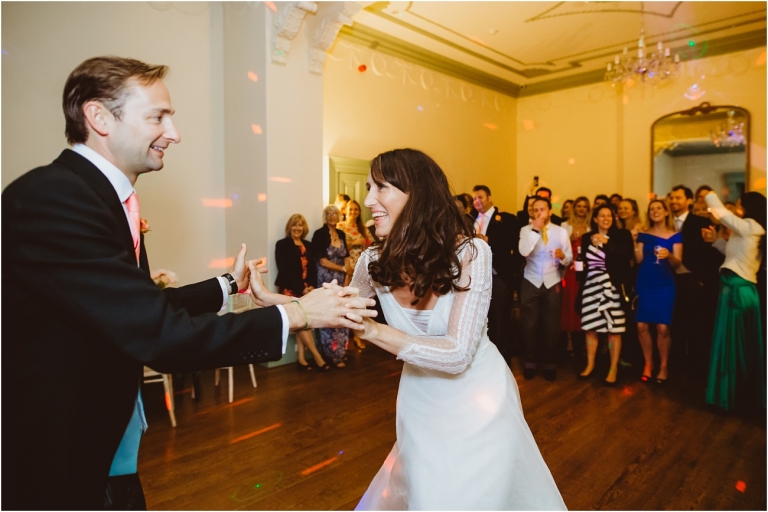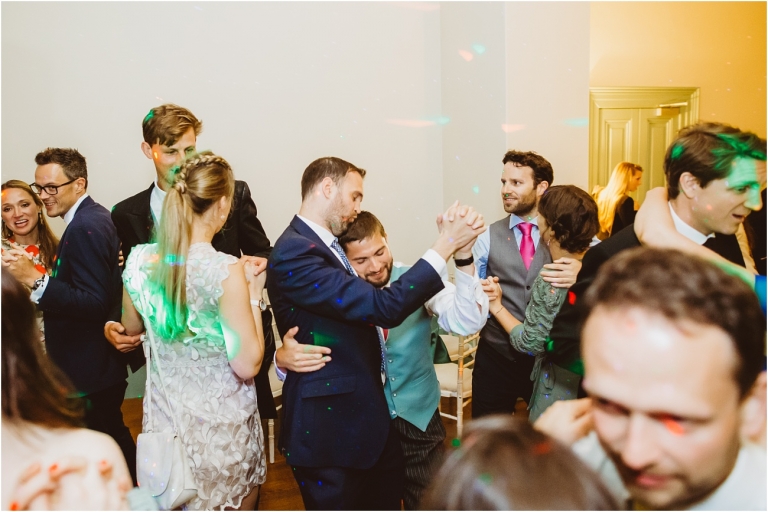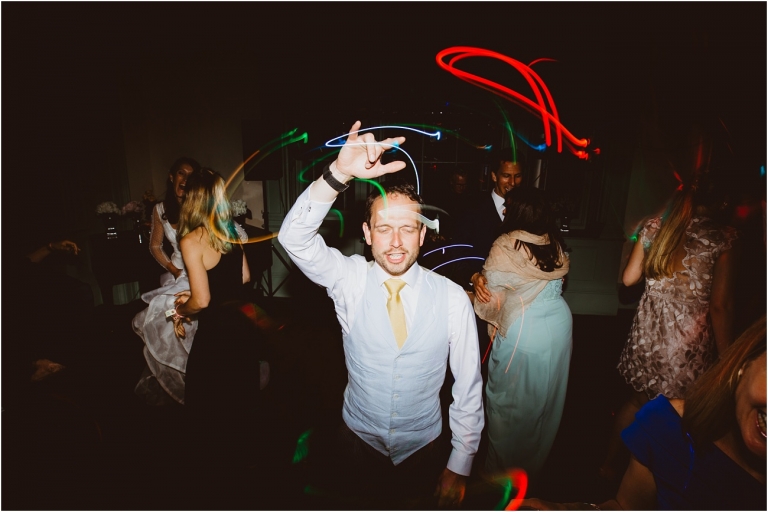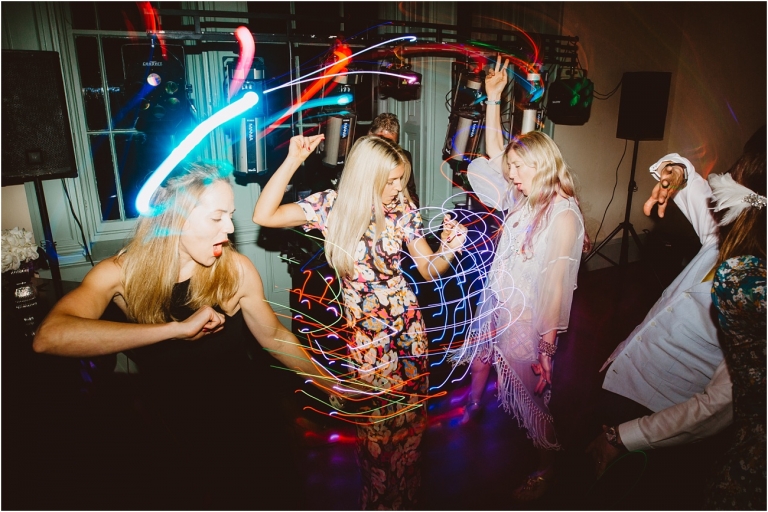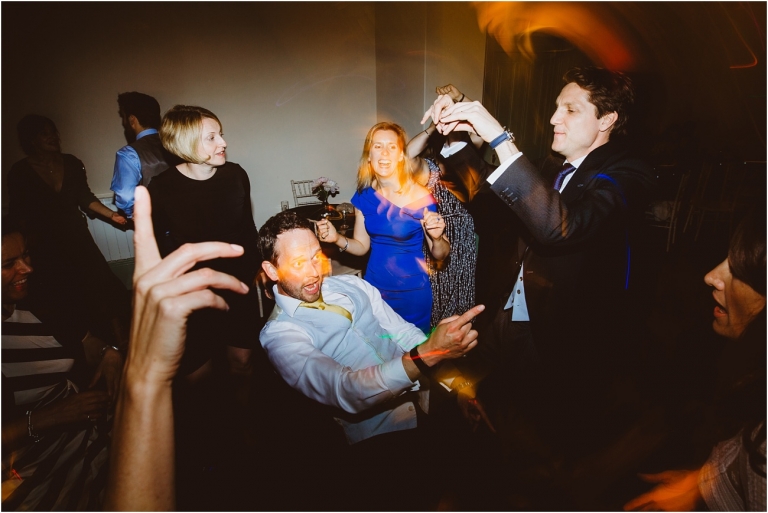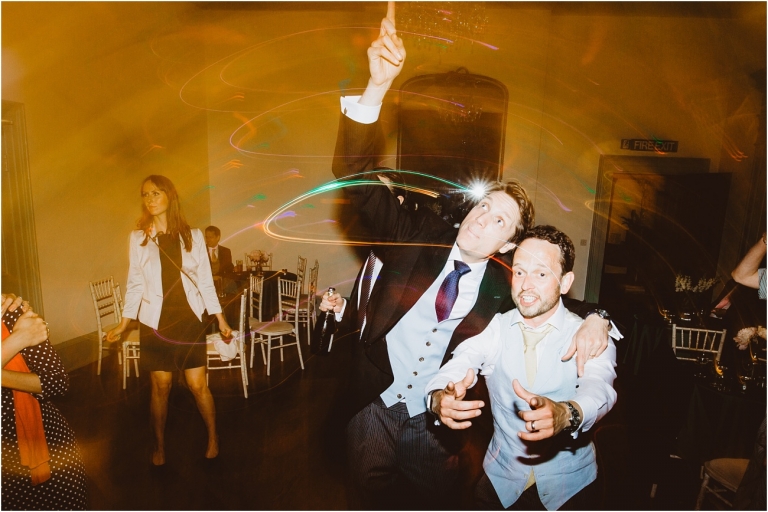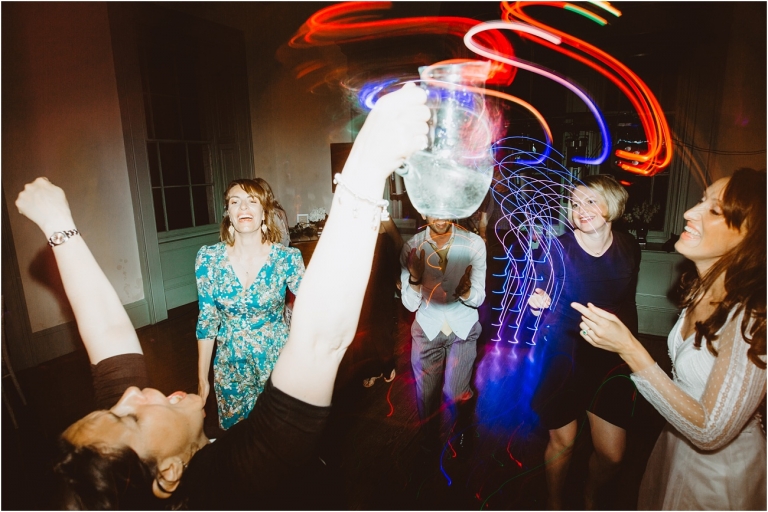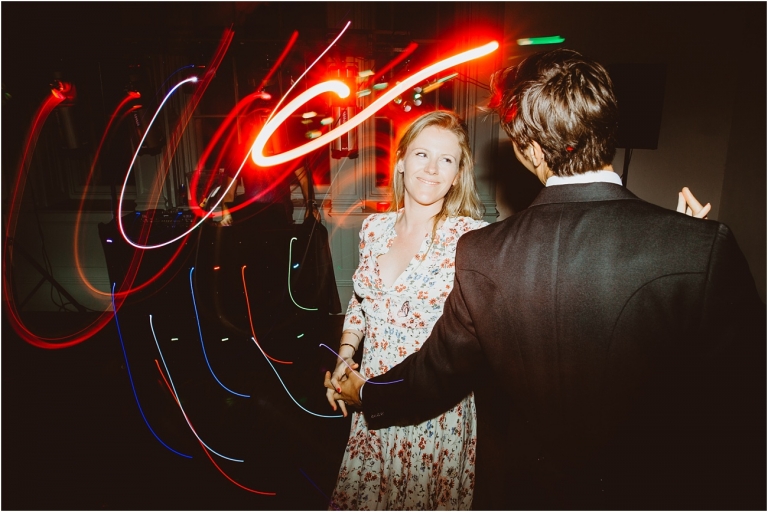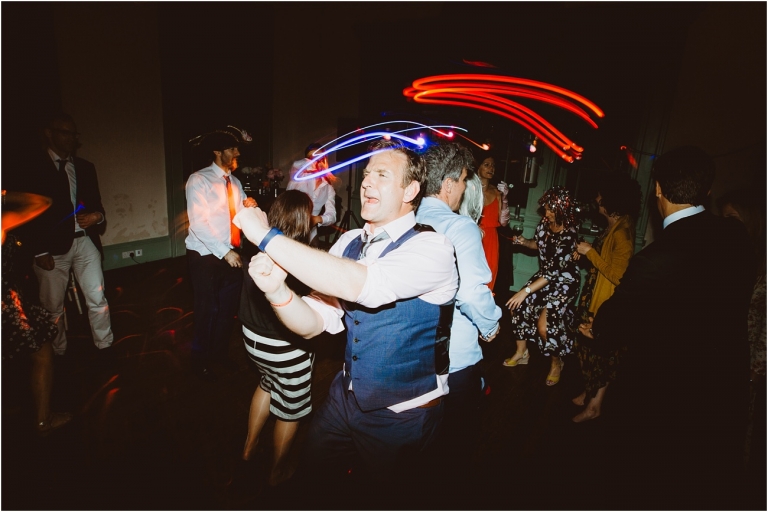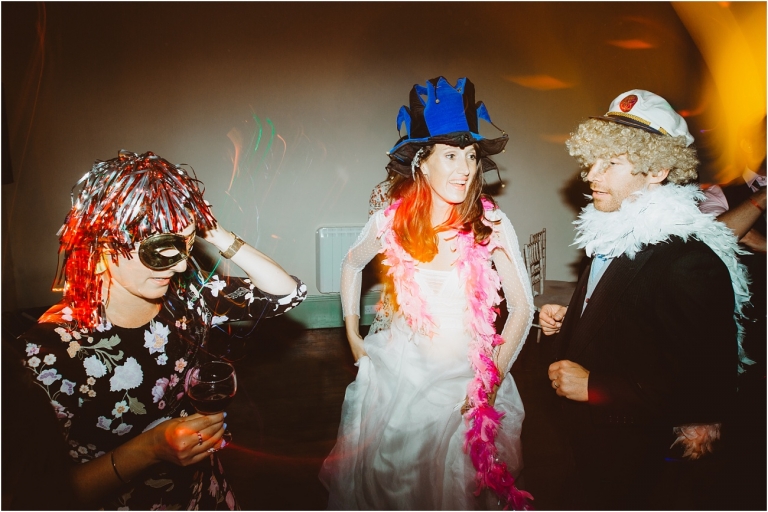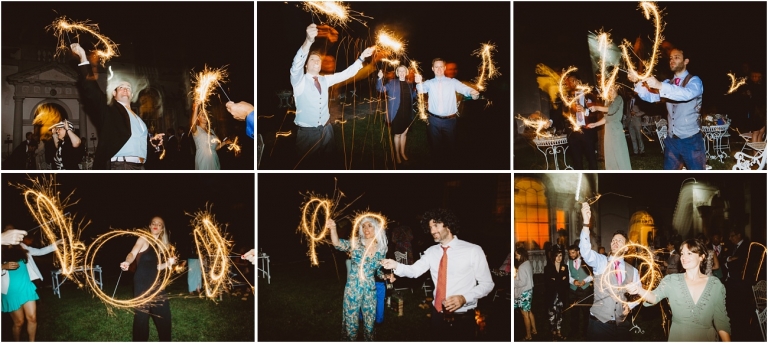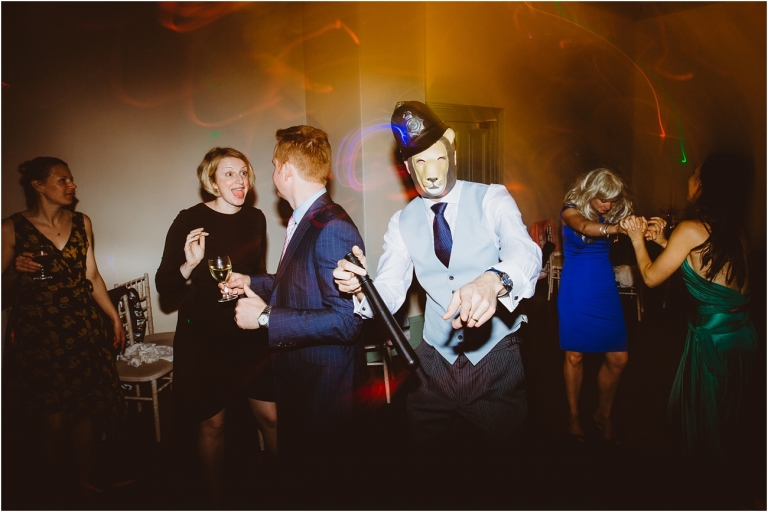 The sparklers and props helped to create some amazing scenes late in the day! Thank you so much to Rosa and Oliver for letting me photograph your wonderful wedding; it was such a joy!
If you are looking for a wedding photographer in Devon or Cornwall, then please feel free to check out my portfolio or get in touch. And please feel free to share or leave a comment below!
One of my favourite parts of a wedding is when the newlyweds, having finished their first dance, beckon their friends and family onto the dance floor to join them for anything from a friendly disco to an all-out rave! The dance floor holds so many possibilities; brides letting loose, amazing lighting effects – as well as brilliant expressions and dance moves! As a documentary wedding photographer, I love being able to provide photos of fantastic and spontaneous moments that I hope my couples will always look back on with a smile.
A particular highlight of the dance floor is the bride letting her hair down. There's certainly nothing "blushing" about these brides!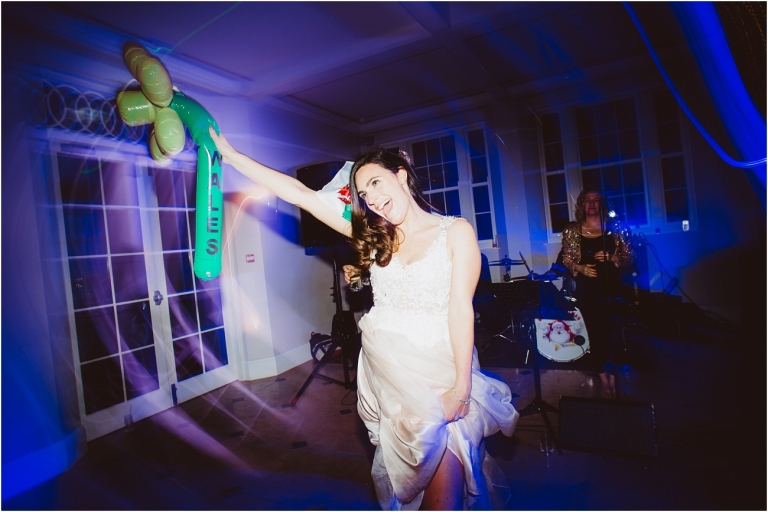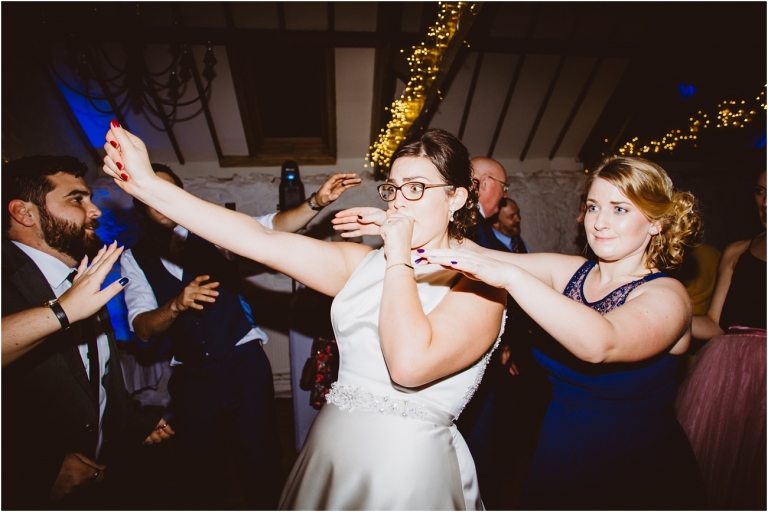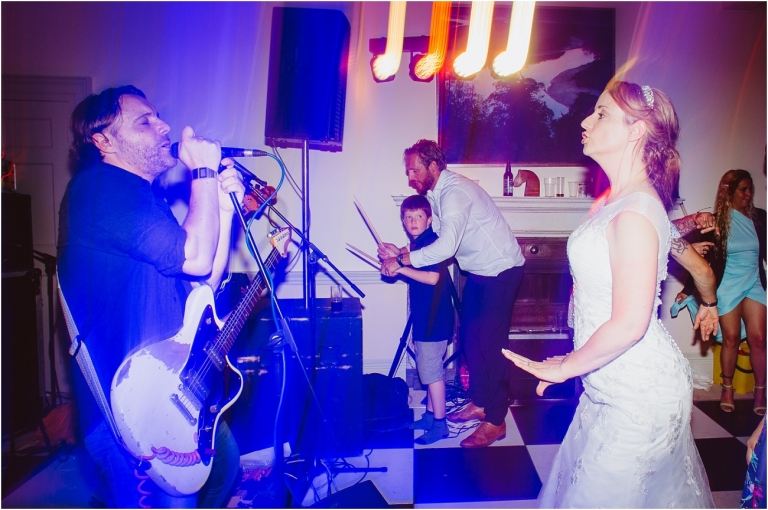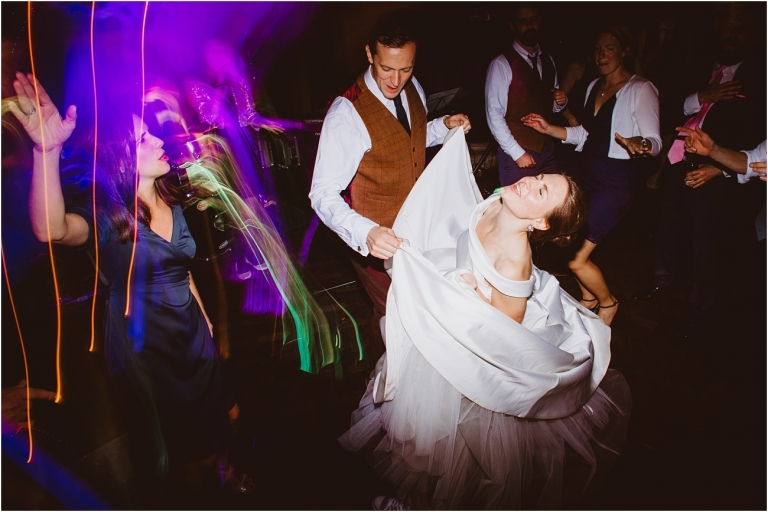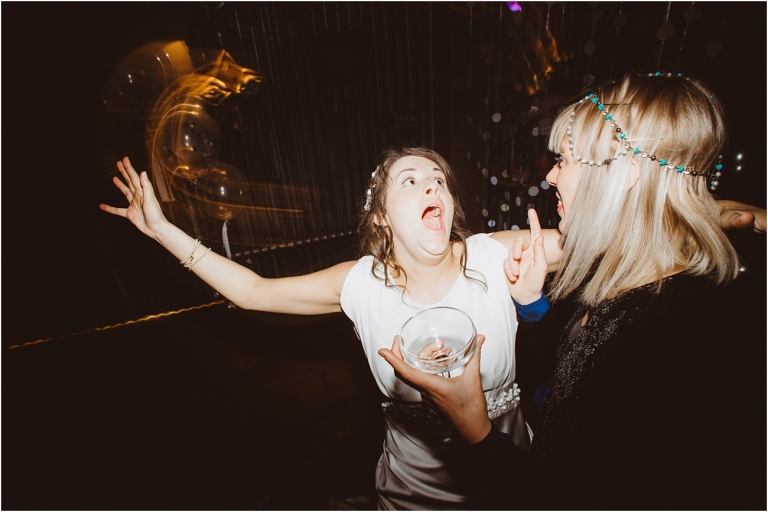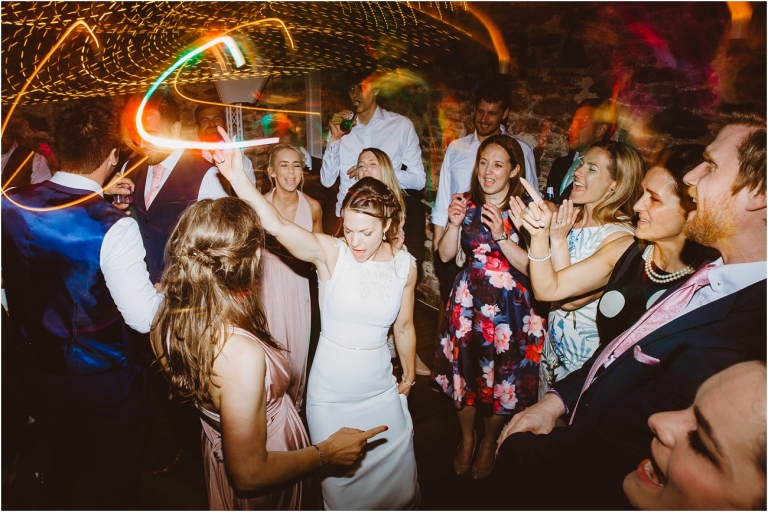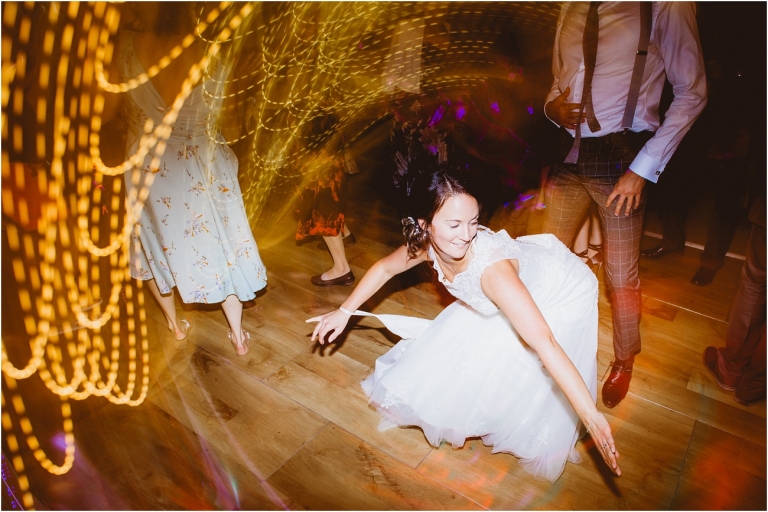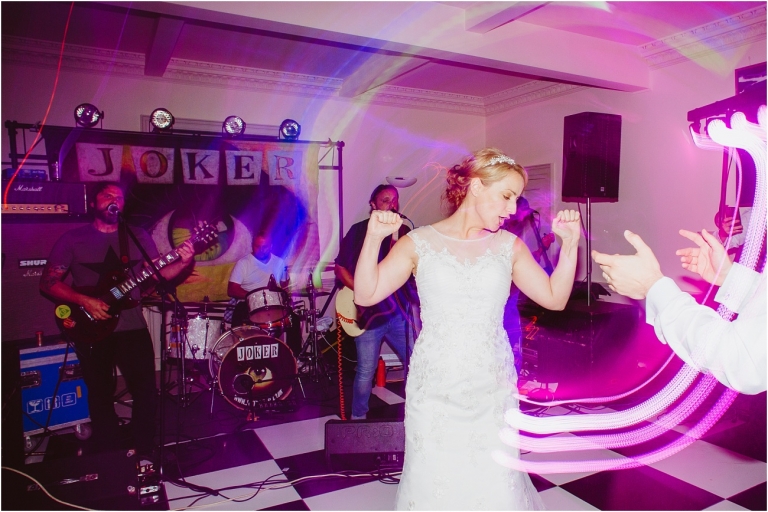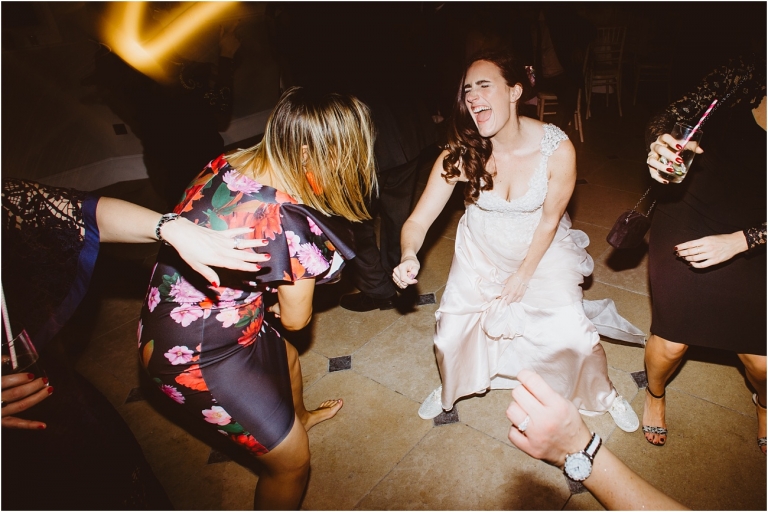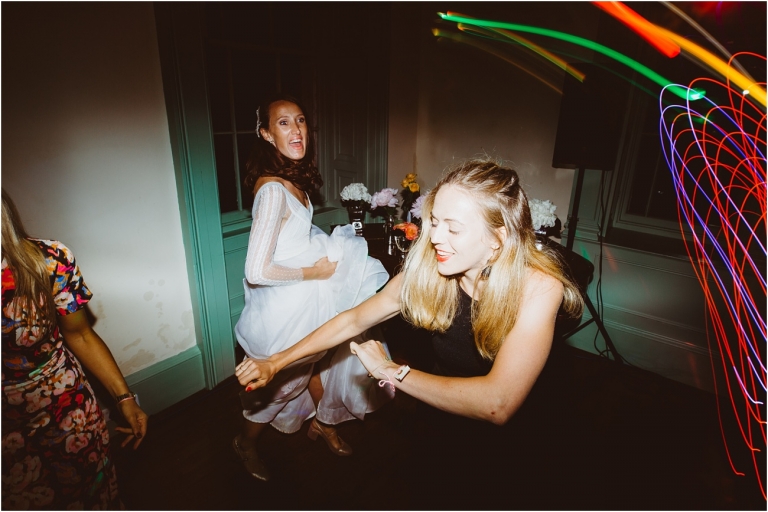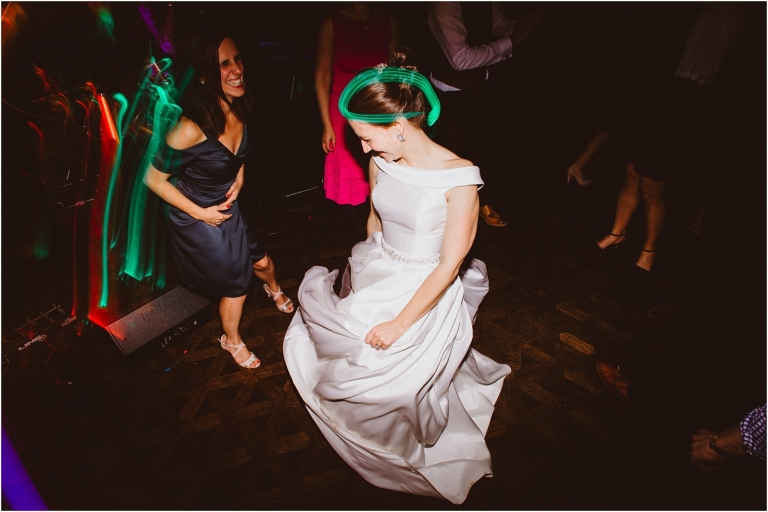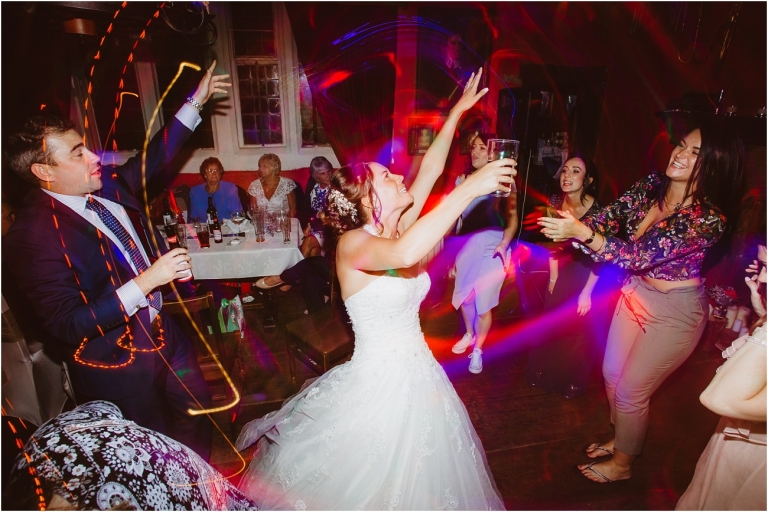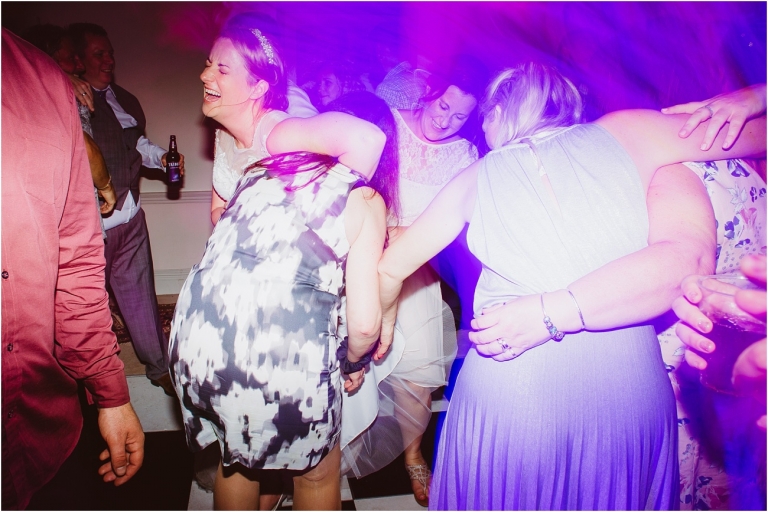 The main thing I like about the dance floor is that involves people laughing and moving spontaneously and naturally. They're usually too busy experiencing joy with their friends and family to think about the photographer capturing them at their most fun – and this really does make for the best photos! I always tell my couples that their favourite shots will probably be those when they're not posing for portraits but simply enjoying spending time with their friends and family. Hopefully this post will illustrate the best of natural, fun documentary photography!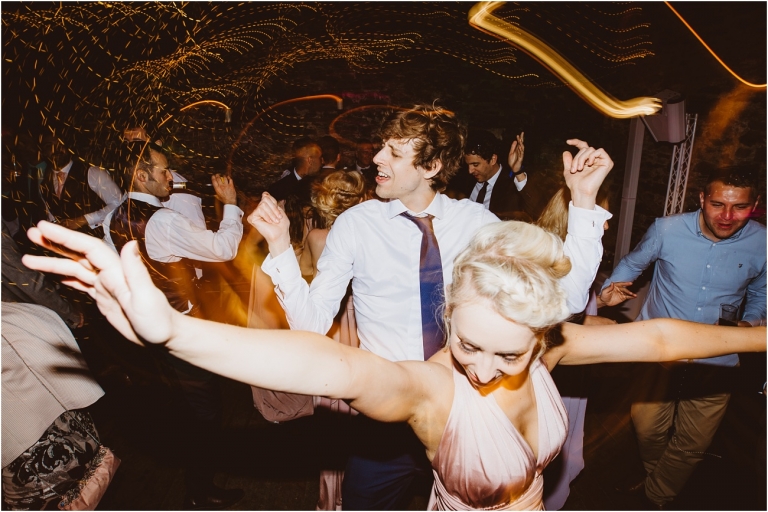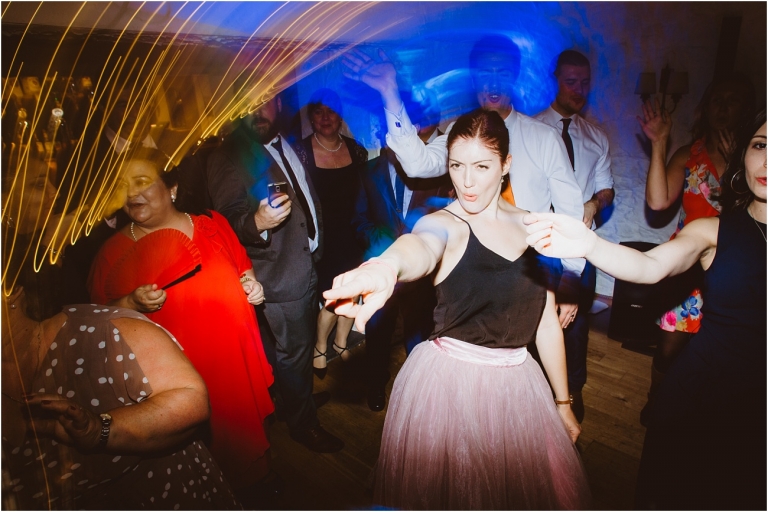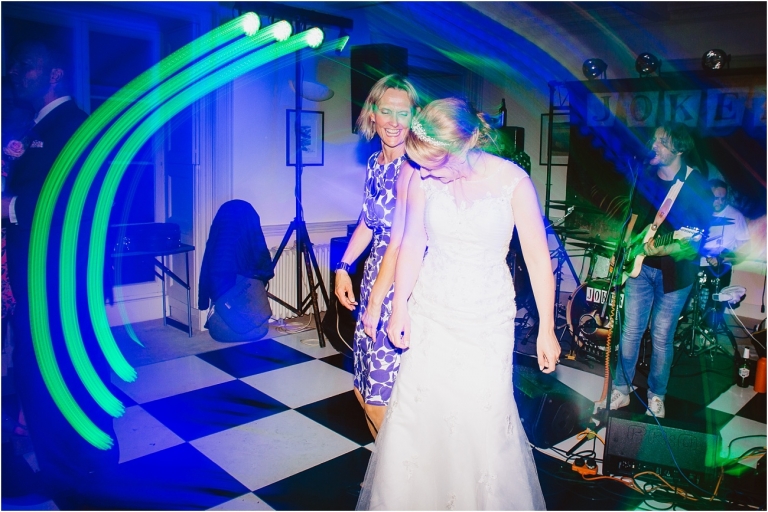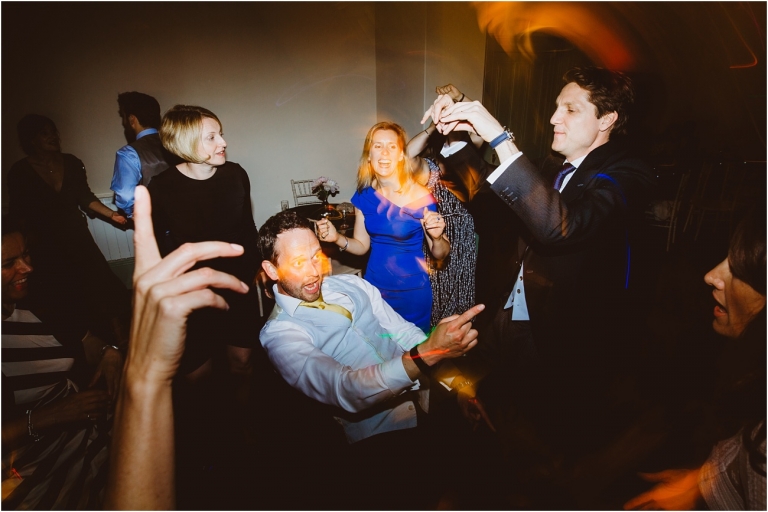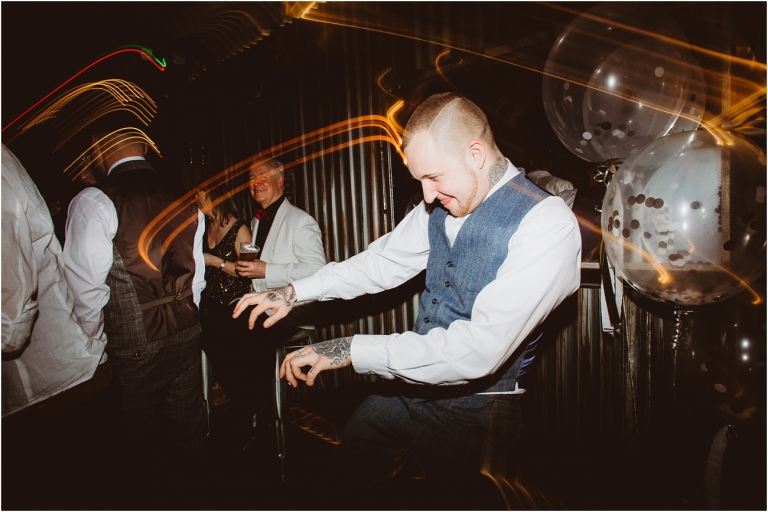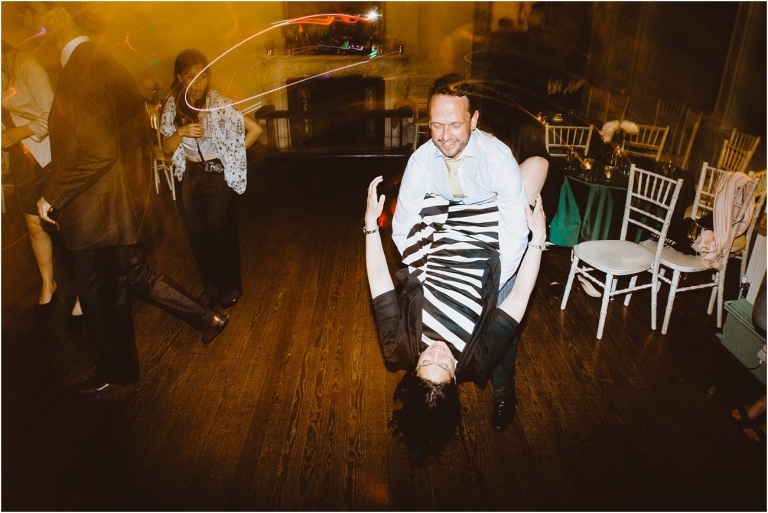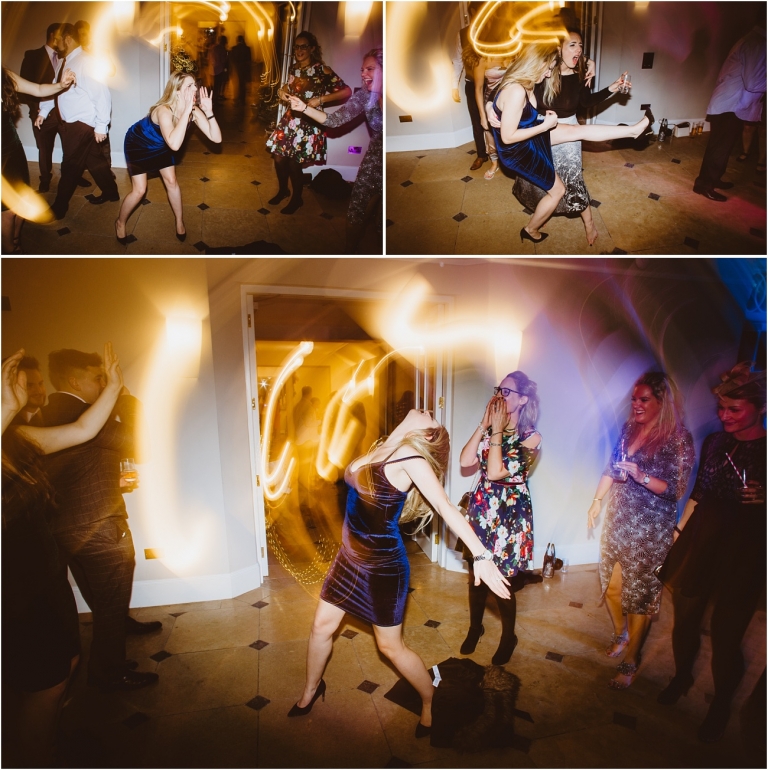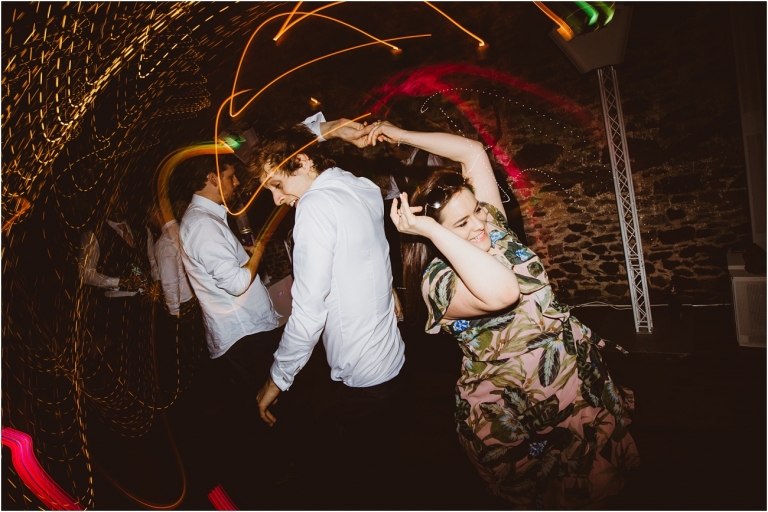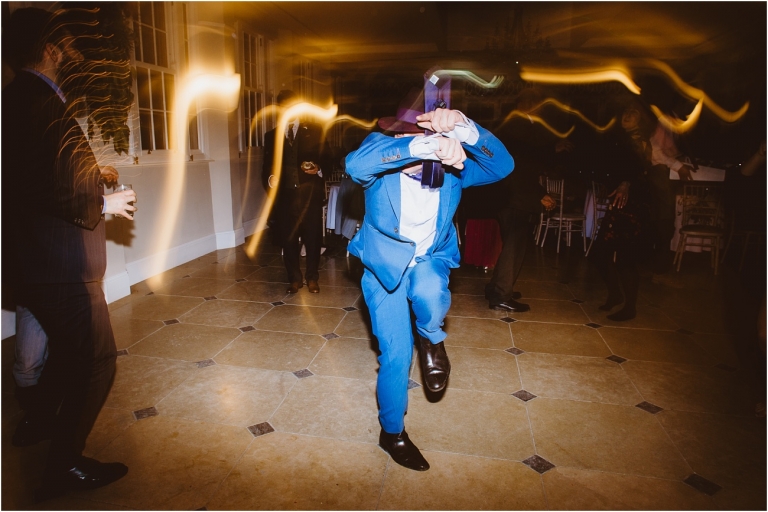 One of the other brilliant aspects of the dance floor are the lights. Different lights provide different effects, including sharp lines, hazy glows and dashed lines that look sparkly, all of which I can use to create colourful lines framing the subject.