Author Archives:
I first met Caroline and Dale at Em and Joe's wedding, which I photographed in 2015. I remembered them as a lovely, fun couple (especially on the dance-floor) so I was absolutely thrilled when I was given the opportunity to photograph their wedding.
It proved to be very true to them; great fun, with their friends and family central to the day. It began at their home with Caroline's immediate family, bridesmaids and close friends, before driving to All Saints Church for a beautiful church service. Then we all moved to Bickley Mill for the reception. Anyone who has read my blog before may know that I love Bickley Mill, and its neutral interior really allows couples to make it their own. Caroline and Dale decorated it with amazing autumnal flowers and decorations that meant something to them, so it was not only beautiful but it was personal to them, too.
As a documentary photographer, I aim to capture emotions as well as people. It makes my job all the more enjoyable when I attend weddings where everyone is so natural and close with one another. Caroline and Dale said that they are not showy people but I think that this makes for the best photography. Their love for one another, their family and their friends was evident in so many natural moments (and I could not possibly fit them all in this post) that I would not have had them be more "showy" for the world!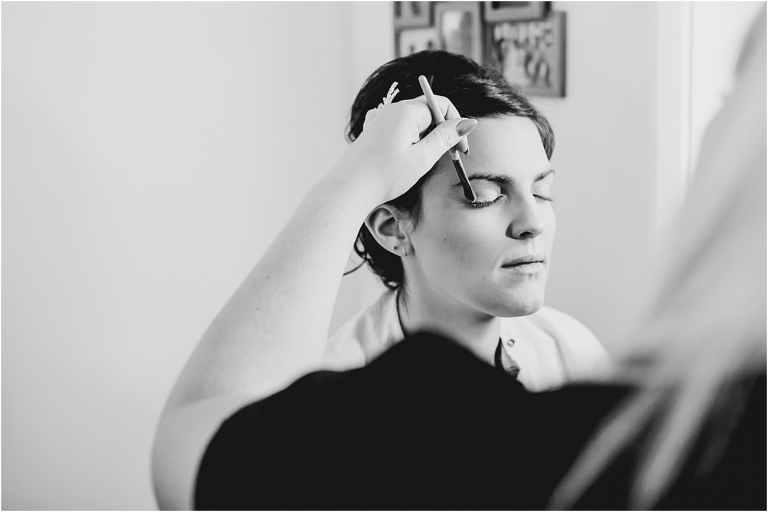 Caroline's make-up was by Polished, a recommendation from her cousin. The effect was stunning but natural; people commented on the day that she looked like the best version of herself; I'd have to agree!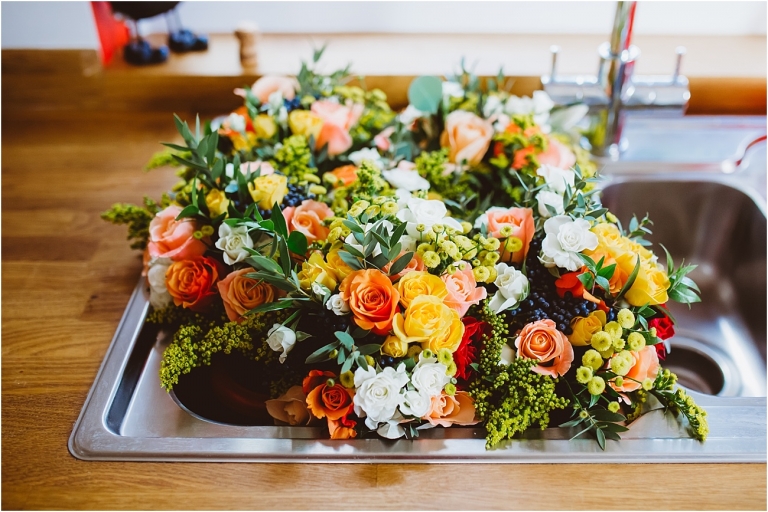 Vita from Flower La Vita was the first person to make Caroline cry when she arrived with the flowers!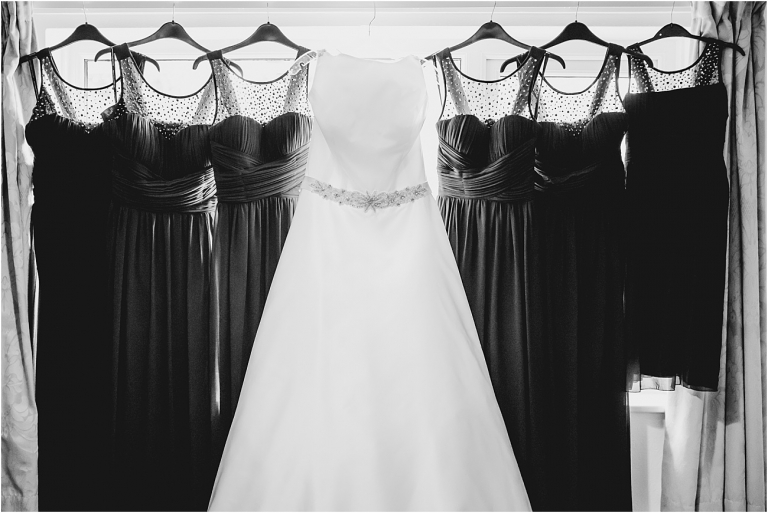 Caroline's wedding dress was from The Bridal Box in Torquay. She tried one dress (hated it) tried a second and loved it! Her mum burst into tears when she saw her, so she knew that this had to be the one. The Bridesmaids' dresses were from Janes in Torquay.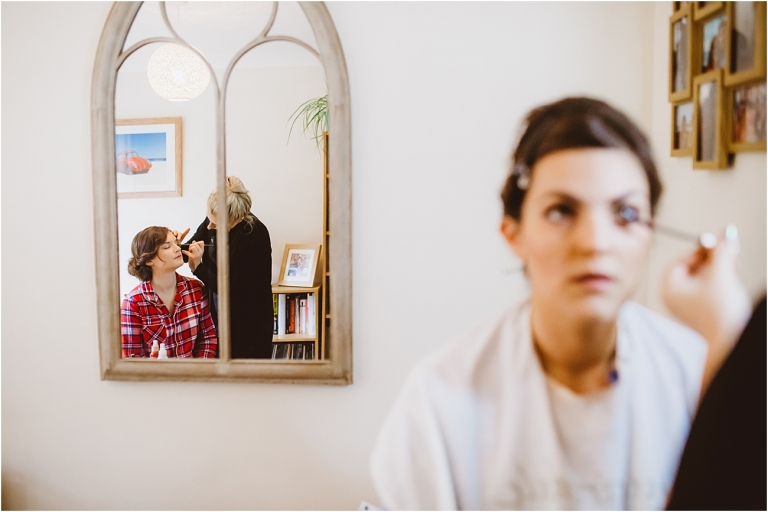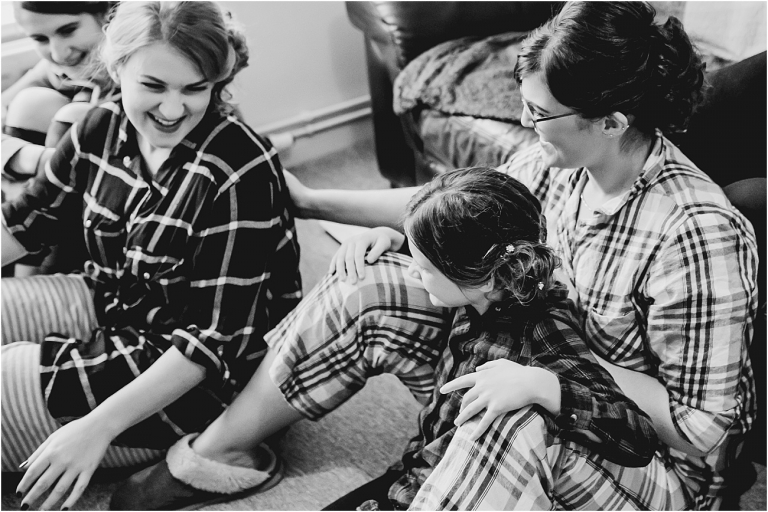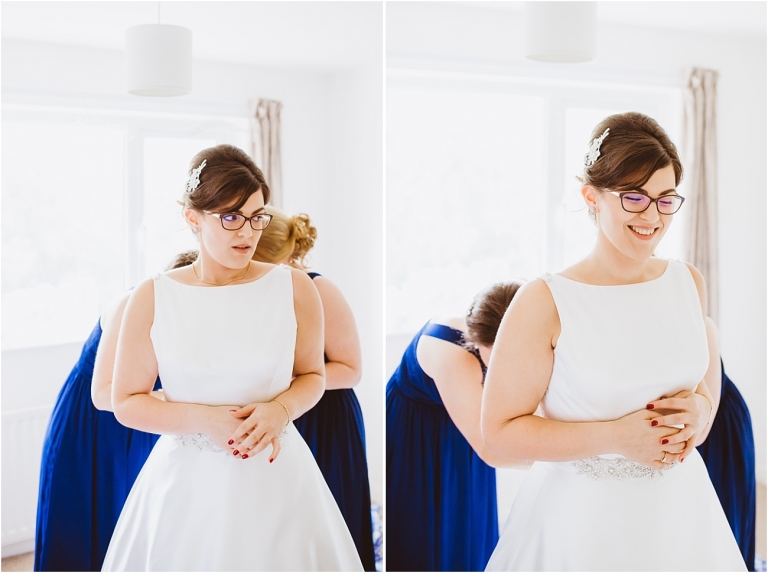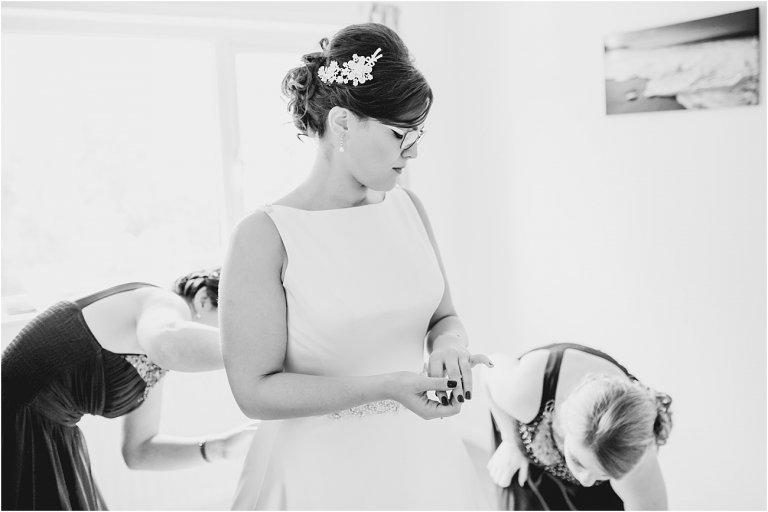 Vicki from Vanity Fayre has been Caroline's hairdresser since she was six. Even before their engagement, she started asking Caroline about what hair she would like on her wedding day!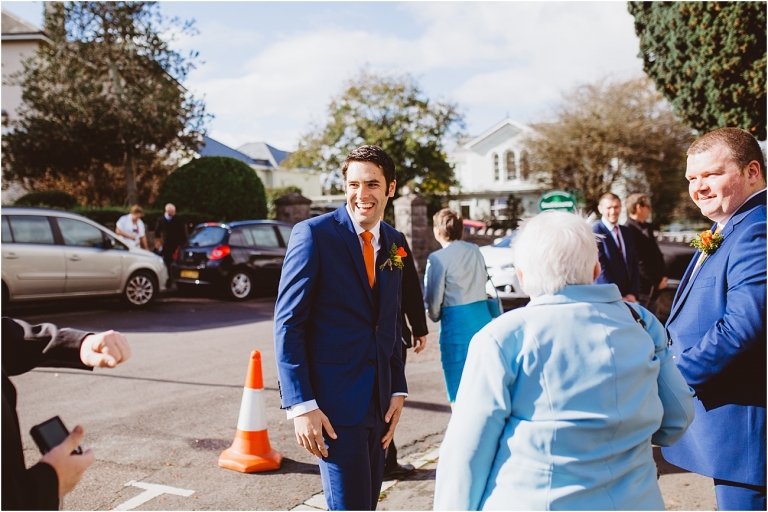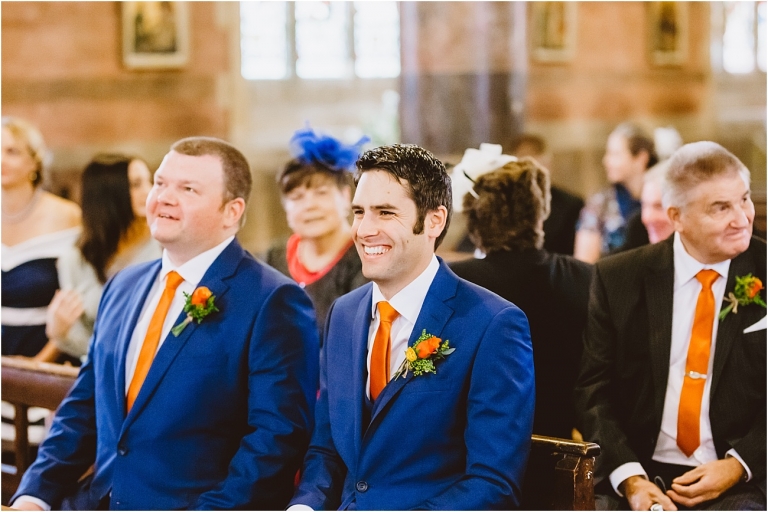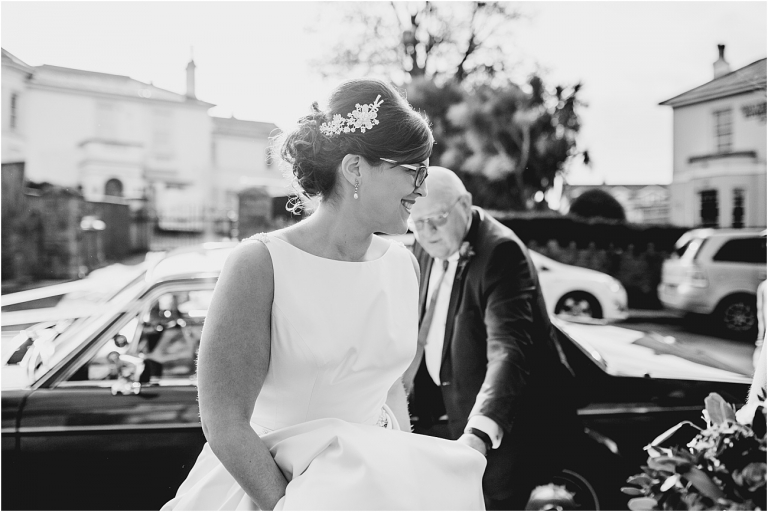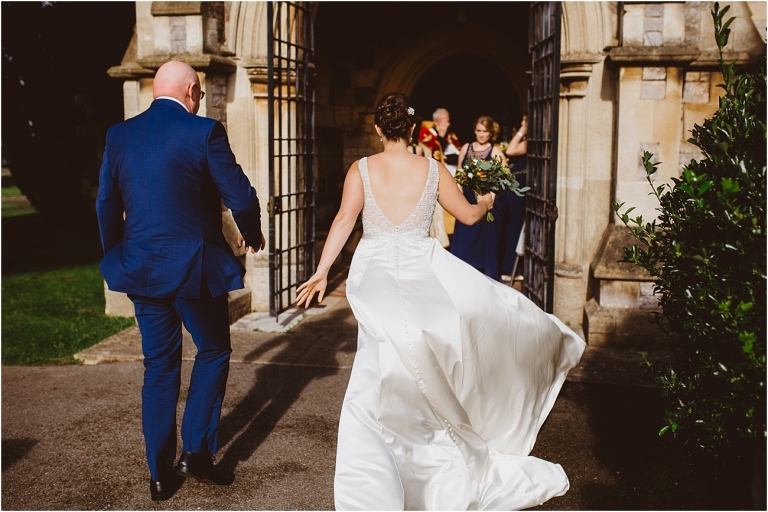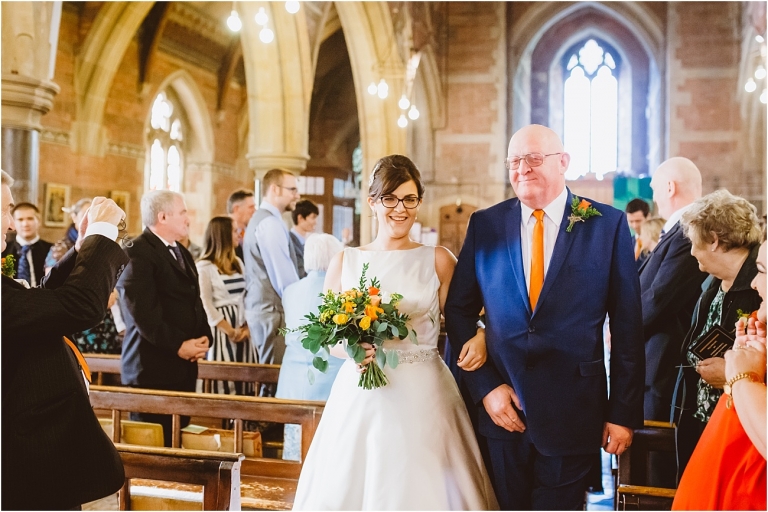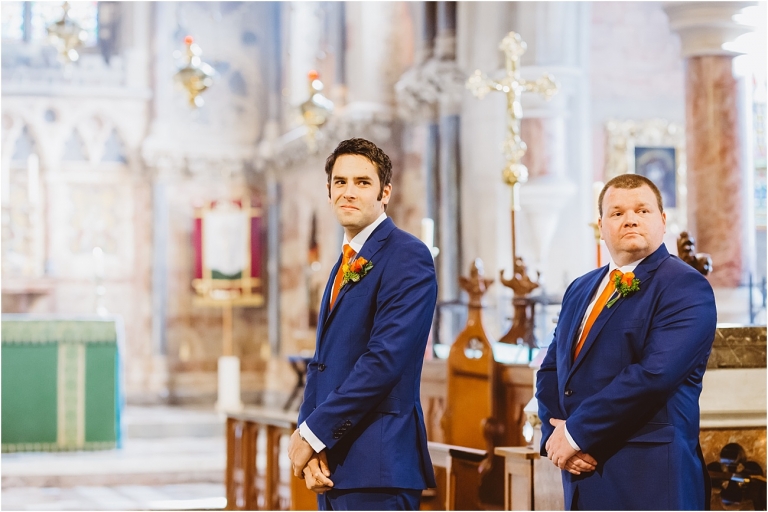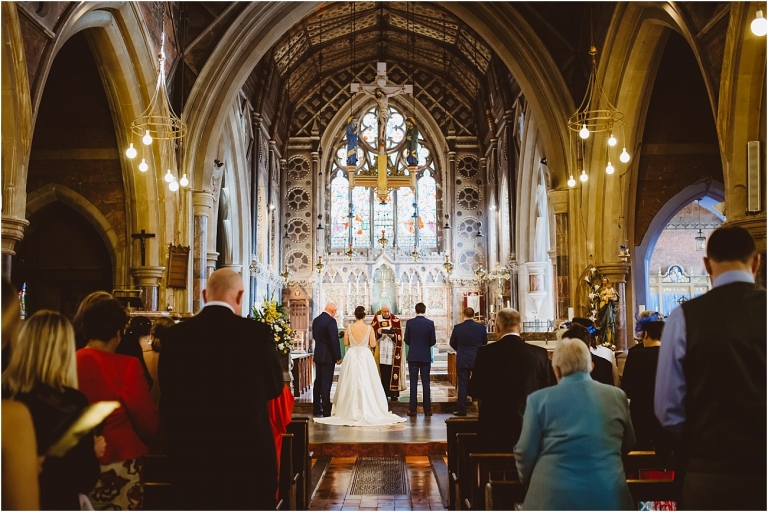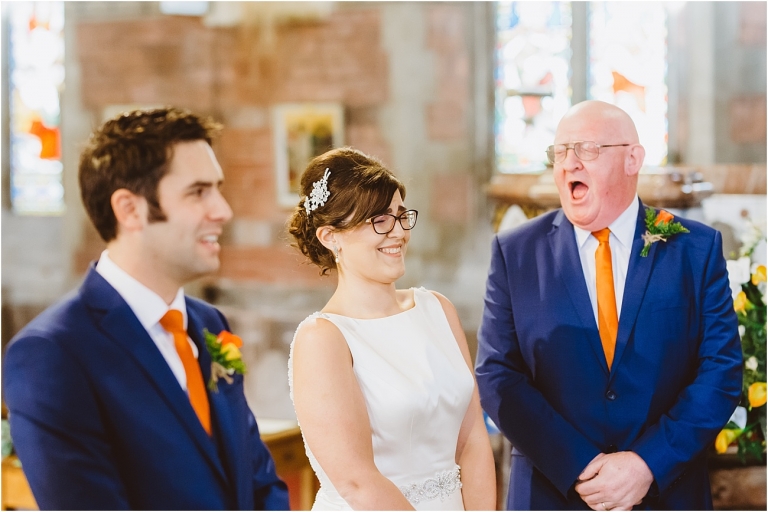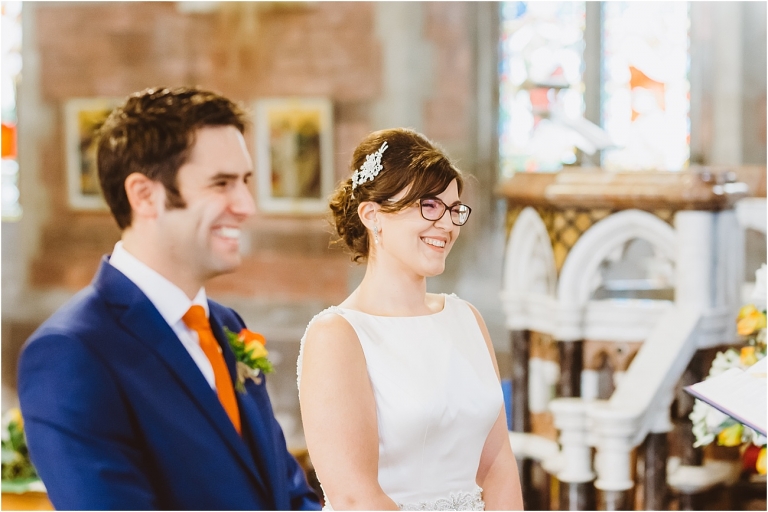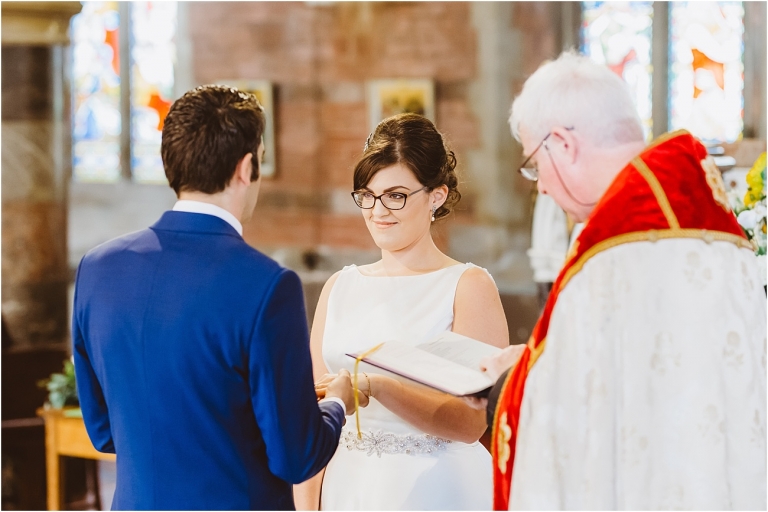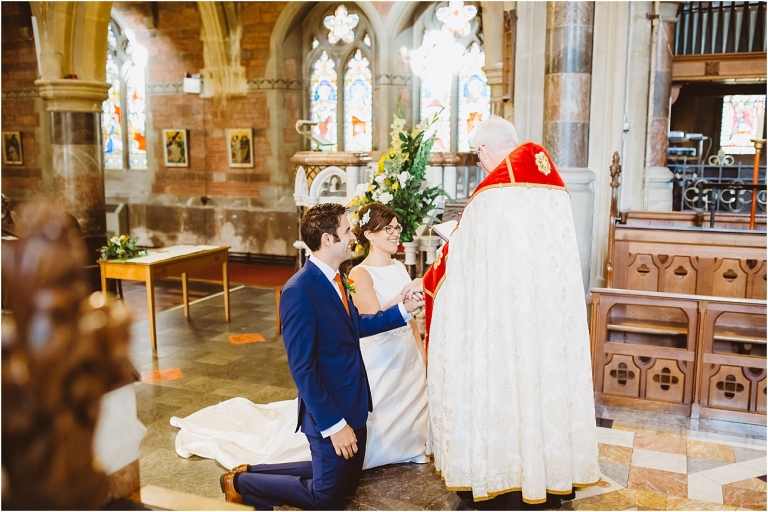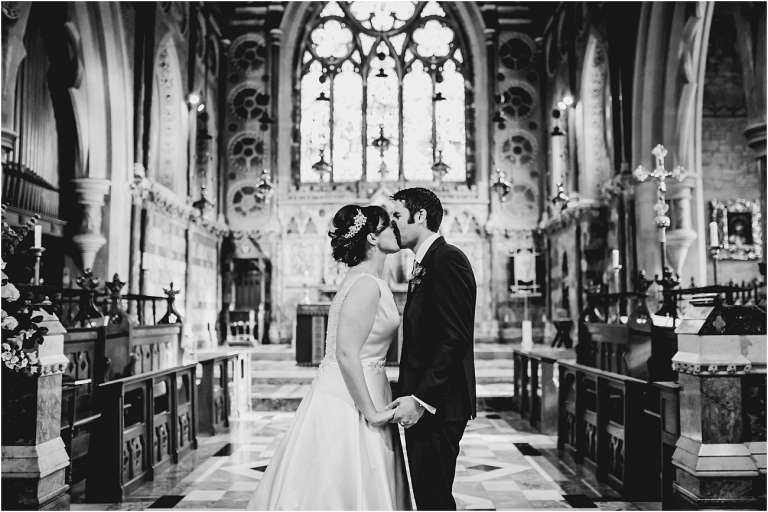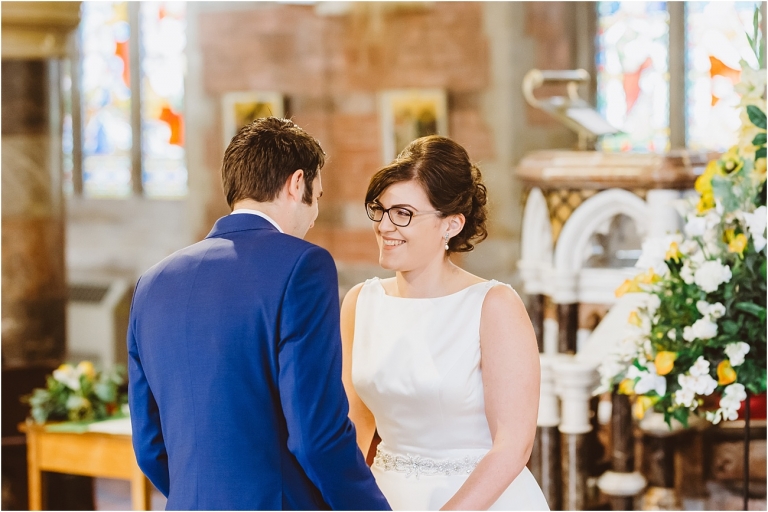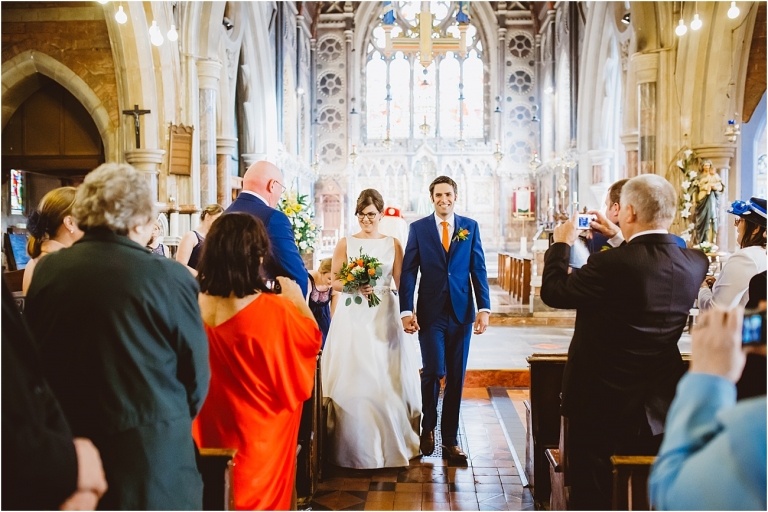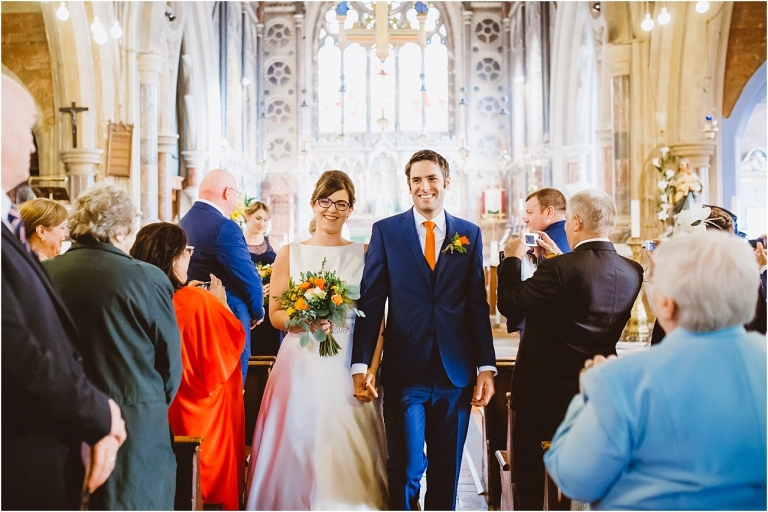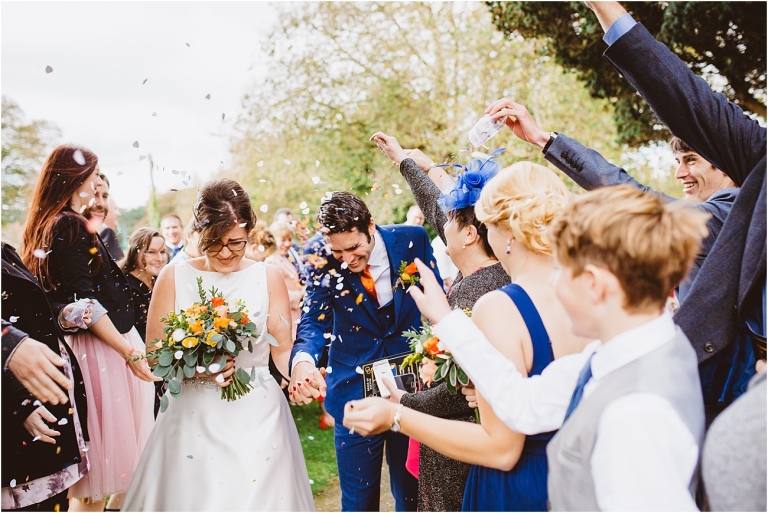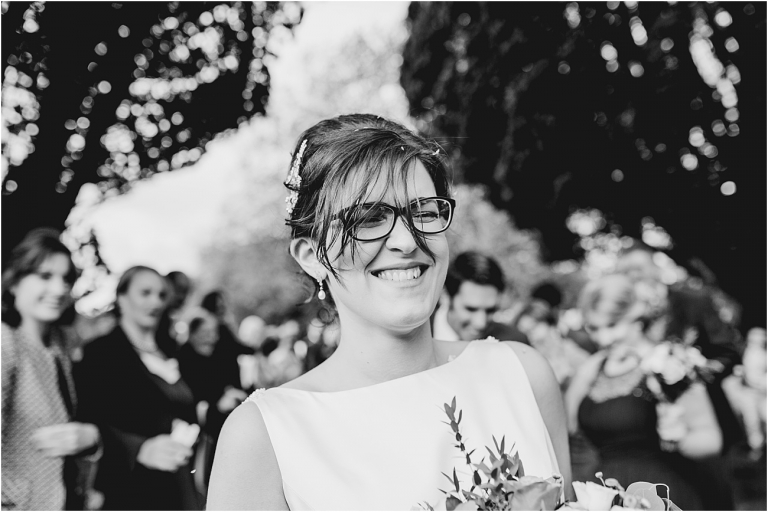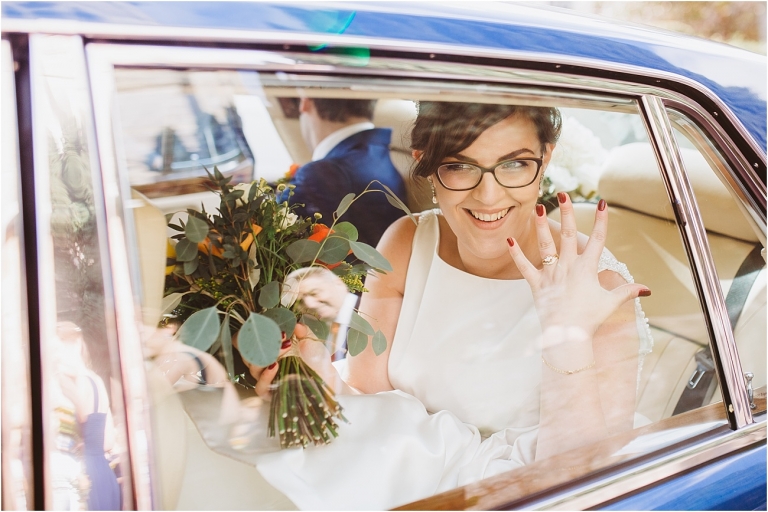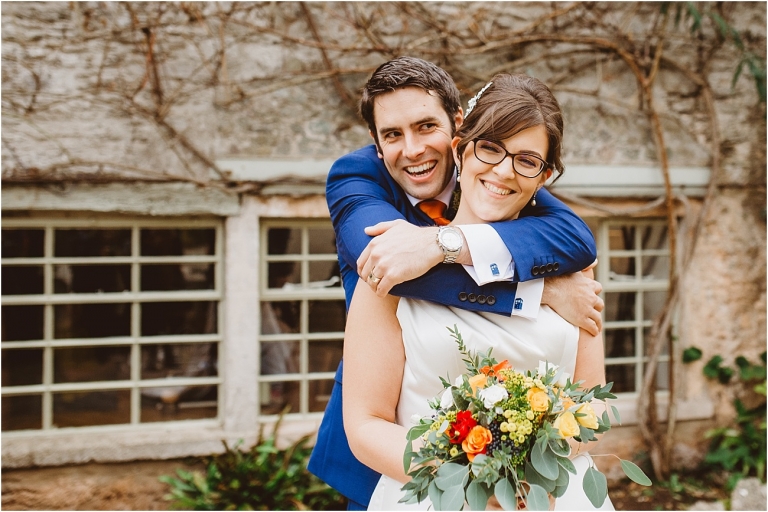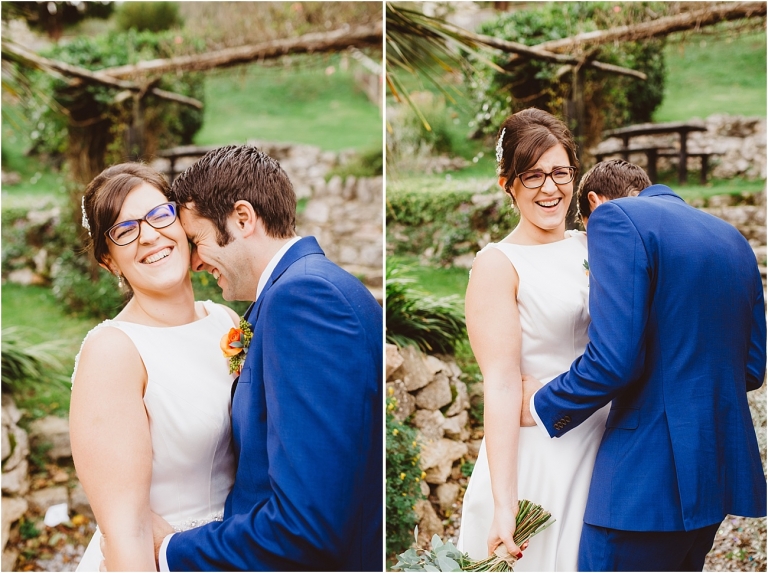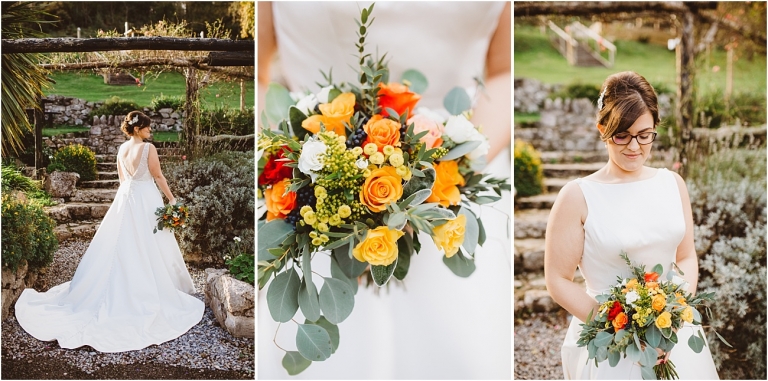 Flower La Vita provided Caroline's stunning bouquet, as well as the centrepieces and buttonholes. The inspiration came from Dale's autumn proposal to Caroline in Cockington, which must have looked beautiful! Caroline's favourite colour is orange as well, so the result was a gorgeously warm autumnal arrangement. Caroline told me that Vita of Flower la Vita was exceptionally accommodating in creating her perfect bouquet.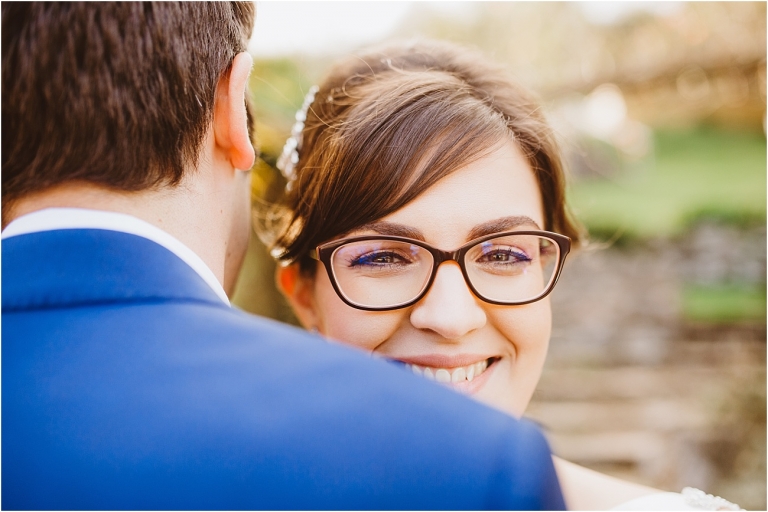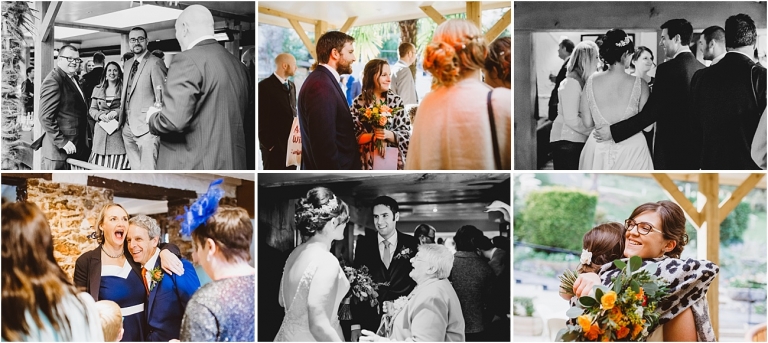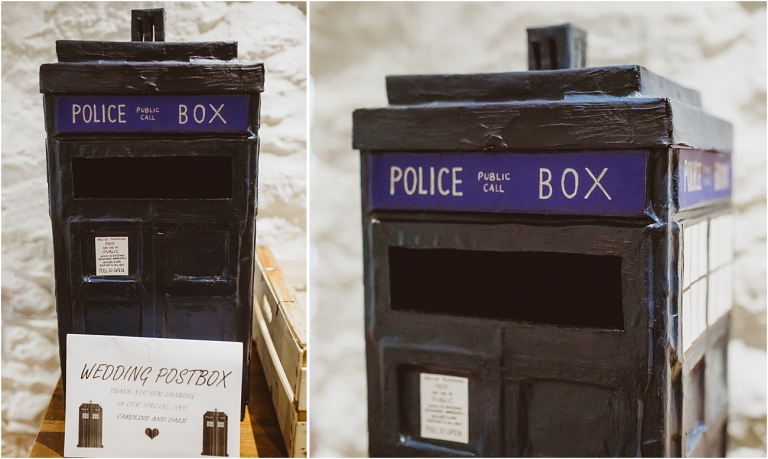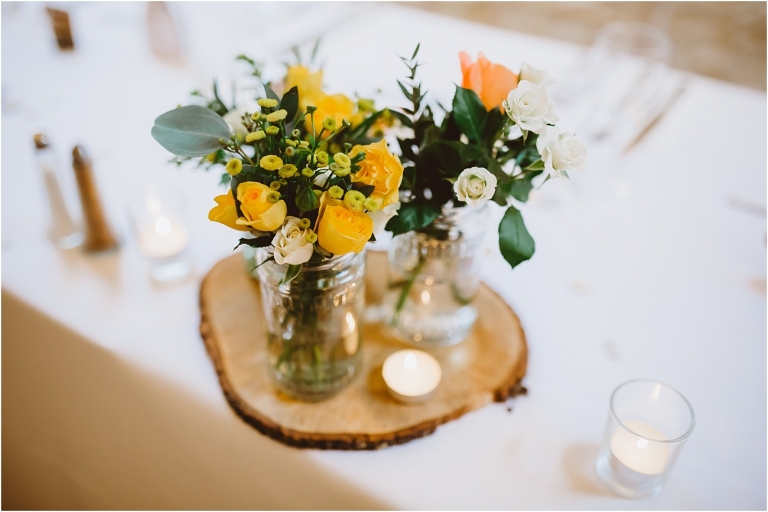 The rustic place holders and table numbers were made by Dale from an old Christmas tree.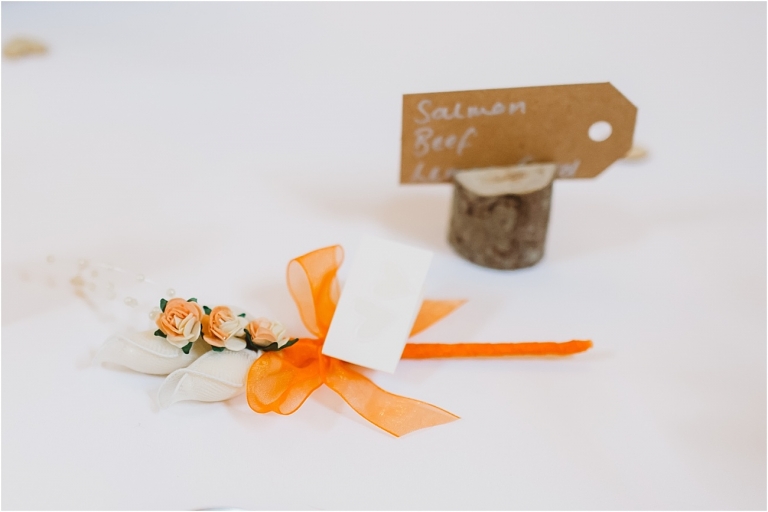 The wedding favours, traditional sugared almonds from Gibraltar, were courtesy of Favours for You.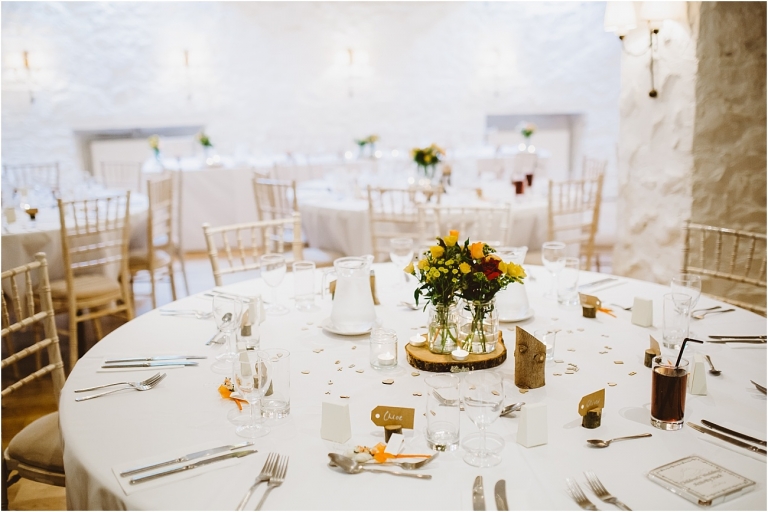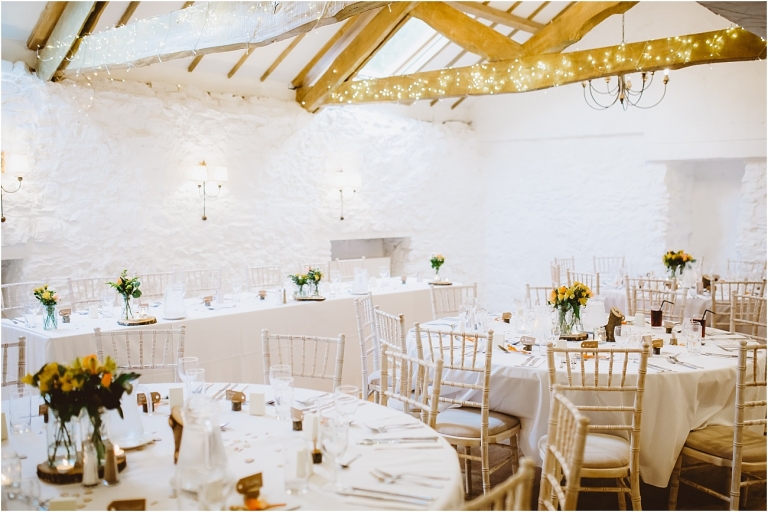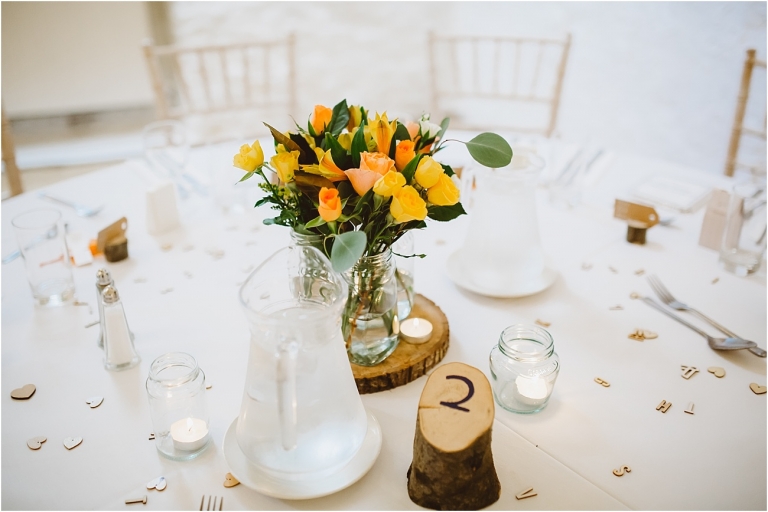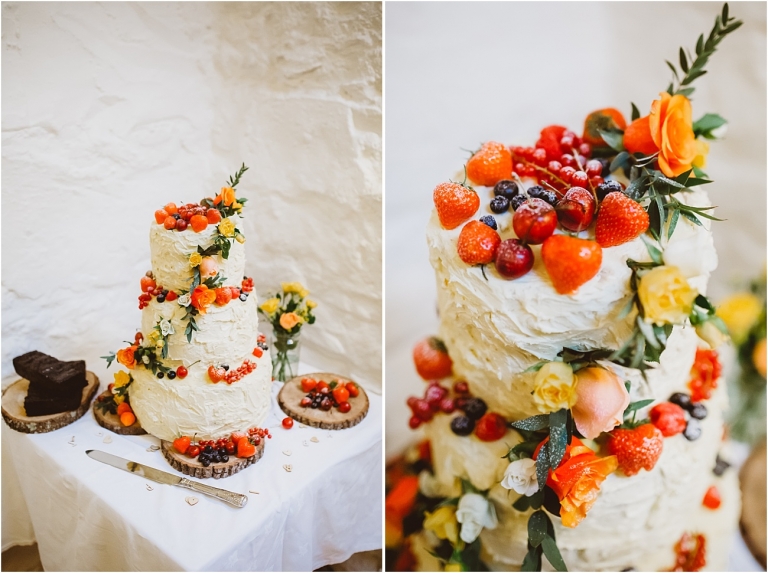 Dale's mum made their wonderful cake. The warm colours of the fruits went perfectly with the autumnal colour scheme.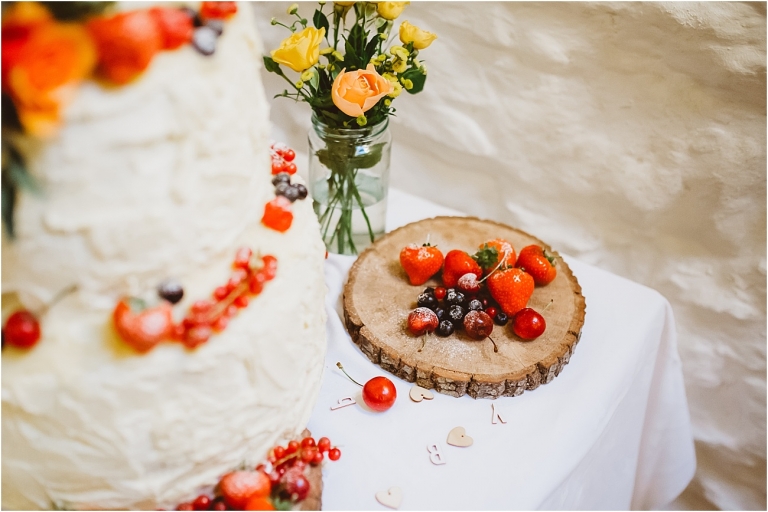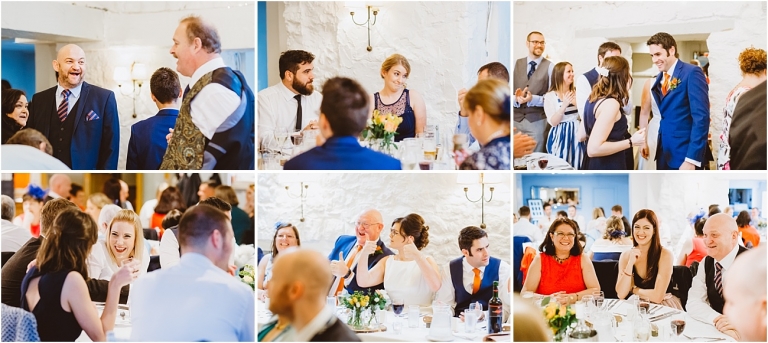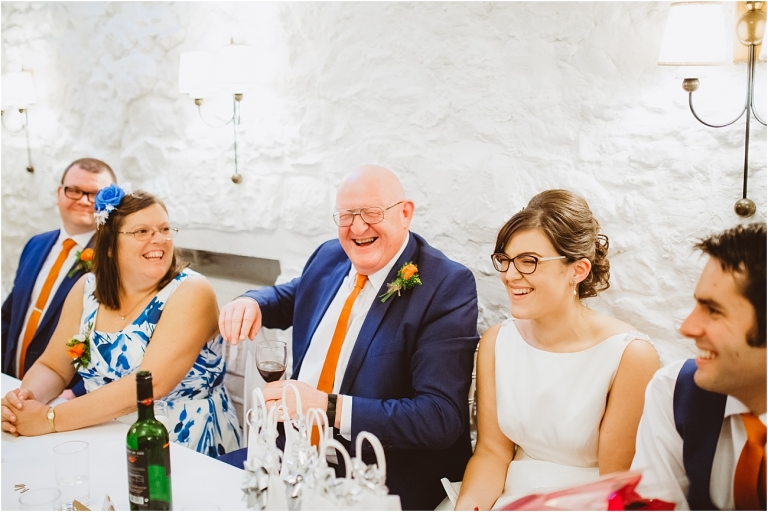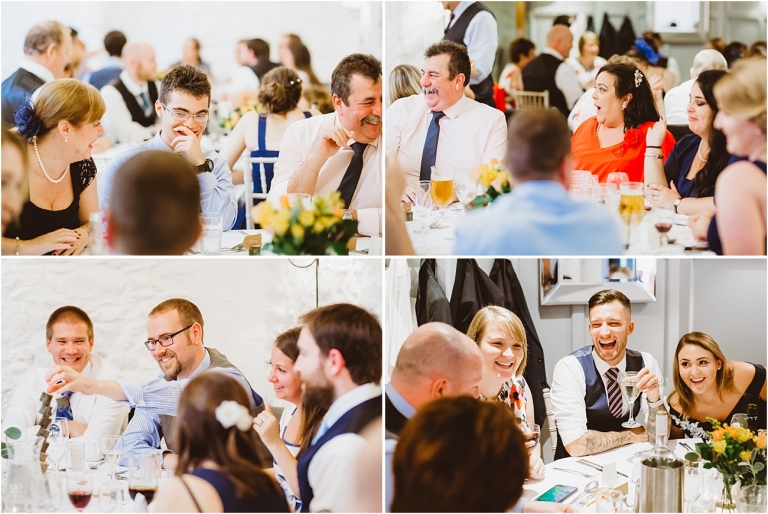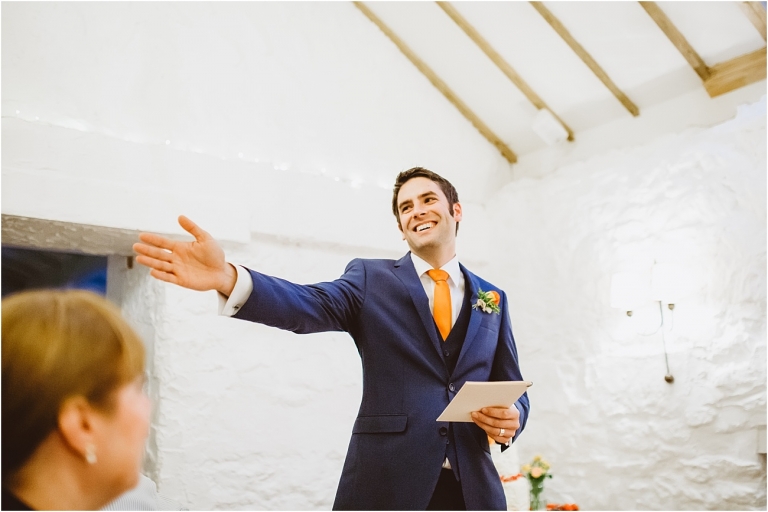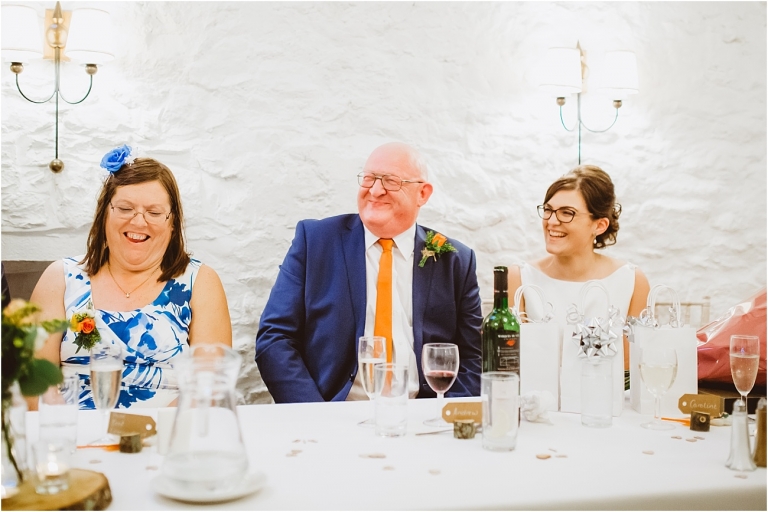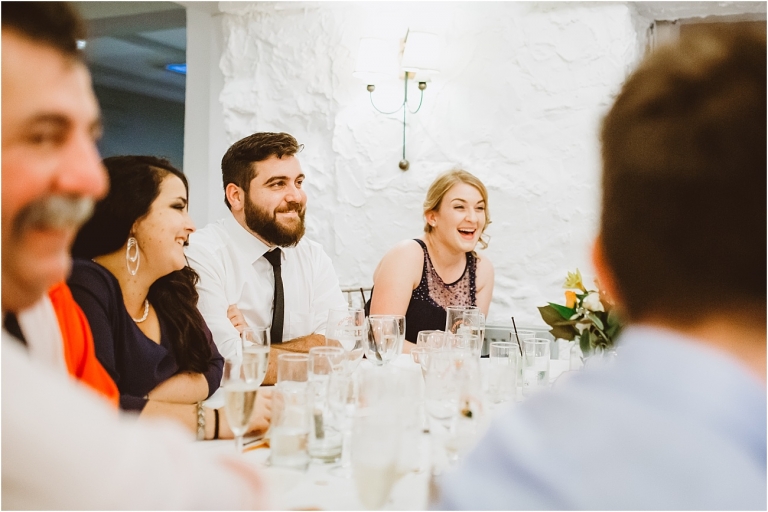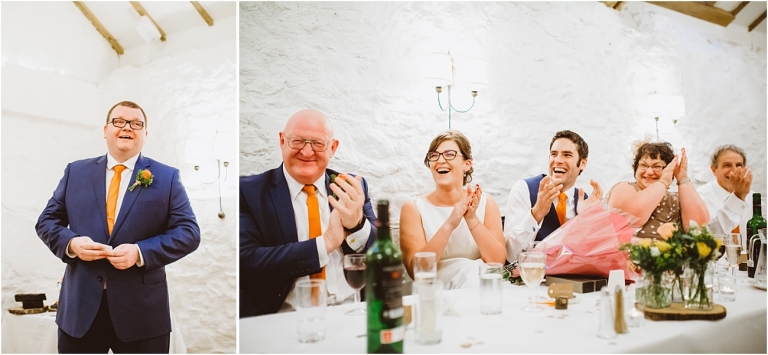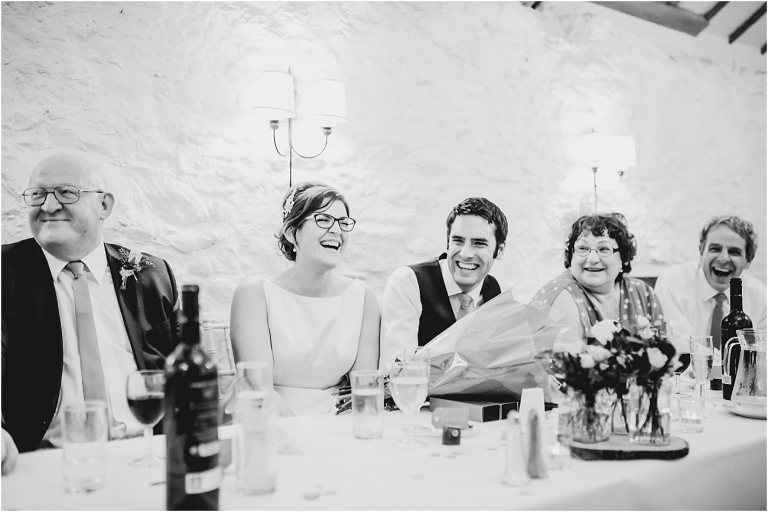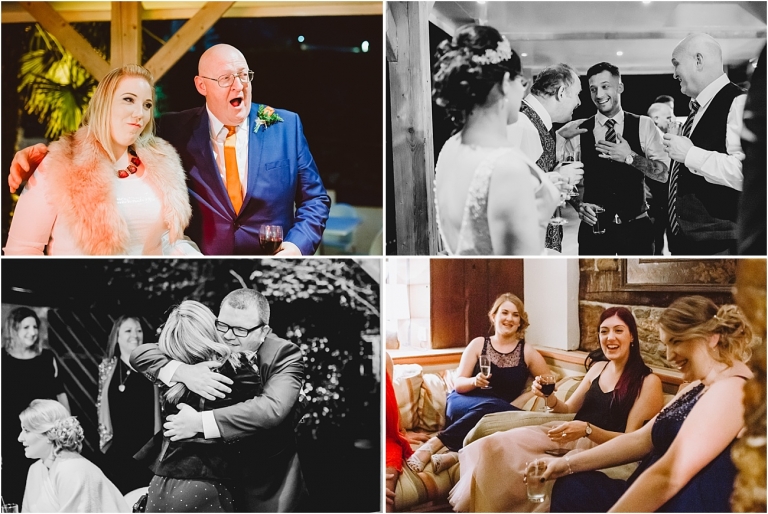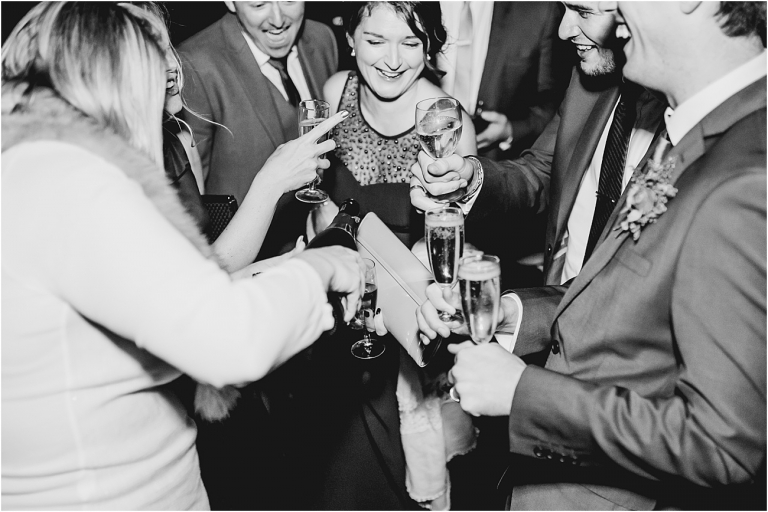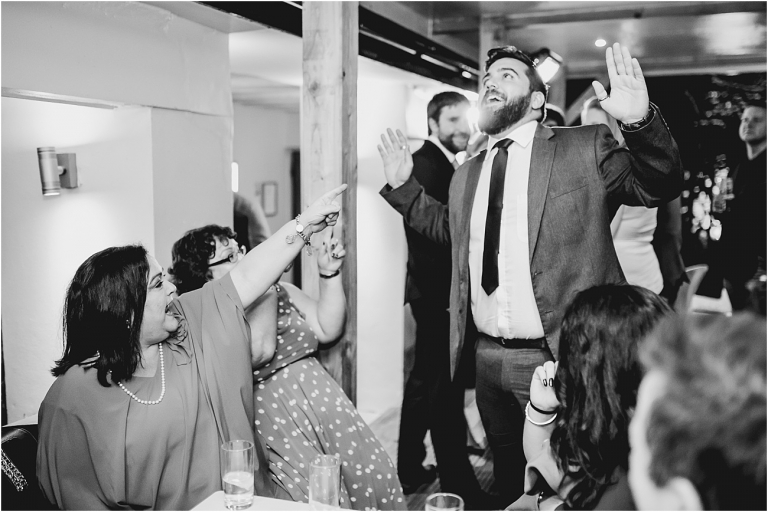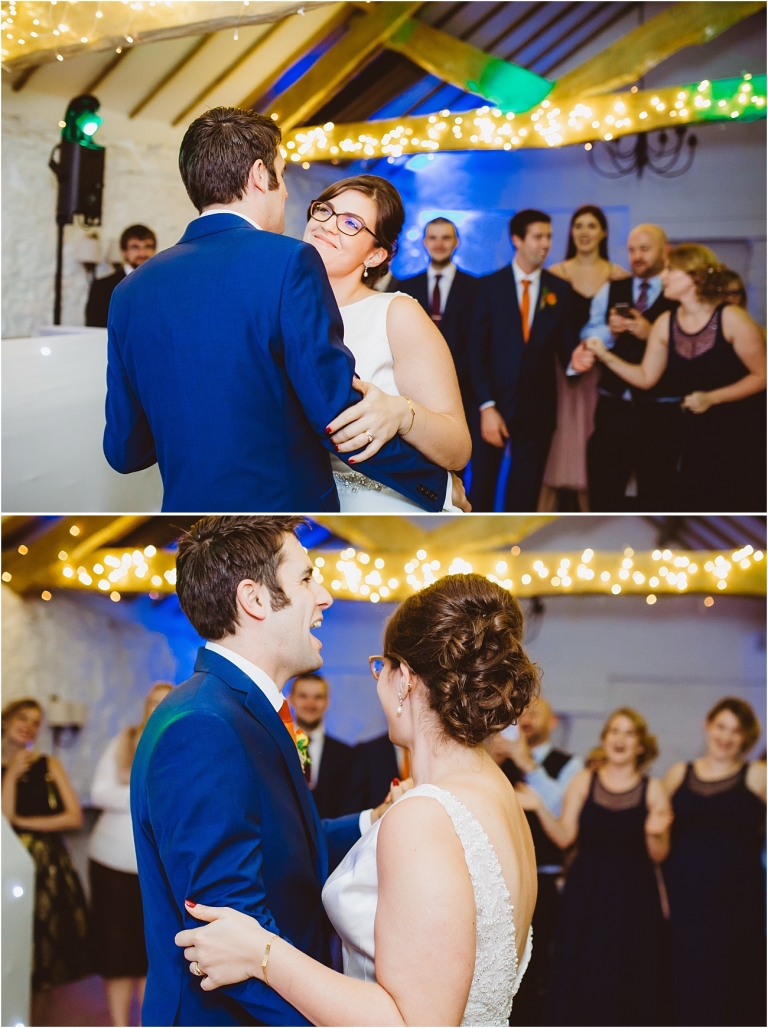 The DJ was from Bespoke Disco, who played "It Must be Love" by Madness for Caroline and Dale's first dance. And there was further "madness" on the dance-floor shortly afterwards!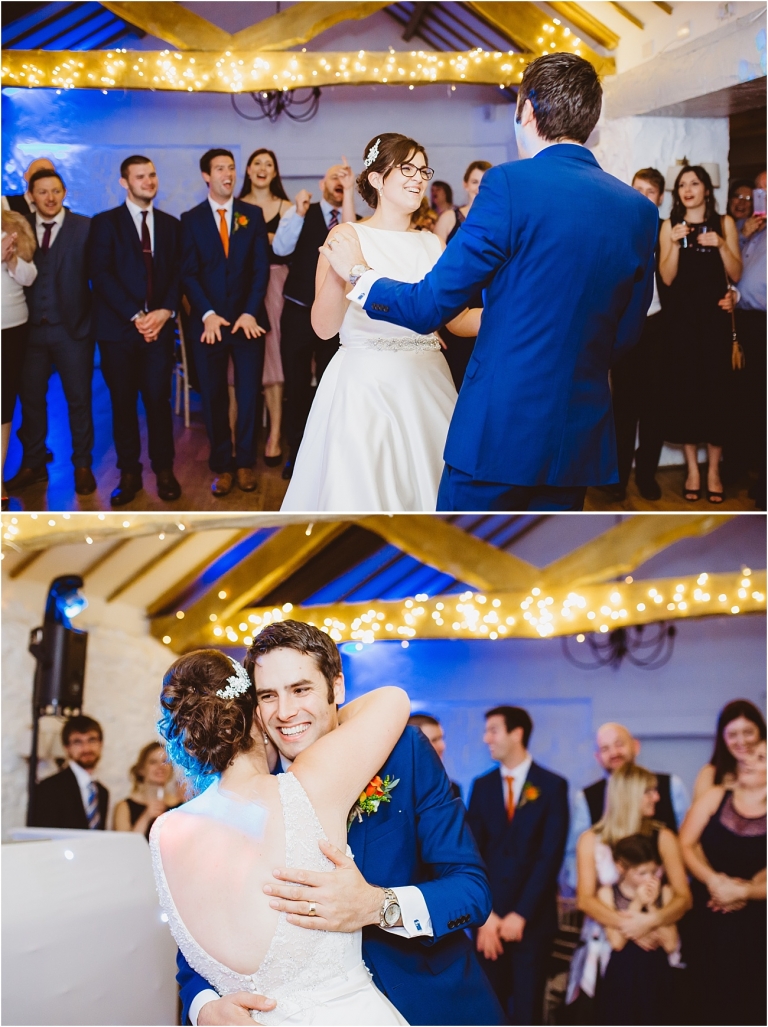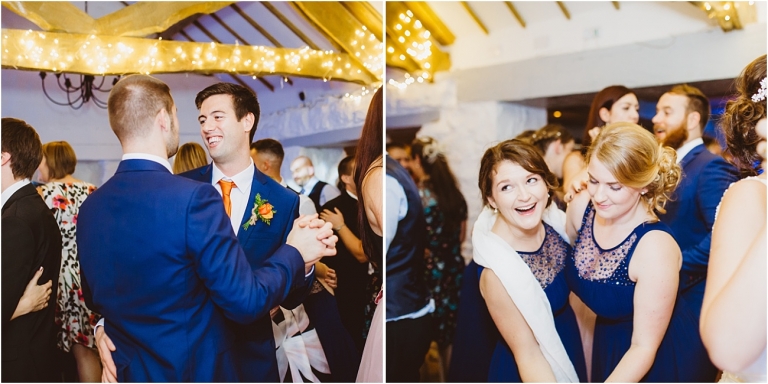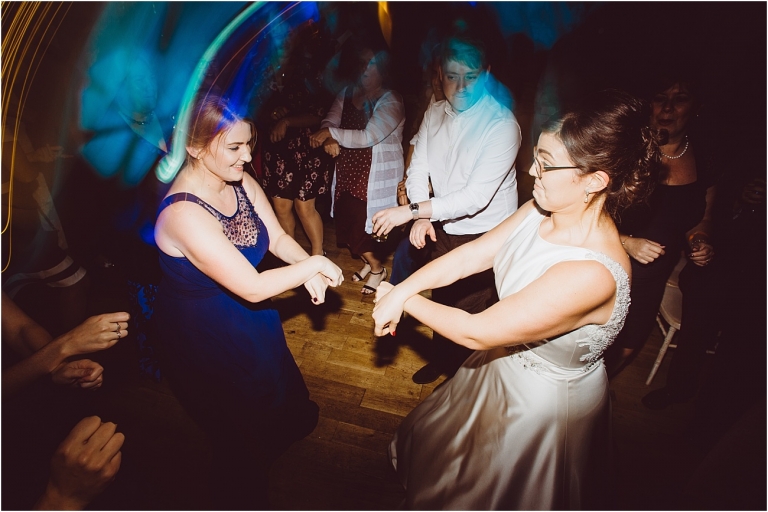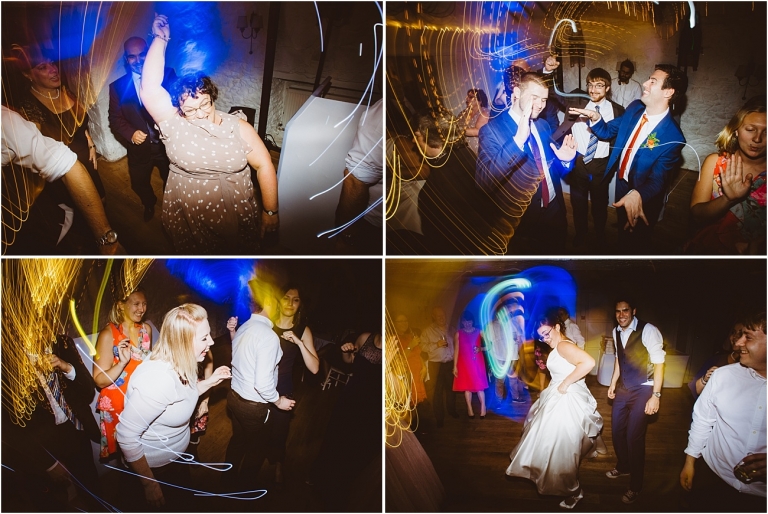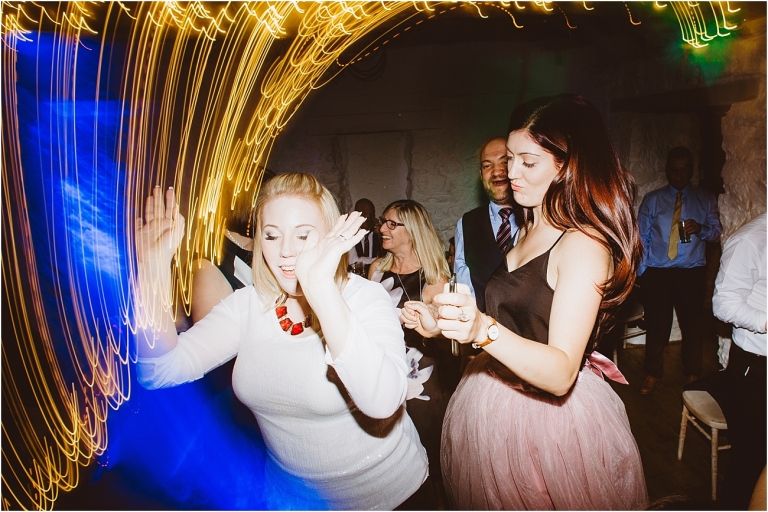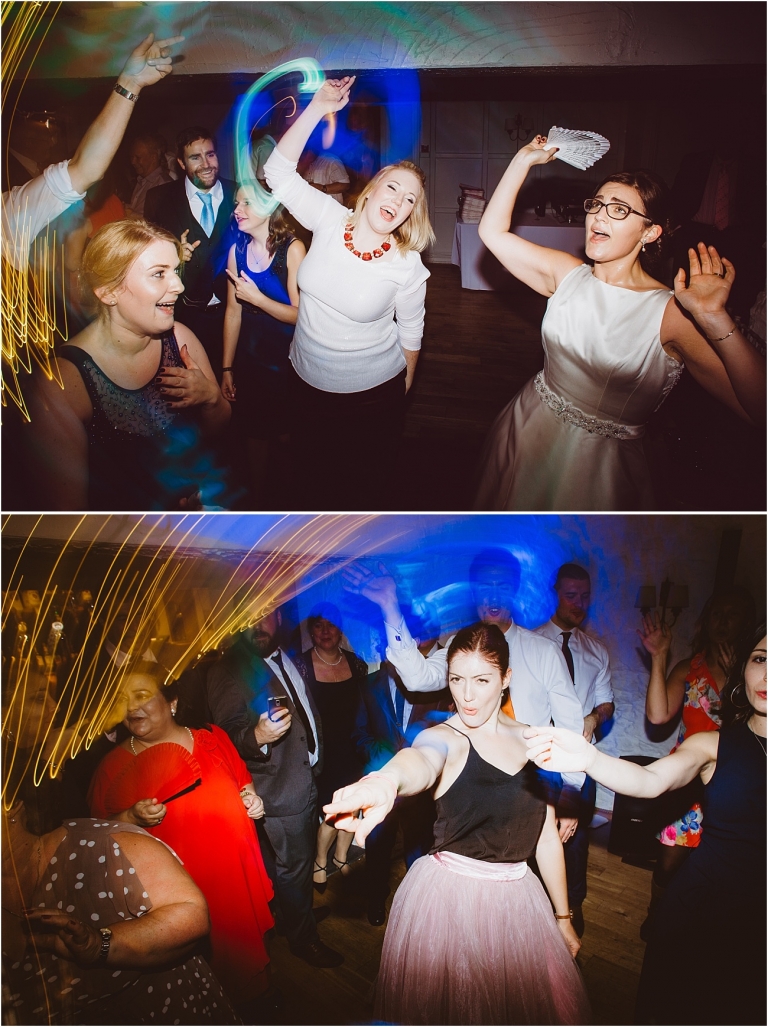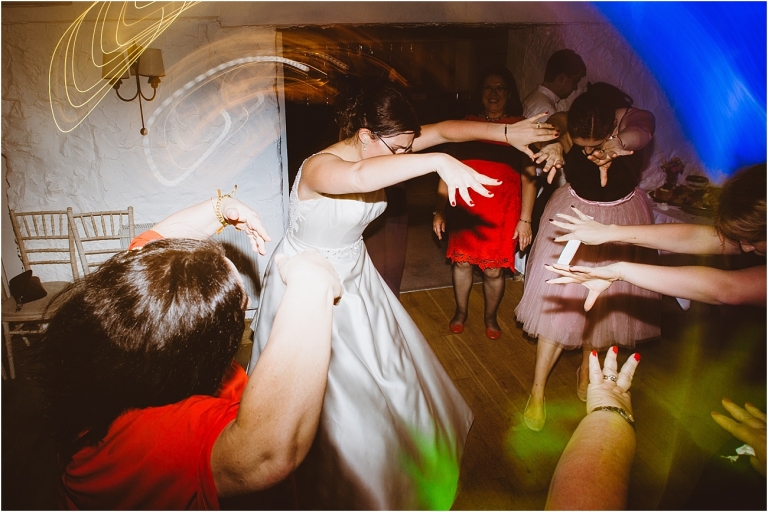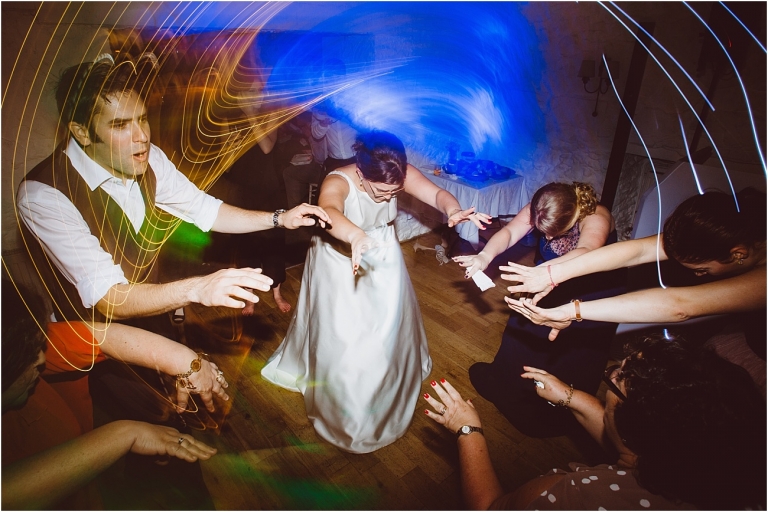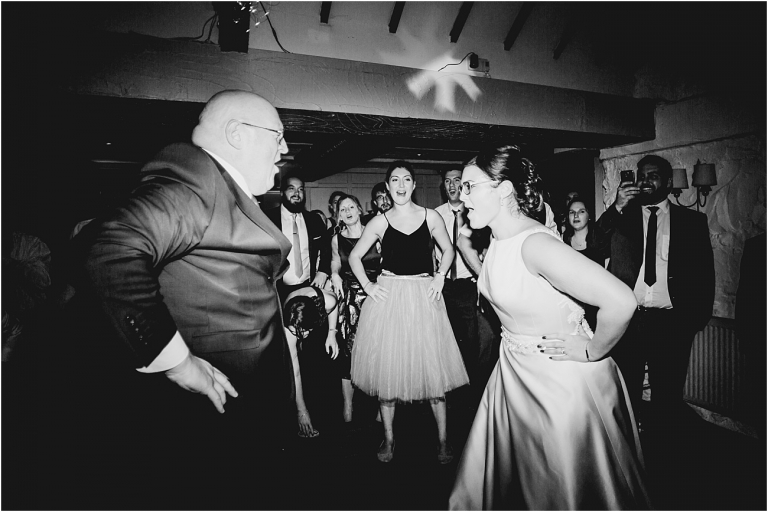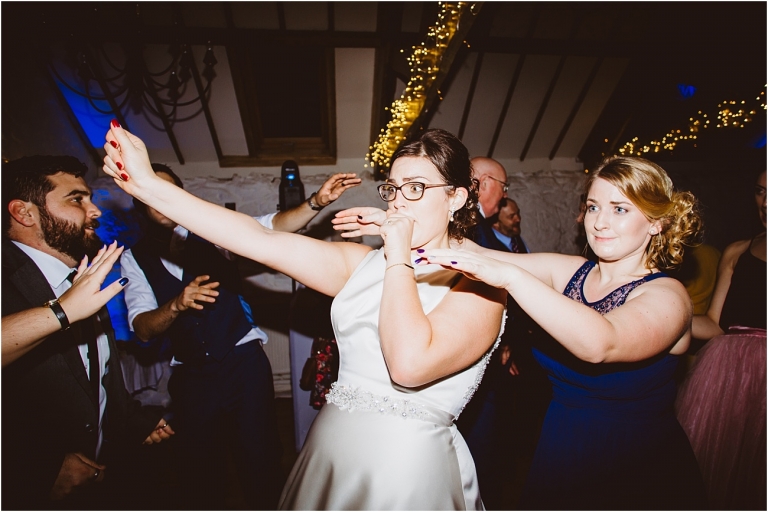 There was some really great dancing at this one! Thank you Caroline and Dale for allowing me to share in your fantastic wedding; it really was a pleasure!
Thank you for reading my blog! If you would like to leave a comment, please feel free to do so below. And if you are looking for a wedding photographer in Devon or Cornwall, please feel free to check out my packages or get in touch!
Jazmine and Harley have been together for 12 years and their beautiful spring wedding at Buckland-Tout-Saints demonstrated their long-felt love for one another. Their relaxed, natural and family-orientated wedding was simply so easy to enjoy and admire. The grounds at the Buckland-Tout-Saints Hotel were magnificent and the beautiful interior was simply styled with Angela's Wedding Flowers. Guests choosing beef from the menu were treated to meat from Jazmine's father's dexter cows. There was a one-man-band for entertainment, a sweet stall for the children and, later on, my very first sparkler exit!
This was Jazmine and Harley's celebration of the best things in their life; their love for their friends and family, their son George and each other.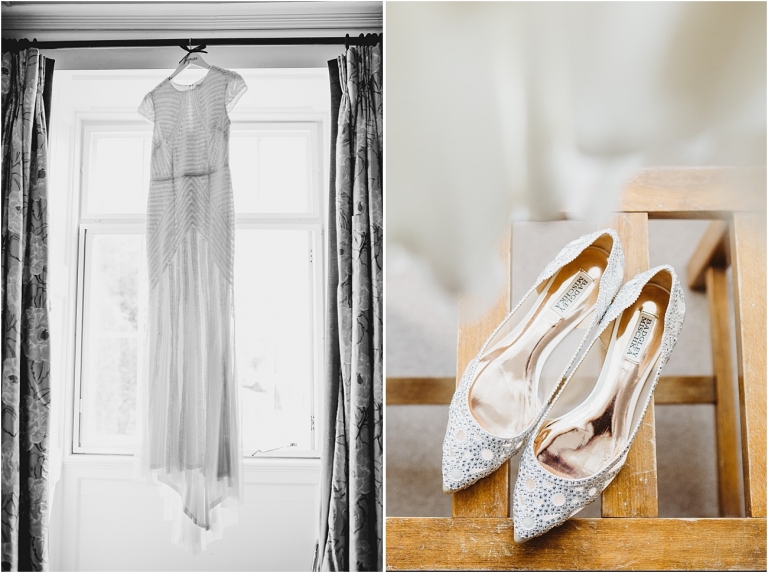 Jazmine's gorgeous wedding dress was from the Debenhams Nine Bridal range. It was absolutely perfect and was finished with a belt from BHLDN, where she also purchased her shoes.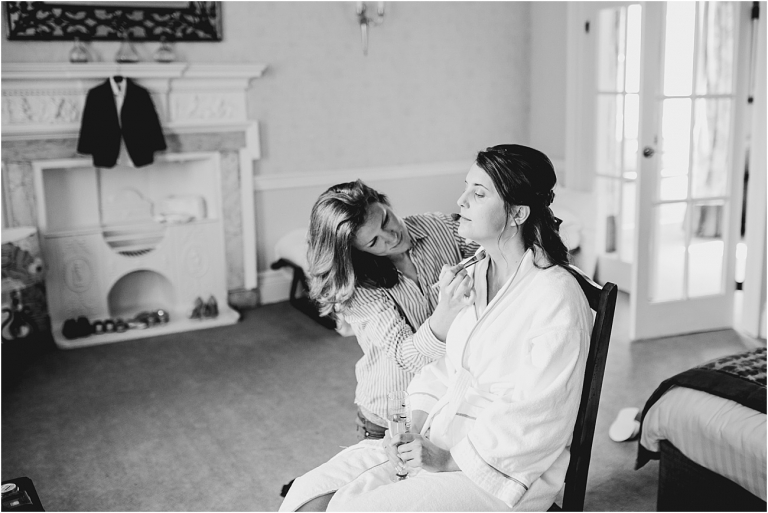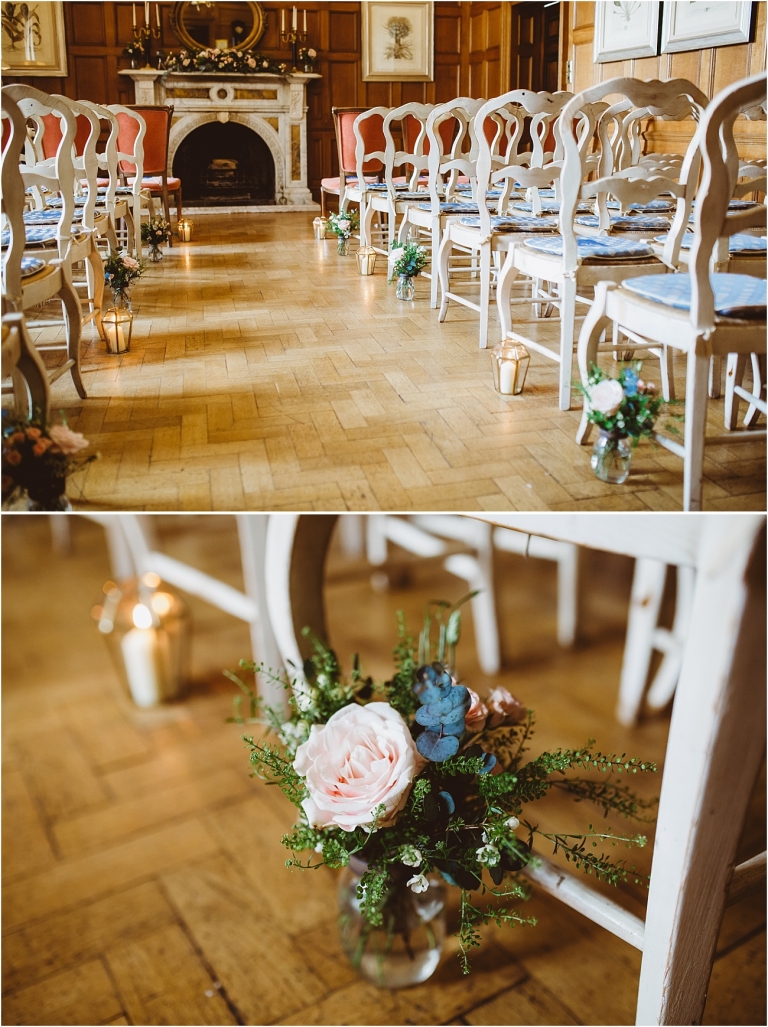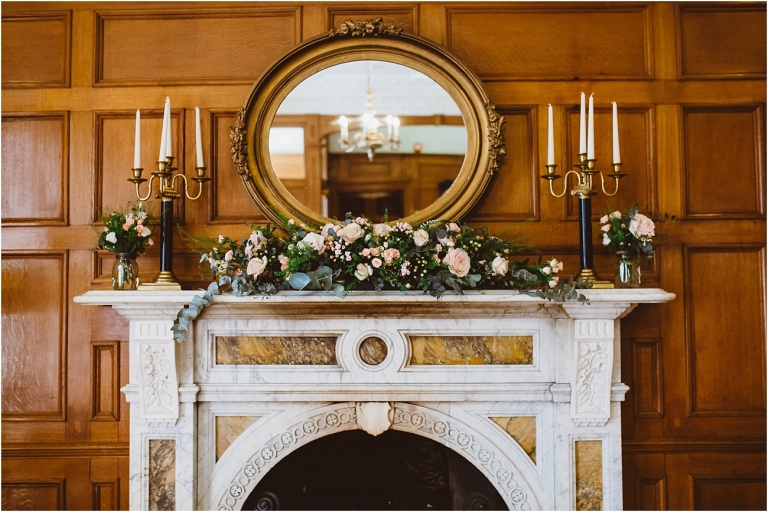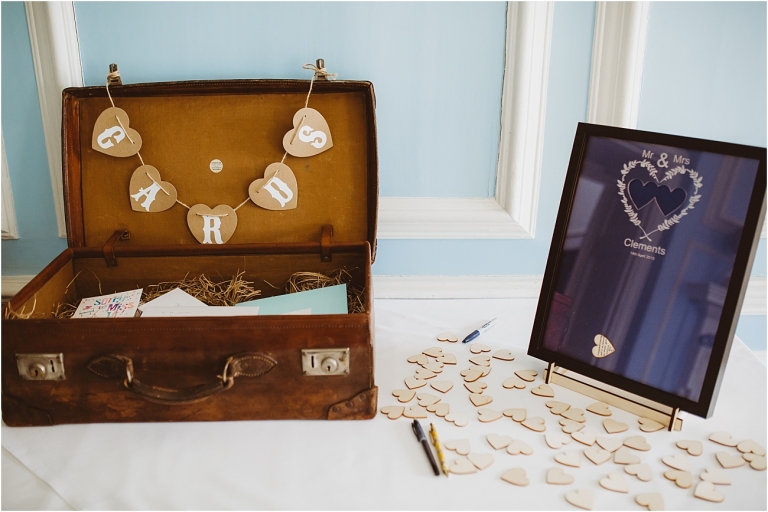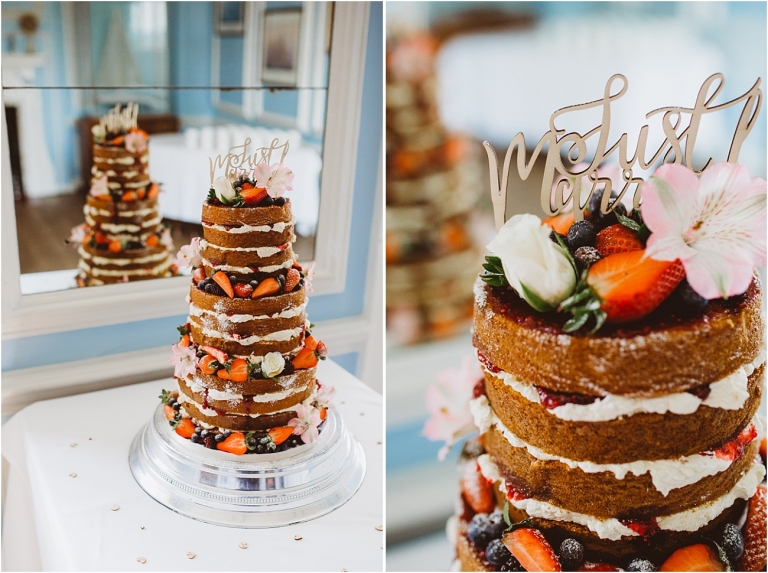 This lovely naked cake was provided by the ever-brilliant Konradi Cakes.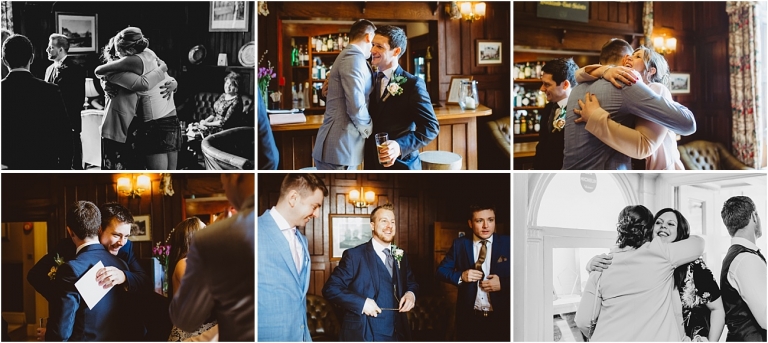 The suits were from Jonathan Hawkes in Exeter.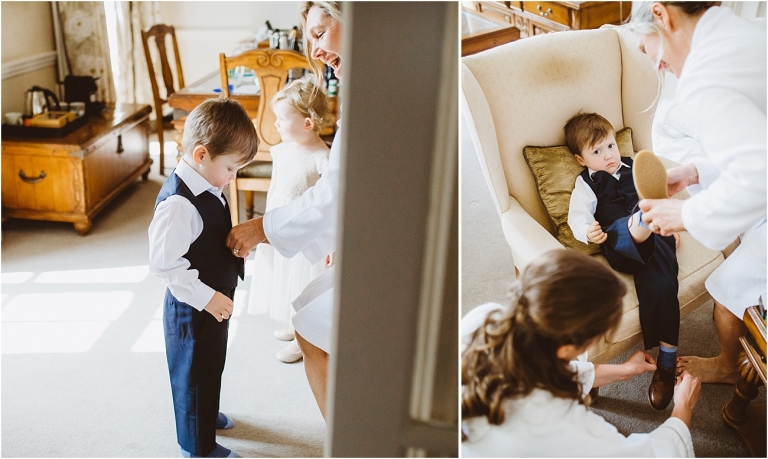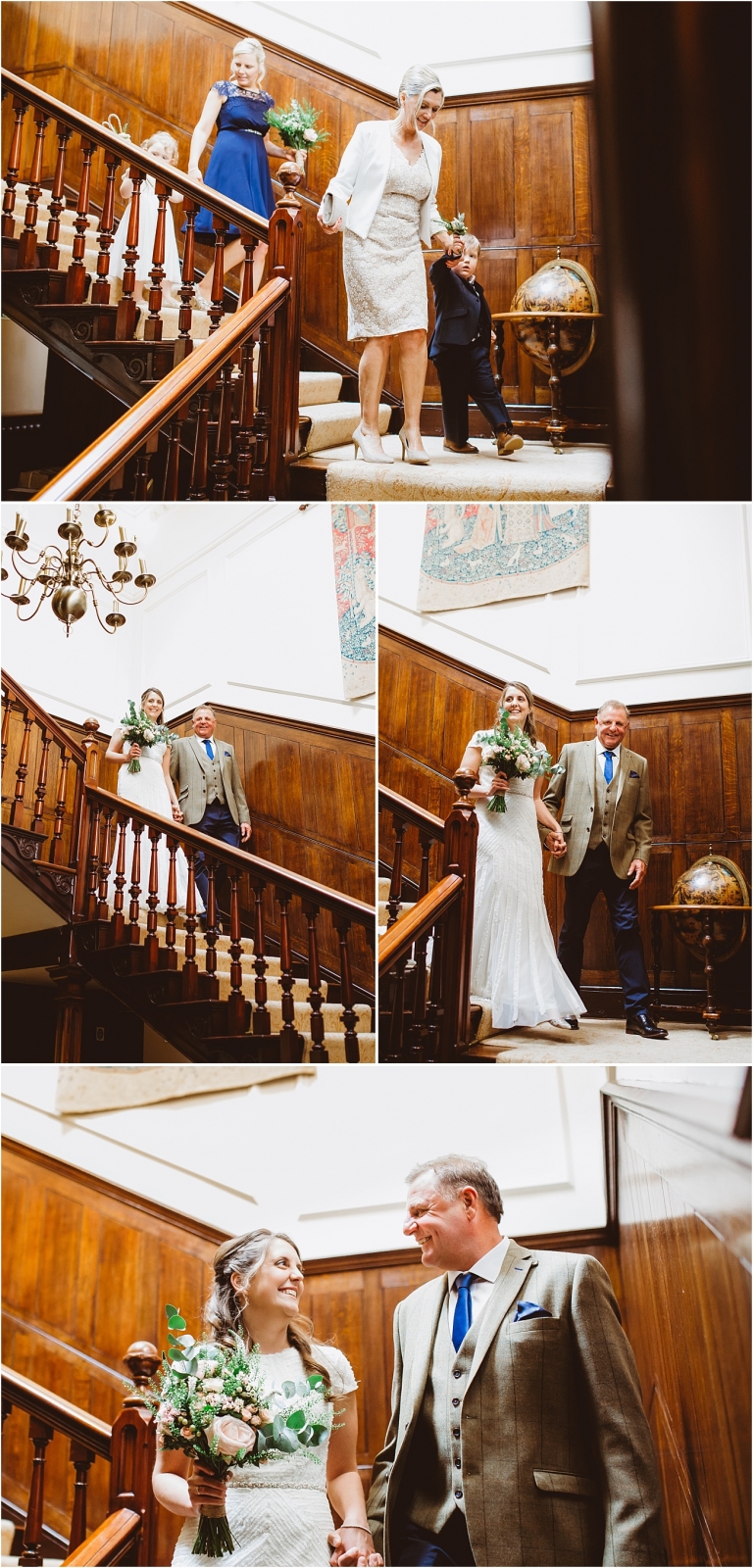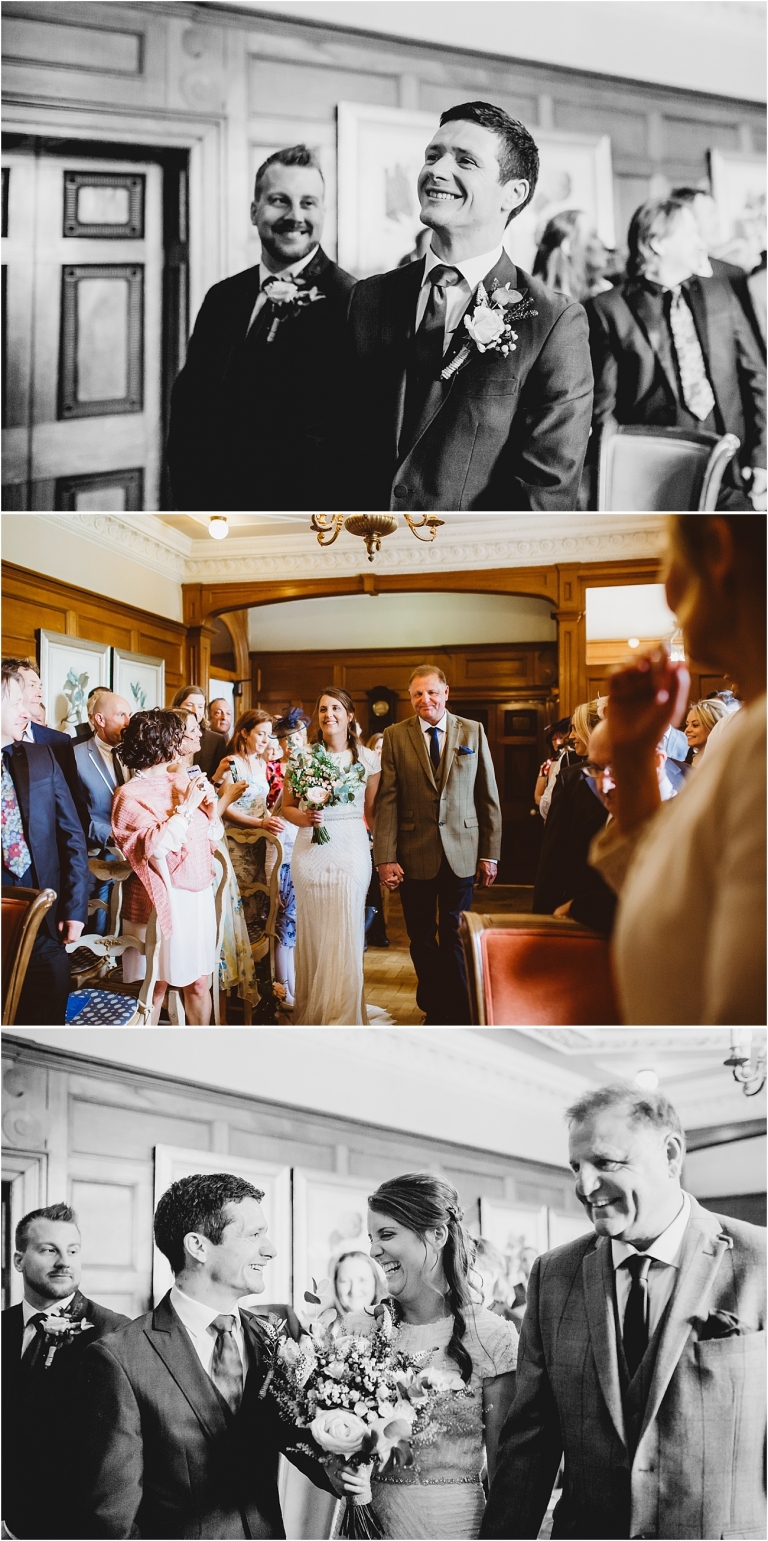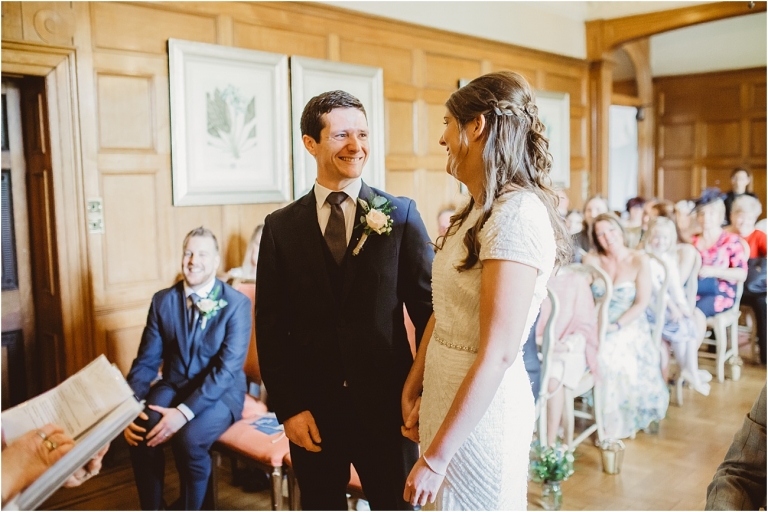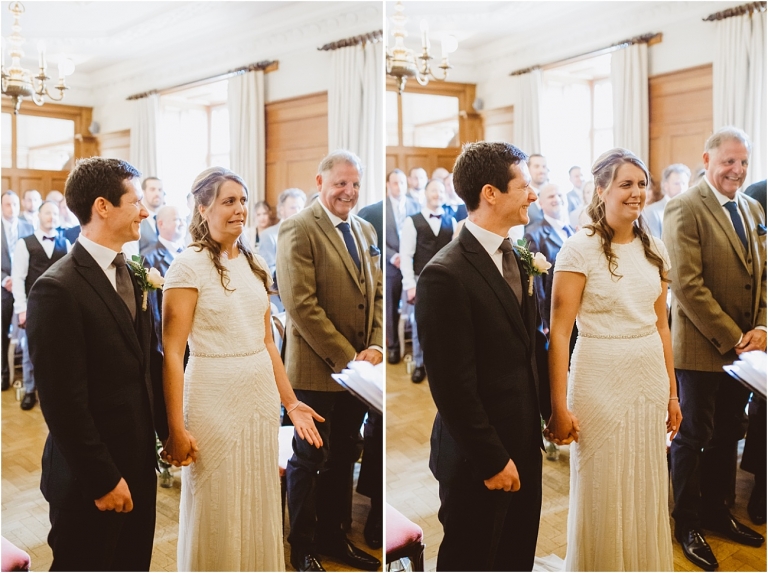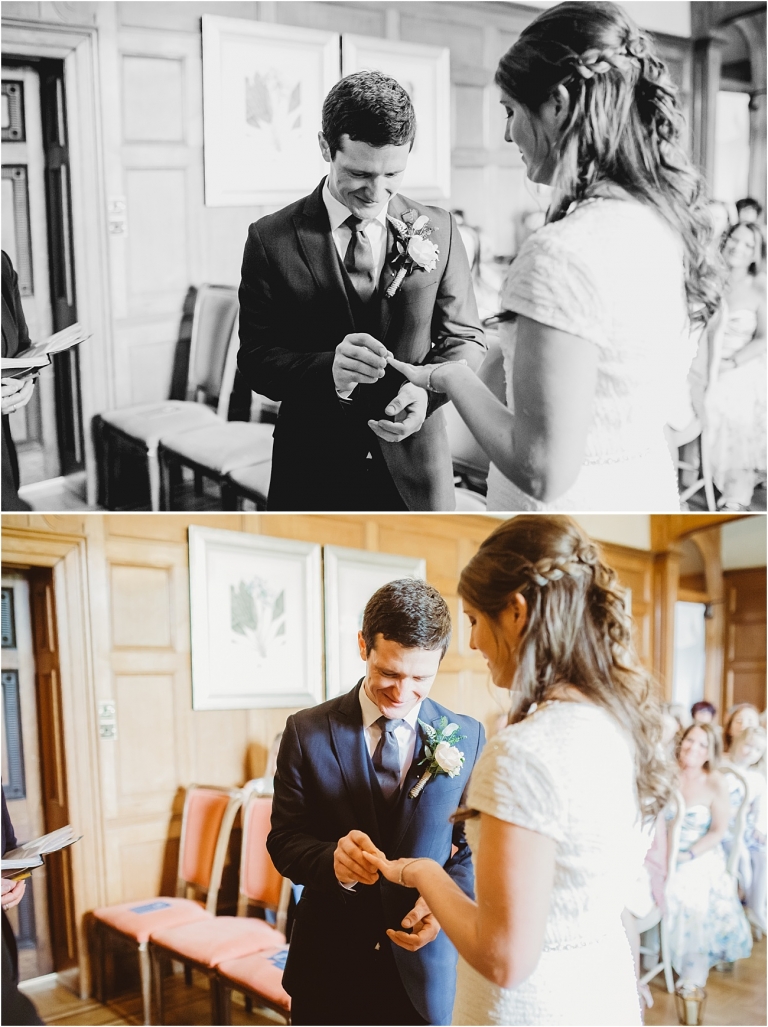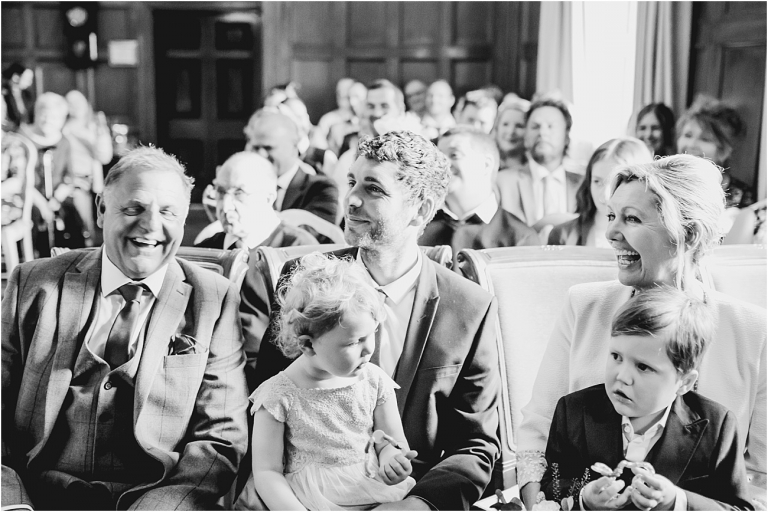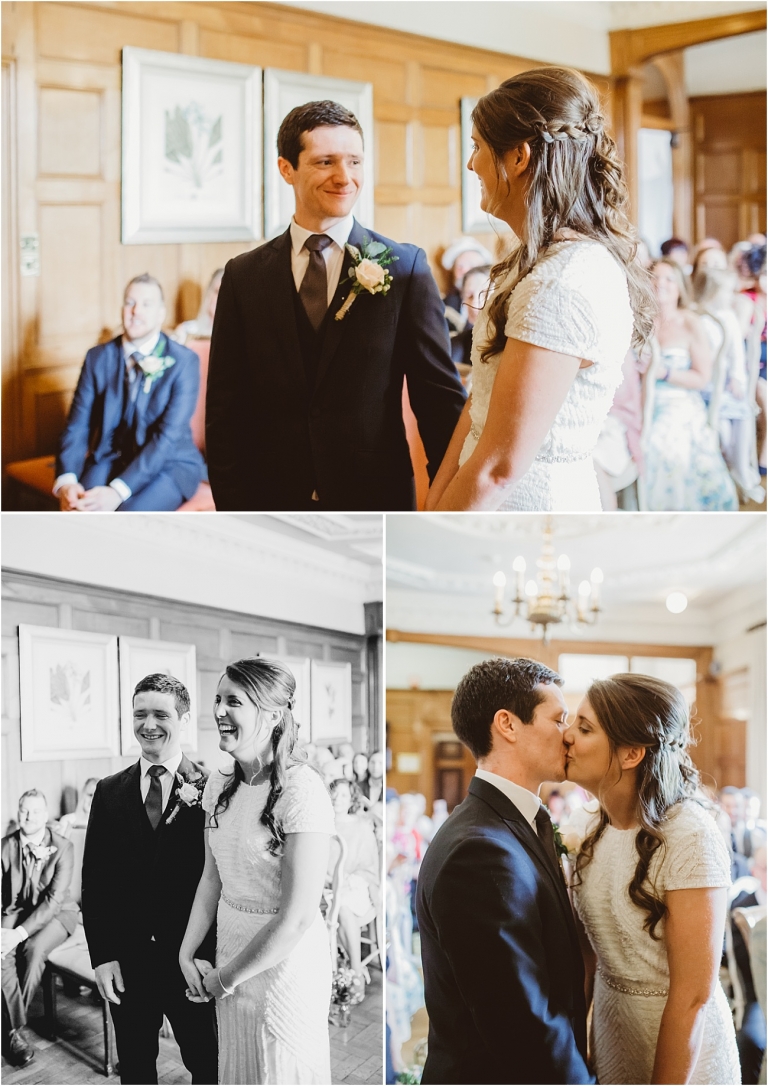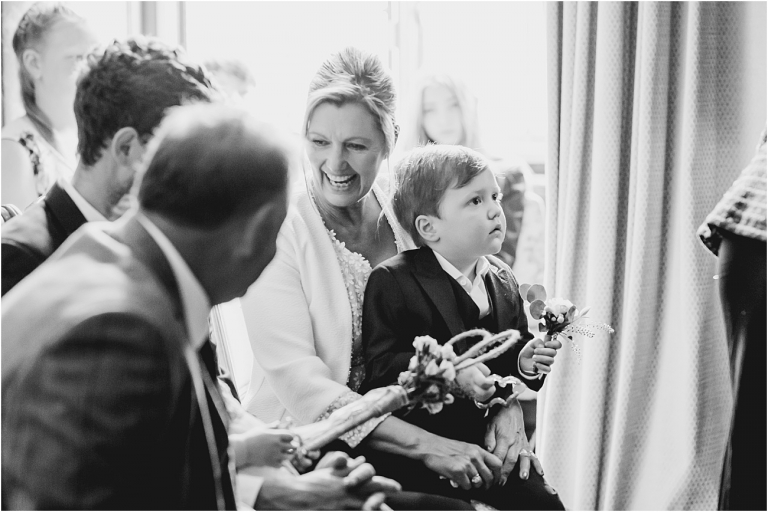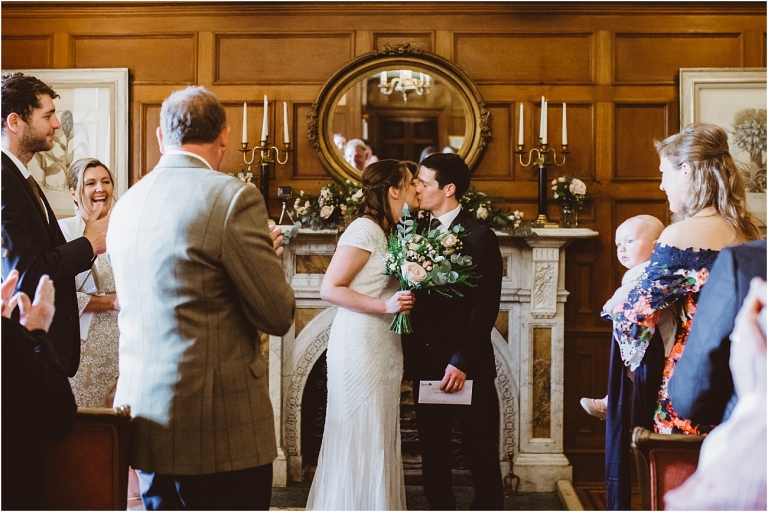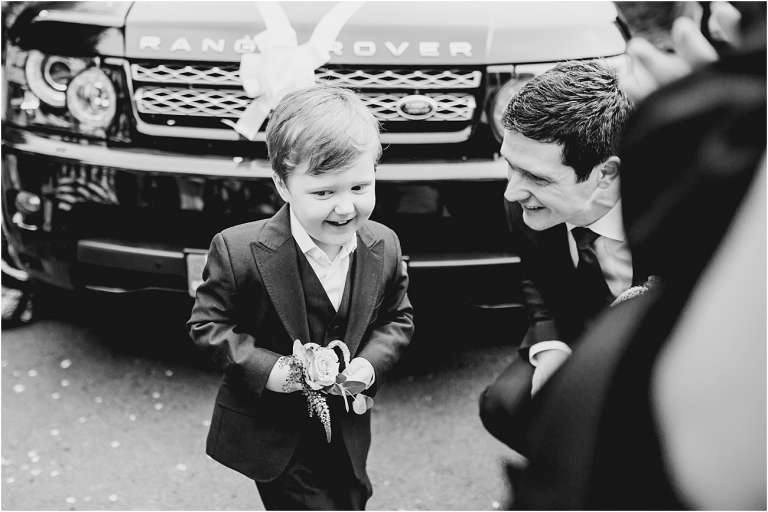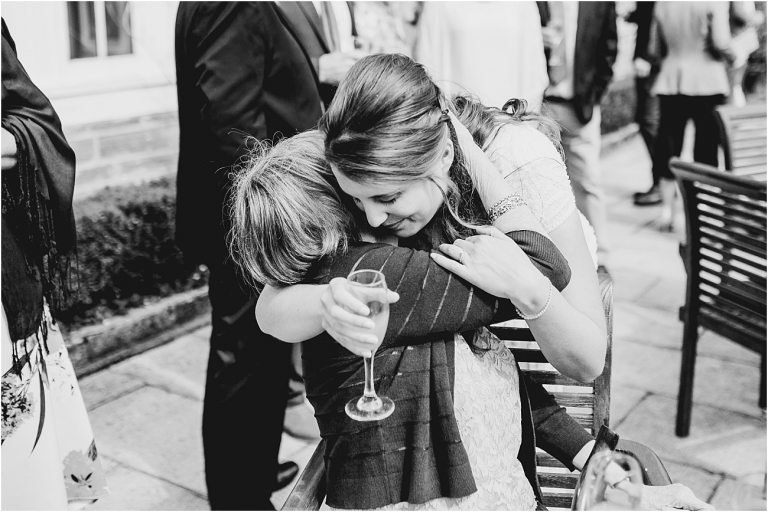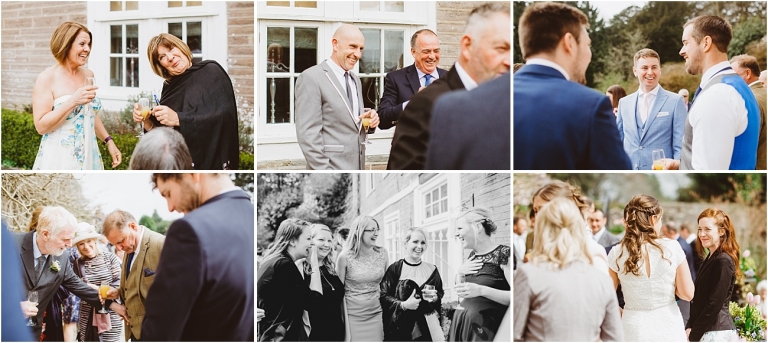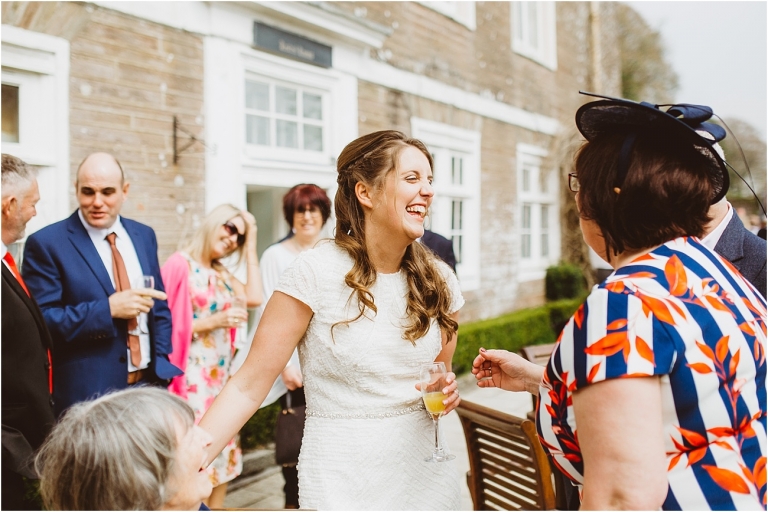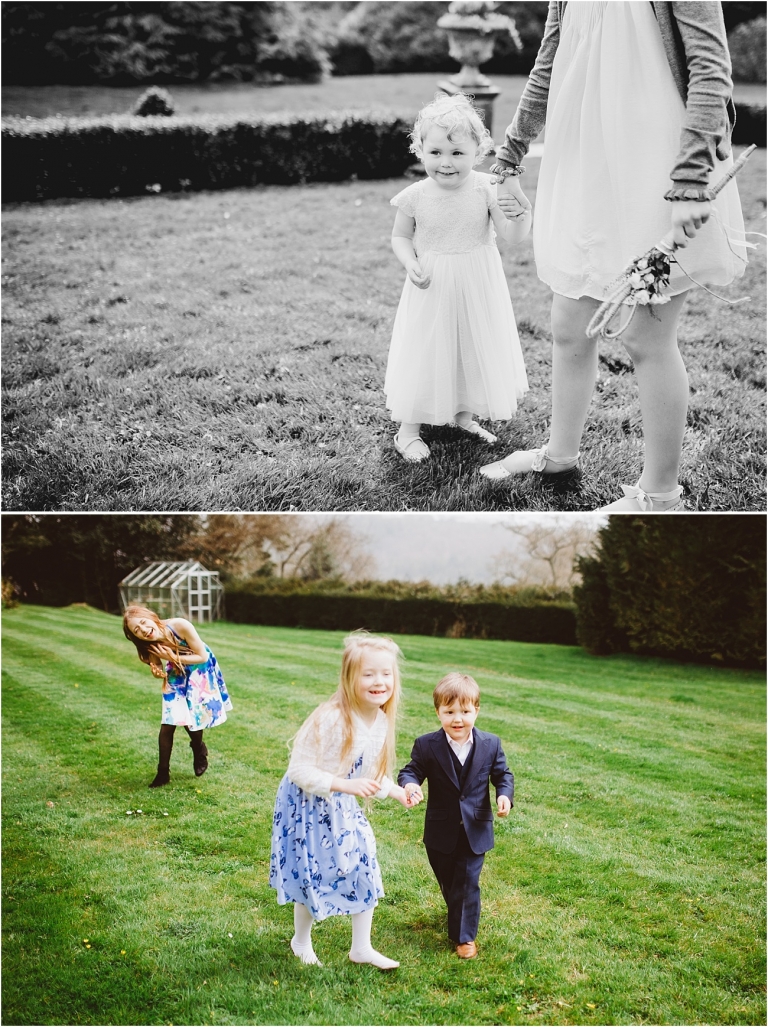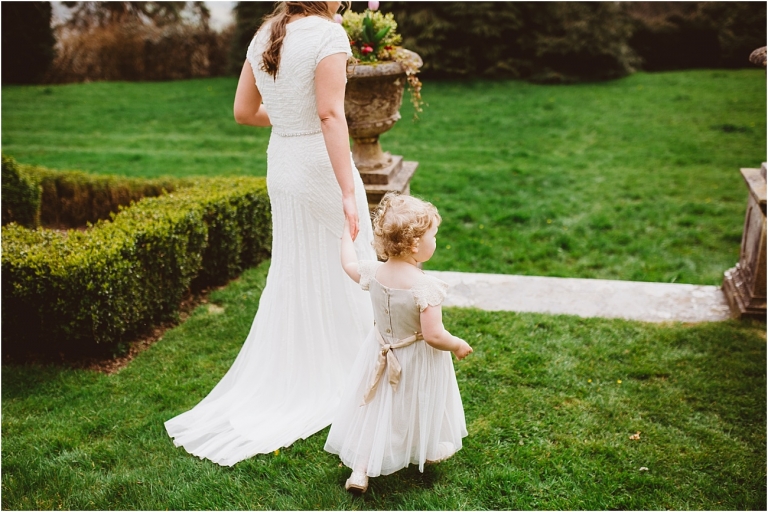 This very cute flower girl dress was from Monsoon.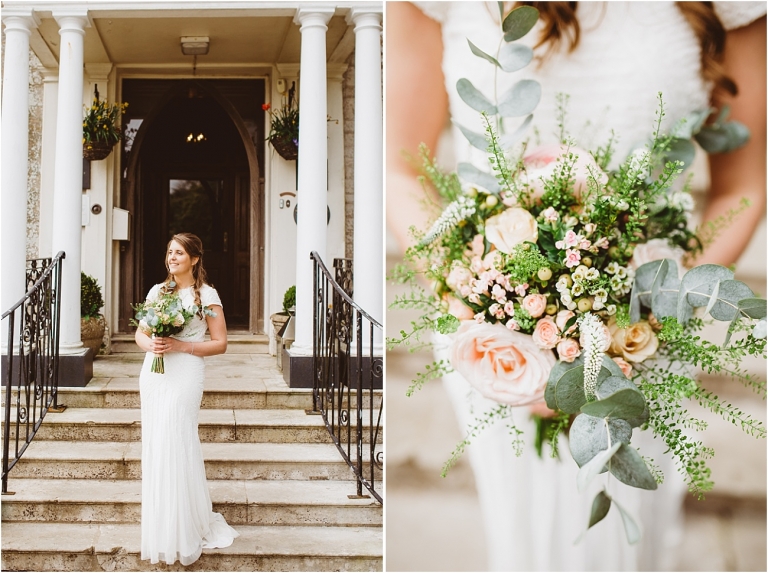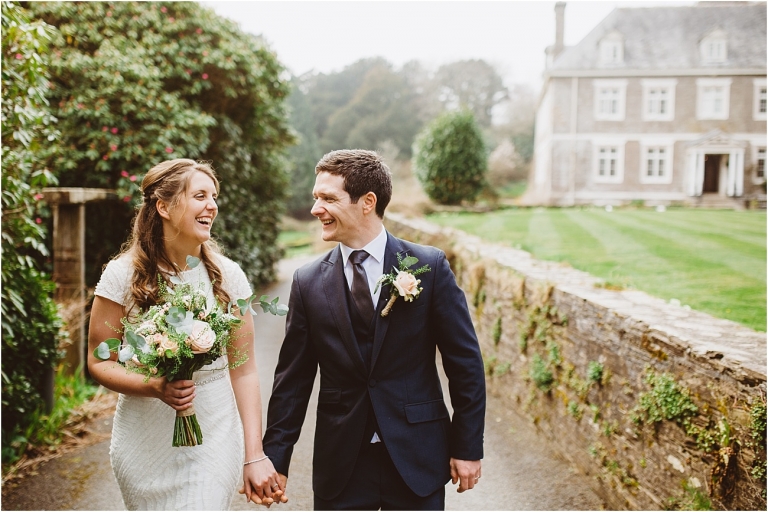 Jazmine's hair was styled by one of my lovely former brides, Carmen Hawkins of Airheadz Hair and Beauty!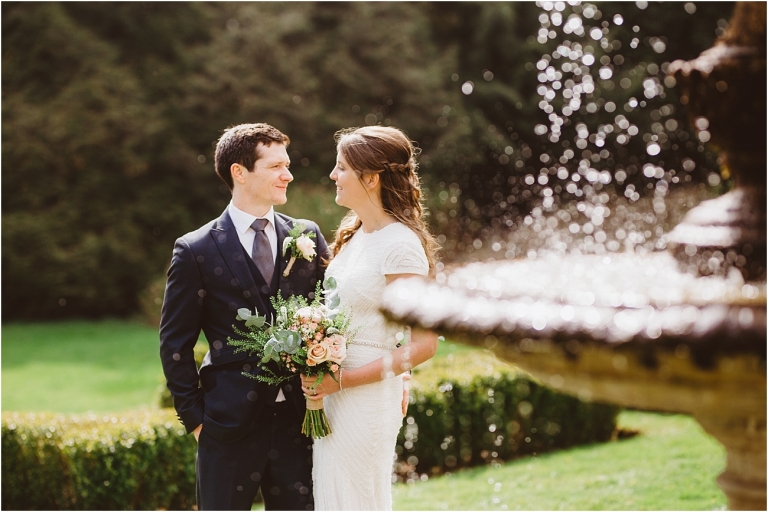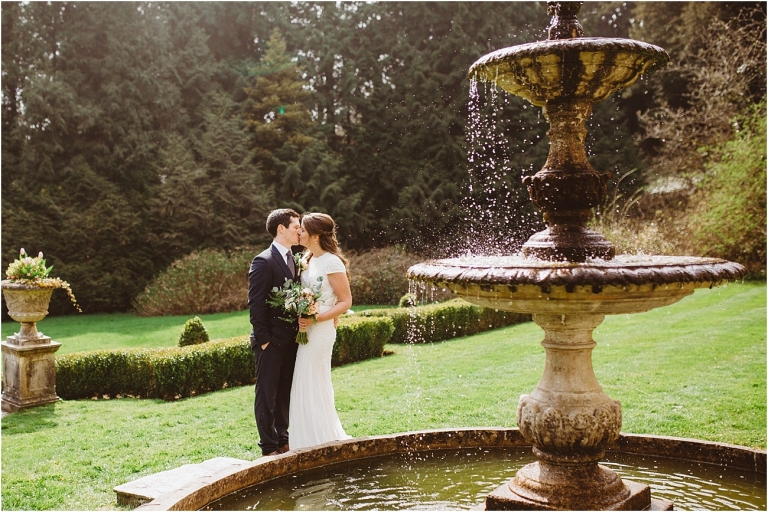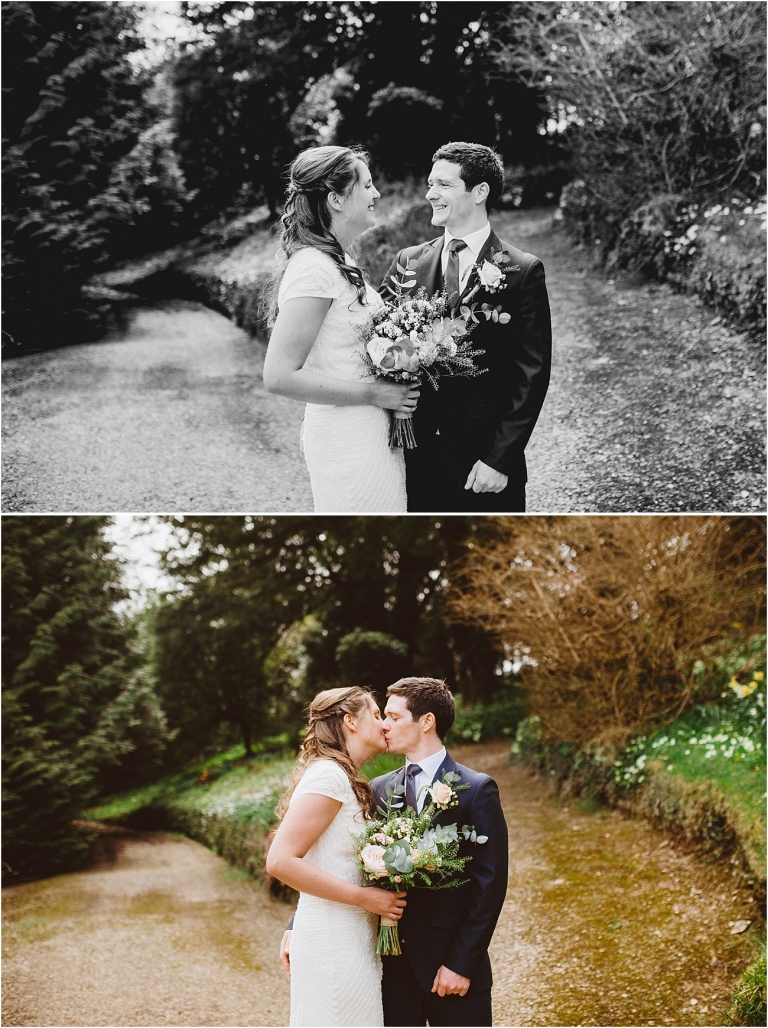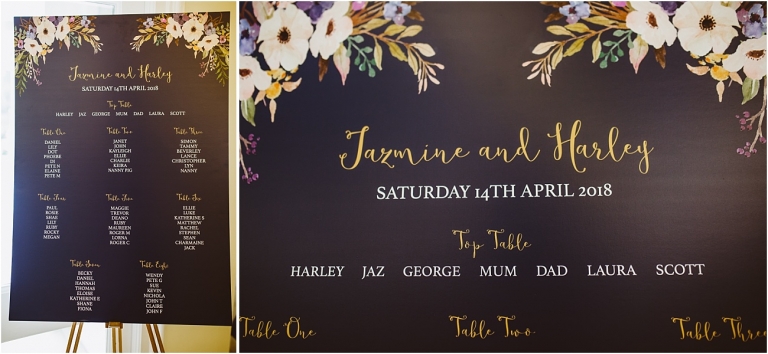 The fantastic table-plan, place names and wedding invitations were provided by Nessa Noelle.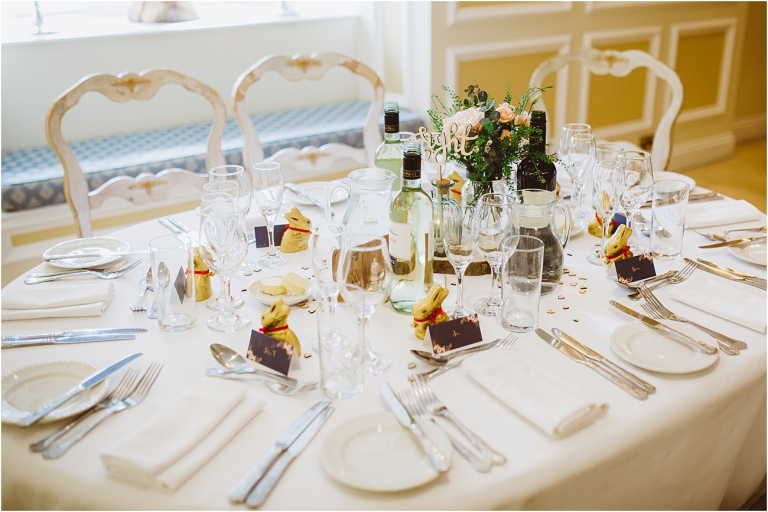 The wedding favours were Lindt bunnies. Harley proposed to Jazmine following an Easter egg hunt the year before, so it was a fitting (and delicious) touch!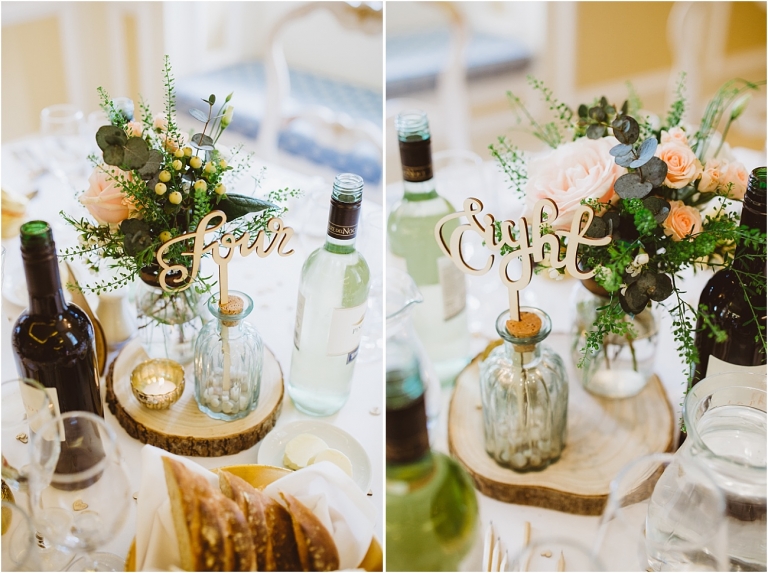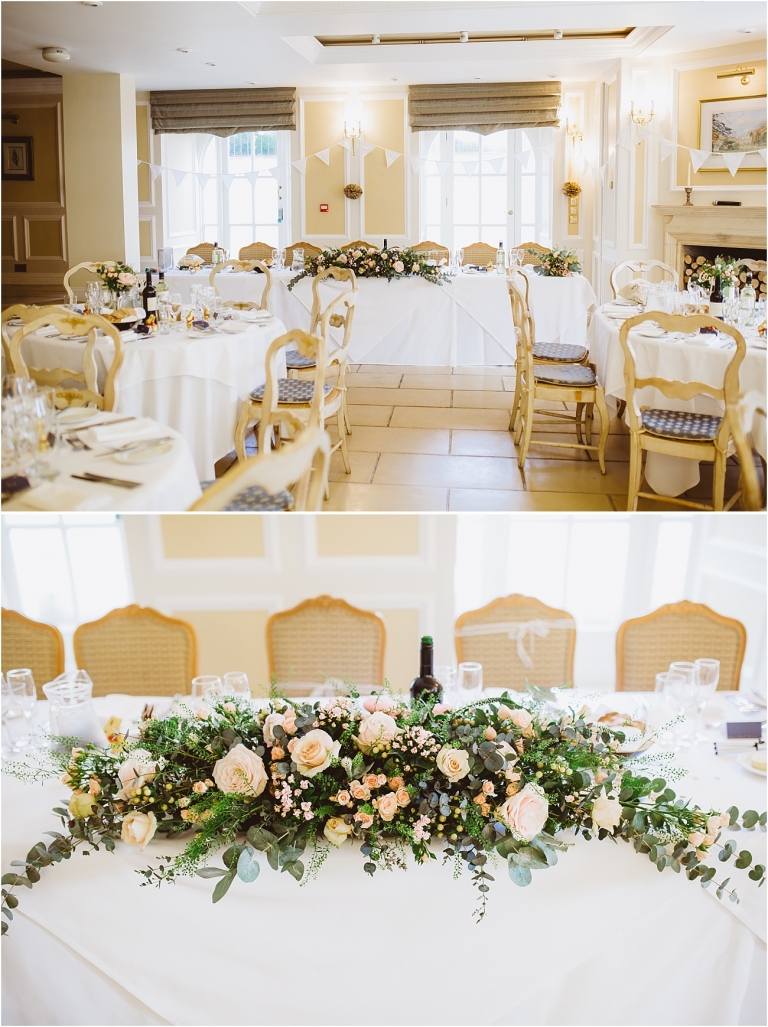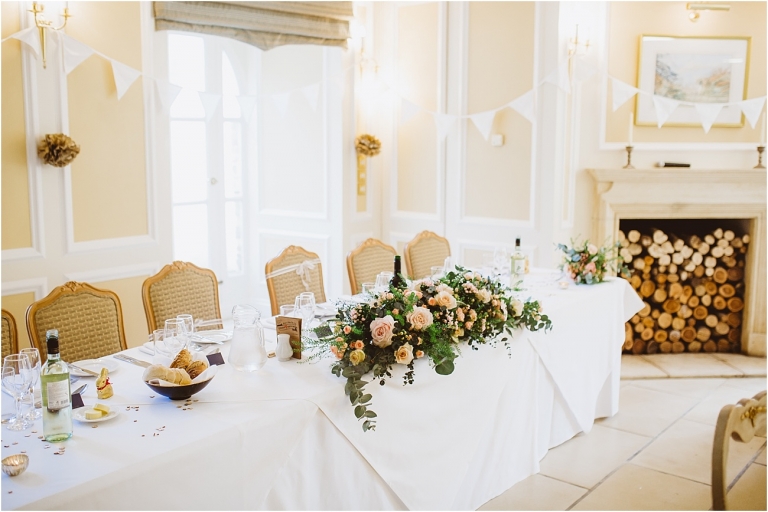 All of the flowers, including Jazmine's beautiful bouquet, were provided by Angela's Wedding Flowers. Jazmine and Harley said that Buckland-Tout-Saints did not need much in the way of additional decoration, allowing Angela's arrangements to steal the show!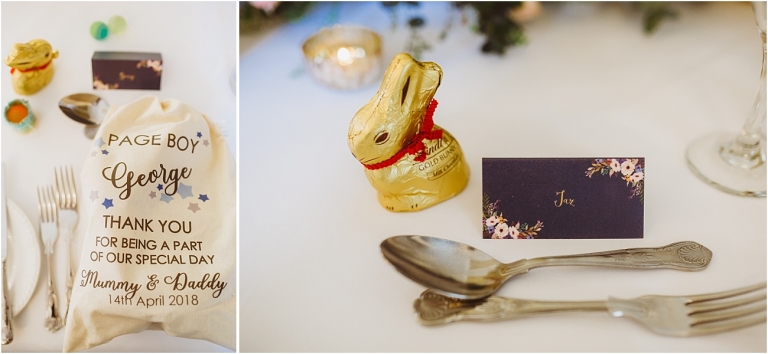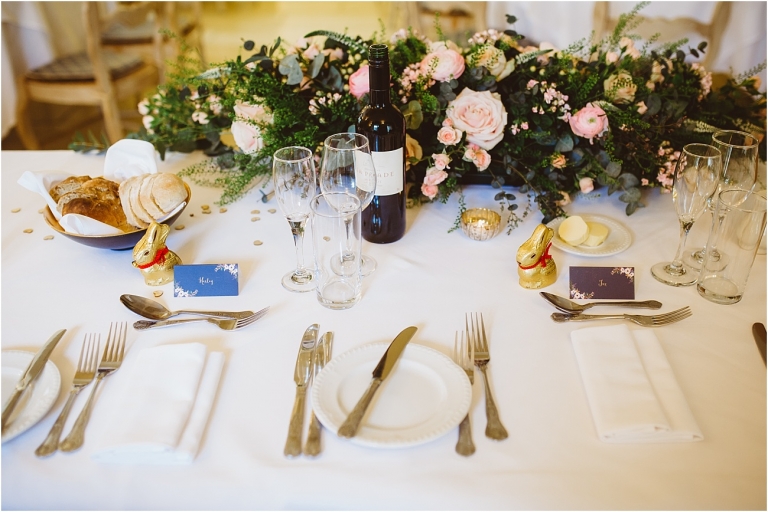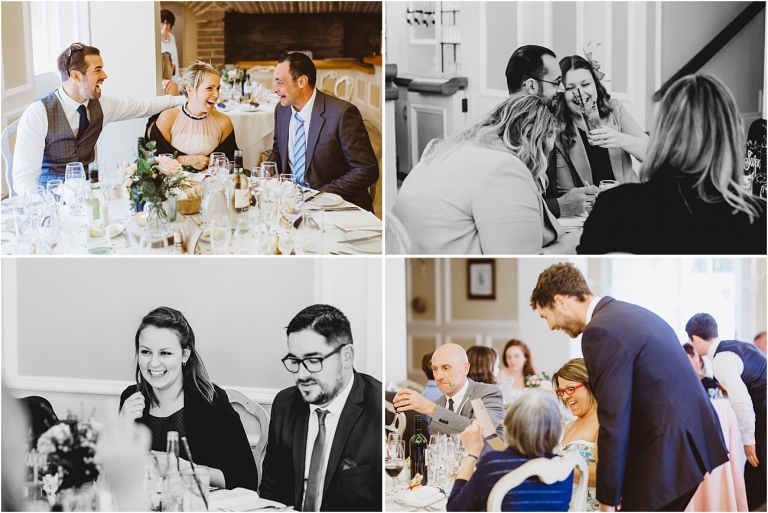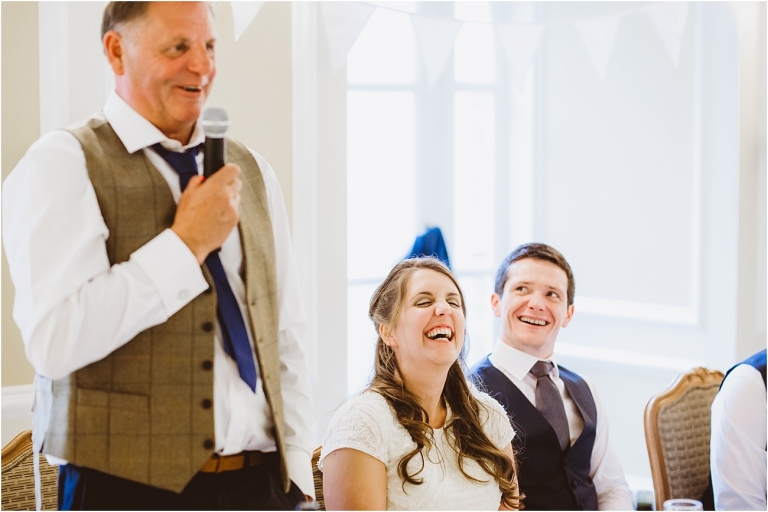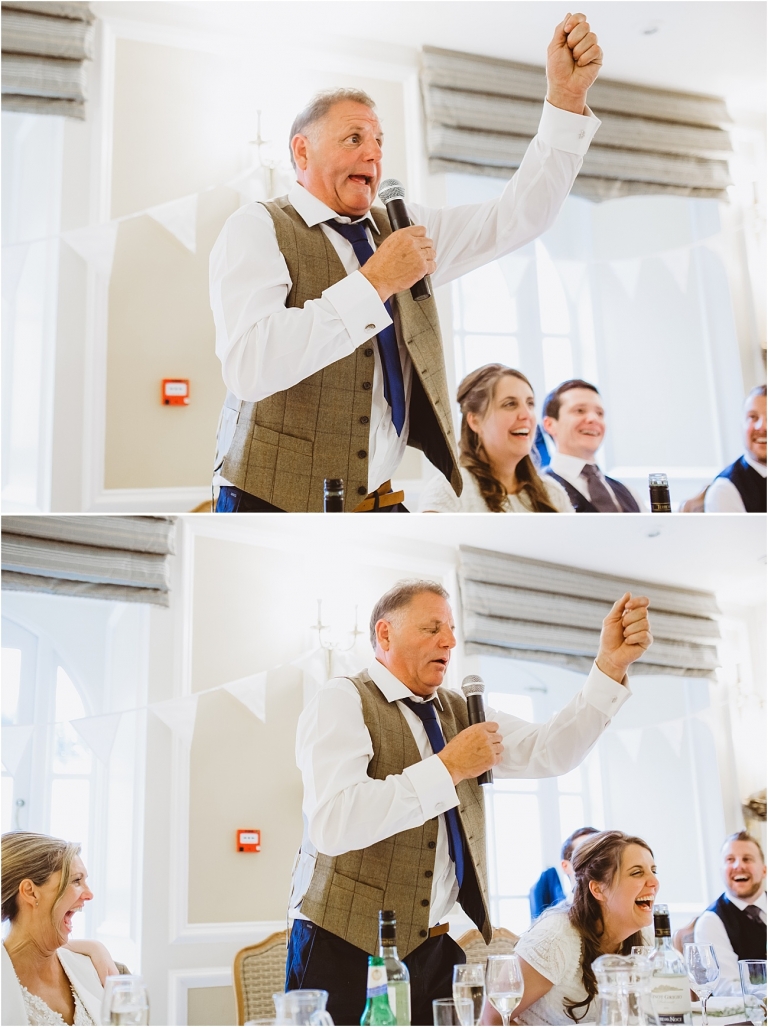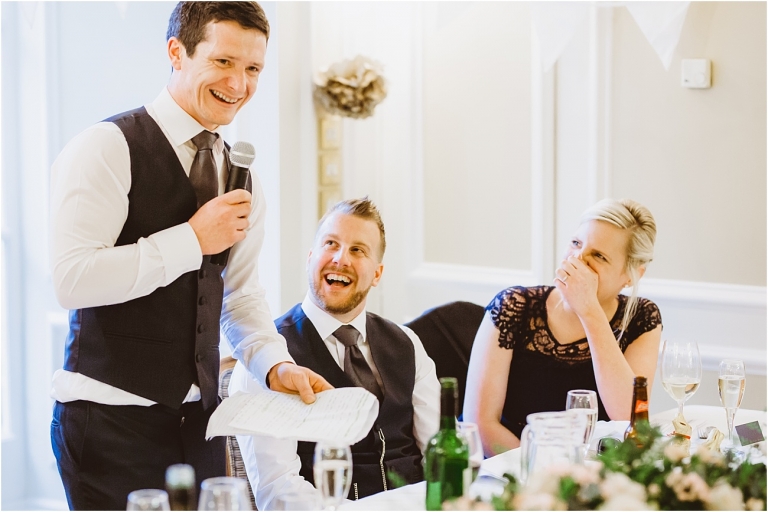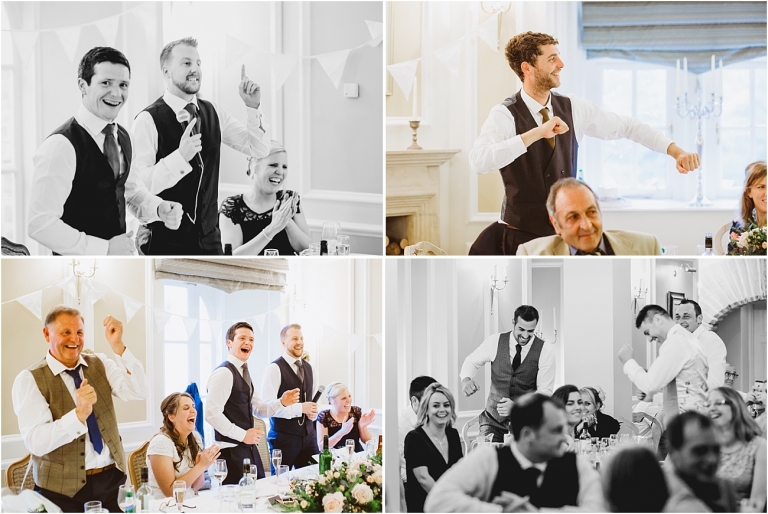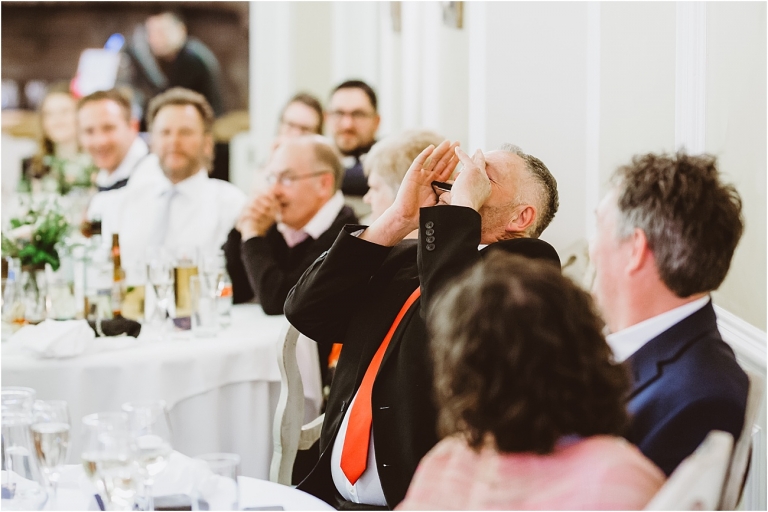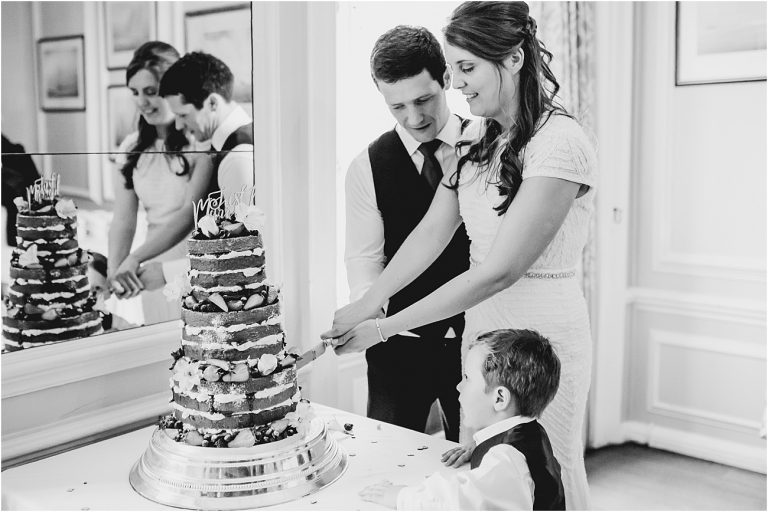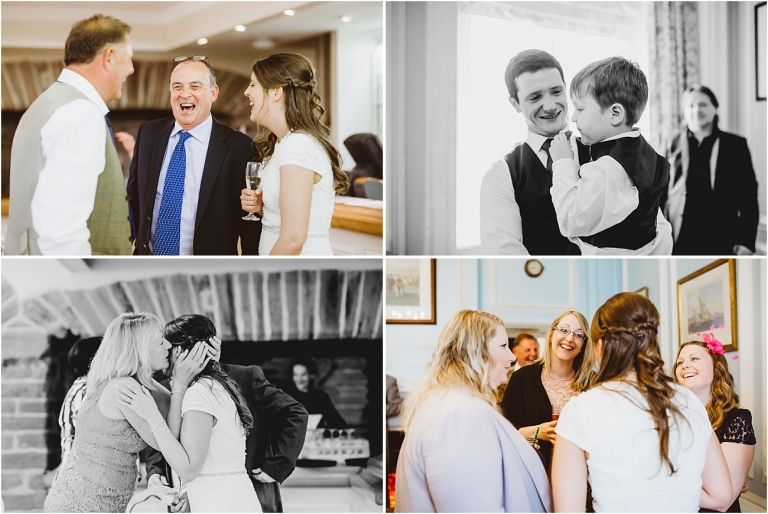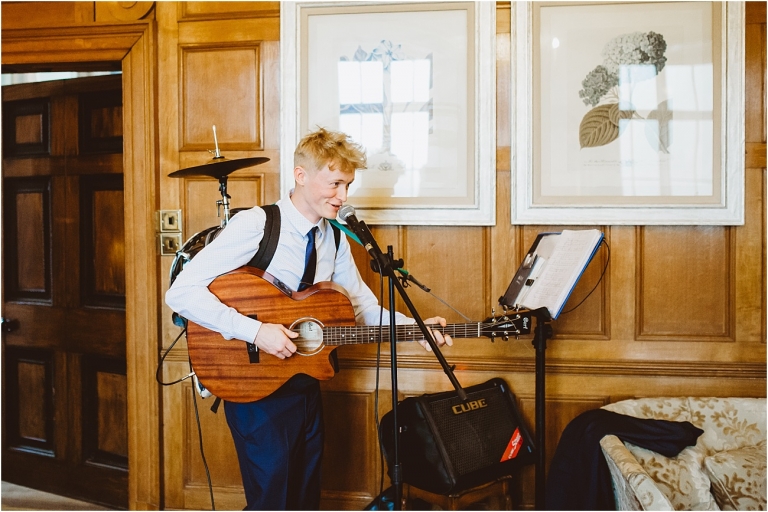 Music was provided by excellent one-man-band Harry Quick.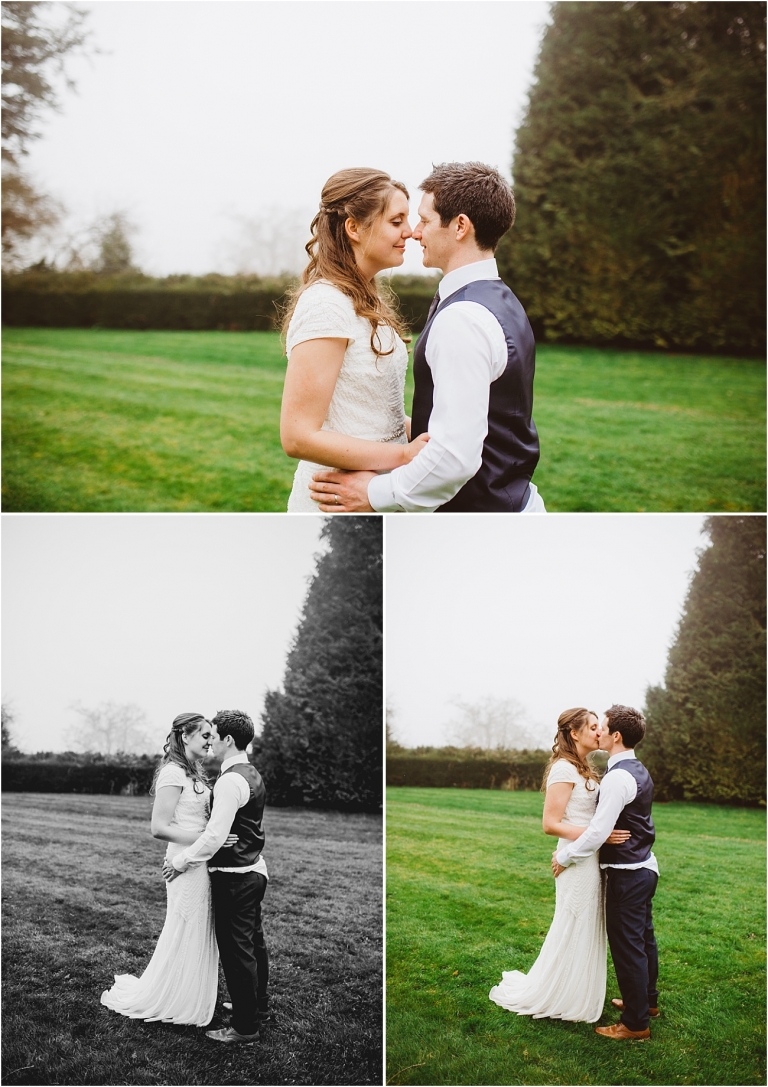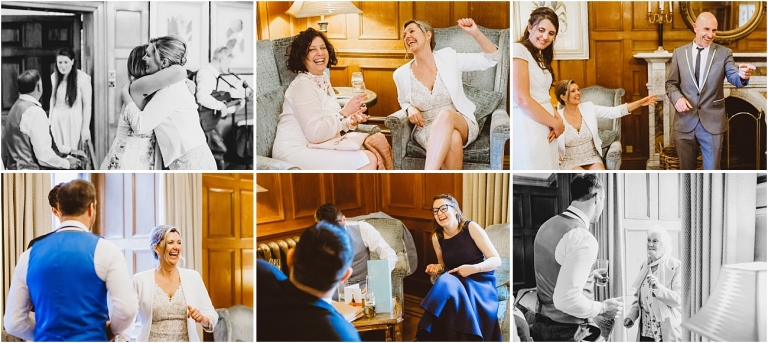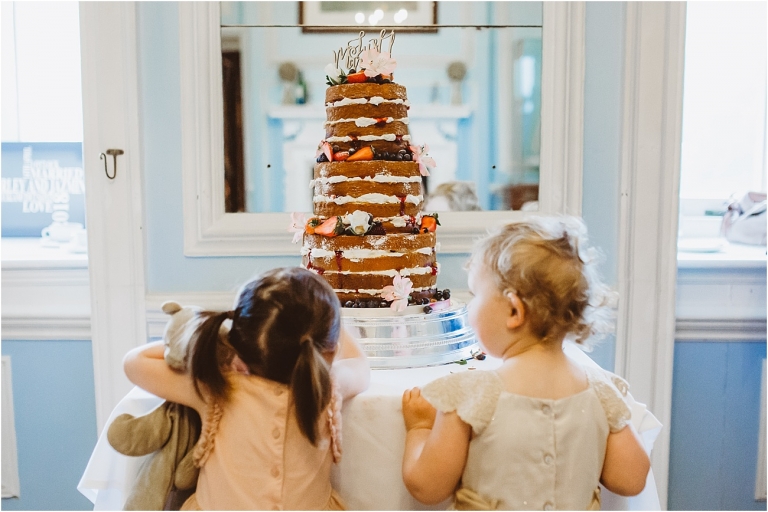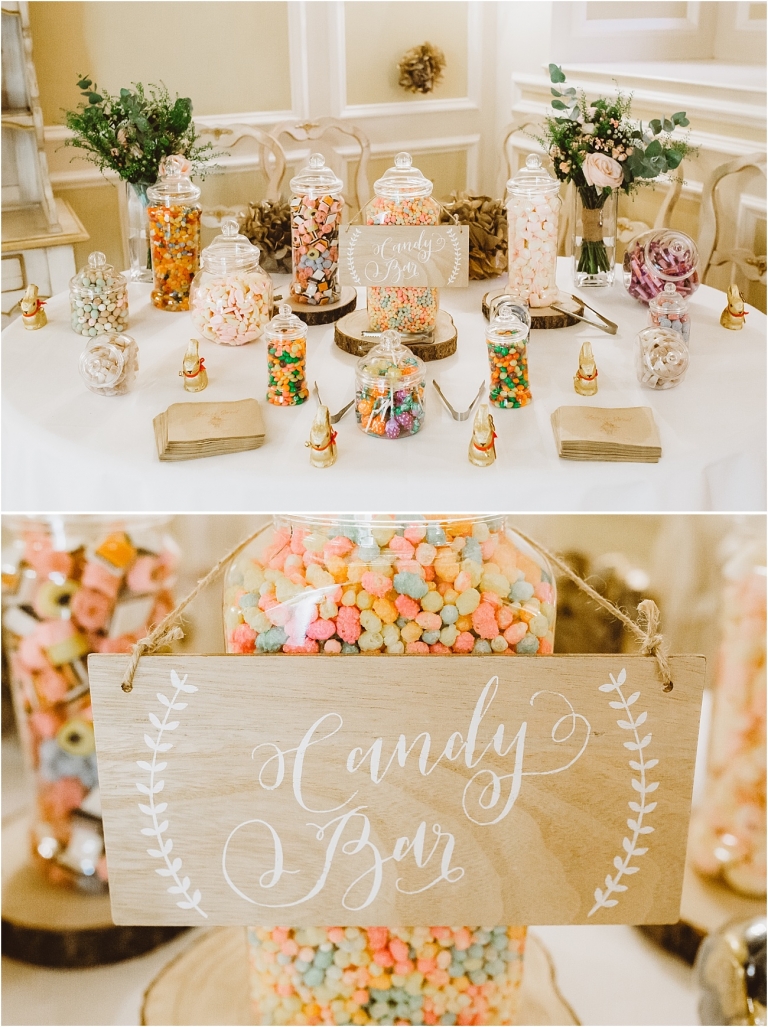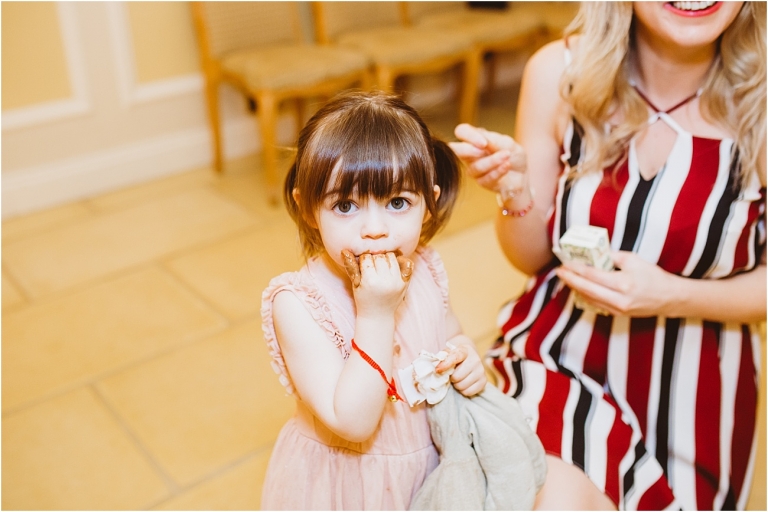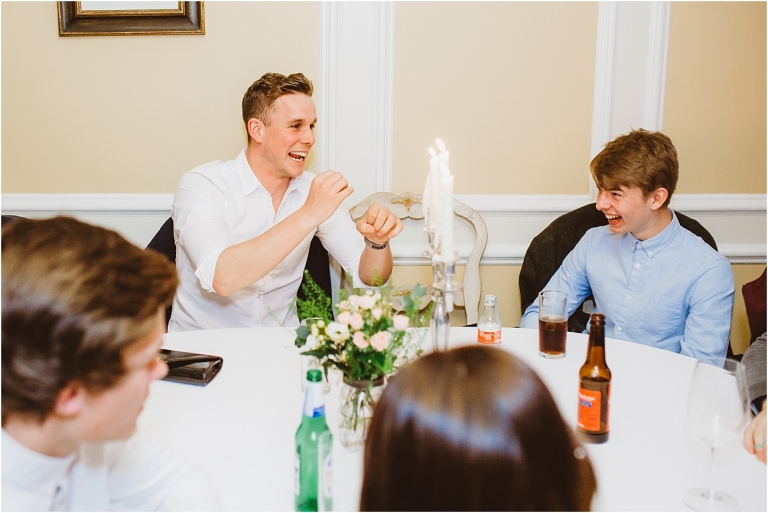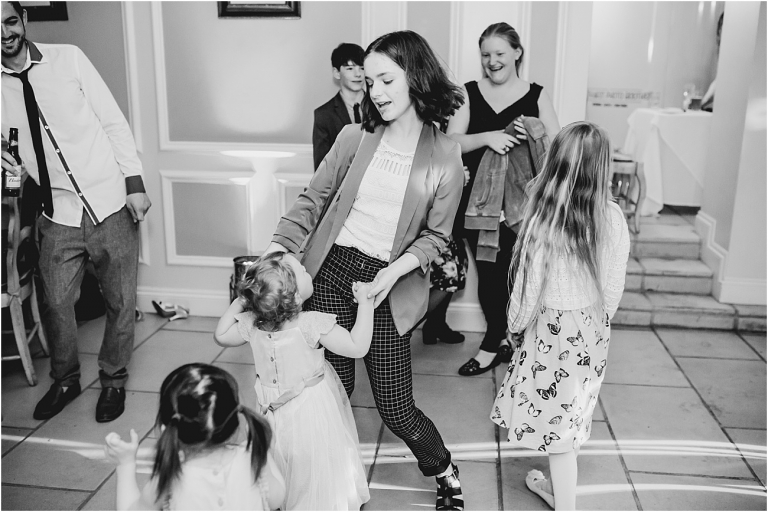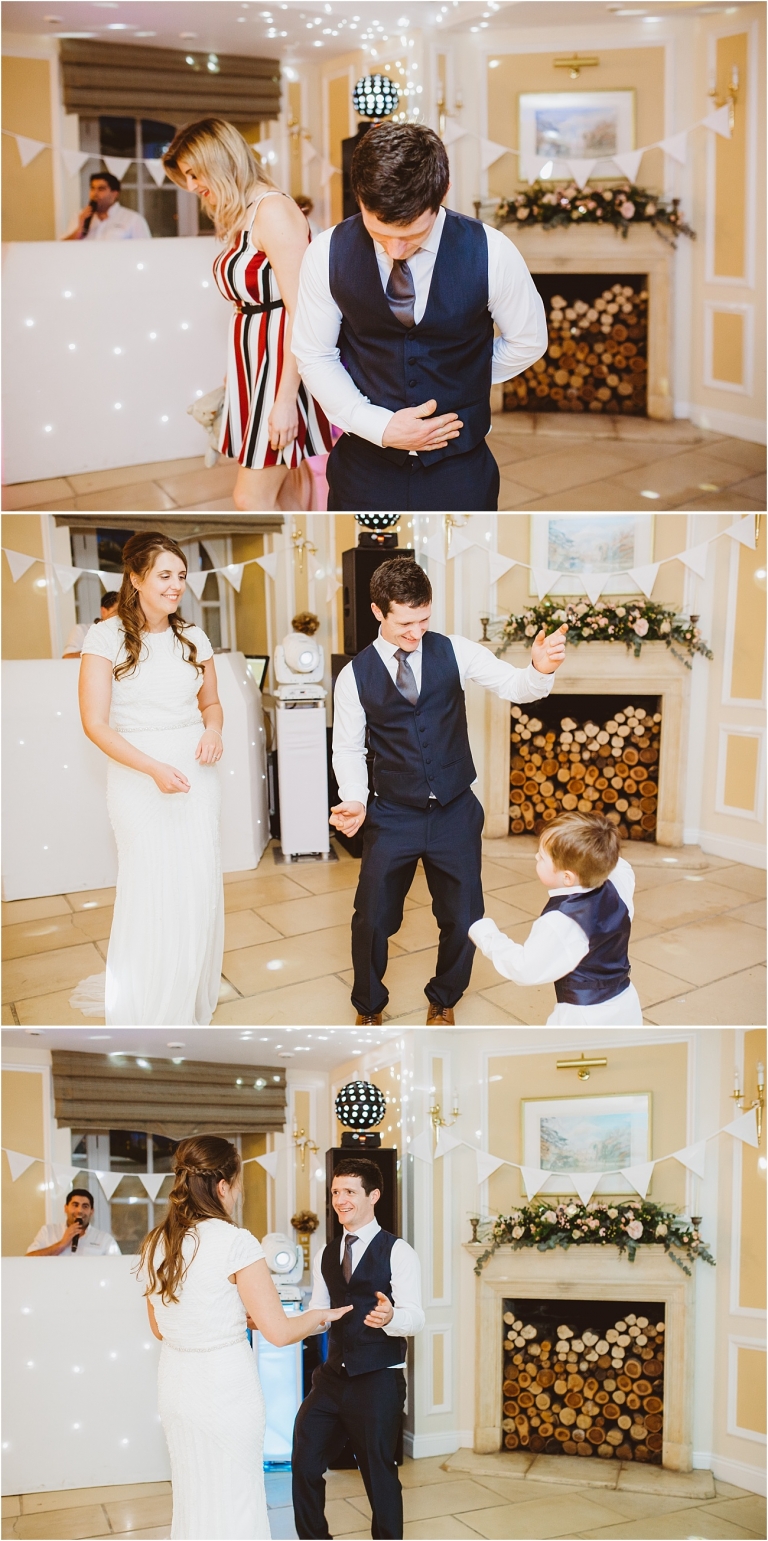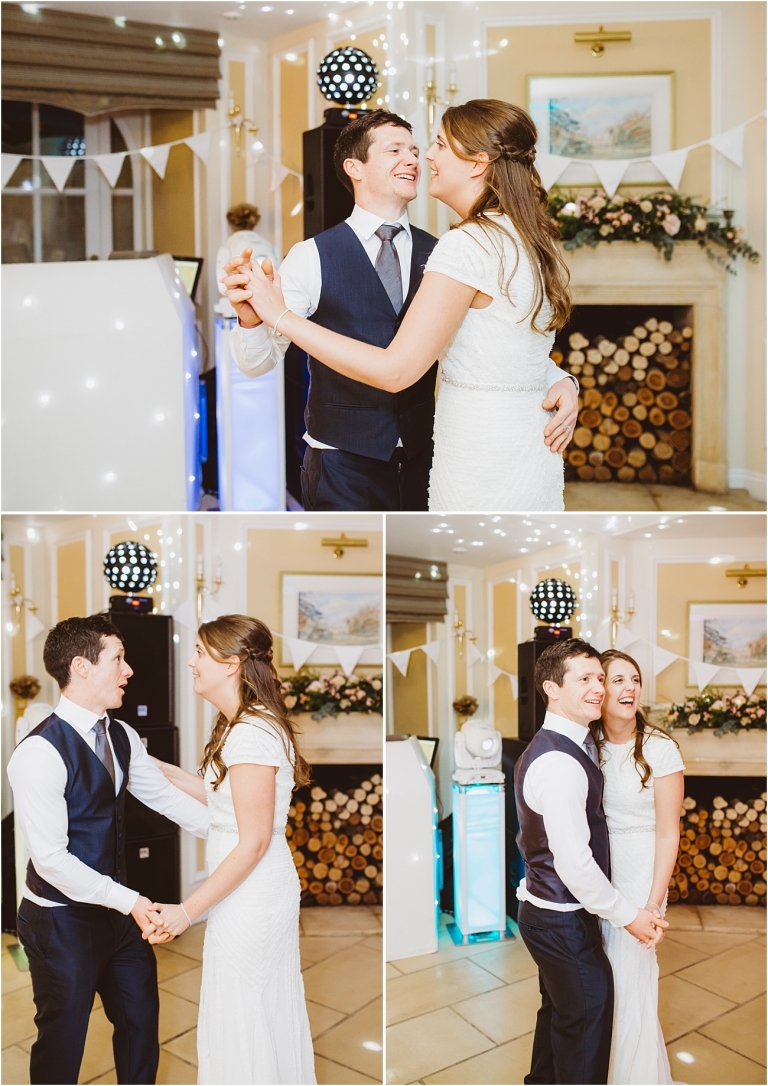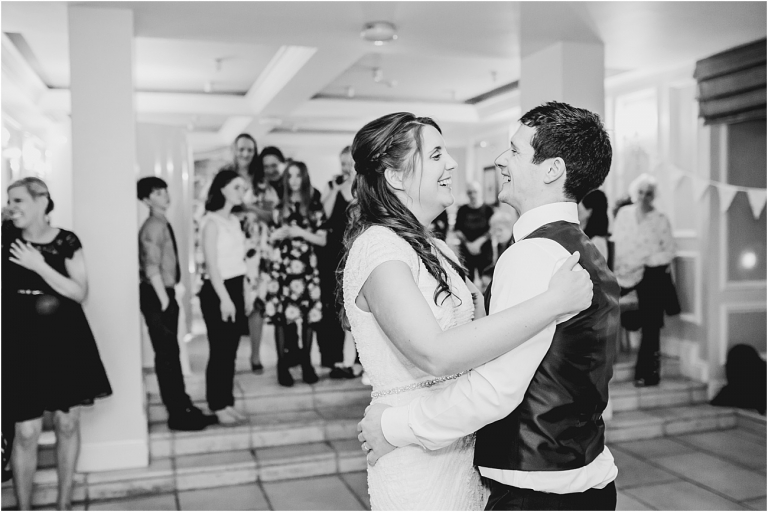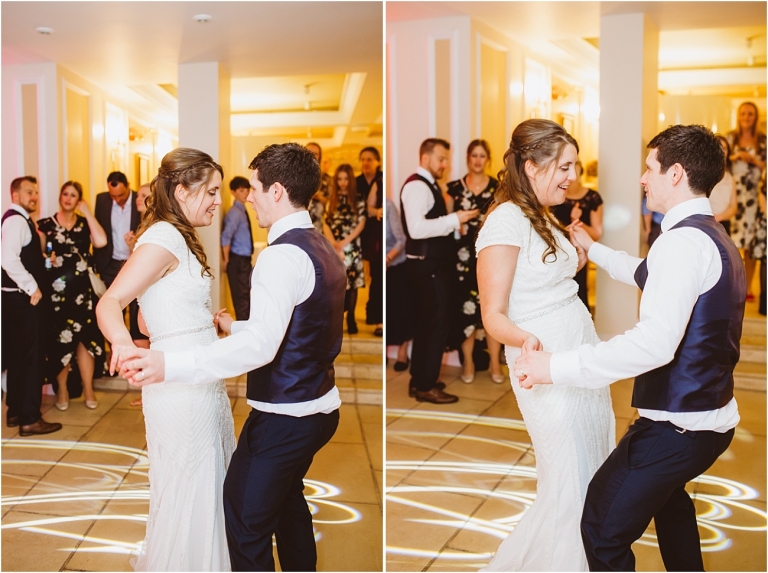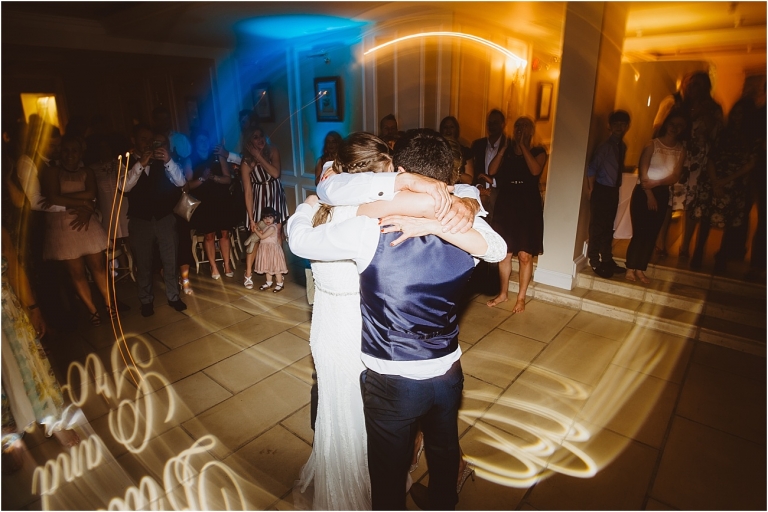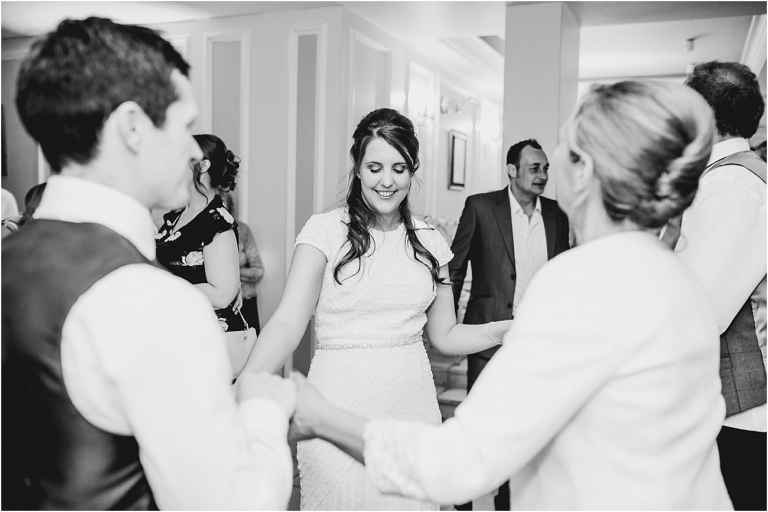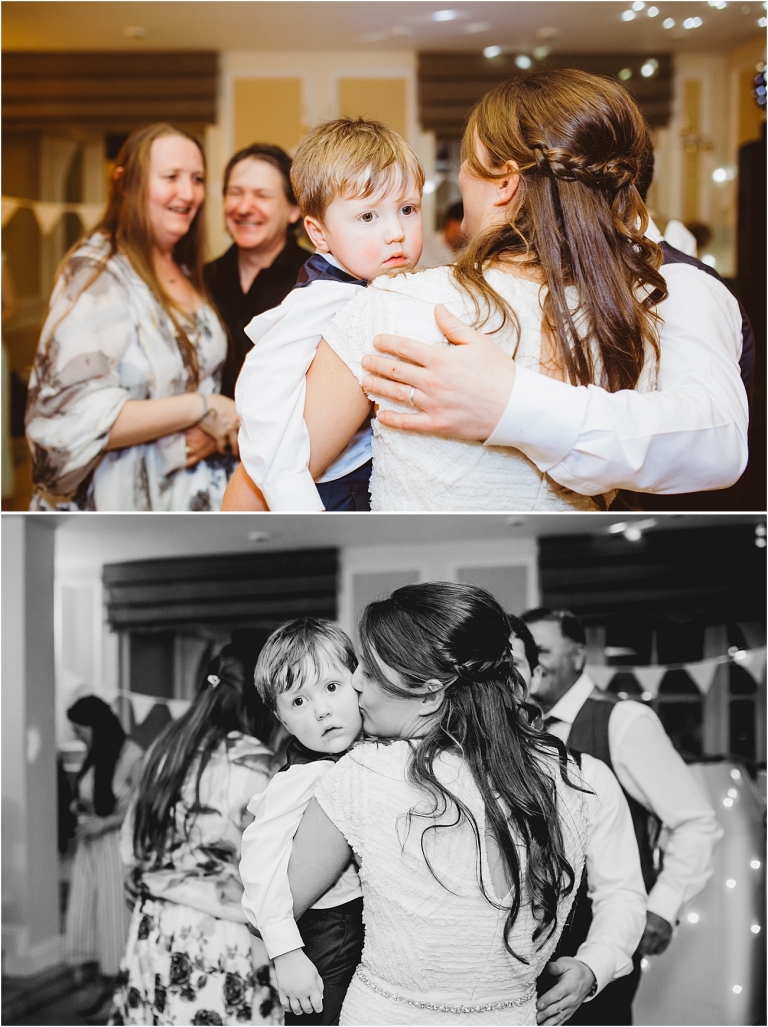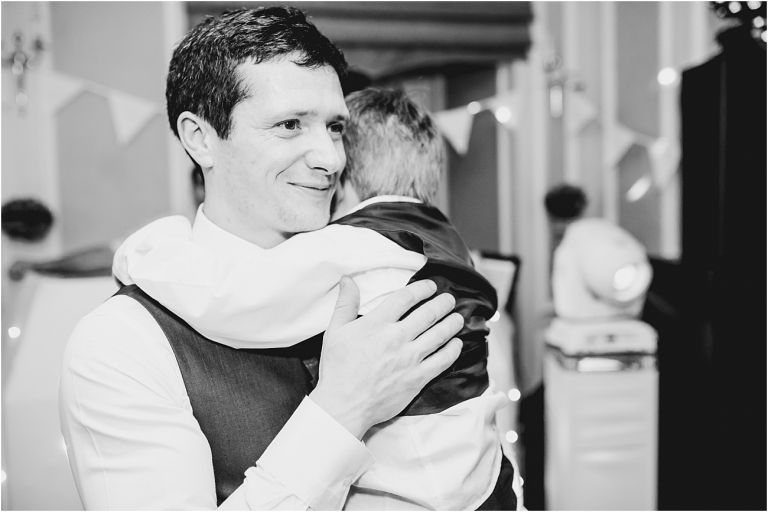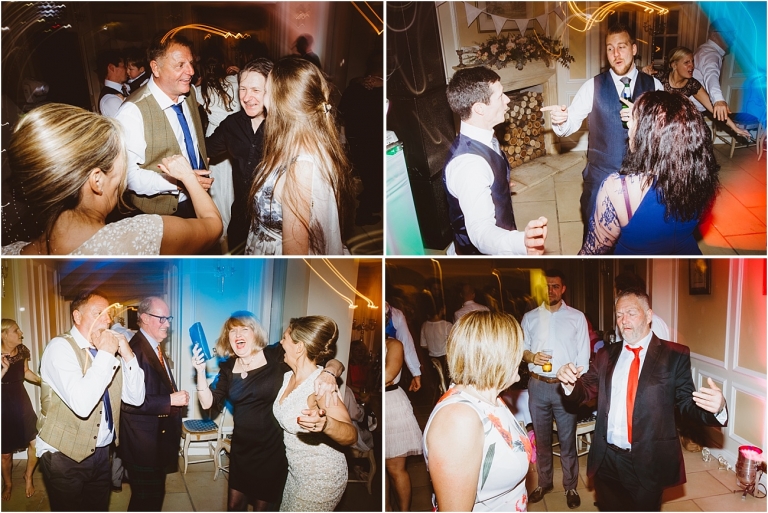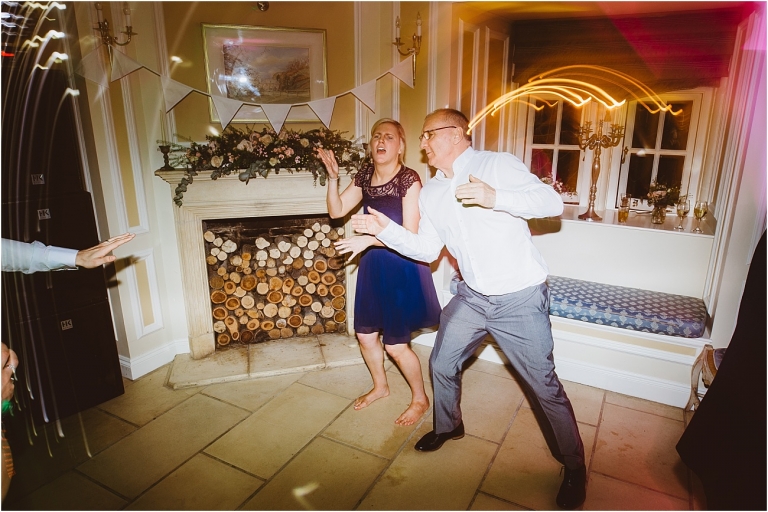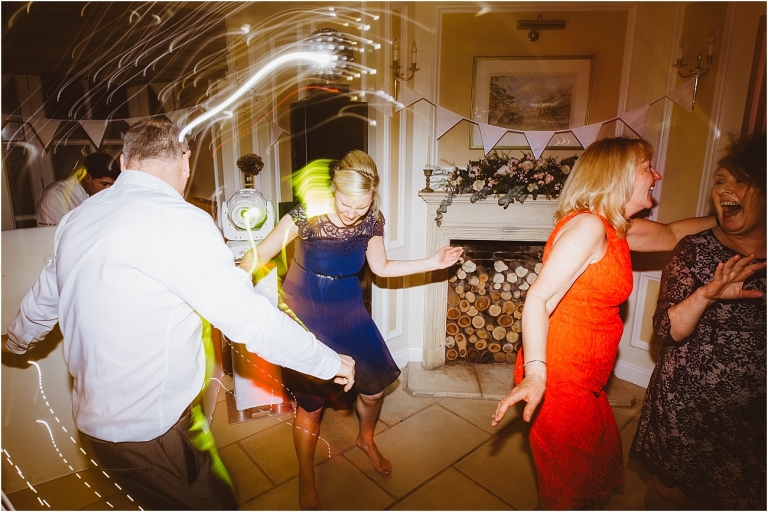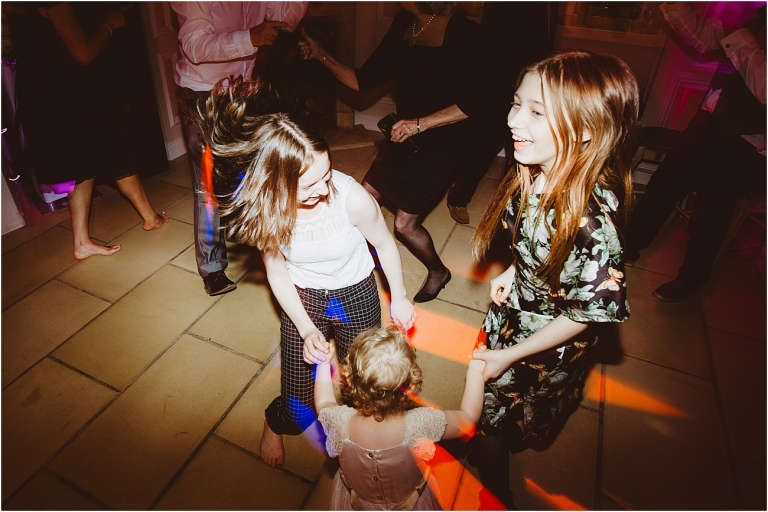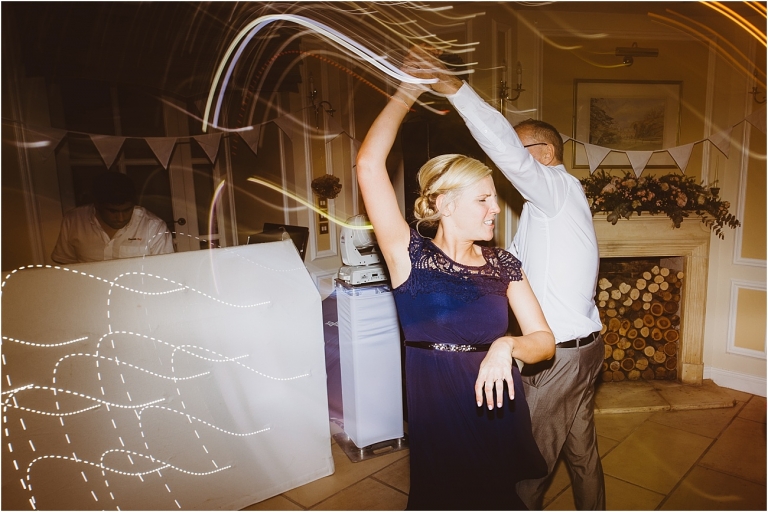 The dance-floor music was provided by Devon DJs. I love doing long-exposure light trails on the dance-floor around people who are really starting to let their hair down.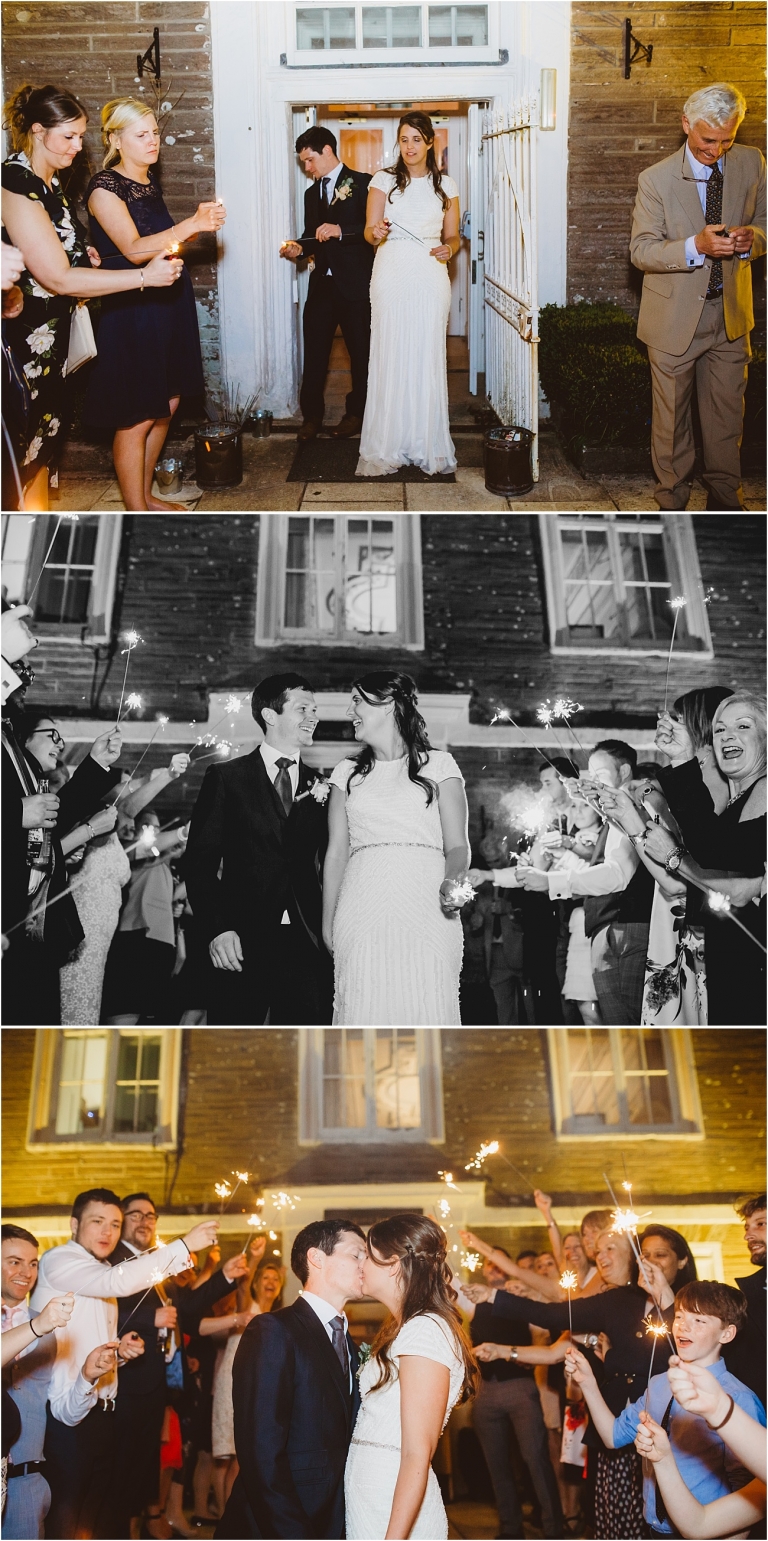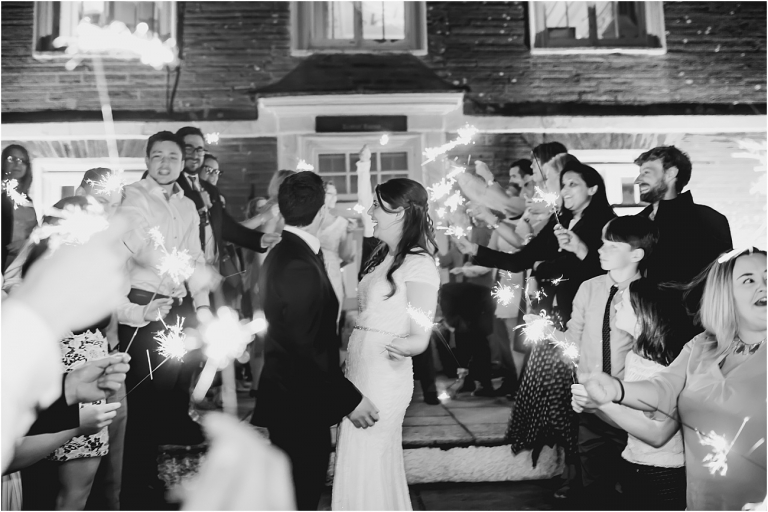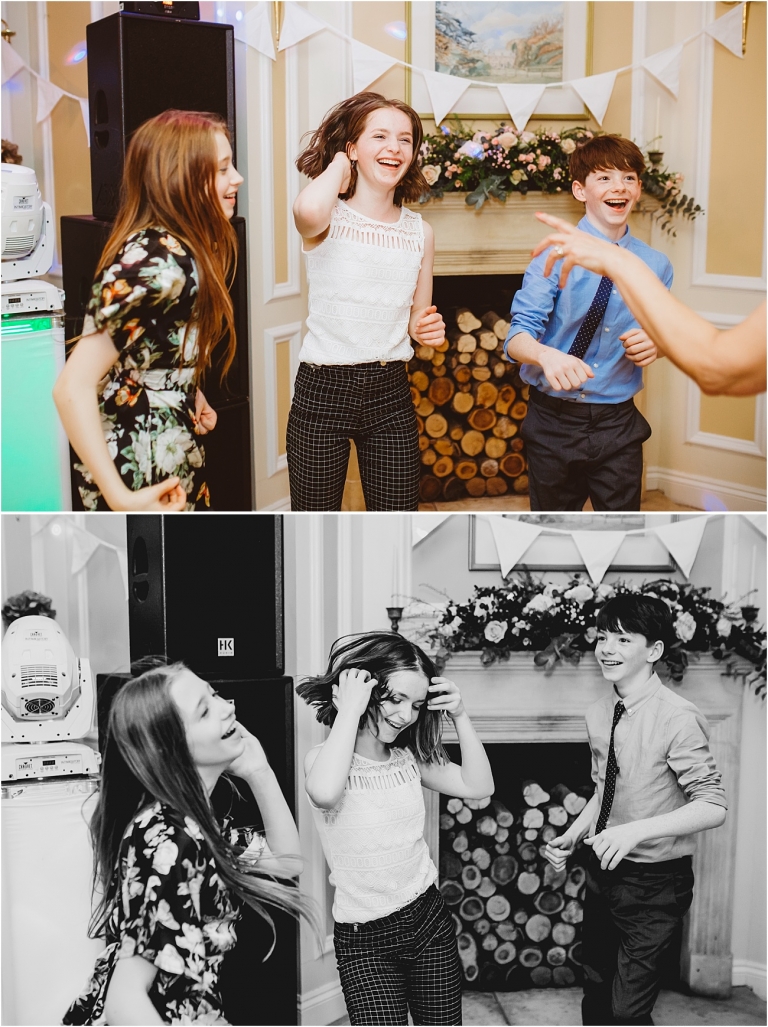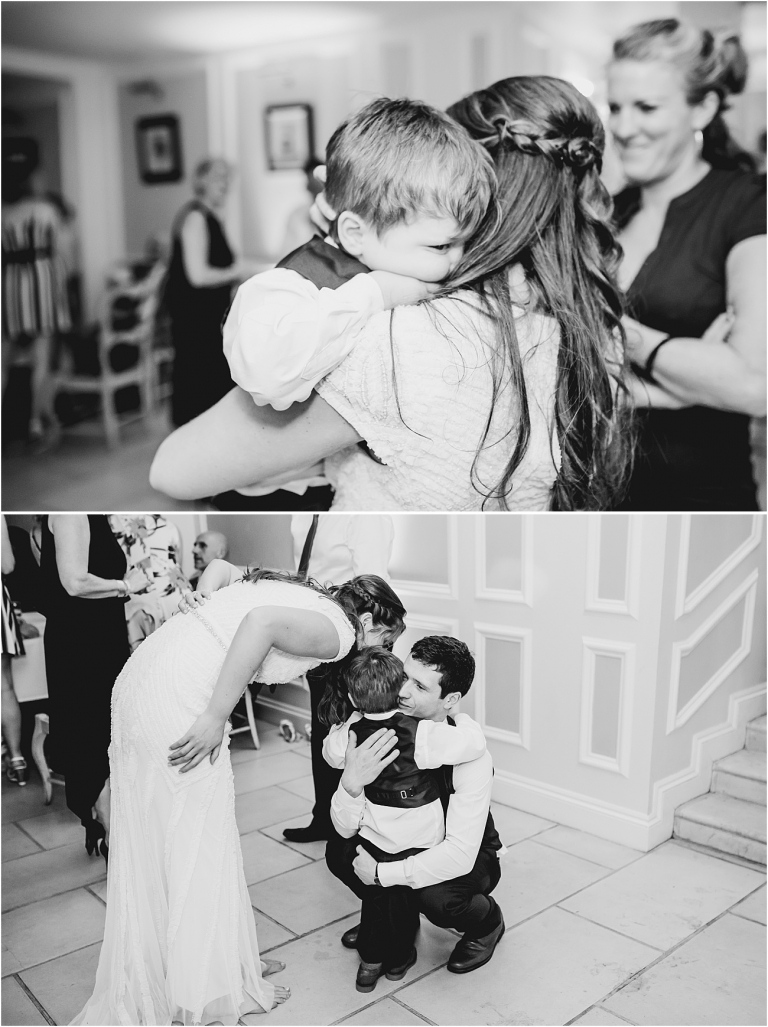 What a lovely moment to end on; George well and truly tired after an amazing day! Thank you for reading my blog; if you would like to leave a comment, please feel free to do so below. And if you are looking for a wedding photographer in Devon or Cornwall, please feel free to check out my packages or get in touch. Thank you Jazmine, Harley and George for allowing me to photograph your wonderful wedding!
I knew that I would love photographing Amber and Arron from the first moment I met them. They were such a lovely happy couple and their wedding certainly reflected their personalities. It was also a testament to their planning, as they did it all from Bristol by email or by seeing numerous suppliers in a single trip south. They had a bit of trouble deciding on a venue, until they visited the Bickley Mill Inn, which they fell in love with.
I also love The Bickley Mill; it's not only a beautiful venue but its neutral colour scheme also makes it very versatile, allowing couples to make the space their own. Amber and Arron wanted a shabby-chic wedding but, the quality of the venue and the floral arrangements were so good that, to quote Amber, it ended up "more chic than shabby"!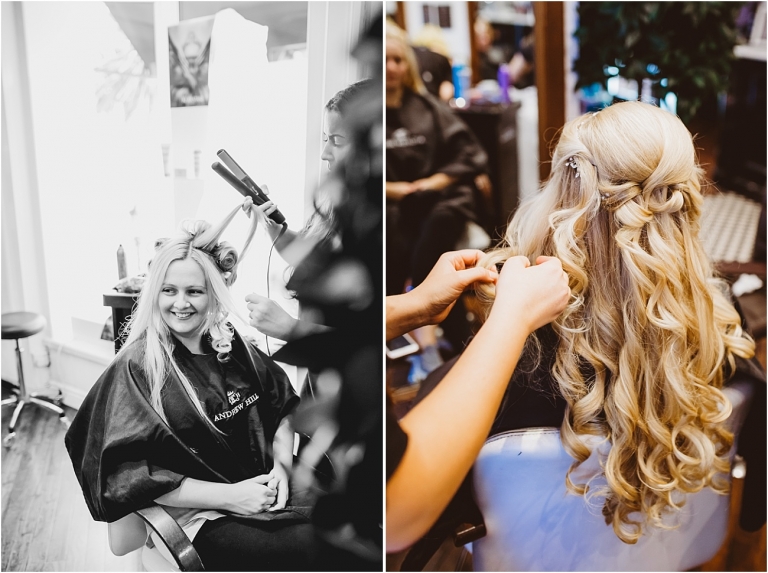 Amber's hair was by Andrew Hill Salon in Newton Abbot.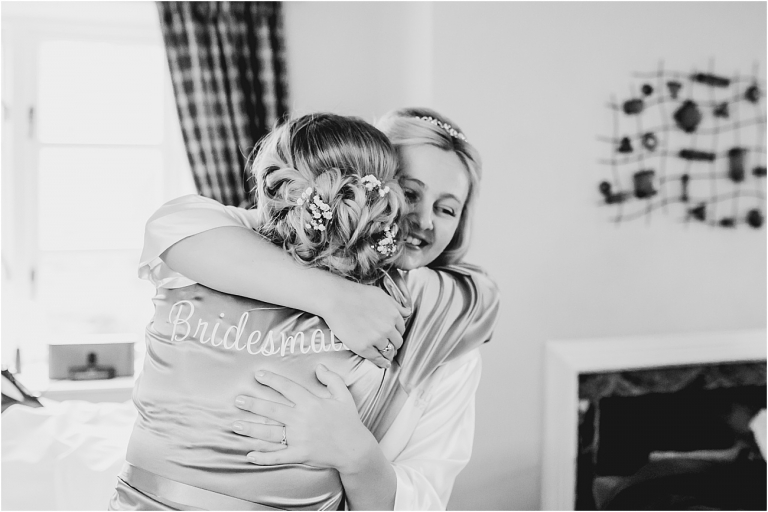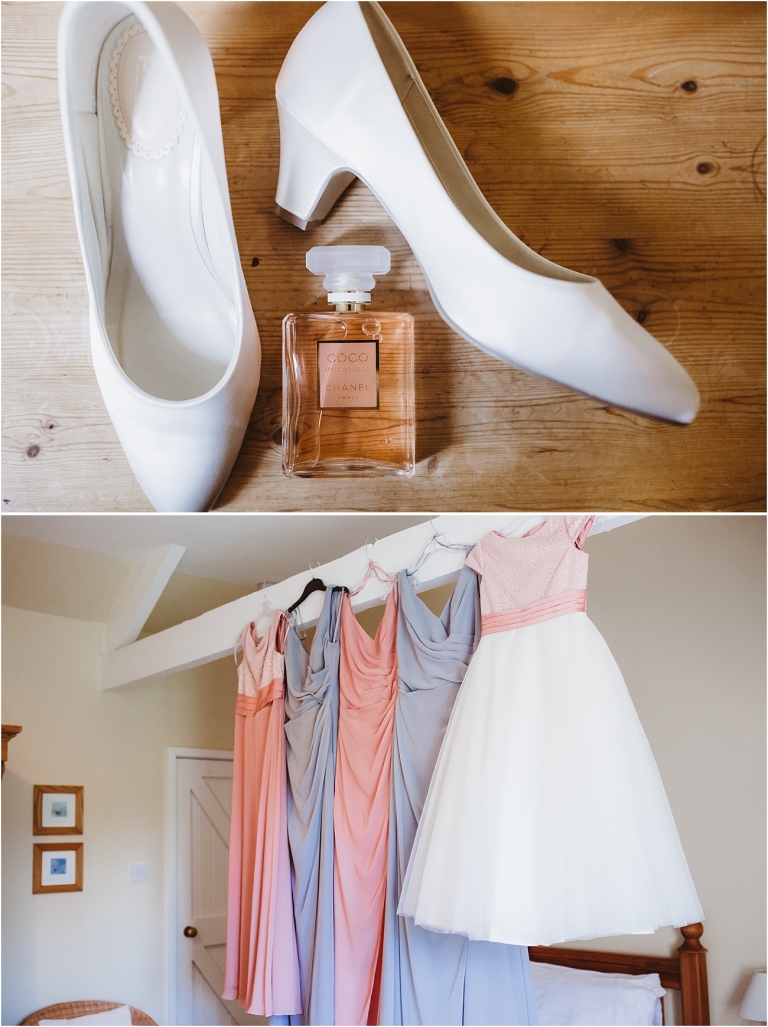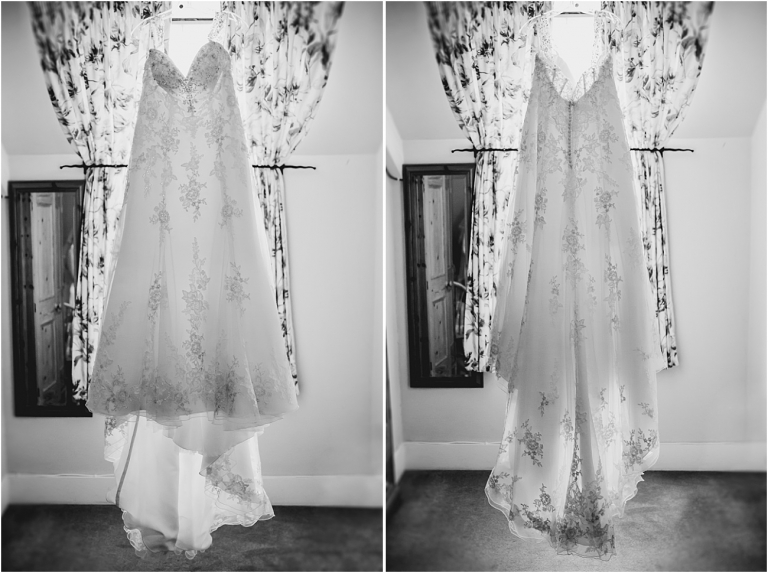 Amber's Wedding Dress was from A Class Brides in Bristol. They added straps to an initially strap-less dress to ensure that Amber had the perfect one! The lovely pastel-coloured bridesmaid dresses were from Do You Believe Bridal in Newport and her shoes were from Paradox London.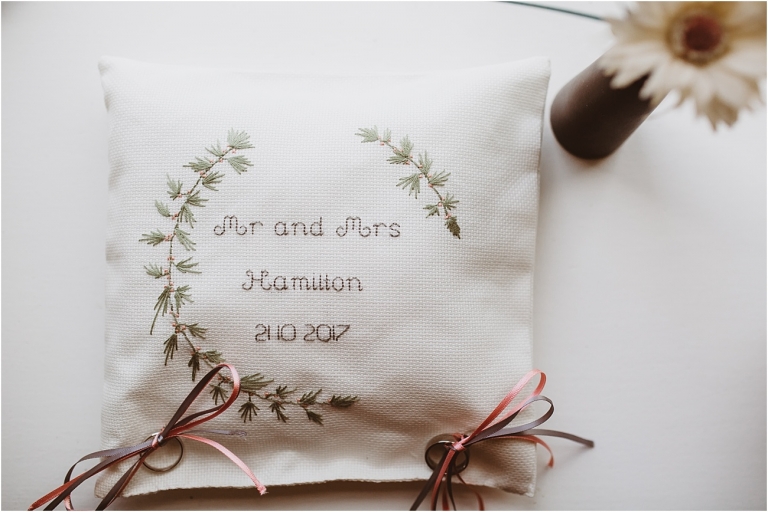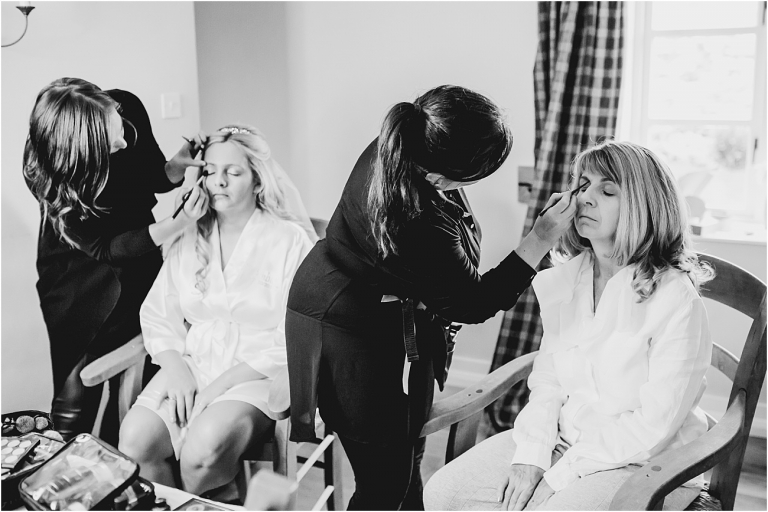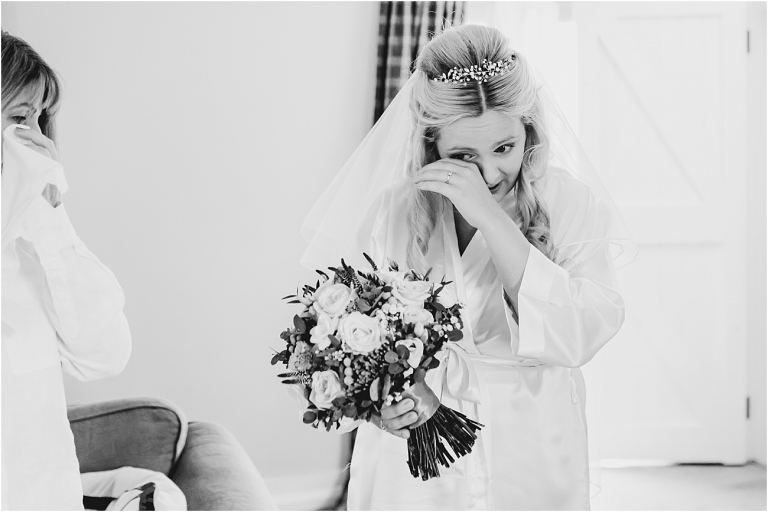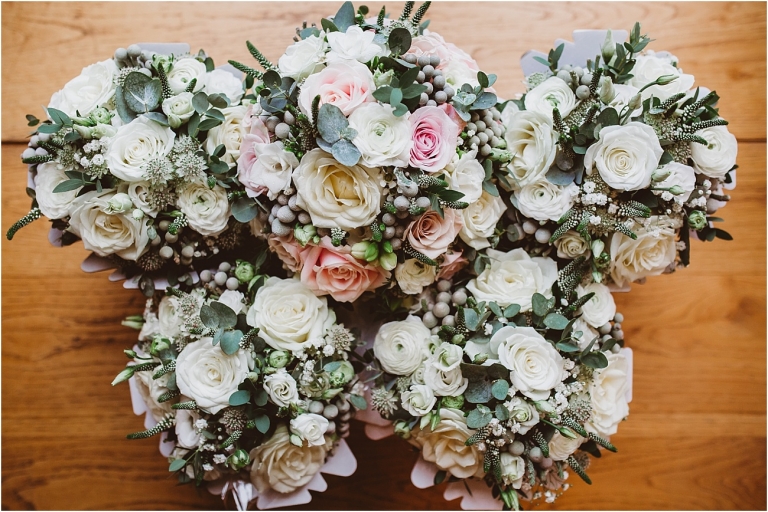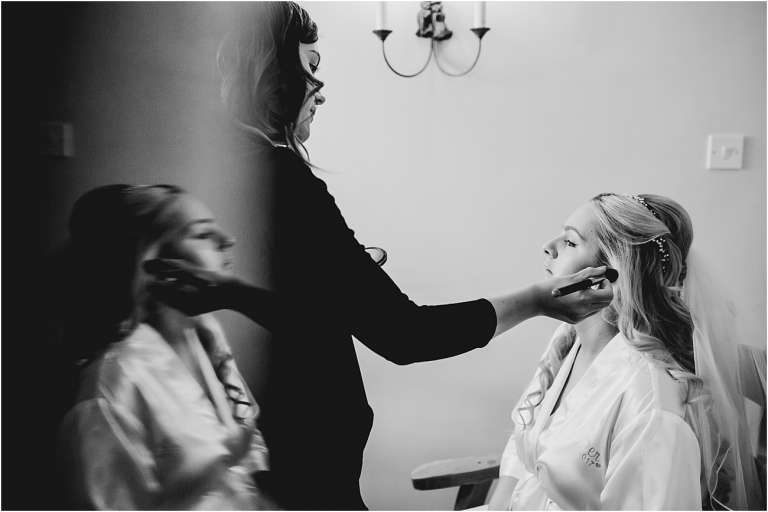 Amber's make-up was by Harriet Lucille Beauty.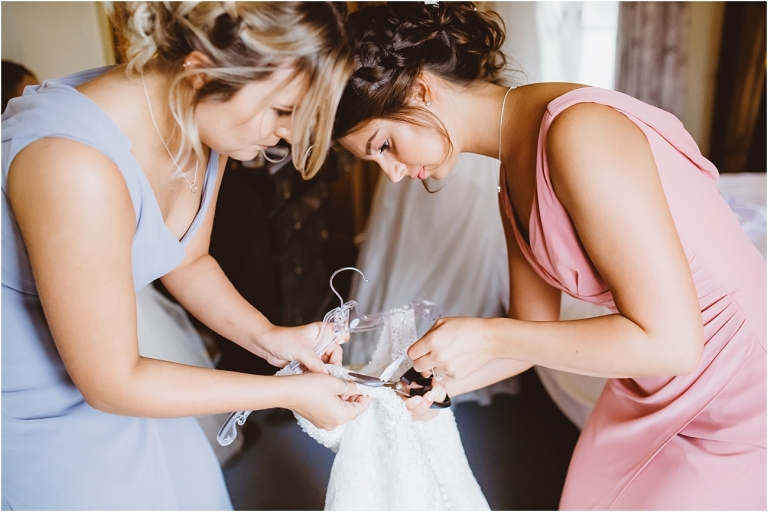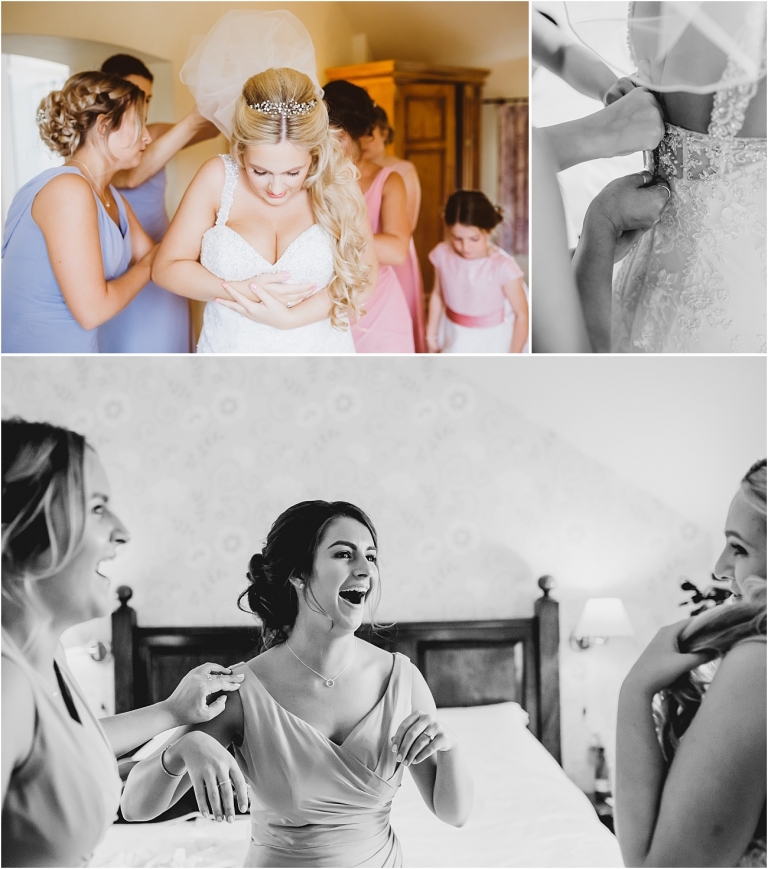 This is the moment when I informed the bridesmaids that, whilst they were clearly panicking that they could not zip Amber's dress all the way to the top, it actually already was…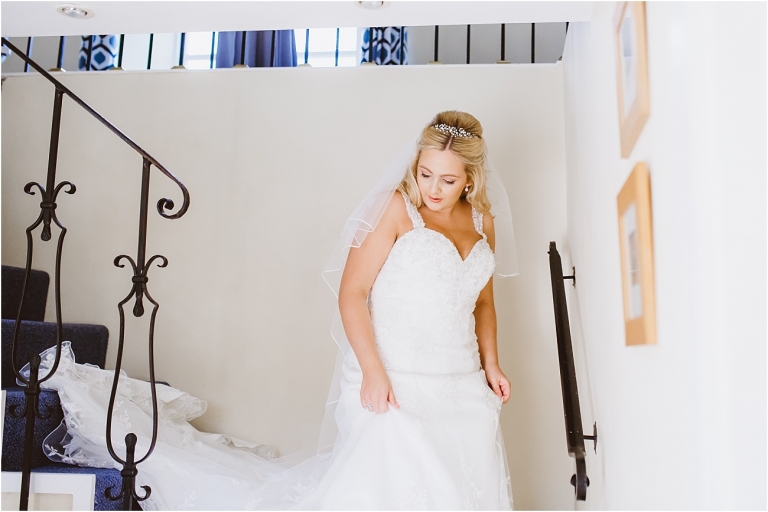 The wedding cars were provided by Roaring 30s. Ever since she was a little girl, Amber had always wanted a vintage wedding car. So when she booked Bickley Mill for their wedding, she decided to stay elsewhere the night before, purely so she could have her dream wedding car!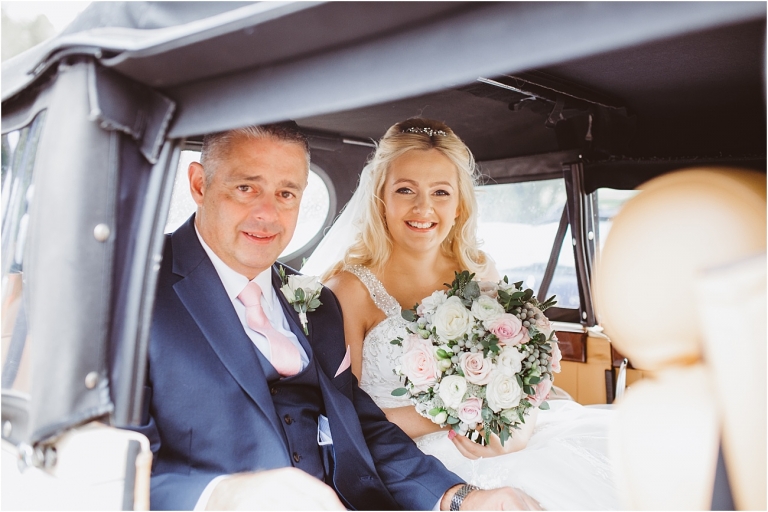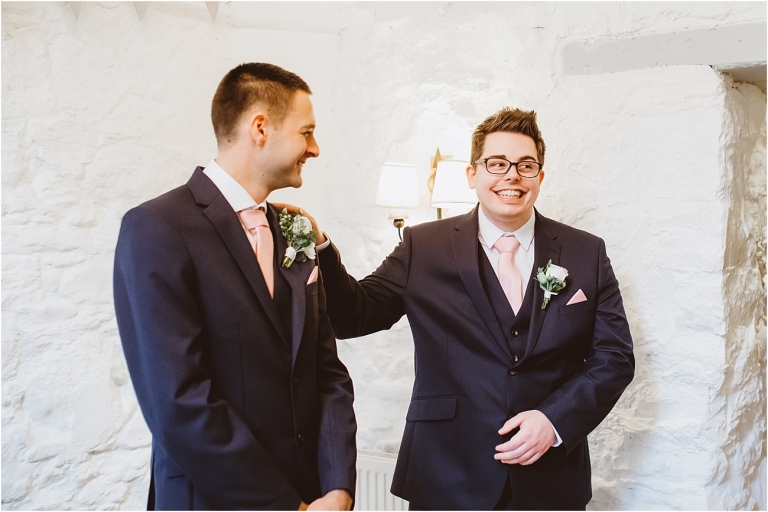 The ties and pocket squares were provided by Swagger and Swoon. They sent Amber and Arron numerous colour samples to ensure a perfect match with the bridesmaids' dresses.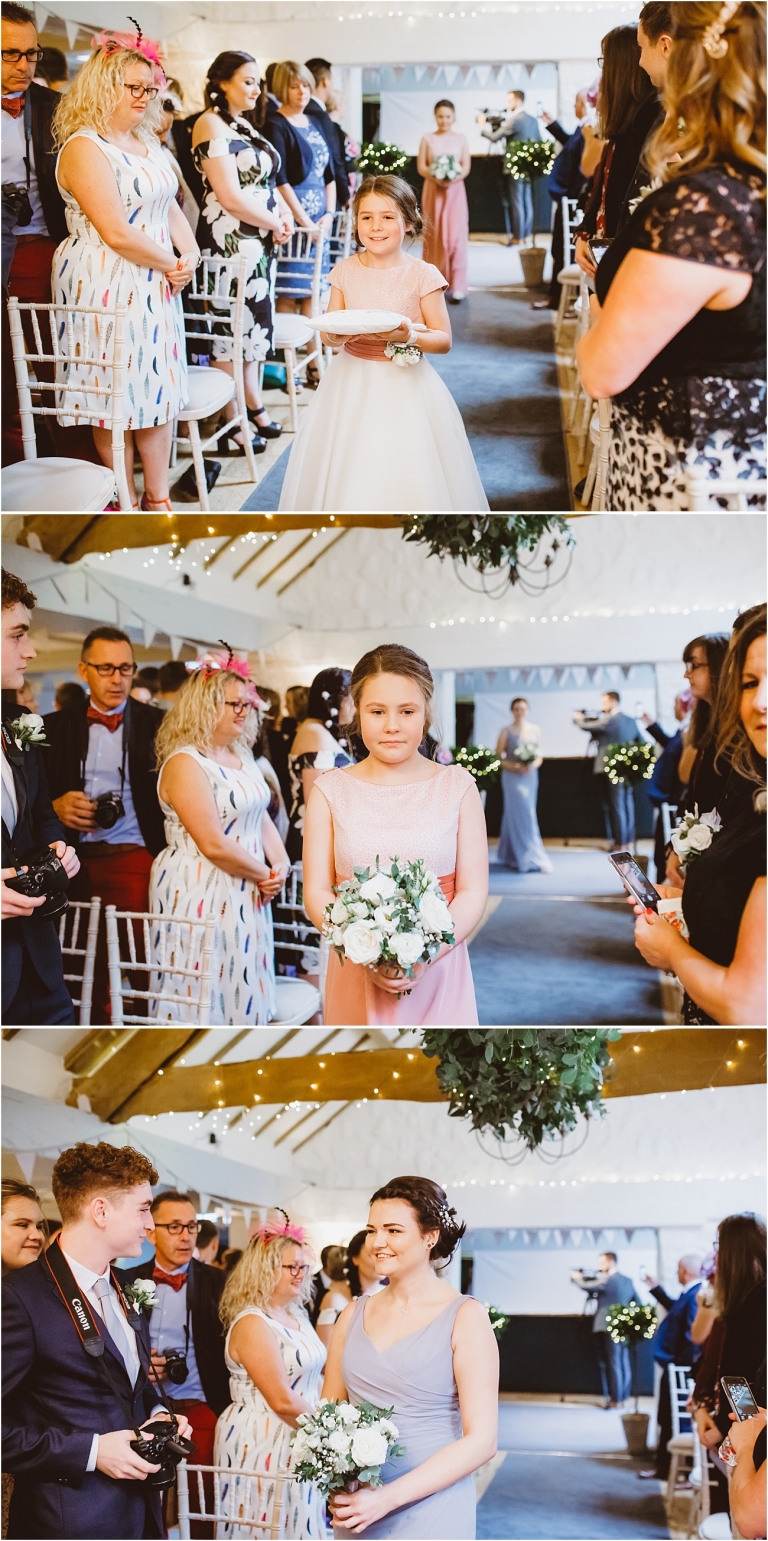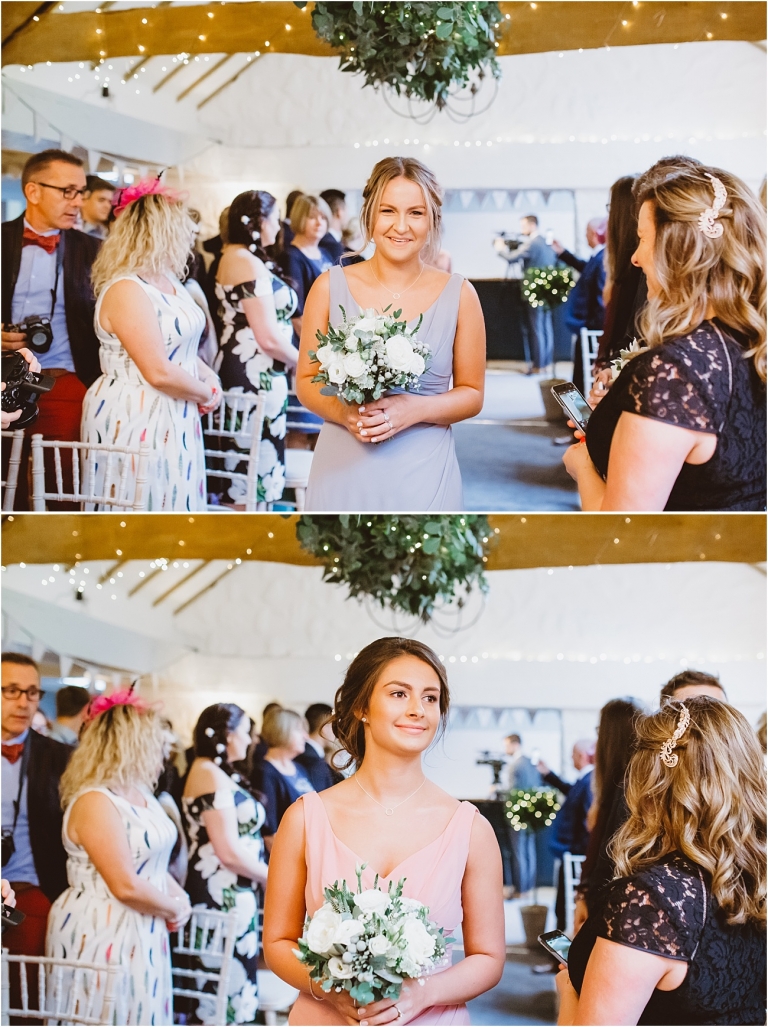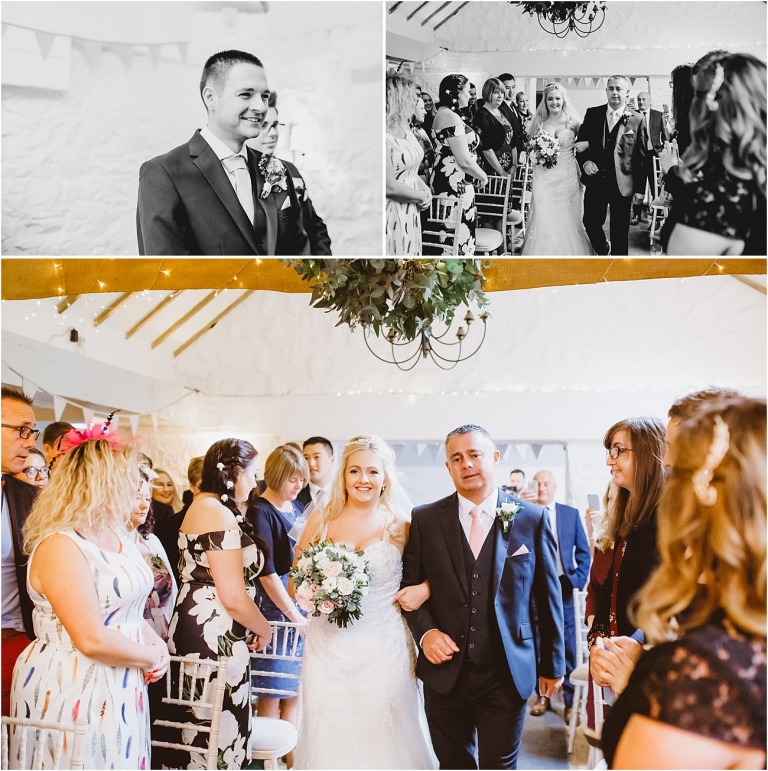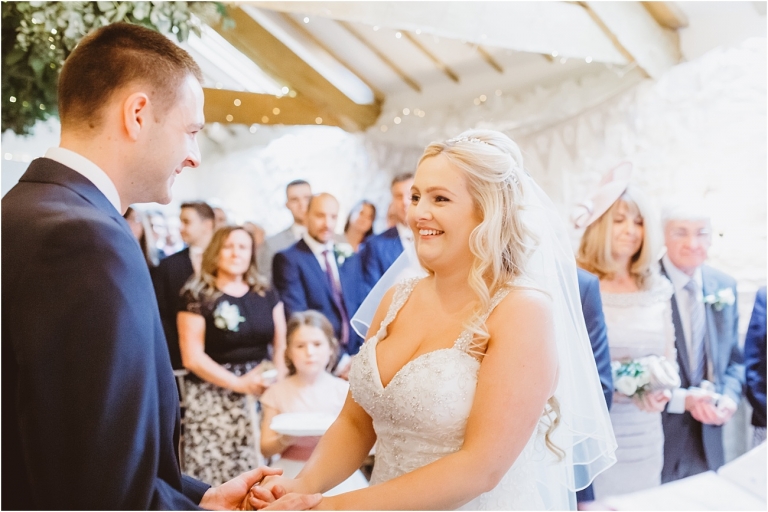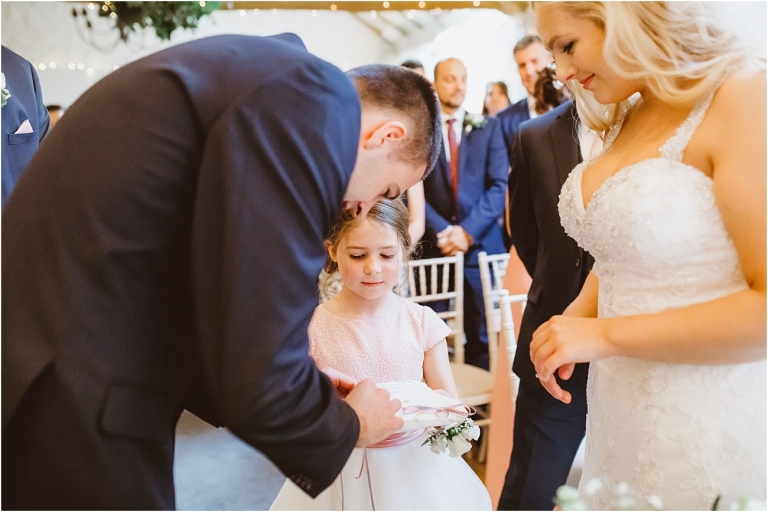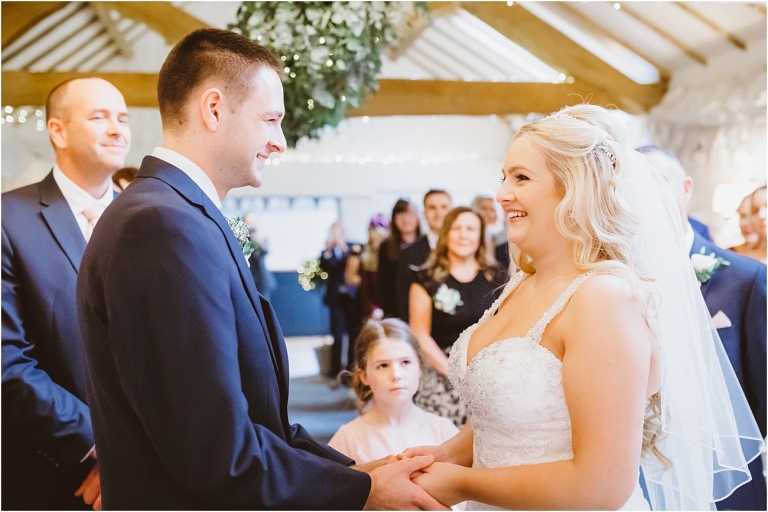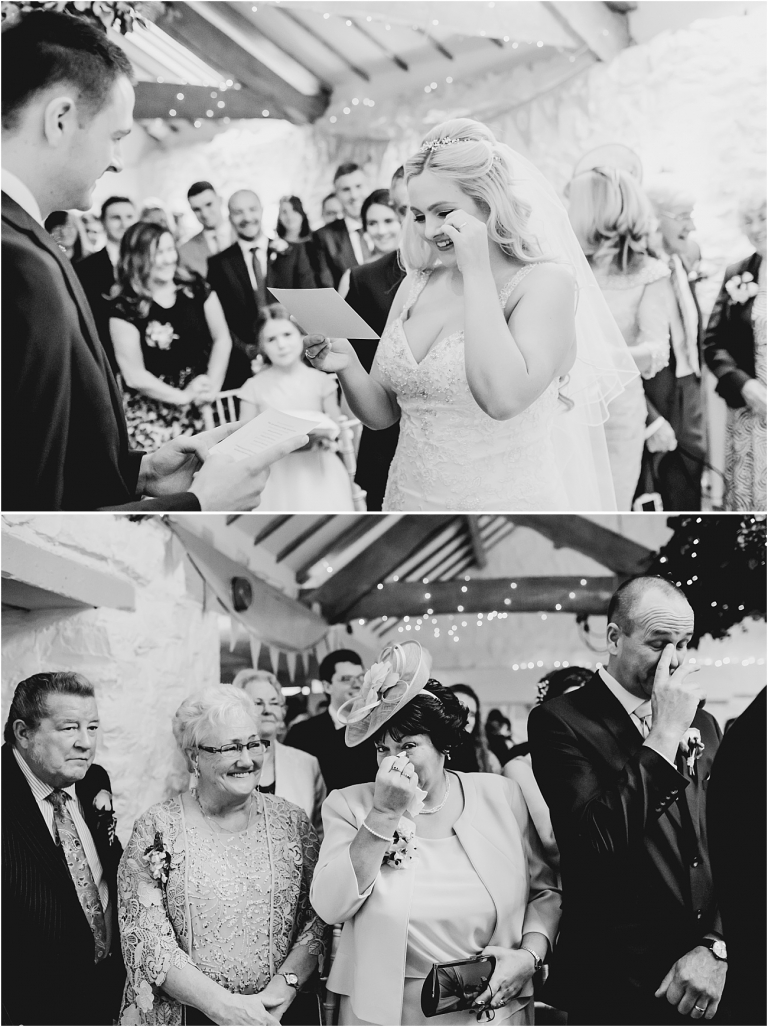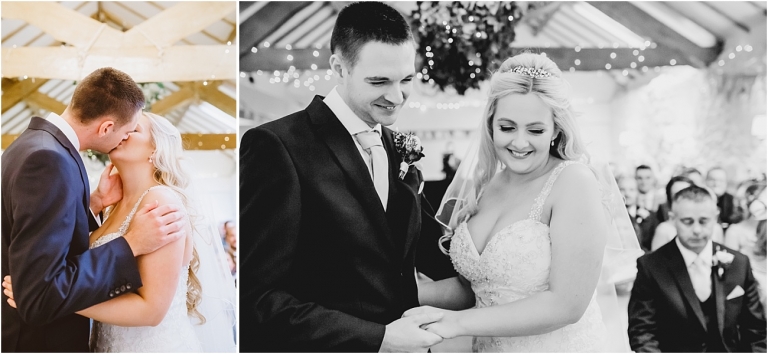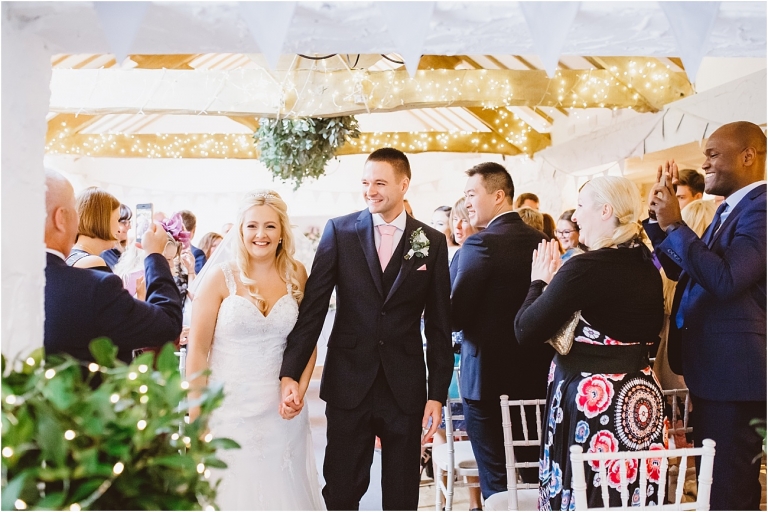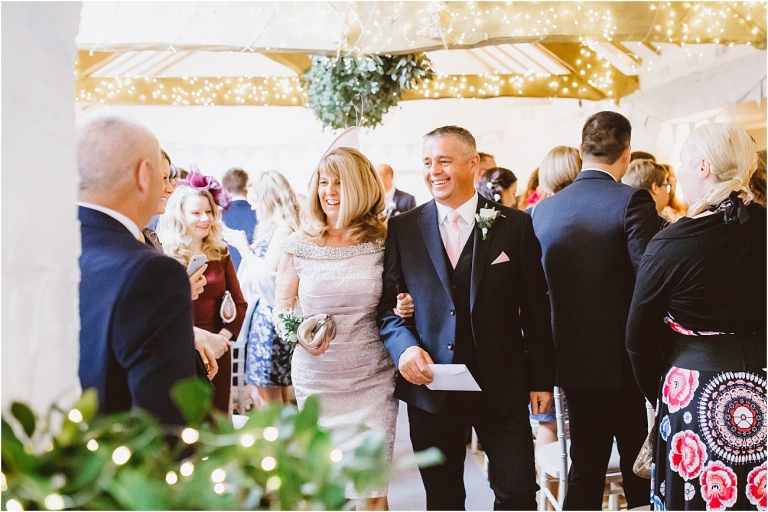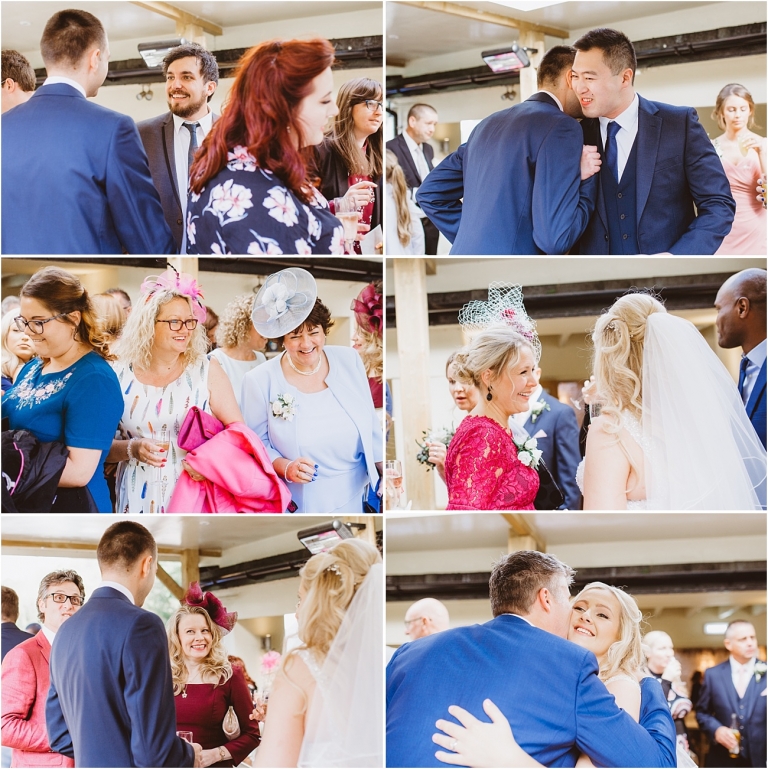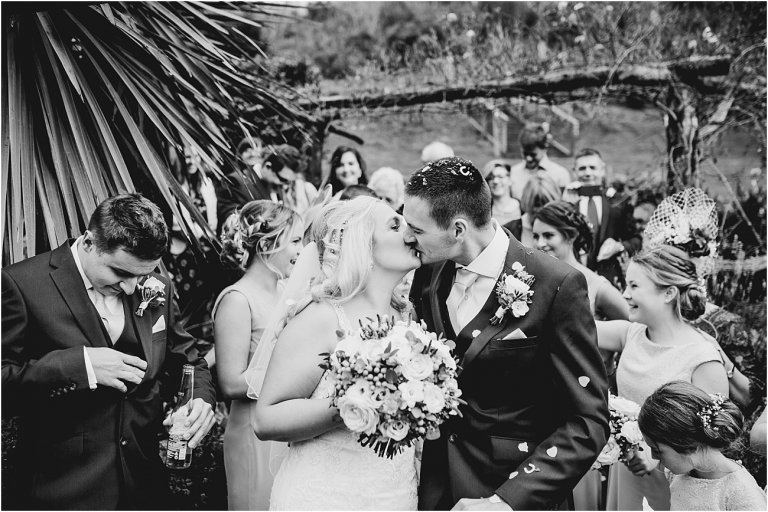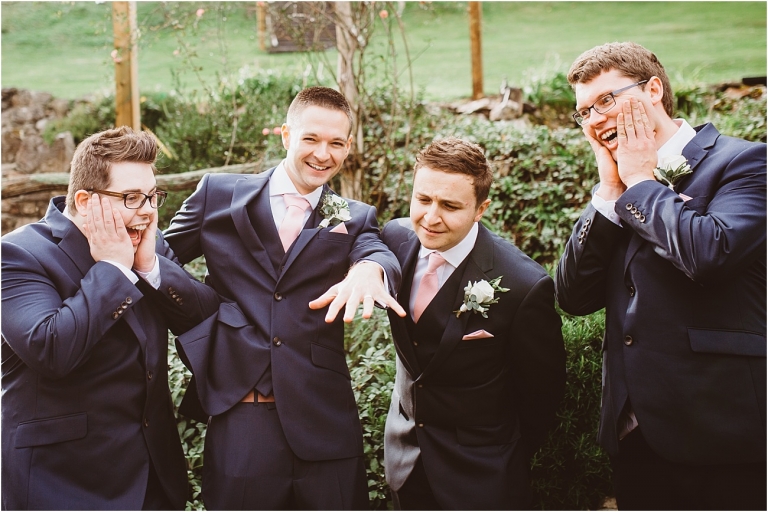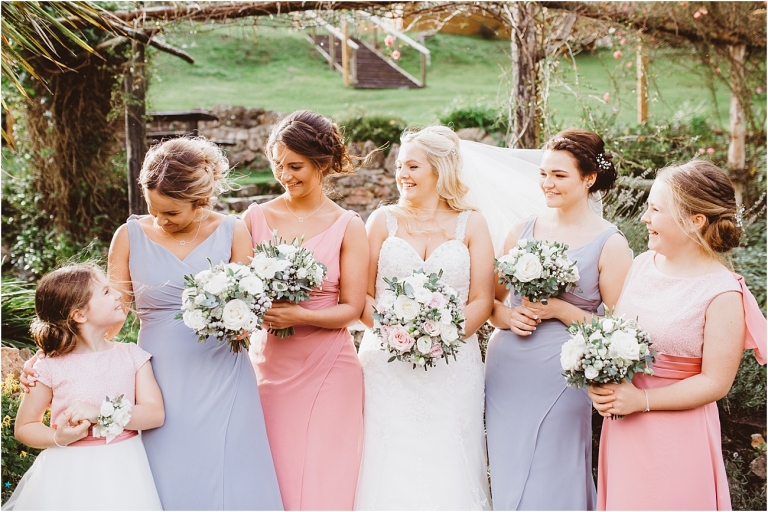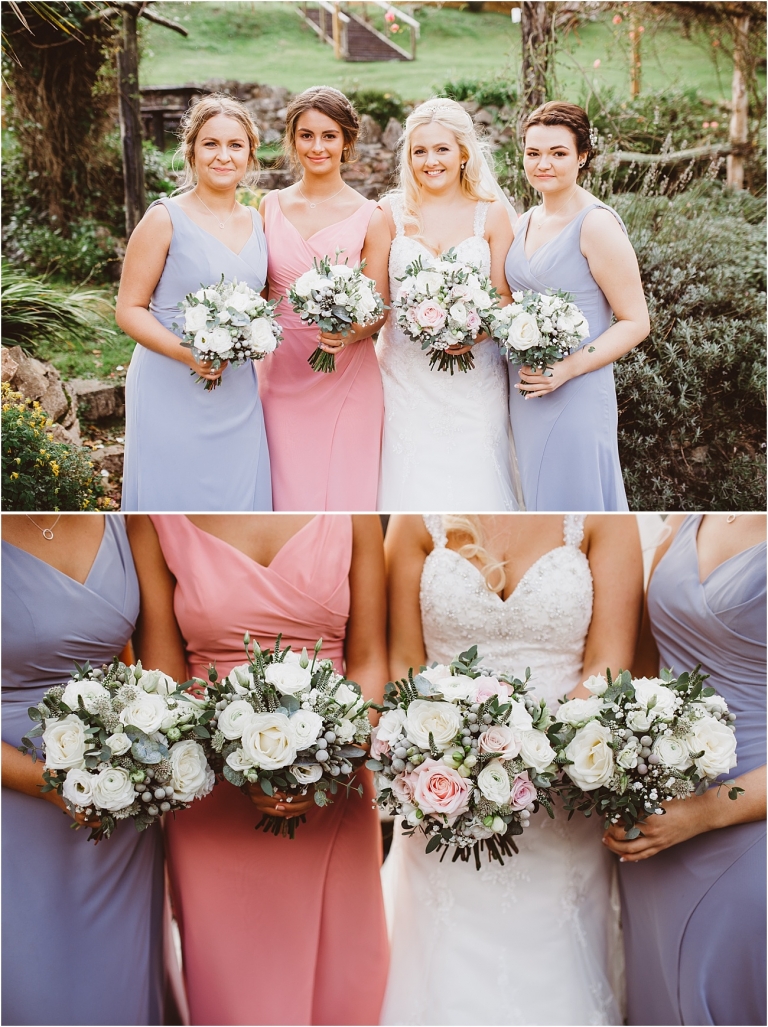 Amber told me that she was struggling to decide on a bouquet so she left Hollyhocks with just some pictures and ideas… The result is spectacular! Amber loved her bouquet so much it is currently in the process of being preserved by 'the flower preservation studio'.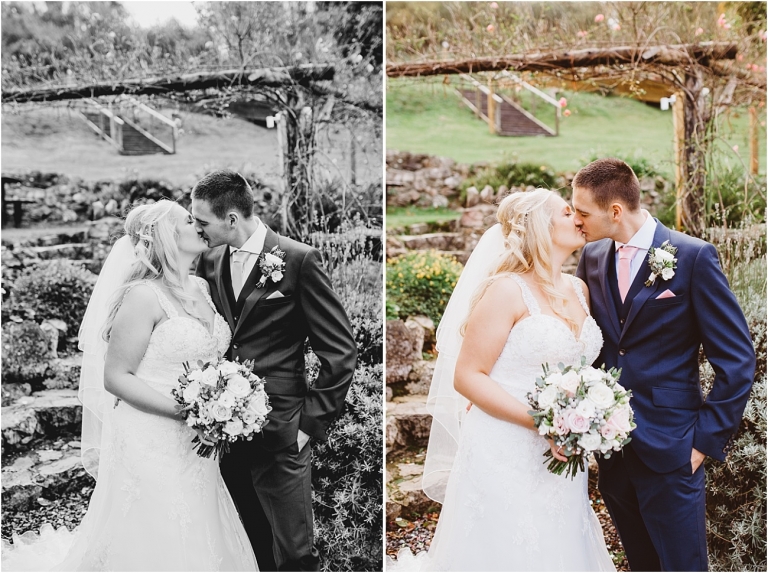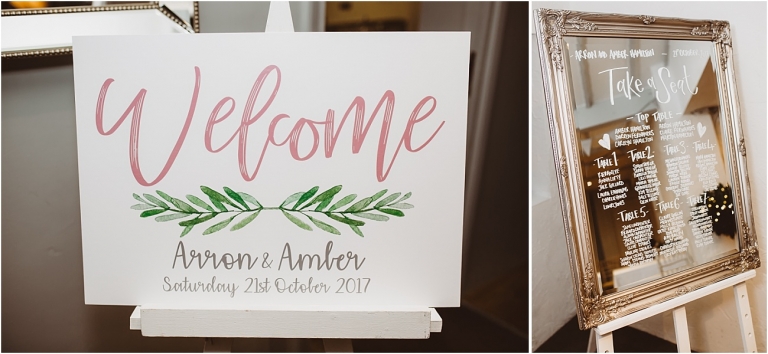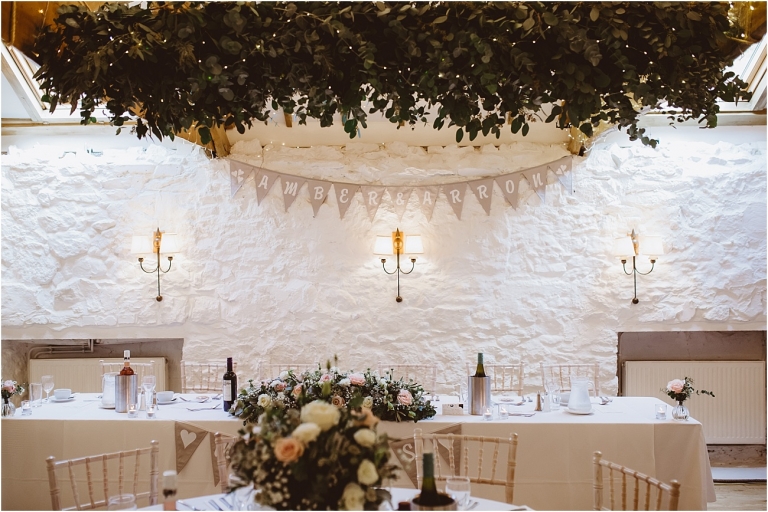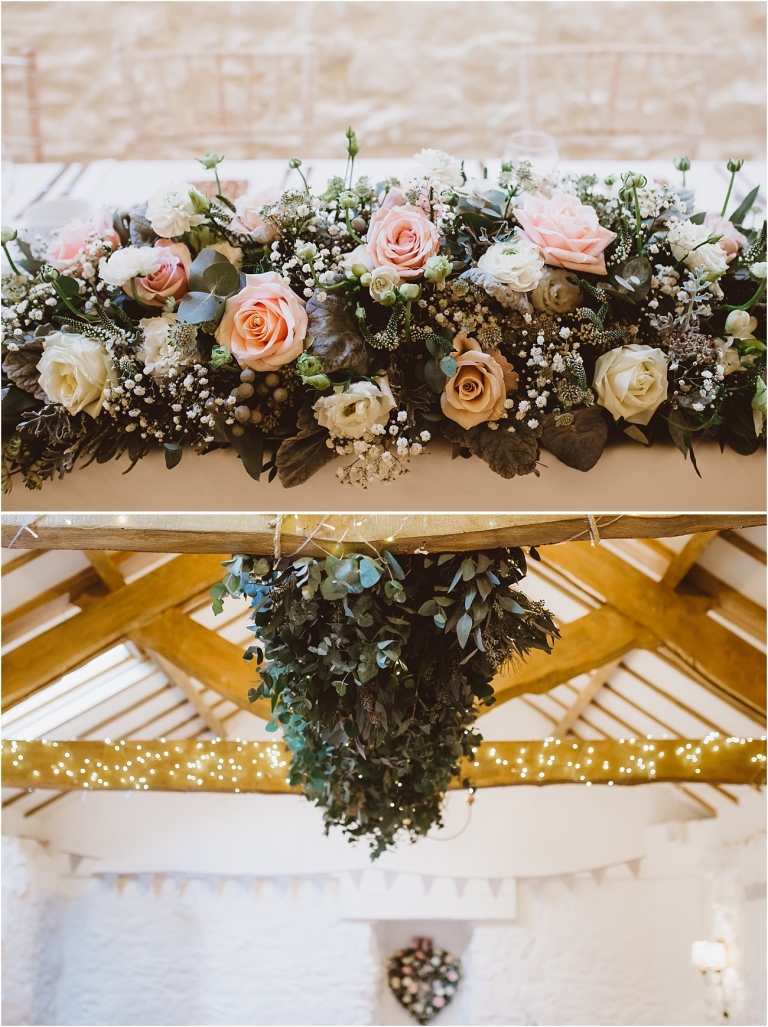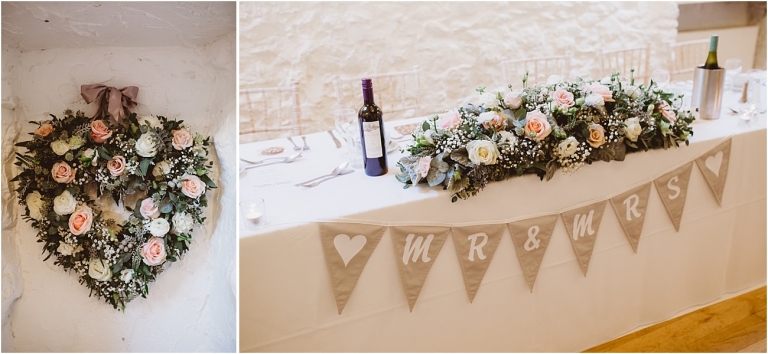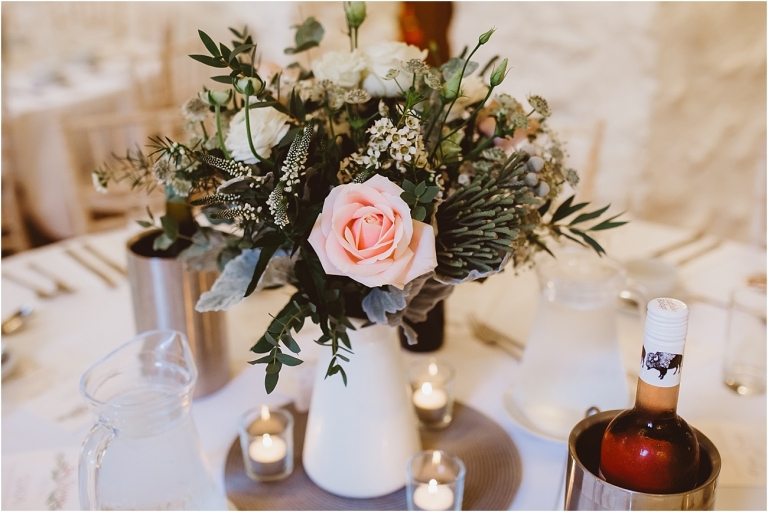 Credit must go to Hollyhocks once again; their flowers and arrangements were absolutely beautiful.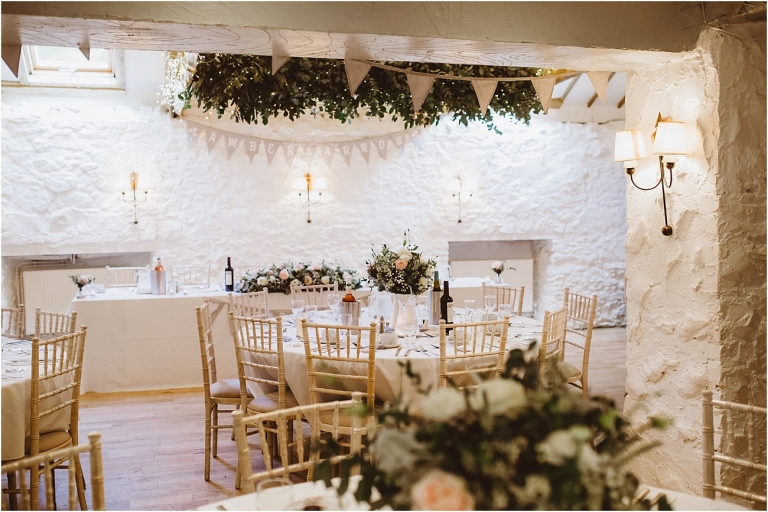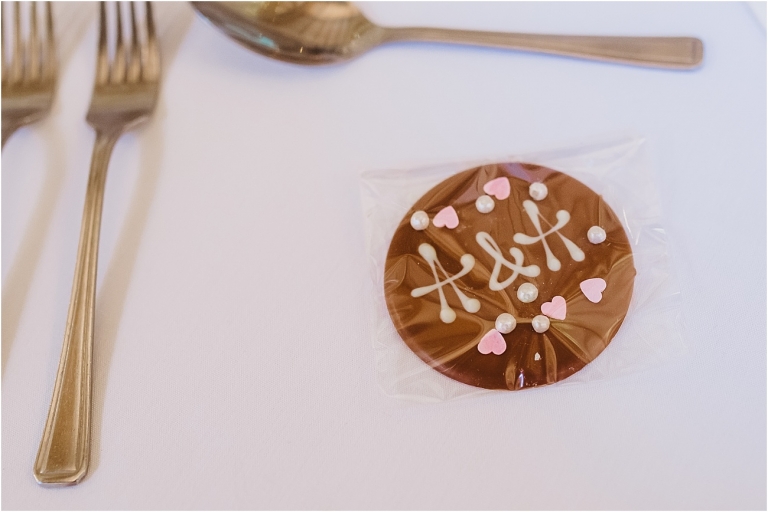 Their lovely wedding favours were from I Should Coco in St. Ives.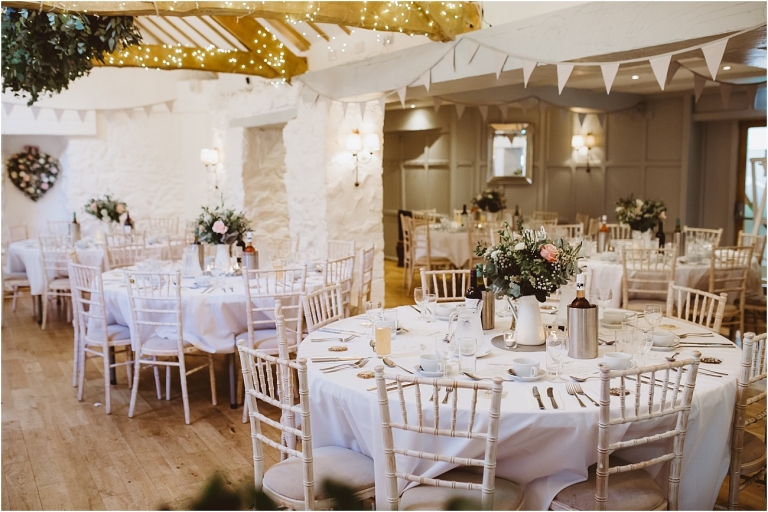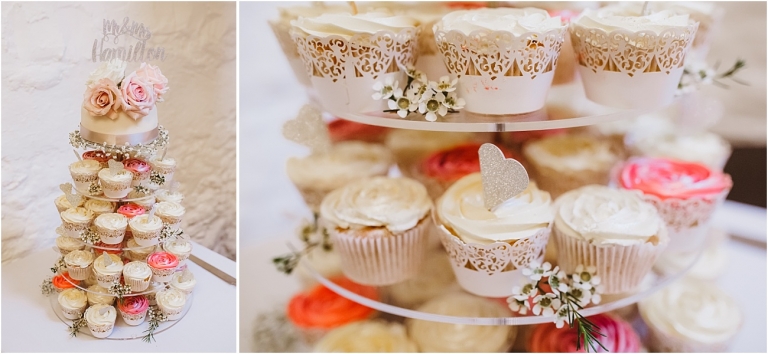 Amber and Arron's cake was a real family effort; Amber's aunt made the top fruit cake, her mum made the cupcakes, Amber iced them and her nan helped put it all together!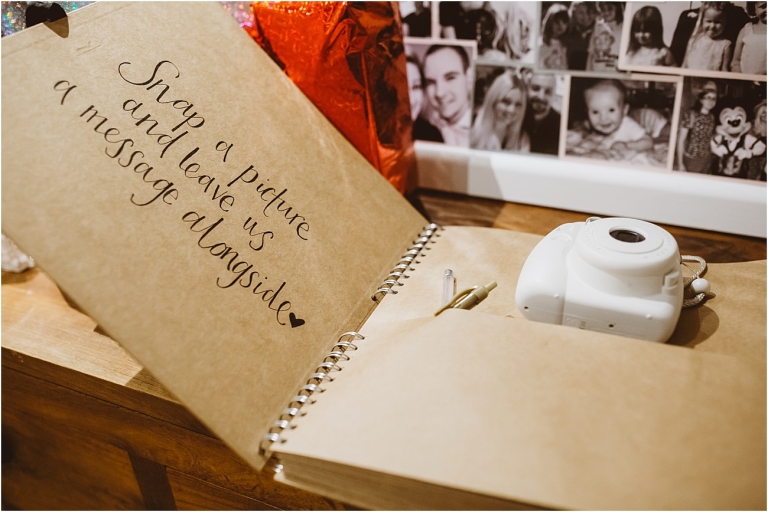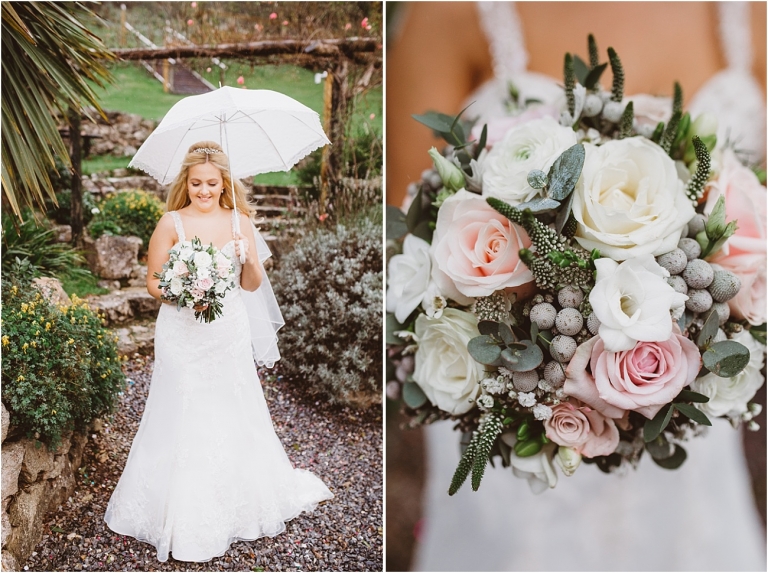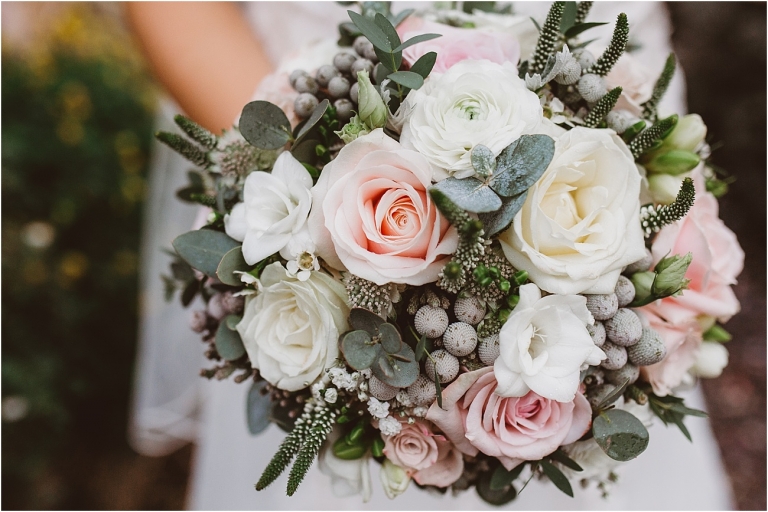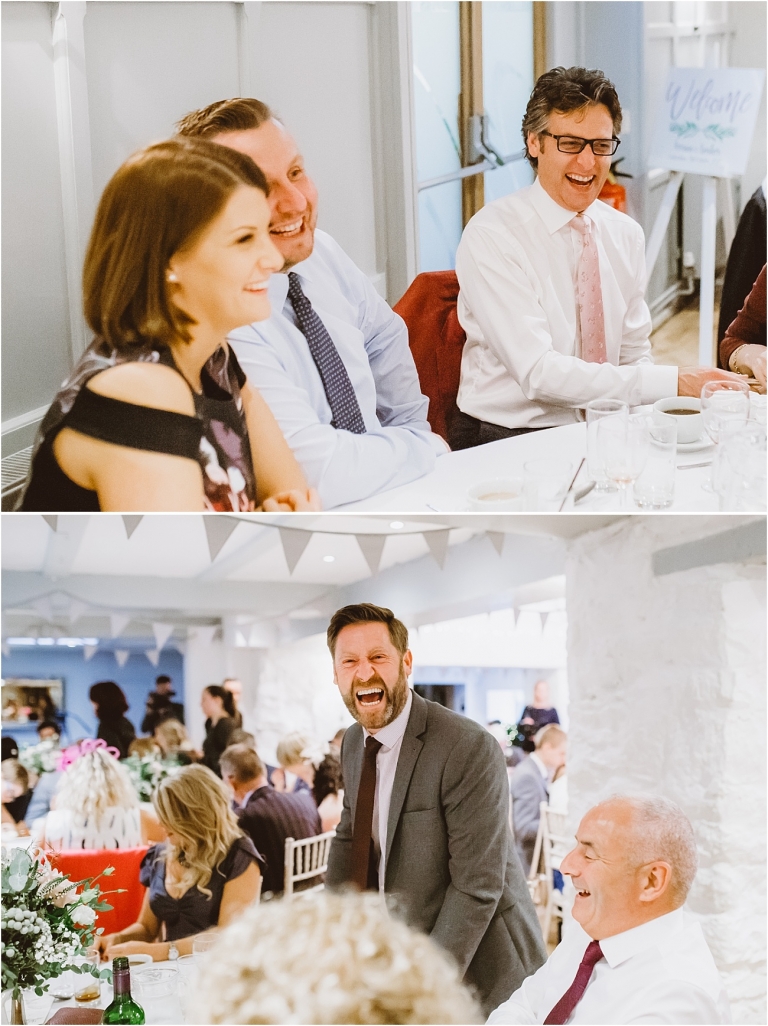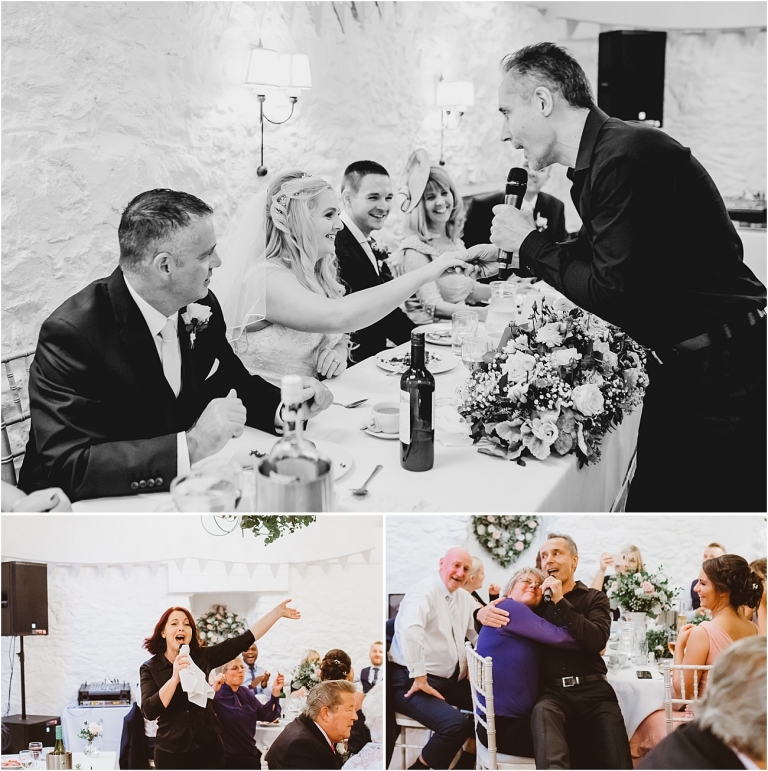 They managed to keep Dylan and Mo from Bravo Singing Waiters a surprise from everyone so the response and atmosphere were amazing!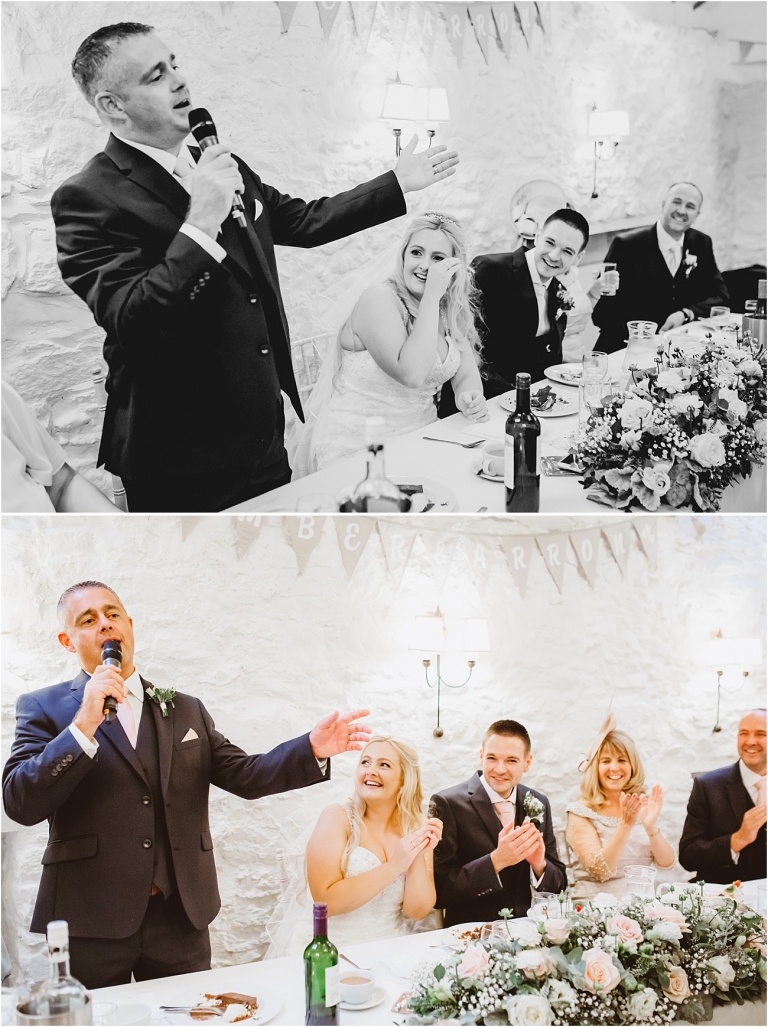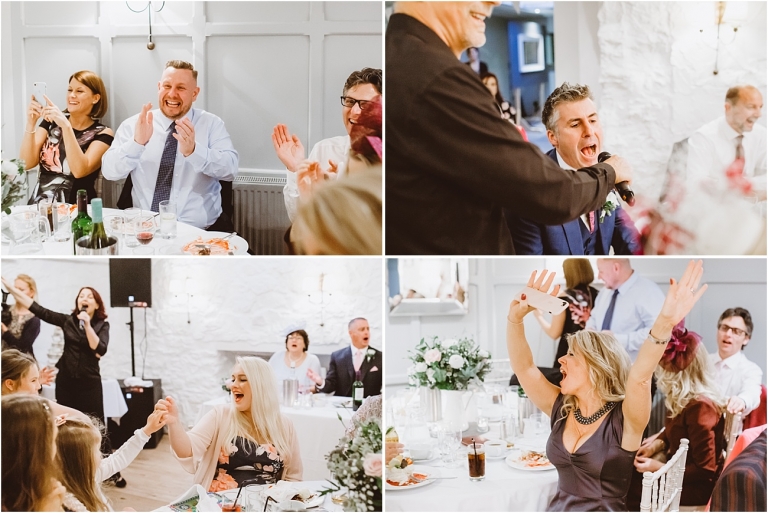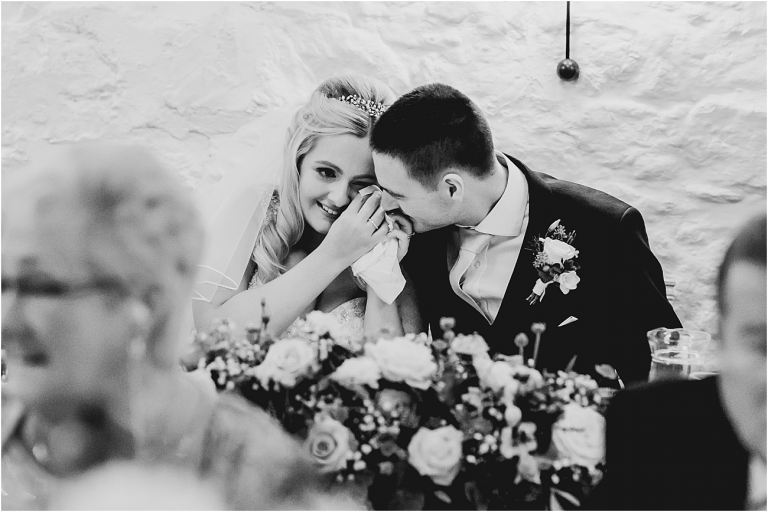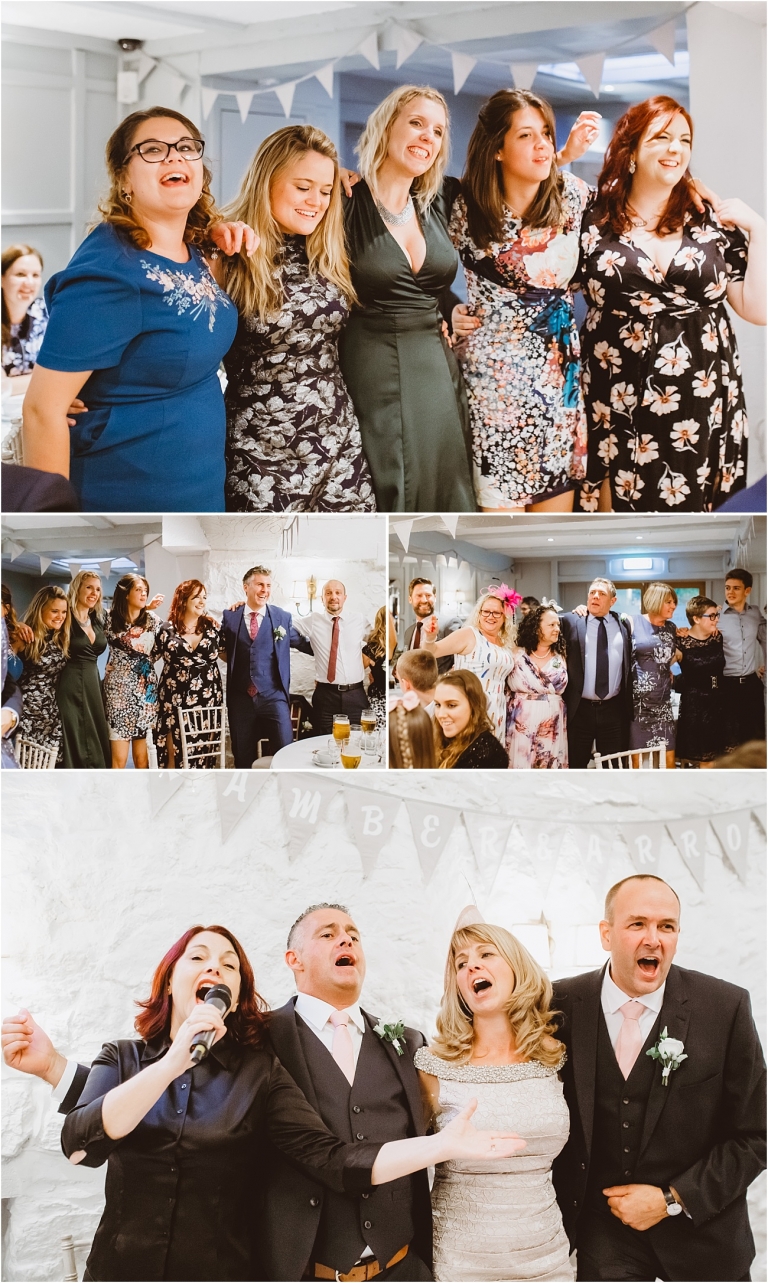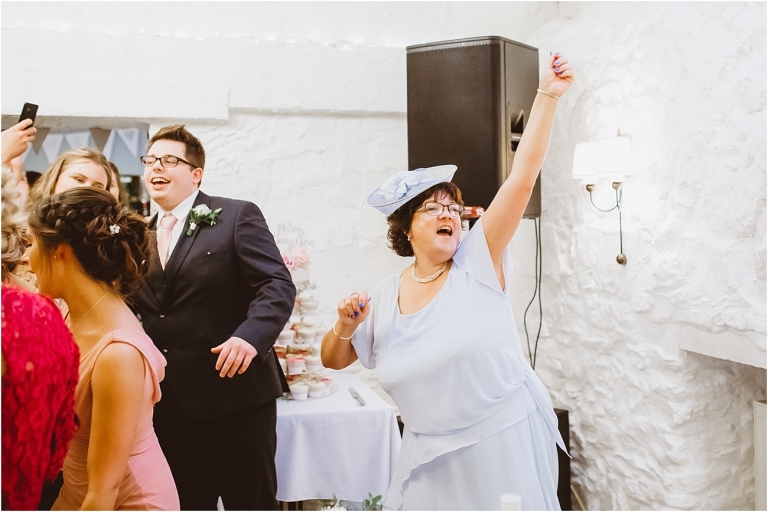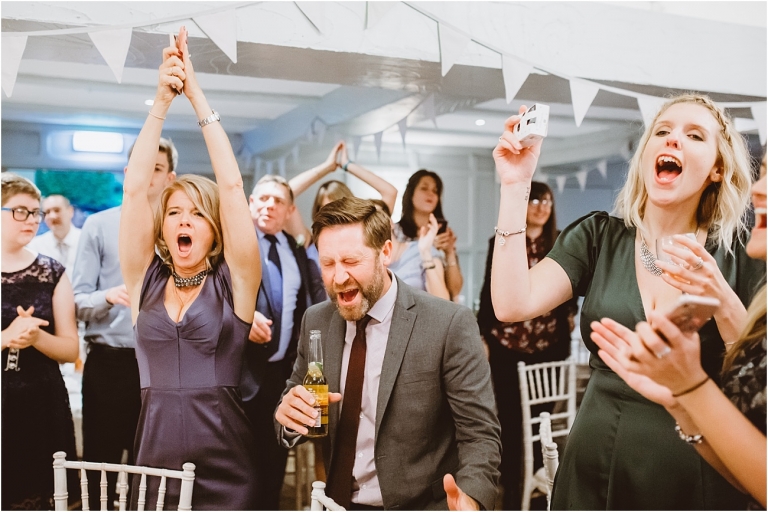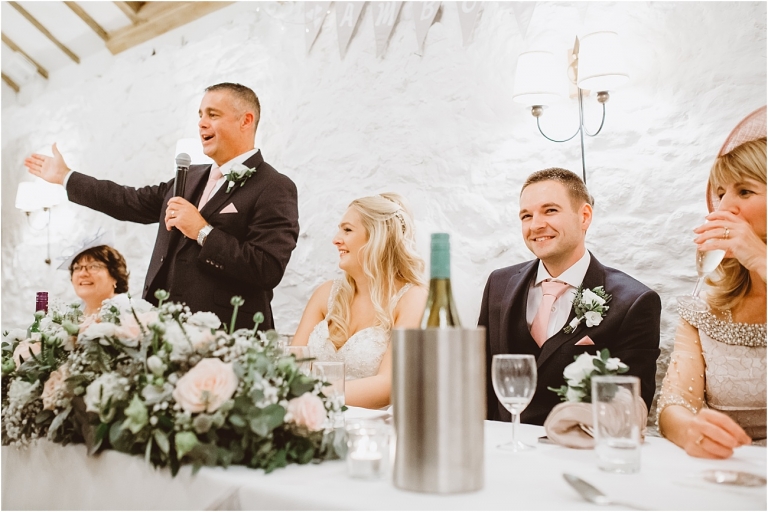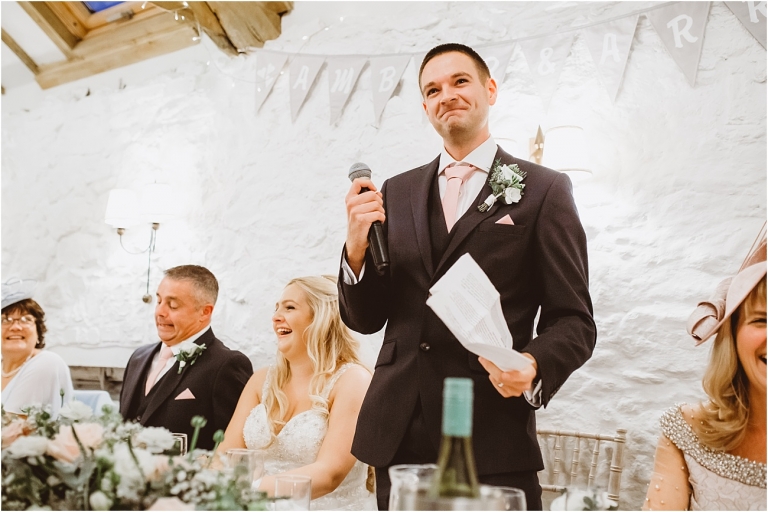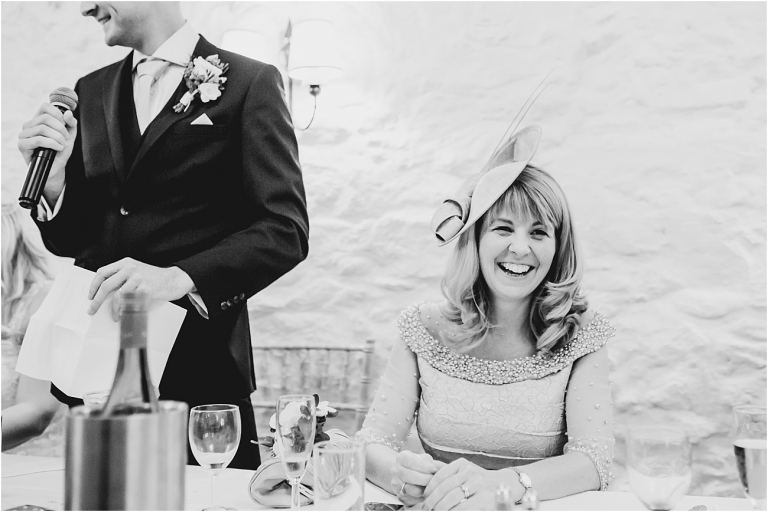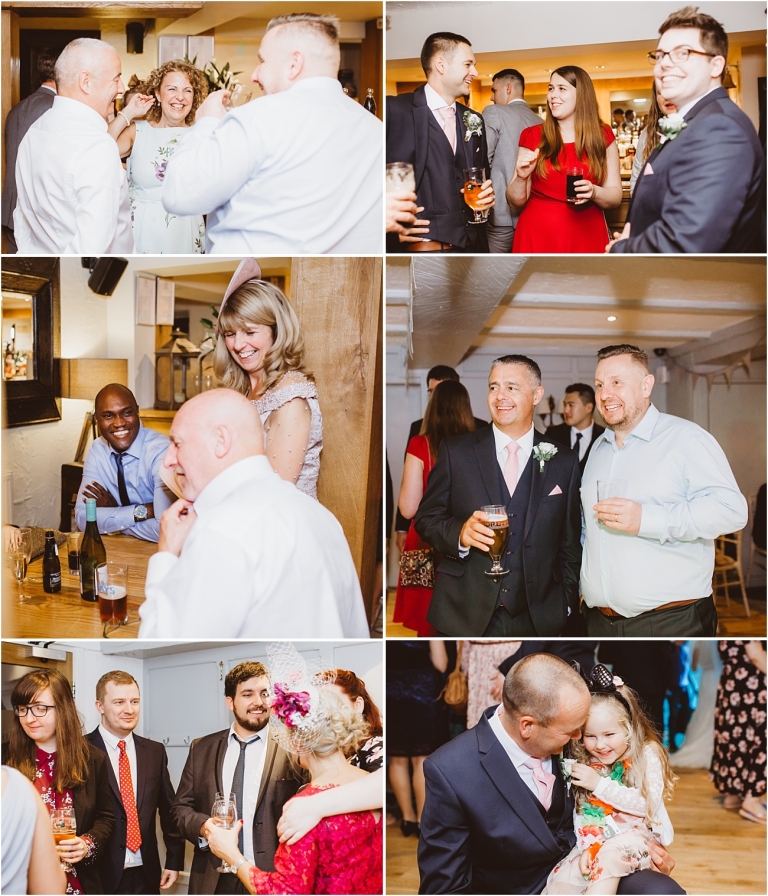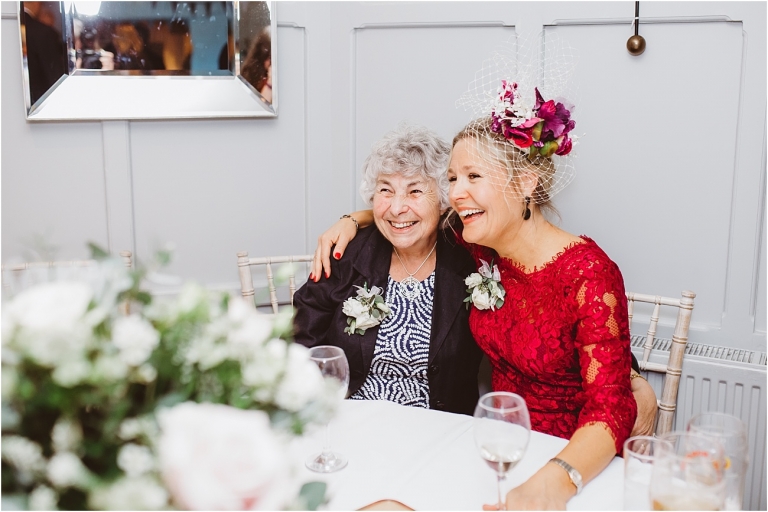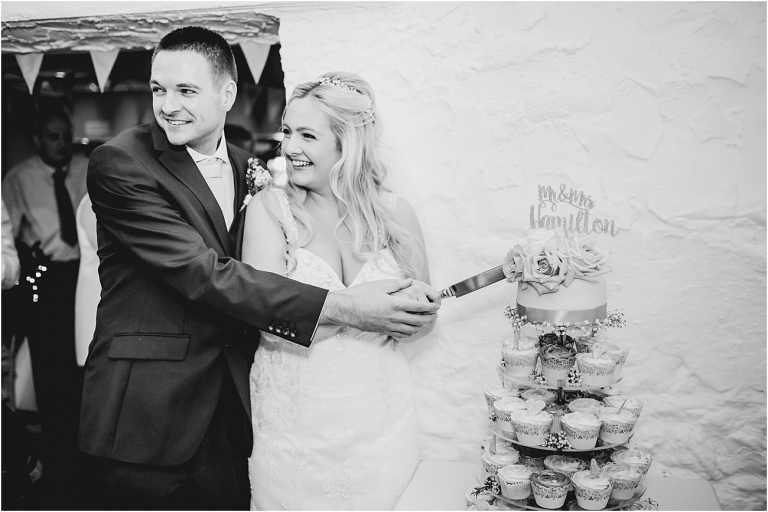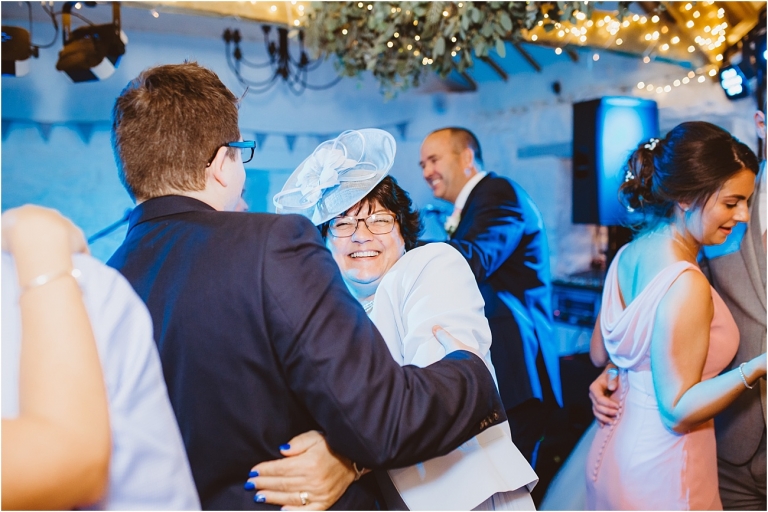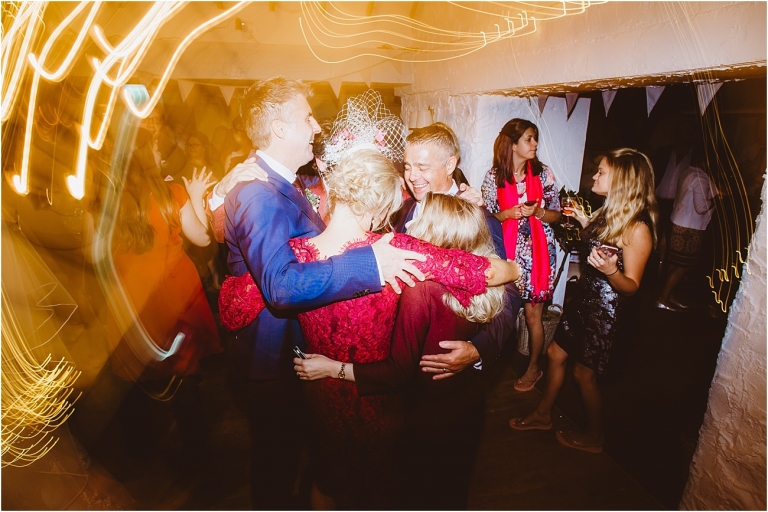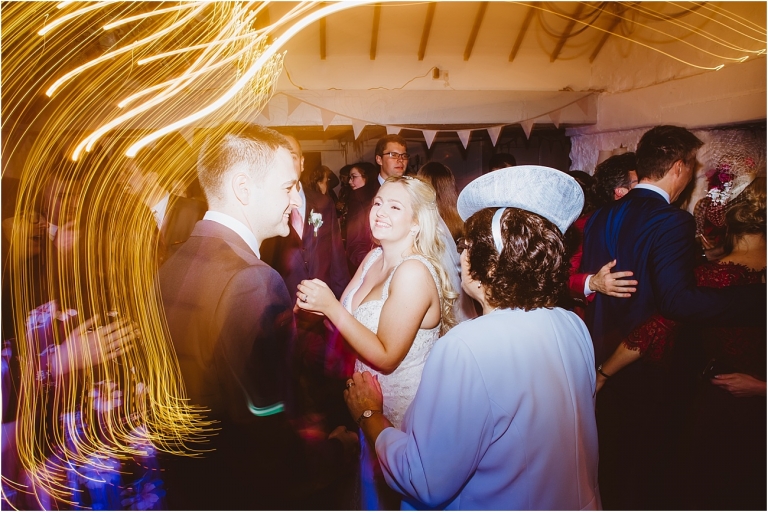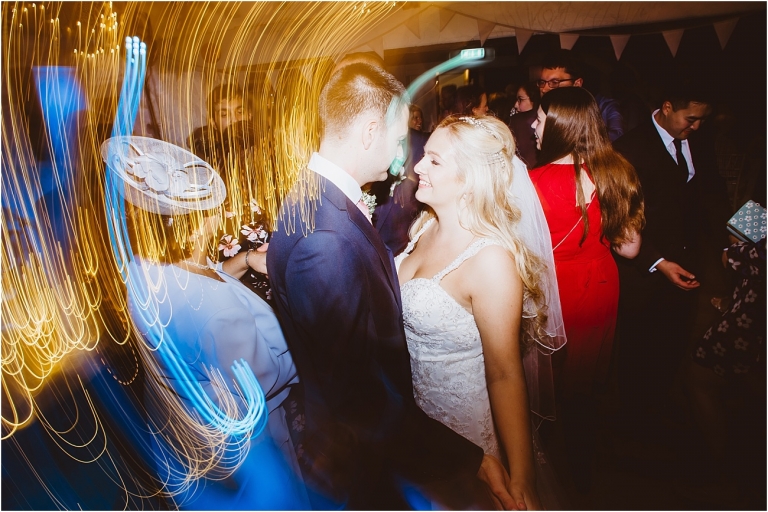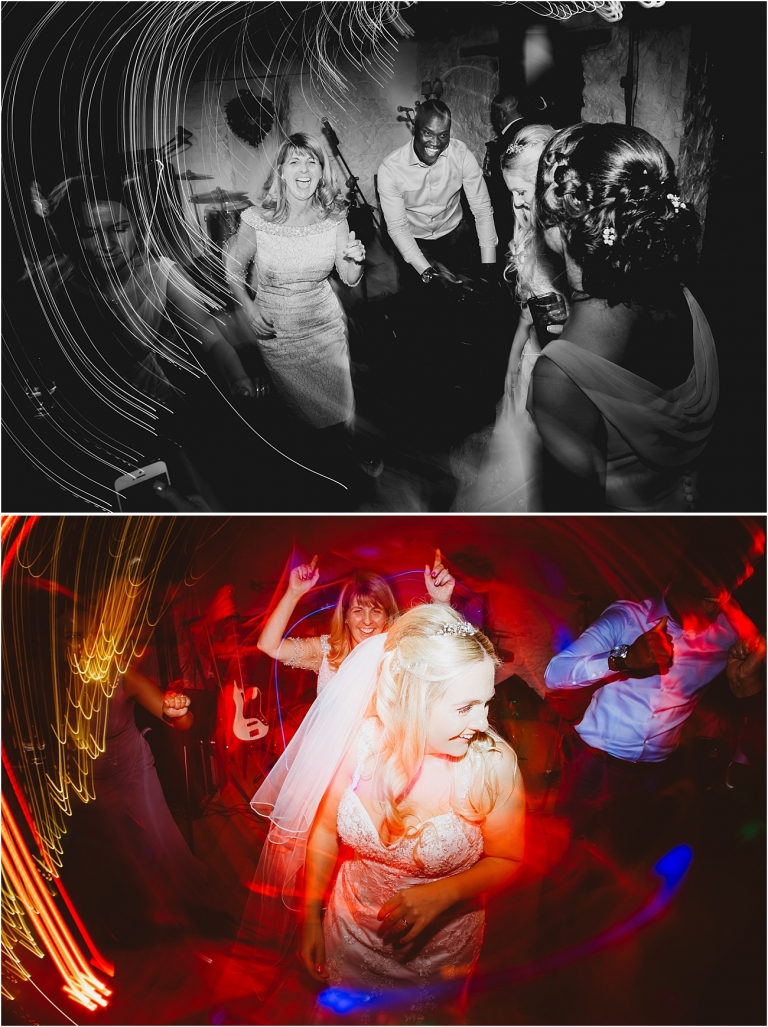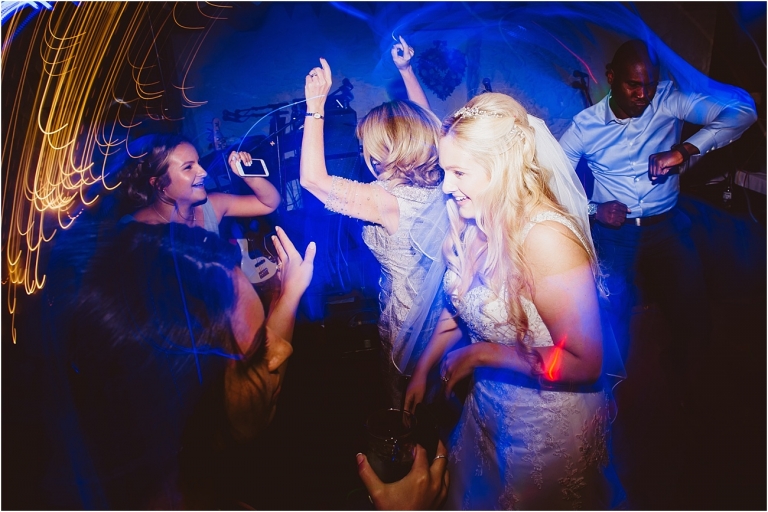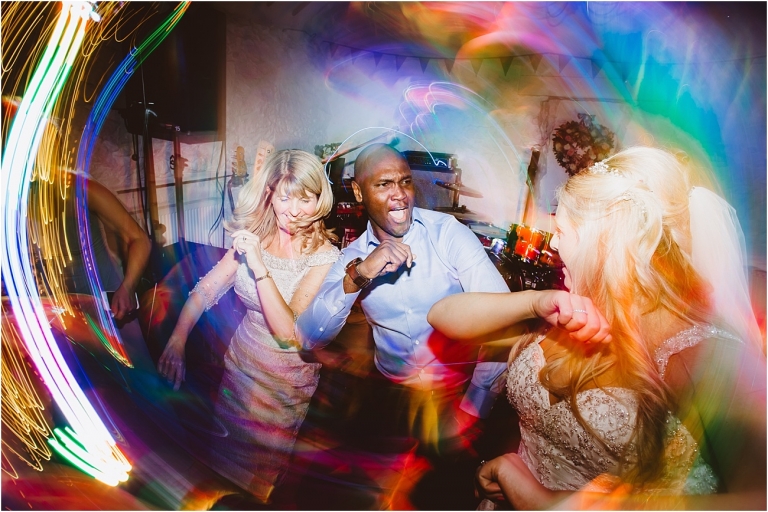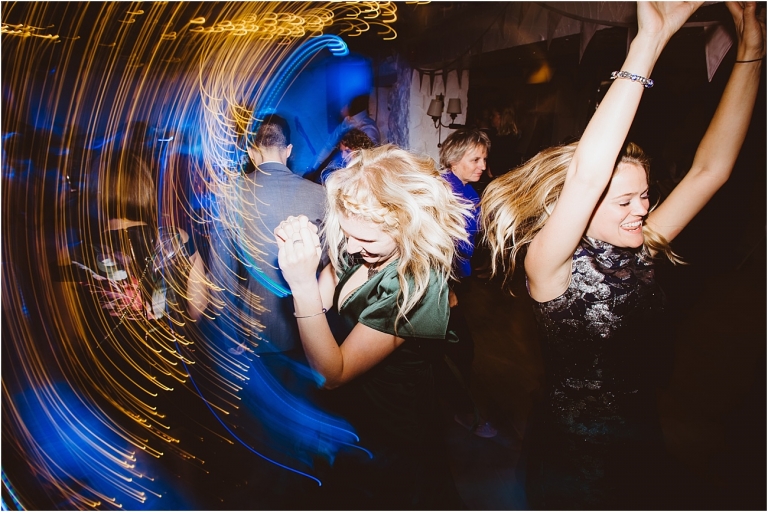 Thank you for reading my blog! If you would like to leave a comment, please free to do so below. And if you are looking for a wedding photographer in Devon, please feel free to get in touch. Finally, a big thank you to Amber and Arron for allowing me to photograph their fabulous wedding!
Cockington is my favourite place in Torquay; it's perfect for walks, tea, foraging for wine-making and of course, weddings! Therefore I was delighted to shoot Rachael and Tobi's intimate ceremony there recently. This lovely couple were big on travel, so I was honoured that I could help make this trip extra special for them! They were joined by their best friends and I love being able to capture small, intimate occasions such as this one.  The weather was meant to be awful, but wasn't – hence the best man carrying the bride's umbrella!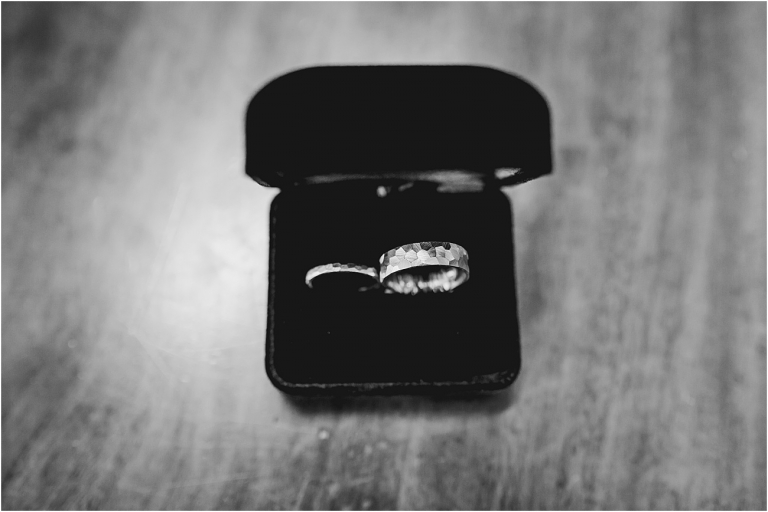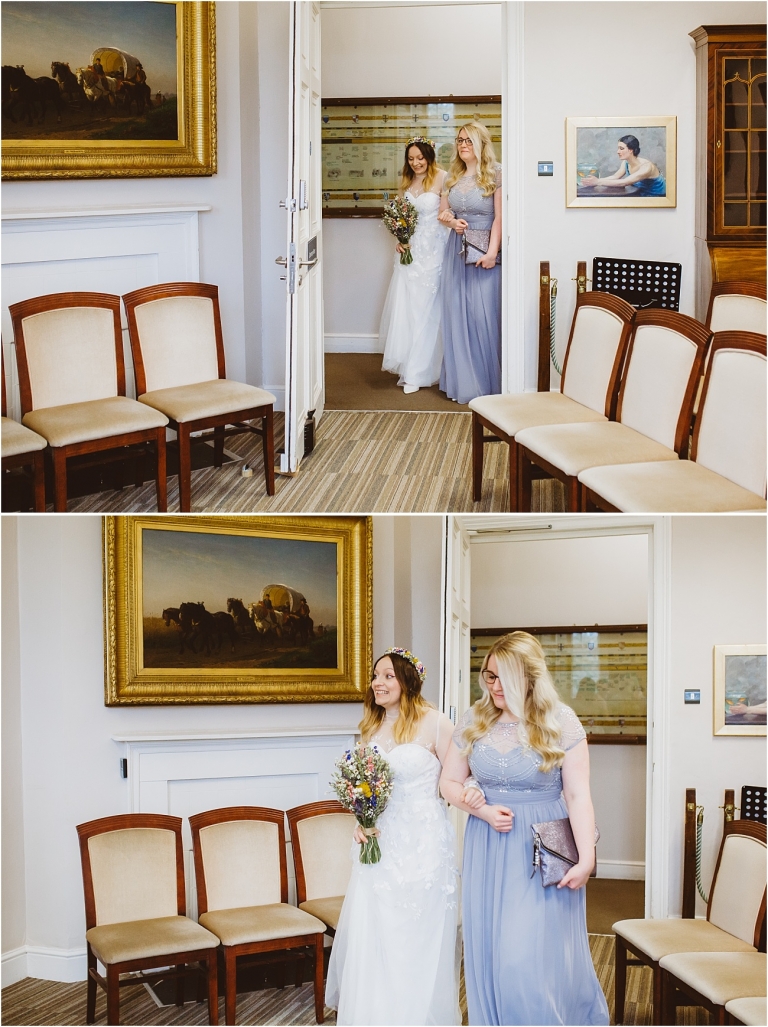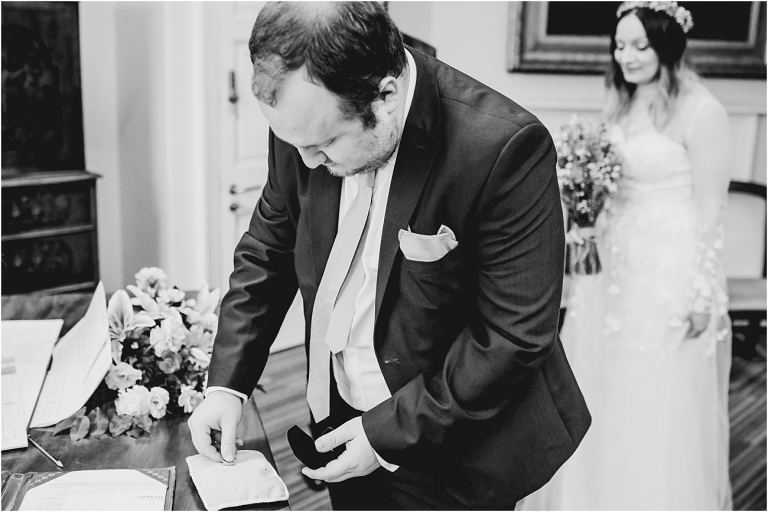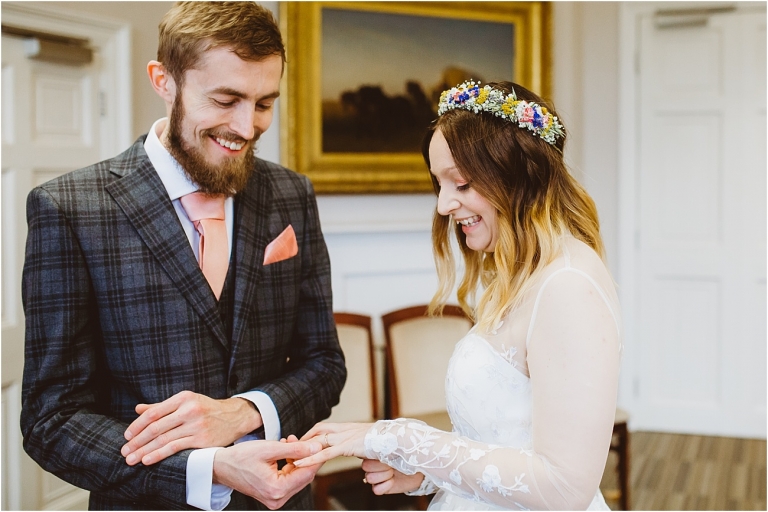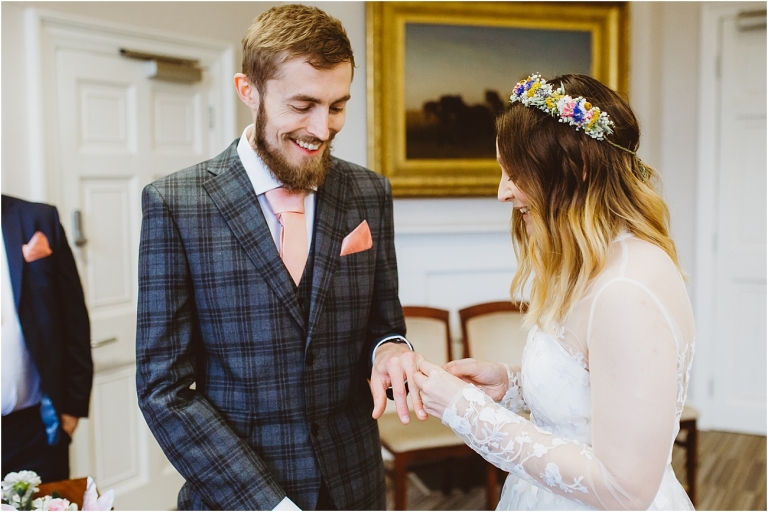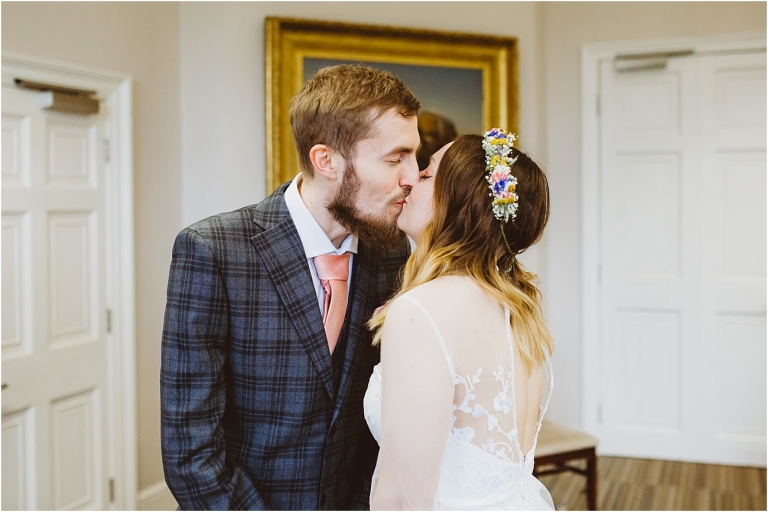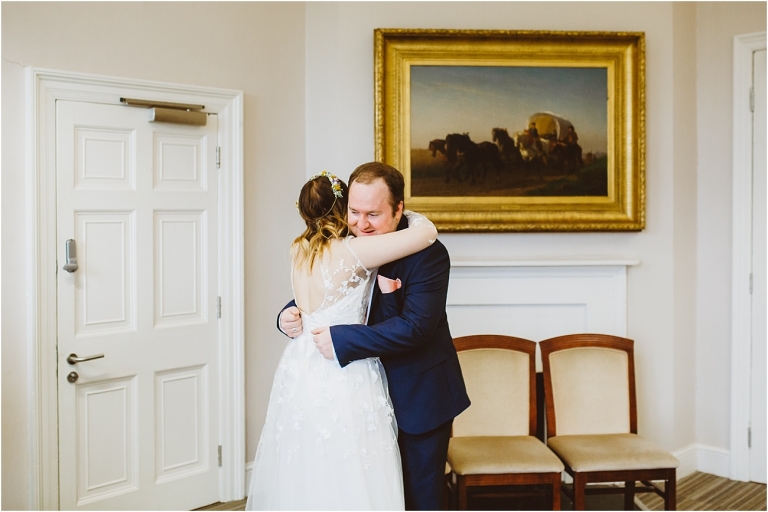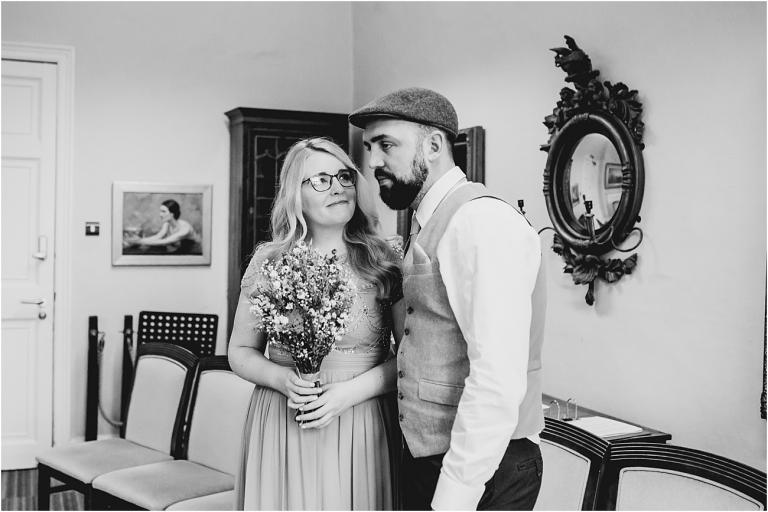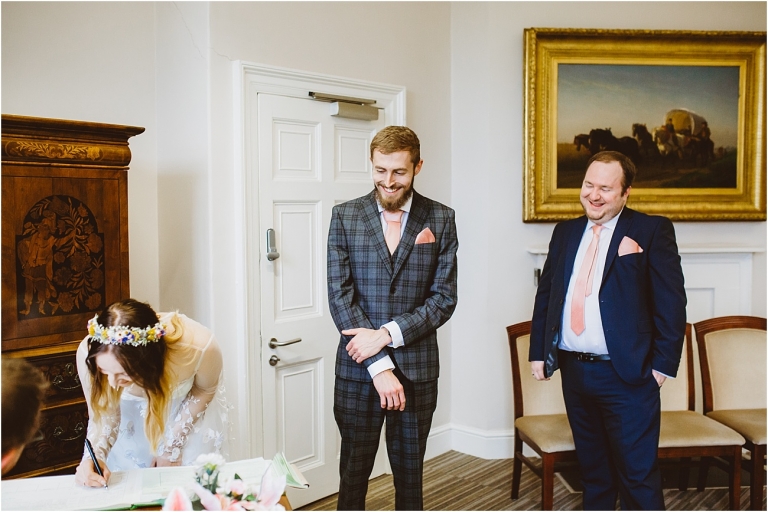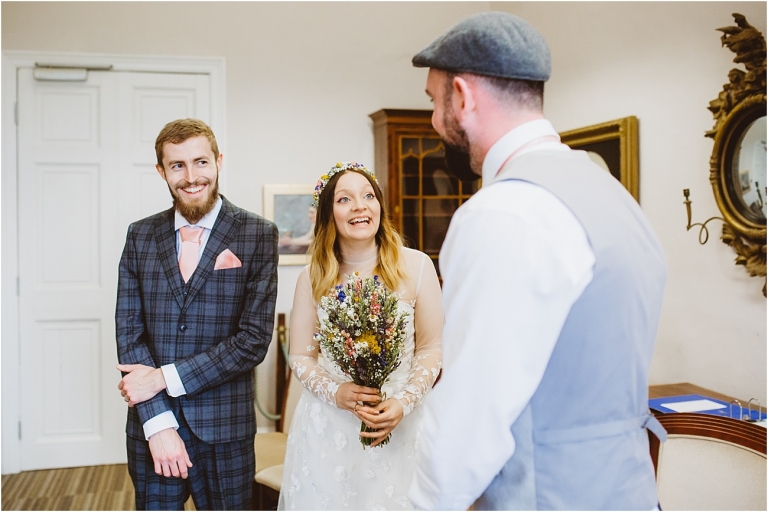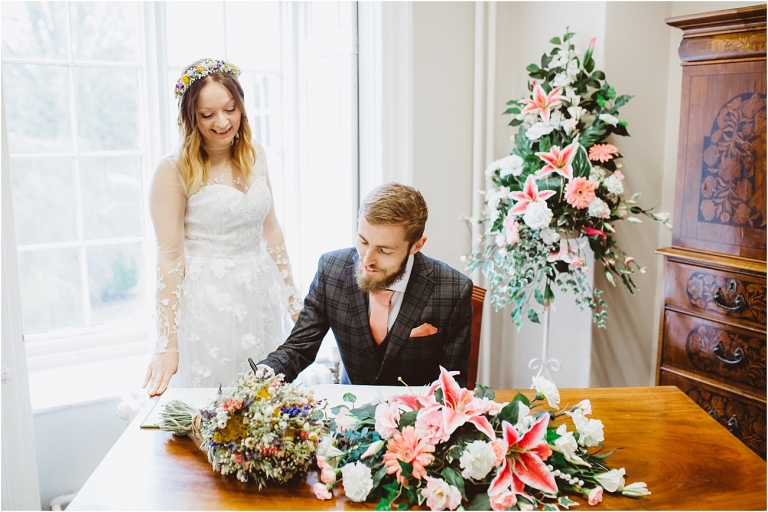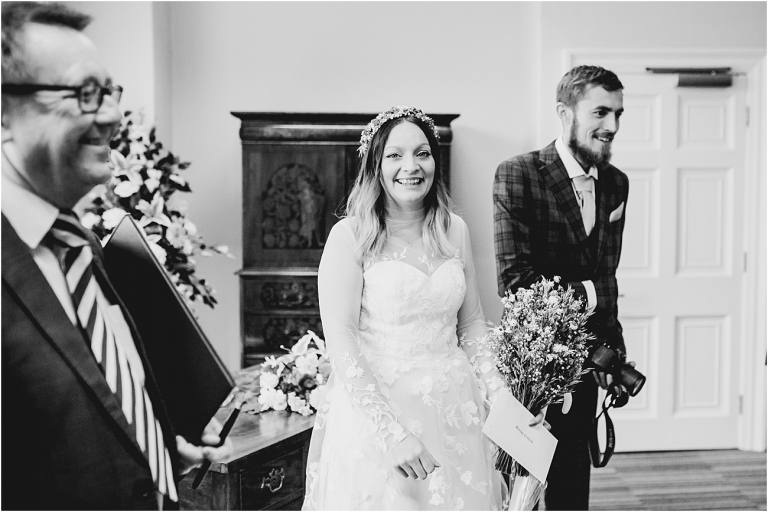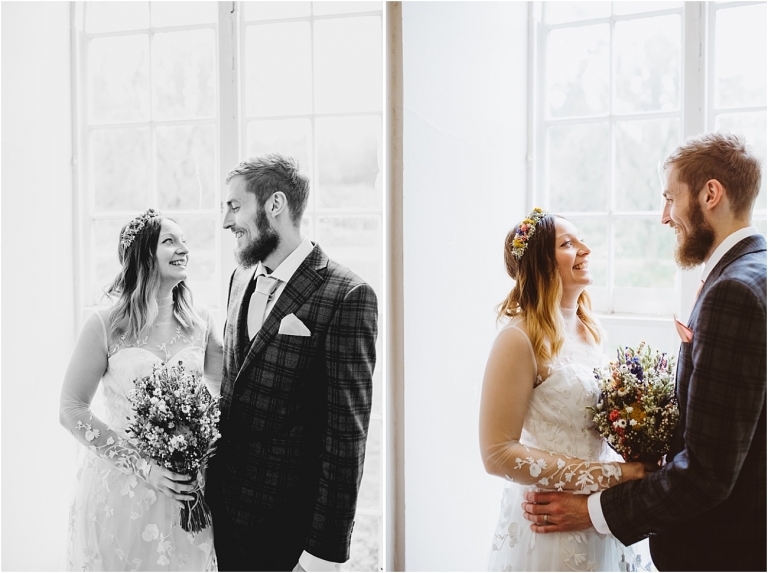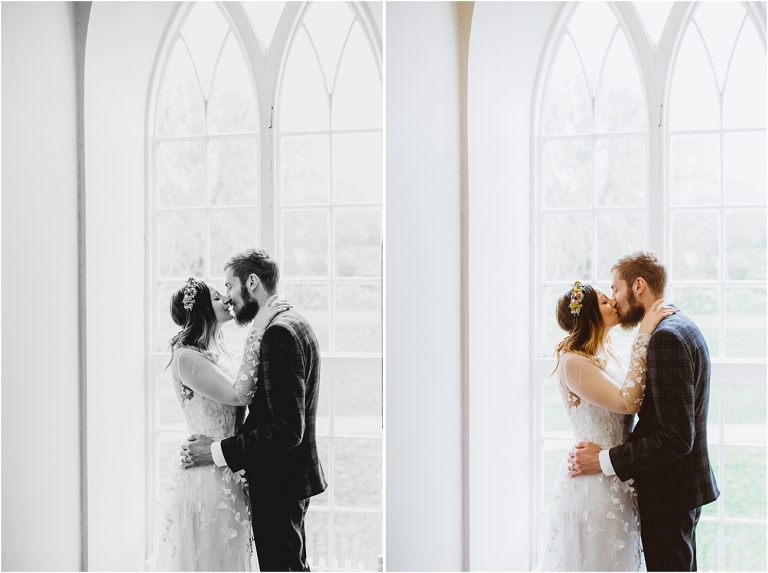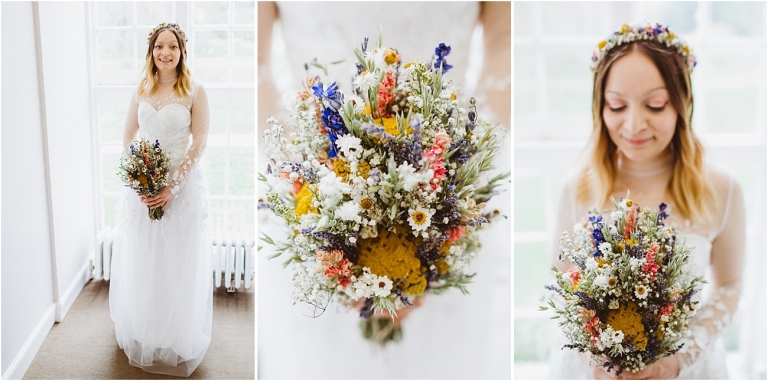 Rachael's stunning wedding dress was purchased from a charity shop (originally by Chi Chi London) and is an absolute triumph! Her simply beautiful wedding bouquet is from The Artisan Dried Flower Company, which I recognised straight away, having admired them myself on Etsy. I am a huge fan of dried flower bouquets; they can not only be kept forever but look amazing.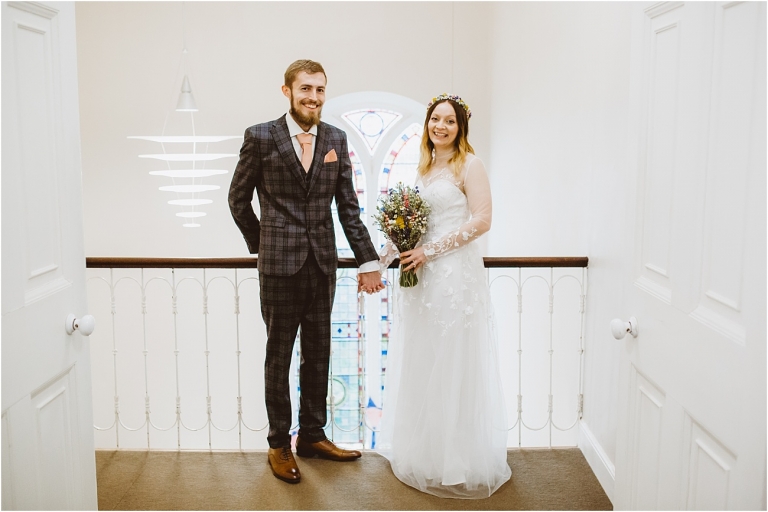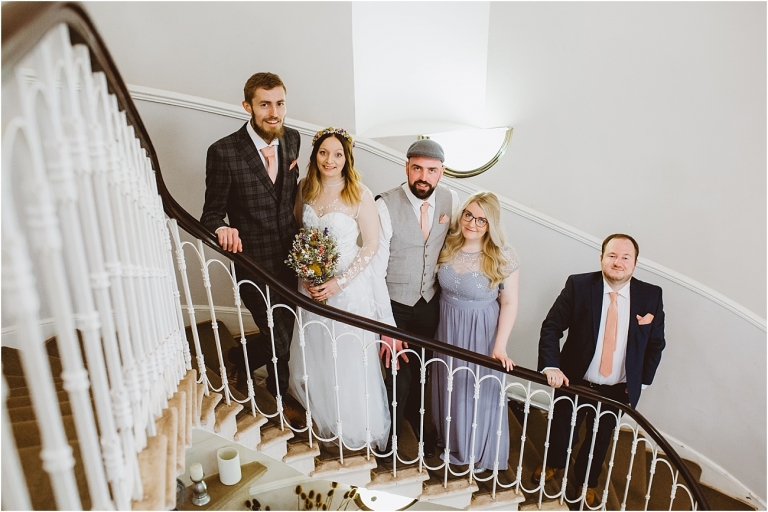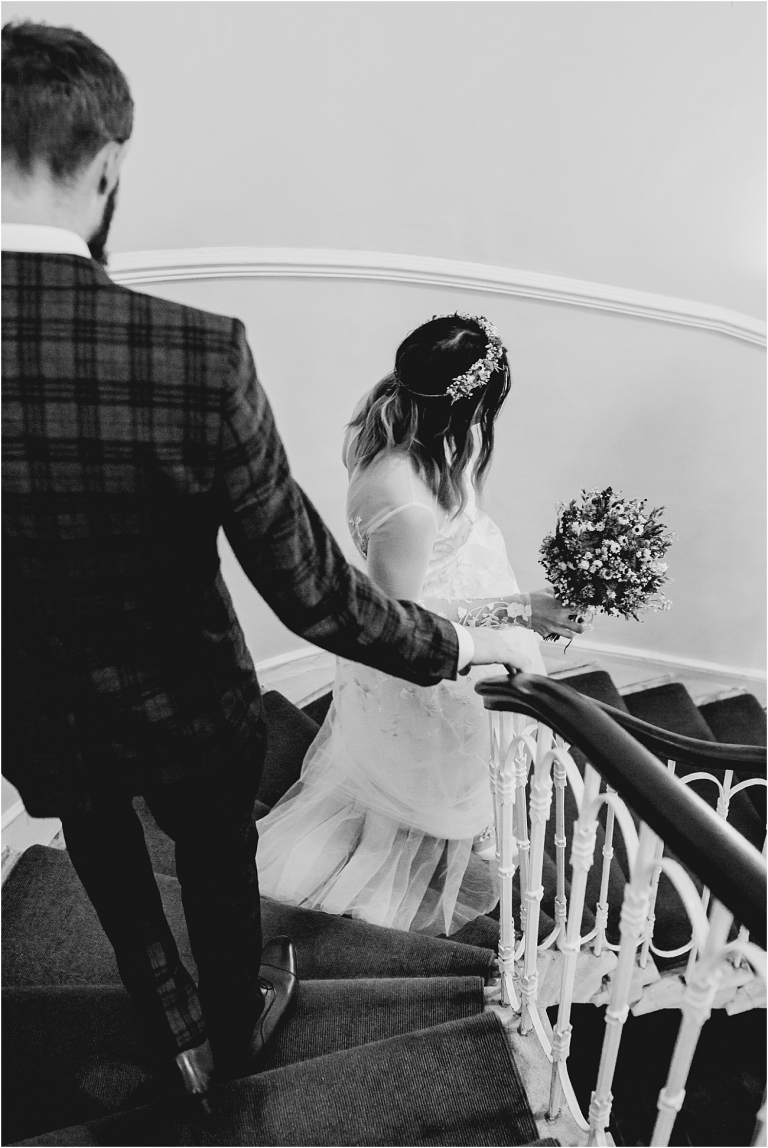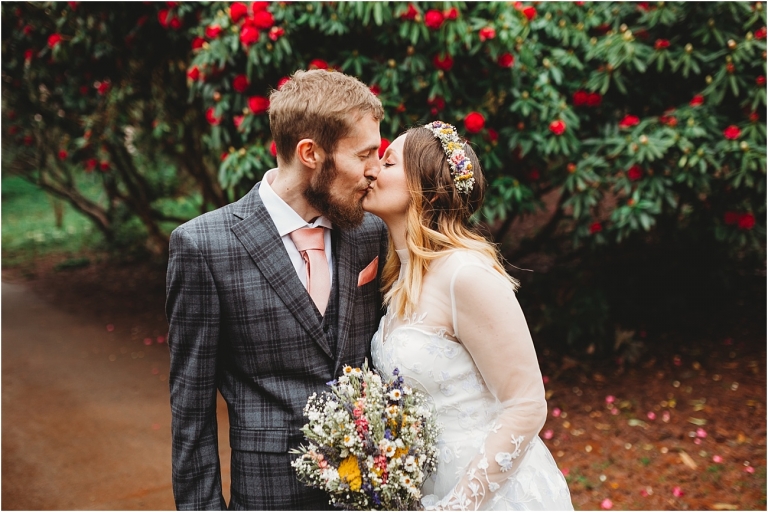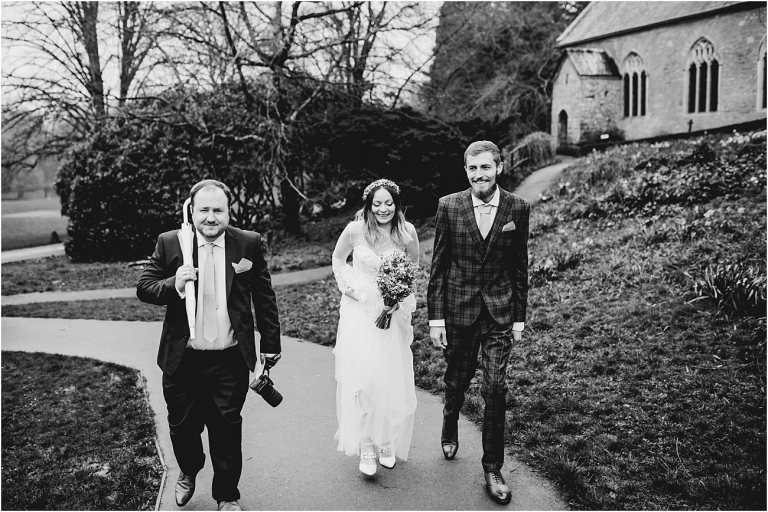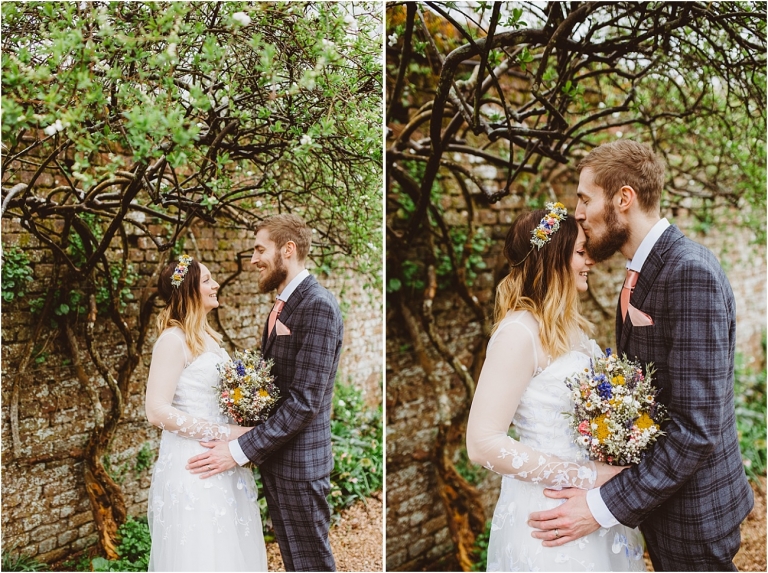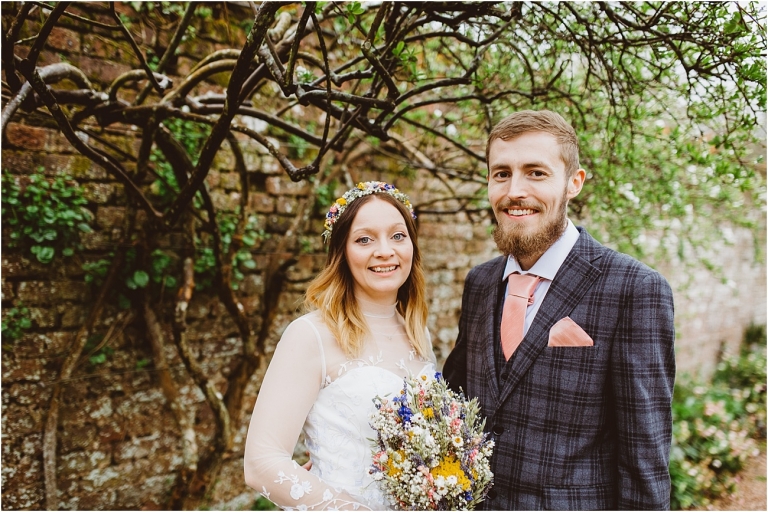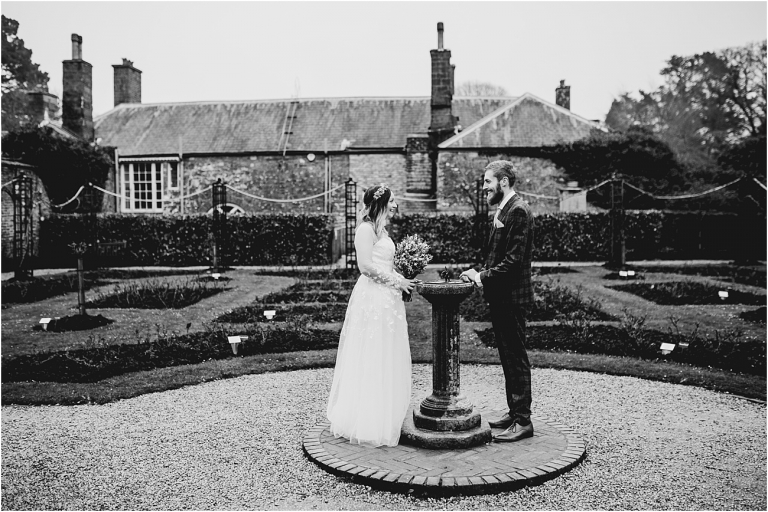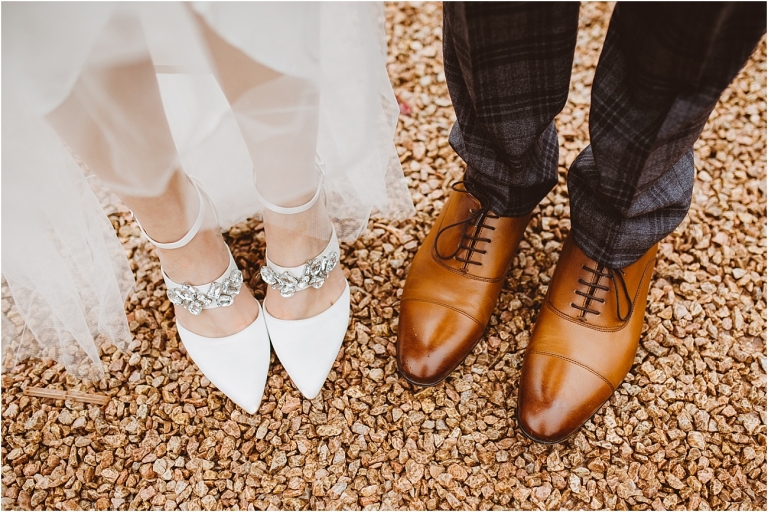 Rachael's gorgeous shoes were by Papaya at Asos.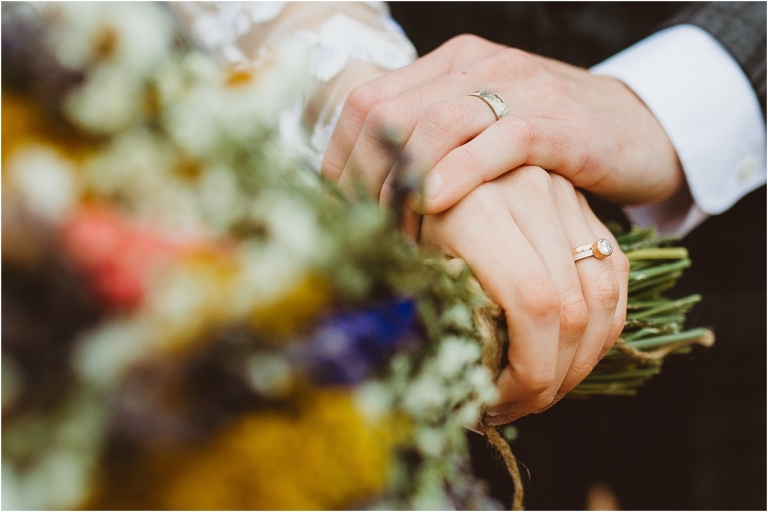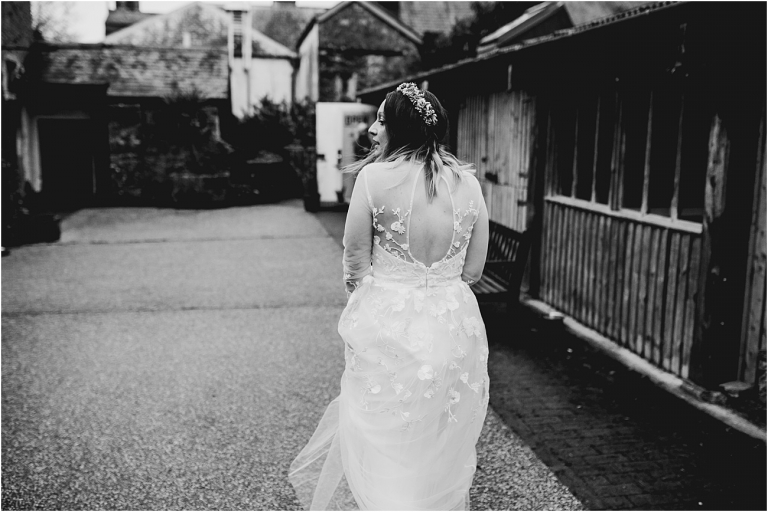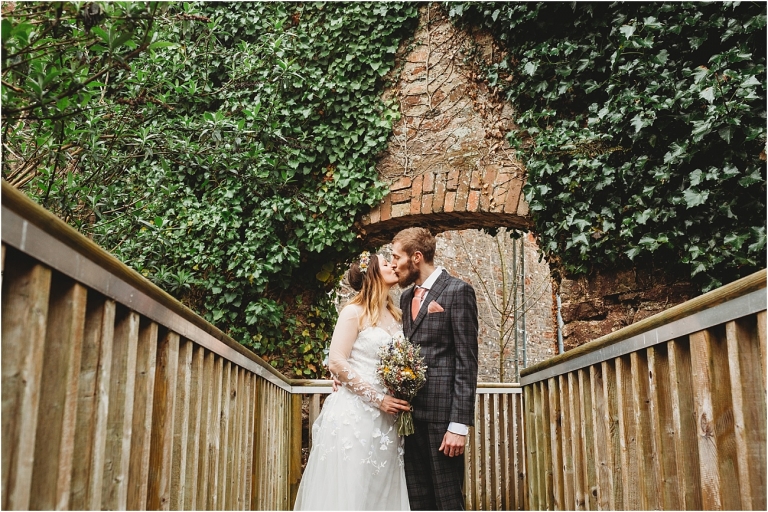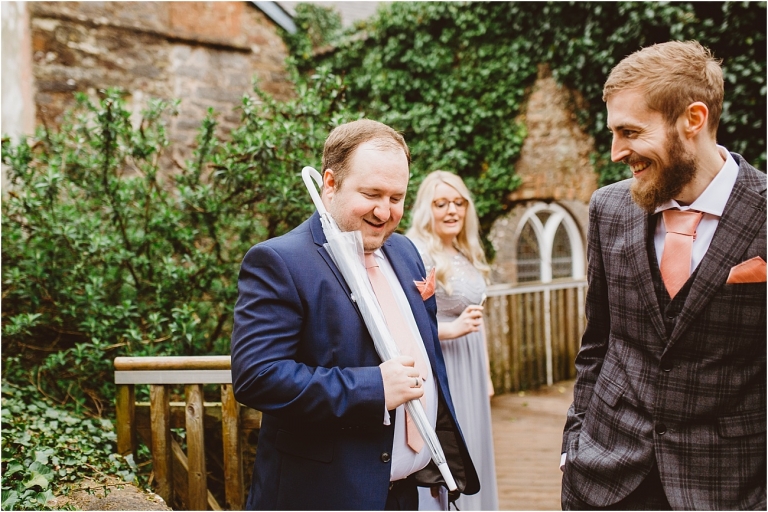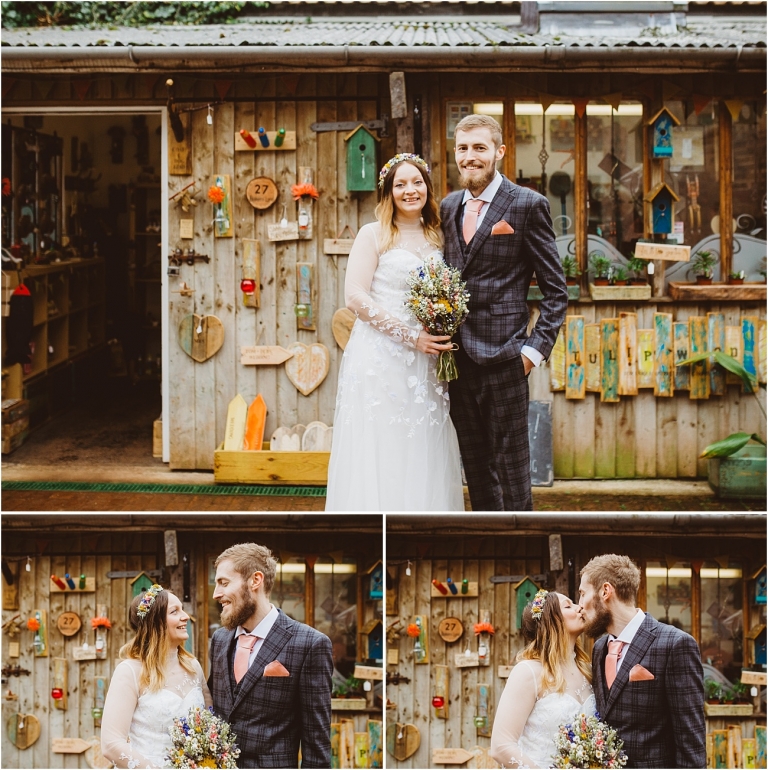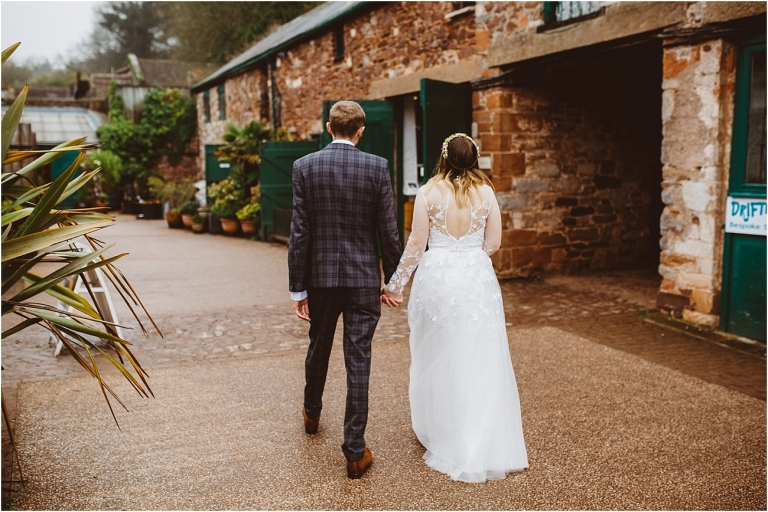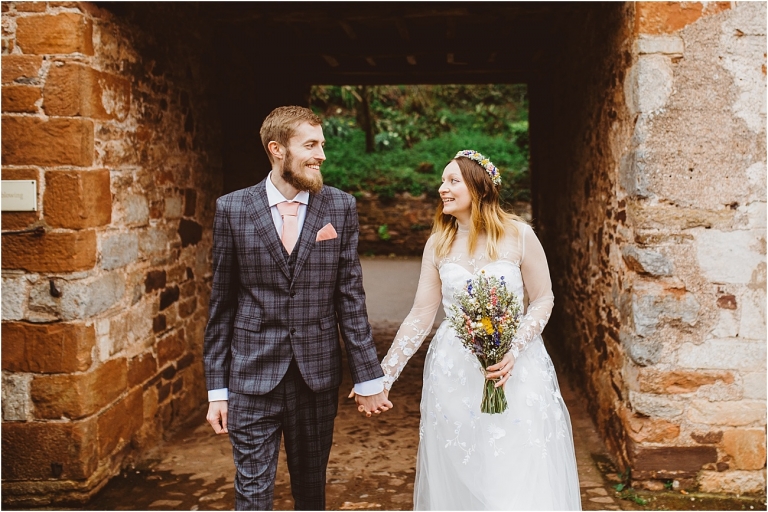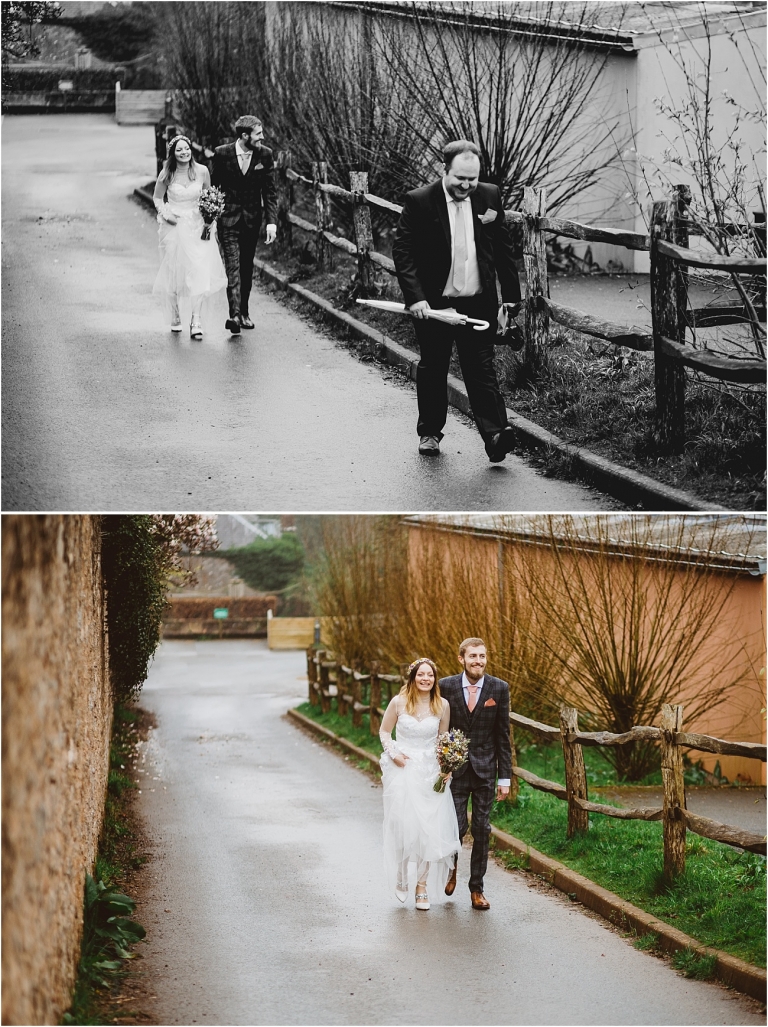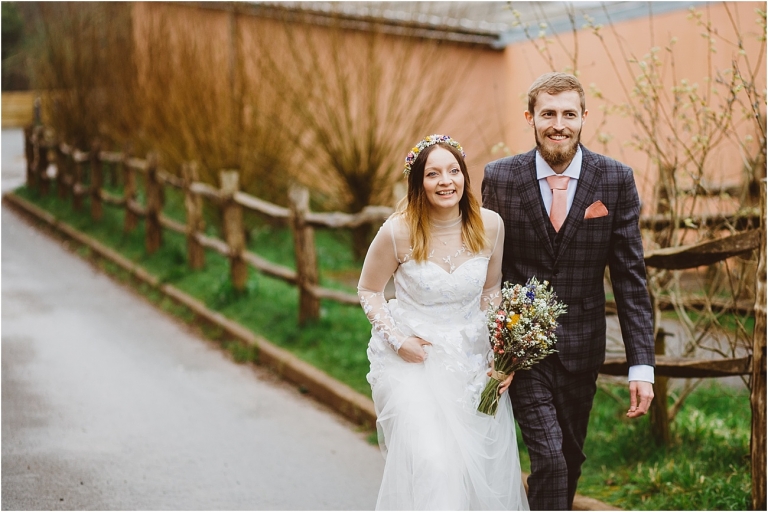 Thank you to Rachael and Tobi for inviting me to join your wonderful wedding. I love photographing weddings at Cockington Court so much that I offer a special Cockington Court package! If you would like to leave a comment below, please feel free. And, if you are interested in booking me as your wedding photographer, please do not hesitate to get in touch!
Chelsie and Jose non-traditional, 1920s styled wedding was a blast to photograph! The whole wedding took place in one stunning venue, Worden House, where they stayed for the whole weekend. This meant that both Jose and Chelsie could spend time with their siblings, parents and nieces in a close, intimate environment; something that held additional significance for Jose, whose family had traveled from Spain.
This was a wedding filled with so much laughter and happiness. Jose and Chelsie believed that the 1920s dress code would help people relax and let their hair down, which it certainly did. I also think that the joy of the day had a lot to do with this amazing couple and the personality that they and their families imparted into the day. Thank you both for continuing to make mine the best job in the world!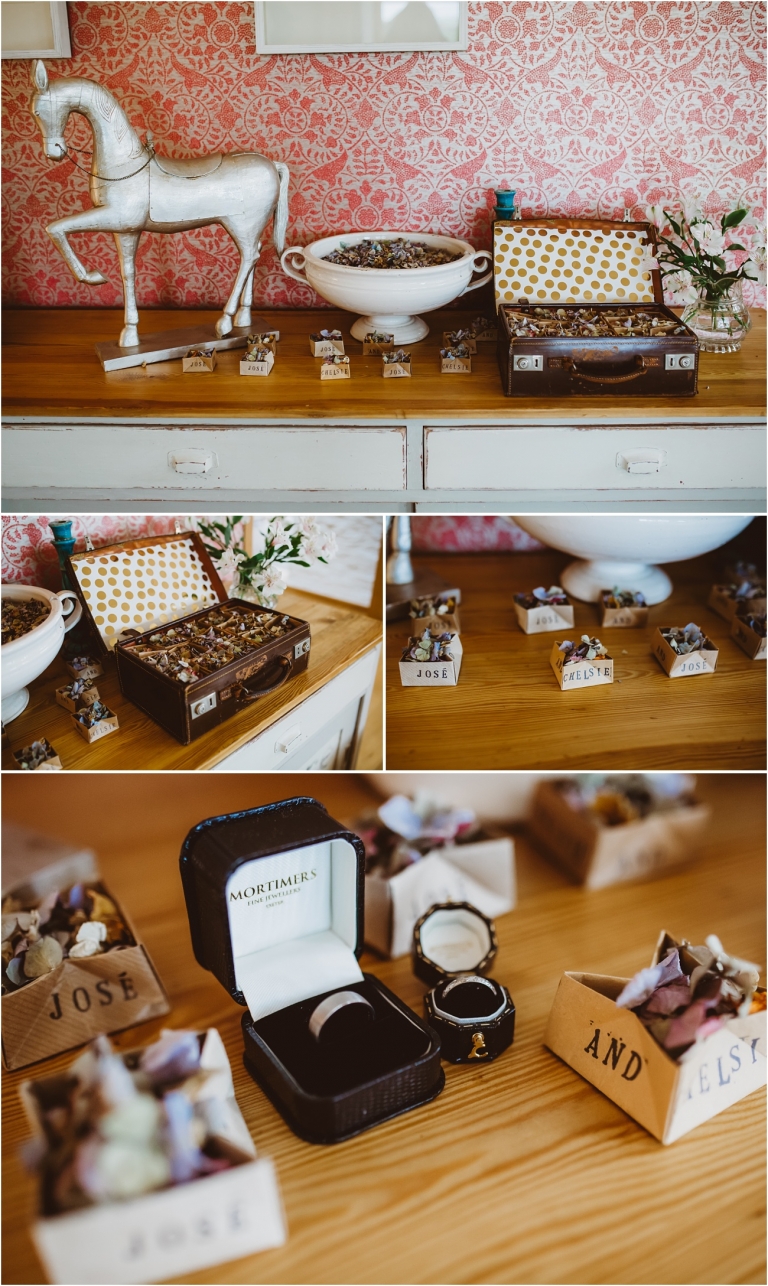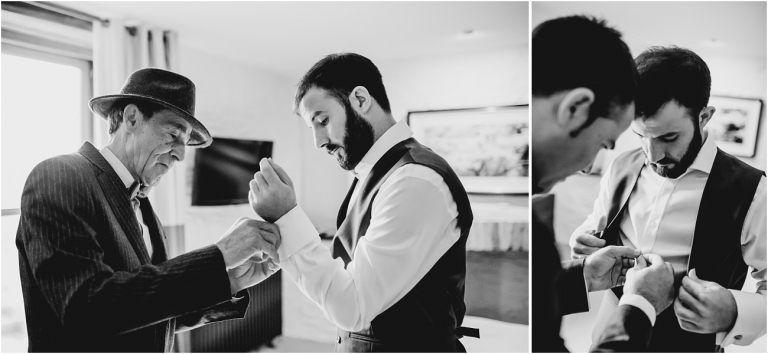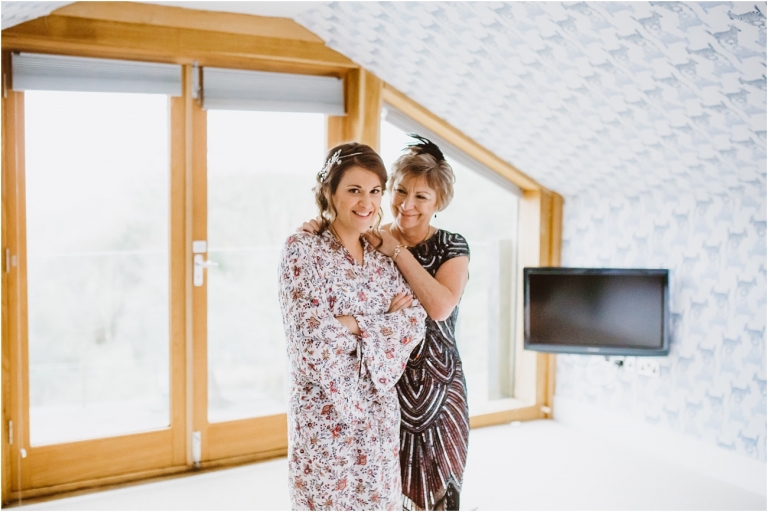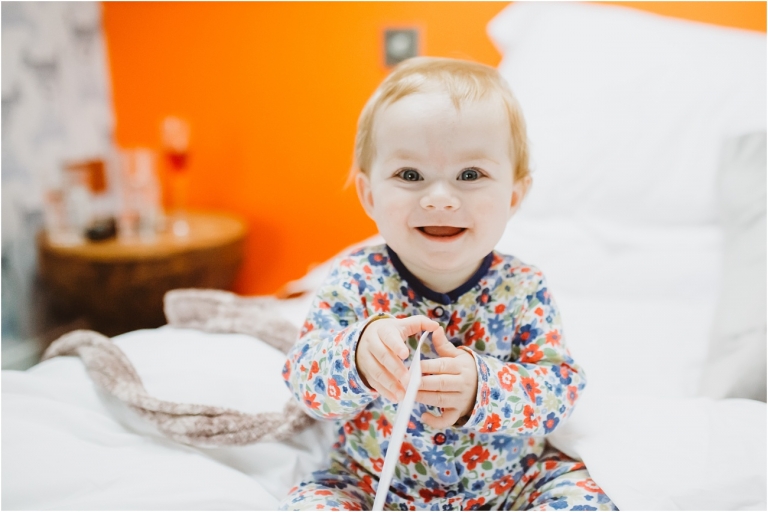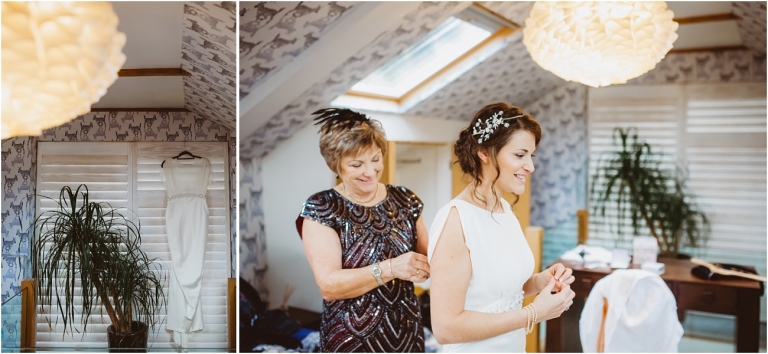 Chelsie's hair was styled by Charlotte from Floc in Kingsbridge and her makeup was by Melissa Rowden. Both suited the 20's theme perfectly and Chelsie was very pleased with the natural look.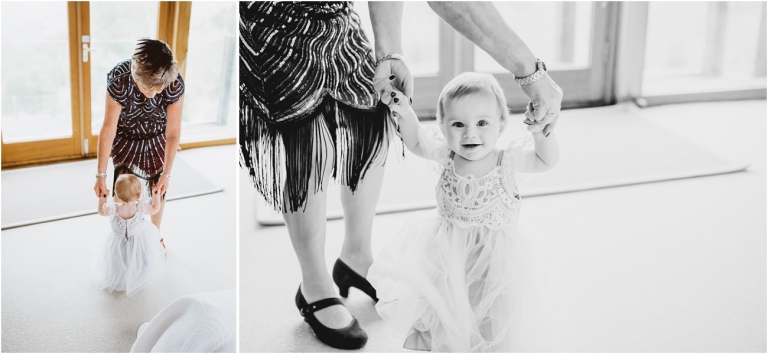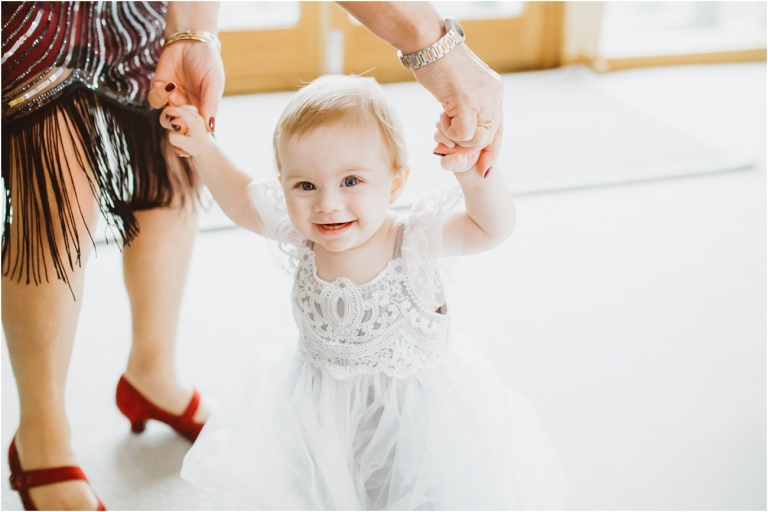 Chelsie's adorable nieces looked the part in their beautiful flower-girl dress from Monsoon.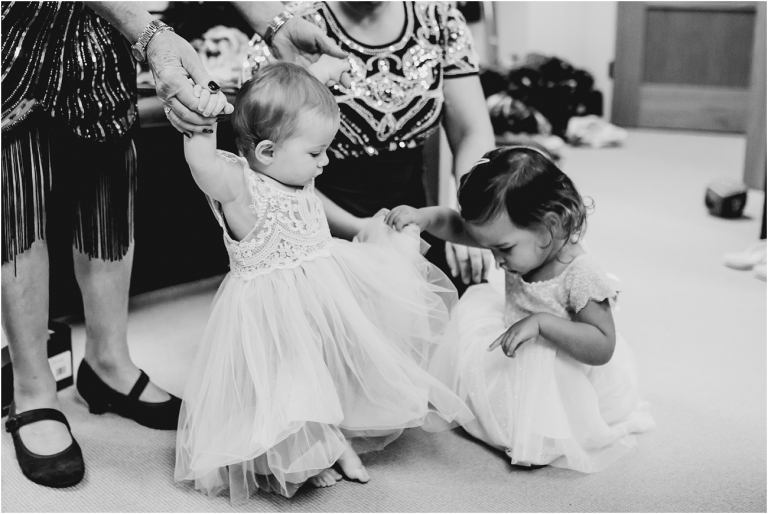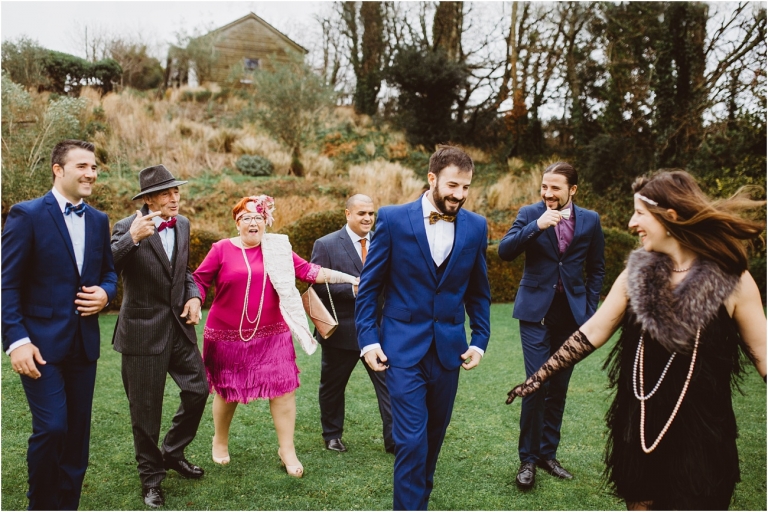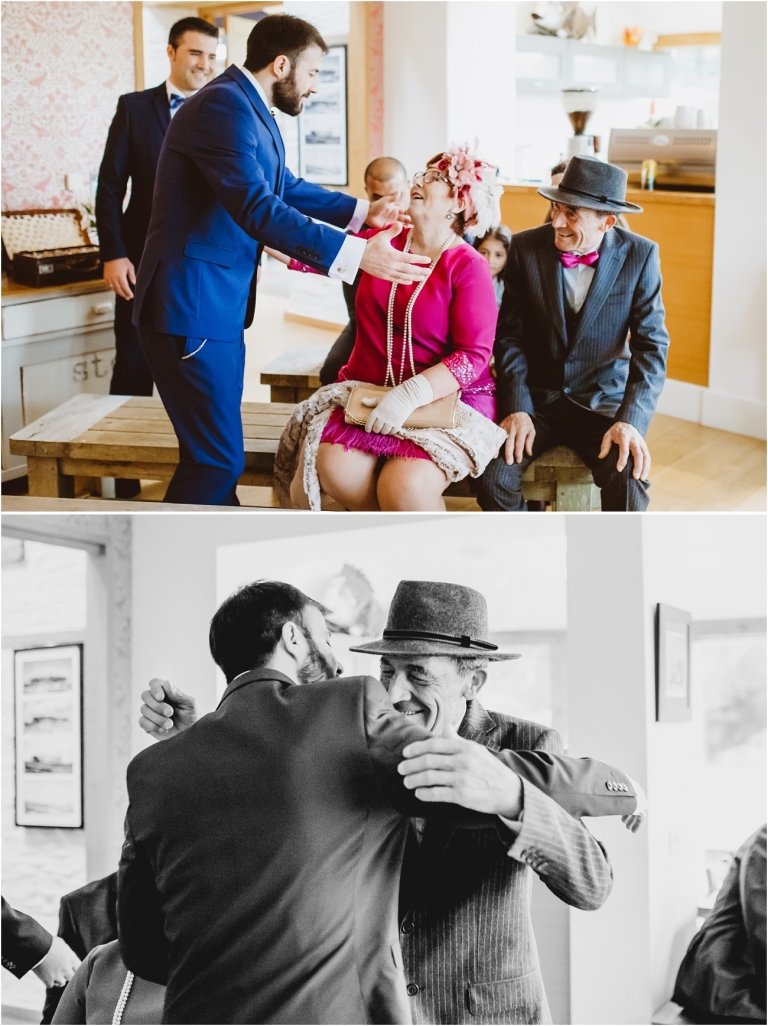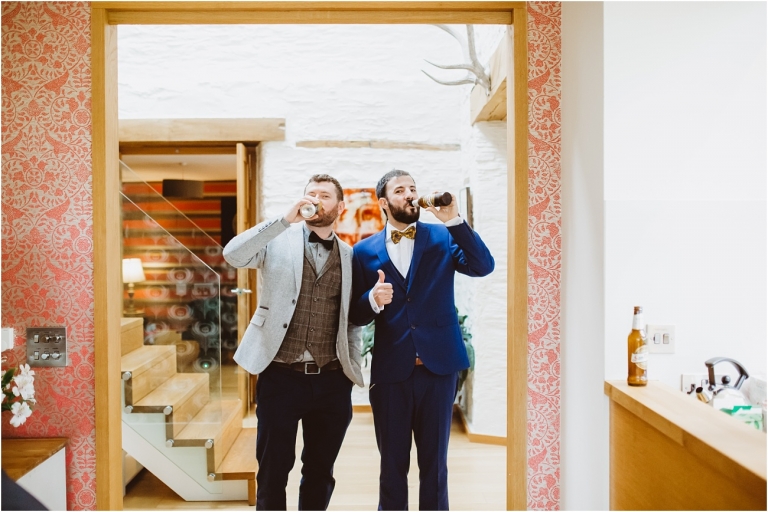 The bridesmaid dressed were from Boohoo and fitted the 20s theme to a T! The wedding was made possible with support and help from their families, and a special mention should go to a very organised maid of honour; Chelsie's sister. Sigourney took on the role of wedding planner, travel agent for the stag- and hen dos, and chef!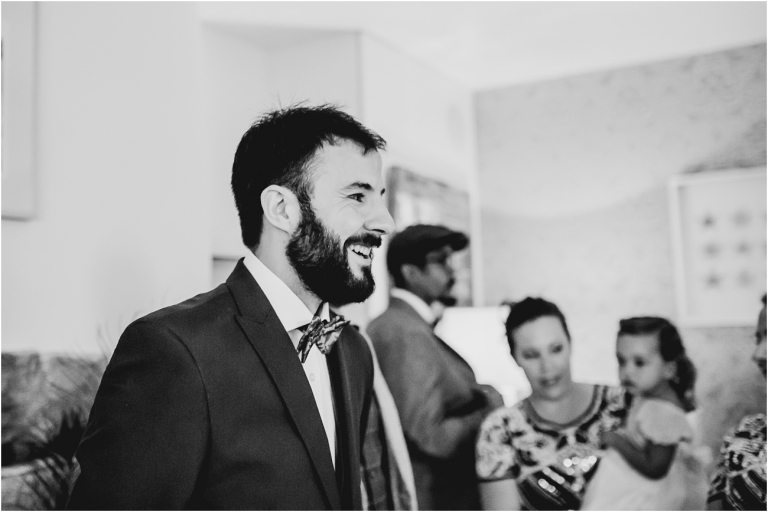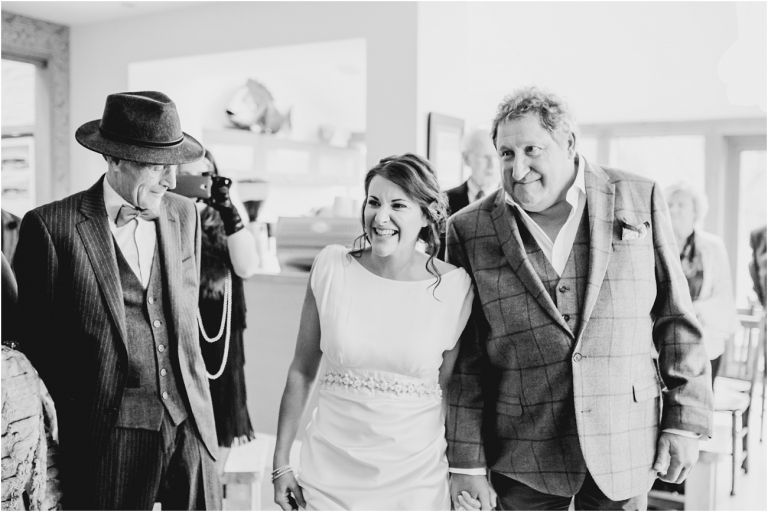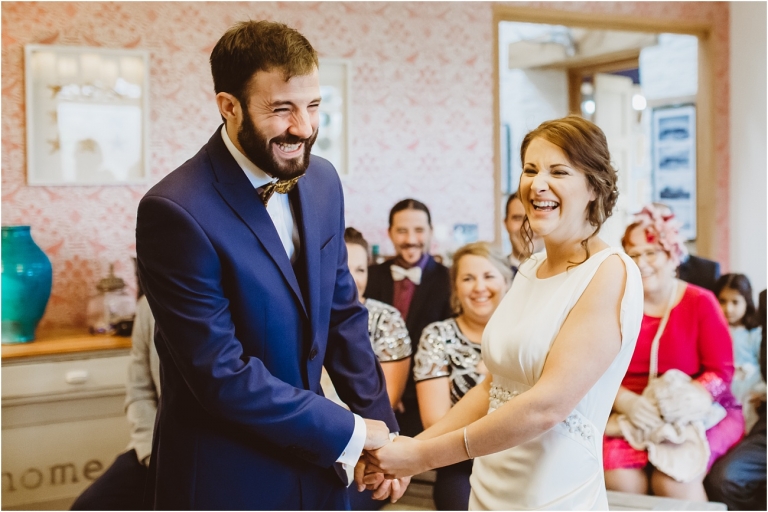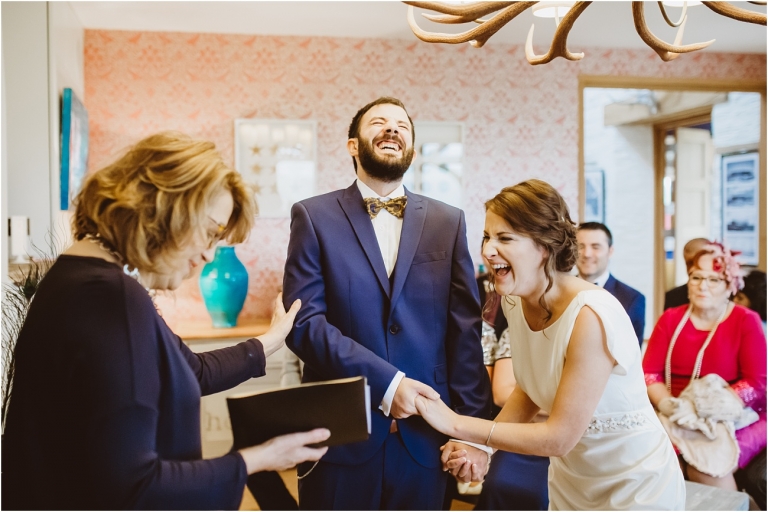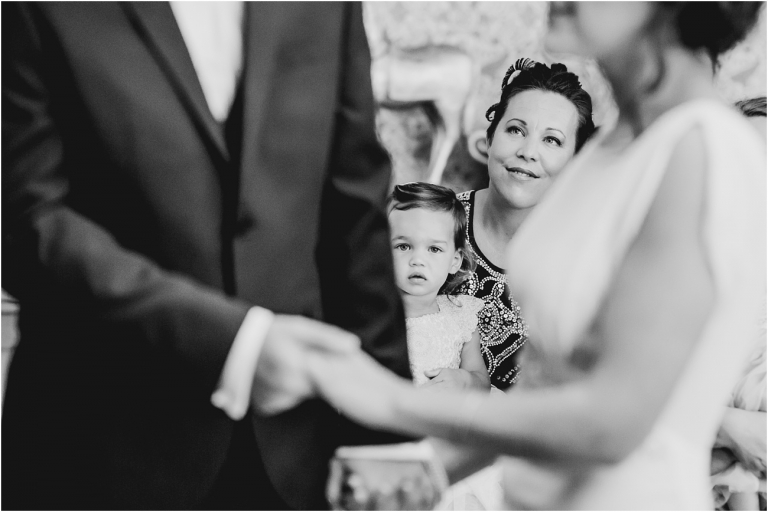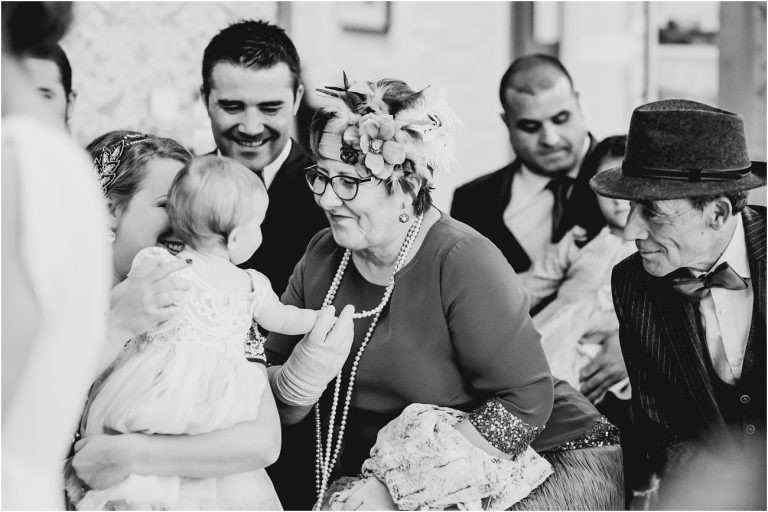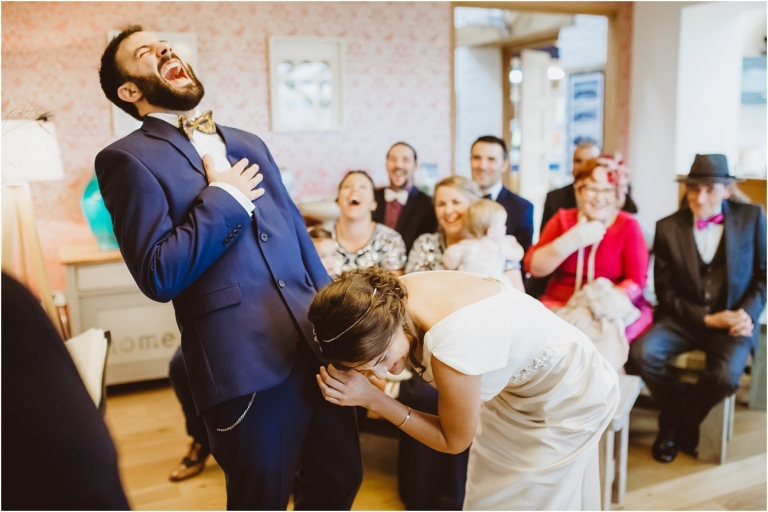 Jose did not understand the word "wedded" during the vows. I am sure he does by now! Chelsie also made a mistake during her vows, but as she was not speaking in her second language, has much less of an excuse! The ceremony was so full of joy and was a real pleasure to photograph.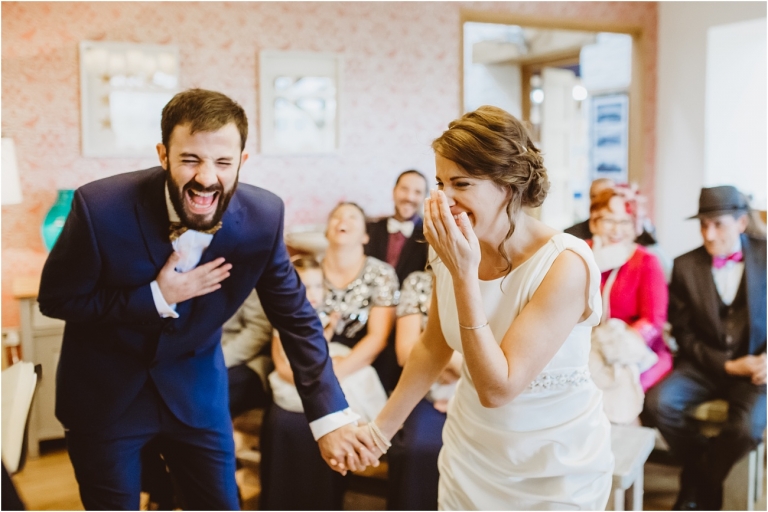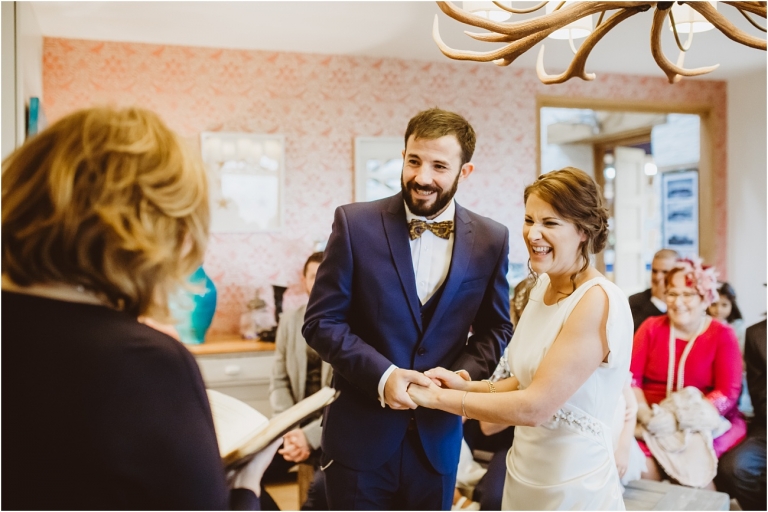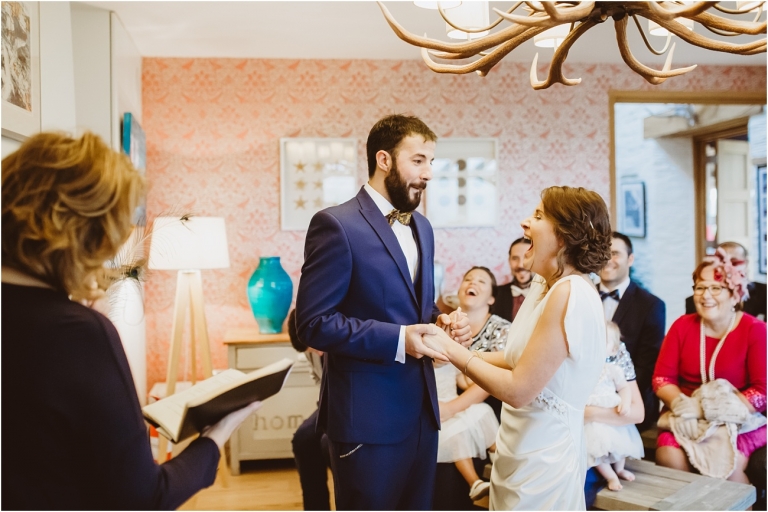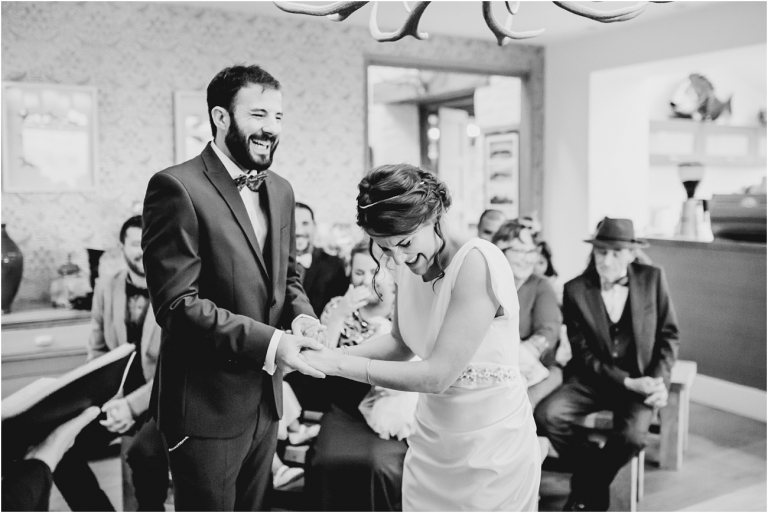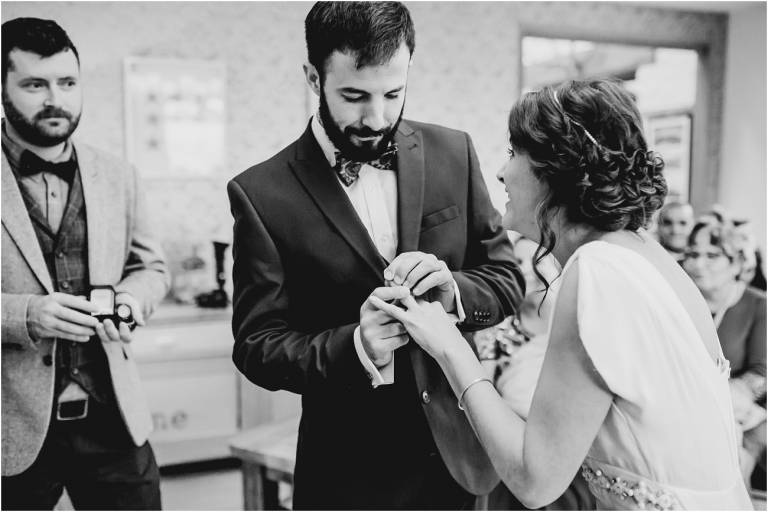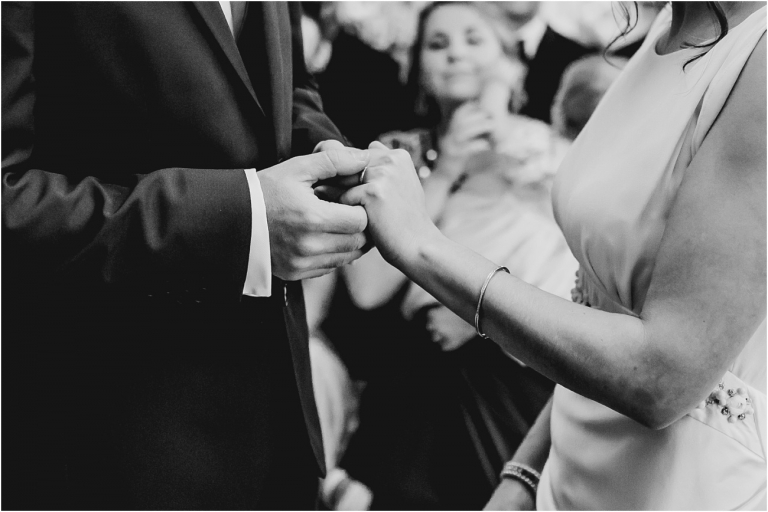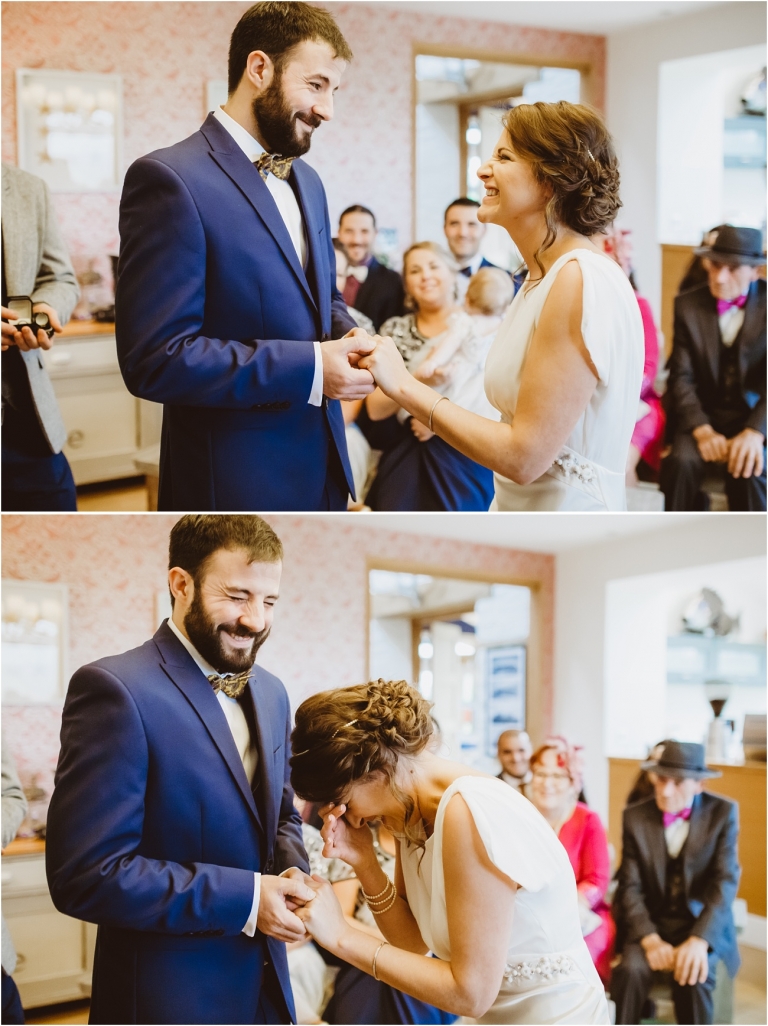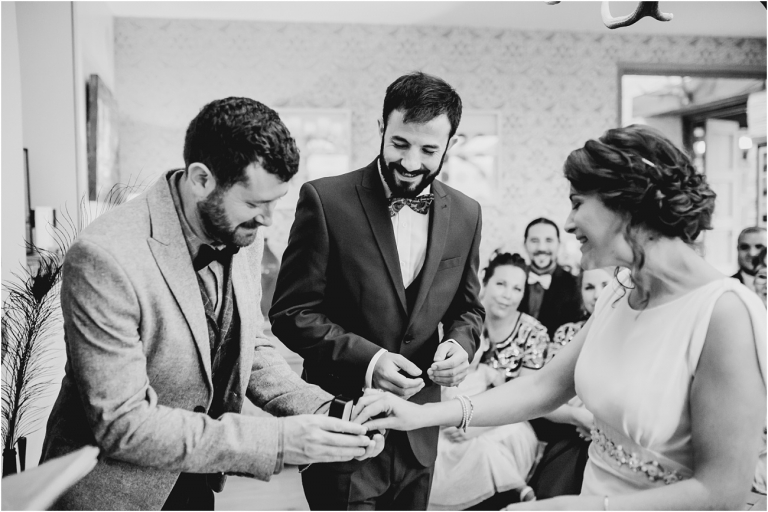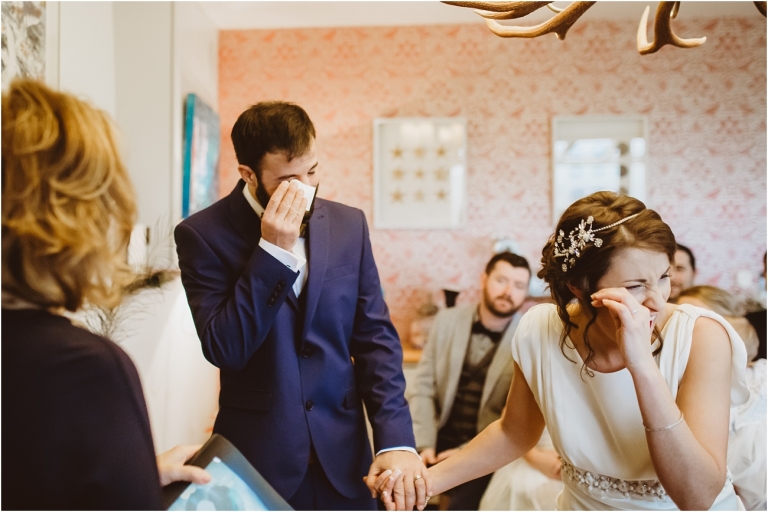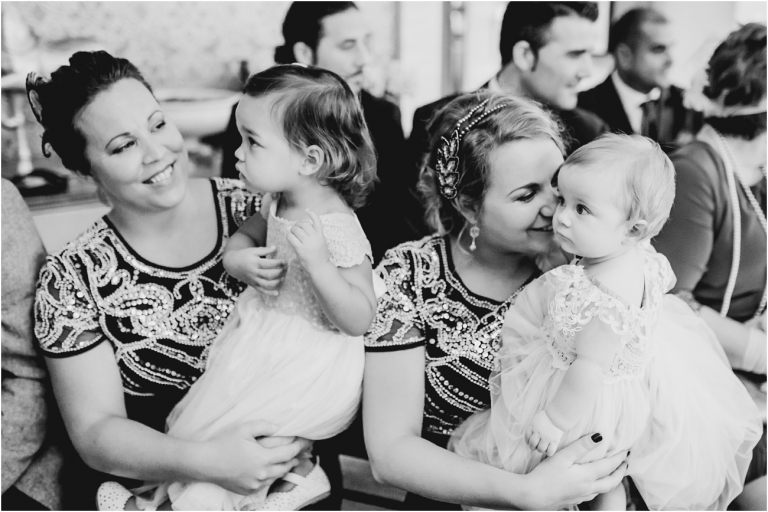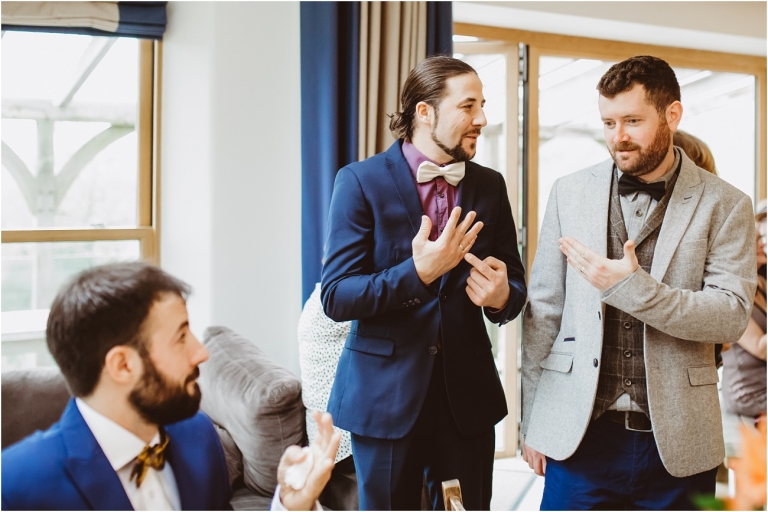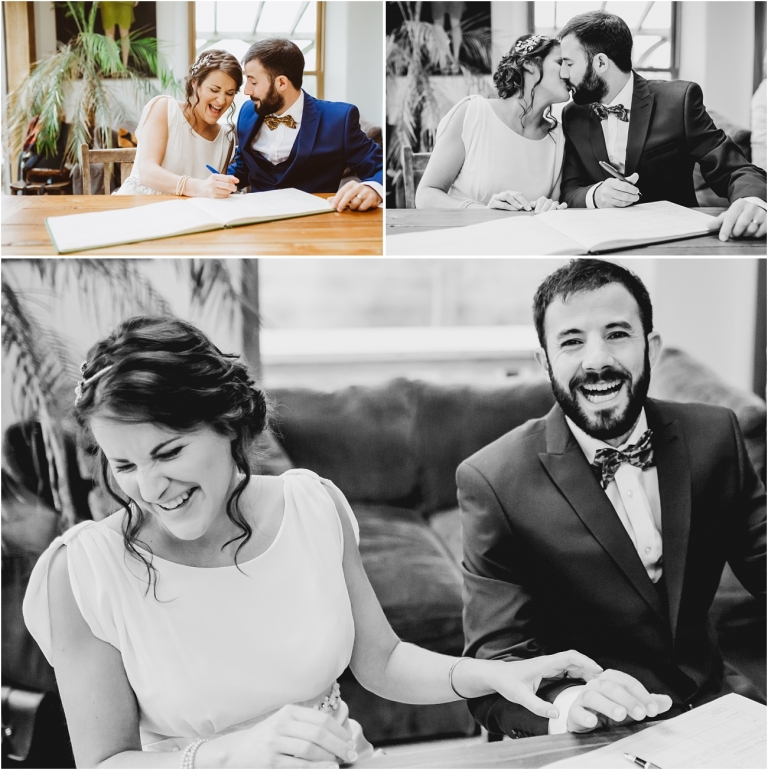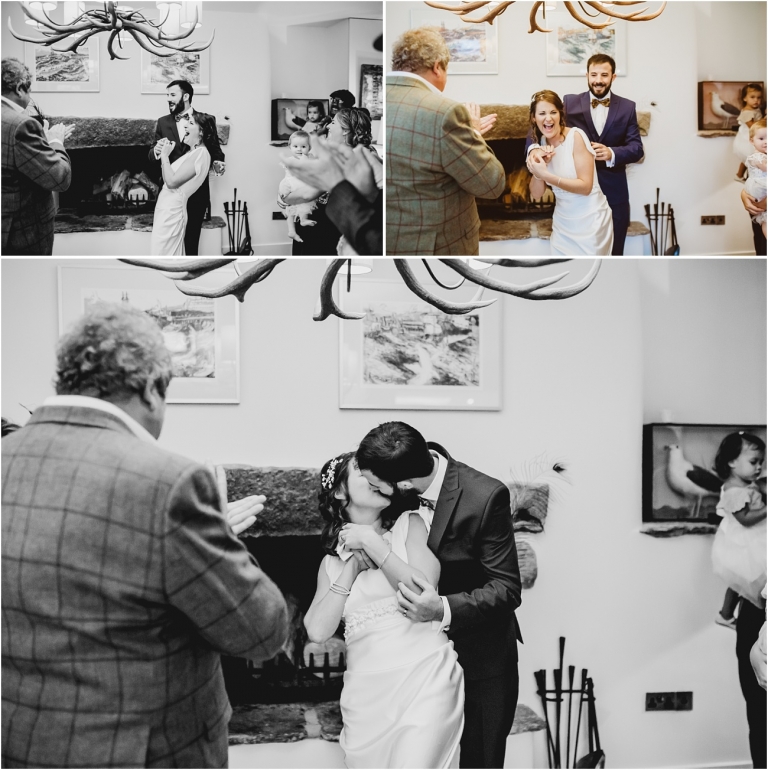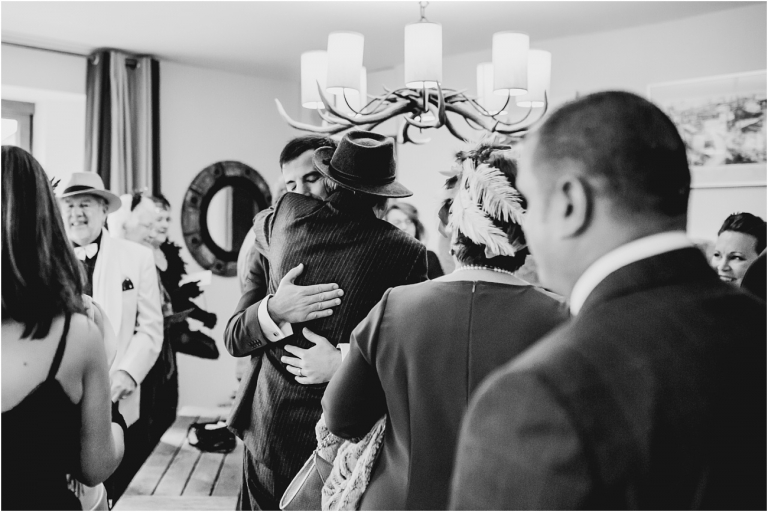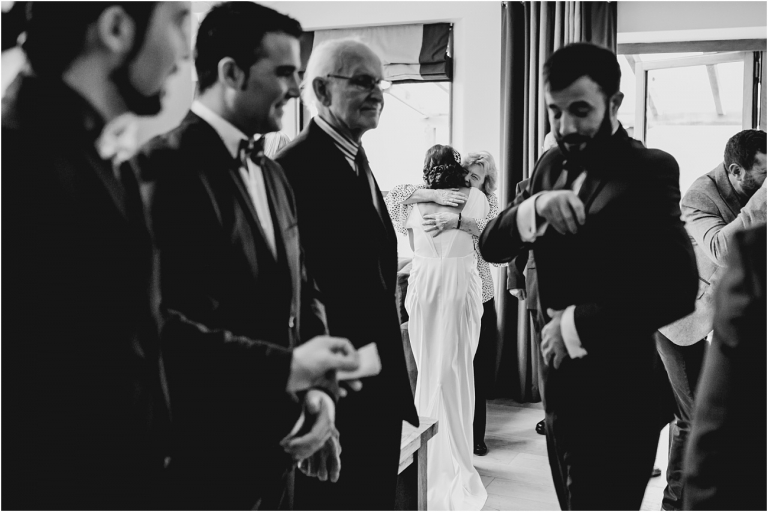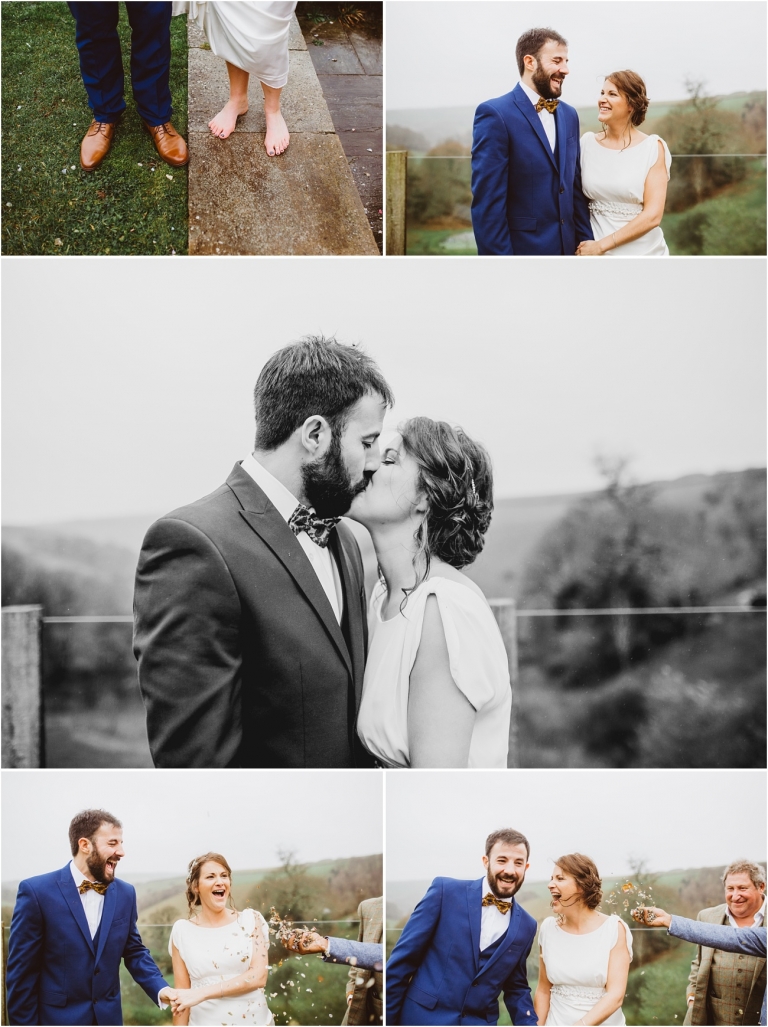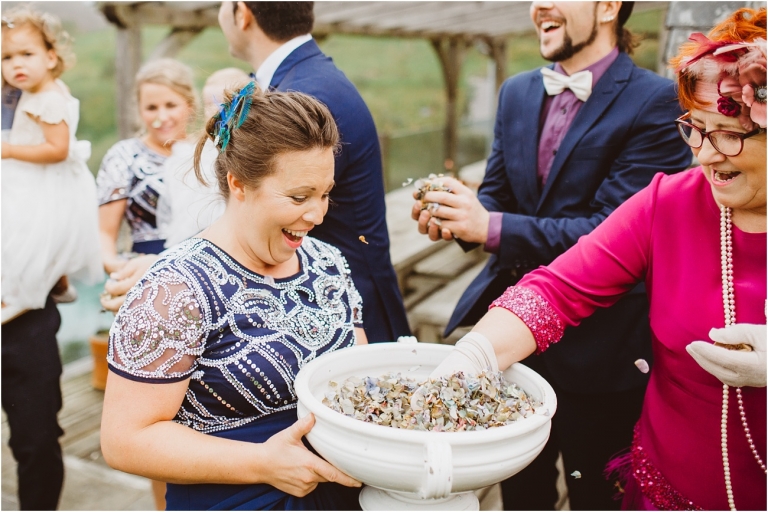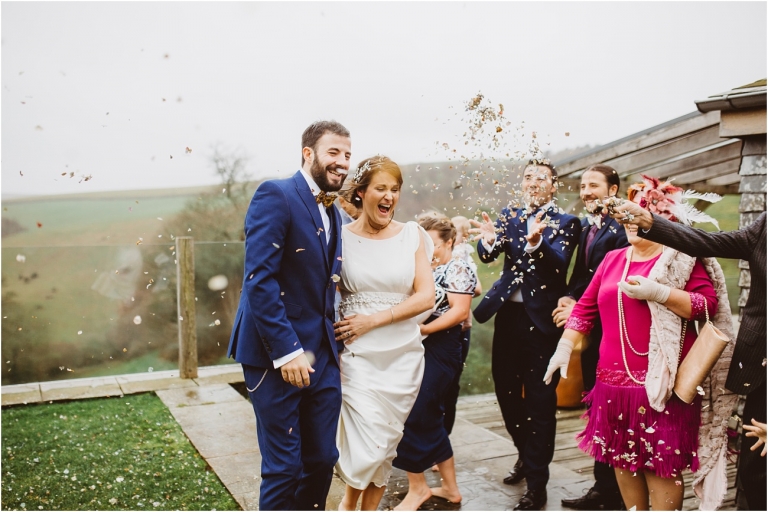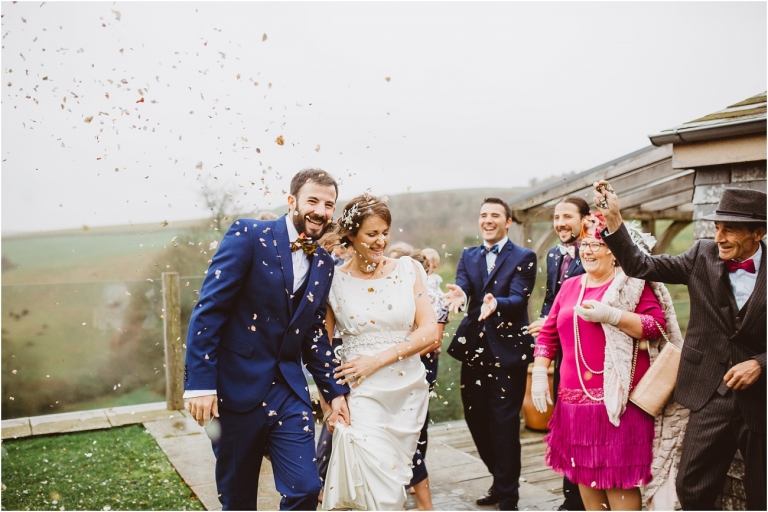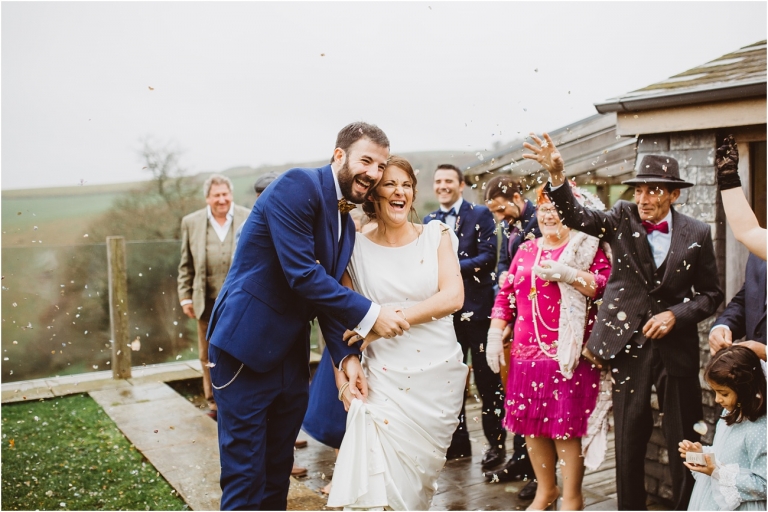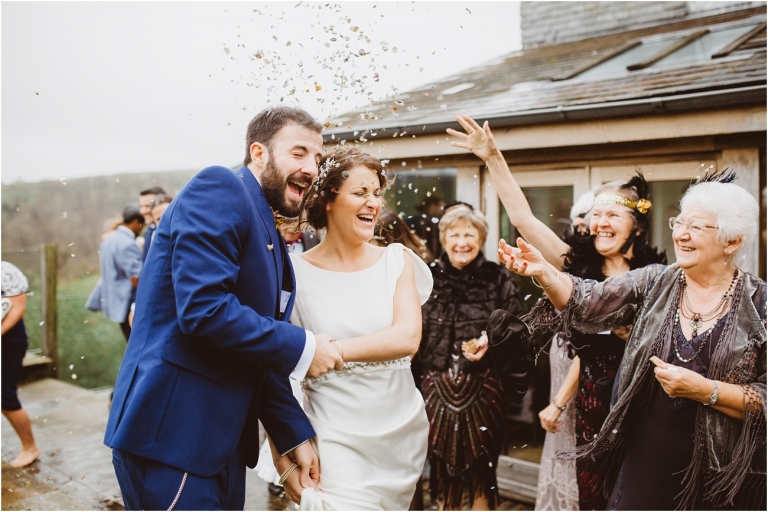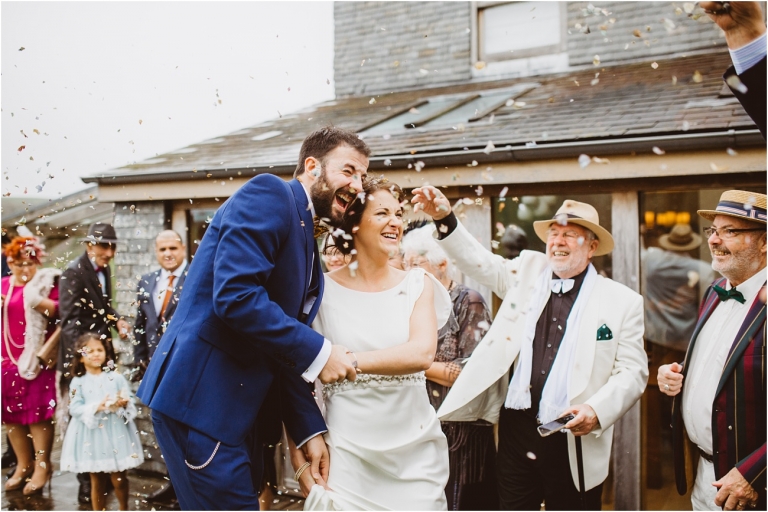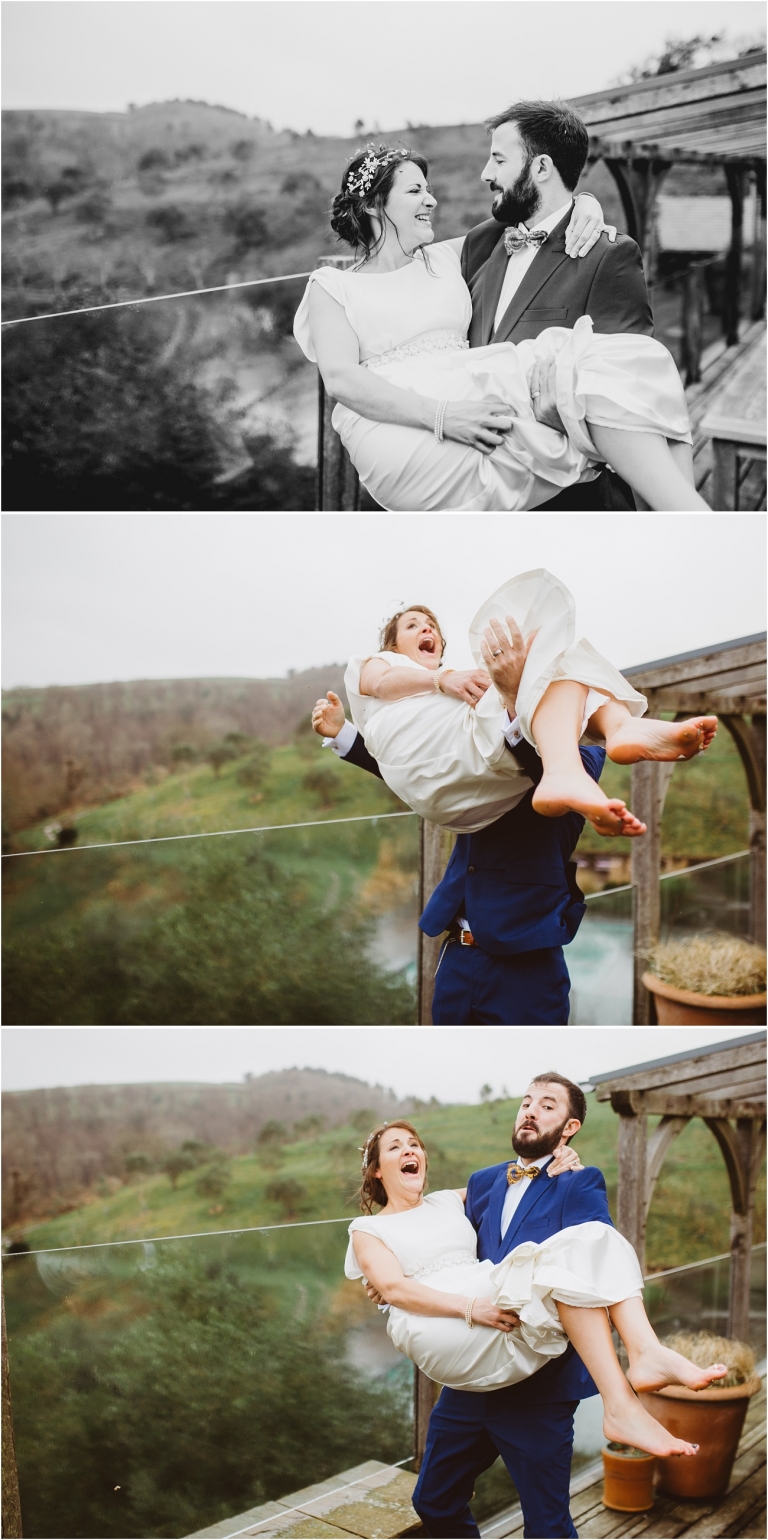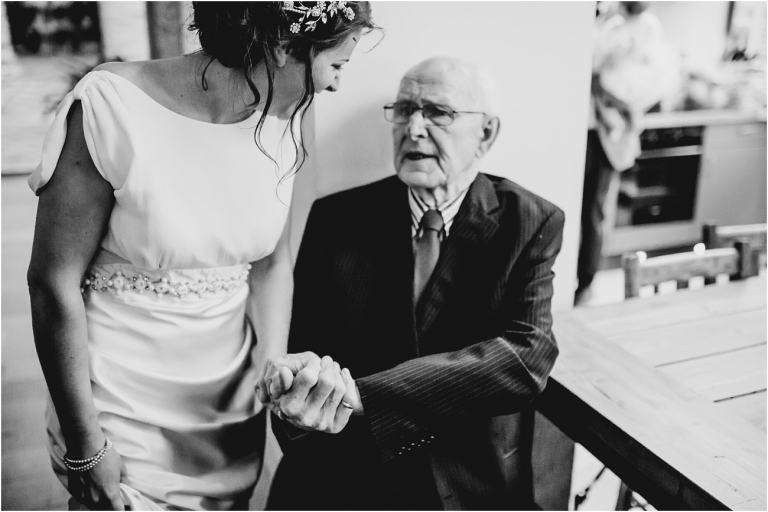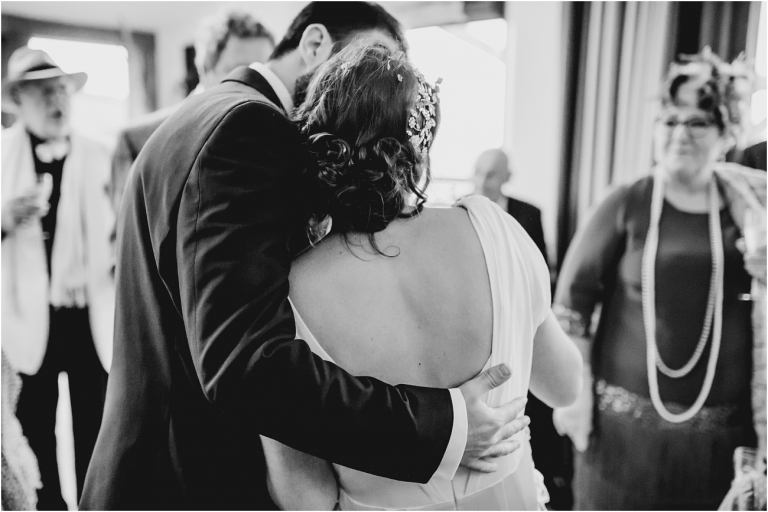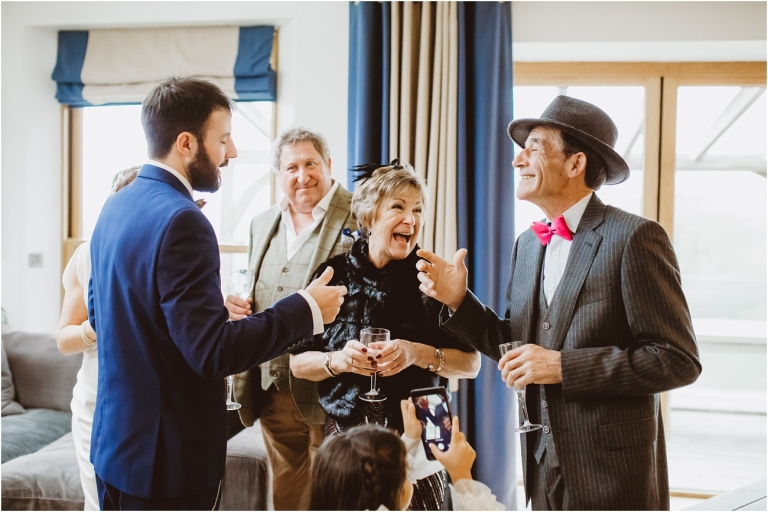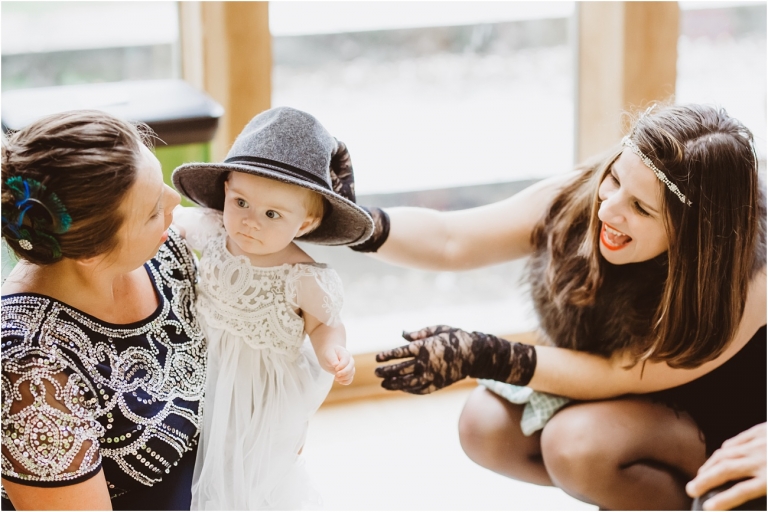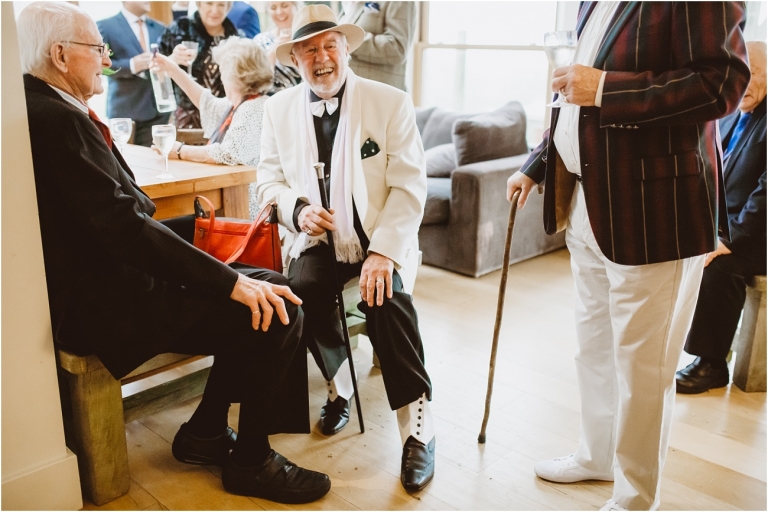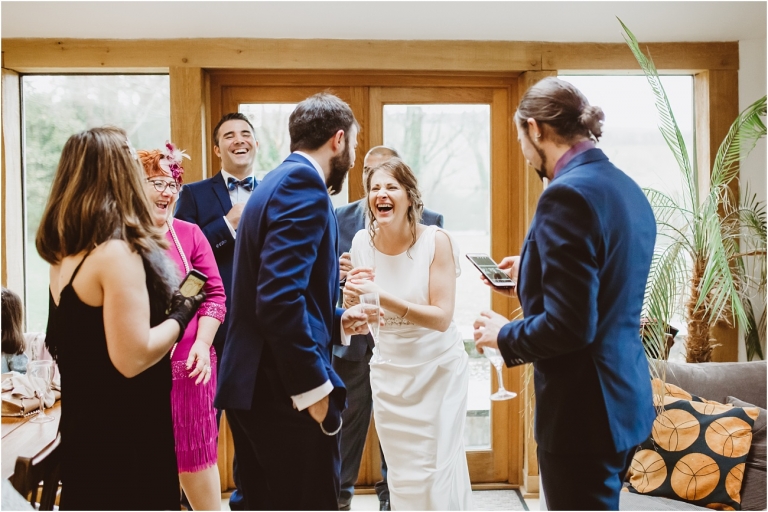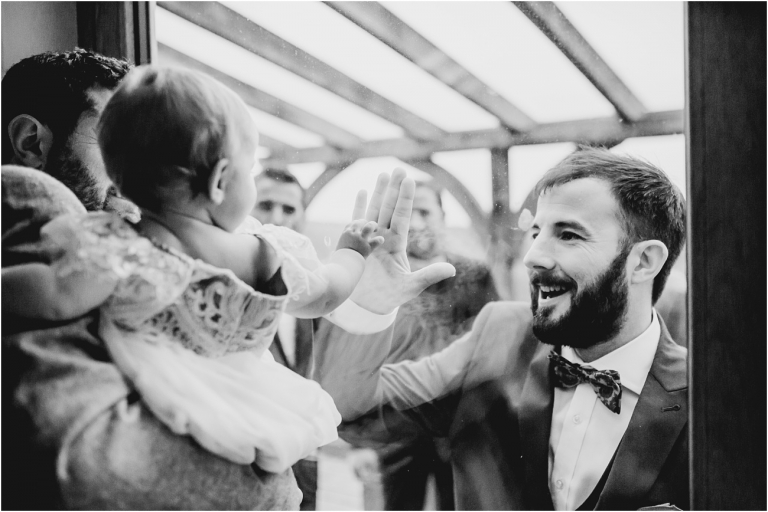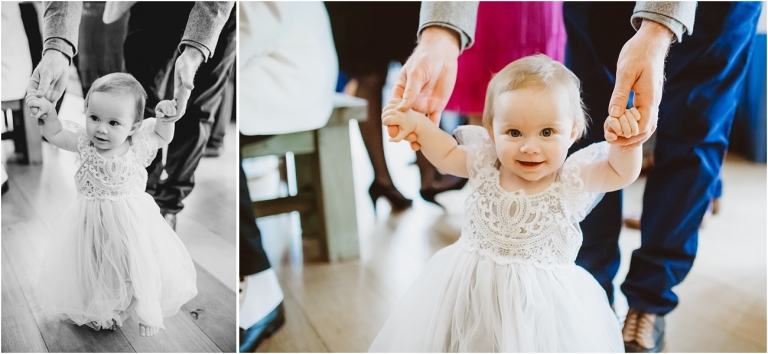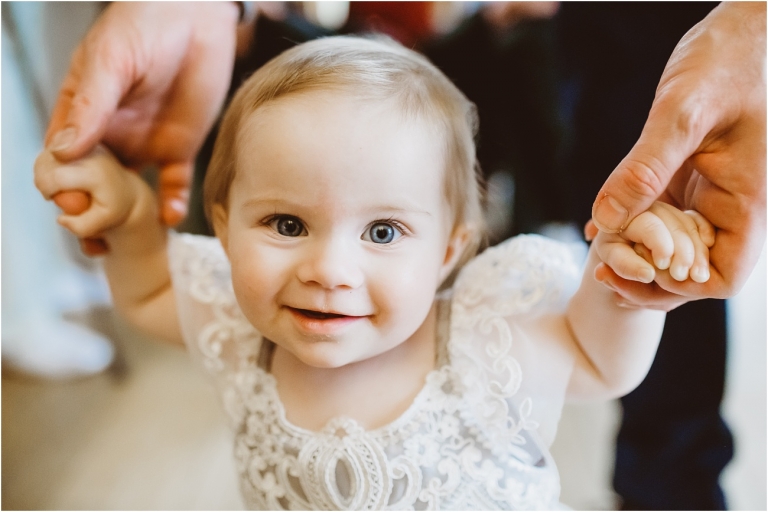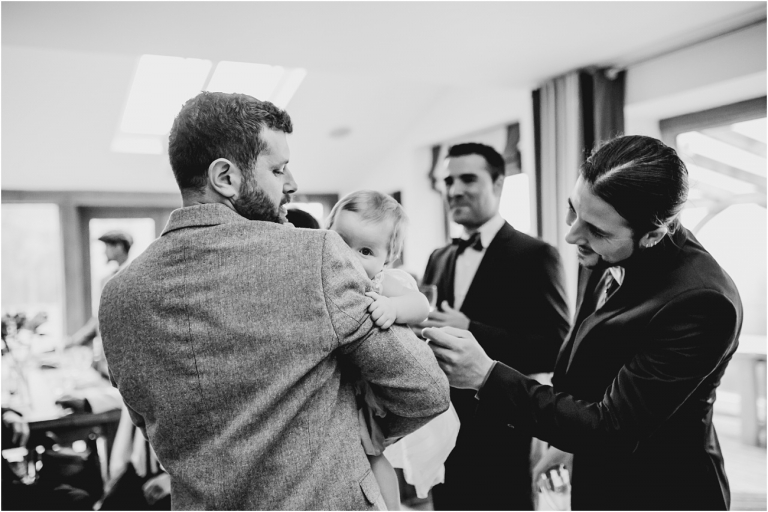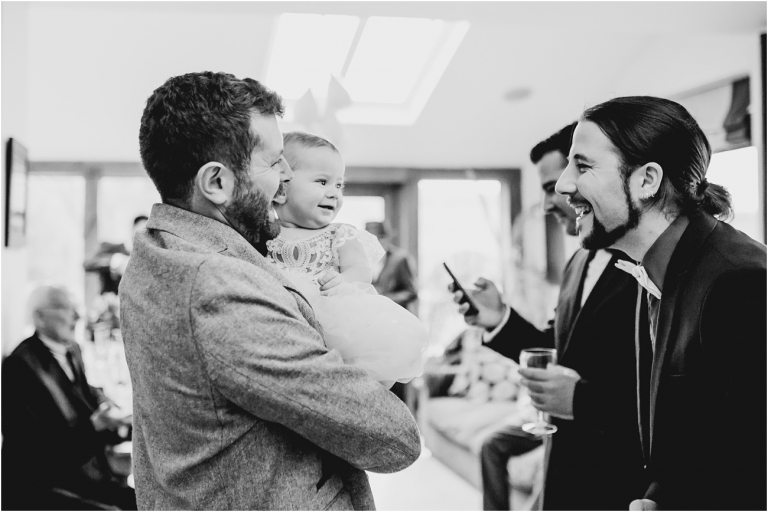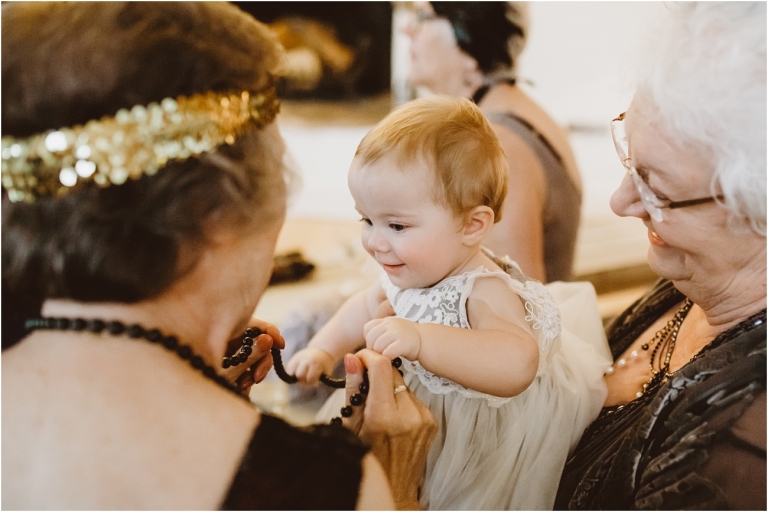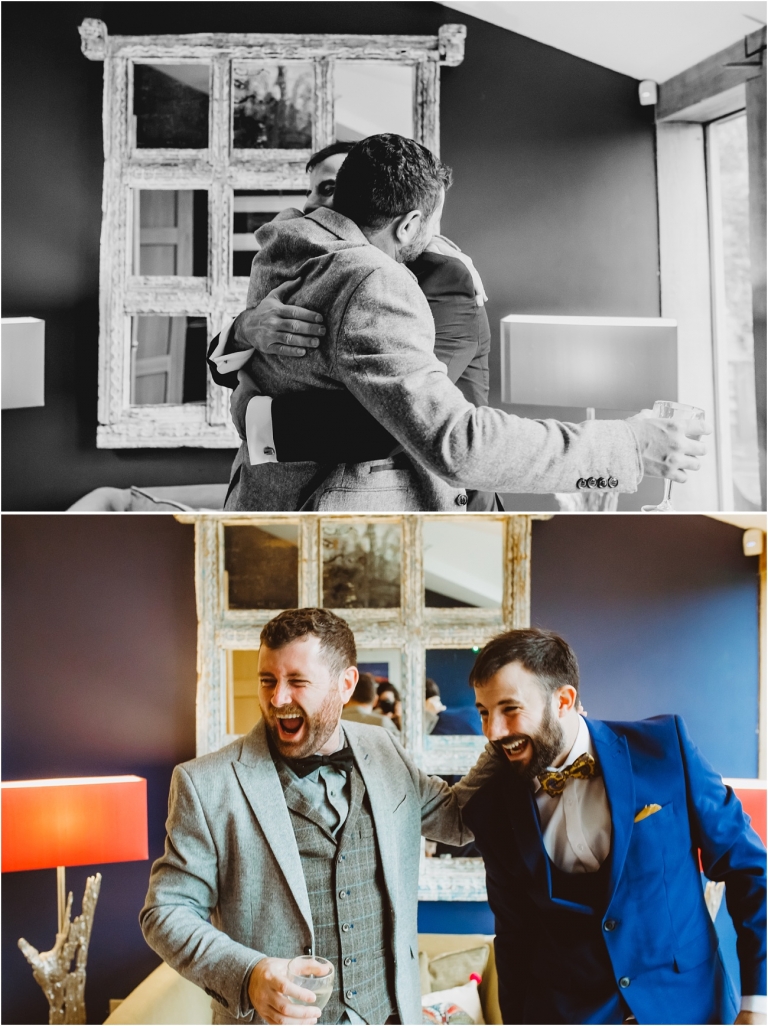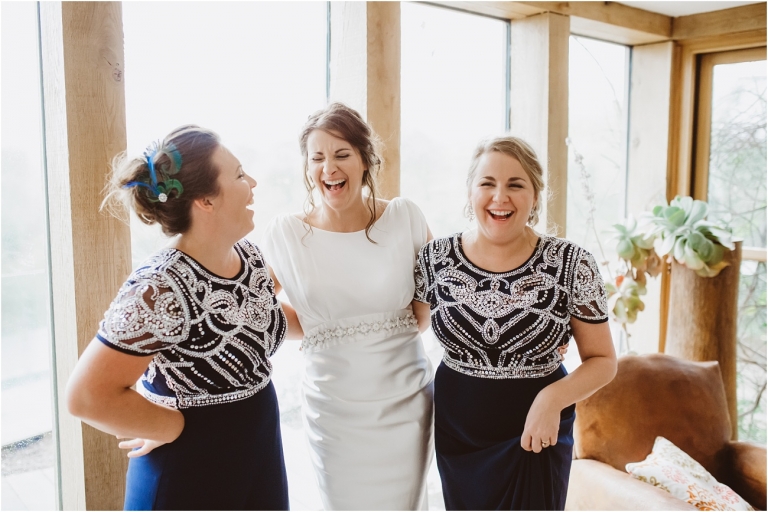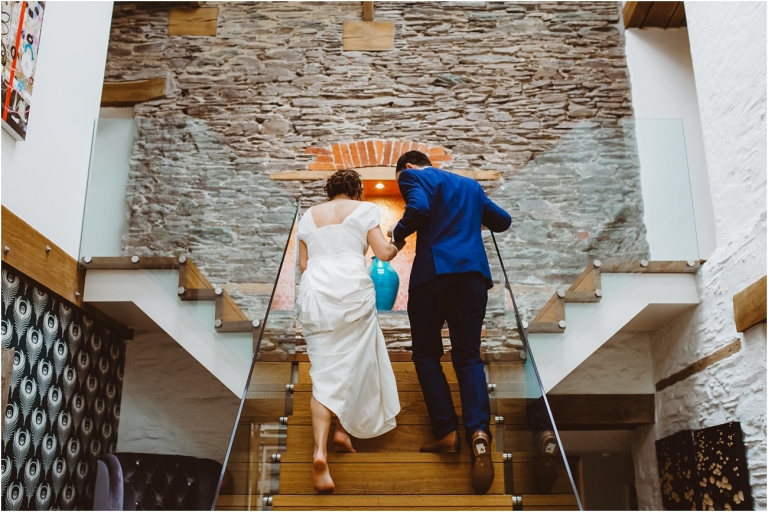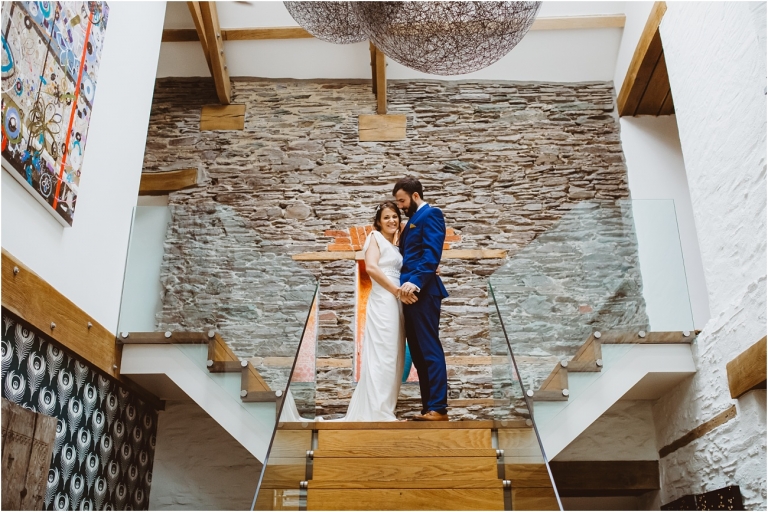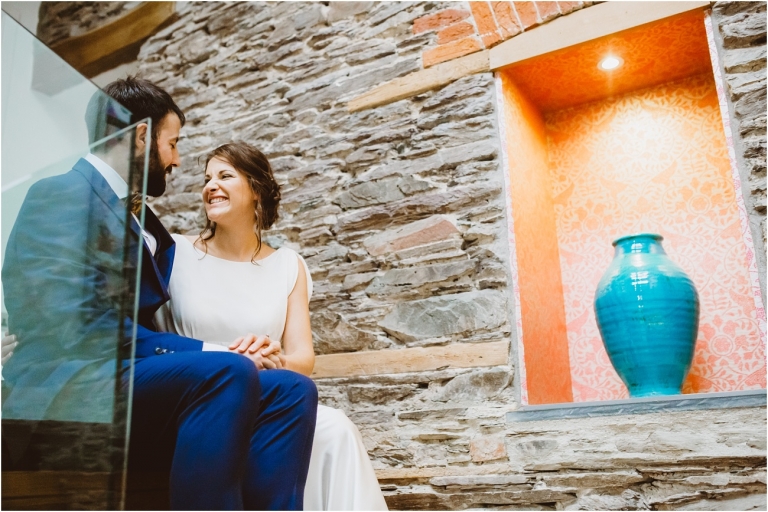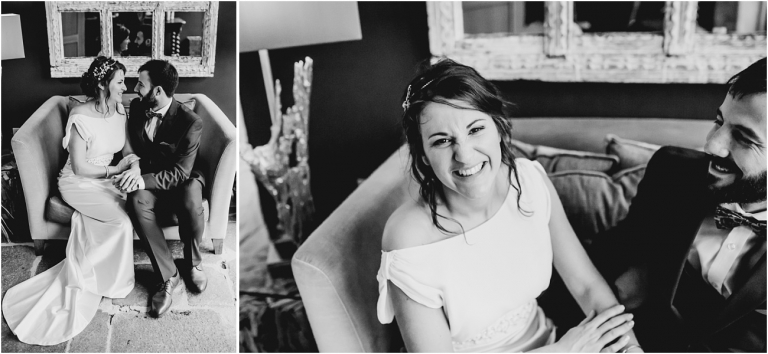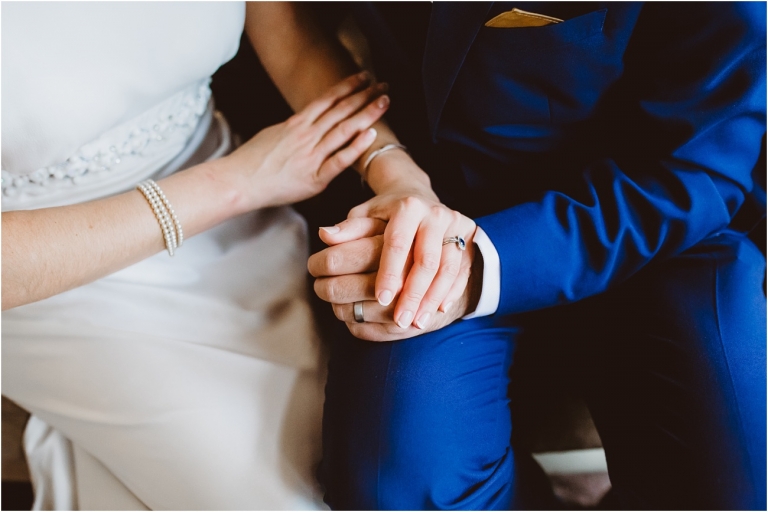 The theme for a 1920's wedding came about when Chelsie was dress shopping at Luna Daisy in Totnes. Janet asked to see her engagement ring, a beautiful 1920's art-deco band (wonderfully chosen by Jose) and knew she had the perfect dress to go with it. With her beautiful dress chosen, everything else followed!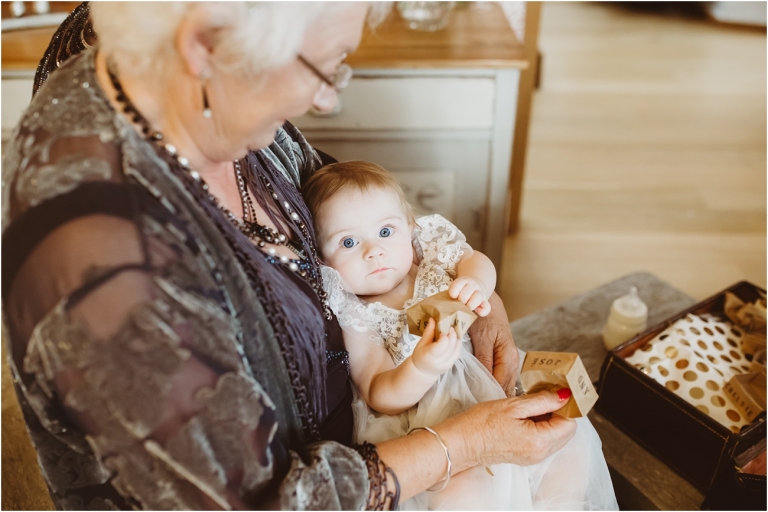 With the help of family, Chelsie did all the places names and decorations, both for this room, and the onsite barn where the evening reception took place. I love the black and gold art deco styling!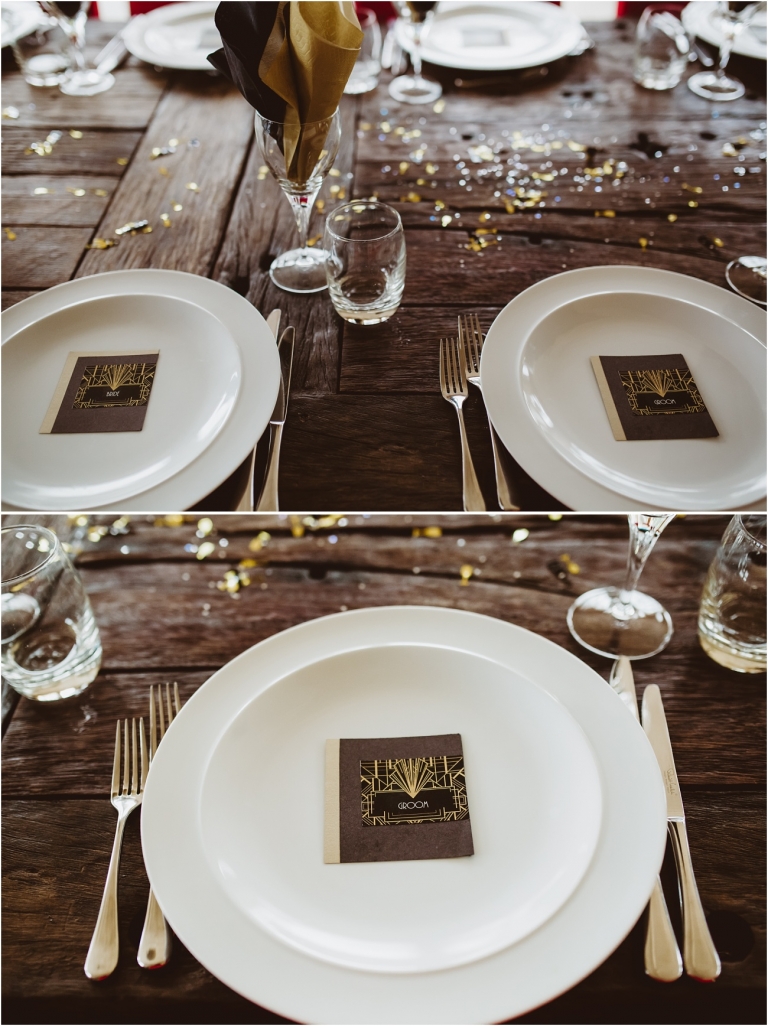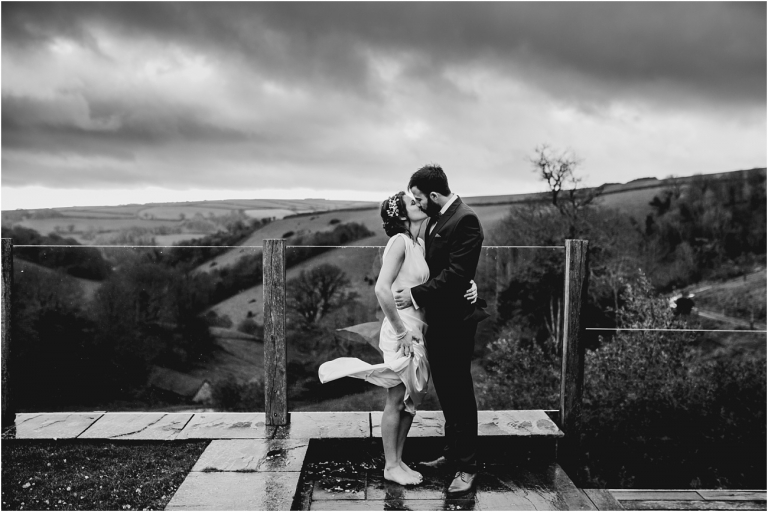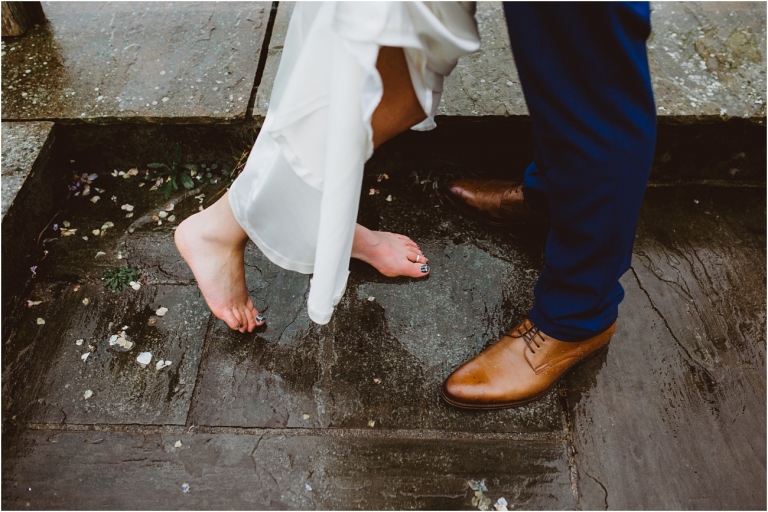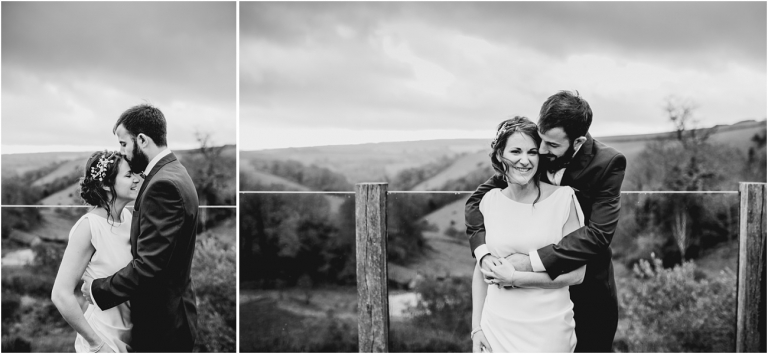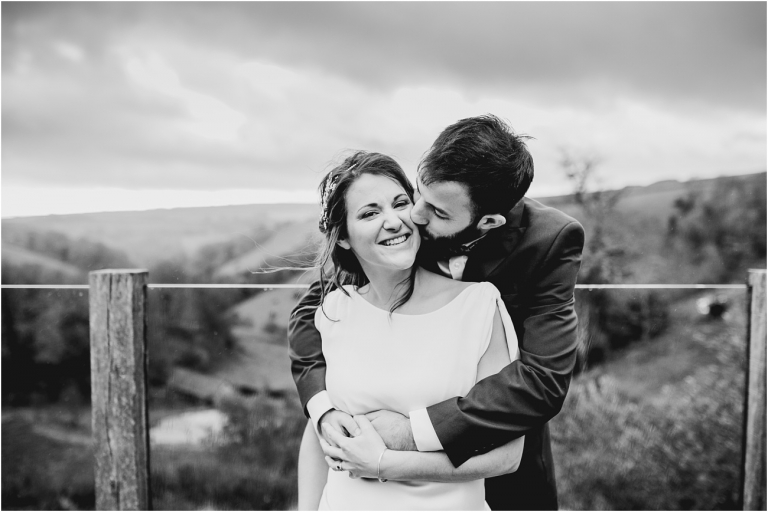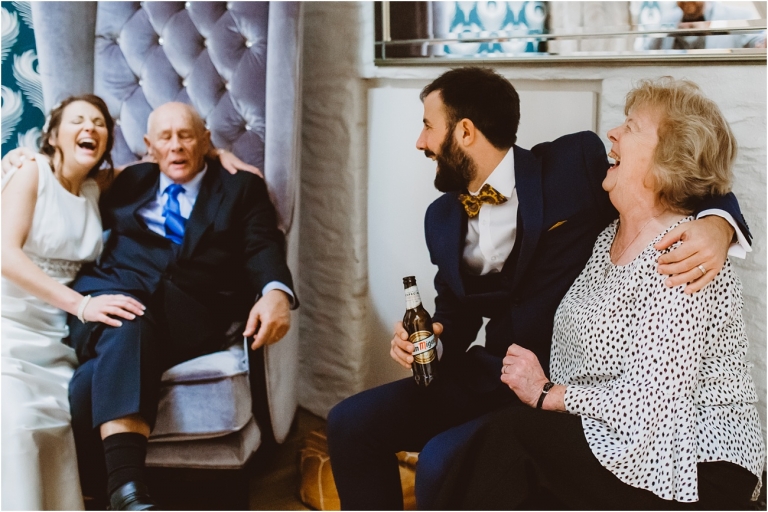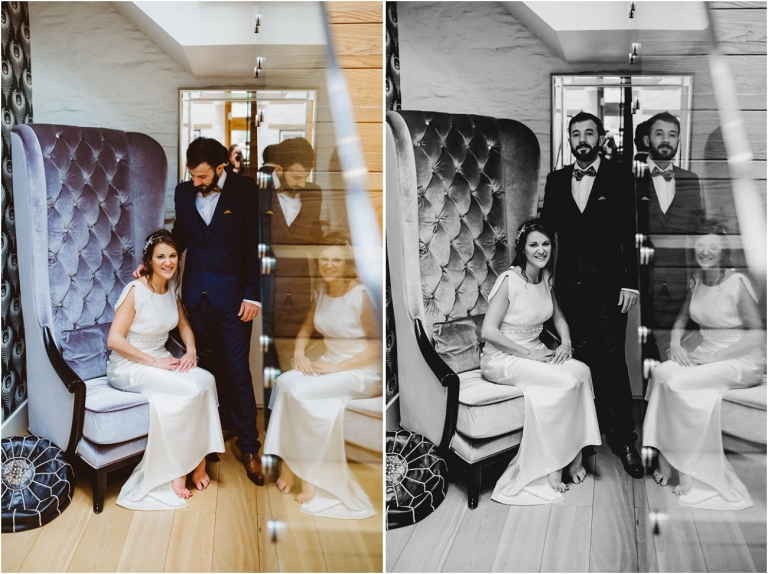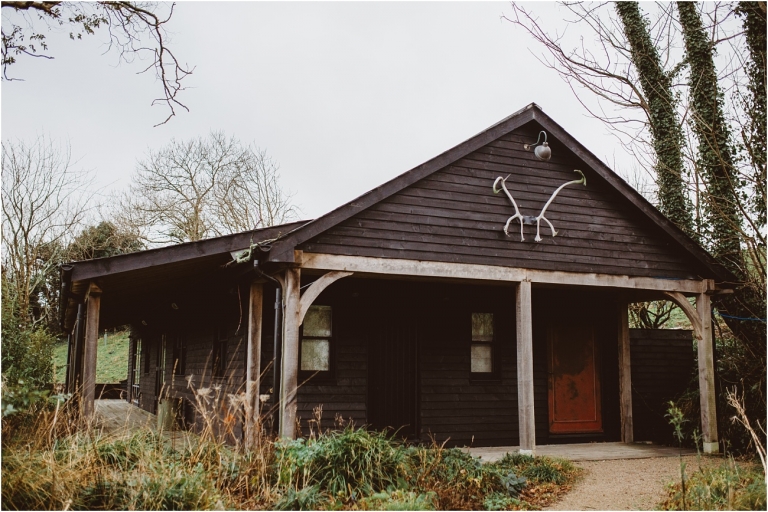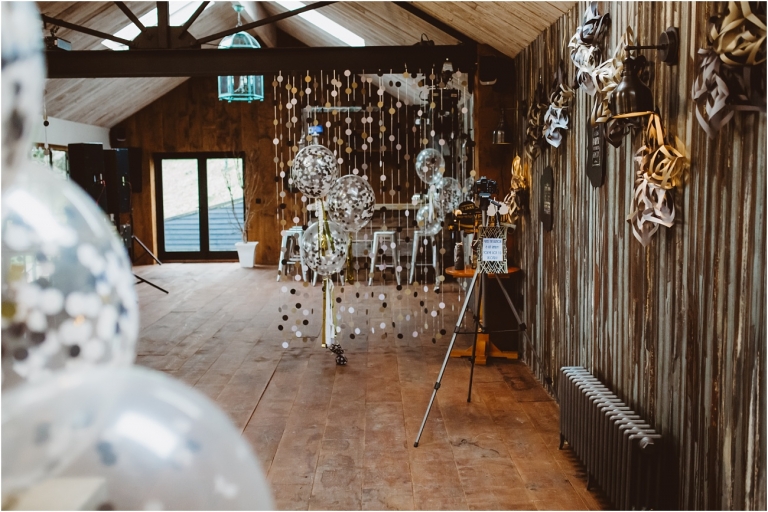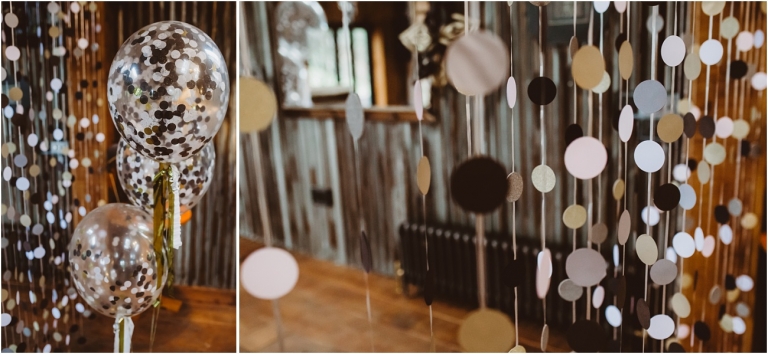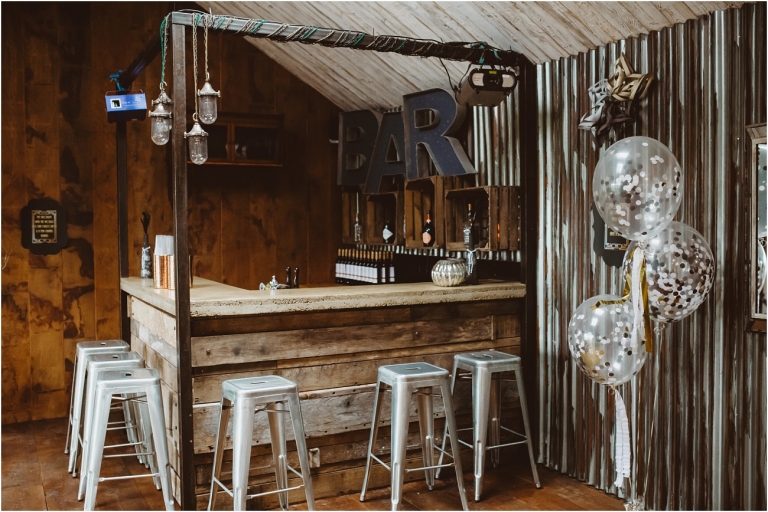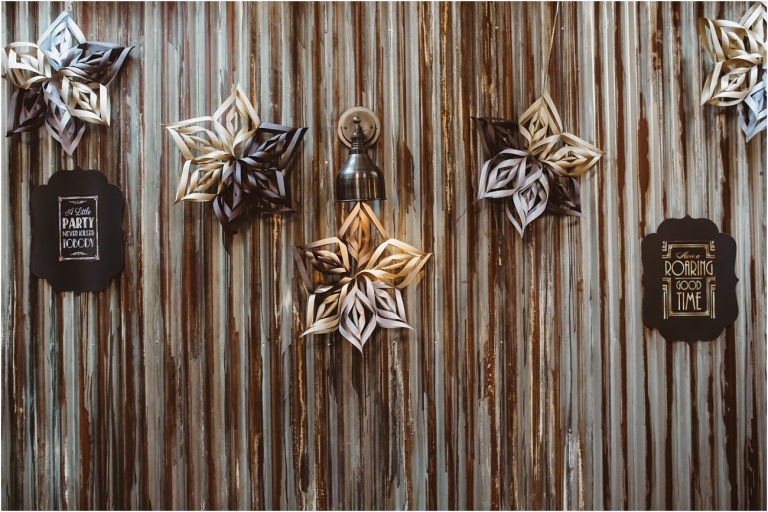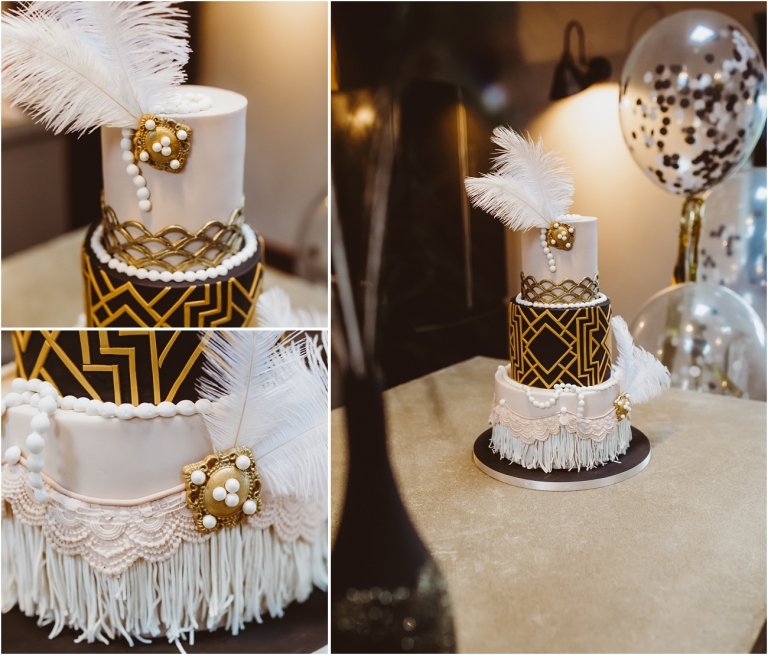 Konra'di Cakes were to thank for Chelsie' and Jose's masterful art-deco cake.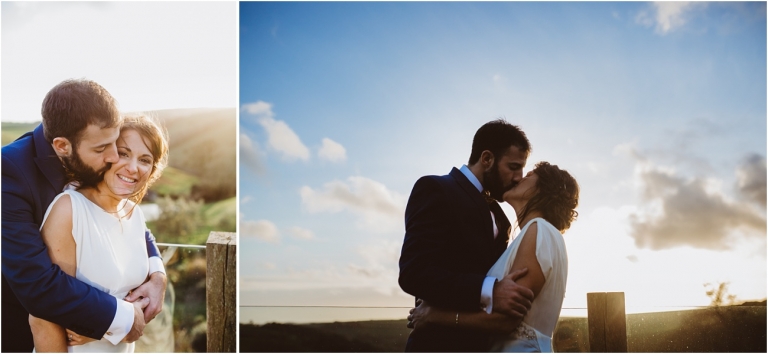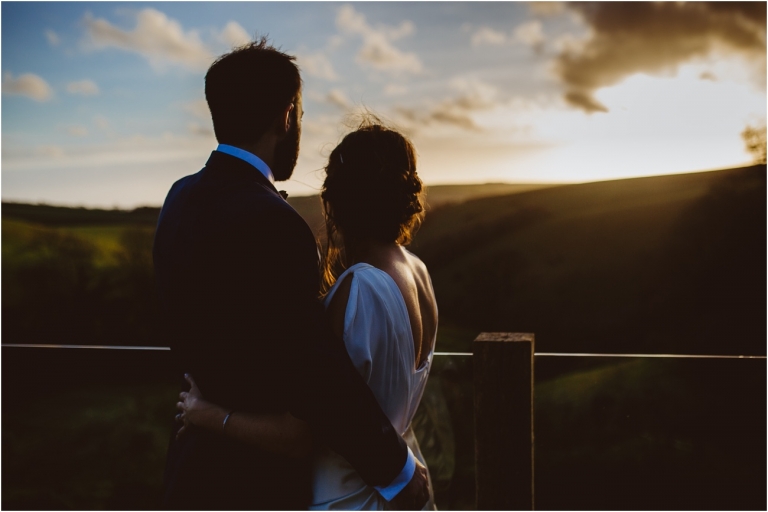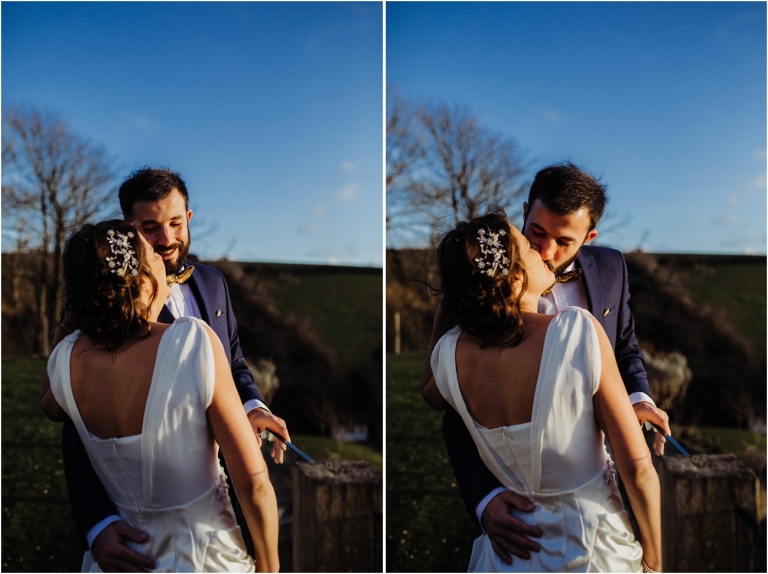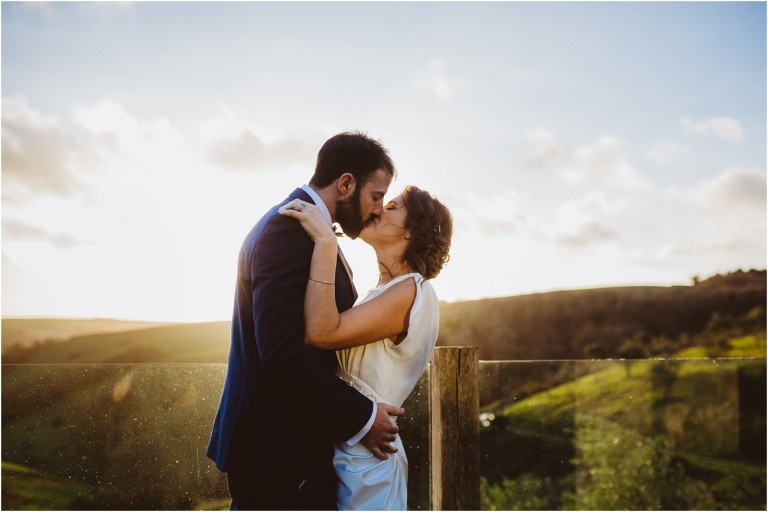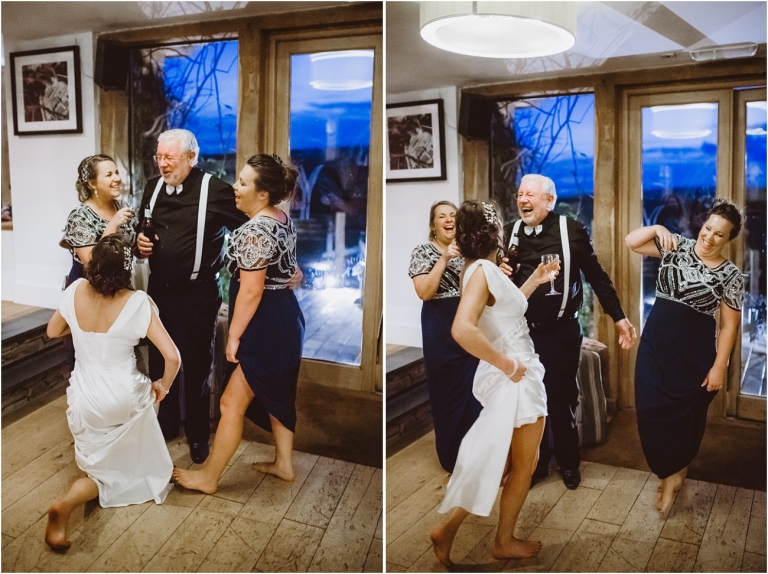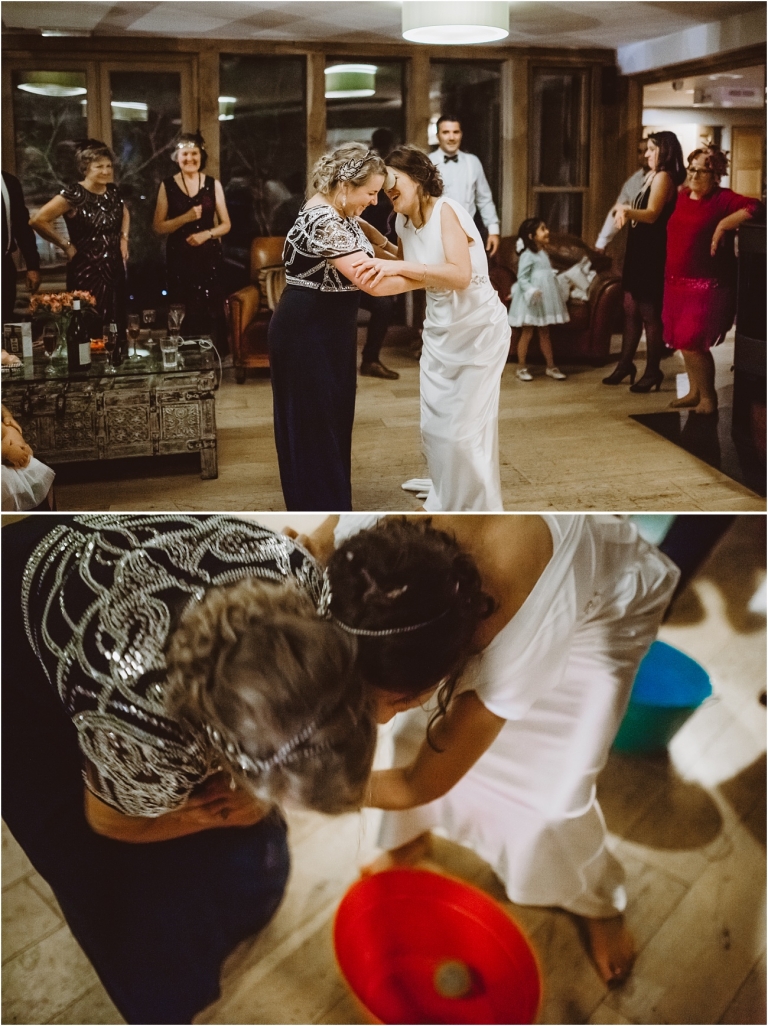 Worden House was a fantastic venue. I love weddings that are contained in one amazing house, where all the guests can completely relax and be themselves. This leads on to plenty of great, natural moments which I love capturing.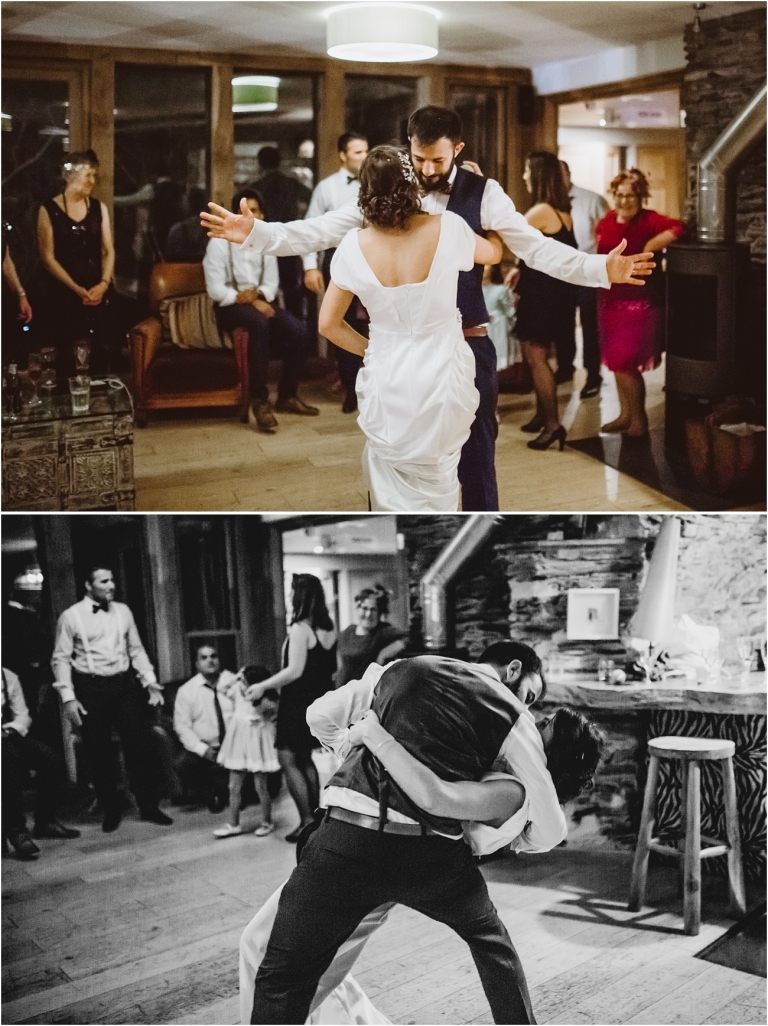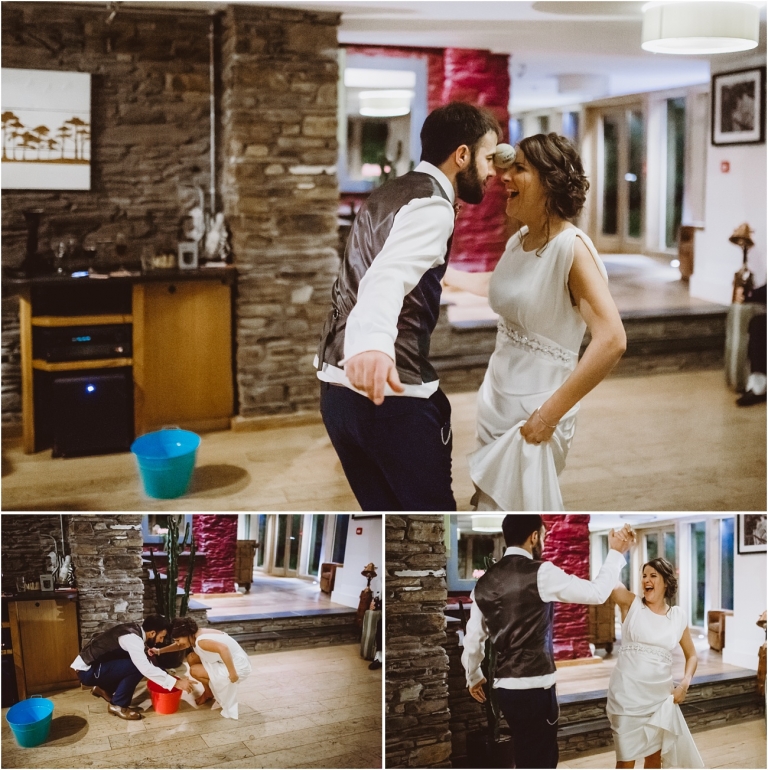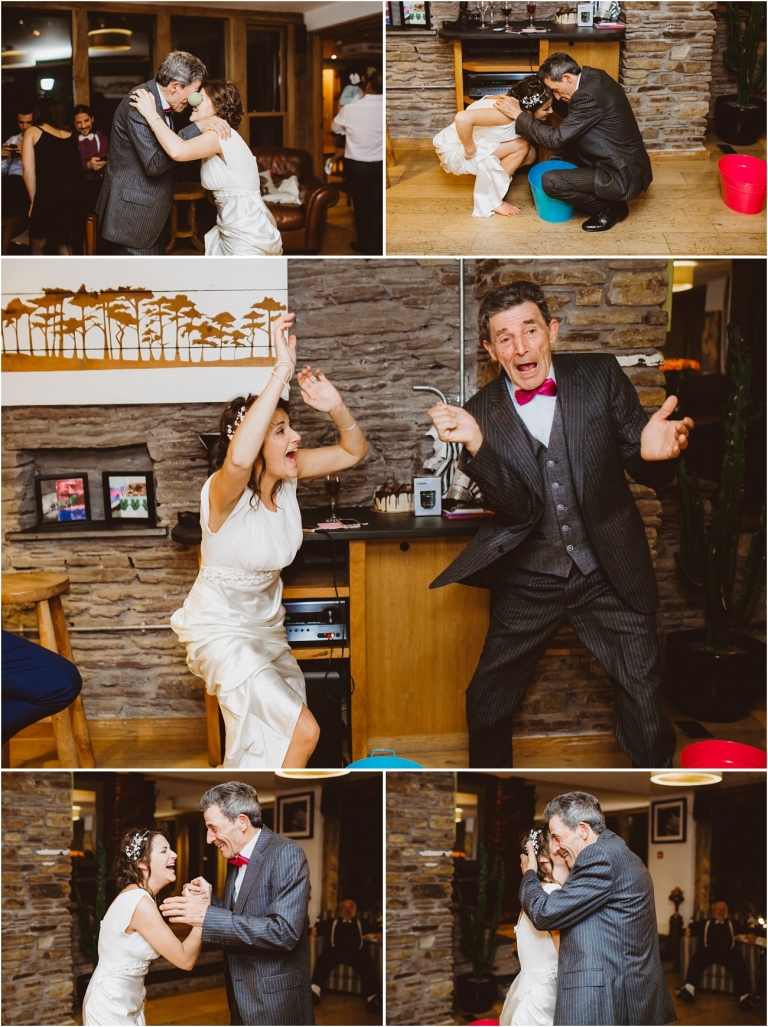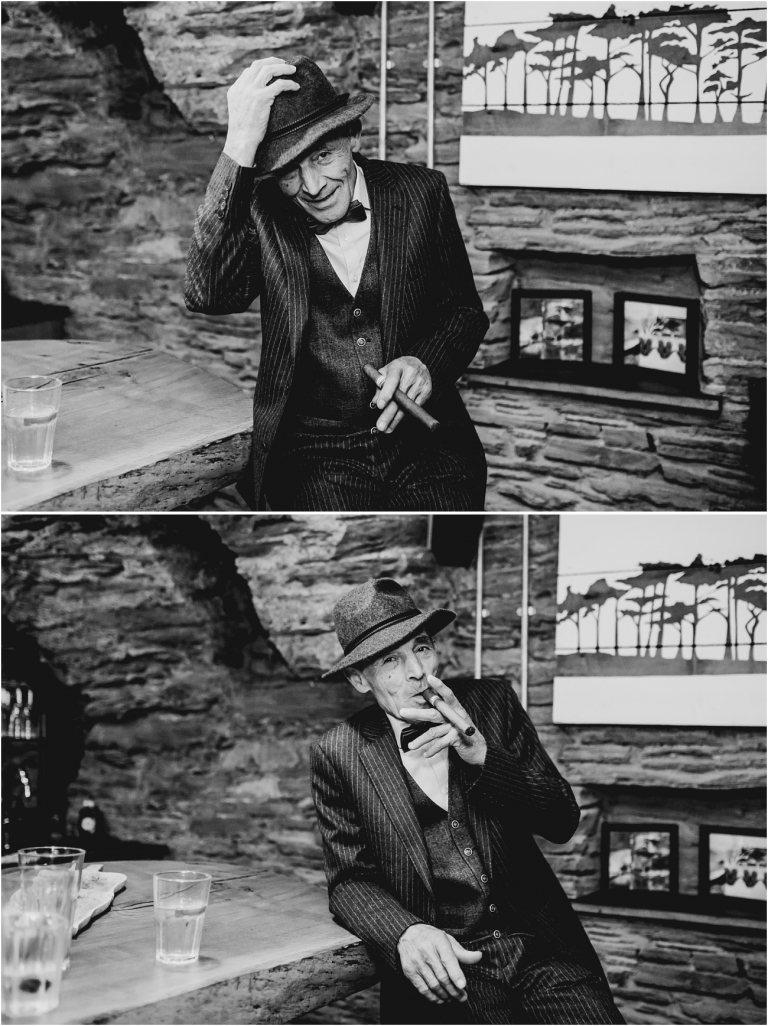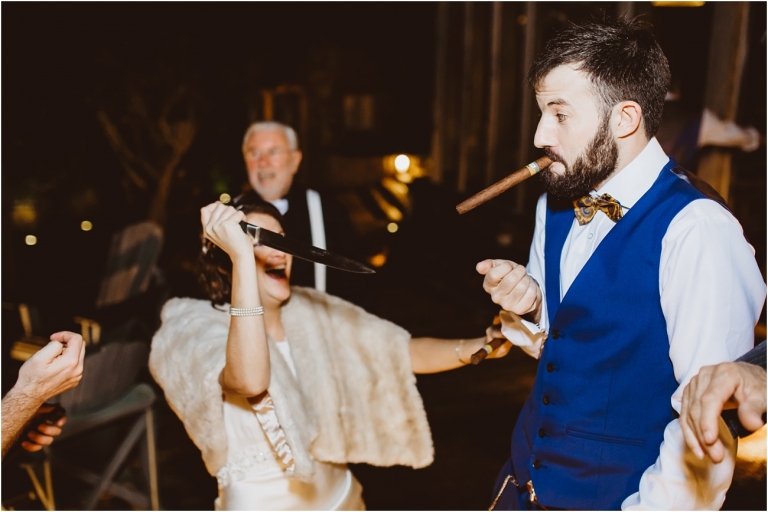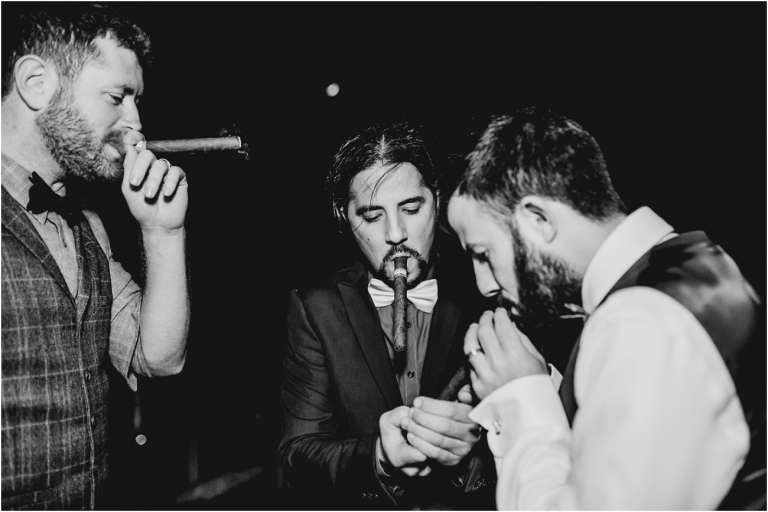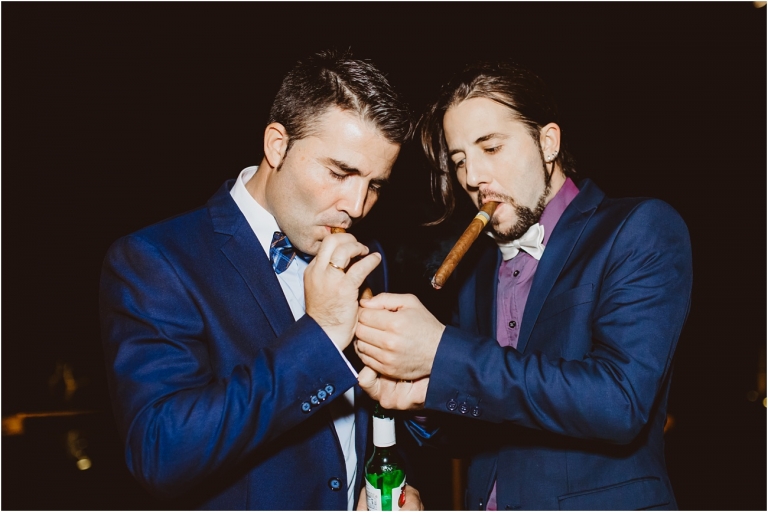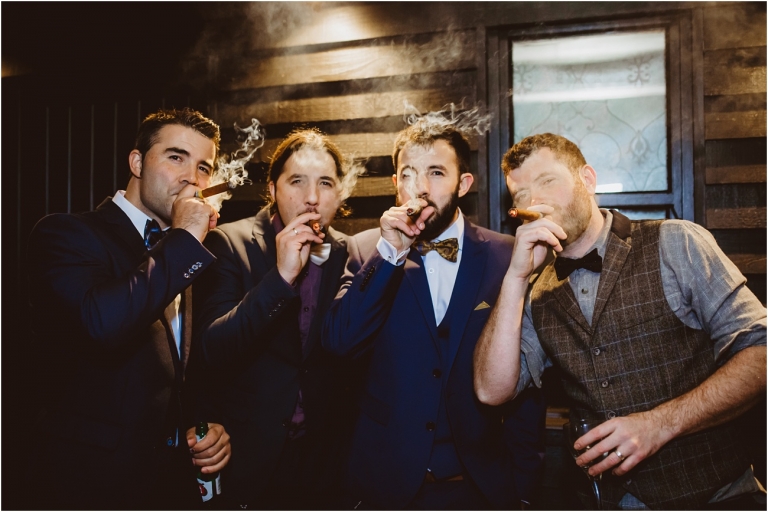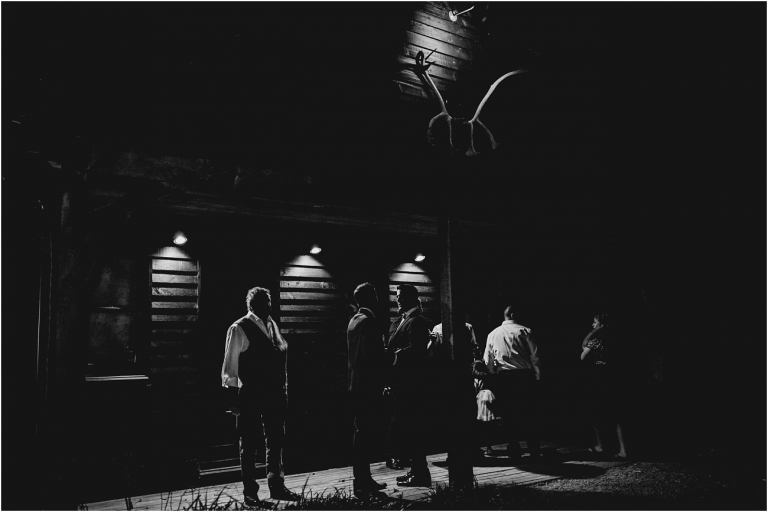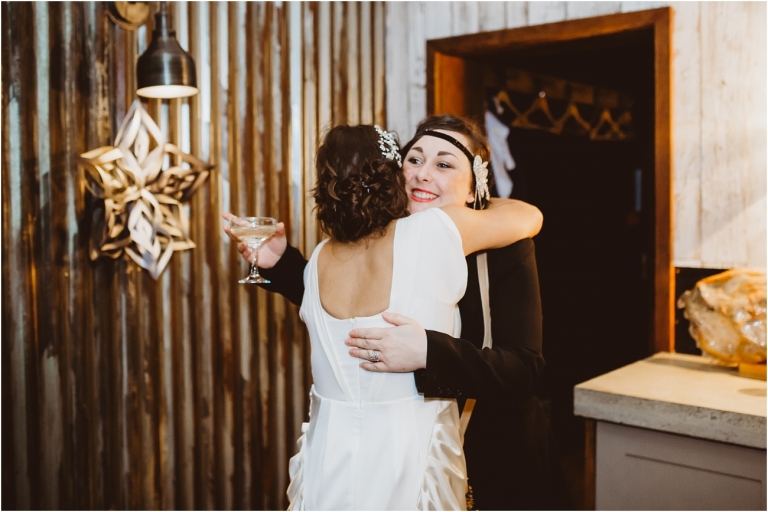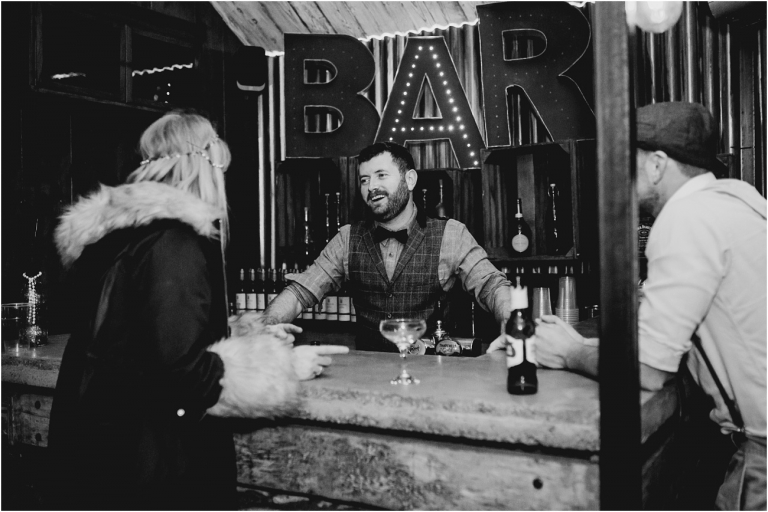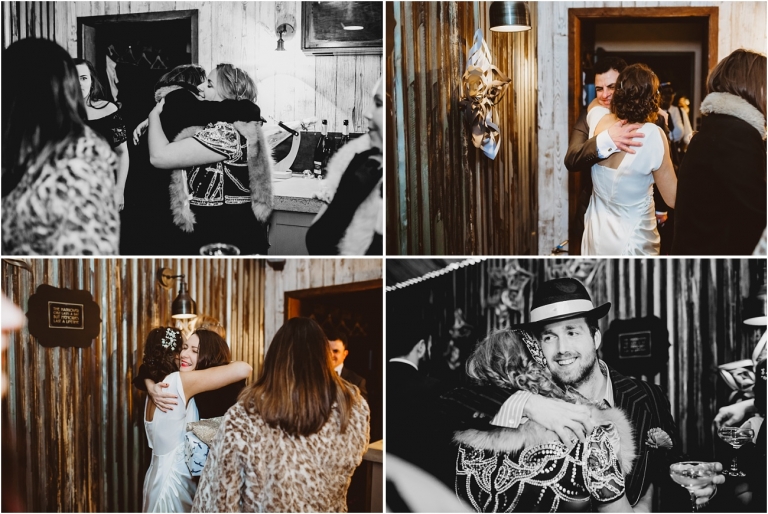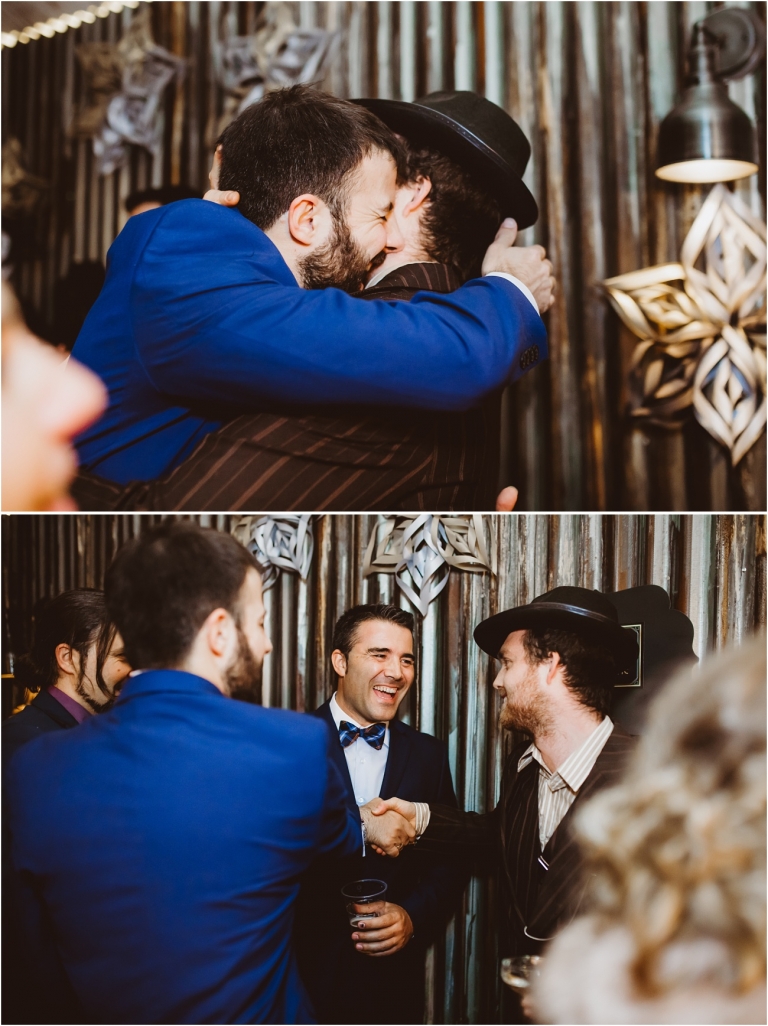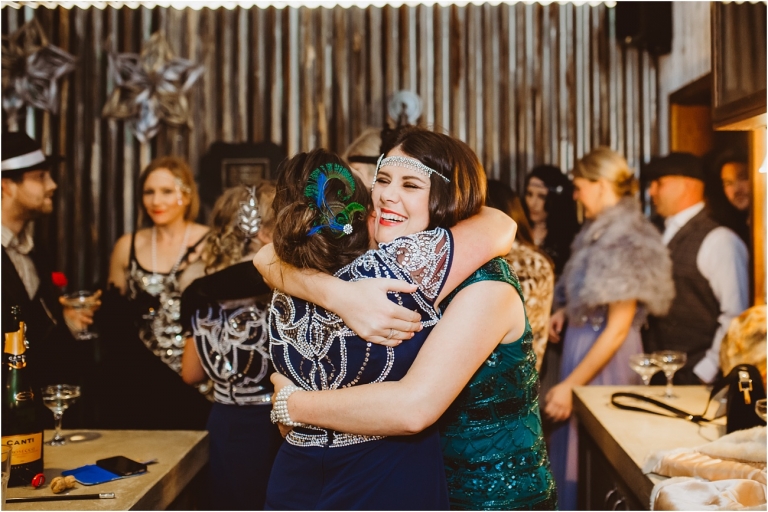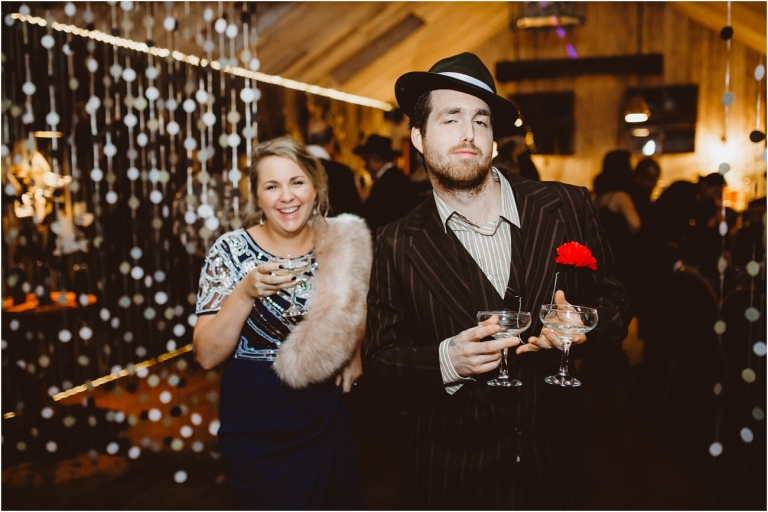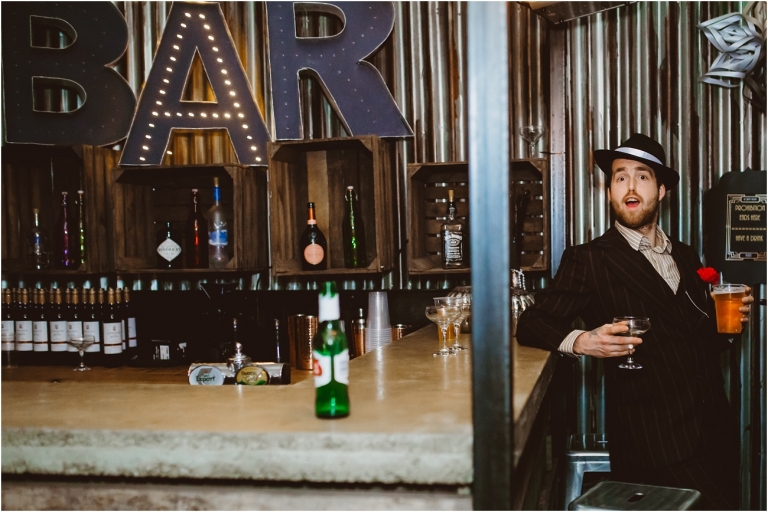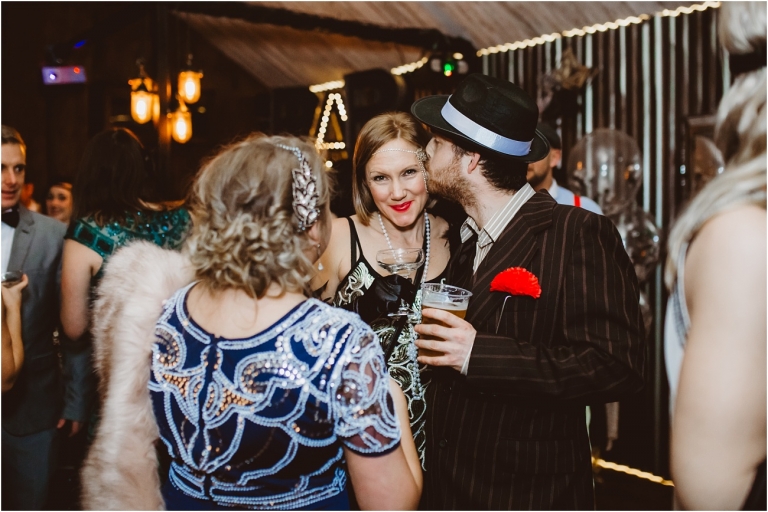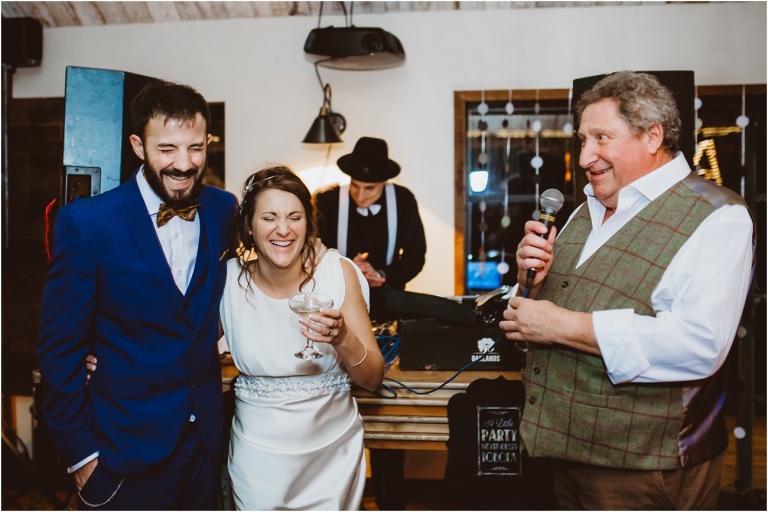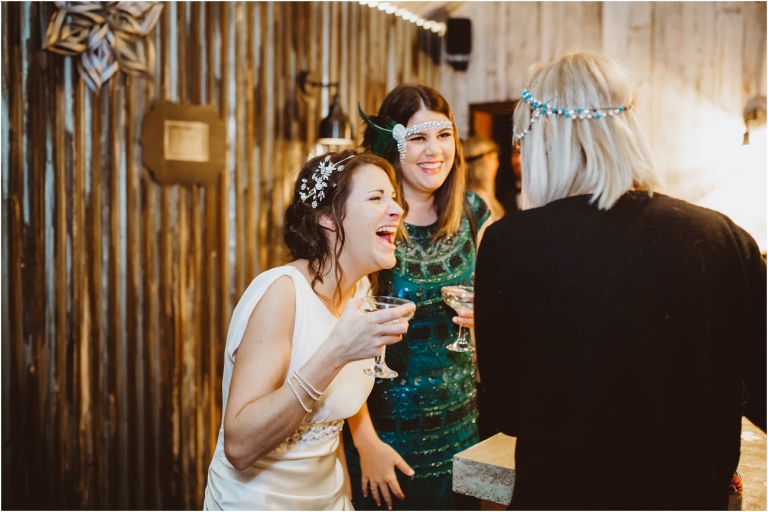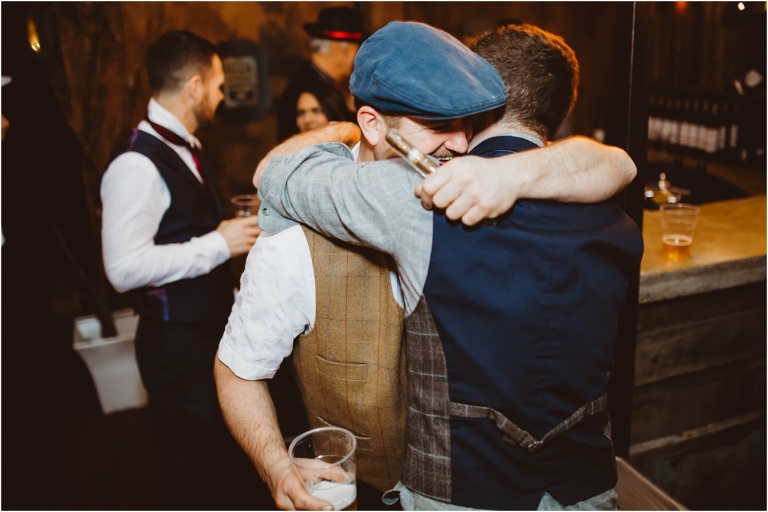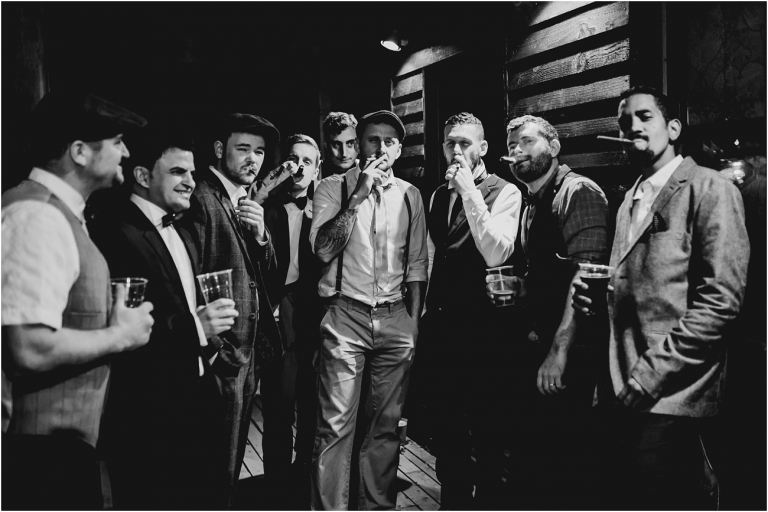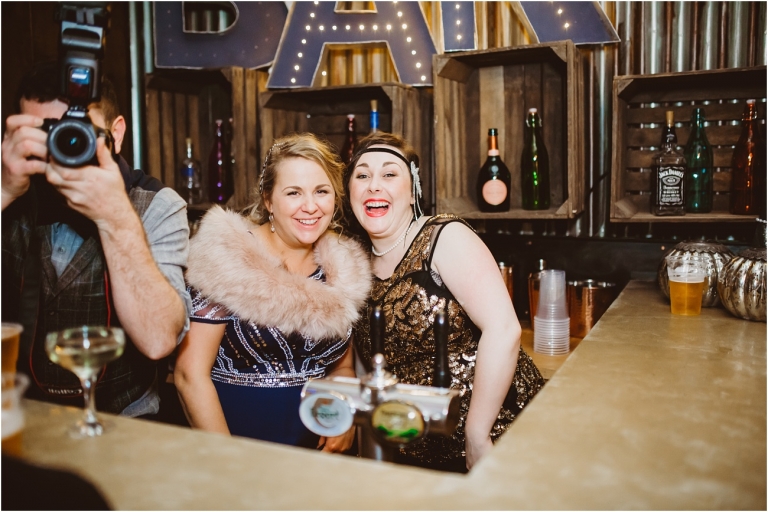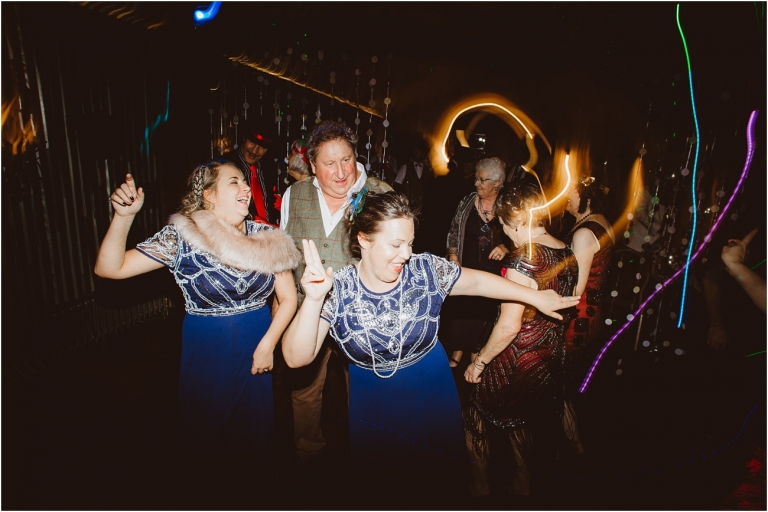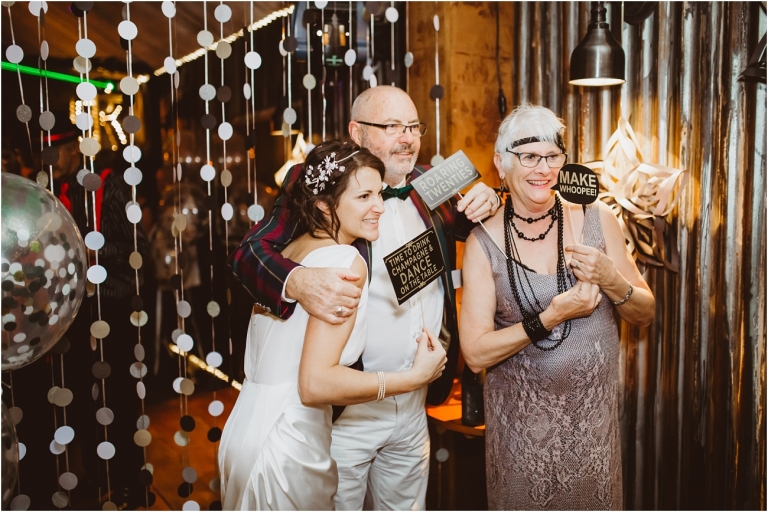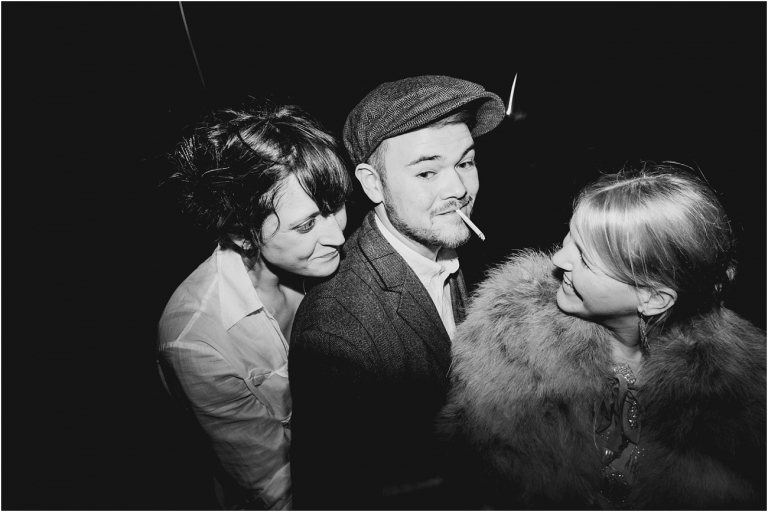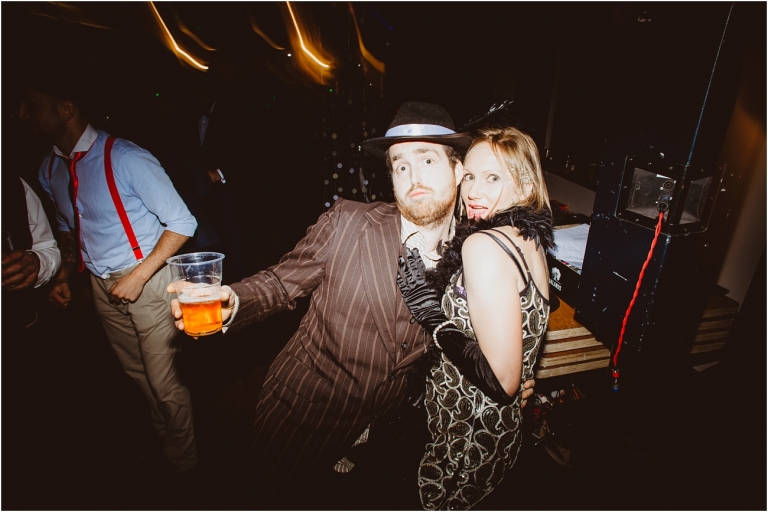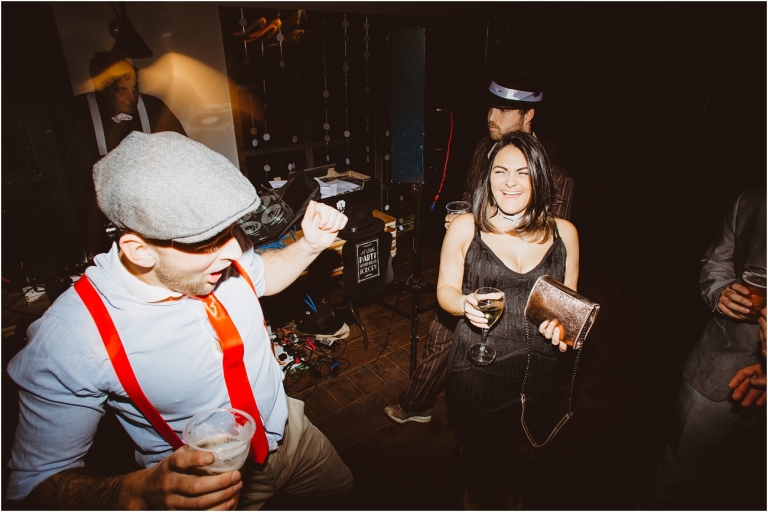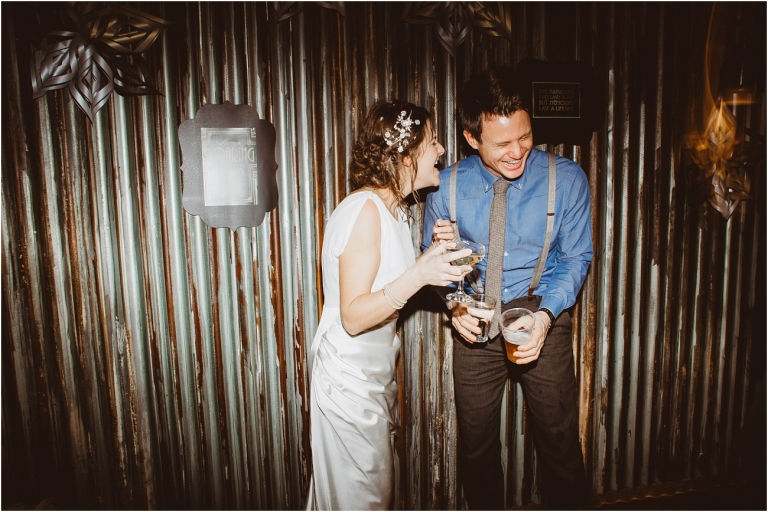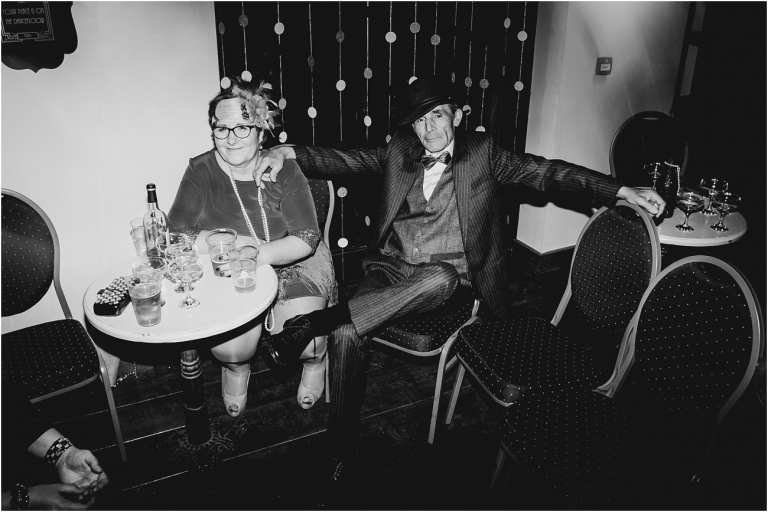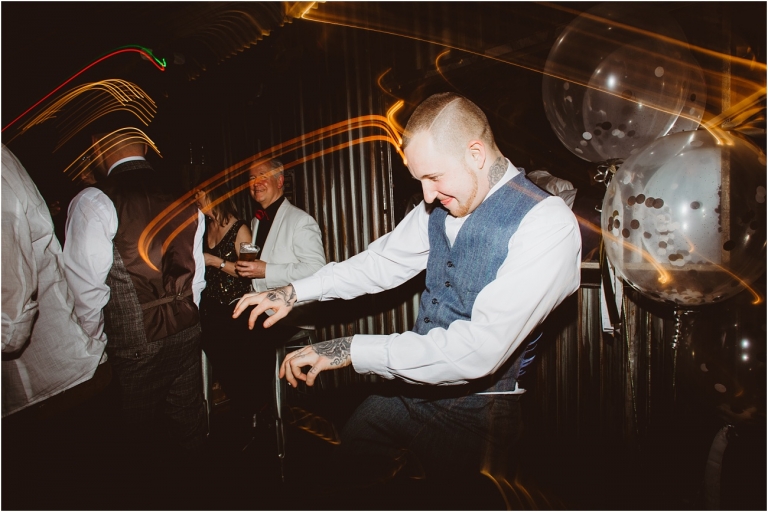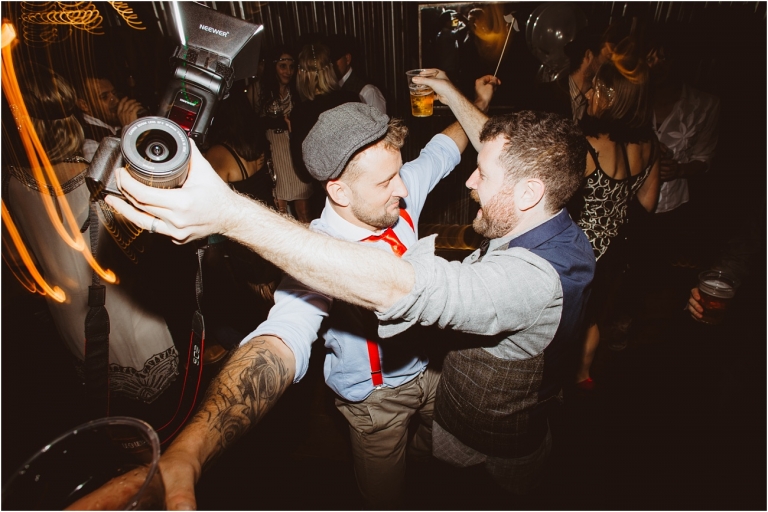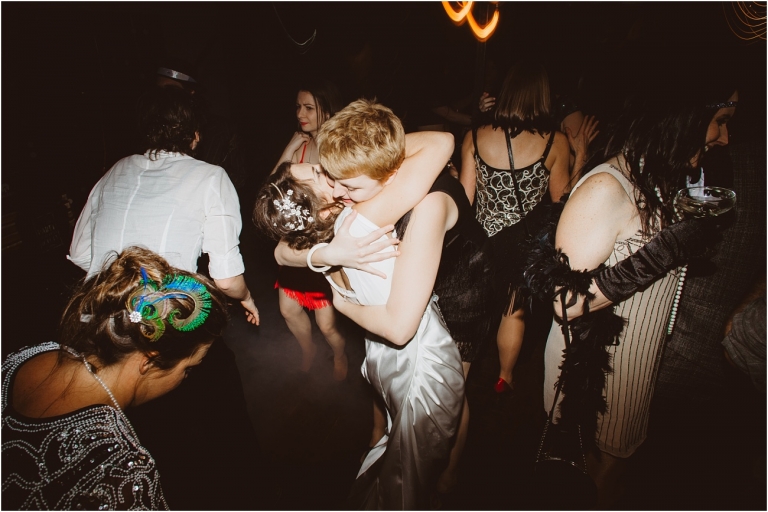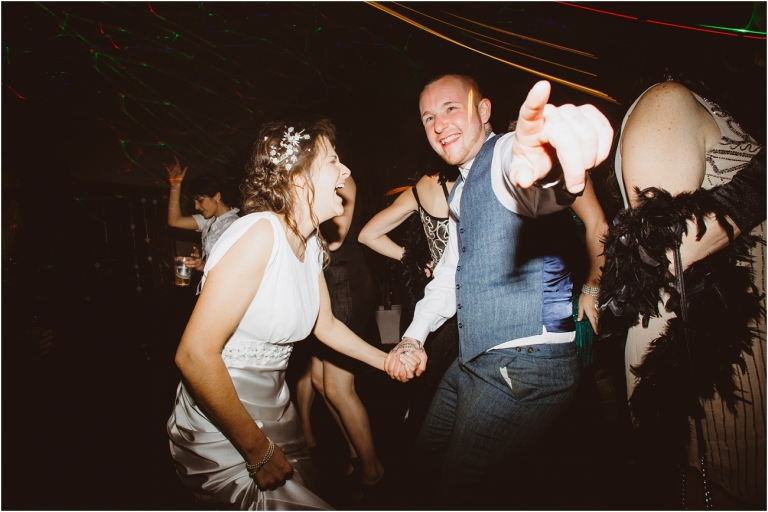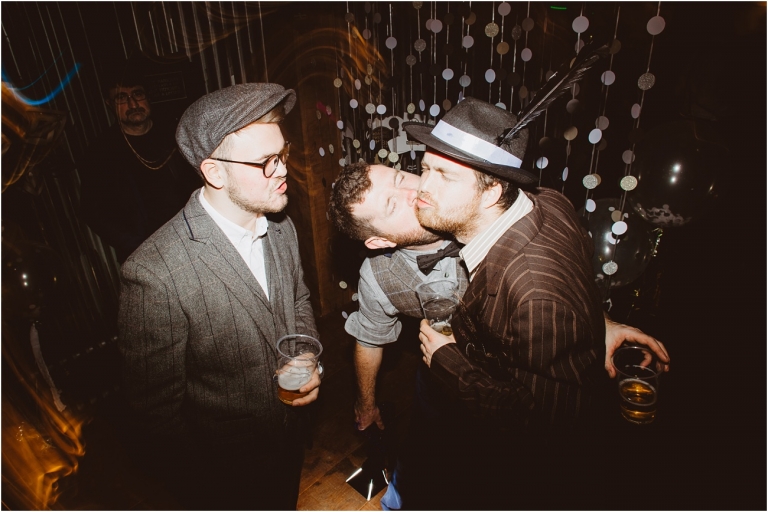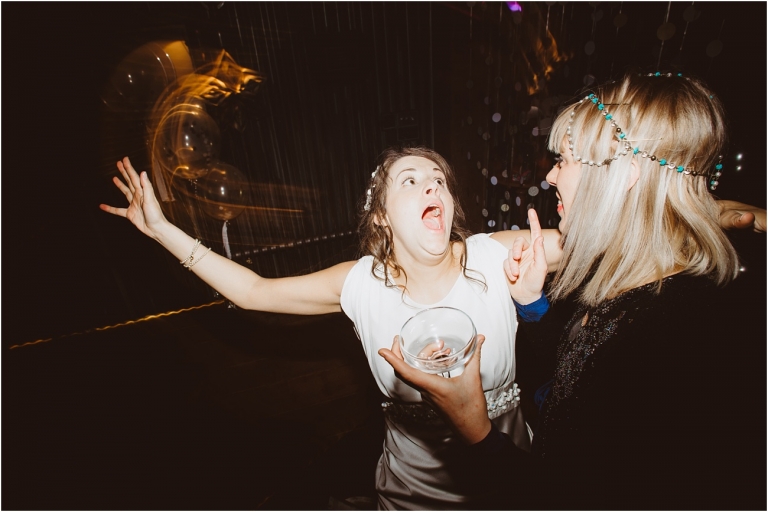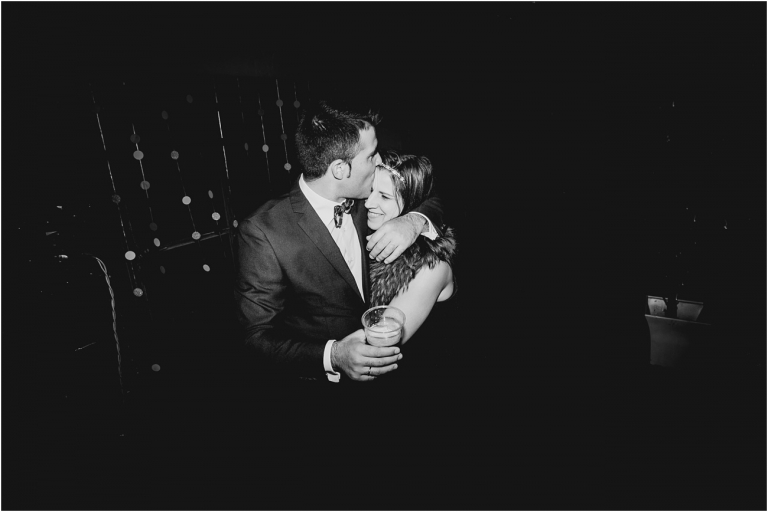 If you are looking for a wedding photographer in Devon, then please get in touch!
Holly
Reportage, documentary, candid photography focuses on capturing your wedding exactly as it happened, with all the real & raw emotions of the day. This means that there is often little or no focus on traditional posed photos. So how do you get the most out of a documentary photographer? If there are few posed photographs, how can you trust that all the most special people in your life are photographed on the day?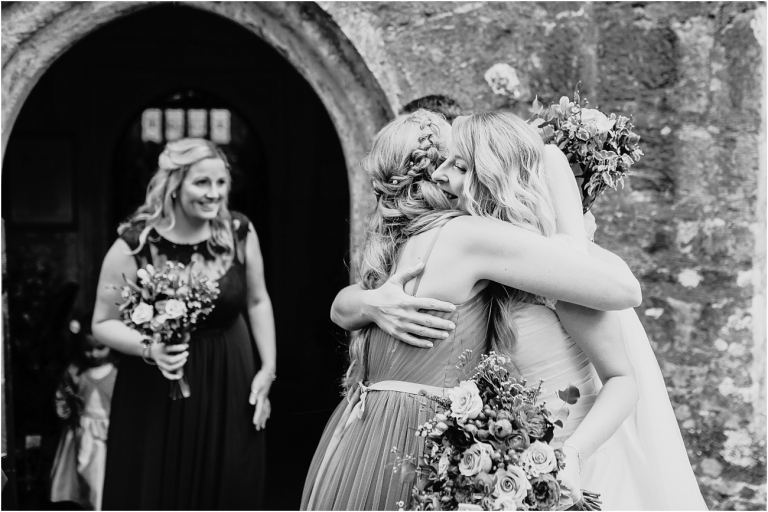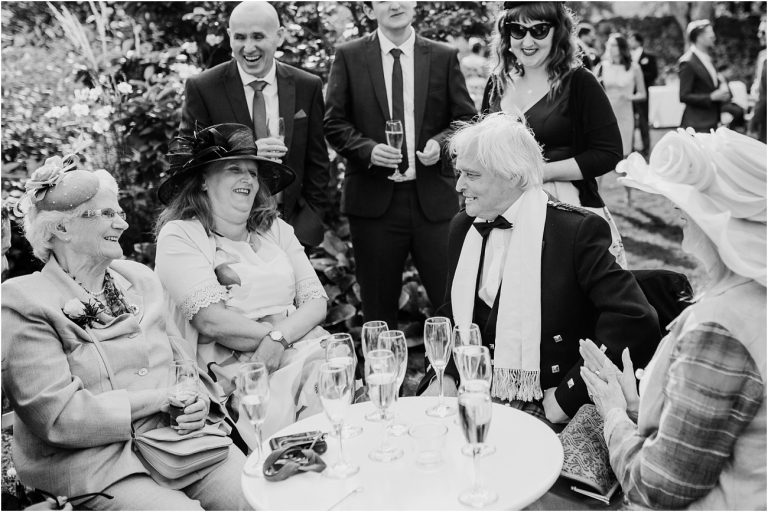 Well let's flip that on it's head; would you not rather actually spend quality time with those people and have fun rather than stand around smiling on cue? Group photos take time, LOTS OF TIME. Furthermore, as the bride and groom you will be in every one of them and not relaxing with your guests. If 1 group photo takes 5 minutes, then 12 group photos are going to take an hour, and sometimes that is all the time available between the ceremony & wedding breakfast. Therefore the formal group photos are self-defeating; you've lost out on the best time – and the better photographs – trying to savour something that I will capturing anyway. The bottom line is – trust me. I will be doing my best when you are relaxed and just enjoying the day that you have planned with your wonderful guests.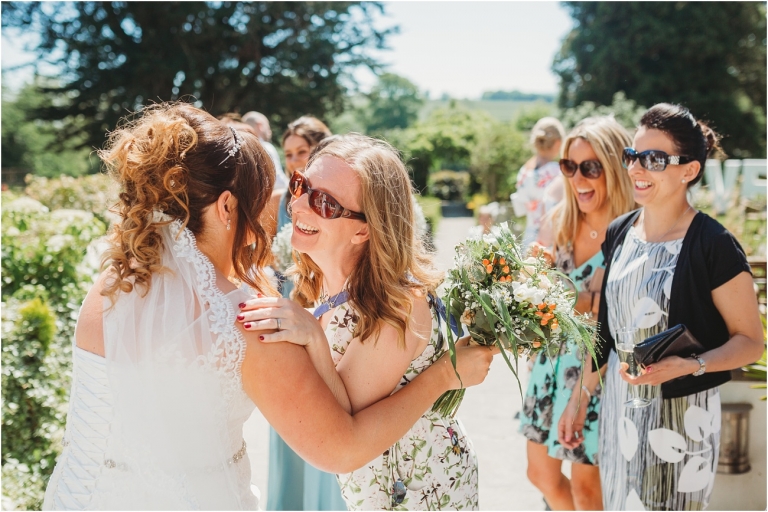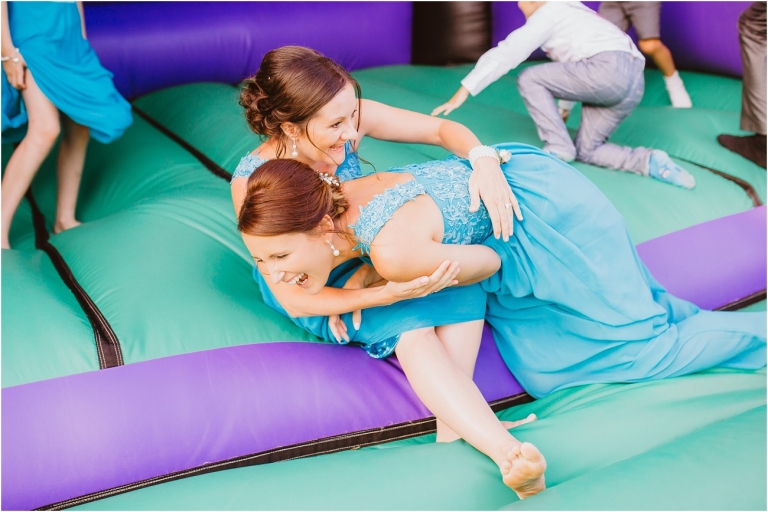 I can only photograph what I see. If you're having a great time & lots of fun, your photos are going to show that! If you're stressed, you will look stressed in your photos. So how can you eliminate stress so that you can focus on enjoying the day? Make sure your timeline is realistic and that you have buffer time in case things over-run (which they often do!) Make sure you are comfortable in the dress, veil, hair & makeup that you've chosen. If you're adjusting any of them regularly, you won't be looking natural and at ease. Do everything you can to ensure that on the day you can simply have the time of your life and enjoy every moment. After all, it's only one day and cannot be repeated.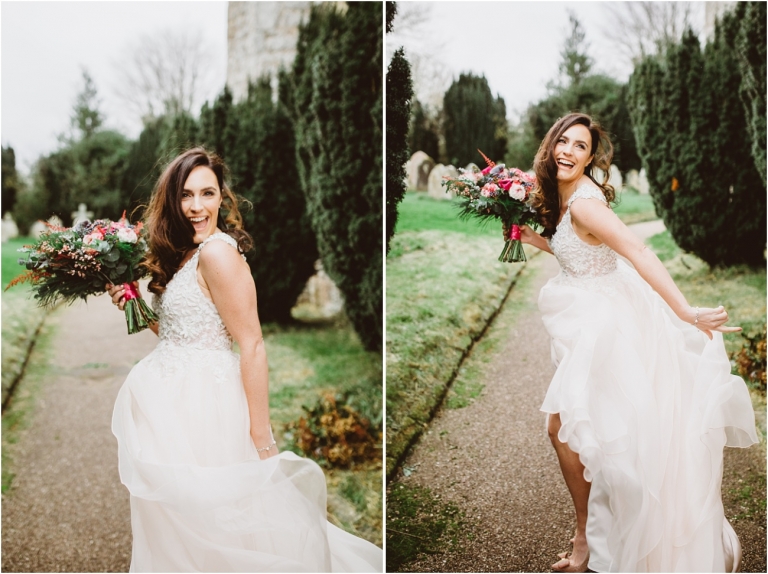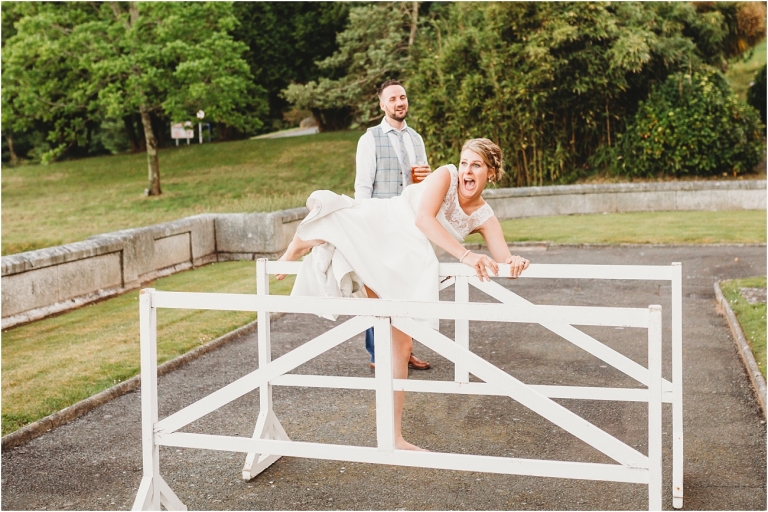 Most importantly, you should be yourself. This isn't a cliche; a documentary photographer like me will make the most of your personalities if you let them show. Try not to think too much about what other weddings are like – and what photos you might expect to see. Think about what is actually important to you and what want your wedding to be and embrace it; a documentary photographer will capture that and the images will celebrate both you and your wedding's individuality.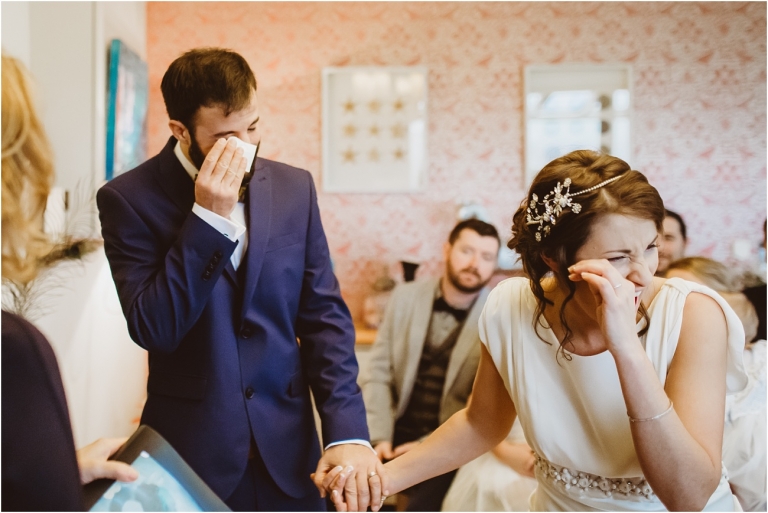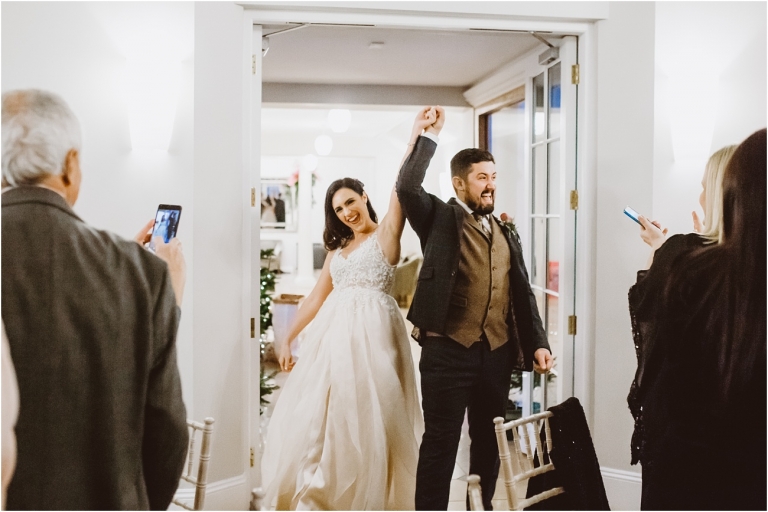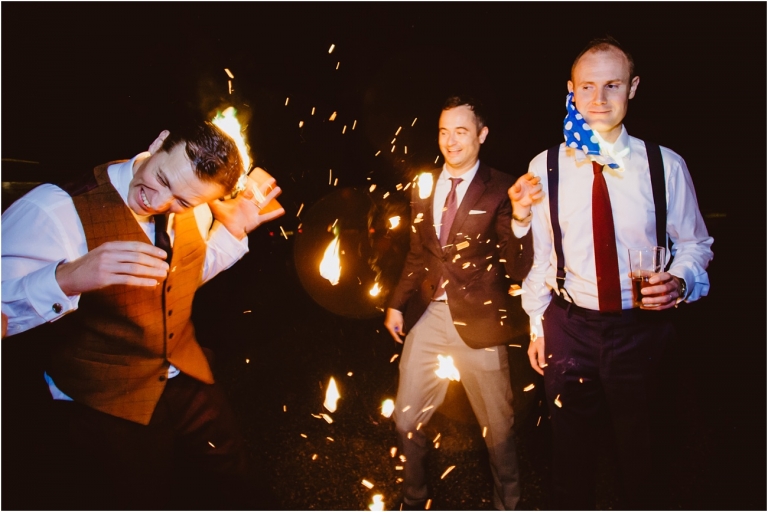 So how do you get the best out of a documentary photographer like me? Well, just relax, enjoy and live your wedding. Spend the best day with the best person in your life. You'll then have the most amazing photographs to cherish for the rest of your lives together.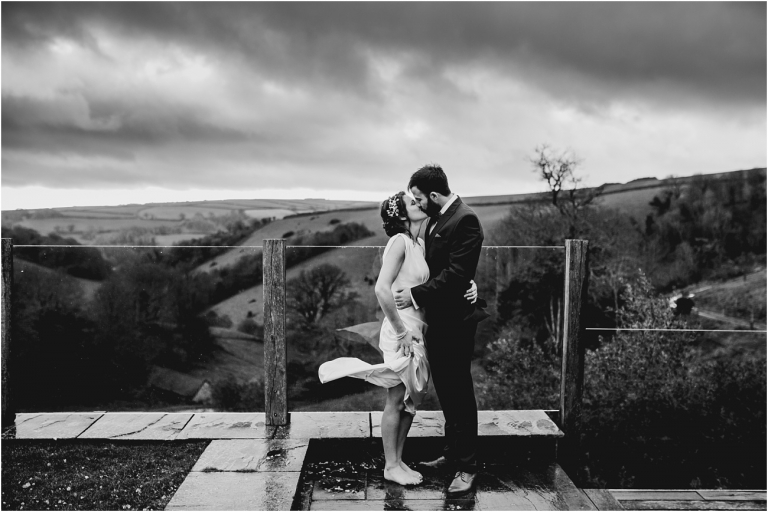 Liz and Terry wanted their wedding to be relaxed, informal and fun. The tone was set when Terry danced down the aisle to The Proclaimers' Five Hundred Miles with his best man by way of an entrance. The ceremony and vows were evidently heartfelt, yet relaxed and joyous. After the ceremony, Terry danced down the aisle again, only this time with his new wife! They both love dancing and it was lovely that they could infuse their wedding with this passion, as well as their love of fun and of one another.
The ceremony and reception were both elegant and simple. Crisp green foliage was used throughout and looked fantastic against the white table linens and white orchids. The weather on the day was actually quite stormy and it even hailed at one point, yet the simplicity of the green and white colours kept everything bright, summery and brilliant. We did get lucky and the sun shone exactly when we needed it to, allowing us to get some beautiful photos in the grounds of Bickley. It was a privilege to be Liz and Terry's wedding photographer and share this day with them!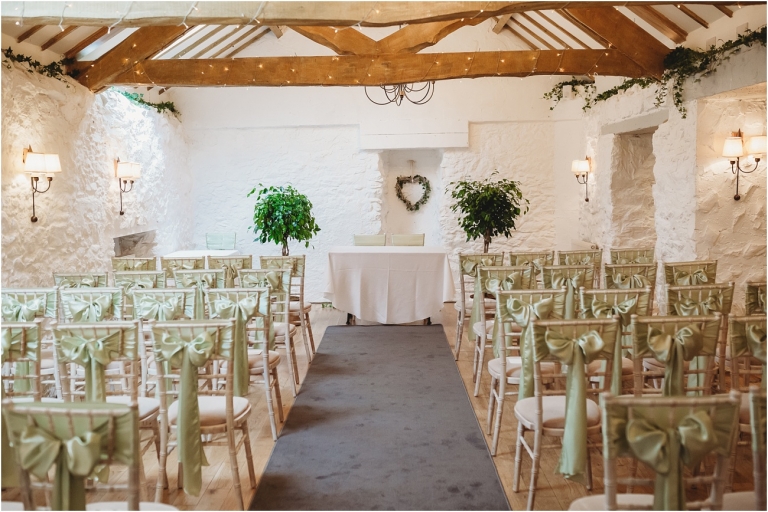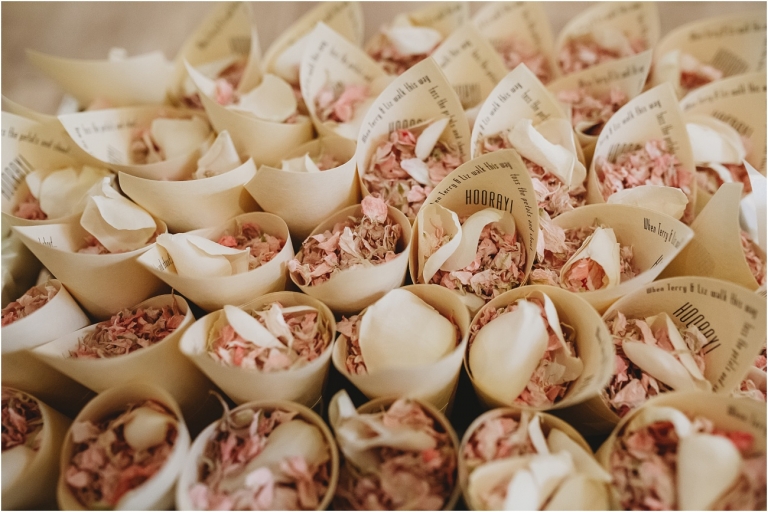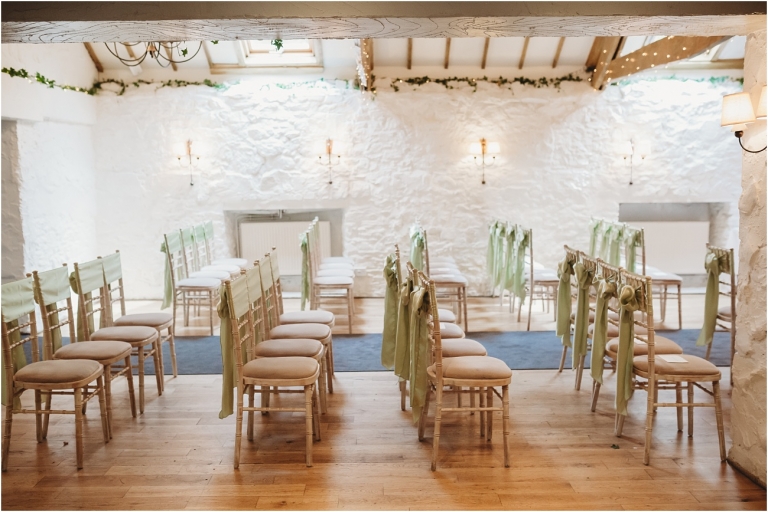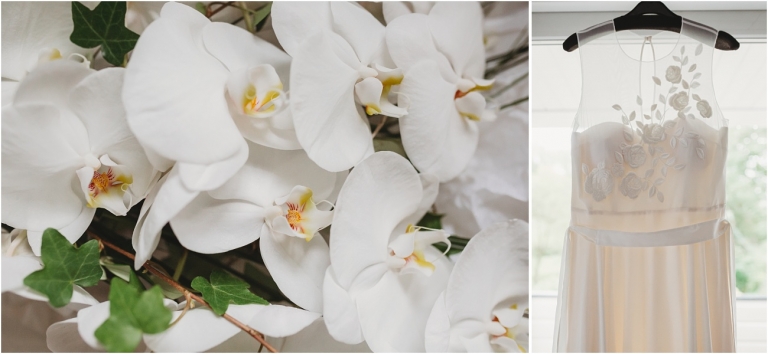 The men's suits were Boss, as were the Terry and his best man's ties. Liz and Terry decked their sons in green silk ties to match the superb verdant colour scheme.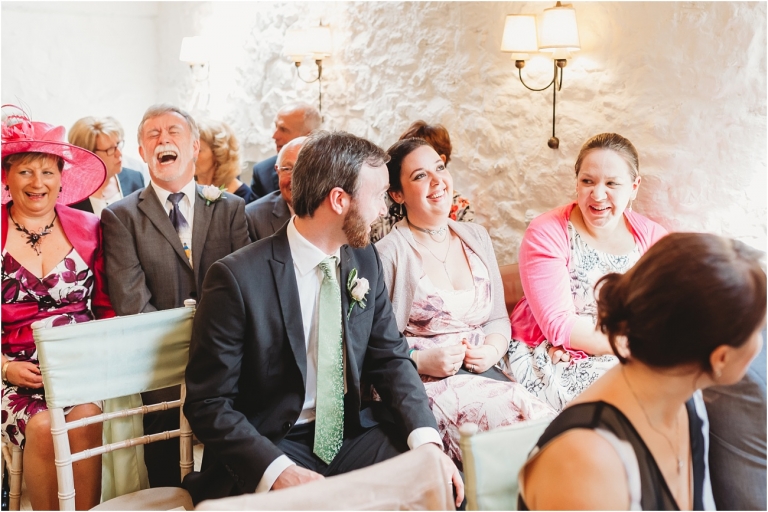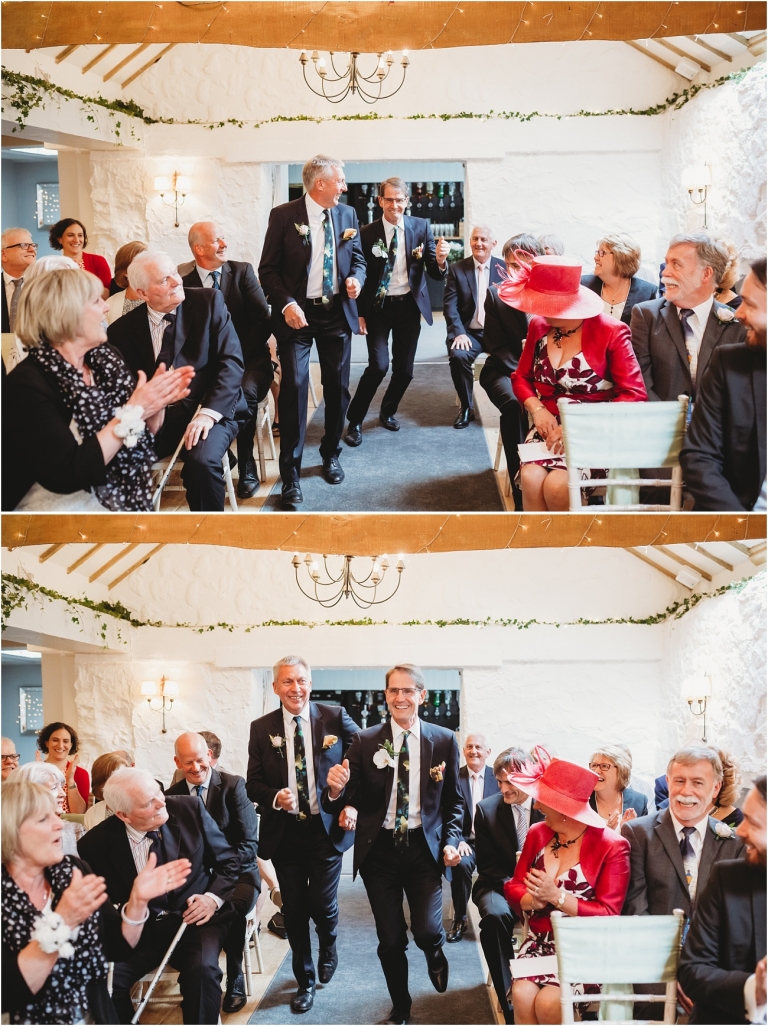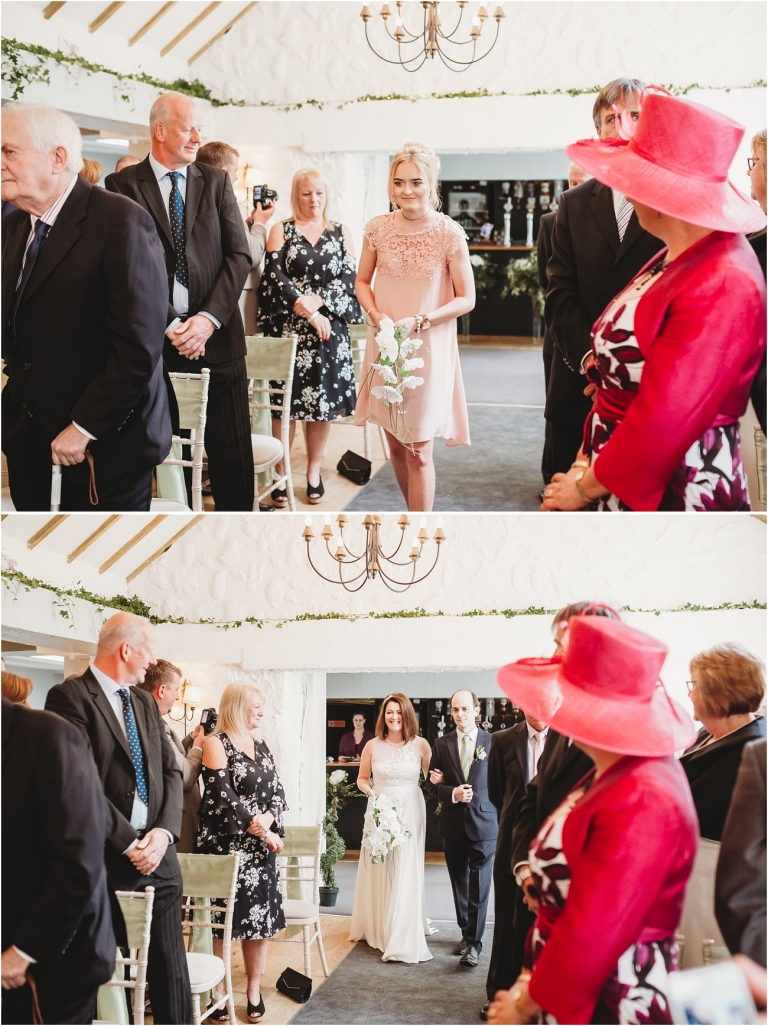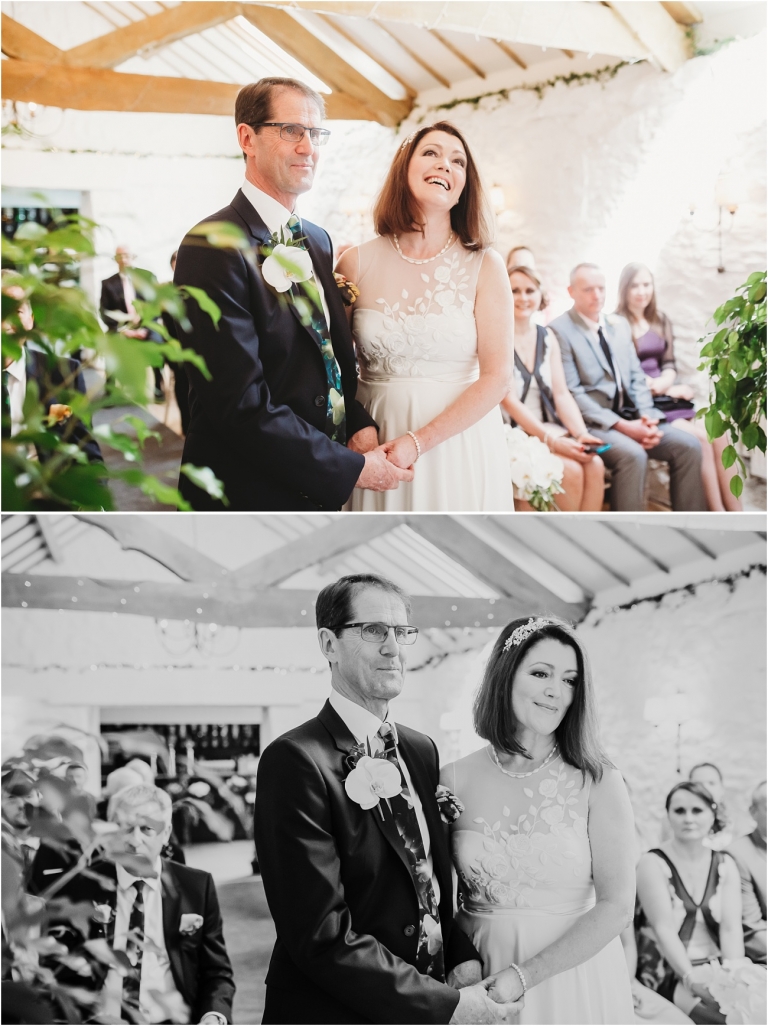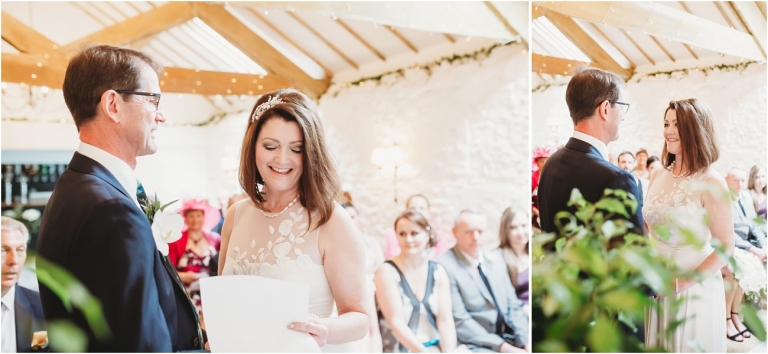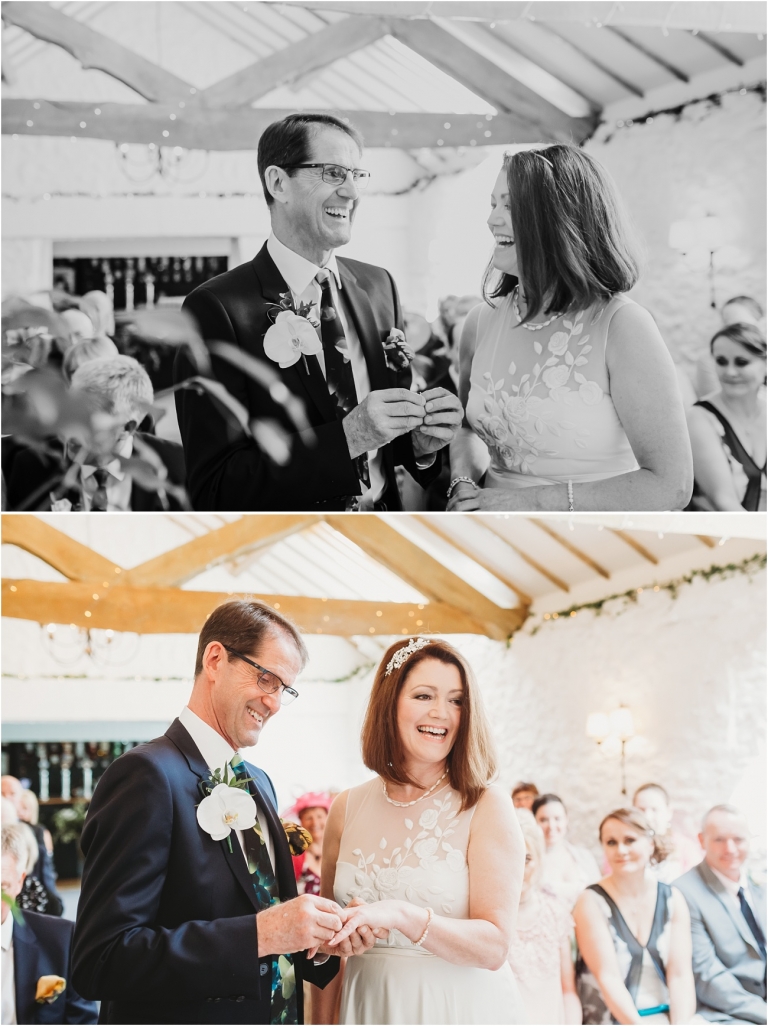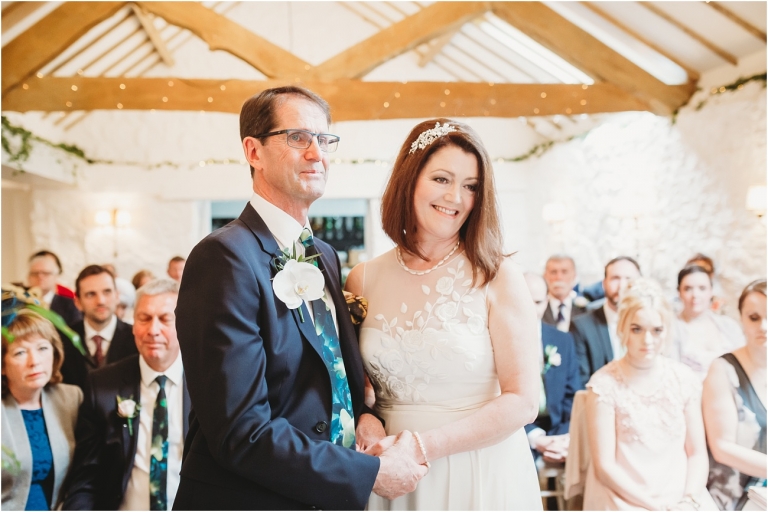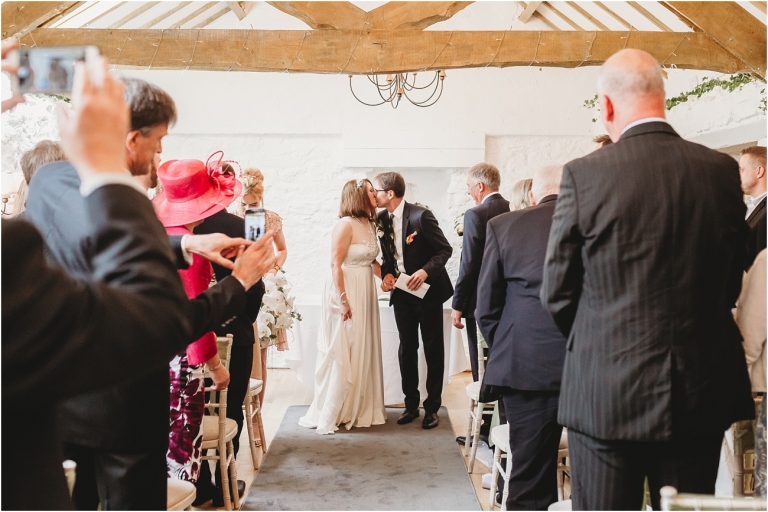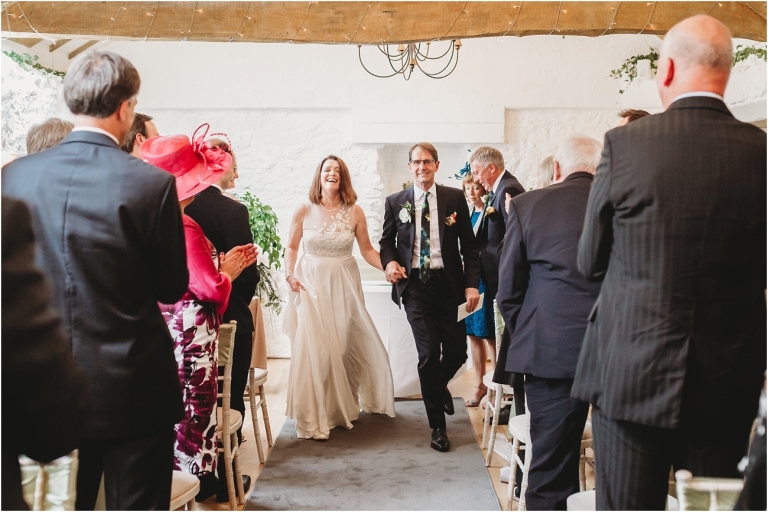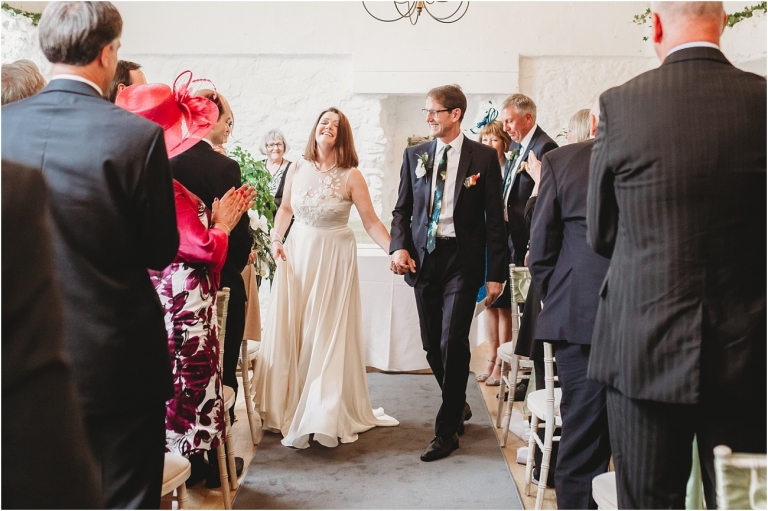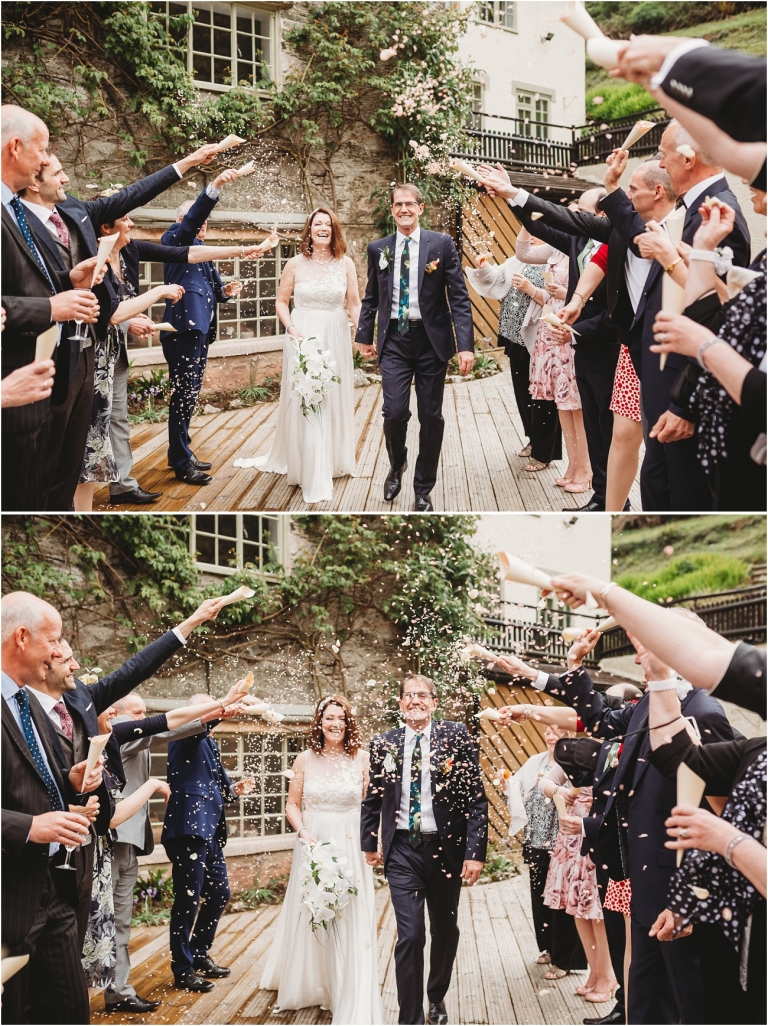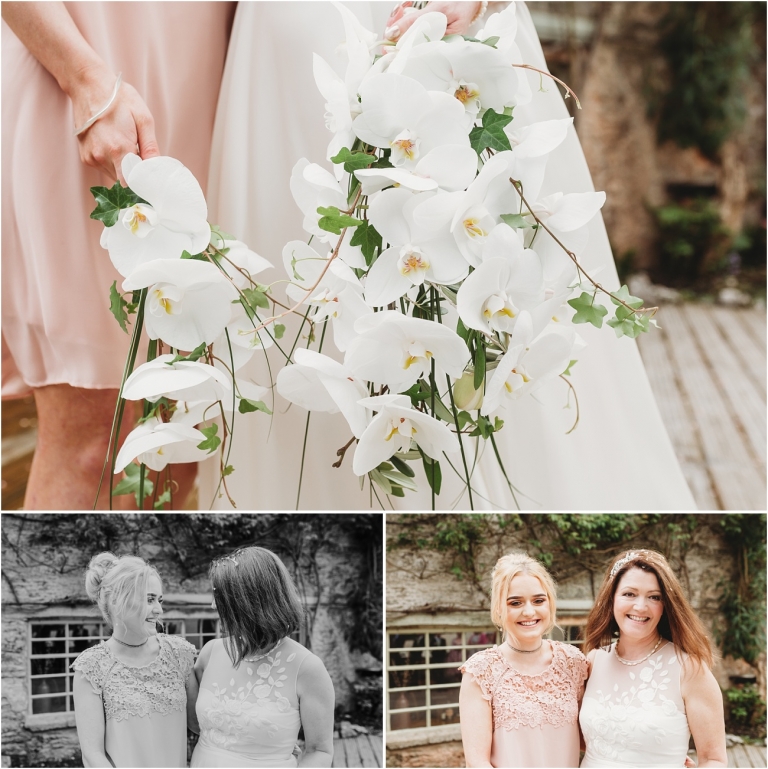 I love Liz's Phase Eight dress, it went so well with the day, simple and elegant! Liz's hair was styled by Roma in Torquay. She said that she wanted to keep her usual style and I think she made a great decision because she looked gorgeous. Her makeup was done by her niece Ellie Cowley, who was also a bridesmaid. Liz said that she wanted to look recognisable so as not to scare Terry on the day… suffice to say that he was anything but!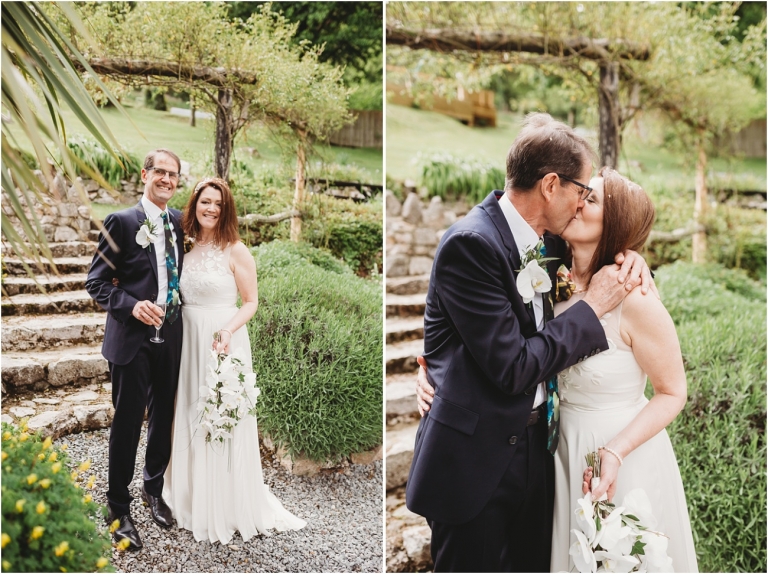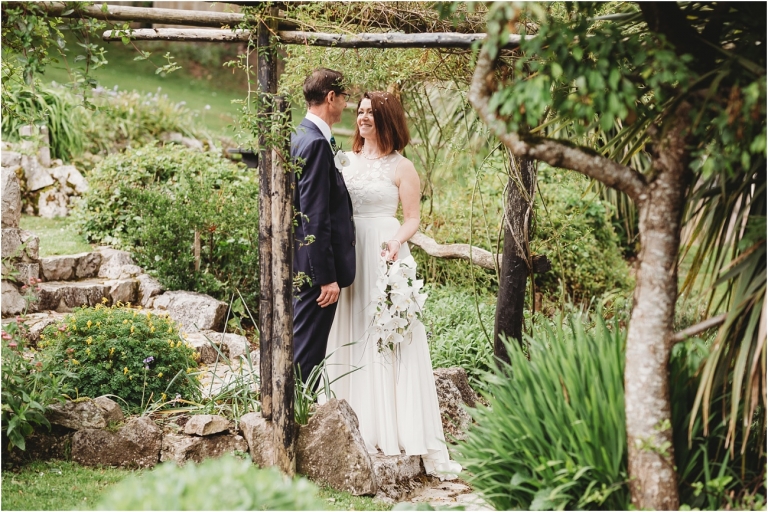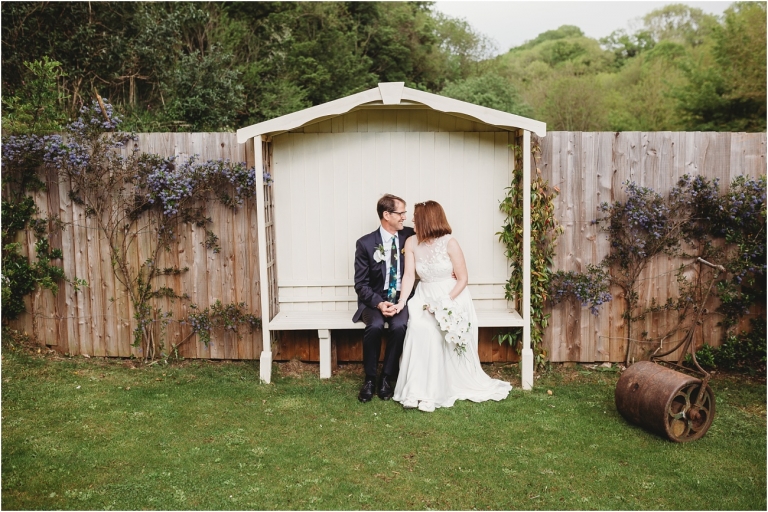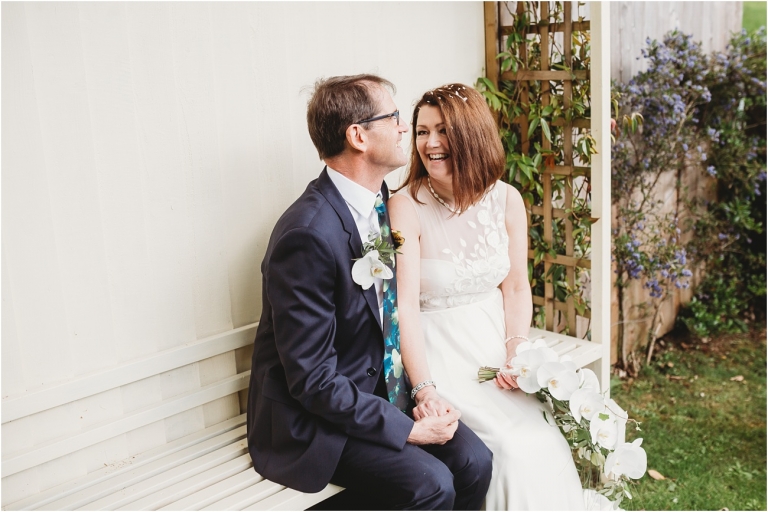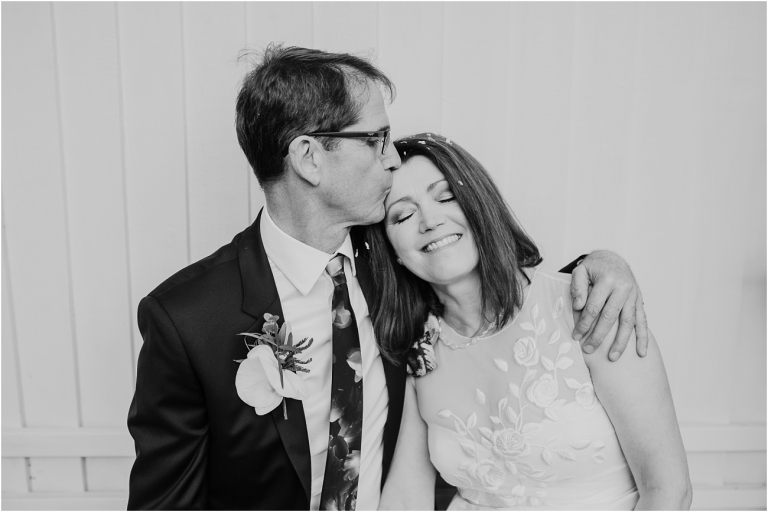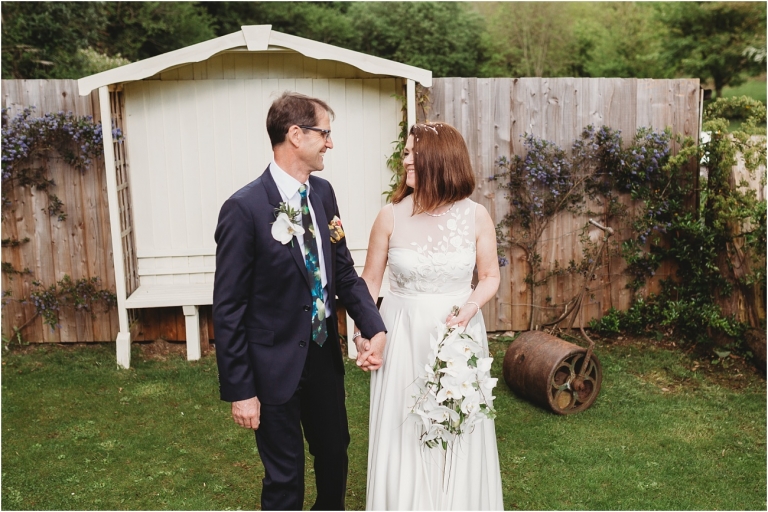 Liz designed all the stationary herself using Vistaprint. The table names and cards were inspired by Liz and Terry's mutual love of Africa, and the photos were their own. Their daughter in law Alex is a talented artist, so she edited the images to create a very tonal look, which went with the elegant look of the day.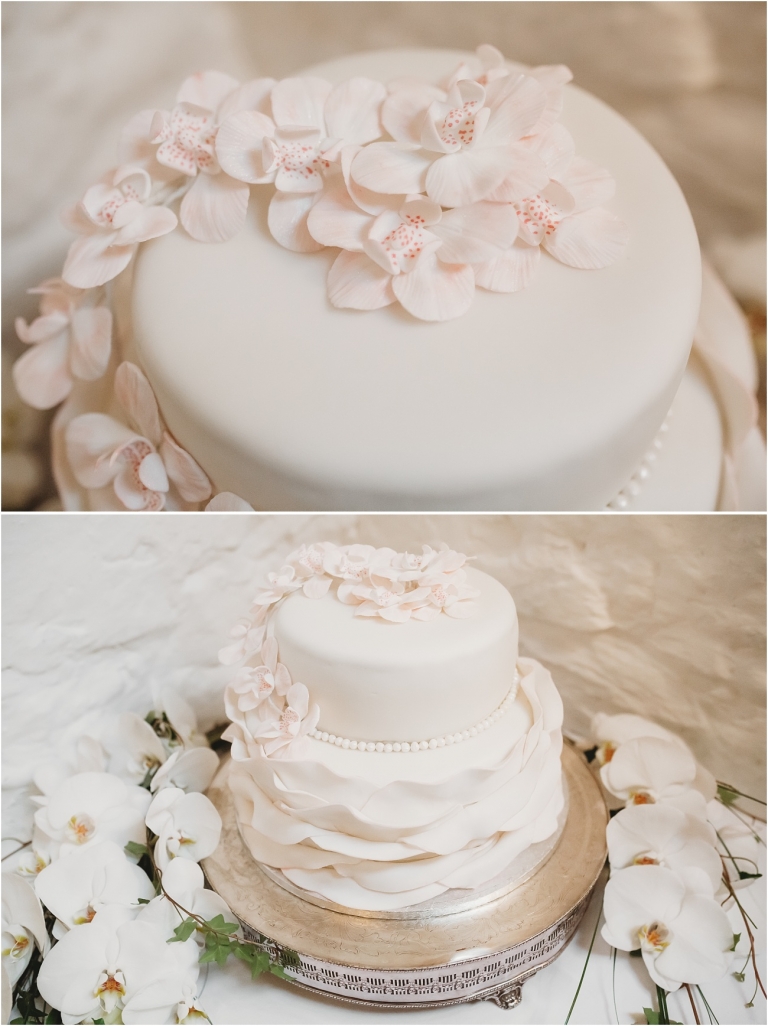 The cake was made by Liz's best friend Kate; a very talented cake decorator! Liz asked Kate if she could include orchids and ruffles in the design and the effect is absolutely stunning. The orchids look so real it's hard to believe they're sugar!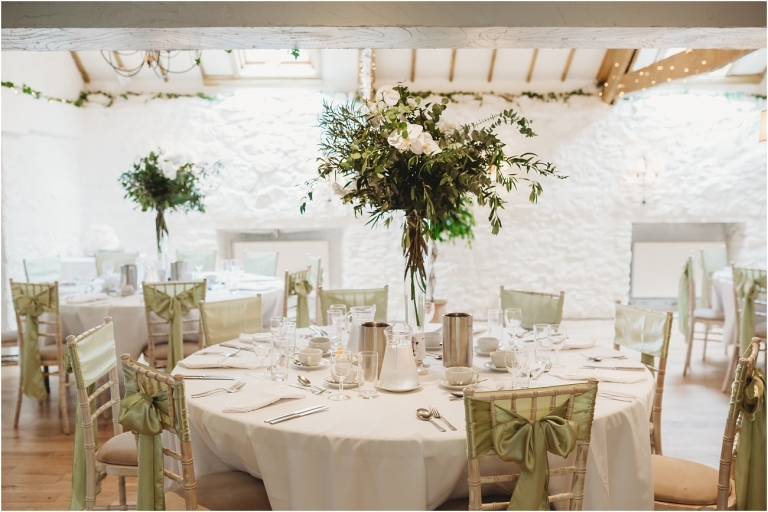 Liz and Terry hired lovely fresh linen napkins from
Total Event Hire
in Newton Abbot, as well as the cake stand and knife. This crisp, elegant and uncluttered look allowed the superb arrangements of olive and eucalyptus foliage to shine. The flowers were beautifully done by Louise of
Wild Floral Designs
 and included white orchids, which are Liz's favourite flower.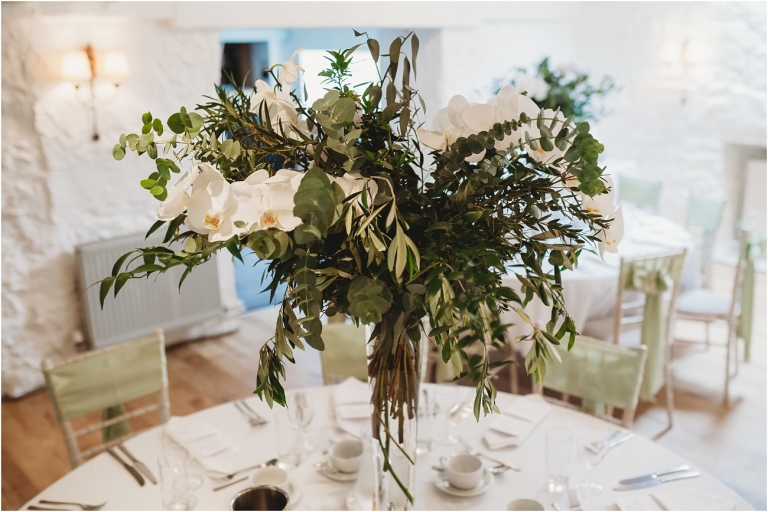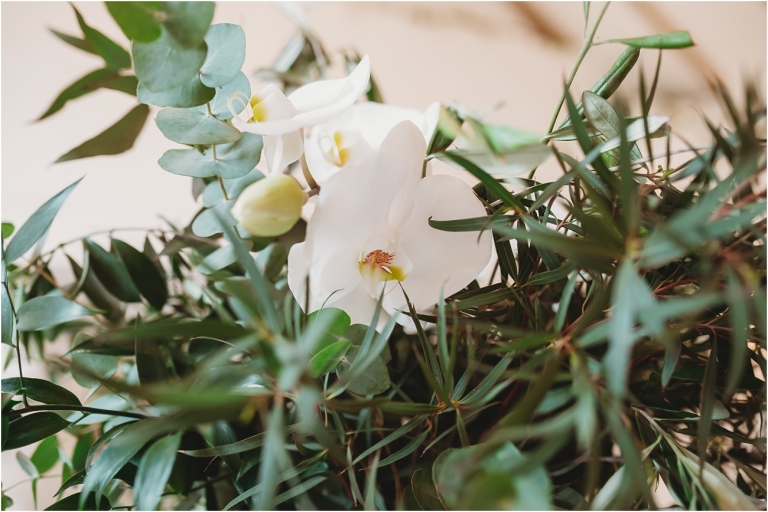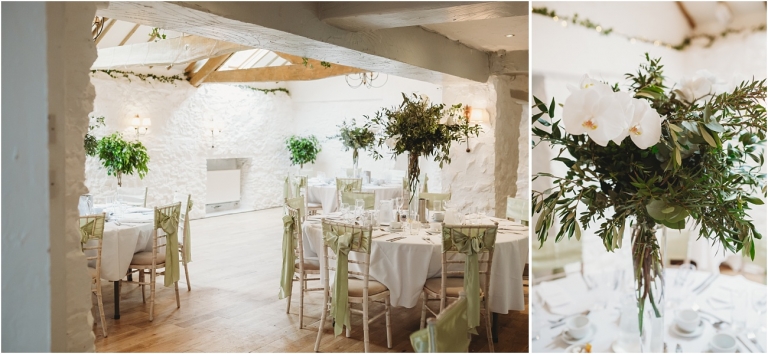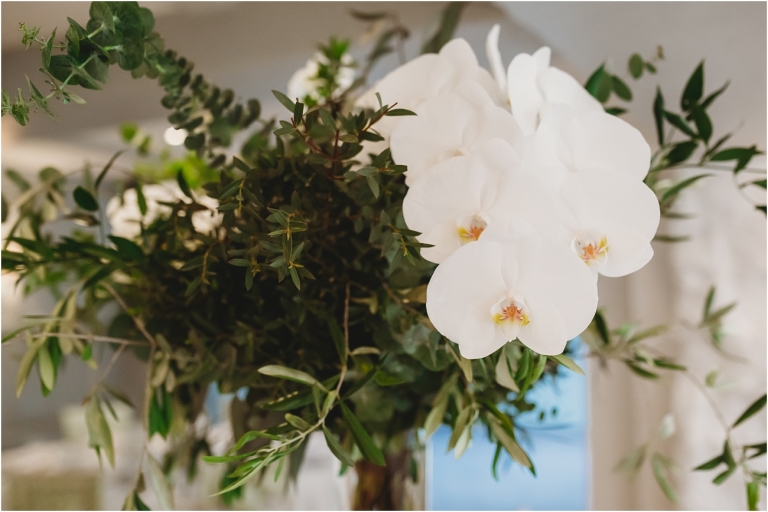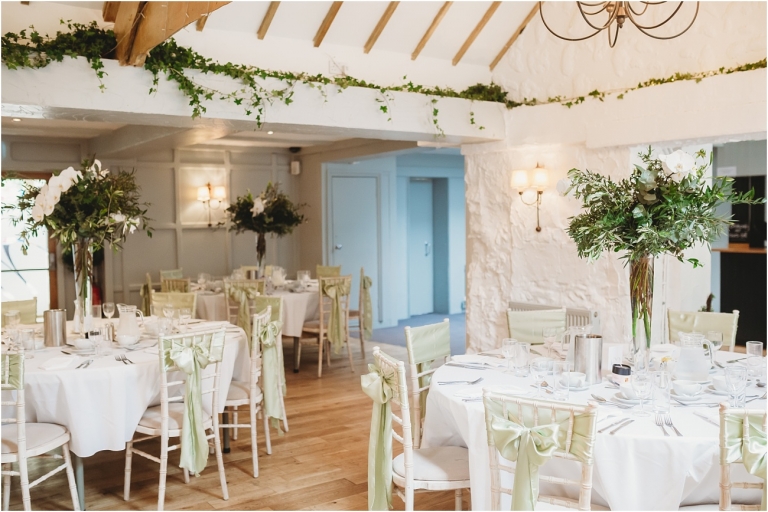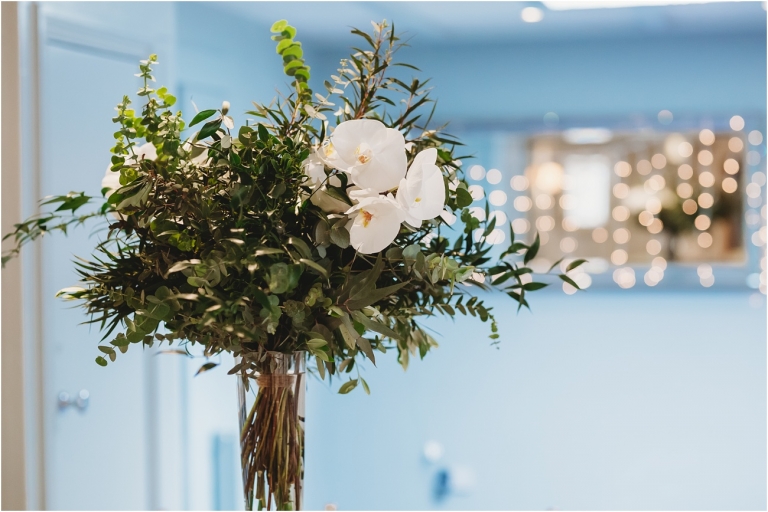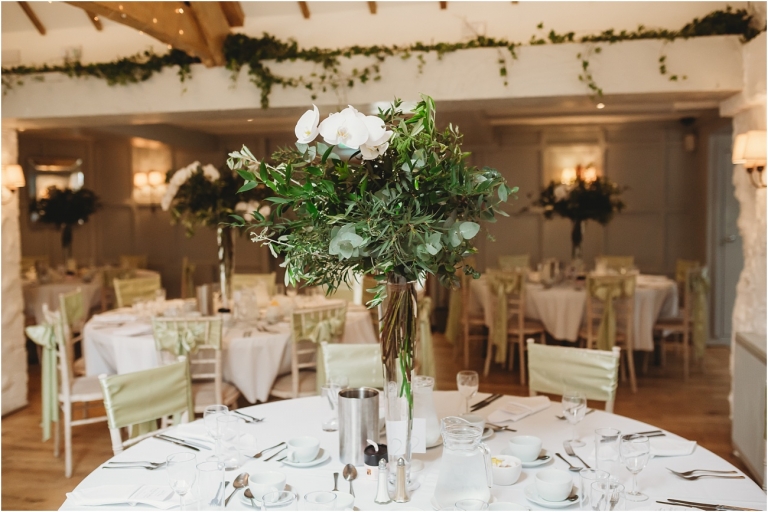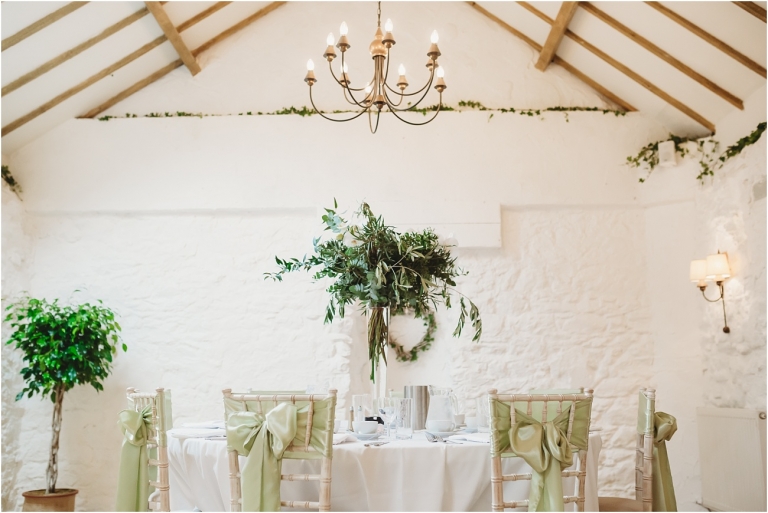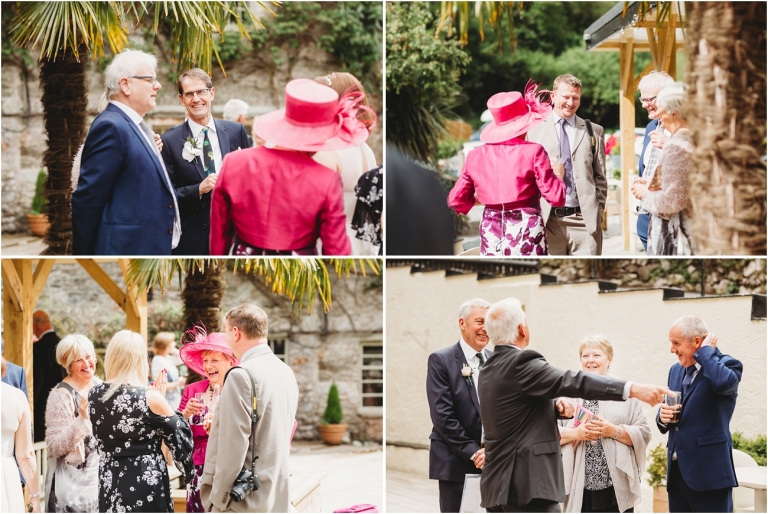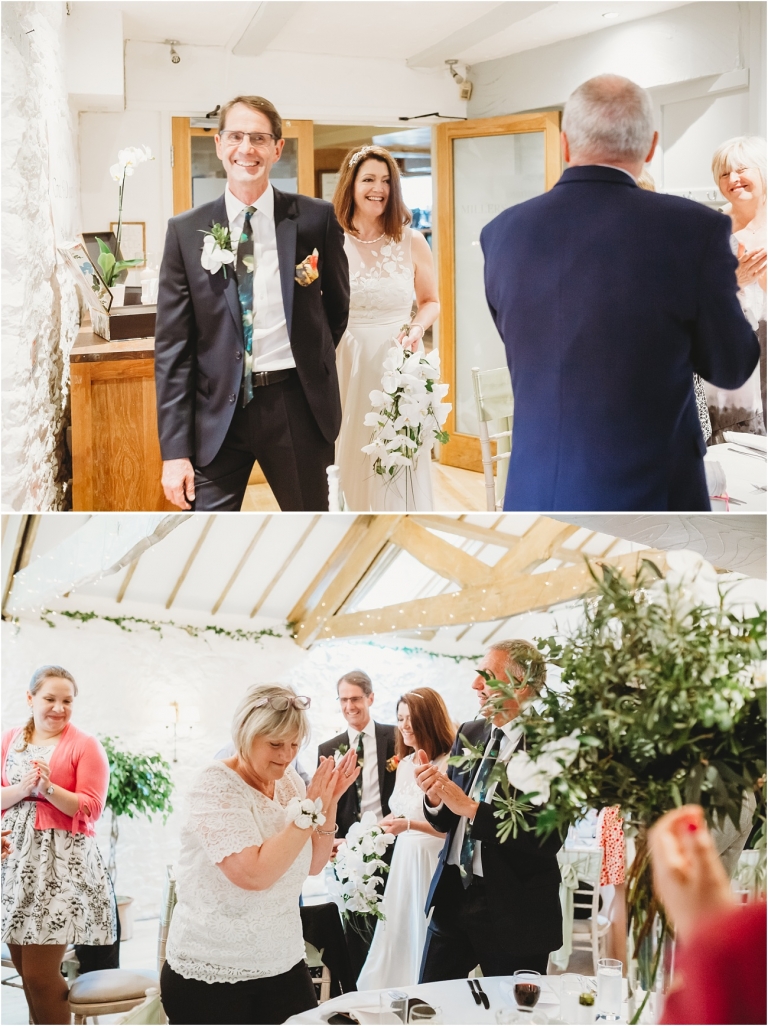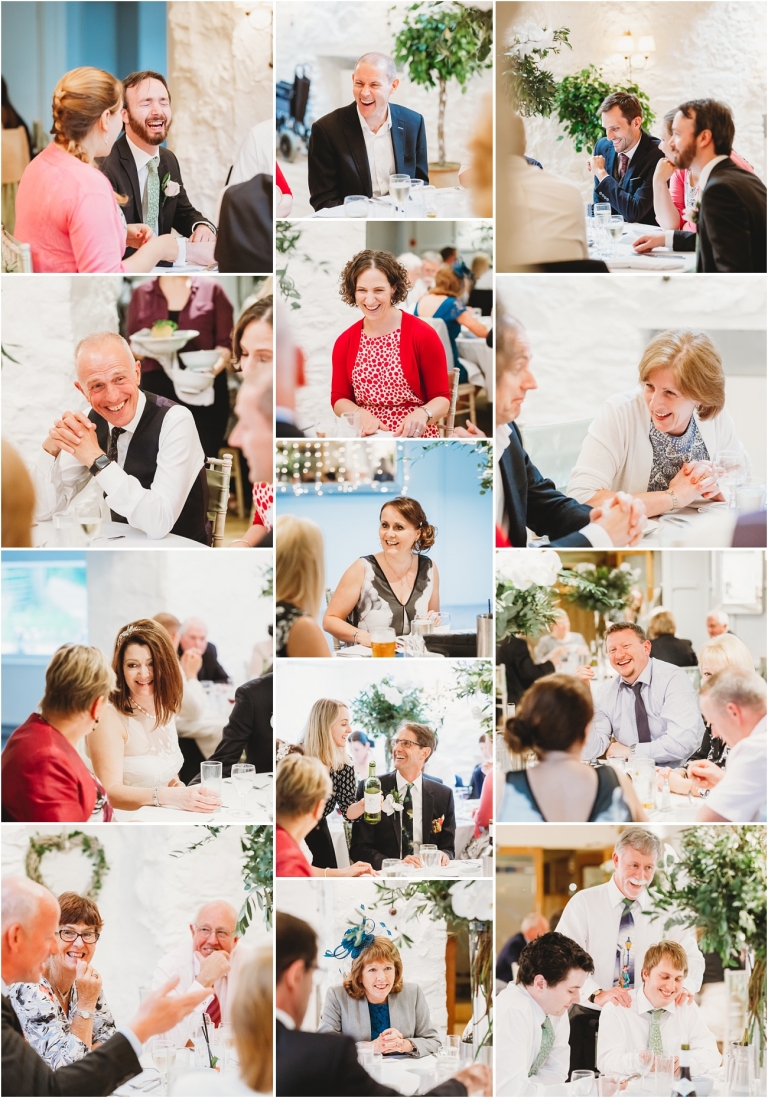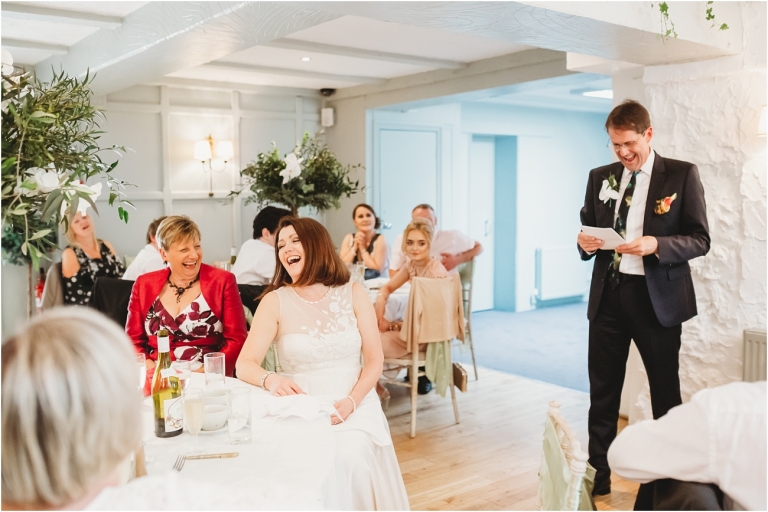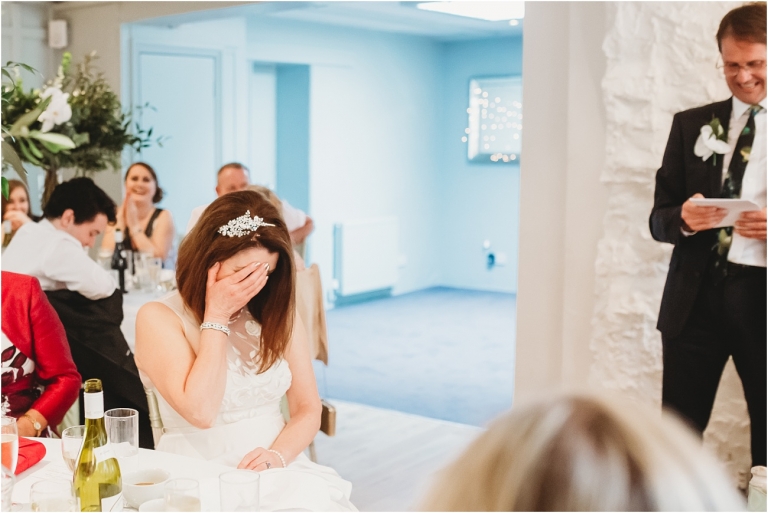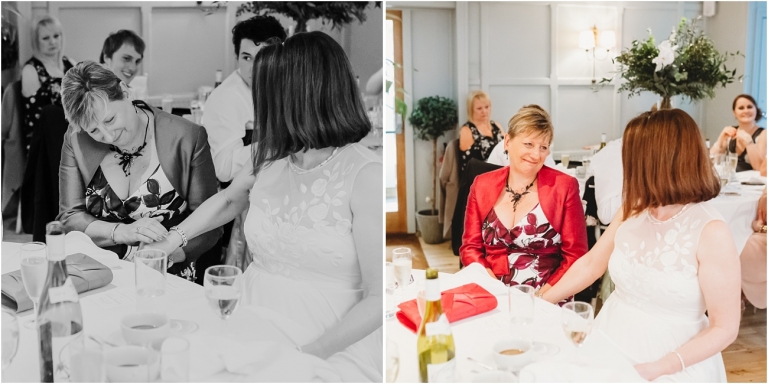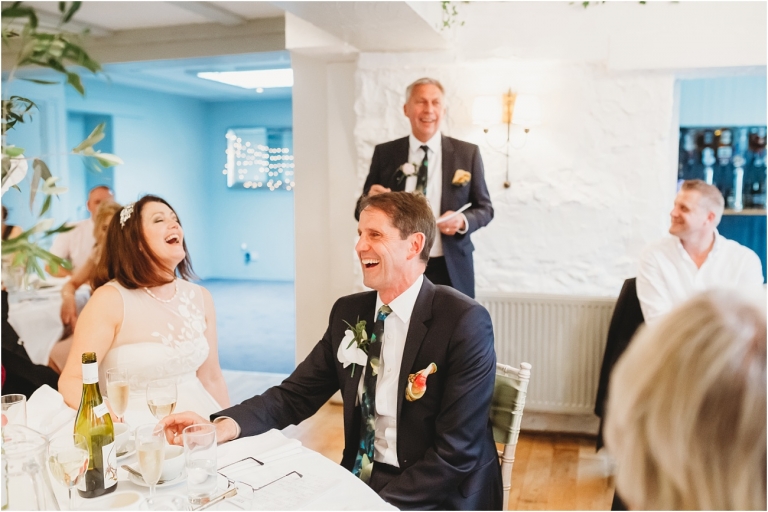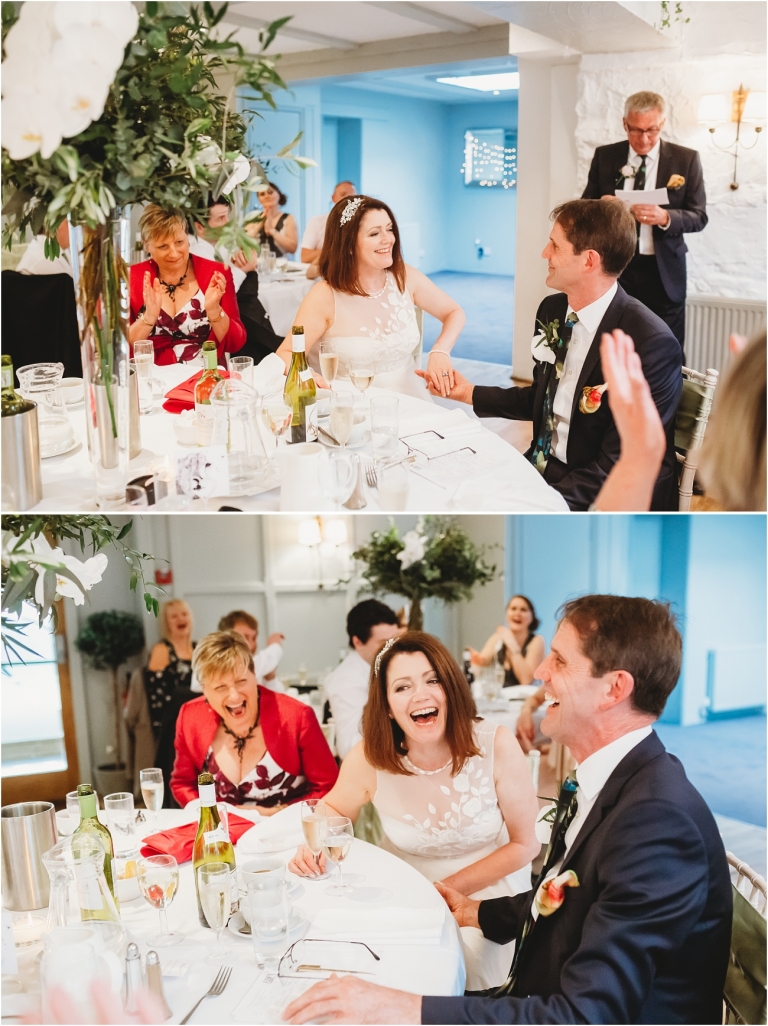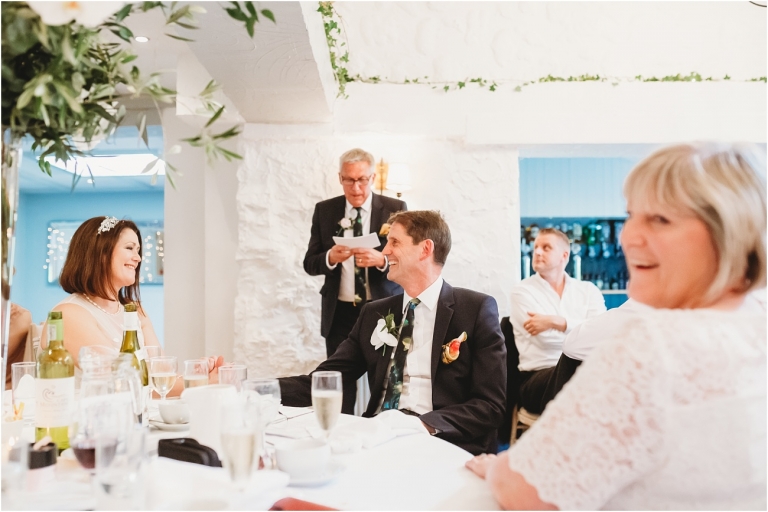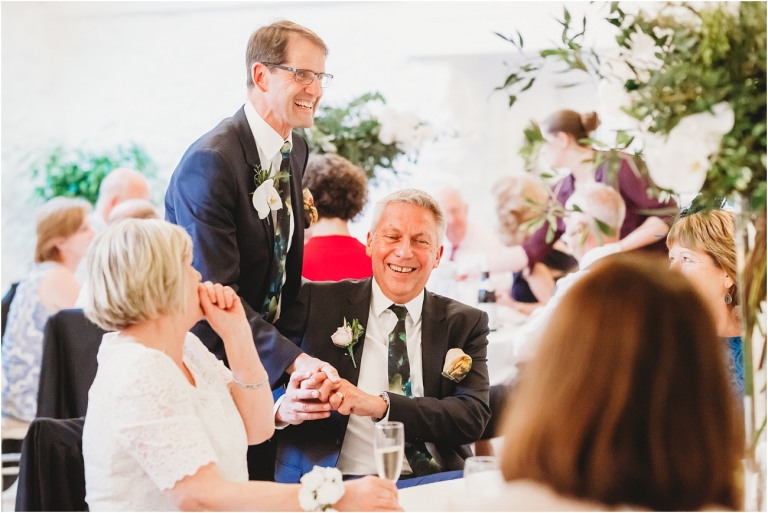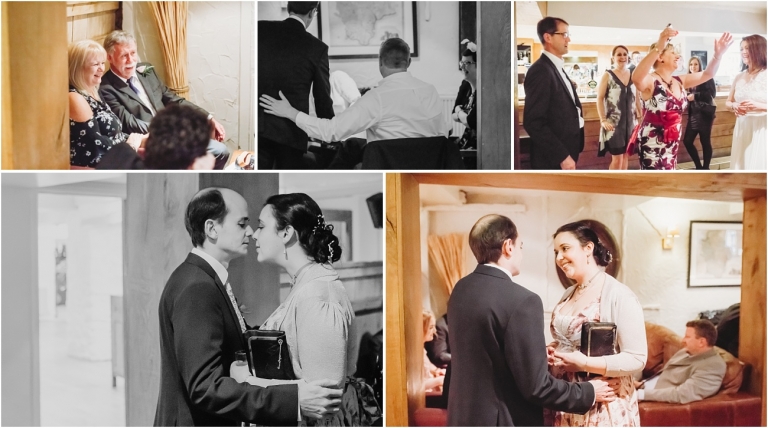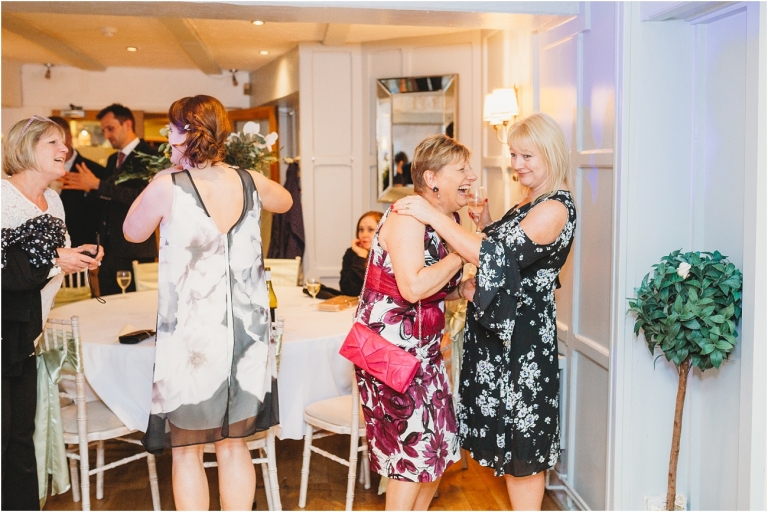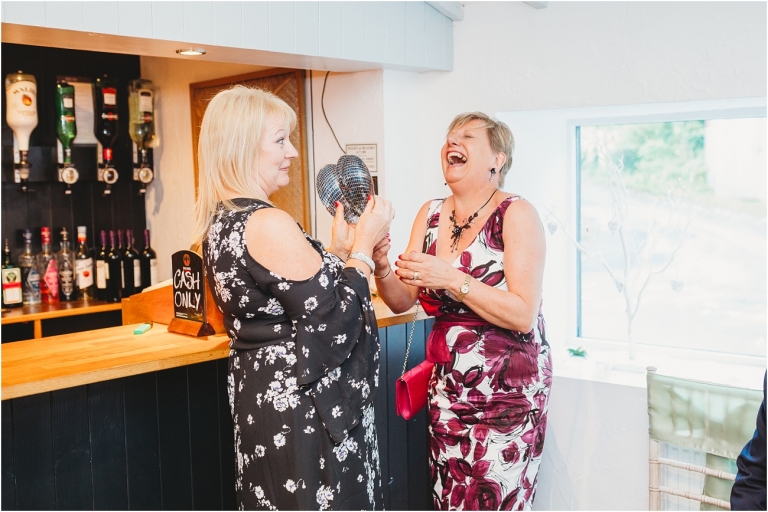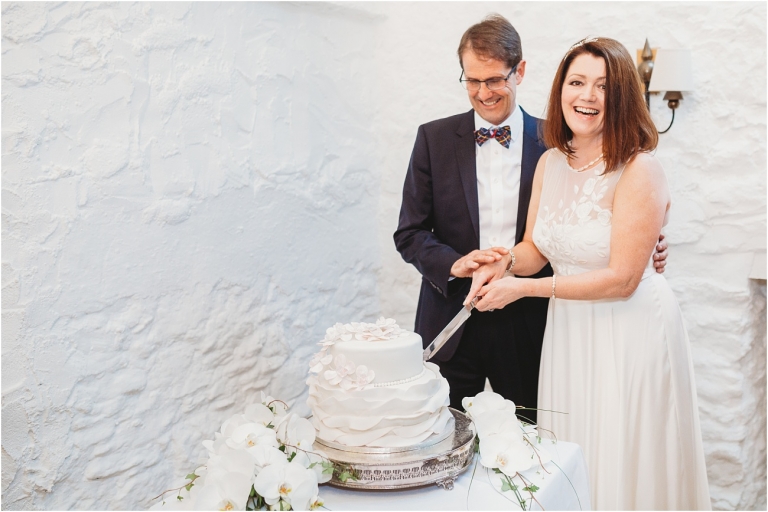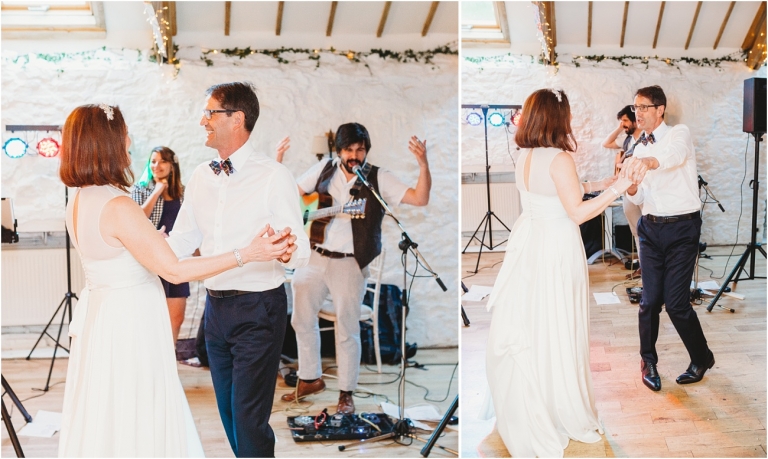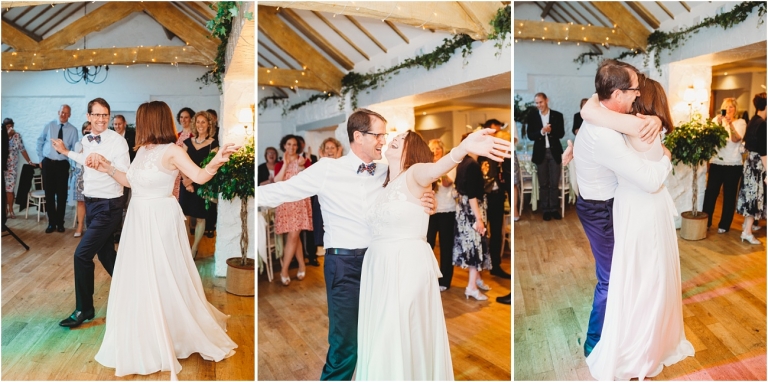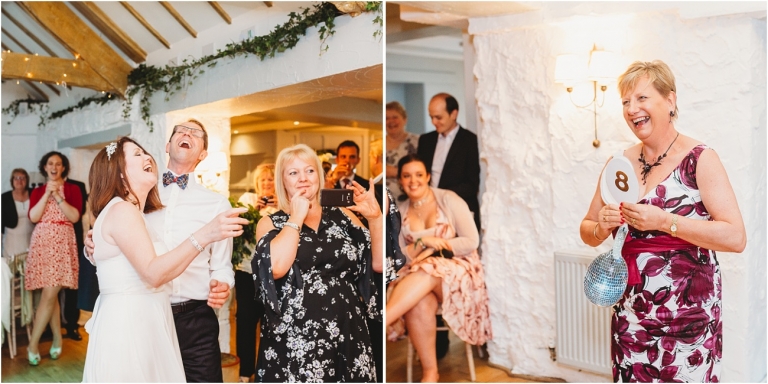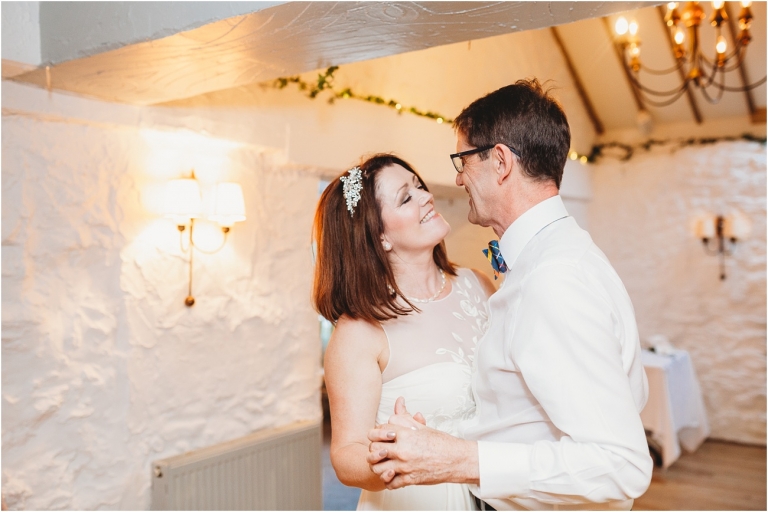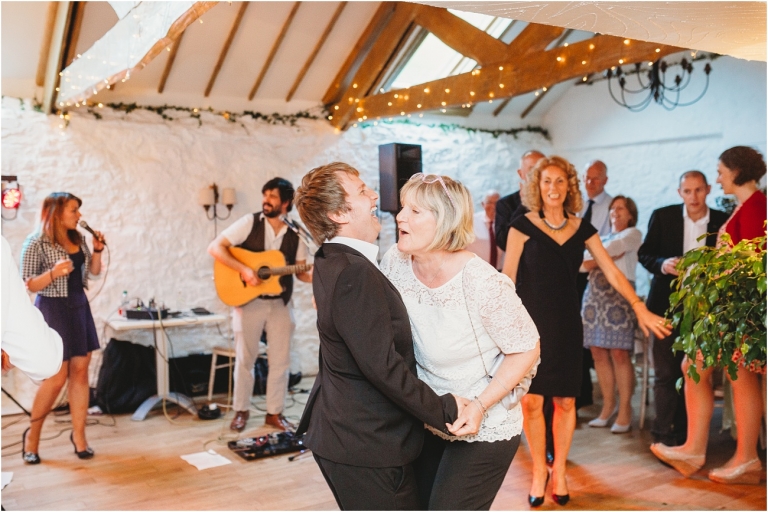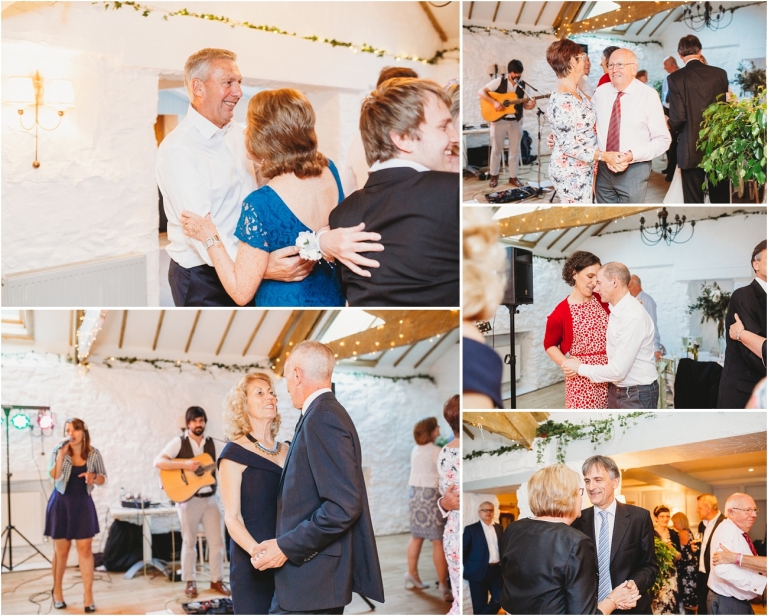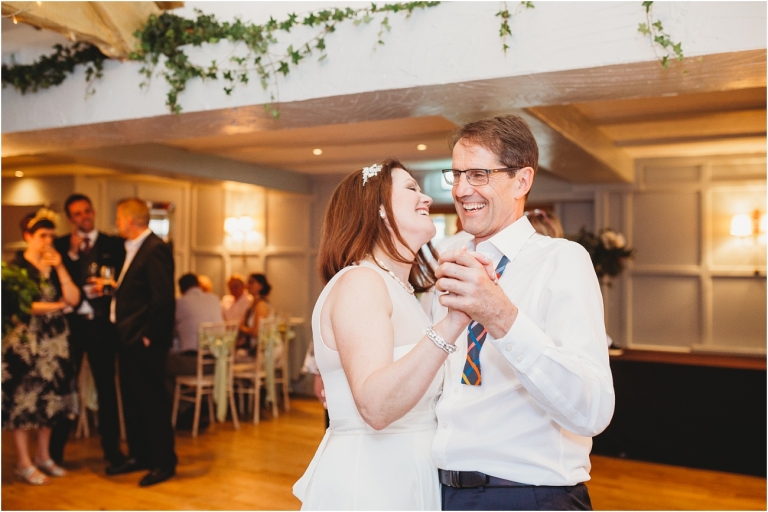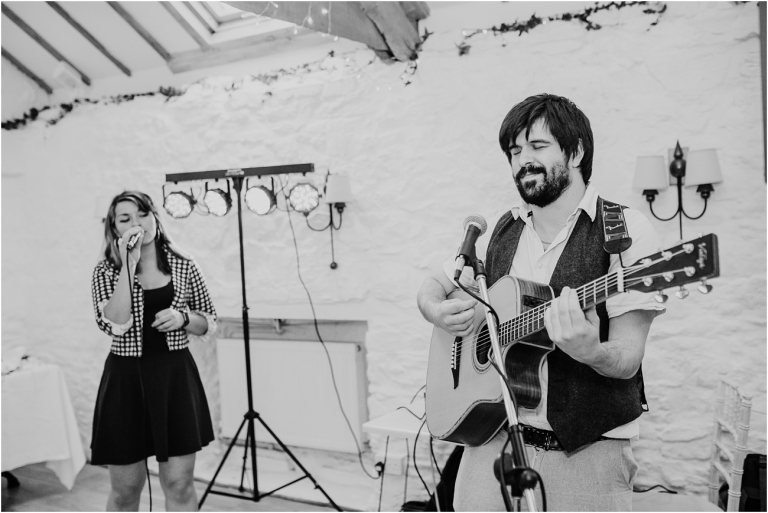 Liz and Terry found the excellent The Quartertones online at Entertainment Nation. Liz and Terry love dancing and the dance floor was certainly kept full by them.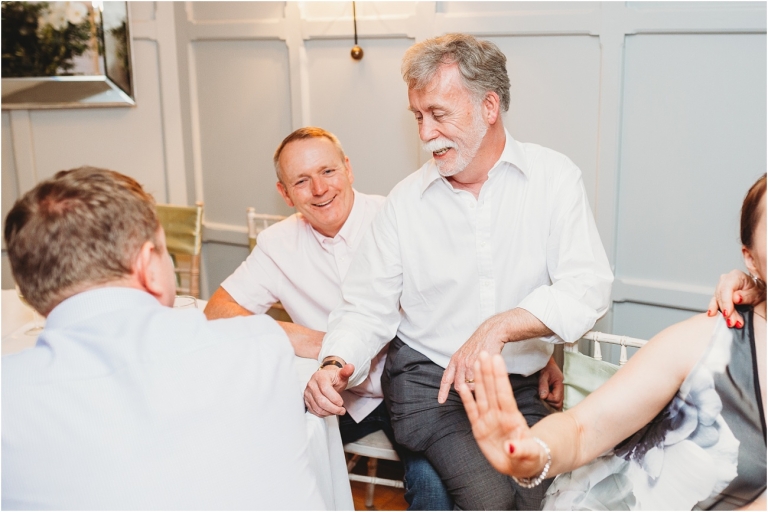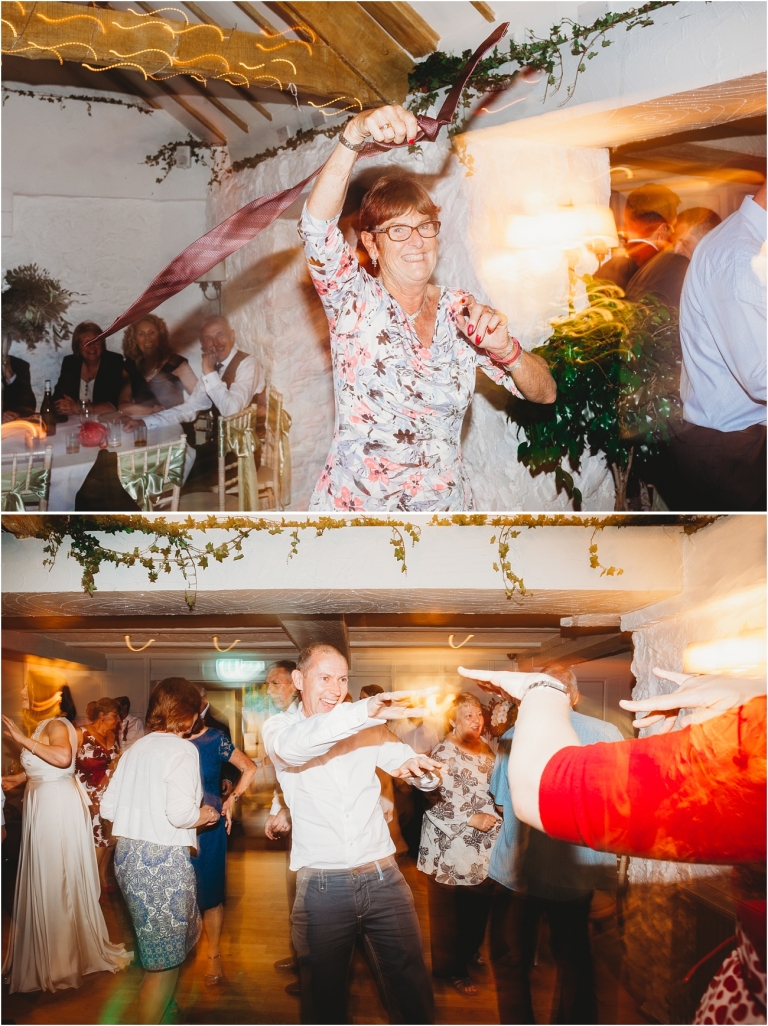 "Dear Holly, we loved your natural informal style and we've been delighted by our photos. It was a pleasure to have you at our wedding and you recorded so many special moments for us. It was lovely that you blended so seamlessly into the day and with our guests, we didn't notice many of the photos being taken and we think these are actually the best ones! We wanted to create a relaxed, informal, fun wedding and that is exactly what you captured on your photos. Thank you very much!"
If you are looking for a wedding photographer in Devon, then please get in touch!
Holly
I loved Lisa and Brett's wedding. They had a relaxed and fun approach to their special day, which I think always leads to the best photos of both the happy couple and their guests. Yet it was also a wedding of love and feeling, with both Lisa and Brett getting teary-eyed during the speeches. I think their 6-month-old son Ashley cried less than them!
The venue was Dartmouth Royal Naval College; a stunning building overlooking the town and waterfront with a beautiful onsite chapel for the ceremony. Dartmouth is my old home-town, so it was great shooting a wedding that contained some old faces (more about that below!) in a nostalgic, beautiful setting.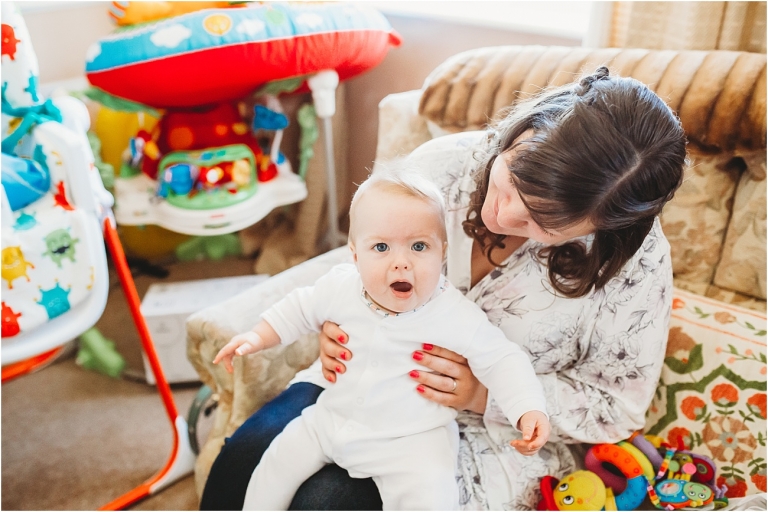 This was the first time that I met Ashley and oh, how cute is he? Lisa was pregnant with him at Jamie and Mark's wedding last year, so it was amazing to finally meet him, he absolutely loves the camera!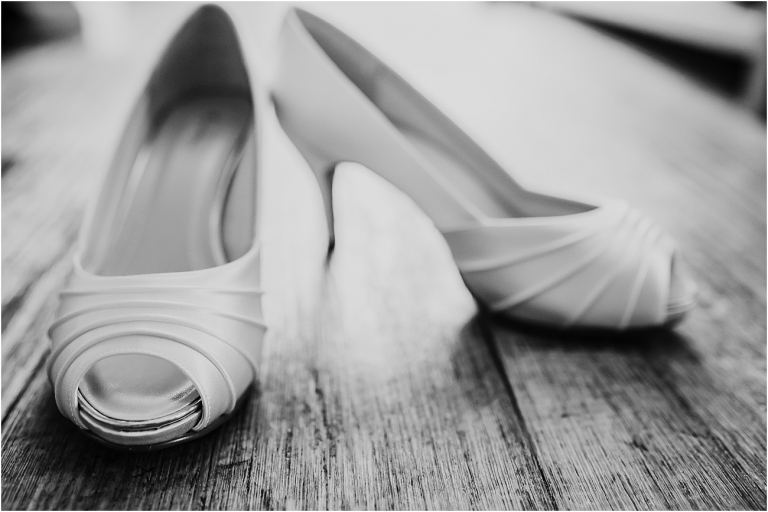 Lisa's stunning wedding dress and shoes are from The Bridal Box and the lovely blue bridesmaids dresses are from Asos.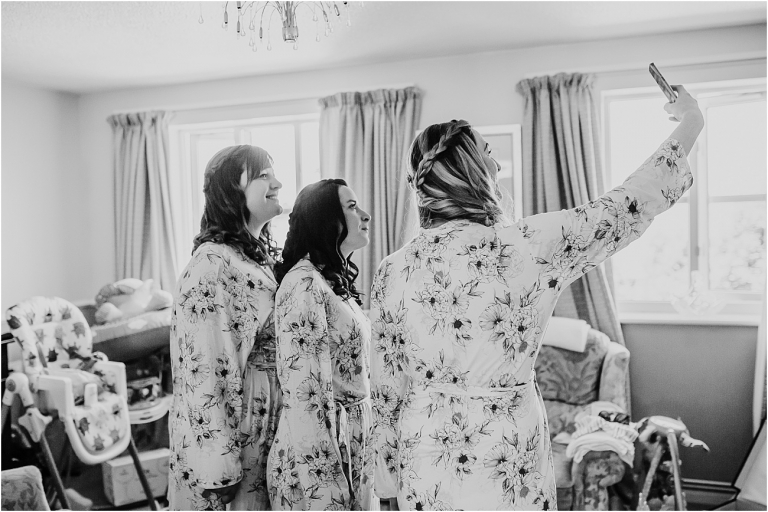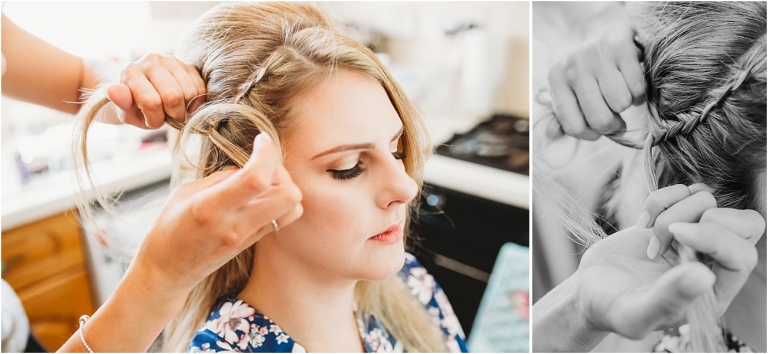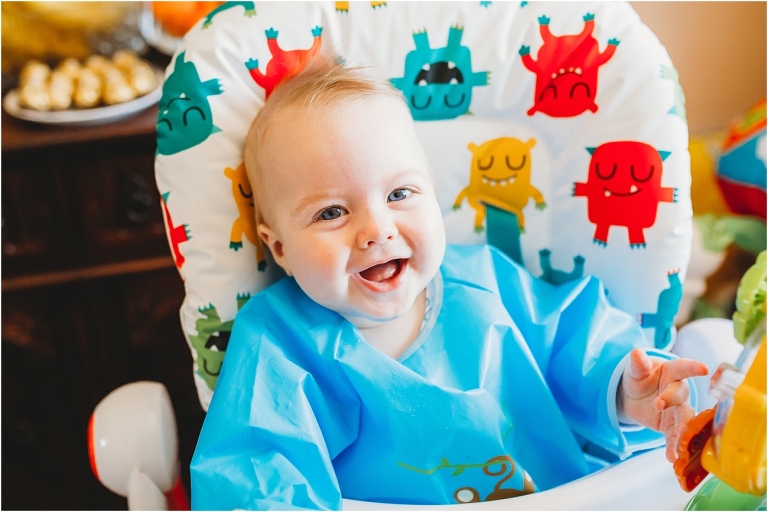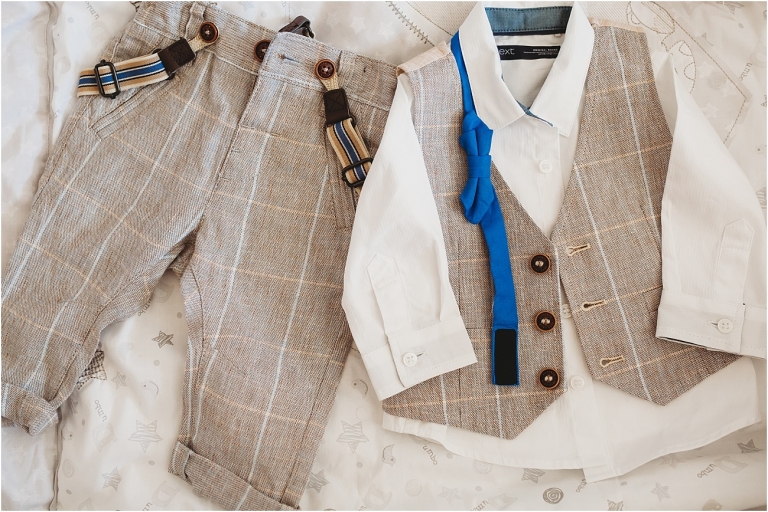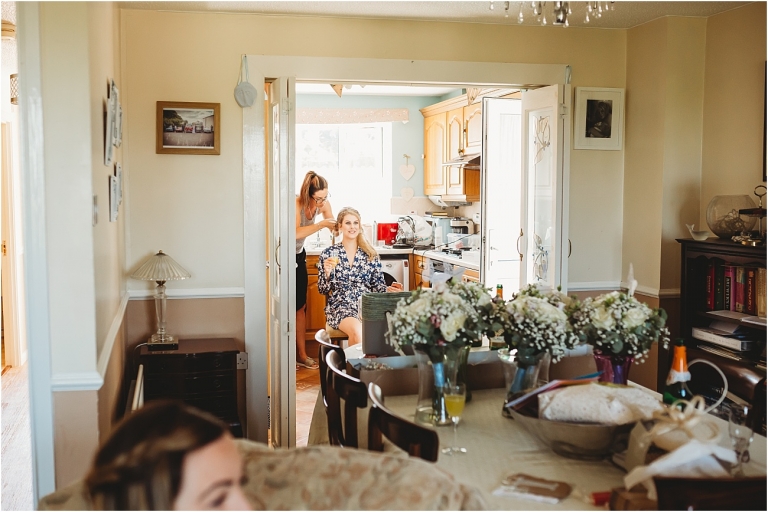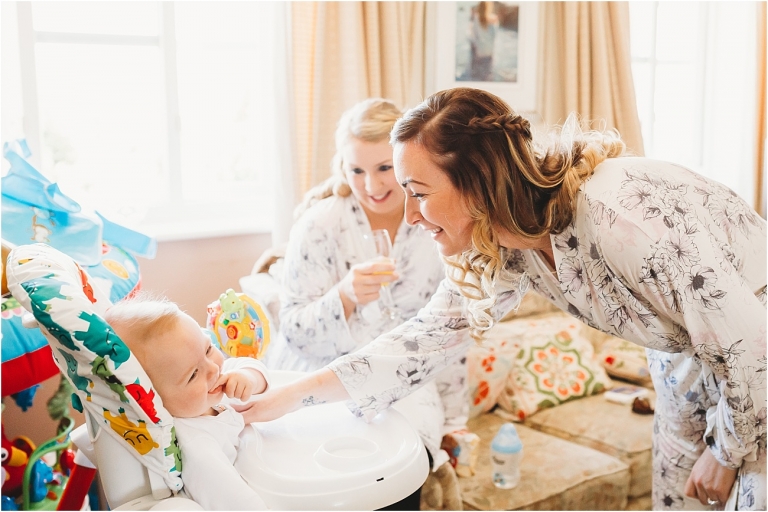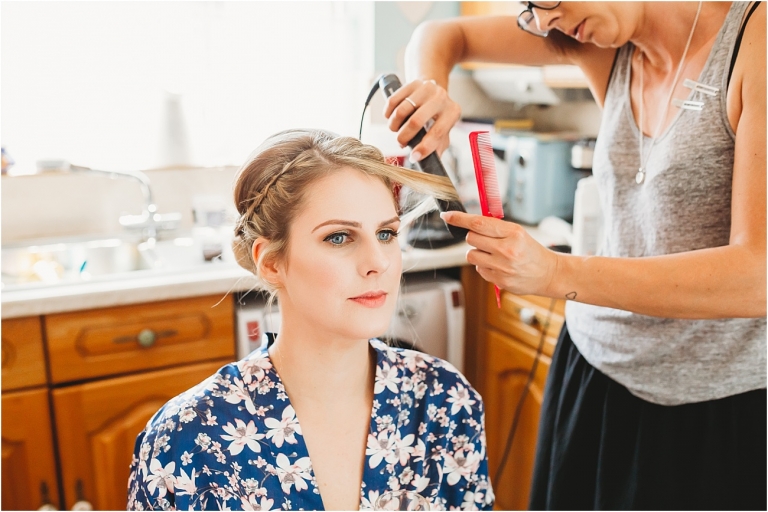 Lisa's hair was beautifully styled by her friend, Tilly Rogers.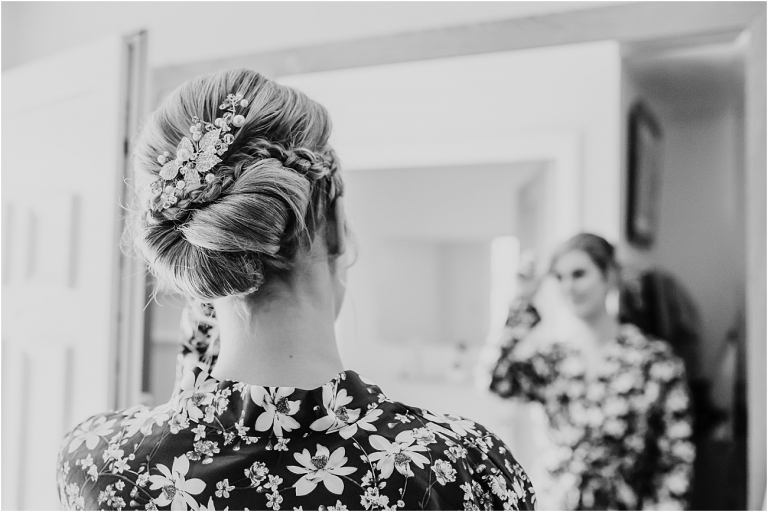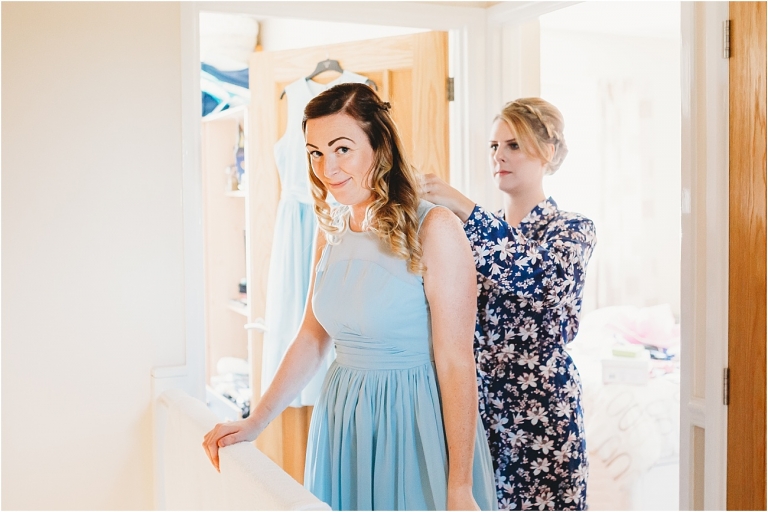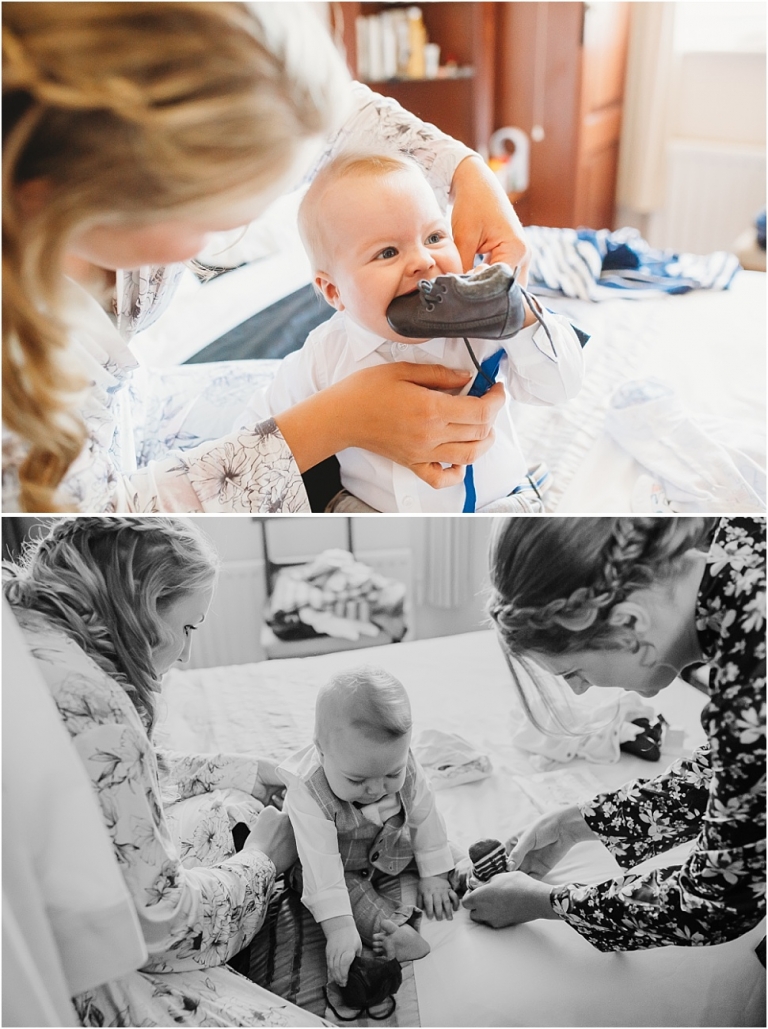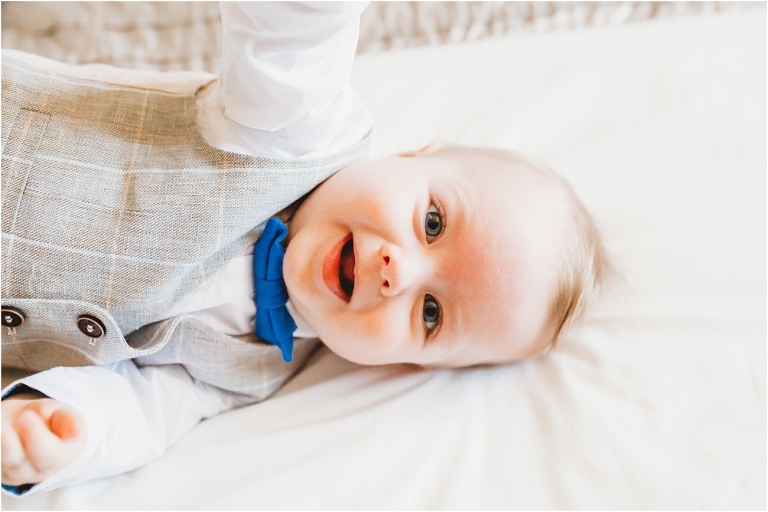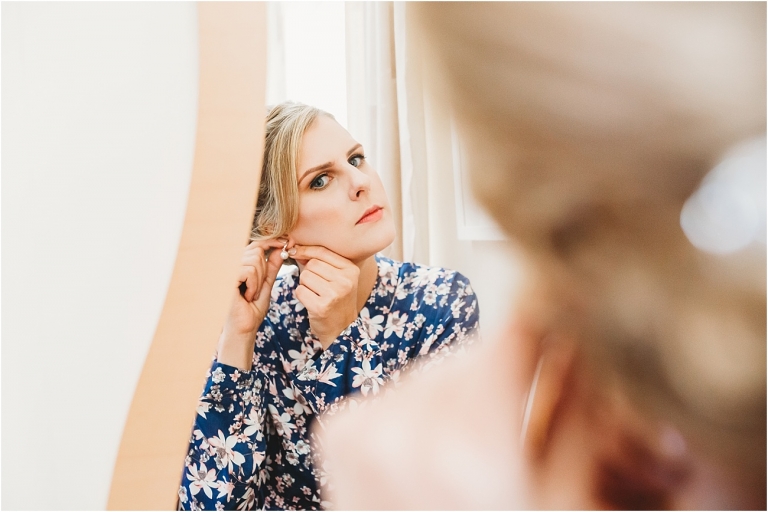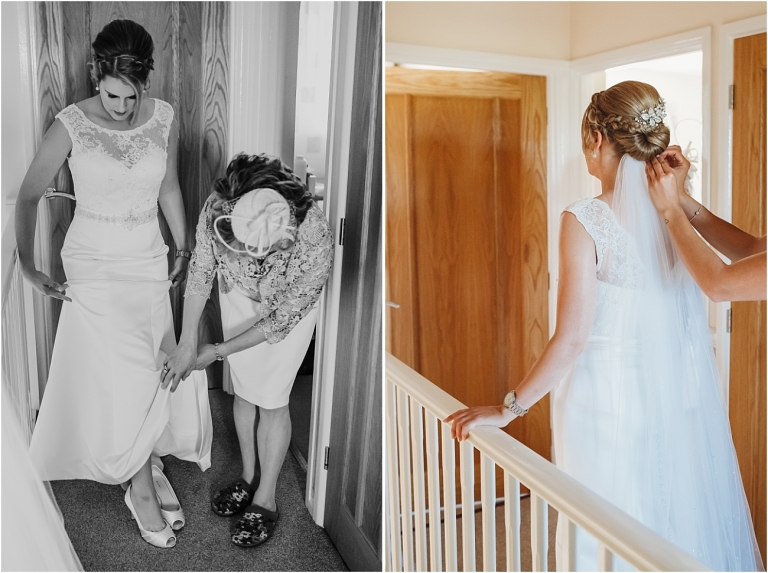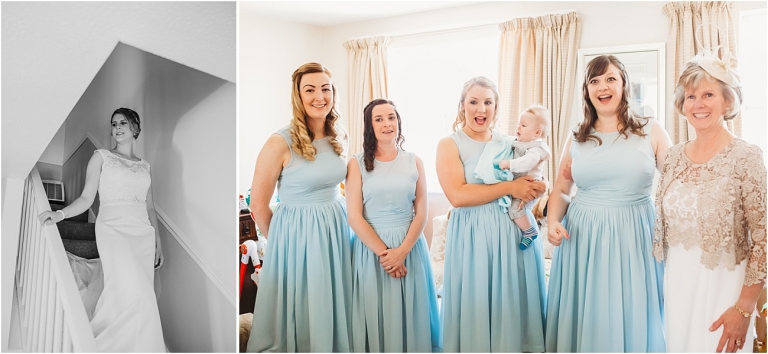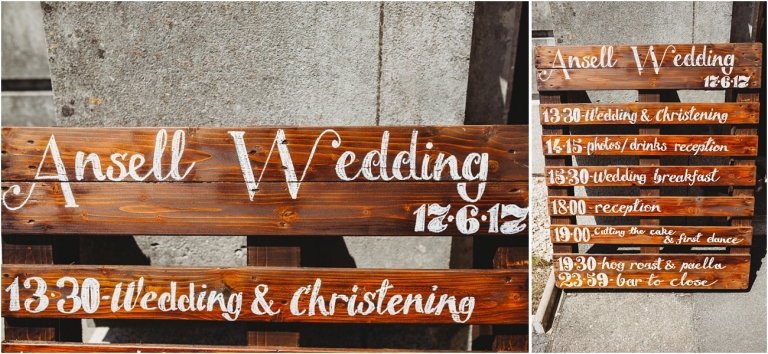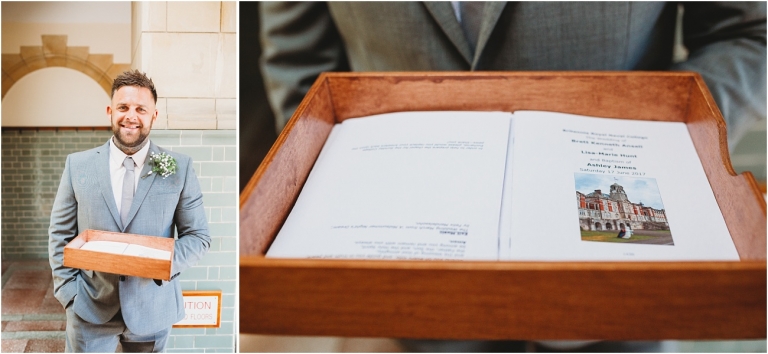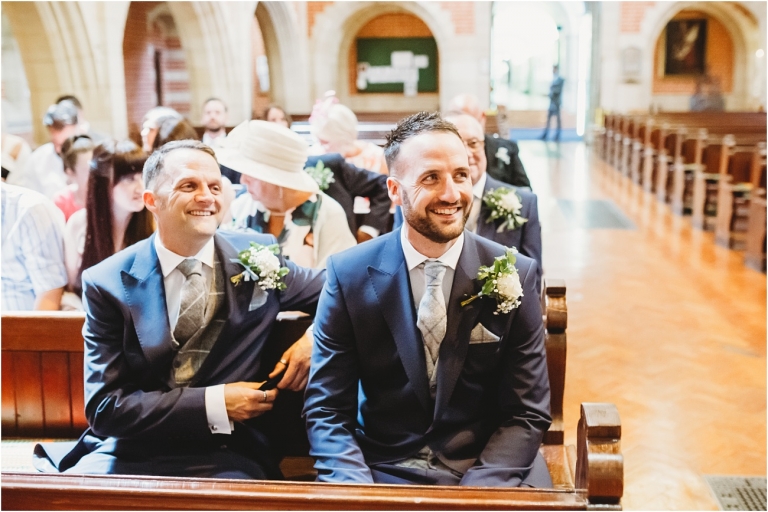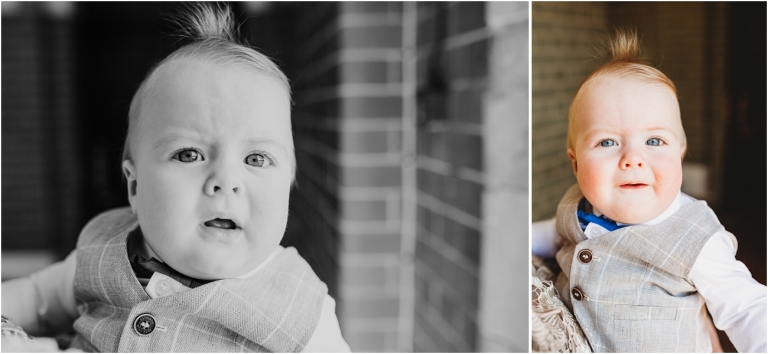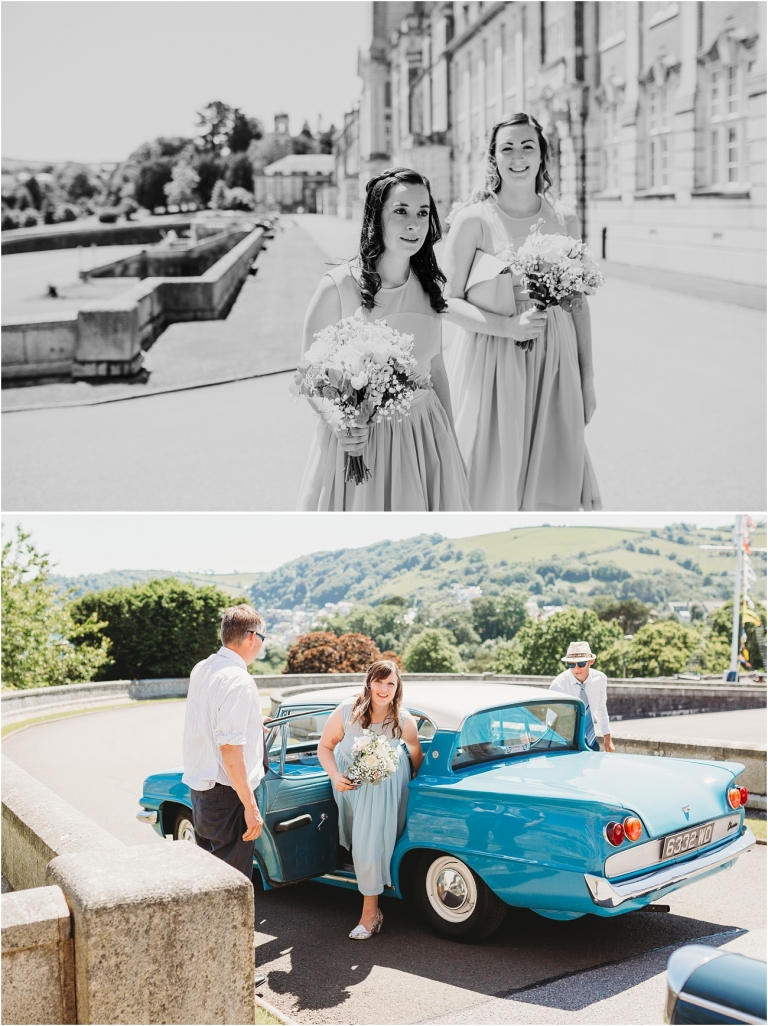 The Lisa's dad drove her to the Naval College in his Hilman Minx, and the bridesmaids were driven in his friends cars.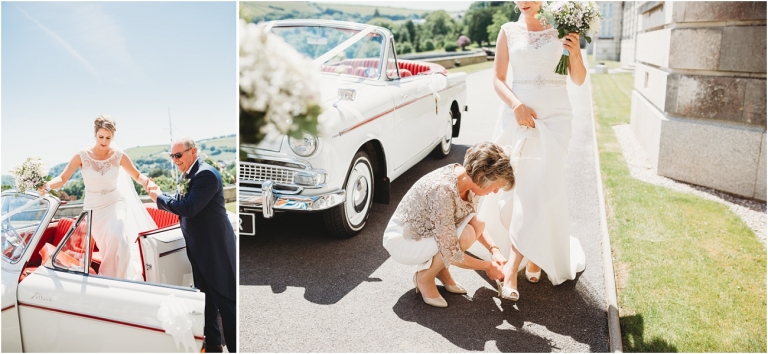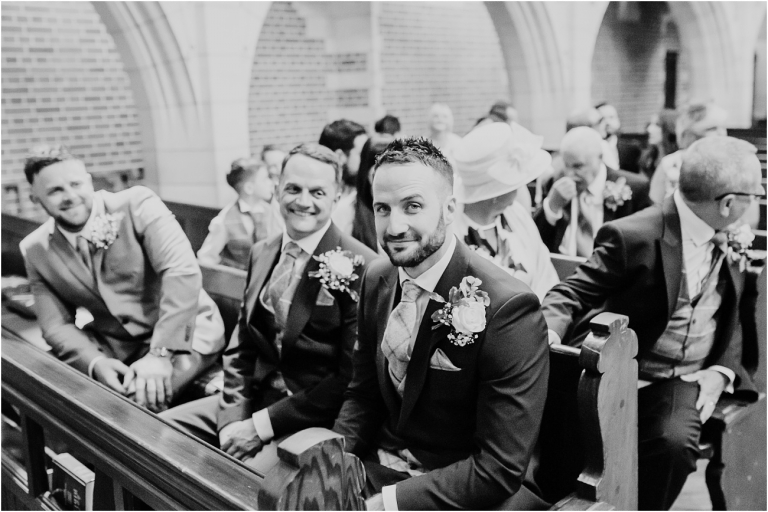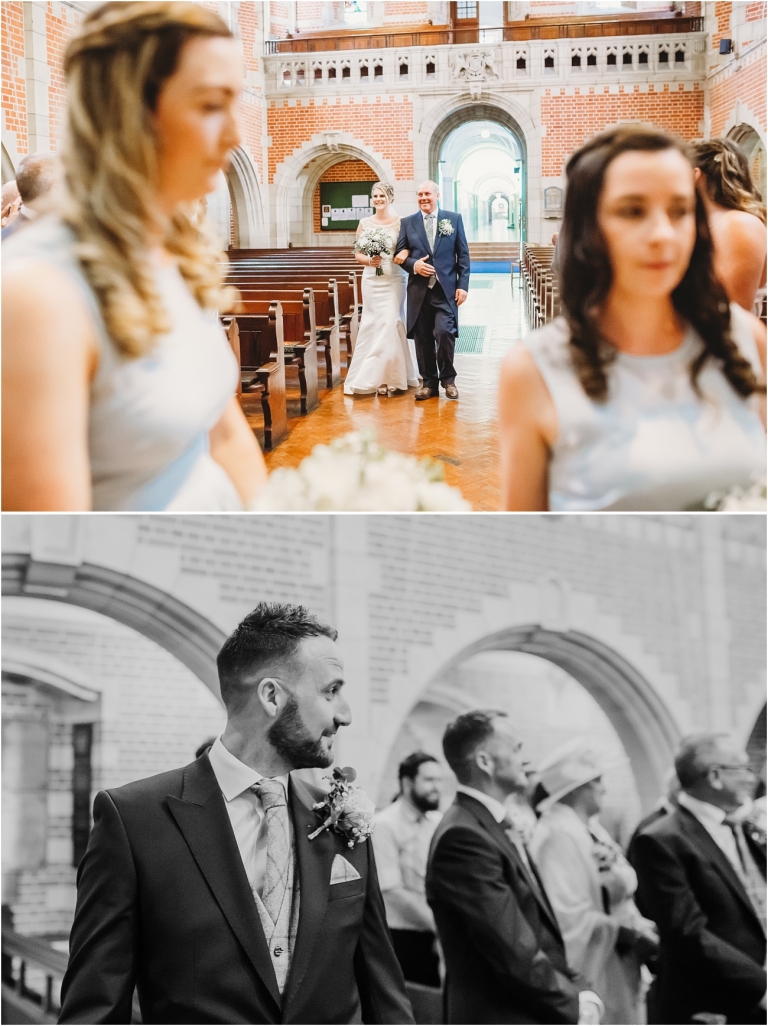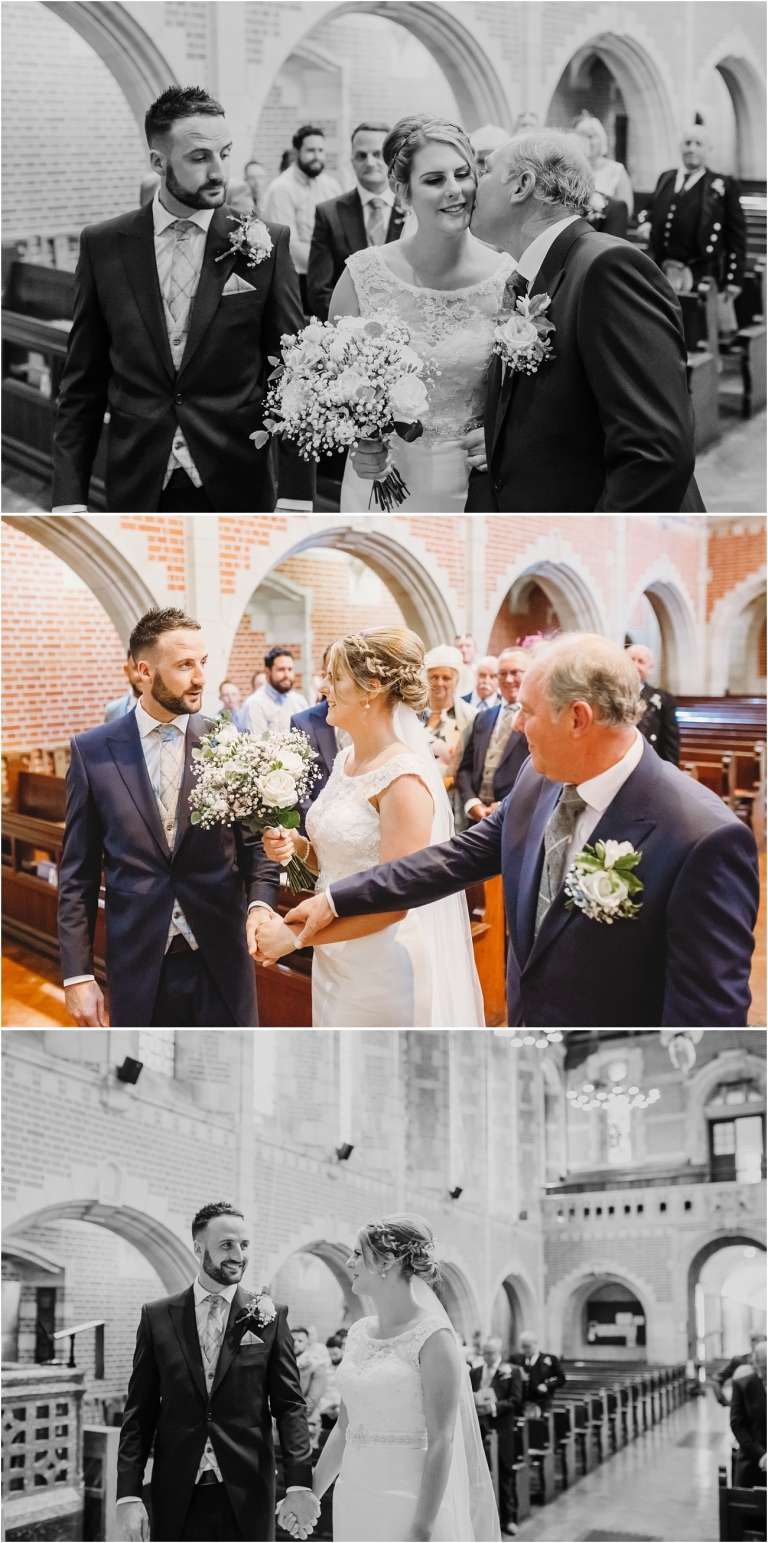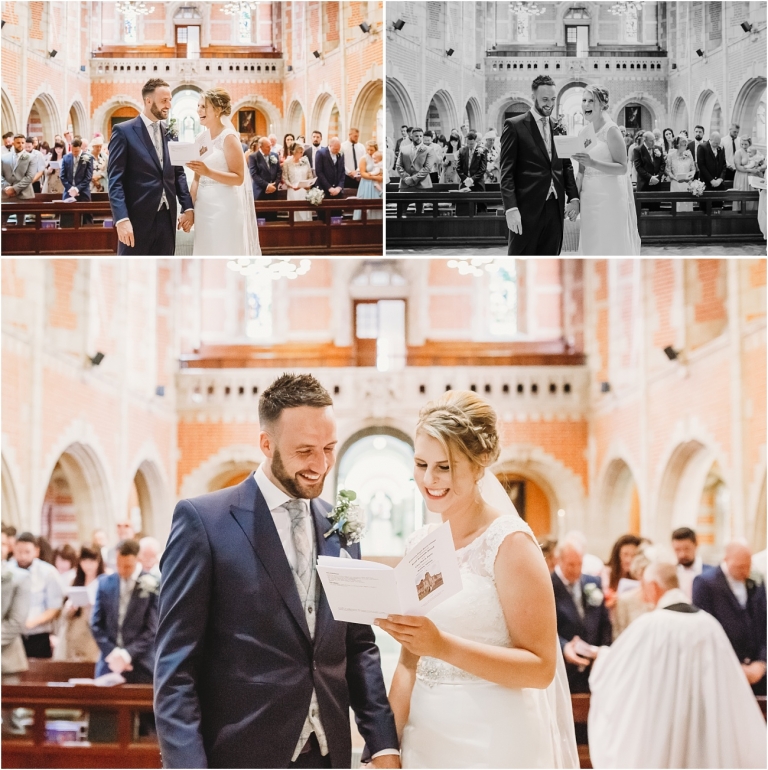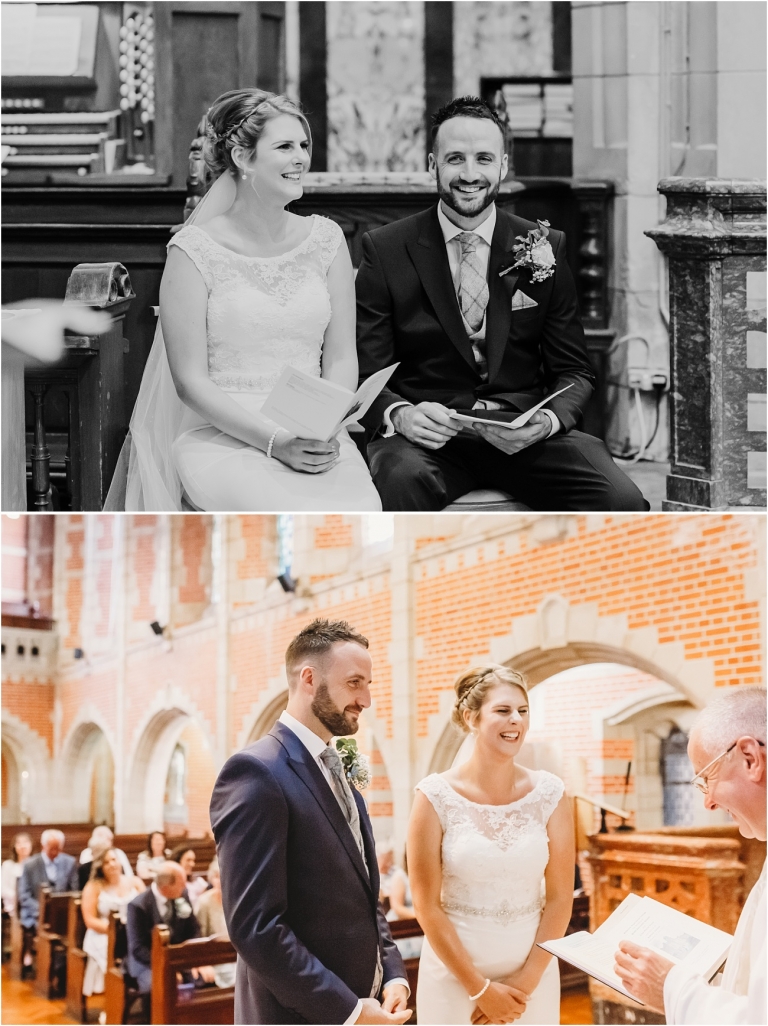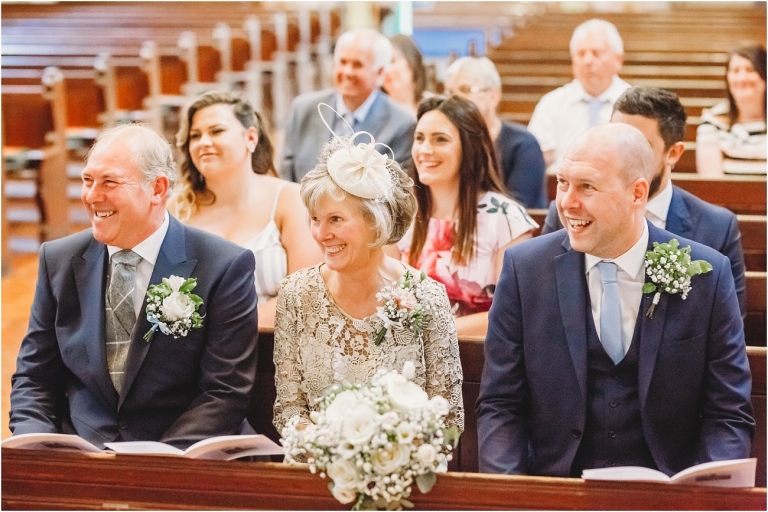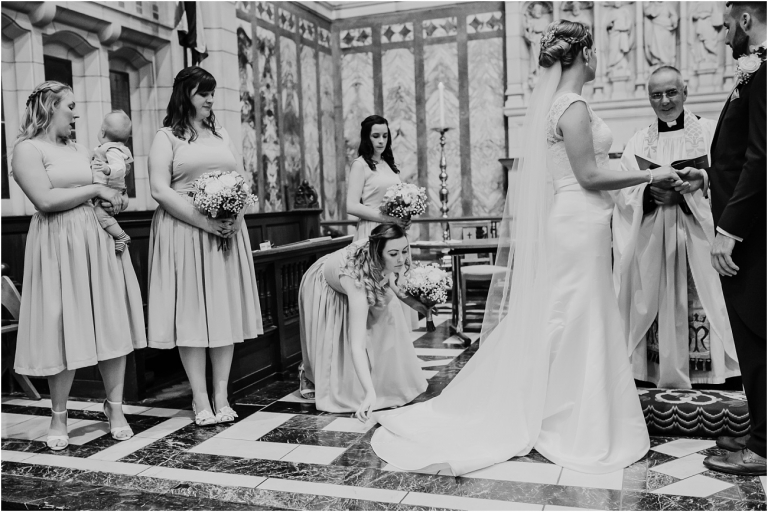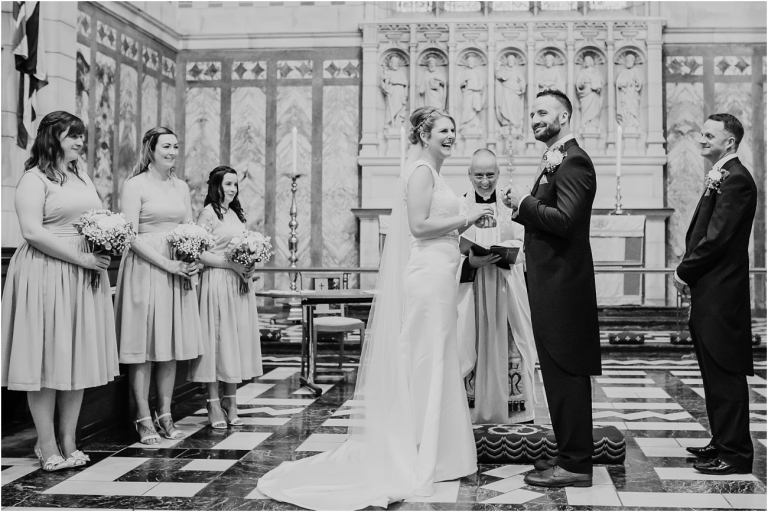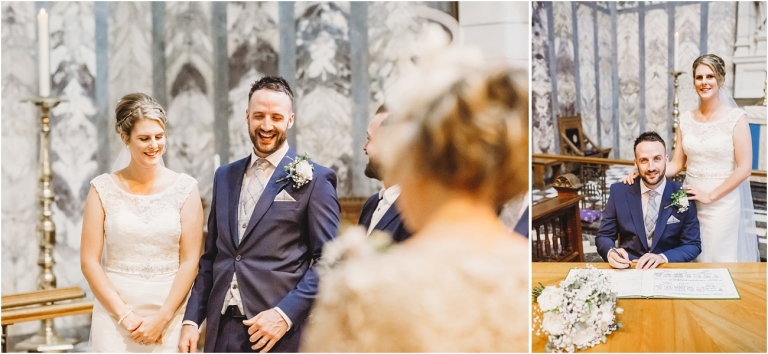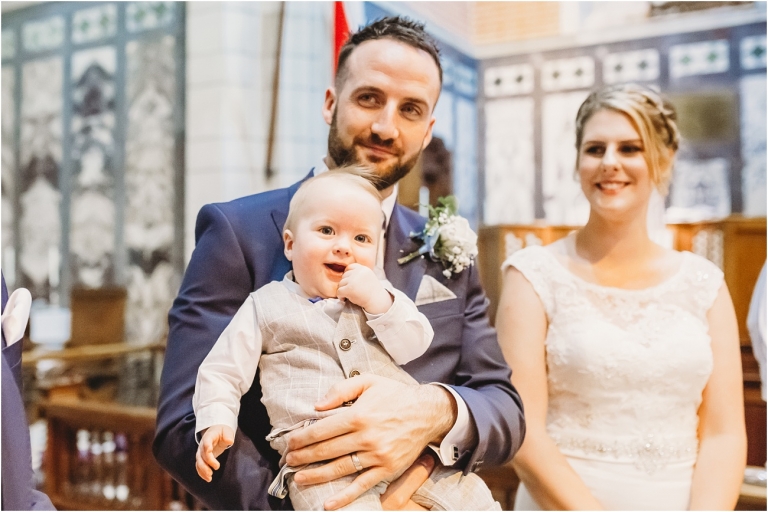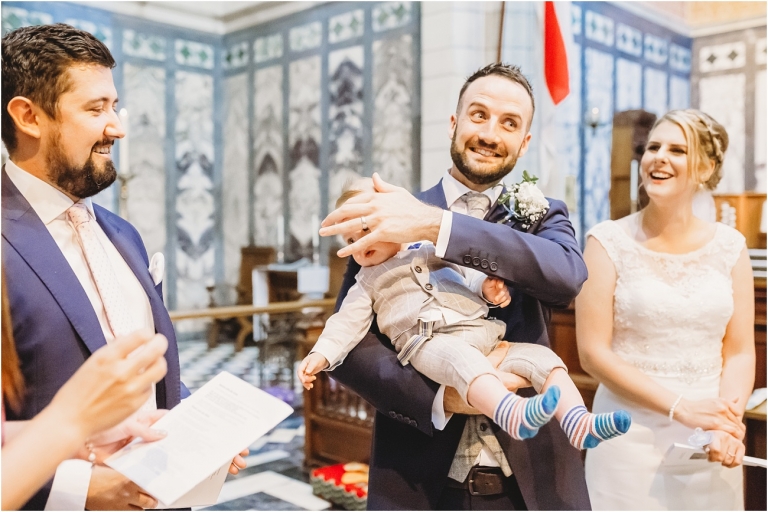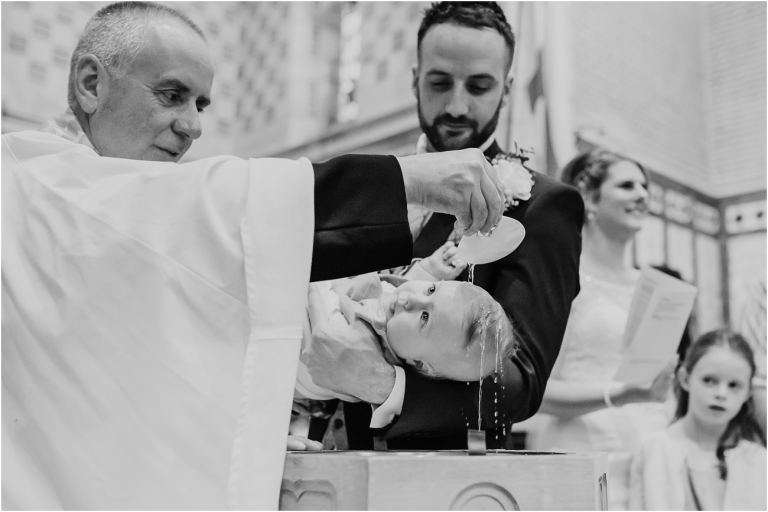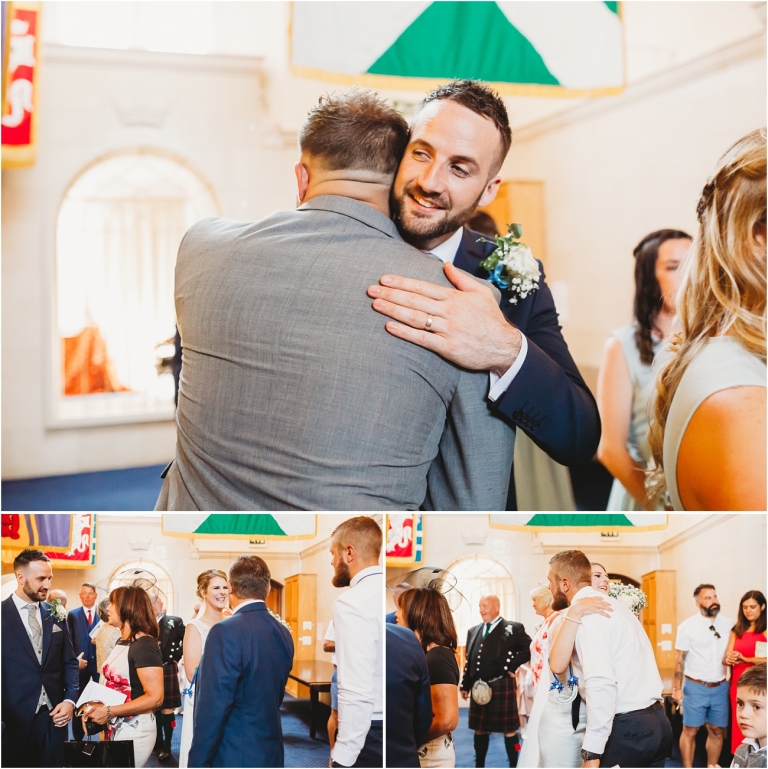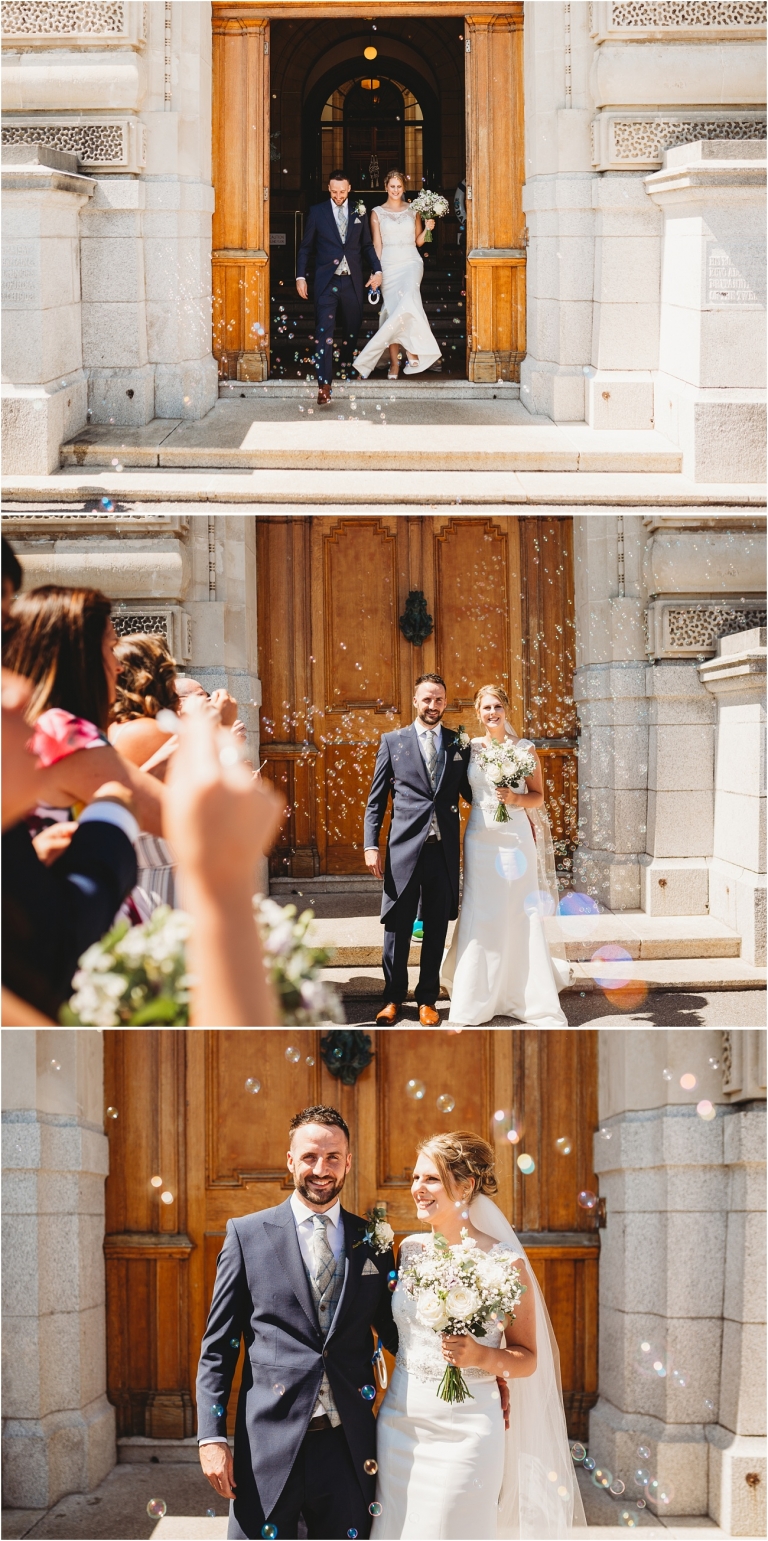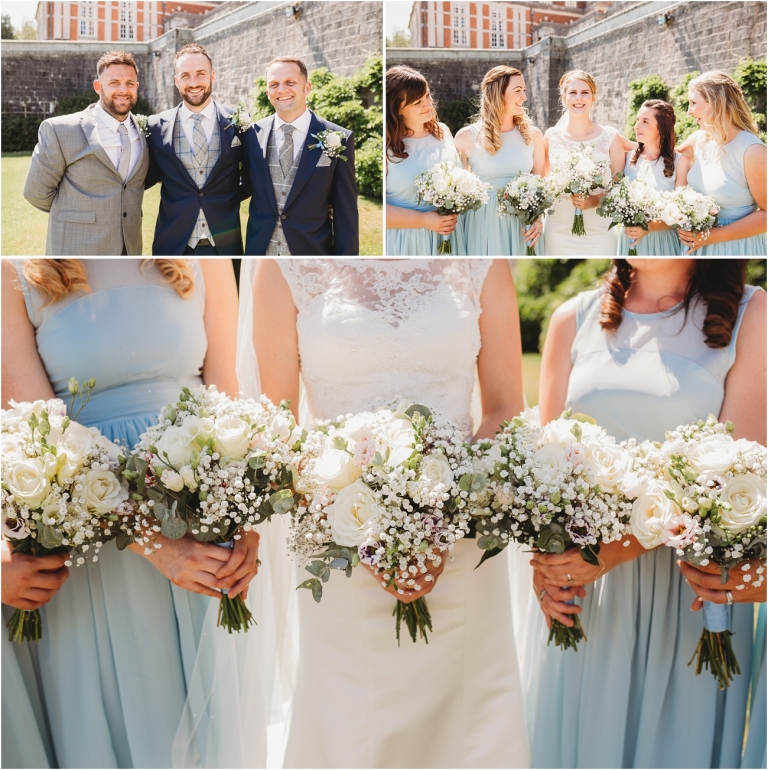 These stunning bouquets were from The Flower Studio, Brixham.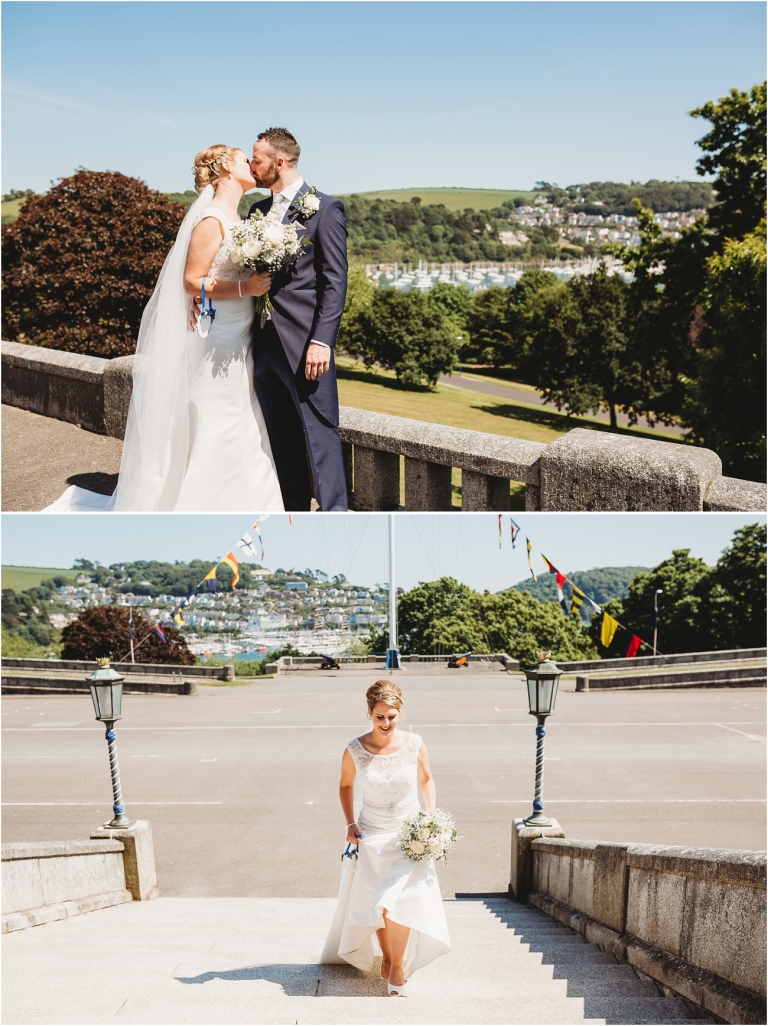 The Naval College is a truly beautiful place, and so didn't need much in the way of decorating. Lisa sourced everything from eBay and Amazon, and also made her own table plan, using Pinterest for inspiration.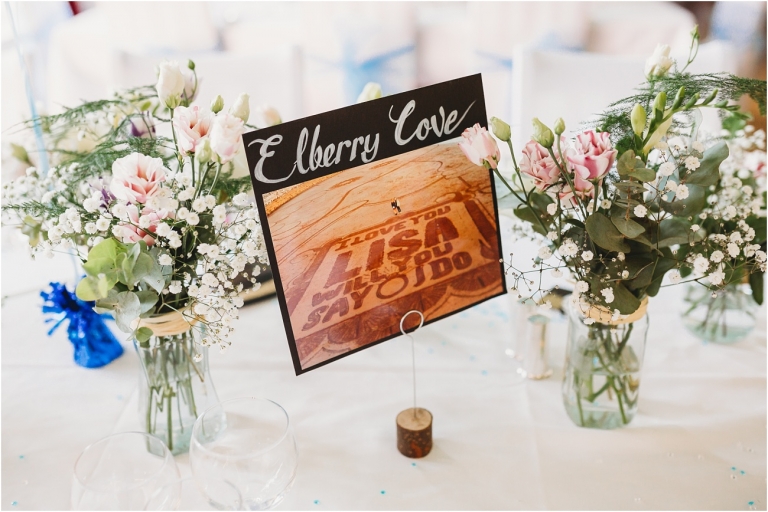 Brett's wonderful proposal to Lisa took the form of a message in the sand, so the tables were named after local beaches. I loved their idea for having scratchcards as wedding favours, a couple of guests won a few quid!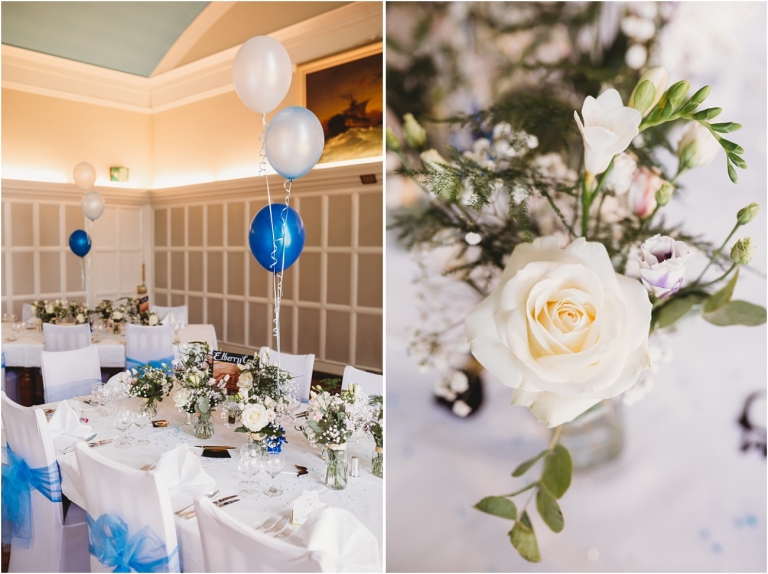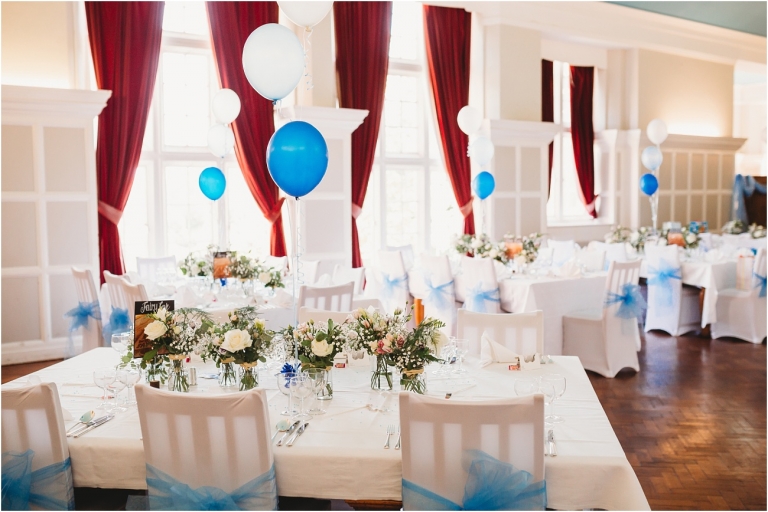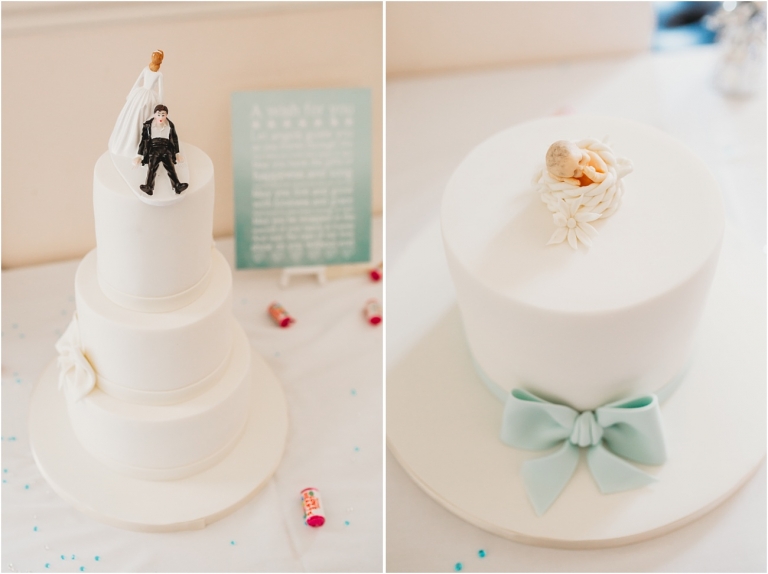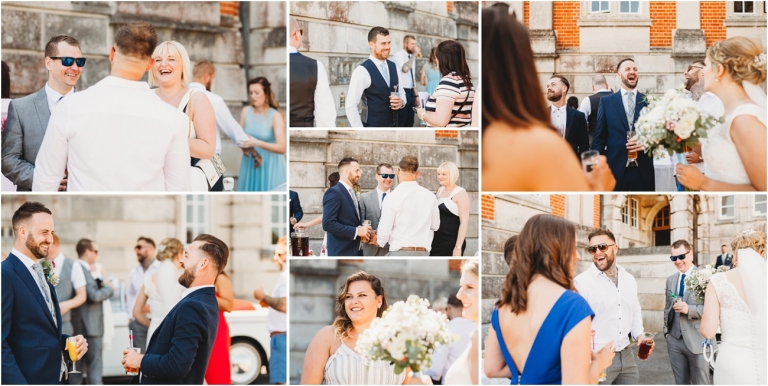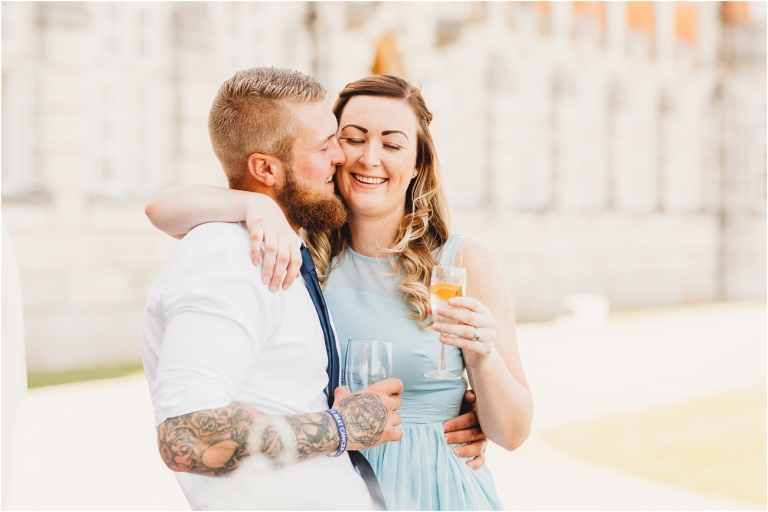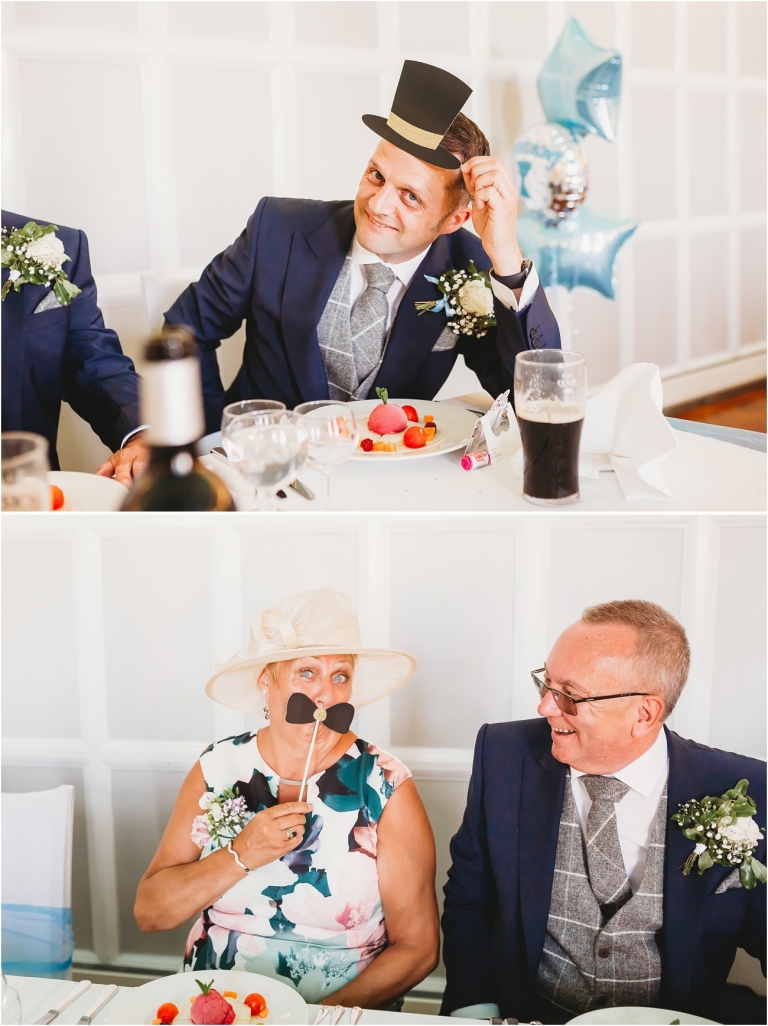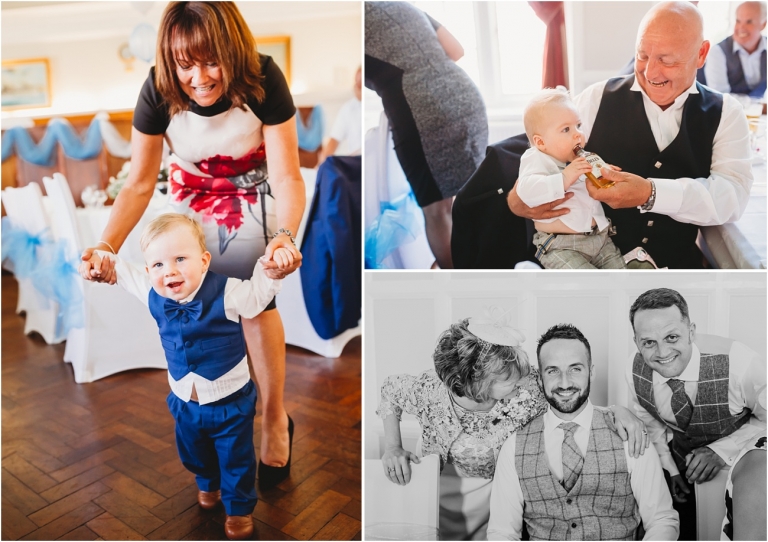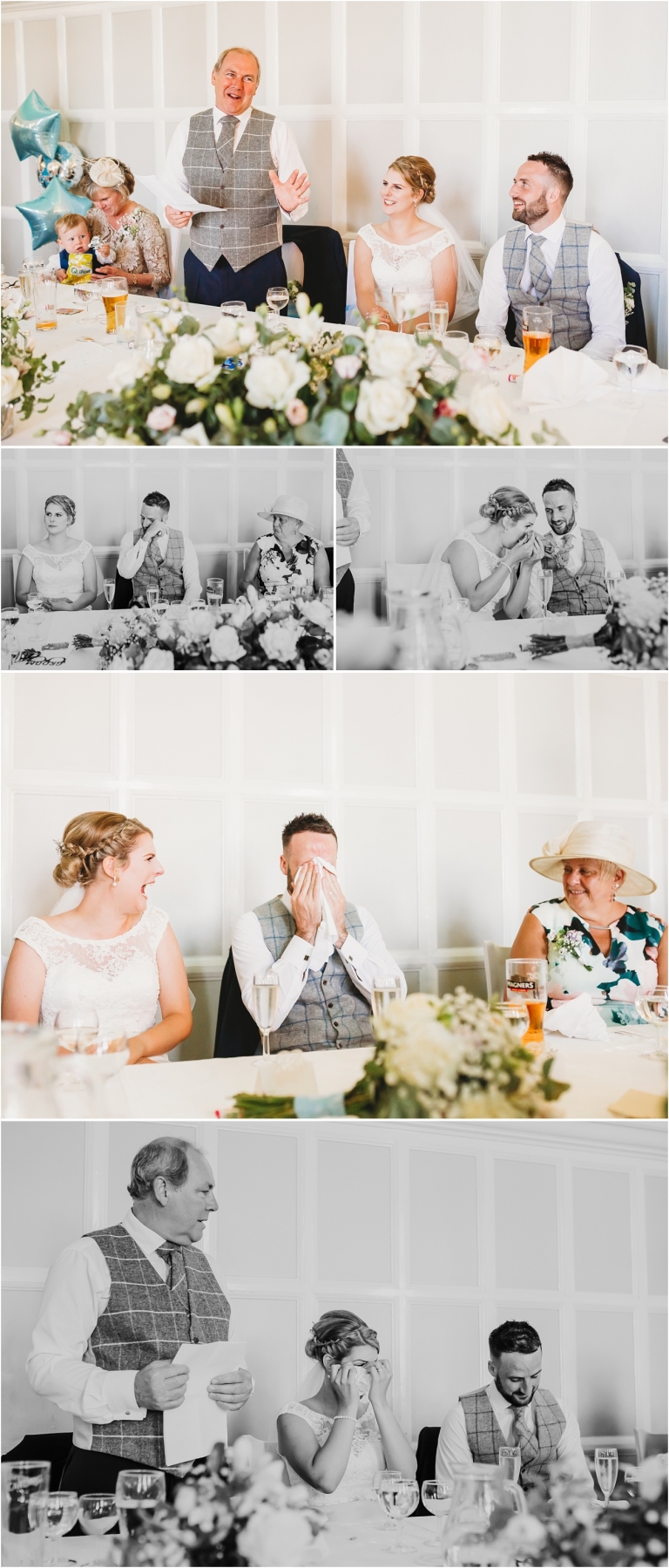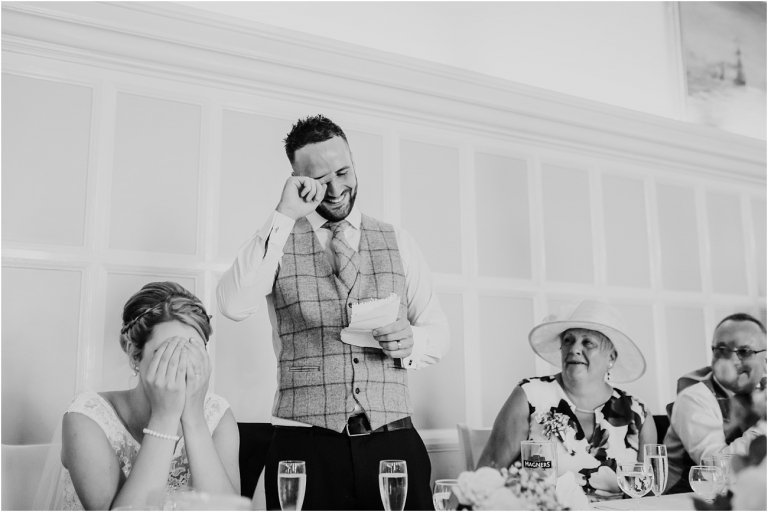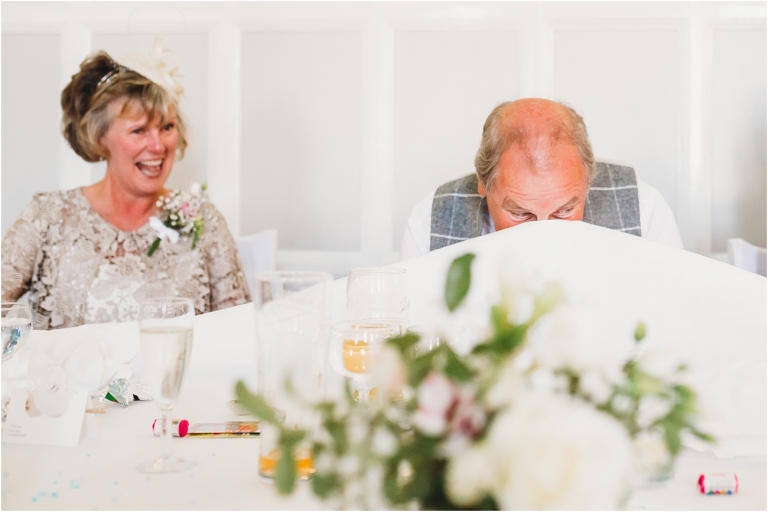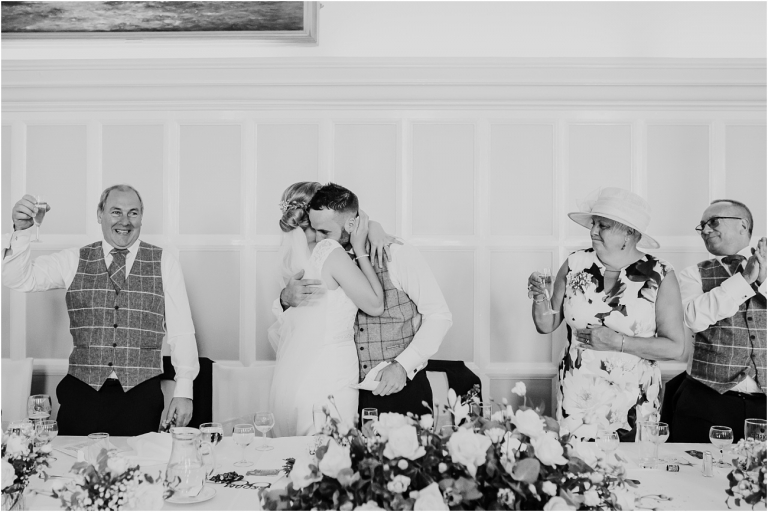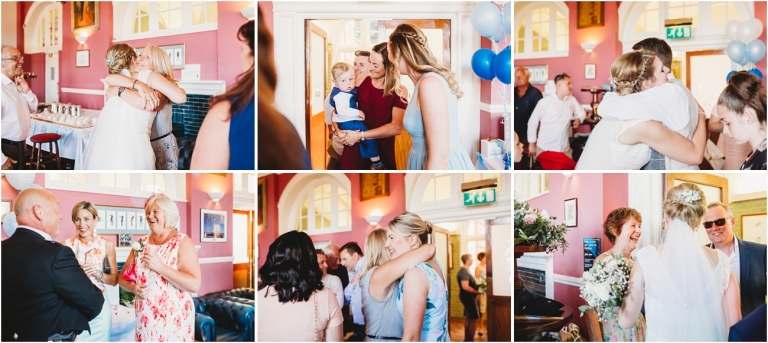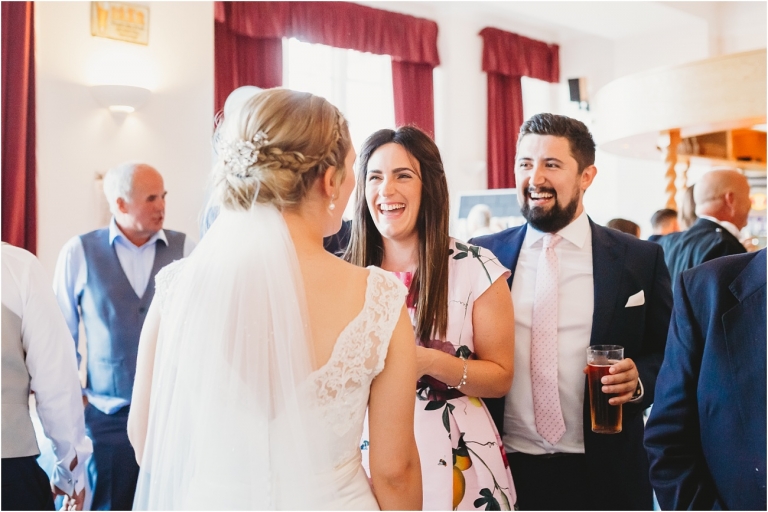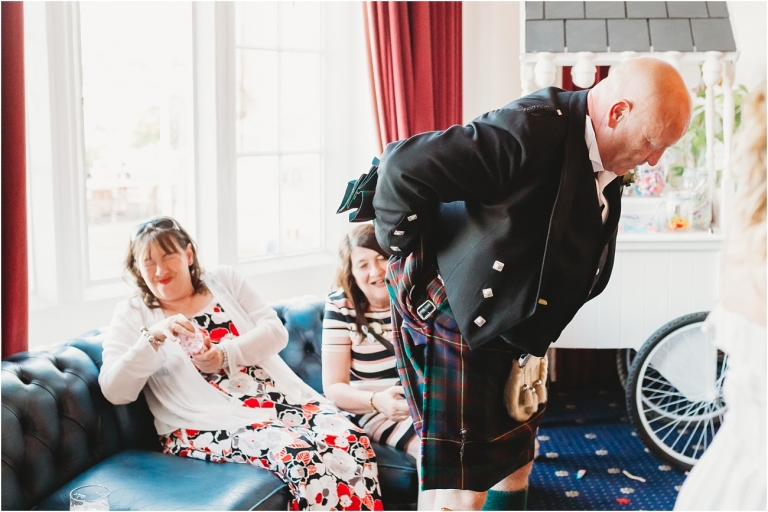 Lisa's brother Dean was my favourite Media Studies teacher when I did my A Levels at KEVICC! It was lovely to see him and his wife Lucy, who was not only a bridesmaid but sung beautifully at the evening reception too! She performed with Aaron Standon, followed by Michael Collings and Jay Carter.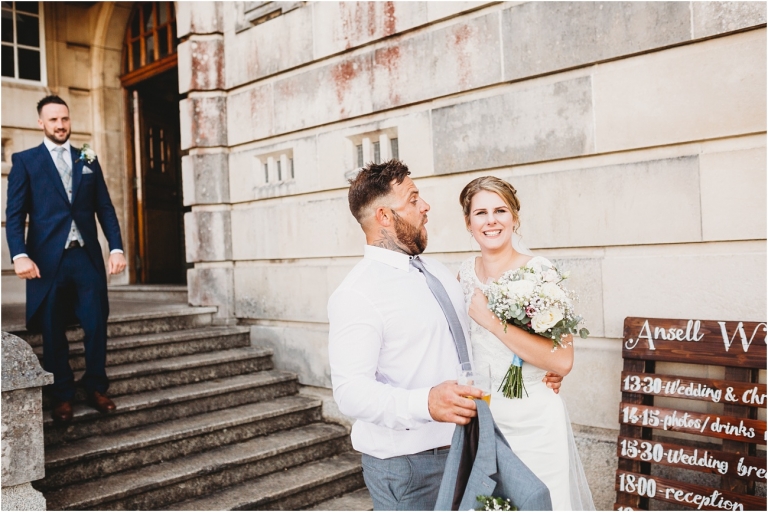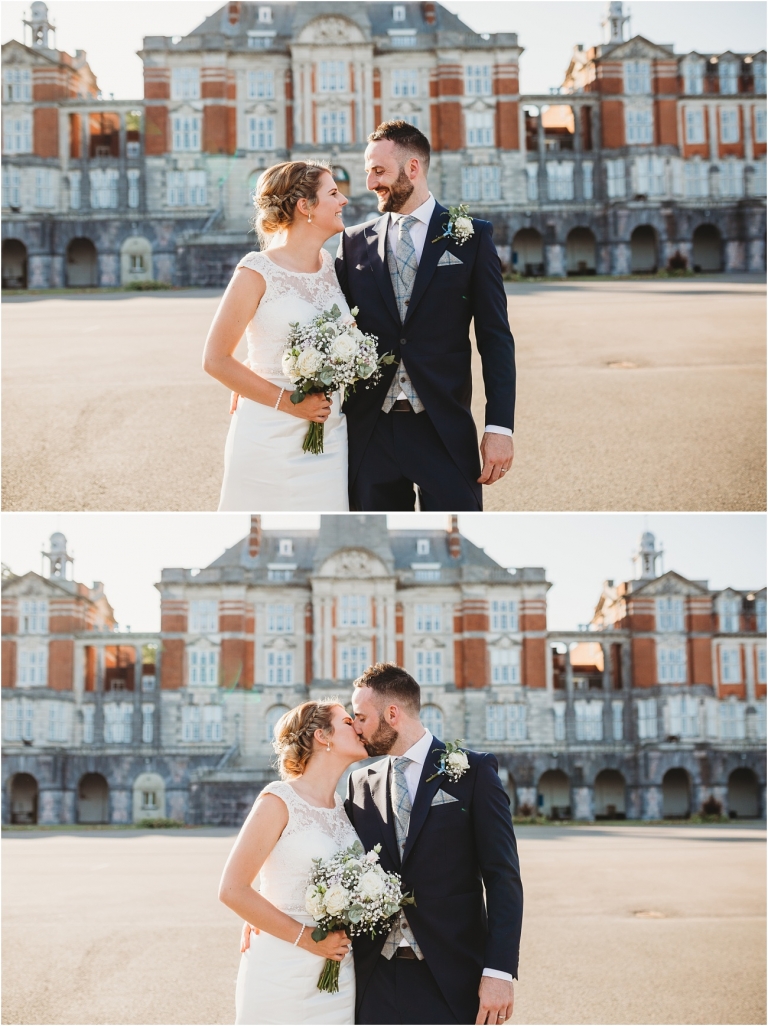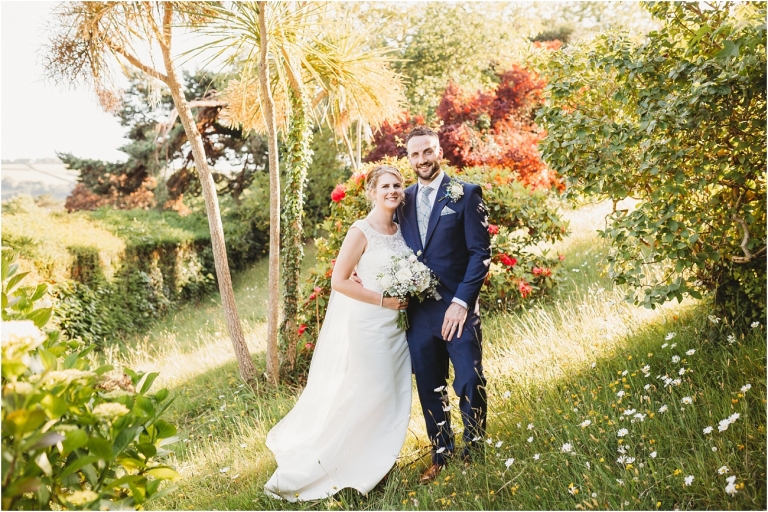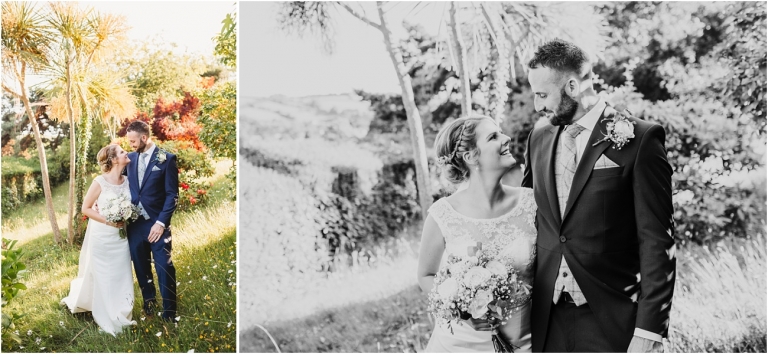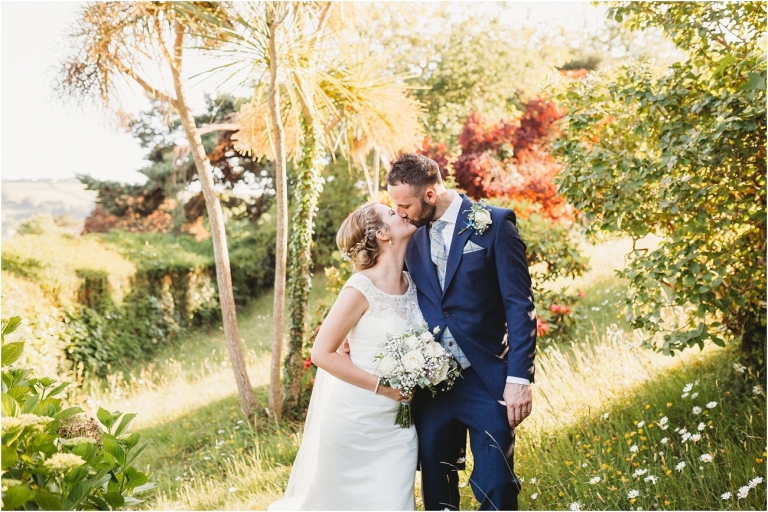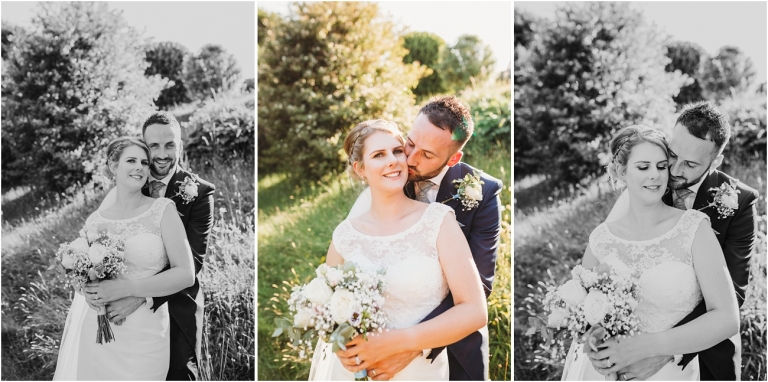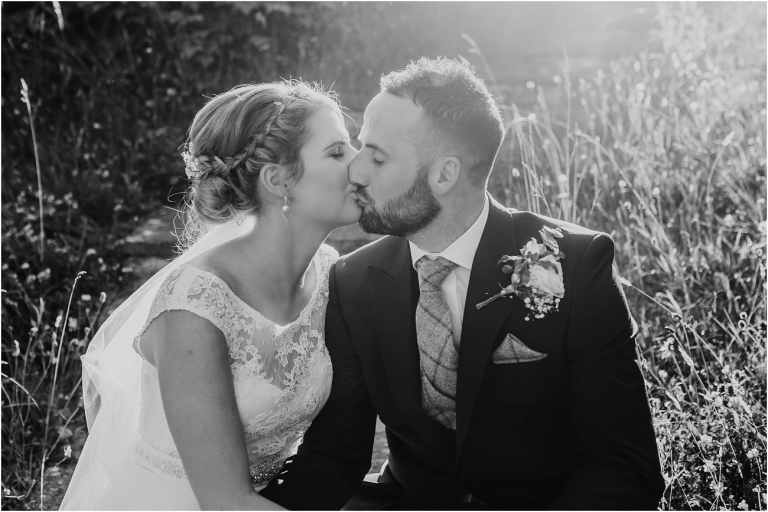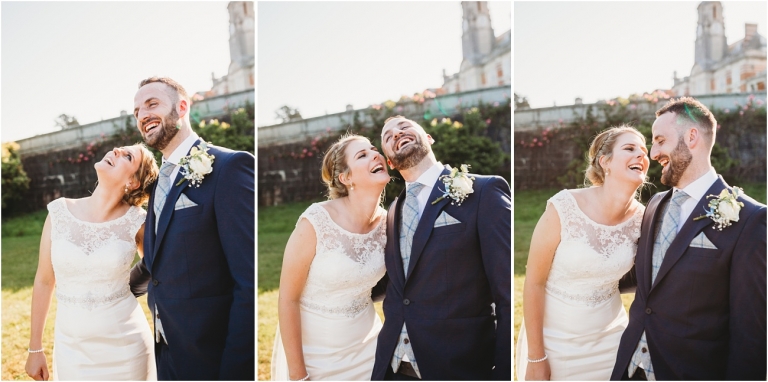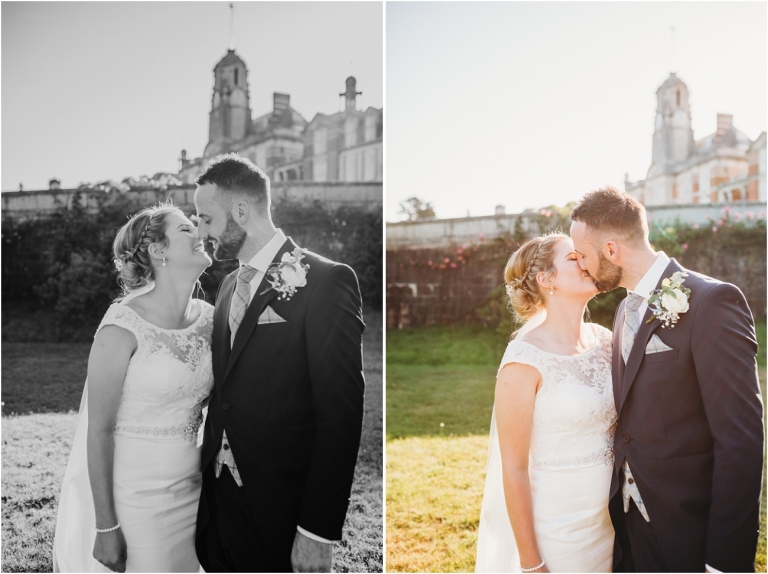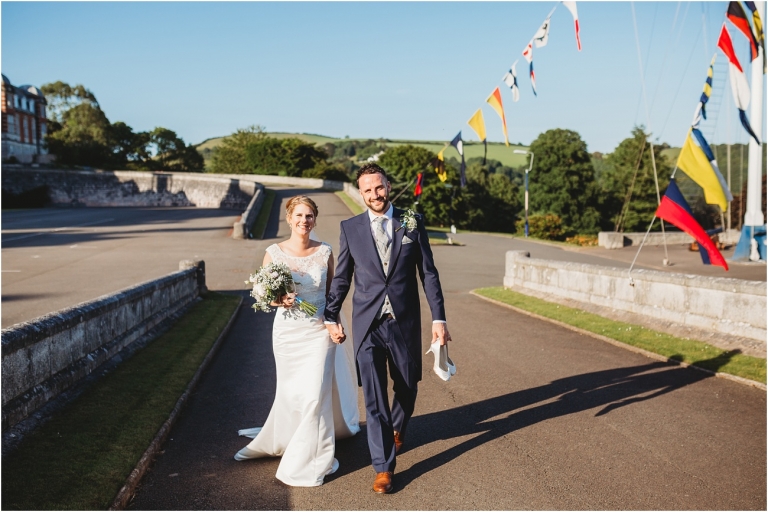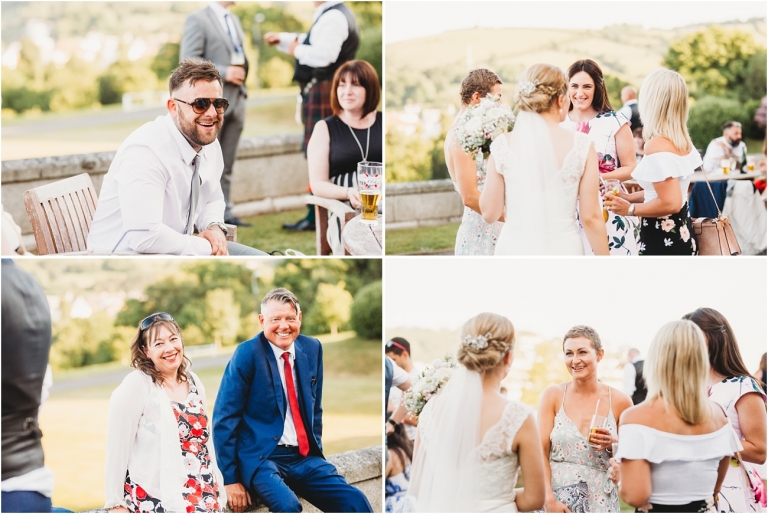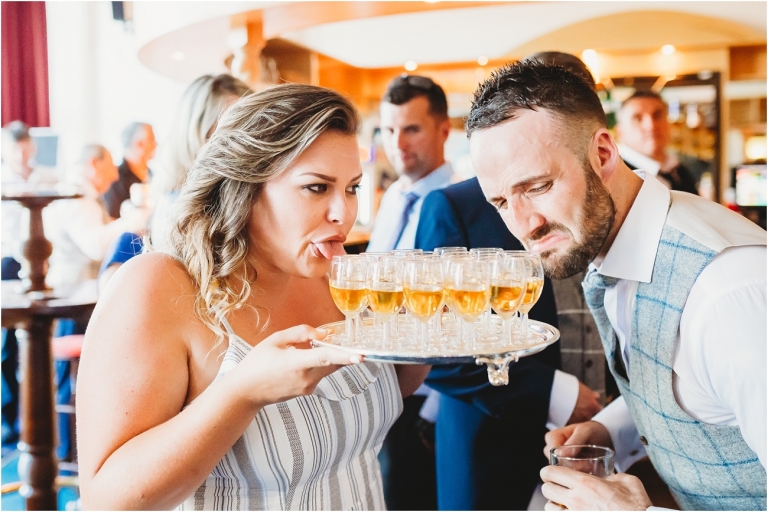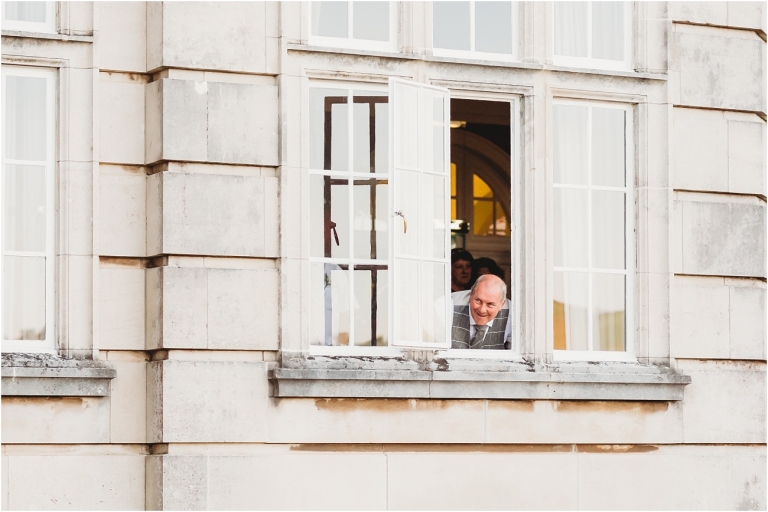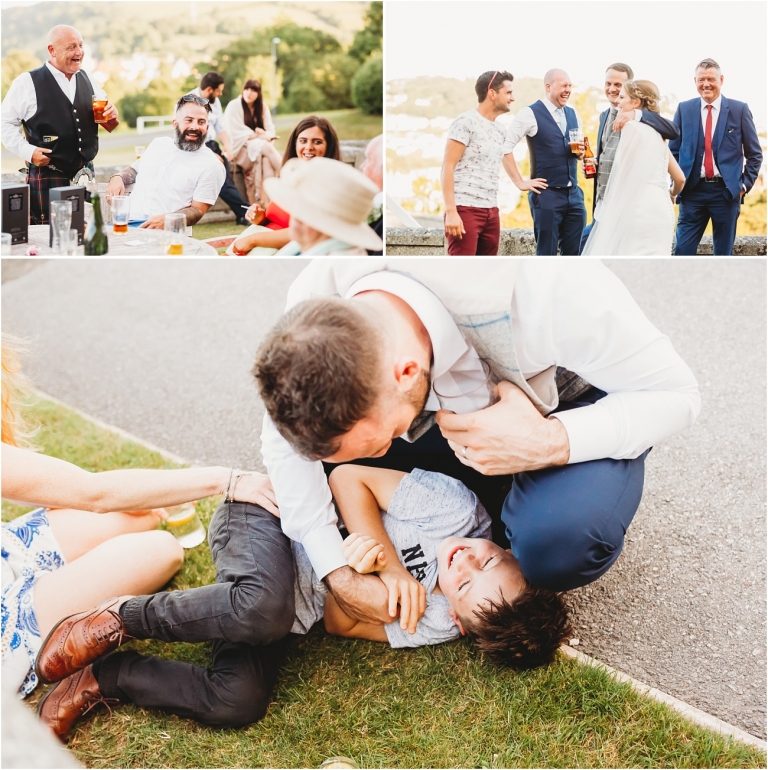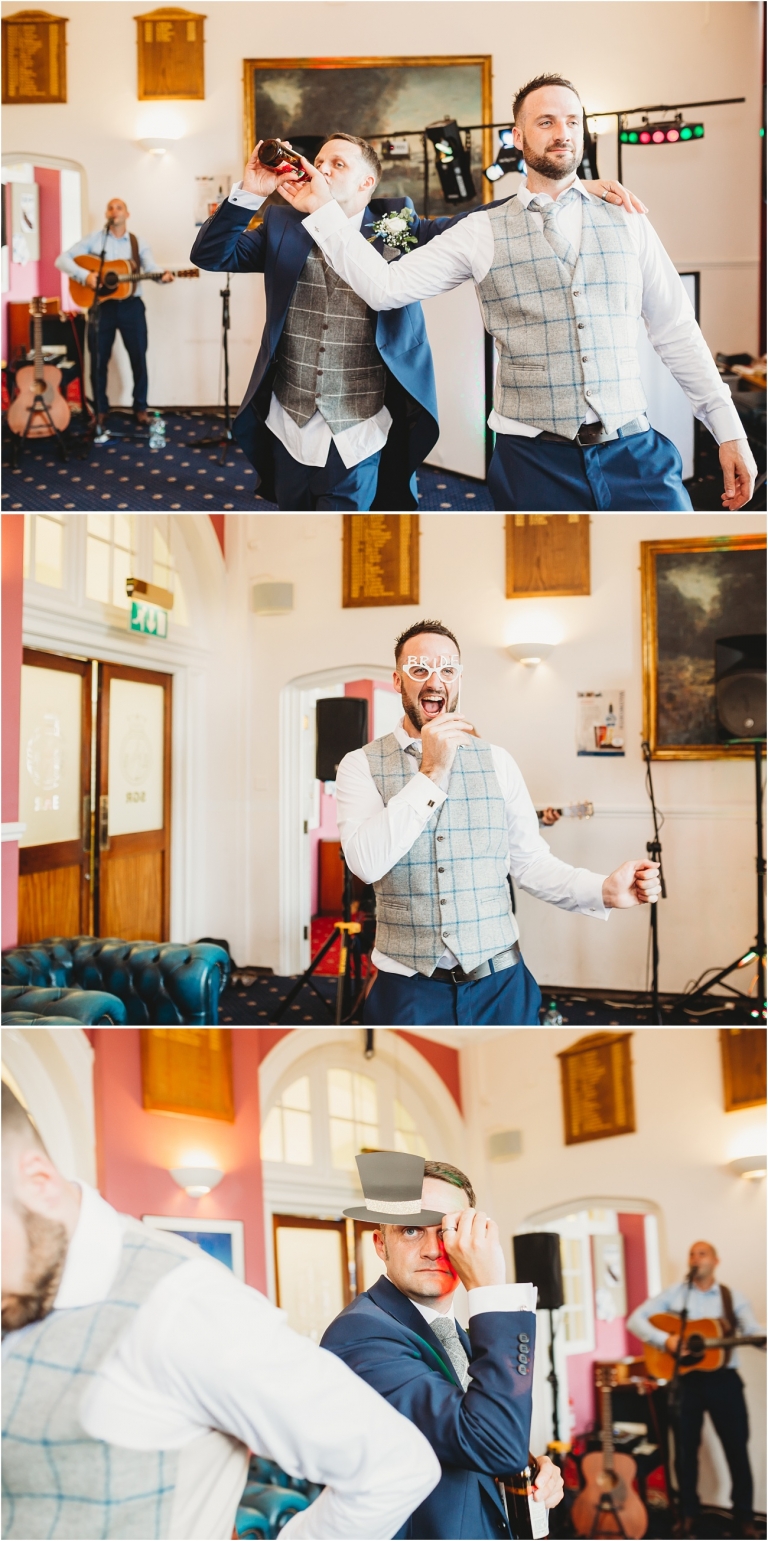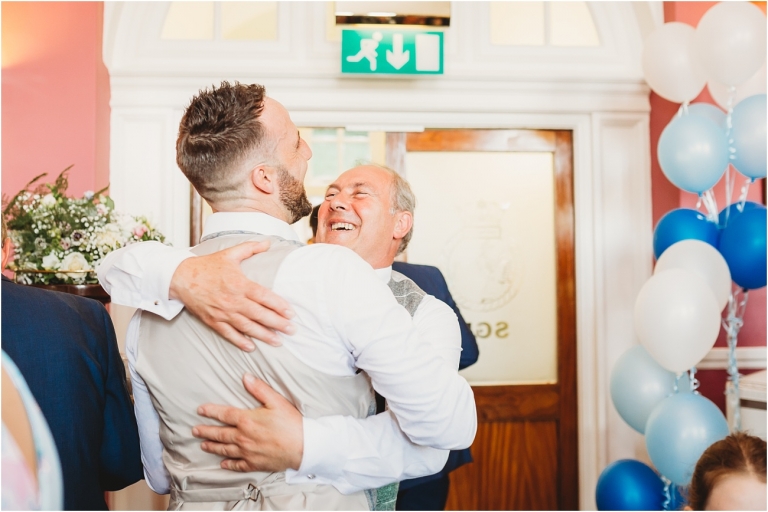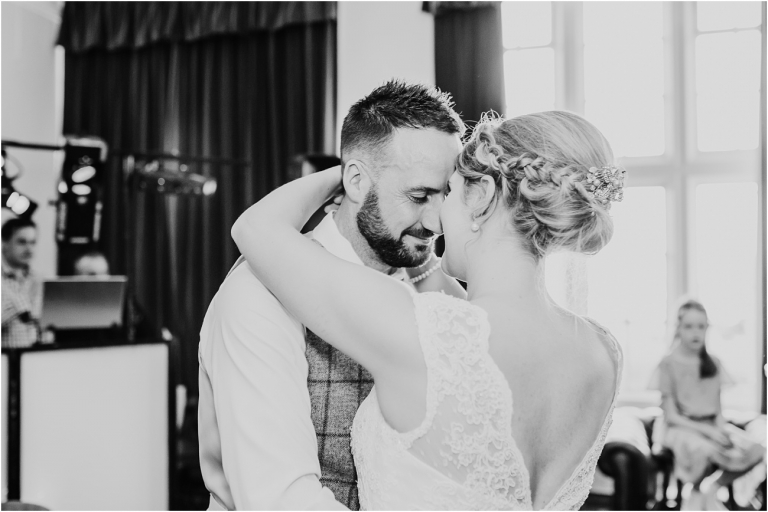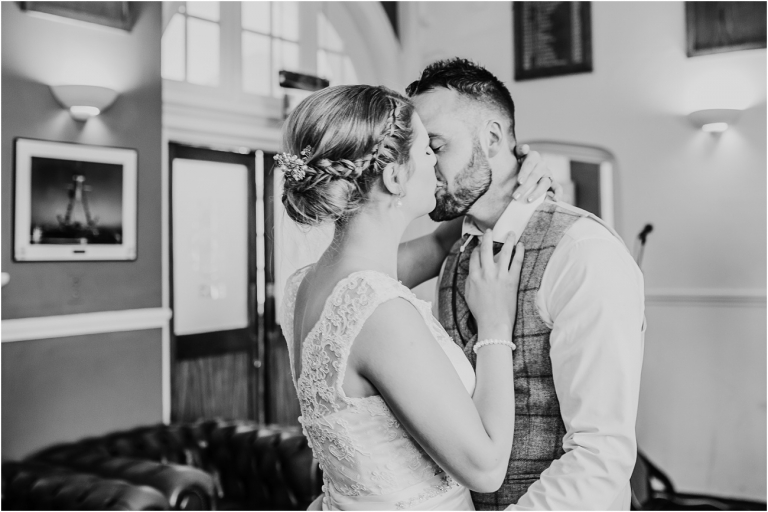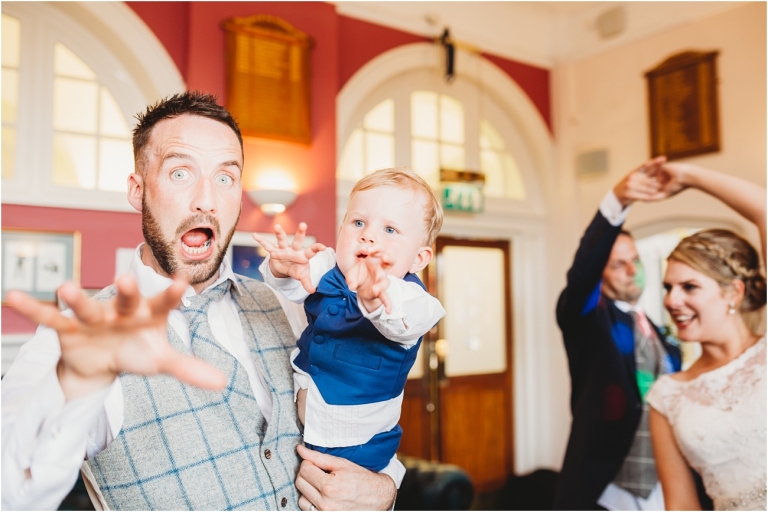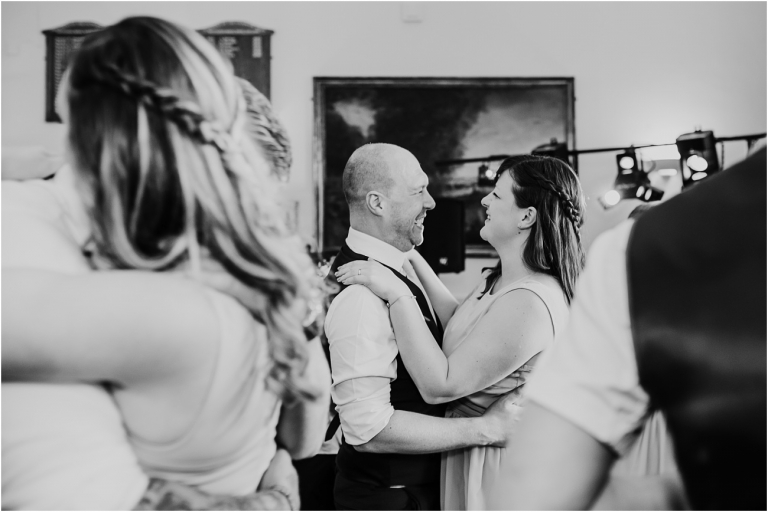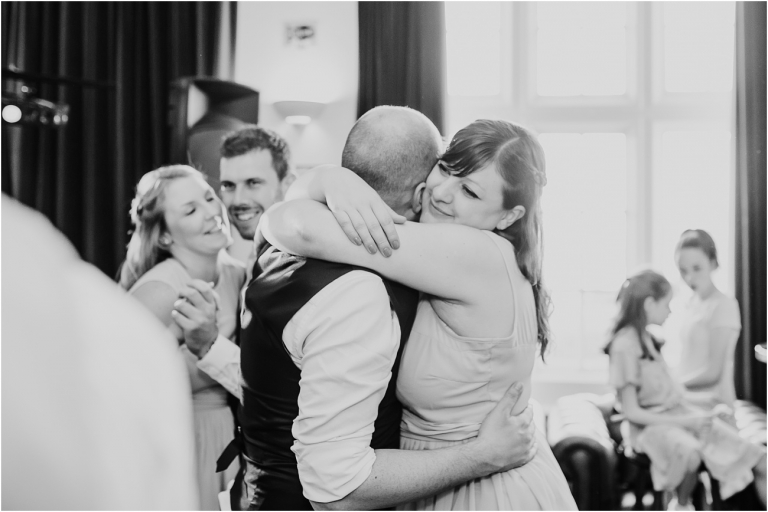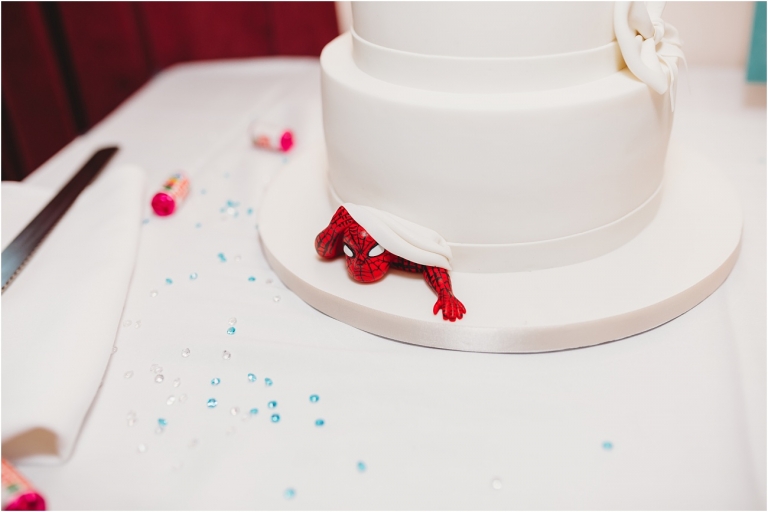 Lisa wanted a mostly plain cake with a little something, and Brett likes marvel, so they had Spider-Man on the back, inspired by Pinterest and made by Konradi Cakes.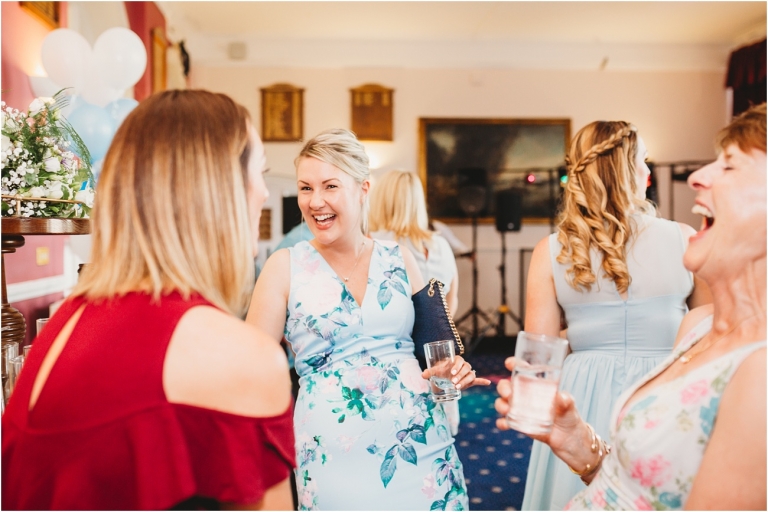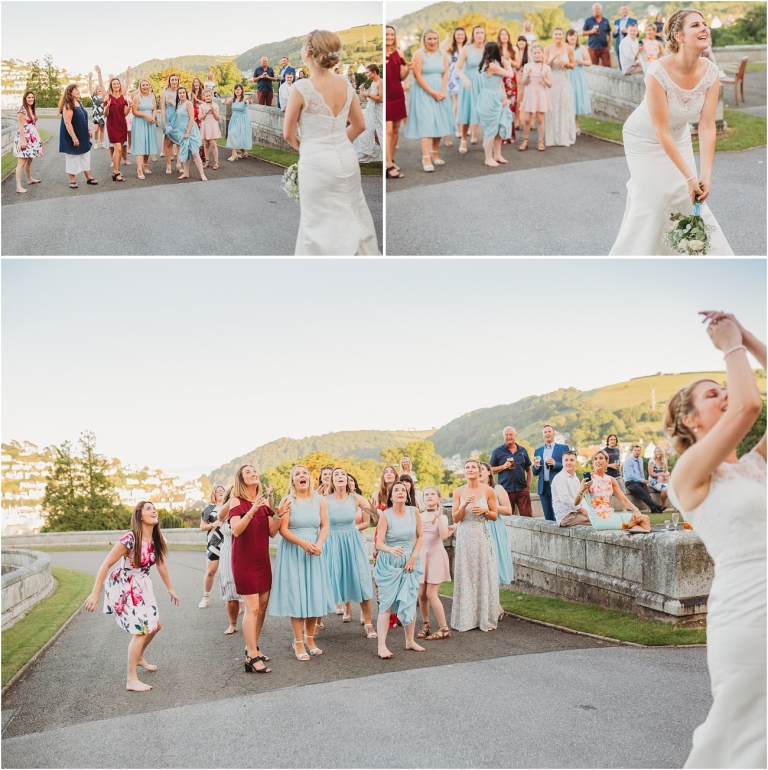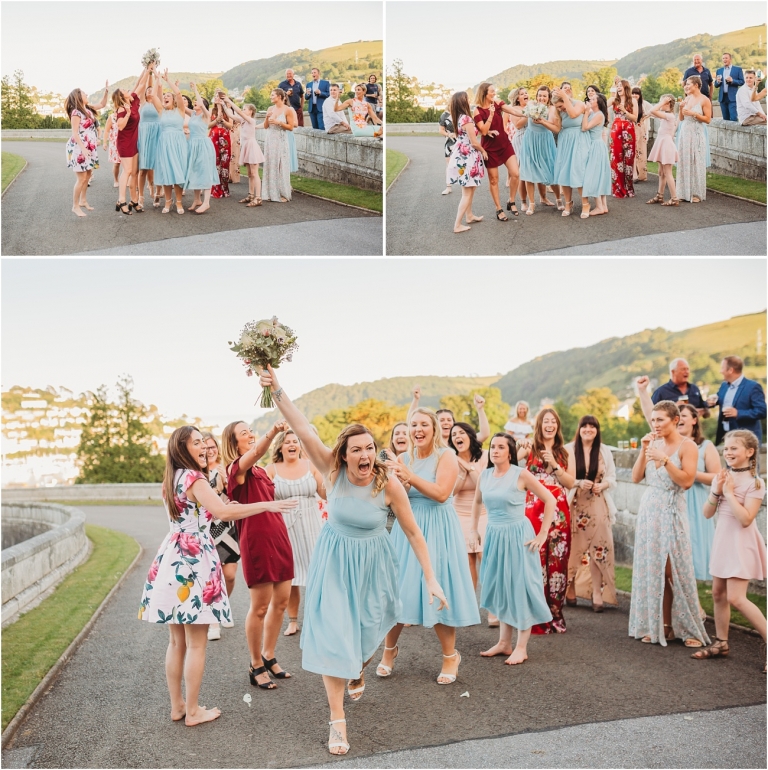 Hannah had been robbed of catching the bouquet a few times at previous weddings, most hilariously at Jamie & Marks, but not this day and she has since become engaged!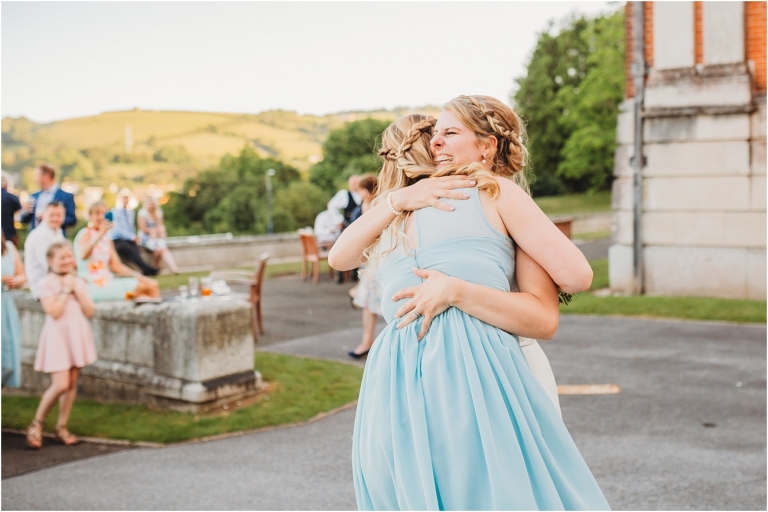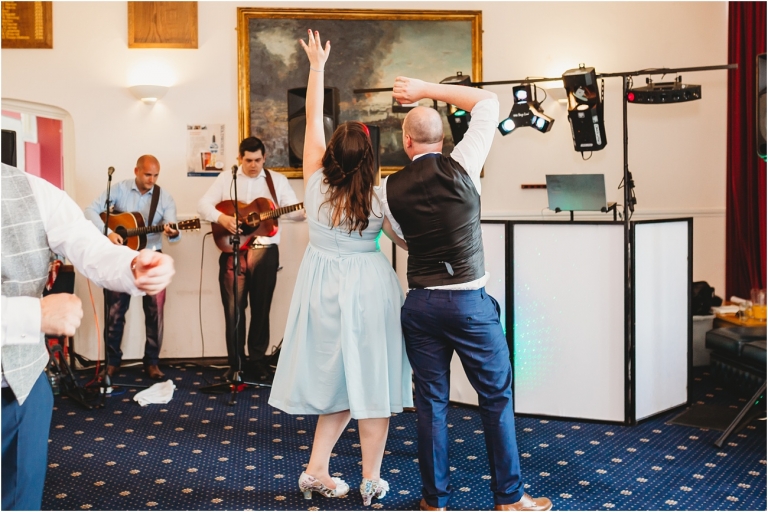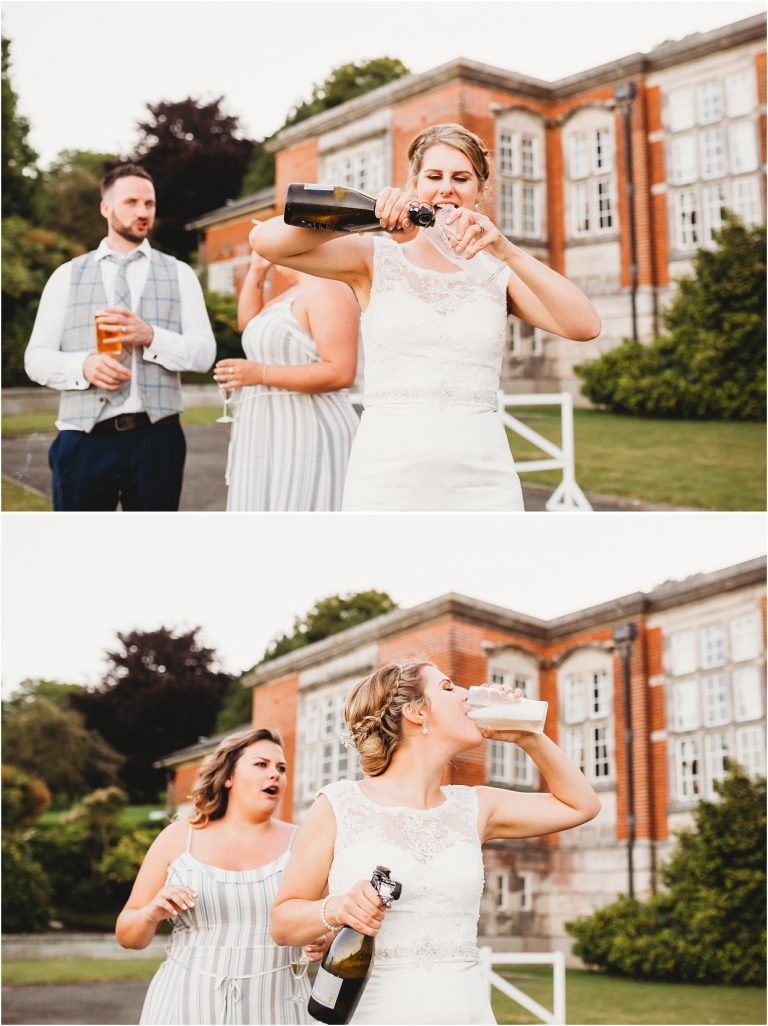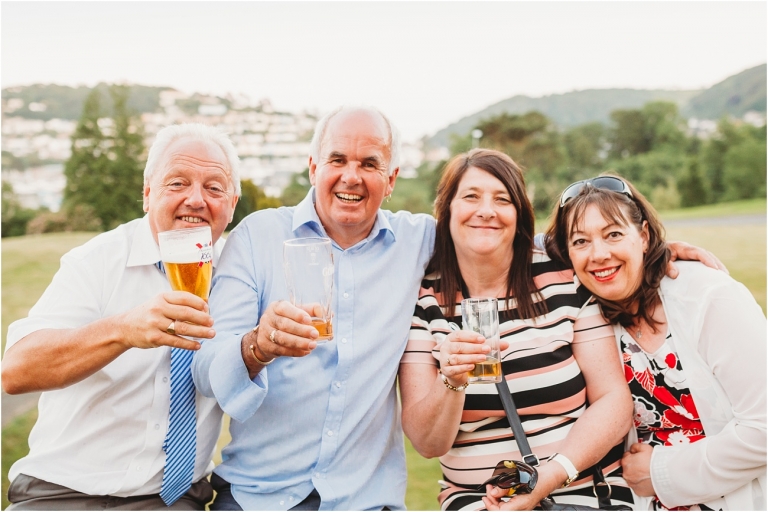 I absolutely love my job! The more weddings I do, the more often I see familiar faces, and past and future couples. Lauren and Dan are one of my couples and were on great form as usual. They say they don't like posing for photos but I think these are superb!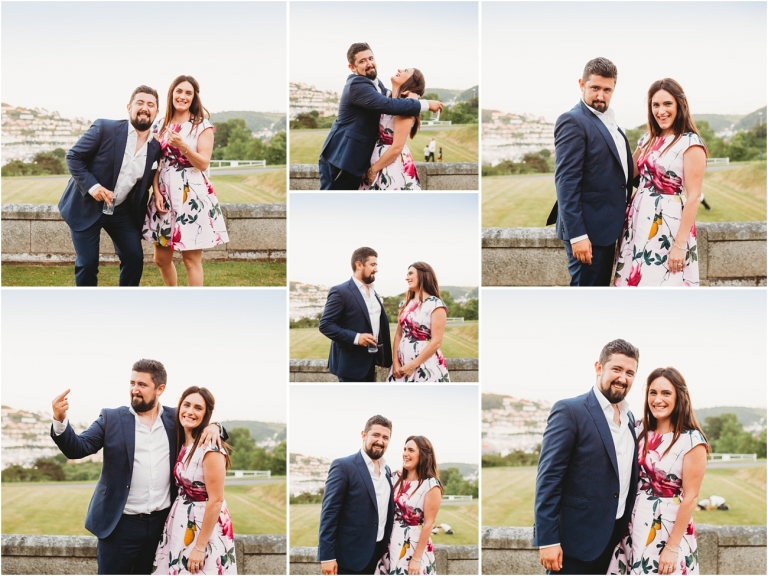 If you are looking for a Devon Wedding Photographer, don't hesitate to get in touch to discuss your day!
Holly x
I am so excited to share this gorgeous wedding! The Great Barn Devon is a venue I've longed to be a wedding photographer at, and it was amazing! Absolutely stunning buildings and grounds, and the owner John made everything run so smoothly and lit the reception to perfection.
The day was filled with laughter, great food, live music, and gin! The favours were gin, the table plan and table names were gin bottles, and there were more gin bottles hanging from the ceiling. I'm sure you can tell, Victoria and Adam love a bit of gin, and I love it when couples add personal touches like these! (I also love gin)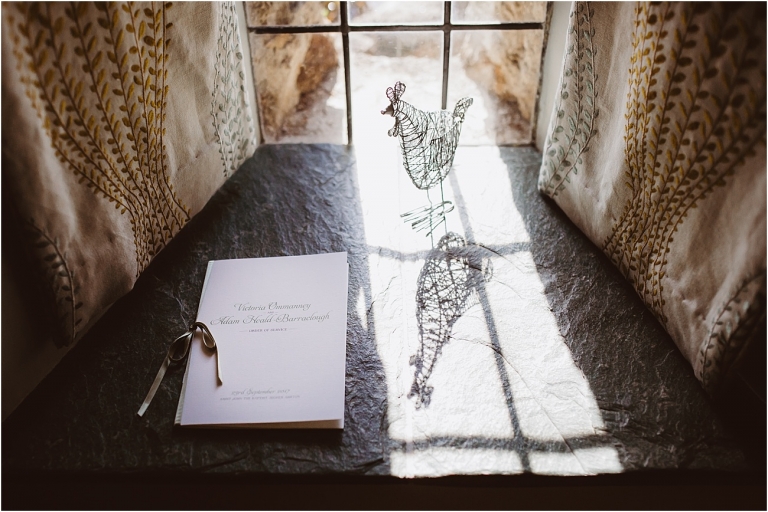 Orders of Service, invites, table numbers and place names were from Oyster and Pearl Design.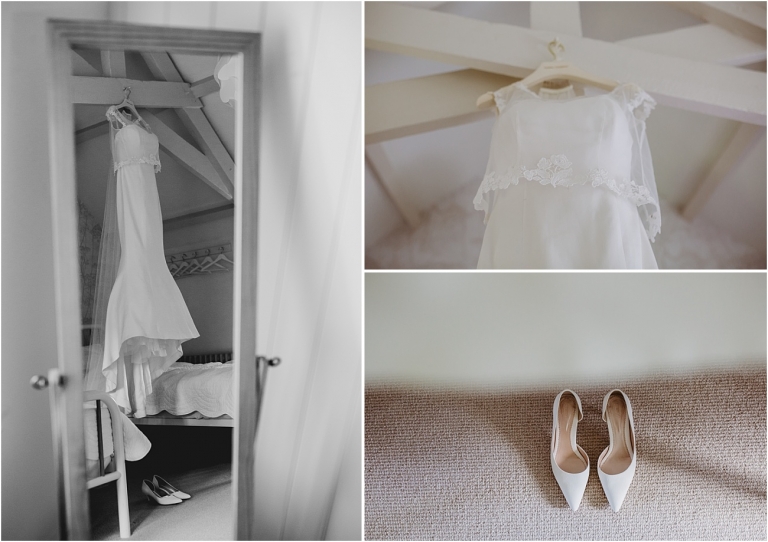 Victoria's stunning dress is by Caroline Castigliano, shoes by Emmy and gorgeous subtle green bridesmaids dresses from Pirouette, Exeter. The blue and white flowers were by Sarah Pepper. Victoria thought the pop of the cobalt blue hydrangeas would work well in the church and barn. They also looked lovely with the green bridesmaids dresses, the foliage in the bouquet bringing it all together. Victoria's hair and make up were beautifully done by Nicola Pettitt.